Surrounded by nature in a typical charming Spanish village. 7 acres private, 10000 ft² of garden, pool, WiFi, chillOut, BBQ, greenhouse, fruits, wood stove. Wildlife and hiking. Delicious "Duero" wine and beautiful cellars. 2 hours away from Madrid.
La casa esta en plena naturaleza ,junto al pueblo de Ciruelos de Cervera, tiene una gran piscina y una pista de padel. 5000 metros cuadrados de jardín privado aunque la finca tiene 30.000 m vallada en su totalidad. 9 dormitorios, salón con 3 ambientes y comedor, office, cocina con todos los electrodomésticos, cuarto de lavado con secadora, merendero con barra de bar y horno de leña.
El pueblo tiene un centro deportivo con frontón, ping pong , cancha de baloncesto y columpios. Los lugareños son muy amables. Mis huéspedes disfrutaran del cambio en el paisaje según las estaciones, de la privacidad , relax, tranquilidad y confort.
What a fantastic place. Huge! Everything is top class. We were only a party of 5 so we rattled about a little, but that was incredible to have the masses outside space to eat, relax and play with the children. They loved the pool and the trampoline. The hosts came down to the village to meet us as navigating the narrow streets can be difficult. It would have been a breeze if I had read their documentation - but I hadn't. They were very accommodating around our arrival and departure times. The house was spotless! The towels fluffy, the sheets smooth and the beds comfortable. We will be back! Dom, Geri and family.
Dominic
2016-09-03T00:00:00Z
I'm not sure I want to write a review as when you find somewhere so nice you don't really want others to know about it! However, the villa is lovely and the gardens are great. The photos don't really do it justice. There is lots of room (we had 19) for everyone to relax, cook (there are two pizza ovens) and play. The owners are really nice and helpful. They offered to organise the delivery of local bread and meat. They also invited us to a local village festival. The village is lovely with a couple of great little friendly bars. We ended up playing a game of football against the locals at 12 at night in the local sports centre! We plan to book again.
Sunil
2016-08-07T00:00:00Z
Virginia and German were great hosts, and they were very helpful in setting up this amazing weekend at their beautiful house, for us. I highly recommend this as an option and would go again in a heartbeat. Thanks!
Jeremy
2015-10-12T00:00:00Z
Room Type
Entire home/apt
---
Property Type
Villa
---
Accommodates
16
---
Bedrooms
Ciruelos de Cervera, Castile and León, Spain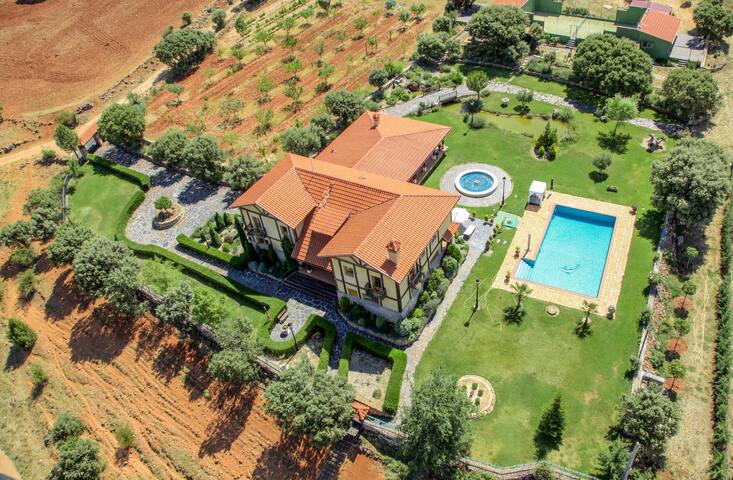 Country House 2500 m. proprietary, HOUSE WITH GARDEN AND PRIVATE POOL -Living room. Kitchen, porch, cellar with kitchen. Outdoor toilet and bathroom 6 BEDROOMS beds: 12 4 marriage 7 single 1 sofa bed 2 bathrooms 2nd FLOOR FLOOR 1 WC 1 Bathroom complete exterior PARKING Free housing 2p / public free
Villa with two floors, cellar and large garden with swimming pool, both private and available to customers. It has 6 rooms 2 bathrooms 1 toilet No. floor 2 No. 1 plant and 1 bathroom outside ramp for the disabled in the garden. Hall, Bodega and Bodega hinvierno spout dining kitchen and a large conservatory. Free parking. private parking 2 cars
Located in the wine region of Rioja Alavesa. Very well located: 10 minutes from the city center of Logroño, surrounded by vineyards and olive trees on the banks of the Ebro, and less than 7 km from Laguardia, El Ciego, Briones, Haro, Oyon, San Vicente ... river towns where are located the best Bodegas La Rioja and the Wine Museum. Yuso and Suso Monasteries, World Heritage Site.
Beautiful house and Anna was awesome. Showed us around town and even made reservations for us at various wineries. Highly recommend this property and host
Bob
2016-06-15T00:00:00Z
Ana was fantastic! We had a very warm welcome. She was very attentive to our every need and she made sure we were very well taken care of. She even gave us a wonderful bottle of wine to welcome us. The location of the villa is perfect for exploring both the beautiful towns nearby and the best wineries in Rioja. The pool was amazing. We wished we stayed longer! The house was actually MUCH nicer than the photos showed.
Brian
2016-08-20T00:00:00Z
Ana and her house are fantastic. Ana's house had everything that out 3 families could have needed. Ana as a host made our stay even more enjoyable. She assisted us with arranging catering for a birthday dinner and winery tours. Thank you from all of us.
Lander
2015-08-16T00:00:00Z
Ana was the most incredible host. She opened up her beautiful home to my fiancé, his parents (all three are Cuban-American and speak Spanish fluently, which was especially helpful, as Ana does not speak English) and me, as we made our way from Zaragoza to Bilbao. We were only expecting a place to stay the night, but instead we received the most conscientious hostess and guide. Upon our arrival Ana had coffee and tea for us, along with chocolates. She gave us a tour of her home (which, to be clear, she lives in. This arrangement is more of the traditional B&B setup) and told us about the area. After some discussion, she offered to drive with us to the neighboring town of Laguardia. She then gave us an excellent tour, showing us the best vista points, and taking us to her friend Javier's wine shop. We then all shared pintxos and drinks in a few spots. We later returned to her home for a very peaceful and quiet nights rest. The next morning, she gave us a lovely breakfast, provided directions on where to go for a scenic run through vineyards, found a Catholic mass for us to attend, and suggested a place for lunch. She even helped us with our laundry, changing it to the dryer while we showered. Ana went above and beyond, exceeding our expectations for our stay. She will make you feel at home and very much cared-for.
Kate
2014-11-23T00:00:00Z
Estancia de 10!!! Hemos estado en casa de Ana durante 4 días y ha sido todo maravilloso. La anfitriona un encanto, siempre dispuesta a ayudar en lo que necesites. Gracias Ana, ha sido un placer!
Celia
2016-01-03T00:00:00Z
Estupendo fin de semana en una inmejorable casa. Es ideal para grupos: enorme, limpia y espaciosa. Zona de barbacoa, piscina y jardines muy bien cuidadas. Localización de la casa muy buena, entre Logroño y Laguardia. Excepcional trato de Ana, siempre atenta y servicial. 100% recomendable. Sin duda volveremos.
Iñigo
2016-06-06T00:00:00Z
Ana est une hôtesse vraiment accueillante, aux petits soins. Sa maison est très belle, agréable à vivre, très bien équipée. Et le jardin superbe ! Nous avons passé un excellent séjour !
Fanette
2015-08-21T00:00:00Z
La casa estupenda y el trato de Ana inmejorable.A pesar del mal tiempo hemos pasado un finde genial. Si duda una opcion muy recomendable
Ainhoa
2016-02-28T00:00:00Z
Room Type
Entire home/apt
---
Property Type
Villa
---
Accommodates
16
---
Bedrooms
ASSA, ALAVA Basque Country, Spain
Nice spacious villa with all the comforts to enjoy a dream vacation in an environment of nature and tranquility just 9 km from Vitoria-Gasteiz
This beautiful and spacious villa offers all the comforts to enjoy a dream vacation in an environment of nature and tranquility. With an area of 195 square meters, the house has four rooms where every detail has been taken care of to make them feel at home (two double rooms, one located on the ground floor and allowing access to people with mobility Guests, a double and a quadruple) and three bathrooms and can accommodate up to 10 people, ideal to accommodate the whole family! Upon entering the house, we came across a huge living room with French door and direct access to the garden where the brightness penetrates the outside and also offers two spaces: a dining room and a lounge with sofas and TV. The kitchen, spacious and modern with its own space for meals, also has access to the garden. Furthermore, the villa has a spacious garden that invites us to the most varied activities, either relax in the sun, preparing a meal on the barbecue or playing with the little ones. Within the same private plot you can leave your car comfortably. Your holiday will be a unique setting full of unique beauty, wonderful landscapes of colors to enjoy a rural environment.
Vitoria was European Green Capital in 2012 and 2014 reigned as Spanish Capital of Gastronomy. So we advise visitors to not leave without visiting: the Green Belt, the Medieval Almond, the Gothic Cathedral of Santa Maria and the Historic combining city tour with a tasting of typical gastronomy through pintxo routes washed down by the best wines of the Rioja Alavesa. Take the opportunity to visit one of the wineries in the region. The Green Belt is the perimeter of the city consists of 6 large parks perfect for a bike ride or on foot. Medieval Almendra is the famous historical town of Vitoria with oval contour and one of the most emblematic of Euskadi. The historic, is a set of streets that recall the guild activity that developed them: Cutlery Blacksmithing, Pintorería ...
Room Type
Entire home/apt
---
Property Type
Villa
---
Accommodates
10
---
Bedrooms
Zumeltzu, Euskadi, Spain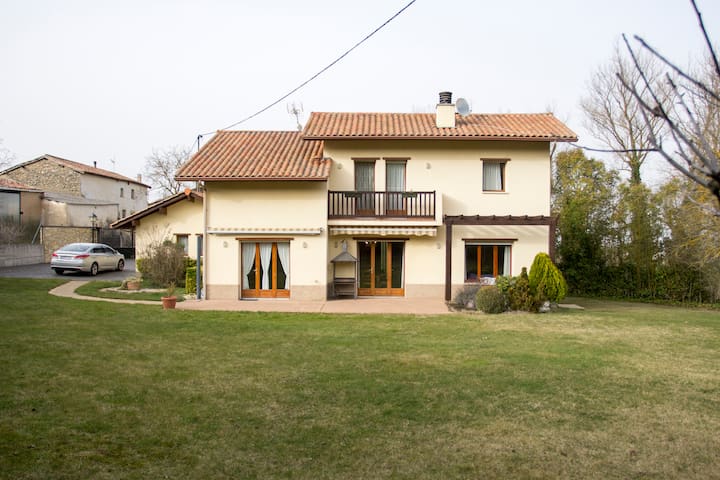 Palacete del s.XVI de interés artístico y arquitectónico en zona fantástica de la Rioja alta totalmente equipado y reformado con jardín y huerta privada. Es de alquiler privado para grupos en ruta del vino y enfrente de Paternina.
The palace of the Counts of Rodezno, is a three floor building of architectural and artistic interest of the S.XVI (Renaissance period) completely and tastefully reformed. Located in Ollauri, in the heart of the Rioja highland and in full route of the wine, where beautiful landscapes and an extensive range of leisure and cultural interests can be found. The house stands in it's own private grounds of 1200 m2 looking over the wine cellars Paternina-Berberana and mountain views. Its tasteful rustic decoration is seeped in Spanish tradition whilst providing all modern services any visitor could expect. The palace of the Counts of Rodezno offers the visitor a unique sense of its welfare; the solid natural stones transmit the beauty and security that breathes in an non-smoking place.
THE AREA The house is in Ollauri, (town with most well-known wine cellars, parks,  river, restaurants, library, sports area, food store...). We have many typical festivals (the grape harvest, days of the wine...) and is situated to: • 2 km of Haro (city with a water park, riding school, museum of art, outdoor sports centre - pool, street markets, gymnasium-spa, movies, train, superstores, medical attention...) • 15 km of Santo Domingo de la Calzada  (Road of Santiago) • 20 km of El Ciego of Frank Gehry • 40 km of Logroño • 42 km of Vitoria • 50 km of Valdezcaray (ski runs) • 100 km of Bilbao, (airport, ferry, the Guggenheim, beaches, museums. ..), of San Sebastián and Burgos (deposits of Atapuerca).
The host canceled this reservation 93 days before arrival. This is an automated posting.
Natalia
2016-09-22T00:00:00Z
The space is nice, big and with enough beds and baths. The location is very charming in a small town. It wasn't very clean, with a very overgrown garden, and the breakfast included was just milk and bread. overall we had a nice experience. Magda was attentive and replied promptly.
Marina
2016-07-09T00:00:00Z
Estuvimos muy a gusto , tanto en la casa como en el pueblo que es encantador. La anfitriona estuvo en todo momento pendiente de que nos faltará de nada
juan ignacio
2016-05-09T00:00:00Z
Es un viaje muy bien, muy acogida. Los vecinos son muy amables. Por la noche, el pueblo es muy tranquilo. Disfrutamos el cielo y estrellas. El jardín usamos para hacer barbacoa, nos ofrecieron la leña y carbón vegetal. Muy bien. Pero el jardín no es muy organizado, hace falta mejorar. El último, hay que revisar los cables. Salta unas veces el interruptor general.
OUHUA
2017-03-19T00:00:00Z
en mi opinión la casa no corresponde al precio que tiene
SARA
2016-12-04T00:00:00Z
Très belle maison avec grande capacité d'accueil. On est très bien accueilli et on se sent vite comme à la maison!
Aurelien
2016-06-13T00:00:00Z
Room Type
Entire home/apt
---
Property Type
Villa
---
Accommodates
15
---
Bedrooms
Ollauri, La Rioja, Spain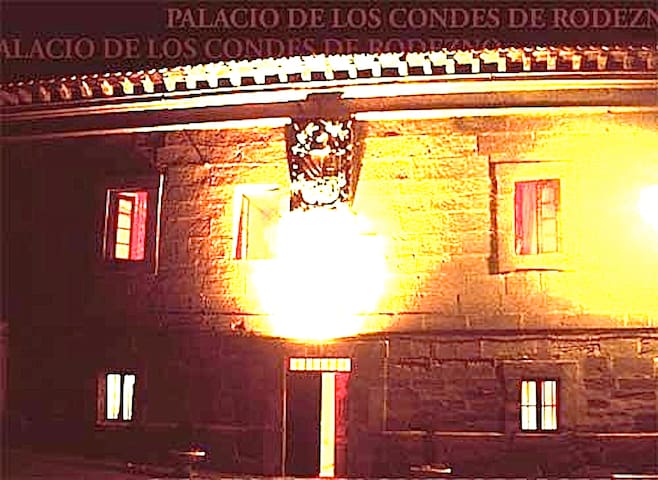 Ezcaray - Airbnb
:
Average

4.79

out of

5

stars from

28

guest reviews