This modern and spacious 2 bedroom apartment is situated in the heart of Praia da Luz with stunning sea views. The apartment is less than 4 minutes walk to the beach and every amenity is at your doorstep. The space is perfect for both summer and winter. We have recently installed a pellet stove to keep you nice and toasty during the cooler winter months. We also have an electric mattress warmer to heat up the bed before you go to sleep :)
This 2nd floor apartment is located within the new Palm Bay building. The complex has communal gardens and pathways to which you enter the building. There is a private car park, free to use when you stay with us. The balcony faces south west, so has plenty of sun all day long. It has ocean views. There is a table and chairs outside, perfect for breakfast, lunch or dinner watching the sunset. The two bedrooms are identical. Both with a twin bed set-up by default. If you would like the beds to made up as a double, please let me know in advance. The apartment has recently been refurbished to provide a comfortable and modern space. All of our sheets and towels are white hotel standard, and we only use a professional laundry service to wash and iron, every-time... The kitchen has a washing machine, induction hobs, espresso machine, electric oven, large fridge freezer, toaster and kettle. Please ask me for details of the wifi after you have made your booking.
Praia da Luz is a small village resort located on the Algarve's southern coast. The beautiful beach is about 3-5 minutes walk from the apartment. There are hundreds of other beaches within a short drive from Praia da Luz. The village has an excellent supermarket (Batista) where you can both local and international groceries. There is a doctors surgery, dentist, car rental, bank, hairdressers, post office and much more all within walking distance. The village has plenty of restaurants, cafe's, bars and pubs dotted along the sea front and within the village itself. These cater for both locals and internationals alike. The Algarve is famous for its golfing, tennis, watersports and surfing. So please feel free to contact me if you would like any advice on the best places to go.
Ben was a considerate and friendly host who took time to make sure our needs were met. Thanks a bunch!
Andy
2017-02-04T00:00:00Z
We have stayed at the apartment for a month and were impressed with the cleanliness.
Fred
2017-03-22T00:00:00Z
We stayed here for a few months during the winter and absolutely loved it. The apartment is well decorated, in a great location, and communication was fantastic. We would definitely stay here again.
Jason
2017-01-12T00:00:00Z
Room Type
Entire home/flat
---
Property Type
Apartment
---
Accommodates
4
---
Bedrooms
Luz, Faro, Portugal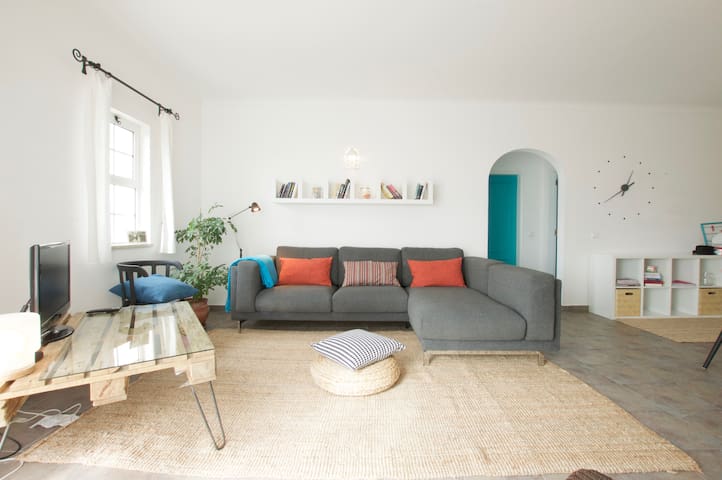 Beautiful apartment in quiet residential estate, conveniently located less than 5 minutes (walking) from the beach, the village and the shops. Description: 1 large living room with dining area, sofas and TV 1 bedroom with double bed (or 2 singles) and wardrobe closet. 1 fully equipped kitchen. 1 bathroom. 1 south facing terrace. Main Equip: electric oven, ceramic hob, fridge freezer, coffee maker, toaster, kettle and crockery. washing ling
this apartment is located in a small village in Portugal. At the seaside, easy access to the beach. quiet and sunny location.
small building surrounded by a large garden. Calm. located close to shops, beach, restaurants and town center
Great flat in a beautiful area, welcoming people, I recommand :)
Agostinho
2016-09-16T00:00:00Z
Beautiful apartment with large rooms and a complete and comfortable kitchen. The terrace is very nice, well-equipped. The only thing not 5 stars is the bed, too soft.
Günther
2017-04-02T00:00:00Z
The host canceled this reservation 16 days before arrival. This is an automated posting.
Bernhard
2016-12-10T00:00:00Z
Good location
Russell
2017-03-14T00:00:00Z
Everything was as described in the listing. Our stay was quite pleasant :) Although Laurent was not in place there, his property managers Luisa & Denise were very helpful and heart welcome with us :)
Stoycho
2016-08-10T00:00:00Z
На встретила управляющая Луиза, дала подробные инструкции, все рассказала. Жилье очень комфортное, есть все необходимое. Апартаменты укомплектованы всем необходимым. Расположение очень удбное, рядом с морем. Терраса большая с шикарным видом. Сам курорт Luz тоже очень понравился. Красивый пляж, много кафешек, есть магазины. Мы остались очень довольны!
Oksana
2016-08-01T00:00:00Z
L'appartement est exactement comme sur les photos: Très propre, décoré avec goût et très bien situé (moins de 10min à pied de la plage). La terrasse offre une superbe vue !! Je recommande à 100 % !
Capucine
2016-08-13T00:00:00Z
L appartement est tres bien situé à moins de 5 minutes à pied de la plage. L intérieur est fonctionnel, lumineux et tres agréable. La ville de praia da luz est parfaite pour un sejour en famille, avec de nombreux restaurants ( il manque peut etre simplement des restaurants typiques portugais car beaucoup de restaurant à l inspiration anglo-saxon). La côte de lagos à Sagees est extraordinaire. Bref un sejour merveilleux.
Nina
2016-10-21T00:00:00Z
Room Type
Entire home/flat
---
Property Type
Apartment
---
Accommodates
4
---
Bedrooms
Luz, Faro, Portugal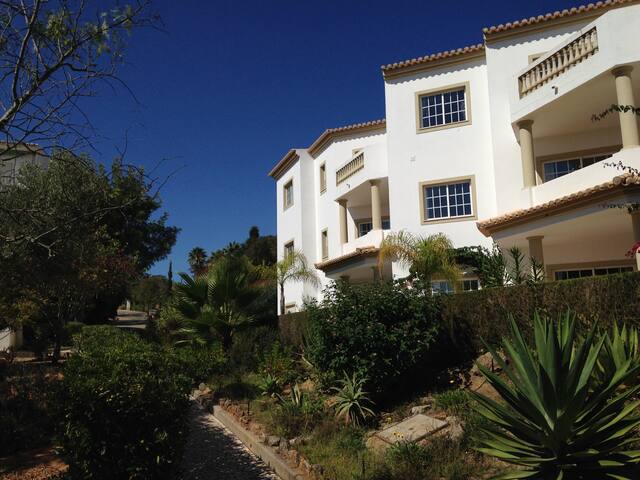 My space is close to beautiful scenery, activities for families and beach. You will love my space because of the environment, will feel your feet on the beach (Praia da Luz). My space is good for couples, solo adventures, business travelers and families (with children).
We had an amazing stay at Joao. We were a group of fiends and we were impressed by this place. Everything was very clean and the kitchen very well equipped, so every morning we had the breakfast with an amassing view. The beach is a delightful 5 minute walk away and one of the best in the area, there are fantastic restaurants and bars within the zone. We enjoyed our stay very much and would definitely stay at Briosa do Mar again! Thanks Joao for everything.
Ioana Roxana
2016-09-16T00:00:00Z
Wonderfull appartment in the middle of the centre of luz and close to the beach. Just renovated, so everything is new and fresh. Very spacious: big livingroom, two bathrooms, big balcony with a view on the sea and a bbq.
Thomas
2016-08-27T00:00:00Z
Excellent location and nice host! Well equipped and nice modern simple decoration. Good that there is a dish washer.
Emmanuel
2017-02-18T00:00:00Z
Wow! The house was incredible. Clean, zero clutter. Decor minimal. Bright and airy. Wonderful outdoor seating area with BBQ grill which is a total suntrap. The internet worked perfectly so great if you have got work to do. It is a 2 minutes walk to the beach. The beach is clean and the sea calm so great for swimming. Lots of lovely restaurants nearby with great views. Joao was a fab host and I arrived to a bottle of red wine, cheese, crackers and apples on the dining table. The showers are power showers which are blissful. My only negative experience was the bed which was hard and noisy due to the metal frames squeaking everytime you moved. Earplugs recommended! Plenty of kitchen equipment though you may need to buy washing up liquid, washing powder and bin bags.
Nicola
2016-10-11T00:00:00Z
We had some great days at Joao's apartment the last days. The whole rental, including check-in / check-out was absolutely seamless. Great communication, very nice apartment with plenty of room to cook and hang out. 1 minute away from Praia da Luz. Would rent again for sure.
Patrick
2016-12-31T00:00:00Z
This place is absolutely lovely--right near the beach and next to great restaurants. The house itself is extremely clean and cozy, and the kitchen is great for cooking. I recommend this place to anyone.
tatiana
2017-04-01T00:00:00Z
Meine Ferien in der Praia da Luz war einfach fantastisch. Das Haus und die Lage waren Genial. Sauber und Sehr Gut ausgestattet. Der Gastgeber, Herr Joao und seine Mutter waren sehr freundlich und Hilfsbereit. Es hat alles gepasst, 5 Sterne. Kann von dieser Unterkunft und den Gastgebern nur Gutes sagen, und sie Weiterempfehlen. Wenns geht, würde nächstes Jahr wieder zu Ihnen in die Ferien gehen.
Ricardo Raul
2016-08-21T00:00:00Z
brisa do Mar liegt wunderbar in der zweiten Strandreihe also nur einen Steinwurf von einem riesigen sehr schönem Strand entfernt und trotzem sehr ruhig. Praia da Luz ist ein entspannter Ferienort, etwas touristisch aber nicht unangenehm ( alles fest in englischer Hand - aber vorallem Familien, keine Sauftouristen). Als Basis, wenn man ein Auto hat toll. In 10 Minuten ist man in Lagos oder man sucht sich in Richtung Sagres einame Strände, wenn man auf den ganzen Strandrummel keine Lust hat. Eikaufsmöglichkeiten sind reichlich und nah. Joao ist sehr höflich und hilfsberit, ebenso seine Schwester Marcia, die uns empfangen hat. Das Haus ist sehr schön eingerichtet. Die Küche ist fantastisch, Spülmaschiene, Waschmaschiene,Mikrowelle ( haben wir nicht benutzt ist aber da ) und vieles mehr. Alles in allem sehr gut ausgestattet. Wir haben uns sehr wohlgefühlt.
René
2016-09-12T00:00:00Z
Room Type
Entire home/apt
---
Property Type
Apartment
---
Accommodates
6
---
Bedrooms
Luz, Faro, Portugal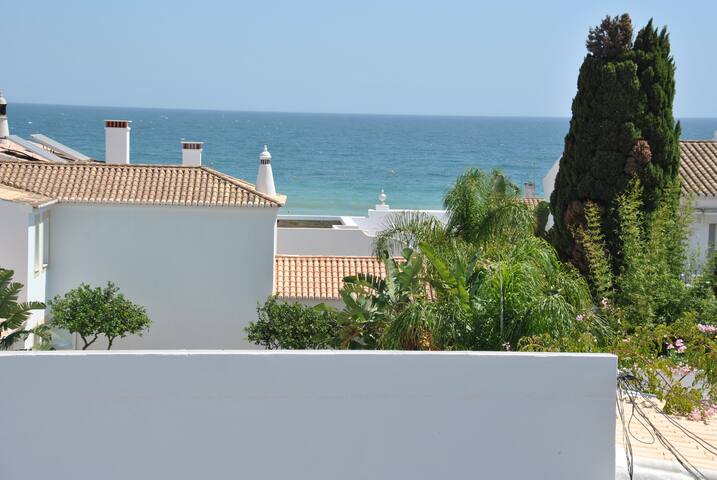 This beautiful bright and sunny 2 bedroom DUPLEX apartment has stunning views of the sea and beach from the south facing balcony. Situated only five minutes walk to the nearest sandy beach with a variety of restaurants and cafés on the way, Luz is a charming and quiet little Algarve resort. Although the apartment block is a little old and tired, the apartment itself has been well renovated in recent years and is very bright and comfortable. BUT, if you dislike climbing steps, this isn't for you!
Amazing views of the sea, beach and town from the south facing veranda, it's a great place to sit and sip a glass of local wine and watch the daylight fade. The apartment is on the first floor of an old block but has been recently renovated and is set over THREE floors (there are stairs). The curved entrance stairway opens up onto the open plan lounge/dining room which leads out onto the veranda and sea views. Also on this floor is the fully equipped kitchen (with washing machine, full size fridge/freezer, electric cooker, microwave etc.) and twin bedroom with ensuite shower and WC. The staircase continues up to the spacious master bedroom with its' ensuite bathroom. Both bedrooms have plenty of storage space. There are two good supermarkets, one on either side of the apartment block, they both have cafes serving fresh cakes, pastries and good coffee. The apartment block itself has three cafes which are full of locals enjoying a social glass of wine or beer and usually watching football!! Free parking is plentiful in the vicinity.
Luz is a beautiful peaceful village, formerly a fishing port, located 90 km from Faro Airport. Popular with families and couples, it has one of the best beaches in the Algarve with fine sand and has many bars, cafes and restaurants serving local and international cuisine (curry, pizza, etc.). Stroll along the promenade next to the beach or climb the sandstone cliffs and admire the black rock, evidence of ancient volcanic activity. Boa Vista Golf has a spa, a luxurious health club with gym, tennis courts, etc. and is a 10 minute drive away. Espiche also has a golf complex and there is also Pro Putting at Lagos. Lagos, located 8 km from Luz, is a charming seaside town, it offers a wide selection of restaurants and a pedestrian street. The main square, Praca da Republica, is a popular place to enjoy a drink whilst watching the world go by! Several buildings give witness to its rich history. Fantastic beaches lie between Luz and Sagres, in particular Martinhal which is popular with windsurfers etc..
Lovely and spacious apartment. Awesome view of the beach.
Paul
2016-06-15T00:00:00Z
Beautiful flat with incredible view.
philipp
2017-01-14T00:00:00Z
Super nice communication, very helpful and easy going. Apartment has an amazing view and is bigger than it looks on pictures. Would definitely come back!
Freyja
2016-12-28T00:00:00Z
A great apartment
Bernhard
2017-03-18T00:00:00Z
We had a really great stay in Martins appartment. It's in the middle of Luz and because of the situation of the building we really feld like residance because also Inhabitants live there. Everything you need is there and I want to mention a special thank you for the small but very important things like good kitchen equipment, showergel and enough towels. Martin is a very nice host and it was very nice meeting him. The most important thing for us was a sunny balcony and we sure had that! Thank you Martin and we'll love to come back!
Mary
2017-01-27T00:00:00Z
Super nice place! We spent a week in the apartment, it was easy to find a parking place around and the view from the balcony is incredible!
Martina
2017-03-11T00:00:00Z
We requested to stay the same day, and Marten got back to us immediately. He was very communicative and friendly from the start; he met us at the door, helped us carry our bags up and showed us around the apartment. We had everything we needed and knew Marten was available if we needed anything else. The place was VERY cozy and comfortable. There was parking and a nice market right around the corner. The almost private beach is a short walk. It's a few minutes outside of Lagos, so not a crazy party place, but perfect for relaxing. There are still restaurants and small shops if you like. Would definitely recommend!
Alexis
2016-12-24T00:00:00Z
Spent a wonderful 2 weeks in beautiful Luz. The apartment was fabulous for our stay. With 2 supermarkets just steps away, it was so handy grabbing anything anytime. The boardwalk, the beach, car rental and bus stop were just minutes away. As a light sleeper I found the neighbourhood quiet for sleeping. Marten was a gracious host who we now consider a friend. What more can be said...everything was perfect!
andy
2017-02-10T00:00:00Z
Room Type
Entire home/flat
---
Property Type
Apartment
---
Accommodates
6
---
Bedrooms
Luz, Faro, Portugal
Apartment with 2 bedrooms, 1 bathroom, 1 kitchen and 1 living-room/dinner-room with access to the balcony with a fantastic view over the sea. Located in the center of Vila da Praia da Luz where the closest beach is within 2 minutes walking.
Totally renovated, entrance hall with wardrobe, living / dining room with sliding doors to the balcony with amazing sea views. Equipped kitchen, all electric equipment, 2 bedrooms and 1 bathroom with shower. Lift/Elevator in the building Only 2 minutes walk to the beach, Comfortable and clean. This is for people who want to enjoys their stay without the need of having to use a car. Everything is within walking distance restaurants, cafes , supermarkets. Car parking area close by. In 1 minutes you arrive at the vila center where there is the best nightlife, bars, taxi and bus boarding point. In the main street has some boating companies who transport to visit the caves and beaches along the coast, watch the dolphins and other destinations. At the Closer corner you will find the municipal market to make were you can purchase fresh fish, vegetables and meat.The nearest supermarkets are Batista and SPAR, where you can easily walk.
The apartment is situated on the best location of Praia da Luz, standing within a walking distance for the main touristic and leisure spots.
Pedro was there to welcome us as soon as we got to the apartment. The location in Luz is central to the town, and a few minutes walk to shops and restaurants. The apartment itself was amazing! We made breakfast each morning on the balcony while bathing in the sun. A short stroll to the beach was easy, while we were also a short drive from many of the beaches across the Algarves, we were never further than an hours drive. An amazing relaxing holiday, would definitely stay here again. Highly recommended! Thank you for an amazing holiday!!
Neil
2016-05-31T00:00:00Z
A great spot with a beautiful view. The kitchen is fully equipped and grocery stores are within walking distance. Pictures are 100 percent reflecting how the apartment looks. The hosts are super responsive and friendly. The down side is that there is no air conditioning and you have a neighbours right next to the balcony. So a romantic dinner is difficult. We would definitely come back.
Wolfgang
2016-08-12T00:00:00Z
The appartment has a lot of space and a beatiful view over the sea. There was everything we needed, even a dishwasher and the owner did everything to make our stay as pleasent as possible.
Fabian
2016-08-29T00:00:00Z
The apartment is as beautiful as on the pictures. Newly renovated, well equipped and extremely spacious. The view is simply breathtaking. There is a twin elevator in the building, which is very convenient with the luggage and all the beach gear. Pedro is keen to support whatever issue you may have. Beach, supermarket and restaurants are short walking distances. Would love to come back.
Andras
2016-06-17T00:00:00Z
Very nice apartment, fully equipped, spacious and bright , with an amazing view to the sea , right next to the beach and the city center. Had a great time at Luz , and exploring the algarve region.
Fernando & Wioleta
2016-05-14T00:00:00Z
Herrliches Appartment - die Wirklichkeit ist besser als auf den Fotos! Der Strand und Zentrum von Luz sind in unmittelbarer Nähe. Die Gastgeber sind außerordentlich serviceorientiert und hilfsbereit.
Walter
2016-09-02T00:00:00Z
Room Type
Entire home/apt
---
Property Type
Apartment
---
Accommodates
4
---
Bedrooms
Luz, Faro, Portugal
This studio at Praia da Luz (6km from Lagos), was completely renotaved with the best conditions for a perfect holiday by the beach. Facing south, with sea view, the studio is located at 5 min walking from the beach. It's situated in the city centre next to all the shops, restaurants and with a parking lot just across from the building.
The Place is nice and clean. About 5 min walk from the beach and nice for a weekend away.
Johannes
2016-08-30T00:00:00Z
The house is exactly how it looks in the pictures: it's a renovated studio with good conditions and enough space for two people. Raymond was very nice and helpful. The house also has a balcony perfect for the meals. The house is provided with everything you need for your vacations. We strongly recomend this space!
Lénia
2016-07-31T00:00:00Z
Raymond was great! He was very friendly and always quick to respond to questions. Location was amazing!, 5 minute walk or less to a beautiful beach. The pictures are very accurate to what the apartment looks like. We were able to cook all our meals in this apartment as it has all the cooking supplies needed. Free parking across the street. Only complaints we had was the wifi was touch and go, and the bed was not comfortable. However would highly recommend as they were minor issues.
Georgina
2016-10-22T00:00:00Z
We booked the place only few hours before checking in. Raymond answered fast and was there on time to give the keys. Well located place. Clean.
Katri
2016-08-02T00:00:00Z
Great location, very nice, fully equipped studio with friendly owner. The only downside is quite noisy bar next to it. I would definitely recommend it to all wanting to spend holidays close to the beach, shops and cafes.
Sylwia
2017-02-13T00:00:00Z
The host canceled this reservation 37 days before arrival. This is an automated posting.
Felicia
2016-07-18T00:00:00Z
It was a pleasure to stay at Raymond's studio. The studio is very cozy, with a beautiful view and very near the beach. The same as in the pics! Raymond is a very kind host. We strongly recommend to stay at Raymond's studio in Luz!
Fjorela
2016-07-16T00:00:00Z
We had an amzing time at Raymonds place! Everything was nice and clean and he even got us a cleaning service half way through our abidance! We arrived by Bus at Lagos and he picked us up and gave us a short review of what activities are possible and recommendable, as well as he told us were the stores in Luz are and so on. We had a fantastic time in Luz, even though the apartment complex the studio is part of has some dubious people at night time sitting in the near- by cafes. The area is great for various activities and all I can do is recommend a abidance at Raymonds nice studio :)
Philipp
2016-09-16T00:00:00Z
Room Type
Entire home/apt
---
Property Type
Apartment
---
Accommodates
2
---
Bedrooms
Luz, Faro, Portugal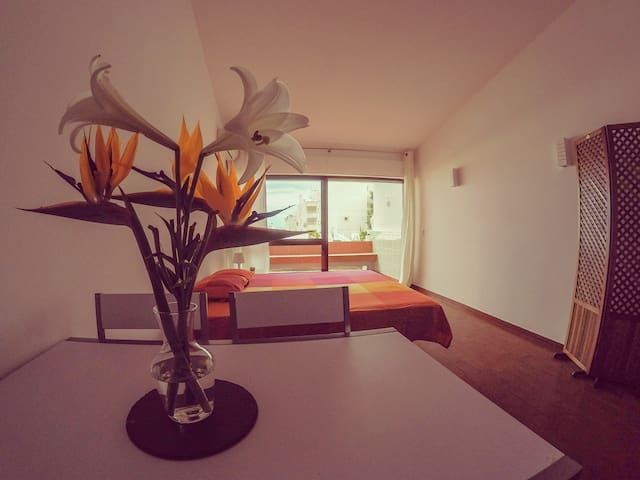 This sunny, spacious two bed apartment has recently been refurbished throughout. With a modern bathroom with walk in shower and a fully equipped new kitchen. It is located centrally in the village, a short walk to the local shops, supermarkets, restaurants and bars in Luz. The beach is just a 4 minute walk. ** PLEASE NOTE REFURBISHMENT IS DUE FOR COMPLETION END OF MARCH - INTERNAL PICTURES AVAILABLE THEN ** BOOK EARLY AND SAVE **
The master bedroom is spacious with a queen bed, fitted wardrobe with its own privately accessed balcony with sea view. A iPhone/iPod docking radio alarm and speaker is provided. The second bedroom is of similar size and has two single beds. All the bedding is provided and of hotel grade quality, professionally cleaned fresh for your arrival. The modern bathroom is equipped with a walk in power shower. The newly installed kitchen is perfect for the home chef to prepare a gourmet meal! Equipped with quality gadgets and a washing machine, microwave, fridge freezer, toaster and coffee machine The lounge/dining area is sunny all day and has a digital Smart Television. Accessed from the lounge is another larger balcony with seating for outside dining or to just simply enjoy a glass of local wine or two! Complementary Wifi is available throughout the property.
Luz is a charming Portuguese village with all the amenities needed for a restful holiday, with two excellent supermarkets which are well stocked with international and local produce, numerous small stores selling local food and crafts and there are many restaurants, cafes and bars to satisfy all tastes and budgets. It is the ideal place to relax and unwind and no car is needed as everything is in easy walking distance. The beach is a four minute stroll from the apartment! Nearby Luz is the bigger town of Lagos where you can enjoy exploring through its old narrow streets and modern marina area. Here you can find anything you would expect in a larger town in Portugal. We would be happy to arrange any day trips to other towns or villages, beautiful beaches and golf courses in the Algave. Nearby are some particularly excellent golf courses which can be enjoyed all year round.
Room Type
Entire home/apt
---
Property Type
Apartment
---
Accommodates
4
---
Bedrooms
Luz, Faro, Portugal
Ideal location to 200 ml of the beach; shops, restaurants and public transport in proximité.Environnement very quiet and agréable.Terrasse of 14 m2 with table and chairs and magnificent sea views and the "black rock". Parking on the front and back of the residence.
Alles war bestens!
ulrich
2016-09-22T00:00:00Z
Room Type
Entire home/apt
---
Property Type
Apartment
---
Accommodates
4
---
Bedrooms
Luz, Faro, Portugal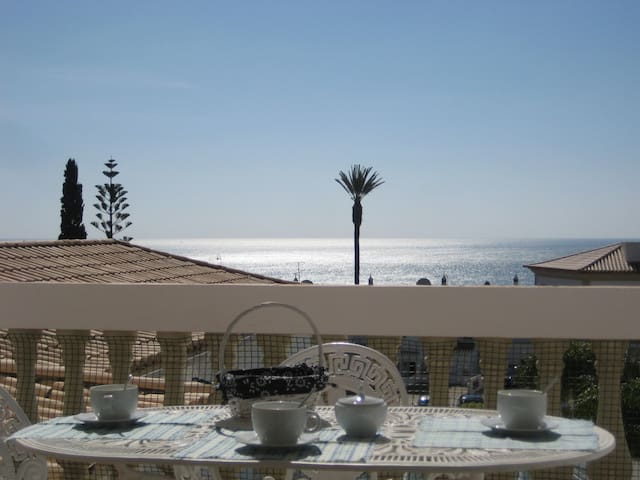 Take time with your family & enjoy Praia da Luz & its Portuguese charm. Lunch at the sound of waves or stop time by the sea 100m from this charming apartment fully equipped.
Charming, typically Portuguese apartment in the heart of Praia da Luz. With a side sea view. Fully equipped for a hassle free stay. A lovely terrace for lunch at the sound of the waves. A kitchen with microwave oven, stove with oven, refrigerator, dishwasher and washing machine. Relax by the fireplace (in winter) gently nestled in the seating area. Large flat screen TV and DVD player.
Praia da Luz (Luz) is a lovely quiet town, a perfect holiday destination for visitors wishing to relax in a resort both traditional and quiet. Luz has beautiful beaches and exceptional climate, on the west side of the Algarve, near the historic town of Lagos. Luz is a great destination for families with young children because it is a city with a beautiful nature and which the sea is calm and clean.
Room Type
Entire home/apt
---
Property Type
Apartment
---
Accommodates
4
---
Bedrooms
Luz, Faro, Portugal
Wonderful well-located 2-bedroom apartment 20 meters from the beach with a top terrace overlooking the beach and sea.
The apartment spreads out over 2 floors. On the ground floor living and dining room, kitchenette, one room with double bed and built-in wardrobe, one bathroom and one balcony. On the first floor, one bedroom with a king-size bed and built-in wardrobe, one small living room with a sofa bed for 2 people, one bathroom and one wide balcony overlooking the beach, ideal for an al-fresco dining or to simply soak up the sun. From the property you have quick access to a wide array of restaurants, bars, cafés, supermarkets as well as the Praia da Luz seafront promenade which leads you to the church of Nossa Senhora da Luz. All of them within an array of 1 to 2 minutes from the door step. From the church you can comfortably walk around through the main street passing by a number of cafés and shops. Car is not required. Cable TV and internet in process of acquiring.
Several locations of historical interest can be found nearby, including the Roman ruins within the village, and the local church which is worth a visit. The village has retained much of its original charm.With Lagos on your doorstep, entertainment is only minutes away. The local guide, issued monthly, will inform visitors of festivals as diverse as the yearly food and confectionery fair, the summer jazz festival, sporting events, arts exhibitions (both ongoing and seasonal), and many other activities. Gastronomic variety and delights abound, not least centred around the fish market which provides local restaurants with an enviable variety of fish and seafood.
Room Type
Entire home/apt
---
Property Type
Apartment
---
Accommodates
6
---
Bedrooms
Luz, Faro, Portugal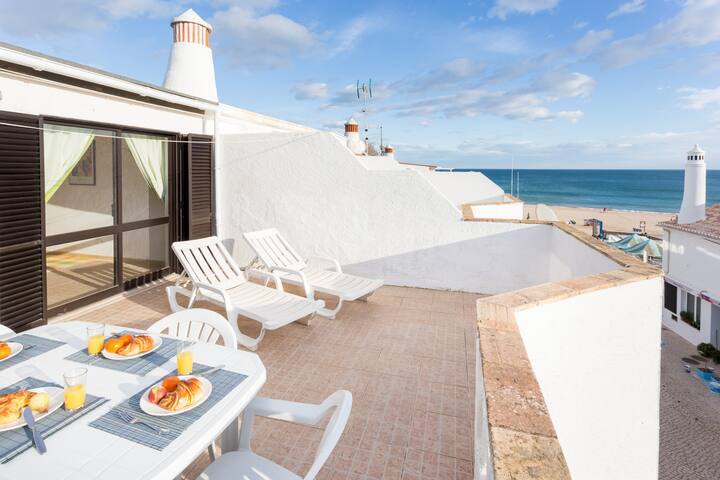 Wonderful sunny apartment in a small private building, 3 mn walk from the beautiful beach of Luz. Very close to the center and the post office, supermarkets, restaurants, pharmacies. 5 min drive to the Boavista golf. All equipped (crockery, bed linen and towels), very comfortable with: large bedroom, living room, kitchen, bathroom (hydromassage shower), good balcony and modern decor. No private parking, but free and secure parking in the vicinity. Calm neighborhood for an unforgettable vacation!
Room Type
Entire home/apt
---
Property Type
Apartment
---
Accommodates
3
---
Bedrooms
Luz, Faro, Portugal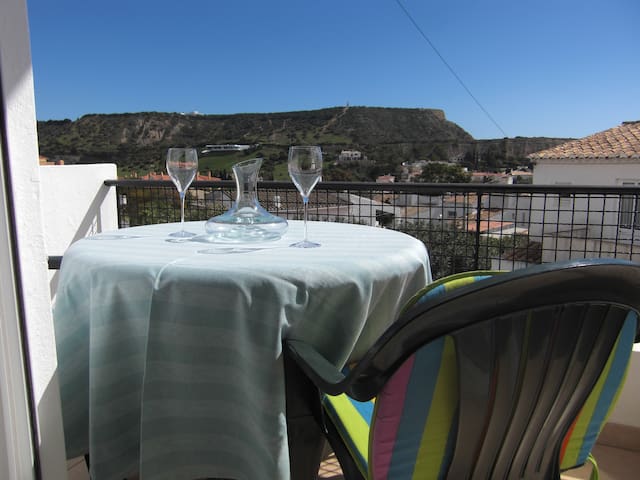 This 2 bedroom apartment is located in Praia da Luz and benefits from panoramic SEA VIEWS and is also only a few minutes walk away from the shops, bars, restaurants and the beach.
This 2 bedroom, 2 bathroom, duplex apartment is located in the centre of Praia da Luz on the Top Floor and benefits from panoramic SEA VIEWS. The apartment has WI-FI and is also only a few minutes walk away from the shops, bars, restaurants, supermarkets and the beach. The apartment has a spacious open plan living / dining area with patio doors opening onto a huge spacious south and east facing terrace with stunning sea views. The kitchen is fully fitted with hob, oven, washing machine, fridge/freezer, microwave, toaster, kettle and coffee machine. The bedrooms and bathrooms reside on the lowel level. The master bedroom is a double room with patio doors opening onto a terrace, again with stunning sea views. This bedroom has an en-suite bathroom comprising of vanity unit, bath, walk-in shower, bidet and WC. The second bedroom is a twin room also with sea views and patio doors opening onto a terrace. The second bathroom consists of a vanity unit, bath with overhead shower and WC.
There are 2 water parks within a 35 minute drive of the apartment and a bus services which runs a return services from Praia da Luz to the water parks and back everyday. There is also a theme park (Zoo marine) within 45 minutes drive which also runs a bus service from the village. The Zoo marine's main attractions are presentations with dolphins, seals and sea lions, an amazing aquarium with sharks, 4D Cinema, various rides, attractions and swimming pools. If you are a keen golfer, there are 40 golf courses in the Algarve, of which over 10 can be found within a 30 minute drive of the apartment. The nearest, Boavista Golf course is an 18 hole course and is only 3 km away. Lagos marina is only a 10 minute drive away. From here they do daily boat trips around the caves or dolphin watching trips. It is also possible to go sea kayaking, paddle boarding, deep sea fishing and an array of other water based activities. If you are interested in history Lagos is a city steeped in it with origins dating as far back as 2000 years BC. Lagos castle walls still stand, originally of Carthaginian or Roman origin, the ramparts were extended by the Arabs and then again in the 14th and 16th centuries to accommodate the town's growth. The walls offer beautiful panoramic views of the surrounding hills and the bay of Lagos. Many monuments were destroyed by the earthquake and tsunami of 1755. But it still preserves some rebuilt walls from the 16th century, a governor's castle from the 17th, and the site of what is believed to have been the first black slave market in Europe (the Mercado de Escravos, opened in 1444). During the 15th century, Lagos was the base for the 'voyages of the Discoveries' instigated by Henry the Navigator when trade between Africa and Portugal brought a great deal of wealth into the town. Lagos museum houses an eclectic collection of archaeological finds from the prehistory (ammonites, dinosaur teeth) and the Neolithic (axe heads, pottery shards). The mishmash continues with an assembly of minerals, Roman mosaics and Moorish oil lamps and pottery.
Beautiful view! Nice apartment
Sergio
2016-07-23T00:00:00Z
The apartment is a nice size, up high, with lovely big balconies overlooking the sea. It is well equipped, with a good kitchen, comfy sofa and furniture on the balconies. It was nice to have a big TV as we spent a fair while inside with our baby (although there are no UK channels now). The location is set a little back from the beach, as you can see, but we enjoyed the fairly short walk down the hill, even with our baby in a pram. It might be less suited for those who are less mobile. The view is great! Michelle doesn't live in Luz but it was easy to communicate with her agent, Phil, when we had queries. And our requests were sorted quickly and with good humour - we really appreciated Phil's approach. And the staff of the Ocean Club (this is part of the Luz Ocean Club) were also very helpful and friendly. I think the double bed needs replacing - the metal frame is wobbly and the mattress uncomfortable. Although it is heated, this was inadequate for early February and the electricity supply is not strong enough to run two radiators and the kettle! I have given three stars. Three stars is 'average' while four is 'great'. That's a big difference! It was 'good' and I recommend it - it was good value. If they replace the bed, it'd be close to great. It is better than average.
Mark
2016-02-06T00:00:00Z
Great apartament with outstanding view. Loved it. Very spacious and nice. Quite close to the beach and very convenient as the market was on the way to the beach. Access to the pool was welcome in the windy days.
Aura
2016-09-10T00:00:00Z
We very much enjoyed our stay at this apartment. The apartment is very nice, the terraces give a beautiful view on the beach. Both bedrooms have their own restroom and access to the terrace. The pool is nice, it's just a pity that it closes already at 7 pm.
Alja
2016-07-08T00:00:00Z
We had fantastic holidays in Luz. The instructions to get into the apartment were clear. The apartment itself was great: very tidy and well equipped (grill, washing machine, sunbeds, etc.). But the greatest thing were two big terraces with the amazing ocean view. The location was perfect (10 min walk to the wonderful beach, 100 m to the nearest shop). I would recommend this place :)
Radosław
2015-09-25T00:00:00Z
Amazing place! The view was as promised, walking distance from the beach, innumerable restaurants, great landscape; a huge two story condo. Highly recommend!!!!
China
2017-01-14T00:00:00Z
Very easy check in at 11 PM Apartment very clean, well equipped, spacious, quiet and a great view
Norman
2015-10-14T00:00:00Z
Luz was a small seaside village with loads of touristic activity and atmosphere. Our resort/apartment was centrally located to all facilities and the beach. There was a nearby bus stop, grocery store and a variety of restaurants. The apartment was clean and spacious, with great views of the town and ocean.
Hillary
2016-05-25T00:00:00Z
Room Type
Entire home/apt
---
Property Type
Apartment
---
Accommodates
4
---
Bedrooms
Luz, Faro, Portugal
Family friendly ground floor apartment in the beautiful town of Praia Da Luz in the Algarve, Portugal. There are 4 single beds, but there is room for additional camp beds - these can be hired at an extra charge if needed.
Room Type
Entire home/flat
---
Property Type
Apartment
---
Accommodates
4
---
Bedrooms
Luz, Faro, Portugal
Lovely one bedroom apartment, recently renewed in a nice and very well preserved building. It accommodates with great confort 4 people. Free wi-fi in the apartment. The building is in a great location, next to the supermarkets and restaurants and 5 min walking to the beach .
Lovely apartment, recently refurbished and 5 minutes walking to the wonderful beach of Luz. Next to the supermarket, bank and Luz beach services. Free wi-fi
Praia da Luz is a quiet and beautiful beach. Perfect for relaxing and enjoying the sea and the sun.
First experience with airbnb so was a little apprehensive. Arrived on time and met with contact and was shown apartment ,exactly as described in advert. Plenty of room and everything I needed right down to shoulder bag. The apartment was plenty big with one bedroom and nice bathroom with plenty of fresh towels and bed clothes.
Alex
2015-09-17T00:00:00Z
Just what you need for a few days away. Inexpensive, clean, central ... recommended!
Stephen
2017-03-13T00:00:00Z
Iris has been very nice, helpful and easy to get in contact with (offering an itinerary, reaching out for the caretaker, helping with any questions). The apartment itself was spacy, clean, well equipped (even an espresso maker and sewing cotton and a needle!) and close the the (very small) city and the beach. Just around the corner is a spar-market where we could buy everything we needed (including soy milk and other not so usual stuff :-)). So this perfect place is definitely a 'go'!
Sven
2016-10-07T00:00:00Z
The host canceled this reservation 7 days before arrival. This is an automated posting.
Virgilijus
2015-10-14T00:00:00Z
The apartment is furnished simply, clean and well equipped. Iris concern greet us even we arrived very late and responded to every request we had during the week we were in the apartment
michal
2016-08-16T00:00:00Z
Stayed in the offseason - the place was great launching point to check out the Lagos area. The building is a little bit older, you only experience it when you're outside the apartment (dark hallways). Once you're in the flat, it's very comfortable.
Yohan
2017-02-02T00:00:00Z
Es ist eine schöne Unterkunft, es war alles sauber, Bettwäsche und Handtücher in Fülle vorhanden. Wir wurden vor Ort vom housekeeper empfangen und begrüßt. Das war persönlich und sehr angenehm. Am Besten fand ich, dass wir zu Fuß nur 5 Minuten zum Meer hatten, das war grandios. Einkaufsmöglichkeit und einen guten Cafe in der Nachbarschaft. Also die Unterkunft hat meine Empfehlung. Sonja
Sonja
2016-04-01T00:00:00Z
Wir haben einen sehr schönen Urlaub in Luz verbracht. Das Apartment ist schön gelegen und man hat alles was man braucht. Iris war sehr freundlich und hilfsbereit.
Birte
2016-07-18T00:00:00Z
Room Type
Entire home/apt
---
Property Type
Apartment
---
Accommodates
4
---
Bedrooms
Luz, Faro, Portugal
A unique development of 4 apartments with large swimming pool, set in mature gardens with sea views. The elevated ground floor apartment has a large, light and airy open plan living/dining area with patio doors leading to a large south facing terrace with patio furniture and barbecue. There is a feature fire place with flame effect gas fire, satellite and android TV via the WiFi in the apartment, DVD and CD player. The modern, well equipped kitchen has granite worktops with breakfast bar, gas hob/ electric oven, washing machine, dishwasher, microwave and family-sized fridge freezer. There are two good sized bedrooms (one double bedroom and one twin) with fitted wardrobes and safe. There is separate access and private parking. Sun loungers are provided for the pool area. The apartment is in a great location, less than 10 minutes easy walk from the village centre and beach.
The apartment is a 2 bedroom (one double room and one twin room), bathroom, lounge with comfortable seating (32in TV/DVD), Kitchen with dishwasher and washingmachine, table with 6 chaors, patio to south facing garden with large pool.
Praia da Luz is a lovely friendly village with a good mix of shops, restaurants, cafes and bars, a great beach with lots of watersports etc.. Golf nearby at Boavista and Parque de Floresta.Great beaches in the surrounding area. Lagos is only a couple of miles away and is a properly functioning town .
The apartment has a very spacious living room and kitchen, two bedrooms of equal size and a bathroom with a tub. Private parking is just on the side of the house. The place is very clean with furniture of very good quality. There were more than enough of household items like cutlery, pots pans etc and also some beach chairs and games for the beach, all in very good condition. The garden is accessible via three steps down from the patio and there are sun beds available for use which you can put on the lawn next to the pool. There is a supermarket about 5-10 minutes way by foot or you can get to Lagos' bigger supermarkets in 10 minutes by car. Tom was very quick to reply to all our questions and provided some good tips for beaches and restaurants in the area. We enjoyed our stay very much and would definitely return on our next visit to Algarve.
Christopher
2016-05-05T00:00:00Z
We just returned from a wonderful week in Luz. The apartment was perfect and very well equipped for our family of 5. We enjoyed the pool that was clean and warm. It was close to the beach and shopping but we would recommend a car to reach the unbelievable beaches not far from the apartment. Tom, the owner, was very friendly and did everything for us to have a good week. Thank you for a fantastic week! Br Lars Lippert
Lars
2016-07-27T00:00:00Z
Tom has a great place! Everything you need to enjoy your stay is there. Highly recommend.
Denys
2016-11-11T00:00:00Z
Room Type
Entire home/flat
---
Property Type
Apartment
---
Accommodates
5
---
Bedrooms
Luz, Faro, Portugal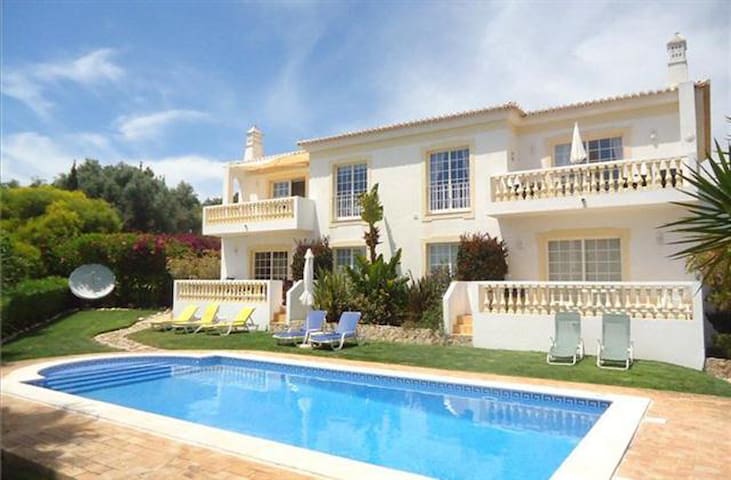 The apartment is located in a quiet area within walking distance of Praia da Luz, 3km from Burgau and 10km from Lagos. It is an ideal base for exploring the beautiful Western Algarve and its stunning beaches. The apartment is in a small complex and has a private enclosed garden with bbq. The restaurant next door has a pool which it is possible to use in restaurant hours for a small fee. There is also a local cafe opposite. It is fully equipped including washing machine and dishwasher.
We had a great time. The apartment is fully equipped with everything you need We even got some welcoming beers in the fridge :) Great location 5 minute drive from the beach. Thanks for everything
Rinat
2016-10-24T00:00:00Z
Room Type
Entire home/flat
---
Property Type
Apartment
---
Accommodates
2
---
Bedrooms
Luz, Lagos, Portugal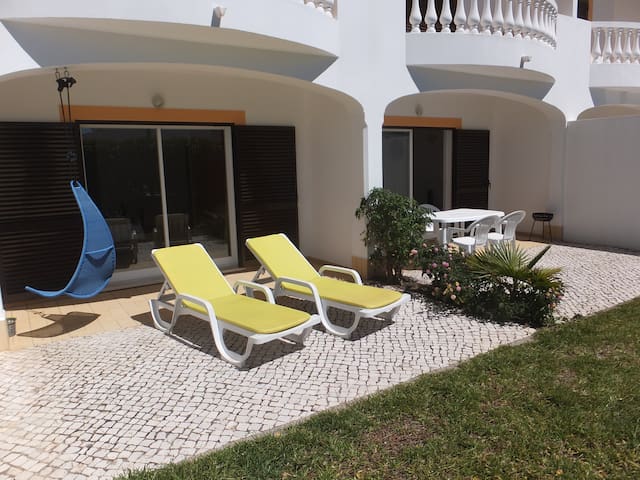 Modern luxury apartment with communal pool. Wi Fi and English TV. Five minutes from the beach, shops restaurants on a small prestigious development. Sleeps 4
Room Type
Entire home/apt
---
Property Type
Apartment
---
Accommodates
4
---
Bedrooms
Luz, Faro, Portugal
3 Bedroom apartment, private resort, indoor/outdoor swimming pool spa and gym. Quiet area great for families.
"The apartment has two bedrooms, open plan sitting room and dinning area. The Varanda opens out from the sitting room to beautiful views of the Atlantic Ocean. You can dine ""el fresco"" or enjoy a glass of wine at sunset. We provide you with a full concierge service and can arrange entertainment, food & events during your stay with us. A luxury apartment with luxury service. Mar Da Luz is a luxury apartment complex set within Porto Dona Maria which is a private resort set in a total area of (PHONE NUMBER HIDDEN) of ecological/natural land. More than 40,000 m2 of Porto Dona Maria is private sea front overlooking the Atlantic Ocean with fantastic views to Luz Bay and the entire coast line towards Lagos. The complex has a large communal pool and small children's pool with plenty of sun loungers. Just a few minutes walk is a further large pool with panoramic sea views and a pool side snack bar. The complex also includes a spa with indoor health suite, heated pool, Jacuzzi, Turkish bath, sauna, gym and changing facilities all for residents use only. Within the spa is the reception which is open 7 days a week to help with any enquiries such as booking taxis, restaurants etc. There is also free Wifi available at the reception area. Within Porto Dona Maria there is a restaurant and snack bar serving breakfast, lunch and dinner. Car hire is not essential but is very reasonable on the Algarve, taxi transfers are available. There is a bus stop next to the entrance for Porto Dona Maria."
Room Type
Entire home/apt
---
Property Type
Apartment
---
Accommodates
4
---
Bedrooms
Luz, Faro, Portugal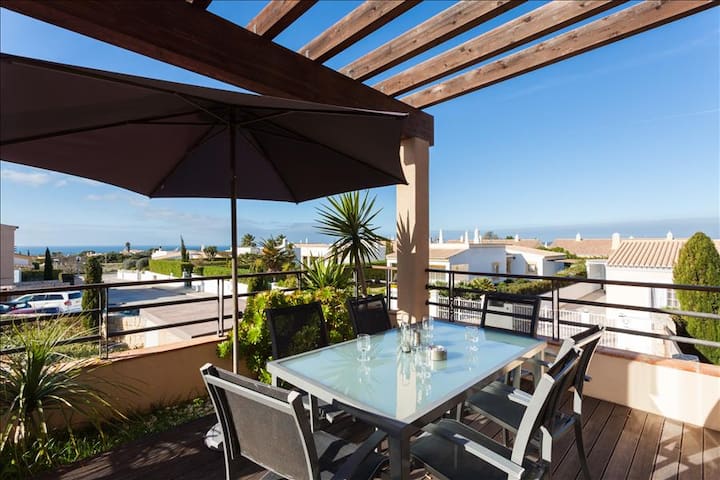 Espiche - Airbnb
:
Average

4.37

out of

5

stars from

140

guest reviews
1

–

18

of

129 Apartment Rentals
Enter dates to see the total trip price including additional fees (but excluding any taxes).