A private mini home away from home in the heart of one of Seattle's Best Neighborhoods!
Enjoy your own private mini-home while exploring Seattle. Conveniently located just blocks from downtown Ballard and an easy 15 minute bus ride from downtown, this quaint yet roomy space is perfect for out of town guests and vacationers. The 250 square foot space enjoys its own deck space and hot tub. French doors fully open to the deck to create an indoor/outdoor great room with plenty of outdoor seating. It has a mini kitchen with a 2-burner stove with a mini fridge, microwave, sink and kitchen essentials. This includes cooking supplies like pans, plates, oil, salt and pepper etc. We also have a Keirig Coffee Maker with a generous supply of K-Cups. The newly remodeled bath includes a shower with on-demand water. There is a storage closet in the bath for clothes and extra linens. If you are staying longer than three days, I will provide fresh towels and linens for you upon request. The bedroom loft is cozy and features a double size bed (new memory foam mattress in 2015). The ladder up to the loft is custom-made to retract from the wall for easy access. When it is not in use, it slides flush to the wall to allow for more room in the living space. If you are very tall, the loft might seem a bit tight (fyi). There is a couch which allows for an extra person to sleep in the unit if you wish. I also have a portable crib that you are welcome to use. Just let me know. I'm pretty strict about maxing out at 3 guests. Children under 8 are not allowed in the loft area for safety-sake. This rental Includes cable tv and access to wireless Internet. The overall look and feel of the space is what I call, "Modern Nautical". Ballard is an old fishing town that has become the culinary hot spot of Seattle. The colors and lighting fixtures give homage to Ballard's history. There is plenty of free off-street parking and access to one of the best neighborhoods in Seattle is just a short walk away! There are quite a few quick service/family run (no chains) restaurants within a block from the house along with a great fruit stand and espresso shop. Grocery and drug stores are within 5-7 blocks away. The bus stop to a main arterial is a 1/2 block away. A great bakery is only 2 blocks away. This is a great location for those of you vacationing without a rental car. Pretty much anything you need is less than a 10-15 minute walk away. Even if you have a rental car, you can leave it parked and just explore all the fun stuff in Ballard! Oh, and did I mention the peek a boo views of Mt. Rainier and downtown from the deck? We look forward to meeting you! -Errin & Olivia
Ballard is a great neighborhood with tons of bars and little restaurants. Just ask me and I'm happy to share some of my faves.
Errin's mini-home was great. It is nestled in a little suburban neighborhood of Seattle called Ballard and super close to the bus stop. and some shops nearby. Looks just like the pictures. Very private home equipped with everything you need and great for a getaway. She is flexible with accommodations and we enjoyed our stay in Seattle!
Tiffany
2016-03-22T00:00:00Z
Our stay at Errins little home was wonderful! It is exactly as described and very comfortable! Thank you Errin for a great stay!
Anne
2015-07-07T00:00:00Z
When we got there, Errin already turned on the heater and lights. It felt like getting home. The neighborhood is really friendly and willing to help when you get troubles. The loft is just too cute! I wanna have one in my future house :)
Chingling
2016-01-15T00:00:00Z
Errin is very caring, and easy to communicate with. She even had a pack-and-play available for our little one. The place itself is lovely - cozy little house in her backyard with large deck and jaccuzi. Well cared for home, clean - plus I loved the smell of the linen. We really felt at home. Great neighborhoud with a lot of nice placey to eat and easy access to downtown Seattle.
Nina
2015-09-24T00:00:00Z
The mini house was the perfect size and location for my boyfriend and I to explore Seattle and it's neighborhoods. Additionally, the house was stocked with little household necessities that really made life easier- coffee, jam, pasta, extra towels, wine opener. And of course, the hot tub was the perfect way to end a long day of exploring!
Leah
2016-05-23T00:00:00Z
This place was fantastic, my parents were in town and i chose this place as it was a quick 3 minute walk from my house. House: it's small but incredible cozy and comfortable. The stairs up and down the loft was a bit daunting for parents who are in their 60s, but they got over it after a few tries. Kitchen and Bathroom were both very clean. Hostess: Errin was a great hostess, i never get to meet her in person but we were in constant contact days before and during the stay, she gave me a great sense of her presence and support during the stay. Highly recommended.
Ting
2014-03-26T00:00:00Z
My wife and I stayed here for the first leg of our honeymoon. She got addicted to watching Tiny House Hunters so I was very happy to find this place. It is exactly how it's described. It was clean, had a good location (we did so many things around the city-that this was a good location for us), and Errin was very good at communicating and gave us privacy. I would recommend staying here, the parking was a little congested but we realized that you could say that about most places in Seattle.
Bradley
2016-09-14T00:00:00Z
My daughter and I were very happy in your mini-home. We had everything we needed. The place was clean and tidy. We loved the neighborhood and easy walk to downtown Ballard. Having the supply of coffee for our morning fix was an added perk. Thank you so much.
Sonia
2014-05-05T00:00:00Z
Room Type
Entire home/apt
---
Property Type
House
---
Accommodates
3
---
Bedrooms
Seattle, WA, United States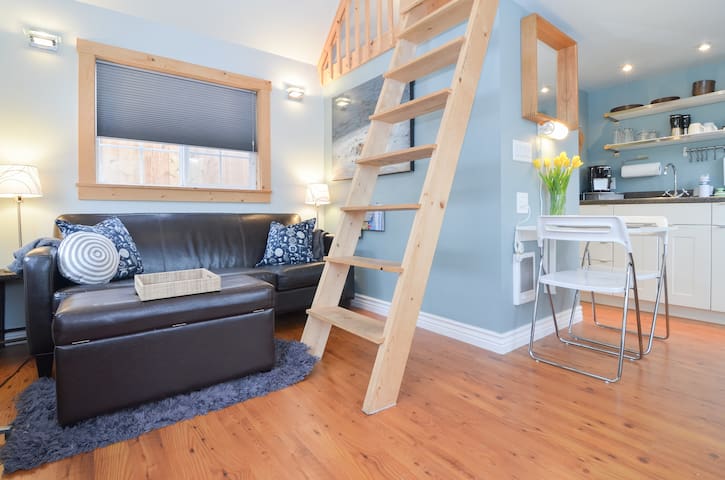 A private getaway in the heart of the Center of the Universe, aka Fremont. The cottage is conveniently located near everything Seattle offers in this central, vibrant neighborhood. Enjoy the serenity of an urban escape on this peaceful property.
LOCATION Fremont is called the unofficial Center of the Universe for a reason! As a young city dweller, I LOVE this vibrant neighborhood. The location is incredible -- fun, convenient, and safe. You will be close to downtown, bike trails, coffee shops, bars, restaurants, boutique shopping, PCC Natural Market for groceries, Car2Go, buses, ZipCar, and friendly faces. It's also an option to rent a car for the day and be out in the mountains. THE COTTAGE A fully separate ~320 sq foot dwelling designed for the comfort of guests. The cottage is set back off the street, so it is very quiet and relaxing. The Urban Cottage in Fremont features: + skylights + bathroom with shower + recycled glass counter + restored hardwood floors + queen, memory foam bed + delightful privacy + a gas fireplace This cozy space is intended for one or two adults. The cottage is a pet-free space to honor my guests with allergies.
Fremont dubbed itself the 'Center of the Universe' and is dotted with celestial, eclectic, artsy and charmingly strange sculptures. Look for the giant Jupiter and rocket ship by the grocery store. This neighborhood is a beautiful location in the city, right on the top of Lake Washington and has experienced a healthy community rejuvenation over the last decade. It is now considered one of the hip neighborhoods with one-of-a-kind bars, restaurants, and boutique shops -- and a little left over grunge feel from the 90s.
Loved our time at the studio cottage. Perfect location and beautiful space. Grace was a wonderful host who went the extra mile in all the little extras the space offered us.
Amy
2016-03-01T00:00:00Z
My employee truly enjoyed his stay in Grace's Fremont cottage. He was delighted with the cozy surroundings and the thoughtful amenities including the much-needed iron and ironing board. Thanks Grace!
Autumn
2015-02-25T00:00:00Z
I had a great stay! Grace stopped by to say hello, and the unit was clean, comfortable, and well kept. I'm planning to return next time I'm in Seattle.
Juston
2016-04-21T00:00:00Z
Our experience at Grace and Andrew's cottage was absolutely wonderful. We couldn't have asked for a better place to stay during our night in Seattle. We especially loved the warm and cozy feeling that the cottage offered and the care put into the details, like the little fireplace. Thank you, Grace and Andrew! We are very grateful for our time in Seattle.
Chloe
2014-10-14T00:00:00Z
This is a surprisingly quiet place for being just a 4 block walk away from Fremont's music and nightlife venues.
Stephen
2017-03-26T00:00:00Z
A perfect little cottage in a great location. Couldn't be better!
Ross
2014-02-16T00:00:00Z
Our trip was perfect! The cottage was clean, quaint, and full of special touches. Unlimited coffee and tea were much needed after a long flight and much appreciated. The location was great to explore the city and get some of the local flavor. We would highly recommend Redmill burghers and Paseo Subs. Thank you Grace and Andrew!
Rianna
2014-06-28T00:00:00Z
This is a wonderful place in a really fun, walkable neighborhood. The host was easy to communicate and greeted us upon our arrival. The cottage has everything we needed and more. We were able to find a lot of fun things to do within walking distance. A great experience!
Meagan
2016-09-03T00:00:00Z
Room Type
Entire home/apt
---
Property Type
Cabin
---
Accommodates
2
---
Bedrooms
Seattle, WA, United States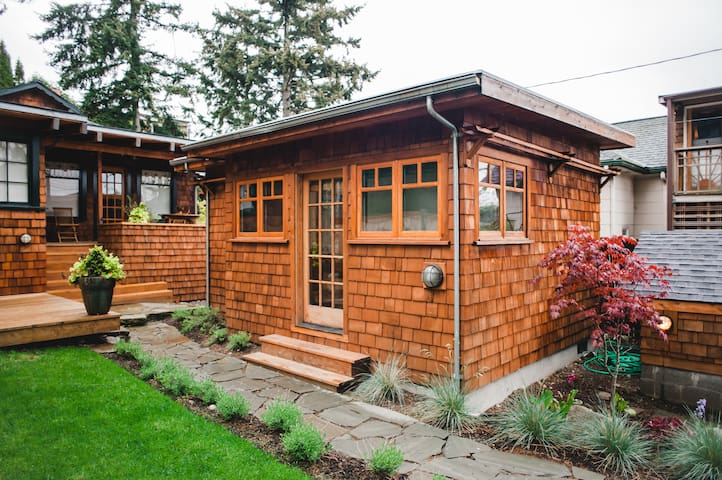 Our little log cabin is back in action! We are back in the main house after living in the cabin for a year: a fun adventure! About the cabin, it's mostly heated by the wood fireplace. Kitchenette has microwave, 1 burner, mini-fridge, dishes etc. upstairs is full-sized bed
Sweet restored stockade style log cabin right on Haller Lake. You would never know you were within the Seattle city limits! Haller Lake is a quiet, natural spring fed 15 acre lake surrounded by private homes. Custom woodwork inside with artful touches. Sleeps 2 upstairs in full sized bed. Main floor has comfy sofa, kitchenette with microwave, single induction burner cooktop, coffee maker, toaster and small refrigerator, teapot, dishes and glasses; 3/4 bath with new stone tile shower. This cabin is heated mainly with the wood fireplace. The photos show the old wood stove. You can now watch the flames and there is a fan to spread the heat around a little better. There is also a deLonghi oil heater to add a little more heat when needed. There is no TV but there is WiFi. Bring slippers, the stone floor gets chilly. Fish from the dock or take a ride in the paddleboat. We just got a canoe! (The boats are out of the water in the winter). No pets please! We are now living in the main house. We have an Australian Shepherd and a flock of chickens and ducks (the dog and chickens do not come into the cabin, just in case you were wondering) Parking is shared with the main house. It's close to Northgate Shopping Mall with shops, restaurants and Thornton Place Cinema. A few blocks to Northwest Hospital and the new proton center (look up ProCure Center) The lake is about 20-35 minutes from downtown Seattle via I-5 or highway 99 (can be a bit more in heavy traffic). Bus route #346 has a stop at the end of the driveway. If you are interested in having a party or many friends over, please clear it with us before making your reservation. We have limited parking and there is no parking down our communal access road. Check out by noon, Check in no earlier than 2pm, sometimes later if I can't get the cabin ready because of work. To be agreed upon according to schedule. If you want an early morning check-in, please book the night before.
This cabin is so charming, I never wanted to leave! Rustic yet refined log construction with a craftsperson's loving attention to detail. Intricate wood inlays, a gorgeous walkin shower tiled in natural stone, a great woodburning stove that keeps it cosy. Bedroom is upstairs, double bed, amazing view of the lake. Kitchen is also charming - microwave and single burner stove, little fridge and most everything you'd need, pots and pans wise, to cook the basics. Well appointed. Feels miles and decades away from metro Seattle, but is centrally located. Roberta is so neat and kind and helpful, we got in at about 1 a.m. when we arrived due to our plane schedule, and Roberta left a flashlight, detailed instructions and a lighted path to the cabin - even had a little fire going and lots of standby firewood to warm it up for us! Roberta and Dan's cabin is going to be our #1 spot in Seattle from now on. Charming!
Kit
2012-02-24T00:00:00Z
I stayed in this cute little log cabin with my boyfriend late April. The place was better than I had expected! The weather was beautiful and we were able to take advantage of it on the lake by using a paddle boat that Roberta dried for us. Communication between Roberta and Dan was great - they responded to all my emails in a quick and friendly manner. We had no problems at all with check in and out stay. It was a little tricky to find the place as I almost drove by the first time, but there is a street sign that will guide the way. I really enjoyed my trip, it was the perfect getaway! The cabin was isolated enough that you wouldn't know it was only a 5 minute drive away from the shopping mall. Will definitely be back!
Cindy
2012-04-29T00:00:00Z
Impressed with the site, the architectural beauty, the welcome details and the conversations with Roberta, our hostess... We had a total ball in their darling cabin by the lake ;) I took "a ton" of pictures...will post them little by little, to re-live the fun time spent there. Full heartfelt recommendation, from both Robert and myself...:D Always love, light and laughter; Leticia & Robert Hube(URL HIDDEN) (URL HIDDEN)
Leticia
2012-05-13T00:00:00Z
Super interesting log cabin with nice grounds and Haller Lake view very near Northgate Shopping Center (and my daughter's apartment). Hosts are very gracious and accommodating, and I'm recommending the bigger house for friends visiting their children in Seattle, and may do a "girls' weekend" from Spokane. For the log cabin, I'd recommend one or two persons at most and to take only light luggage and a flashlight for the walk from the parking lot near the bigger house.---especially in these dark winter months. You might also want to take a tape player or radio for music at the cabin.
Connie
2011-12-01T00:00:00Z
Roberta and Dan have a great little cabin in a beautiful location. It was quite and cozy and we wish we could have stayed longer.
Andrew
2011-12-20T00:00:00Z
We thoroughly enjoyed the peacefulness we found at the Haller Lake Log cabin. It was perfect after the busy days getting our daughter settled at UW. Roberta's communication before, during, and after our stay was great. The cabin had everything we needed. The setting was a little oasis. So relaxing. Perfect short stay. Would love to return sometime and spend a little more time on the lake. Thank you Roberta and Dan for sharing your lovely retreat with us.
Lynne
2011-09-26T00:00:00Z
Roberta and Dan's Haller Lake Log Cabin was everything I could have possibly asked for. It is truly a hidden gem within the hustle and bustle of the city of Seattle. Walking back to the cabin, I was immediately taken aback by the beauty of the trees surrounding it and the serenity of the lake stretching out before it. My first night, I simply sat out on the private dock, taking it all in. The cabin itself was perfect. It was cozy, rustic, and the ideal way to go "back to nature" without losing any of the amenities of home. The window in the bedroom took up almost the entire wall and each morning my boyfriend and I enjoyed awaking to sunshine and birdsongs. The patio in front of the cabin was fantastic for enjoying relaxing breakfasts outdoors, and the fireplace was ideal for cozying up on the couch each night. As if all of this wasn't enough, Roberta and Dan left coffee and tea for us and provided enough firewood to keep us warm all day and night. While Dan wasn't at home when we arrived, Roberta took the time to give us a tour of the cabin, show us how to light the fireplace, and answer any and every question we had. She was a fantastic host-- and even helped me locate the cabin when I got lost on the way there. I would definitely recommend this cabin to anyone and everyone interested in having a relaxing, enjoyable and picturesque escape from the city.
Megan
2014-03-21T00:00:00Z
This magical cabin was made even better by the beautiful pristine lake and warm and accommodating hosts. A big thank you to Roberta and Dan for their hospitality. The cabin was well stocked, clean, and super comfortable. I will treasure our time there and hope we can return one day! Only 15 minutes from downtown Seattle but a world away. Very tranquil and peaceful.
Emily
2015-08-24T00:00:00Z
Room Type
Entire home/apt
---
Property Type
Cabin
---
Accommodates
2
---
Bedrooms
Seattle, WA, United States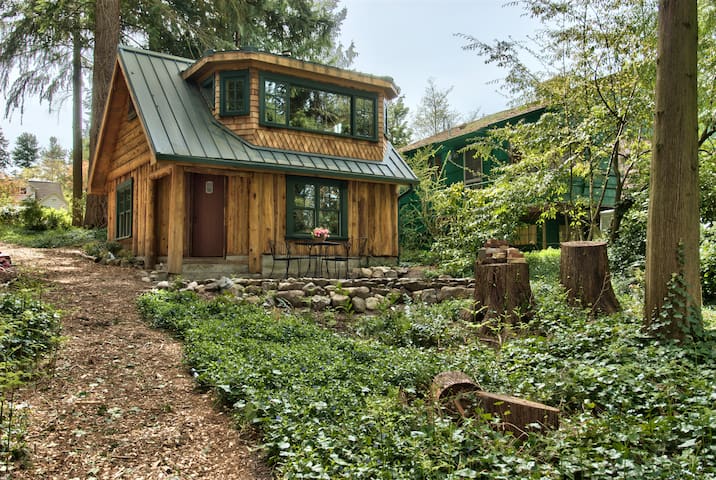 This apartment has lots of natural light and a private, full bathroom. It is in the lower level of our house. It is well insulated to stay cool in the summer, warm in the winter. The space has all the conveniences of a hotel room. You have a private entrance, driveway that's yours to park in, fiber optic high speed wifi, microwave, toaster, electric kettle and a small frig. along with an assortment of tea, organic coffee, dishes, silverware etc. for you to use. There is a wall mounted HD T.V. with DVR and Century Link Prism (two hundred plus channels including HBO and on demand shows) . There is a queen bed and a new couch that converts to a full sized bed. The house has a huge yard and deck you are welcome to enjoy. There are two friendly cats but they stay upstairs. We live two blocks from Delancy's, a pizza spot that has been nationally recognized, Honore, a great bakery whose crossiants were voted the best in Seattle region and the Fat Hen, a French bistro. All three have glowing reviews and are fabulous. The Ballard neighborhood has an incredible amount of restaurants and small, independent shops and Downtown Seattle is 5 miles away and a quick, easy bus ride. We live less than a mile from Greenlake and there are great neighborhoods to explore on all sides. There is plenty of free street parking in our neighborhood and a driveway that's yours to park your car in.
The room was very nice - quiet and clean and comfortable. Amanda welcomed us with brownies and fresh flowers, which was really a nice touch. It was a perfect place to stay for a quick trip to Seattle.
Cindi
2014-10-12T00:00:00Z
The room was perfect. Made me feel so at home with Good Earth tea and many cozy amenities. Love being close to stellar restaurants on 70th. Lovely Ballard neighborhood feel!
Jessica
2016-02-09T00:00:00Z
This place was in a beautiful and quiet neighborhood of Seattle. Fruit trees and vegetable gardens everywhere. Close to public transportation to get downtown and within walking distance of coffee shops and restaurants. The bedroom was beautiful (nicer than a lot of hotels we stayed in) and we had access to laundry, a refrigerator and Amanda's backyard. Amanda was super nice and helpful. I highly recommend this place to anyone that like low key and city city environments.
David
2012-08-24T00:00:00Z
Amanda's place was so cozy and inviting. I wished that my stay would have been longer but the one night I was there was restful and comfortable. I appreciated Amanda's warm welcome and the thought she put into making the space comfortable. Thanks for opening up your home to travelers.
Heather
2014-03-07T00:00:00Z
This was an *ideal* place from which to base our Seattle adventures! It was spacious, comfortable, and attractive, and we loved the neighborhood - close proximity to lots of shops, restaurants, etc. but still quiet and residential. Amanda was easy to work with and a very welcoming person. I'd come back anytime.
Maura
2014-03-23T00:00:00Z
Super clean and in a quiet residential location, I strongly recommend Amanda's place. Amanda is incredibly nice and helpful, too. Would definitely stay here again.
Chris
2014-07-19T00:00:00Z
Very cozy & private stay here. Thank you so much for the brownies:)!!!
Chenlu
2014-08-19T00:00:00Z
Amanda's place was great! Roomy, comfortable, clean, and in a fun part of Seattle. And Amanda was so friendly and helpful. It was definitely one of my favorite Airbnb stays. I would stay here again in a heartbeat the next time I'm in Seattle.
Tony
2015-03-09T00:00:00Z
Room Type
Entire home/apt
---
Property Type
House
---
Accommodates
4
---
Bedrooms
Seattle, WA, United States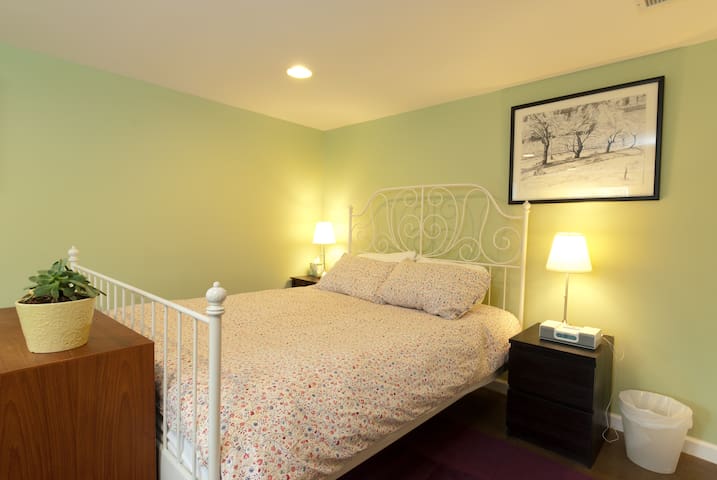 Views! Location! Stunning, separate top floor of our lovingly cared for home is like no other place in Eastlake: beautiful, quiet, with warm wood paneling, 13 ft. ceilings, and views you will never forget. One block from Lake Union, perfect for watching the sea planes, boats, and sunsets over the Olympic Mts. Away from the freeway, peaceful, and one-of-a-kind. Our village-like neighborhood, in between the University and Downtown, is a well kept secret with cafes and restaurants nearby. Welcome!
Come and enjoy this beautiful, peaceful, and happy home-away-from-home with amazing views in the heart of Seattle! Our light and airy "Sky Cabin" is one block from Lake Union (where the film Sleepless in Seattle was made). If you would like to stay in a quiet, one-of-a-kind apartment, then the "Sky Cabin" is for you. It is a completely separate unit on the top floor of our lovingly cared for three story house and has cork floors and warm, birch wood paneling that make it feel like a cabin in the sky. The tall windows faces West with views onto Lake Union, the Olympic Mountains, and even a small view of the Space Needle. You'll have a master bedroom, a large bathroom with three shower heads and a heated tile floor, an open living space/kitchen with 13 ft. tall cathedral ceilings, and another small room for doing yoga, exercising, or just meditating while looking out to the lake. It is quiet and peaceful, with skylights that let in plenty of light. The deck is perfect for watching the kayaks, sailboats, paddle boards, sea planes, tug boats, and floating homes that make Eastlake such a unique and special neighborhood. The Sky Cabin is decorated in a mid century style with comfortable furniture and feels cozy and cheerful. The kitchen is stocked with everything you need for cooking, and there are two televisions and one dvd player. Wi-Fi is included. There are plenty of restaurants and cafes within walking distance as well as easy bus access to either downtown or the university. We are 5-10 minutes by car to both downtown and the university and 10-20 minutes by bus, depending on traffic. In the Sky Cabin I have Seattle and Washington state guide books and maps for people to use while they are here, as well as various board games for those nights you just want to stay in. No pets, no drugs, must be at least 21 years of age, no smoking inside or out, and no extra guests.
Eastlake is a very quiet, hidden little neighborhood in between the University and Downtown. We are on the shores of Lake Union where Boeing had his very first hangar and that is now home to seaplanes, kayaks, paddle boards, and floating homes. There is a great selection of local restaurants to choose from all within walking distance of our house, as well as a local mini supermarket with one of the best wine selections in Seattle. We have lived in Eastlake for forty years and love it!
This was my first Airbnb, and it was absolutely spectacular! From the view of the Lake, to the heated bathroom floors, to everything being labeled, it was perfect.
Katherine
2015-10-18T00:00:00Z
Gillian was very welcoming. We were able to get in a little bit early and she was very helpful in directing us to our destinations around town. The apartment was adorable and perfect for us! It is exactly as pictured, with lots of natural light and a great view!
Michael
2016-09-20T00:00:00Z
The Skycabin is an amazing place to stay in order to experience all Seattle has to offer-whether you are a first time visitor (like we were) or not. Waking up to the incredible view of Lake Union and Gasworks park was the perfect way to start each morning along with some delicious coffee that Gillian provided. As great as Seattle is-we found ourselves really excited to come back and just hang out at this place at the end of each day exploring the city. The location is also perfect as it is a really easy bus ride downtown-plus, quick rides with ride share companies to most major landmarks and parts of the city (Ballard and Fremont are a quick 10-15 minute trip). We would definitely come back to this place and recommend it without hesitation to others. Thanks for hosting Gillian!
Wayne
2016-08-06T00:00:00Z
The house was awesome. I liked it a lot. Next time, when I go back to Seattle, it would be only choice.
Allan
2015-03-20T00:00:00Z
The Sky Cabin was one of the most welcoming airbnb locations we have ever stayed in. Gillian did an excellent job of providing us with everything we needed. From bags of coffee beans from a local coffee shop (Java Bean) to eye makeup remover pads in the bathroom ( I ran out, so I was very pleased by this). We wanted to live here. The view of Lake Union was spectacular. The pictures do not do the Sky Cabin justice. This place was supremely cozy. We loved the location, and had dinner at two places just around the corner from our location. We highly recommend Serafina for a nice Italian dinner and Louisa's for a tasty breakfast (both places were on a list Gillian laid out for us). Gillian also provided a lovely parking map. This was very helpful since there is a lot of zoned parking in the neighborhood, but we never had a problem. Everything we needed was provided for us and communication with Gillian was very easy. We definitely want to come back to the Sky Cabin next time we visit Seattle. Even my friends who live in Seattle were totally "wowed" by it. This place is a total gem in the Emerald City.
Samantha
2015-08-09T00:00:00Z
Gorgeous view. Adorable (and surprisingly large) apartment. Very clean. Located on a quiet yet centrally located street. Highly recommend!
Aaron
2016-03-27T00:00:00Z
The Sky Cabin is everything you hope for in an Air BnB: it's exceptionally clean, it has everything you could possibly want in terms of furnishings/kitchen/bathroom stuff, it's conveniently located, and it just feels good. It's even better than the photos show--we wished we could live there. We were a bit intimidated by the description of the parking situation, but it turned out to be a non-issue. We never had any trouble finding a spot super close by; if you're used to city parking then it's a piece of cake. If you're still waffling about whether or not you should book the Sky Cabin, then I have three words for you: heated bathroom floors. Amazing.
Claire
2016-01-18T00:00:00Z
Gillian was an attentive, professional host and the sky cabin is absolutely perfect. If you're visiting Seattle, I can't recommend a better place to stay.
Samuel
2014-07-04T00:00:00Z
Room Type
Entire home/apt
---
Property Type
Apartment
---
Accommodates
2
---
Bedrooms
Seattle, WA, United States
For travelers who are passing through town short-term and like a rustic cabin vibe in a great city location. Features: Futon pull out double bed, twin single loft bed, toliet & kitchette, but note: No bathing facilities available on site. Welcome!
This space has a lot of funky charm and is in a great part of the city. The room is cozy and a bit quirky with a rustic/self built vibe as we inherited the space (for example, the walls are simple paneling) but if you like its charm like we do, you will always have clean sheets, fresh duvets and coffee. You can have your coffee on the roof to see the tips of the skyscrapers while listening to the collection of birds that seem to like our yard! We hope you will love this place so please do not book just because it "will do for the price." Not everyone likes ladders, futons, old wood wall paneling or lack of a shower, but some people love cozy and fun and will truly resonate with our offering as they travel like we do! We love people to be happy and feel safe. There is a toliet is in the room with a curtain and half wall dividing it from the rest of the space, but no solid door. There is a single foam bed in the loft for those that are comfortable on a loft ladder. The futon in the main space is a pull out that could fit two people and is comfy. I set it up with clean sheets and bedding always. It will take up most of the room, so if you are staying more then a night, you may want to push it back to have a sitting space as there is a small table and two seats for eating space and a kitchenette, but no drawers for clothes..though we have lots of hooks and a shelf- if you have large wheel suitcases it will be possibly too tight...I offer all this to be upfront so you will enjoy your stay if you select the Zen Loft :) The wifi password for the zen loft is hulahoop :)
Ravenna is a wonderful neighborhood with an extemely good walking score. You are only a few blocks from so much! Less than 10 minutes walk and you are walking around Greenlake, or at Ravenna Alehouse, Zeeks Pizza, Ravenna Park, Third Place books, you name it! There is so much in our area to enjoy! For drivers, you are just 10 blocks from 1-5 and 5 minutes drive to the University District and 10 minutes to areas like Phinney, Fremont and the Woodland Park Zoo. In the city, but without the traffic, noise or high rises.
Great stay, Lara is a very accommodating host and great with communication. Would recommend to anyone
Taryn
2016-08-14T00:00:00Z
I arrived late night (delayed flight) and everything was ready for good sleep. The place is clean nice and special. Free parking just near.
Lena and Slava
2016-09-18T00:00:00Z
I was very welcomed. The description was accurate and the neighborhood was very nice, safe.
michele
2015-11-08T00:00:00Z
The Zen Loft was so cozy and fun to stay in! Lara was great and made sure we were comfortable. We had a great time!
Elizabeth
2015-05-30T00:00:00Z
What a wonderful treat! Lara and family were very accommodating and friendly. I love the fact that my money for a place to stay didn't go towards some billionaire kid's college fund but to a delightful middle-class family's son (who has inherited the family's gift for guest treatment).
Gus
2016-04-08T00:00:00Z
Although we didn't get to meet Lara, she was very welcoming and easy to contact before our stay. We weren't in Seattle for very long, but the Zen loft was a great place to rest. It was raining during the night, which made it even cosier. It was a very unique place to stay, which is one of the best things about using air bnb. We got the experience of staying in a 'tiny home' without the full time commitment. It was just a short drive to a lot of things we wanted to do, like go to the Green Lake area and Fremont/Ballard.
Elizabeth
2015-09-02T00:00:00Z
The tiny little loft was good for a pitstop. It was cool to climb the roof and see the beautiful sunset. Pretty good location felt very safe. Could be dusted a bit more but worked for us since it was a pitstop (no shower)
Lauren
2015-07-26T00:00:00Z
This is a great place to stay if you are looking for something a little more unique. At first I was concerned how far out of from downtown this place was, but learned that I could drive down the road to the UW Link Light Rail Station and take that closer into the city to prevent dealing with parking. Only drawback I had while staying was that the WiFi was a bit finicky and kept cutting out, but only need to refresh the page and it was fine. So if having a steady internet connection is important to you then maybe check with the host to see if it is acting up.
Dillon
2016-07-17T00:00:00Z
Room Type
Entire home/apt
---
Property Type
Other
---
Accommodates
3
---
Bedrooms
Seattle, WA, United States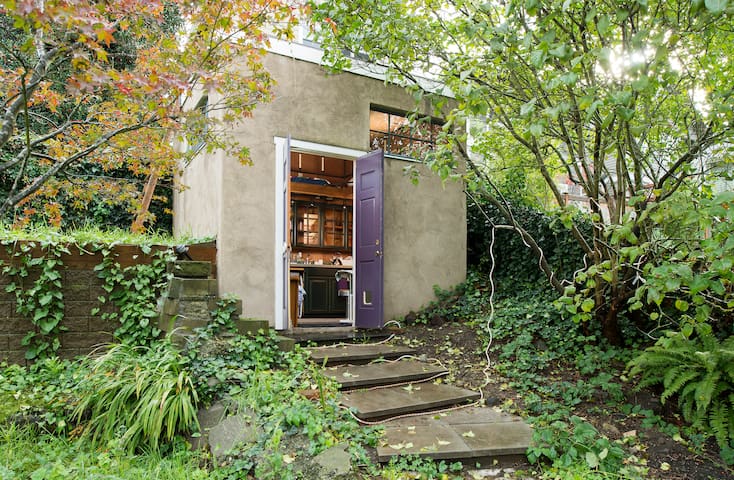 Secluded guest house featuring a spectacular panoramic view of the Puget Sound & Olympic Mountains. Walk to Picnic Point Park beach, stroll down private Puget Sound Blvd with coastal views, enjoy an evening fire on the huge deck, Relax & Rejuvenate!
Studio guest home with a Queen Bed in the main room, as well as two full beds in the small side rooms aka "sleeping caves" which are great for children, or as a dark quiet place to sleep deeply. Kitchenette with dishes and utensils available including a Nespresso Coffeemaker and provided coffee/espresso capsules. Flat-screen TV with Comcast Xfinity cable including HBO. Speaker system with Aux input cable so you listen to music from your smart phone. Relax directly outside the door on the elevated patio and enjoy the best views on the property. Enjoy the firepit and watch the sunset or enjoy a meal in the courtyard area.
This neighborhood is known as "Picnic Point Park" or "Wind & Tides" neighborhood, and features of the most breathtaking views in the Pacific Northwest. Picnic Point Park which is adjacent to my home, has a pedestrian walkway over the train tracks to a large stretch of beach, excellent for taking walks. Going in the opposite direction from my house, you have access to a half-mile-long stretch of road with panoramic views which dead-ends so it has no through-traffic.
We had a great little getaway from the city and our girls (1 & 3 yo) loved the little sleeping alcoves on either side of the main space. The train noise was there, and is something to be aware of, but it didn't interrupt our sleep or otherwise bother us (except for a couple of the freight trains during the day that were particularly squealy). Jeremy was a great host and a pleasure to meet.
Jason
2016-08-31T00:00:00Z
Jeremy's house is a great alternativ to living in a hotel in Seattle. It is not too far out, the views are spectacular and Jeremy is a great host. Answering with SMS Email and telephone was super-fast. We specially liked the squirrels and the bird that one can see from the house.
Martin
2016-05-31T00:00:00Z
What an experience! I've stayed in airbnb's across the country and this really took the cake. Absolutely stunning location right on the water. It's secluded and private, but not far from downtown Seattle. The house itself is lovely, having everything you could possibly want. Coffee machine is great. Plenty of room for anything you want. Bathroom was great size. Couldn't ask for anything better. Highly recommend!
Gianni
2015-09-29T00:00:00Z
We had a great stay at Jeremy's place on the Puget Sound. Everything was as described and well-suited to our needs. More than anything the place was peaceful and tranquil. In the midst of the hustle and bustle of the greater Seattle area, Jeremy's place is a welcome retreat.
David
2016-07-25T00:00:00Z
Beautiful setting! Loved walking on the beach. The guest house is clean, comfortable and very pleasant. Very well accessorized with all the supplies one may need while away from home. The warm cozy decor makes for a great retreat! Thx Jeremy!
Paula
2016-08-29T00:00:00Z
Great place--private, clean, peaceful. The view is gorgeous. The train was not loud enough to be a problem. The bed is comfy. I didn't see a description of the bathroom on the listing, but it's a small three-piece with a good-sized stall shower. We didn't have a lot of interaction with Jeremy, but he was very welcoming. We would definitely stay again!
Brad
2016-04-07T00:00:00Z
Our family Loved staying in this cozy getaway retreat . We relaxed, had bonfires , roasted marshmallows and watched the sunset. The view was definitely spectacular as we sat and sipped great coffee and read. We also enjoyed combing the beach during the day. Jeremy is a warm, friendly and sincere host, we had everything we needed and enough space for 4 of us. It was nice that we had the opportunity to spend a little time talking with Jeremy and getting to know a bit about him. That is one of the things I love about Airbnb, getting the chance to meet the hosts and making that human connection. Thanks Jeremy for making our stay so memorable.
Marti
2016-08-16T00:00:00Z
Jeremy's beach side guesthouse was absolutely incredible! The home was clean, well sorted and stocked, and had views aplenty. The decorations were tasteful and the nespresso machine was much appreciated on the following chilly morning. Jeremy himself was a wonderful host, he was quick to respond to my questions and gave us plenty of space during out stay. The house and host were exactly what I was looking for during my trip, I very much look forward to returning.
Bryan
2016-01-10T00:00:00Z
Room Type
Entire home/apt
---
Property Type
House
---
Accommodates
4
---
Bedrooms
Edmonds, WA, United States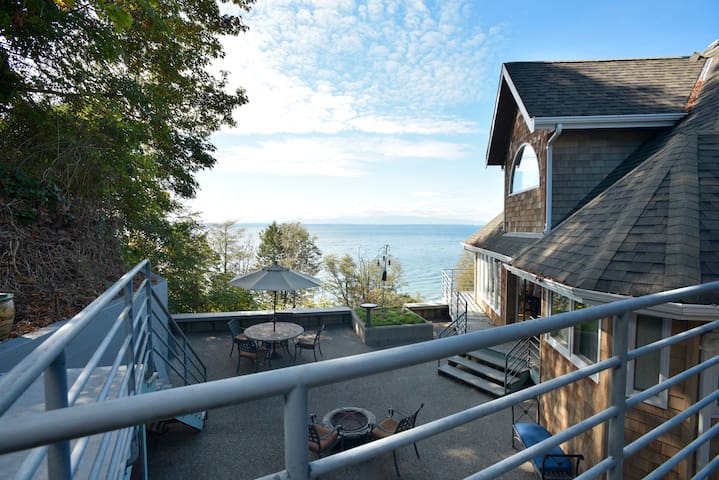 A true gem in charming Magnolia! Steps to the village, restaurants, shops, Discovery Park trails & beach. CLEAN, safe, perfect for families (walk to park, playground & pool). Easy access to downtown, viaduct (airport), waterfront, cruise terminals.
This newly remodeled 2 bedroom, 1 bathroom home in Magnolia. The king-sized bed in the master bedroom sleeps 2, and the bunk beds + trundle in the other bedroom accommodates 3 (great for kids). There is also a queen size air mattress that sleeps 2 which is available in the hall closet. The living room has plenty of natural light. On a honeymoon? Enjoy romantic sunsets from the spacious front porch. Or visit Pike Place Market in the morning and grill your find on the back deck under string lights in the evening! Like most Seattle homes, this one does not have a/c. However, fans are available to make your stay comfortable and relaxing. This location makes for a fabulous retreat for families (walk to park, playground & pool) or business travelers! It's just steps to the village, which has great options for dining, coffee shops, shopping, and more. Some well-known eateries in the area such as The Walrus and the Carpenter (Seafood), Red Mill Burgers, and Chinook's (brunch) are just a few suggestions out of the dozens of options you will have. On the other hand, you could pack a picnic to enjoy along one of Discovery Park's many beautiful trails. There is a bus line with stops just 4 blocks away which offers easy access to downtown, the viaduct (airport), the waterfront, and cruise terminals. The Pillow team will be available for assistance via email. Before and during your stay, you will have access to our mobile-friendly guest site that contains check-in instructions, access instructions, amenity details, FAQs, and a reporting tool for maintenance requests. The codes needed to enter the property are available 48 hours prior to check-in in our online guest site.
Everything was clean and the house was cute and true to the photos. Great location to nearby parks and about 20 minutes to downtown.
Alison
2015-11-16T00:00:00Z
Booking process and communication until check-in very smooth and all required information received in time. The house was easy to find and reflects exactly the description and pictures, i.e. it's a lovely place to stay in perfect condition. Very quiet and friendly neighborhood conveniently located to explore Seattle downtown and sights. The whole family enjoyed it.
Michael
2015-08-22T00:00:00Z
Beautiful home in a nice and safe location. Fully updated and very well stocked. We felt at home during our week stay here. Easily one of the best deals in the Seattle area and on AirBnb
Angelo
2016-08-24T00:00:00Z
So we had an interesting experience here. We were coming from a week-long camping trip and were looking forward to staying in Jennifer's cozy looking house with all the amenities very much. However after taking a cold shower and trying to turn on the heat in the house, we realized the hot water heater wasn't working. We spent the next 4 hours talking to Pillow (the property manager) and trying to get to (the basement was locked) and light the hot water heater. This didn't work. Then after looking around, we saw a letter left on the front porch from the natural gas company saying they turned the gas off because the gas bill was past due. This was even more frustrating because the gas company was closed for the long holiday weekend (MDW). So for the two days we stayed at this house, we had to deal with taking ice cold showers and having no heat. Not ideal after coming from a camping trip. We were practically camping indoors. DESPITE ALL OF THIS, once Pillow got in touch with Jennifer she was very apologetic and offered to reimburse us for our stay, which was very generous. The house was very nice, well decorated, had great amenities including a very fast washer and dryer, and had a cool backyard. Unfortunately for us, we didn't get to enjoy the property as much as we would have liked to because of the gas issue. The neighborhood is suburban, so it's quiet, but it's within 15 minutes of the hip neighborhoods we wanted to check out (Ballard, Fremont, Cap Hill), so it was very easy to drive/uber places. I would definitely stay here in the future as long as the gas is working properly.
Brian
2016-05-31T00:00:00Z
Jennifer and the Pillow team made us feel right at home. The house was just as it was described and we had a great time. My children also had a good time. The neighborhood was great and the it was very convenient to take the bus downtown.
Scott
2015-08-24T00:00:00Z
The house is wonderful and lovely with everything we need. Perfect location, close to grocery store and quiet.
XI
2015-10-27T00:00:00Z
Nice, clean and well equipped house. Big garden with BBQ. Good neighborhood. Supermarket nearby.
Paula
2016-05-08T00:00:00Z
The house is very clean, light filled, charmingly decorated and cozy. There was a great binder that described how to work almost everything in the house. Checking in was easy with the instructions provided. The neighborhood is very quiet. We took full advantage of having cable TV, which is something I don't have at home. WiFi worked great. I will say, working with a property management company rather than an actual host really changes the airbnb experience. I'm sure there are positives, but you miss out on the community feel. also, we had a couple quirky issues with the house, and not being able to contact a host directly to get an answer quickly was frustrating. These were truly minor things, like not being able to figure out how to raise the drain stop in the bathroom sink, so not a deterrent in any way, just something to know. We would definitely stay here again.
Taryn
2016-02-07T00:00:00Z
Room Type
Entire home/apt
---
Property Type
House
---
Accommodates
5
---
Bedrooms
Seattle, WA, United States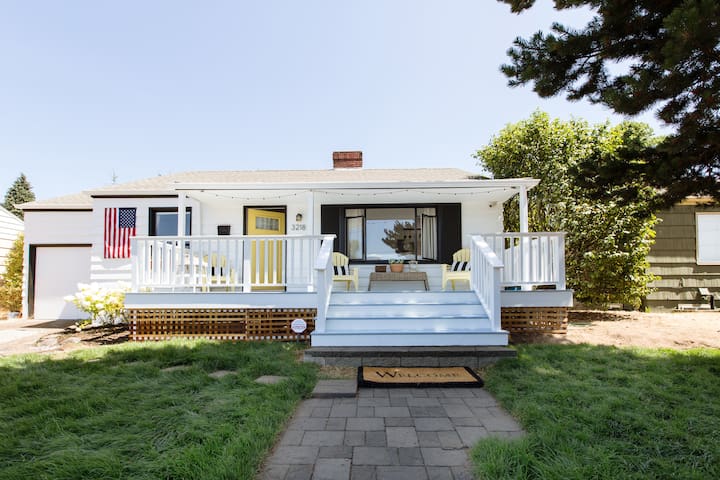 Enjoy your coffee in, or at one of our nearby coffee shops, before you head out to enjoy our Edmonds beaches, parks, gallery's, movie theater, museums, bookstores, shopping , our Saturday Markets and Edmonds Fairs, just steps away! You will be a 14 minute walk from the beach, ferry, train station and Cascadia museum. Just a 5 minute walk to coffee shops, grocery store, theatre, gallerys, many restaurants, Edmonds Center for the Arts, Saturday Markets Fairs and Edmonds Third Thursday Art Walk!
Light filled small cottage in great, friendly neighborhood. Full kitchen with coffee, tea and cereal provided. One queen bed in master bedroom, one futon in 2nd bedroom, newly remodeled light bathroom with walk in shower.
Very friendly, quiet neighborhood!
Great location. Walkable to center of town. Very friendly people! Great view of Olympics from corner! Julie is the greatest! Very friendly and helpful! House is perfect! Highly recommend!! Angela and Bruce
Angela
2017-01-11T00:00:00Z
Julie's house is perfectly located, a short walk from beautiful downtown Edmonds. The house has a lovely kitchen, a comfortable bed, nicely renovated bathroom, and an inviting garden in a lively neighborhood. Julie was terrific about communicating with me, met me upon arrival and was really welcoming.
Pamela
2016-08-22T00:00:00Z
My husband and I loved staying at Julie's cottage. It's so charming, adorable, peaceful, clean and had a lot of amenities. The location in Edmonds was perfect-walking distance to all the restaurants and shops, and Edmonds is such a beautiful town. We wish we could've stayed longer. Julie greeted us upon arriving and is so welcoming and kind. We really appreciate her hospitality. I would definitely recommend staying at her place and would want to stay there again in a heartbeat. Thank you Julie!!!
Judy
2016-08-29T00:00:00Z
Julie met us at the house, gave us a tour and was most welcoming. She had water and veer in the fridge and a bottle of wine for us as well as fresh flowers in the house. She had guide books and a ferry schedule. The home was perfectly located enabling us easy walking access to the town of Edmonds. The home is beautiful and has lovely outside seating areas
Marilyn
2016-08-25T00:00:00Z
This was an adorable cottage in an adorable neighborhood. We loved our stay and would recommend Julie as a host anytime! She was so accommodating and welcoming.
Sarah
2016-06-13T00:00:00Z
This cottage is beautiful. After staying here for one night we regret our visit wasn't longer. The space is inviting and calm; we found some much needed respite from our busy travel schedule. This was the perfect place to relax and is convenient to many locales in charming Edmonds. We also found it to be a quick drive into Seattle where we explored the city. Hope we can make it back to Edmonds one day to stay in this wonderful cottage and explore more of the area.
Brittany
2016-07-28T00:00:00Z
Loved our time in the cottage. So homey and beautifully done. Julie makes it special with coffee, etc. We love Edmonds and will certainly hope to stay here again!
Laney
2016-06-21T00:00:00Z
Great house, comfy bed, well stocked. Julie was great to communicate with and so thoughtful - left a mini birthday cheesecake and candle for my daughter. Gardens and deck well done... we had snow so would like to stay again in the summer
Ann
2017-02-04T00:00:00Z
Room Type
Entire home/apt
---
Property Type
House
---
Accommodates
3
---
Bedrooms
Edmonds, WA, United States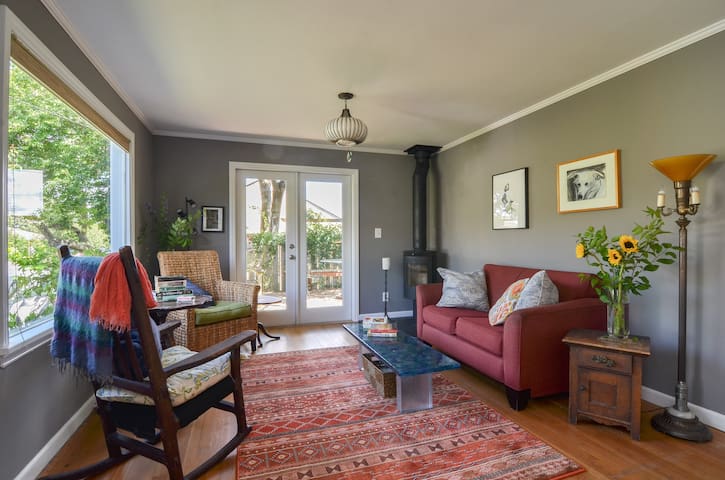 My place is close to restaurants and dining, the beach, nightlife, public transport, and family-friendly activities. You'll love my place because of the location, the ambiance, and the outdoors space. My place is good for couples, solo adventurers, business travelers, and families (with kids).
Home is in a quiet Edmonds neighborhood. The home is located just a short drive (or walk) to downtown Edmonds. I've just recently redone the hardwood floors and painted the interior/exterior. The home is in good condition for being built in 1927.
This is a quiet neighborhood in the Edmonds bowl area. This is a great location for walks to downtown Edmonds. Take the ferry over the water to Kingston. Enjoy Edmonds restaurants and more.
Nice little house, great neighborhood. We didn't meet Aaron but he responded quickly to a text.
miles
2016-11-10T00:00:00Z
This home is the perfect starter home. I want a replica. Lol. This please was perfect for our team since we did business in the area. It might be far for others who want to stay in Seattle. I never met Aaron but he was communicative and trusted us in his home.
Adia
2017-02-27T00:00:00Z
Aaron was very communicative with us. I'm glad he came by to talk and get our feedback and suggestions on how to make our stay better. We understand things happen beyond our control and he did what he could to fix things. We appreciated his willingness.
Trina
2017-01-03T00:00:00Z
The house is in a lovely, quiet neighborhood. Edmonds is scenic with good access to the ferry, numerous small shops and restaurants. The walk along the waterfront is exhilarating. Beautiful vistas.
Marian
2017-02-06T00:00:00Z
There's no coffeemaker so prepare for that! Everything else was great!
Kristian
2016-12-13T00:00:00Z
Great place & great host! Will stay in the future again!
Lay
2017-03-01T00:00:00Z
We never met Aaron, but when I would text him, he would answer right back. The house is totally adorable. We had Thanksgiving dinner in the dining room, which had a nice view of the neighborhood. The area is quiet, well maintained and not too much traffic. It is close enough to Seattle to enjoy, but not all the traffic that comes with it. We would definitely stay there again. Thank you for having us.
Irene
2016-11-25T00:00:00Z
This is a pleasant place in a lovely neighborhood. I was uncomfortable with lack of adequate window coverings in both bedrooms.I would describe amenities as sparse, ie no TV, microwave.
Deborah
2017-02-18T00:00:00Z
Room Type
Entire home/apt
---
Property Type
House
---
Accommodates
4
---
Bedrooms
Edmonds, WA, United States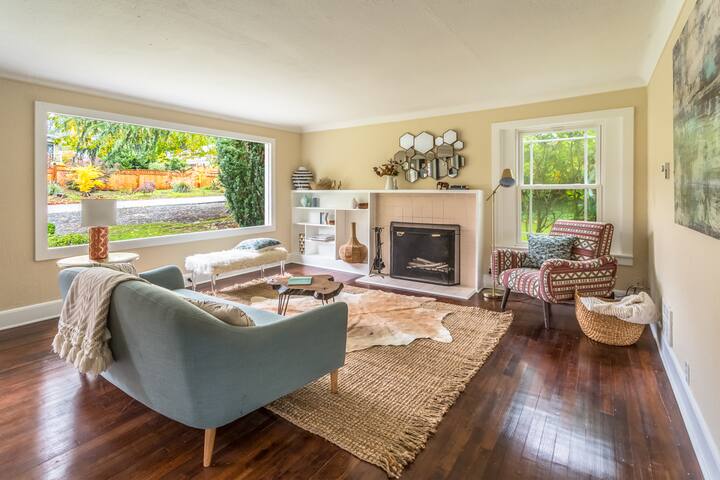 HI! Please read through the entire listing, thanks! The neighborhood is amazing and very safe. 5 minutes from downtown Edmonds. 20 minutes from Downtown Seattle. We love to meet up with friends in both Edmonds and Seattle.
We have had many people stay who were moving to Seattle or have been visiting family/friends in the area. We are very quiet so we hopefully will not bother any schedule.
Edmonds is very safe and has lots of fun things to do. The ferry is only 10 minutes away and the downtown area is right next to the shores of the Puget Sound.
Stayed two nights in room with twin bed. Good sized room. Beautiful neighborhood, lovely home. Really quiet, but sweet hosts. Good working internet, nice shower. I can see why they don't want anyone in the kitchen overnight, floors were a bit noisy. This didn't bother me, I was just afraid I would wake up the hosts while going to the bathroom. Enjoyed my stay, thanks again!
Rosie
2016-09-26T00:00:00Z
I really enjoyed staying in this room. It's quiet place to have a peaceful sleep. On the top of that the room is clean. Cheers
Solomon
2016-12-21T00:00:00Z
Lucia was a kind and accommodating host! She made arrangements for me to gain access to the room even though she was out, and made it just as easy to check out the next day. Although it was just an overnight stay, it was very peaceful, clean, and comfortable. The other guest room was unoccupied. The location is very residential, and not too far away from the freeway. Having a car was very useful for getting around. All in all, you'll be hard-pressed to find a better deal with a more gracious host in this area. Definitely recommended.
Bernardo
2016-04-15T00:00:00Z
Very nice as always.
Chasen
2017-01-04T00:00:00Z
Lucia was the perfect host! She was a bale to accommodate me for a very last minute trip! And can I just say that her guest bed was s(PHONE NUMBER HIDDEN) comfortable! She even left little amenities in the bathroom! Which was wonderful because I forgot toothpaste! I would definitely recommend staying with Lucia!
Nikki
2015-10-19T00:00:00Z
The door was left unlocked though they were out to dinner. There was a welcome sign with my name on it and the Wifi codes. A towel and a bed in the corer, just as in the photo. Also a large closet. The place was a bit out of the way and hard to find, but convenient enough if you have wheels. Lindsay had the day off and was very friendly and made me coffee. The kitchen belonged to the house and was spacious and well equipped. The first thing I did was take a bath after my long haul from Seattle by bus and foot.
Suzanne
2016-06-04T00:00:00Z
The place is as described. Easy check in. Very quiet. Even though I was unable to meet Lucia due to her vacation, everything is smooth. Thanks Lucia.
Romeo
2016-07-30T00:00:00Z
Lucia and Lindsey are friendly & laid back. I had a much later than planned arrival unfortunately, but Lucia was very accommodating & quick with communication which made my day much better. The room was cheerful & nicely decorated, but just a head's up: no locks on the bedroom door. I haven't stayed at many AirBnB places, so I didn't realize there are rooms with no locks. Fortunately the home is in a very safe area, so it wasn't an issue. The hosts & other guests at the time were all very quiet and respectful, so made getting a good night's sleep easy. Great stay in Edmonds!
Siobhan
2016-05-15T00:00:00Z
Room Type
Private room
---
Property Type
House
---
Accommodates
1
---
Bedrooms
Edmonds, WA, United States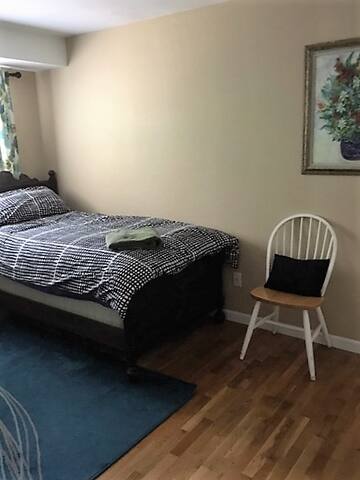 Stylish private suite offers a spectacular panoramic view of the Puget Sound & Olympic Mountains. Walk to Picnic Point Park beach, stroll down private Possession Lane with coastal views, enjoy an evening fire on the huge deck. Come and relax!
Private entrance to a spacious, stylish suite with queen-sized bed, private bathroom and fully stocked kitchenette - perfect for an extended stay. French doors open to a deck on a lake with an unobstructed 180 degree view of Puget Sound and Olympic mountains.  Hardwood floors, TV and free internet (Comcast Xfinity).  Access to canoe, fire pit and deck shared by home owner. Enjoy the amazing sunsets in the evening and the local wildlife during the day - ducks, geese, heron and the eagle who comes to bathe and fish.
This neighborhood is known as "Picnic Point" or "Windandtide" and features one of the most breathtaking views in the Pacific Northwest. Picnic Point Park is nearby which has a pedestrian walkway over the train tracks to a large stretch of beach as well as a grassy area with BBQs for family gatherings.
Sweet spot. Lovely people, comfy bed. The train did not keep us awake with the windows shut. We hope to return in the summer when we can enjoy the outdoor space as well.
susan
2017-01-15T00:00:00Z
Definitely worth being a little removed from town. Gorgeous and a highlight of our trip.
Jessica
2017-01-31T00:00:00Z
We were looking for someplace that was private and peaceful for our stay in the Northwest during the holidays. It was perfect for us...and we love the trains
IvanandDebbie
2016-12-27T00:00:00Z
This is a great spot and being there in the off season meant it was really quiet and private. Exactly what we wanted and the view is magnificent. We even loved the trains trundling by. The space is quite comfortable, cozy and efficiently laid out. It's really a great spot. The only thing that I would mention is that there are a lot of stairs to get down...and back up. Big bags or bad knees should be considered. Other than that it's a big gold star.
Winky
2017-02-27T00:00:00Z
Check in was breeze. We walked down the stairs to the beach suite and immediately felt happy to be here. The accommodations are clean and comfortable and the view across the water to the snow-dusted mountains was delightful. We felt well taken care of, yet had complete privacy. And it's only about a 12 minute drive to the Olympus Spa in Lynnwood - the reason we came. I would absolutely stay here again!
Lisa
2016-12-04T00:00:00Z
Gorgeous! Loved the deck and the well supplied kitchen.
Jessica
2017-03-28T00:00:00Z
Wonderful hosts and an amazing location. Loved being there!
Rishika
2016-07-17T00:00:00Z
My husband found Robert & Cecilia's place and it was perfect!!! So peaceful and beautiful!! It was just what we needed!!! The property, view, sunset, decks are amazing and scream RELAX!!! The suite was perfectly decorated and comfortable and we enjoyed the full kitchen. We had breakfast on the deck both morning and dinner one evening. We can't wait to return. Surprisingly, the trains did not bother us at all or wake us up. We had a blast feeding the ducks and ducklings. It was warm the when we arrived and although the suite is very cool in the summer, I requested a fan. It was provided for us immediately and I was happy to have it. Robert and Cecilia were so friendly and polite and made us feel welcome, but we felt like we were all alone in our little paradise. The description is spot on and more!!!!
Margie
2016-07-31T00:00:00Z
Room Type
Private room
---
Property Type
House
---
Accommodates
2
---
Bedrooms
Edmonds, WA, United States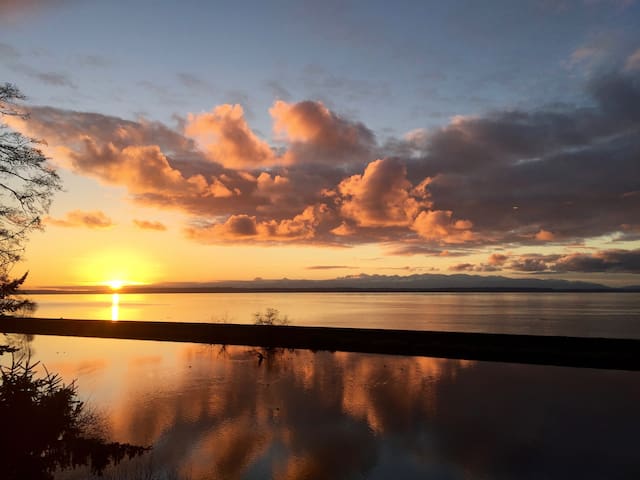 Stylish private suite offers a spectacular panoramic view of the Puget Sound, Olympic Mountains, and Whidbey Island from your room! Enjoy and relax.
Astounding Puget Sound & Olympic Mountains view house located in north Edmonds, WA. It's on a hillside next to the waterfront. The suite is on the bottom level of a 3 story house and has a private entrance to a spacious room with a private deck. Three large windows in the room open to 180 degree view of Puget Sound, Olympic Mountains and Whidbey Island. Next to the room is a kitchenette with microwave, mini fridge and water kettle, and the full private bathroom with a huge 6-foot soaker tub is next to the kitchenette, with doors between each room. More than 600 sq. ft. total! Enjoy the amazing Pacific Northwest waterfront and mountain views from your room, watch local wildlife that might come to delight you, and admire the wonderful sunsets or the moon light shining on the water. Whole Unit is Near-Newly Constructed (2015), 60" Smart TV (Netflix complimentary, YouTube, etc.) with Standard Cable TV (CNN, Disney, etc.). Complimentary coffee, tea, and sodas. Dining ware is in the kitchenette cabinet drawer. PLEASE NOTE: The stairs to the private entrance of the suite are a long set of landscape stairs with steps of varied steepness, 4 stories long, not suitable for young children or adults with knee or other mobility/sight issues. Please always Watch Your Steps and Use the Railing for your own safety! A variety of passenger and freight trains pass by frequently during the day and less at night. Please note the freight trains can be quite loud so guests will hear and feel the trains. We provide ear plugs in the night stands if you are a sensitive or light sleeper.
This neighborhood is known as "Picnic Point" and features one of the most breathtaking views in the Pacific Northwest. Picnic Point Park is nearby - 3min drive and has a pedestrian walkway over the train tracks to a large stretch of beach as well as a grassy area with BBQs for family gatherings.
Place was amazing. Incredible views and a very spacious living area. It looked and even smelled brand new. It was super private and the check in process was self service and very easy. I hope to go back again soon
Steven
2016-07-07T00:00:00Z
We absolutely loved our stay here! The room was as described, i.e. clean, great space and gorgeous view (with a deck where we soaked up every sunrise and sunset that we could). Our hosts responded quickly to any inquiries and provided us with all the details we needed to make our stay comfortable. The neighborhood was nice and quiet (aside from when the train passes, which we didn't find bothersome) and we really appreciated being provided with a place to park as the road could be a bit narrow. All in all a wonderful place to stay that will hold a lot of great memories for us and we hope to visit again.
Naomi
2016-08-16T00:00:00Z
Very happy with the drinks/toiletries offered. The space itself was very spacious and welcoming. We'd definitely stay again! And the view was amazing!!!
KATHY
2016-08-12T00:00:00Z
We stayed at Travis and Deb's lovely apartment for just one night, so we didn't do the Peace, Quiet, and View justice. Still, it was a lovely oasis. Travis met us as we pulled up (not sure how he did that!) into the driveway and helped us with our bags. Travis and Deb also answered my queries on obtaining a key on the same day I emailed. I'm really thankful for that. Depending on our travels we would love to return.
Scott
2016-06-27T00:00:00Z
We only saw Travis briefly, but he was very welcoming. The suite was perfect --clean with all essentials plus some nice extras! The view was amazing, and was a peaceful area! As others have noted, and as the listing states, trains run past the property and the stairs to the suite are steep and long --however, if these things do not bother you, this is a great place to check out!
Jessica
2016-09-08T00:00:00Z
Travis and Deb provided a top notch experience. You cannot beat the views and the serenity of this location. It looks right over the water and is clean, tall ceilings, comfy bed, just all around greatness. The only thing I might ask is that Travis and Deb describe the proximity of the train and the frequency of the passings (around 4-6/day) in the description. In all fairness they do mention the train tracks in the description...but perhaps a bit more would be more revealing. All in all however, even with the train , this was an amazing space!
Greg
2016-08-18T00:00:00Z
Amazingly beatiful view. As mentioned the trains come through, but withing seconds the view makes you forget all about it. Will likely try and stay again next time I work in the area.
Nicholaus
2016-09-10T00:00:00Z
We decided to book a long weekend getaway, and we felt that this was a good retreat location. When we arrived at the house, we were absolutely amazed at how clean the house was. We felt like it was a home away from home. It was comfortable, spacious, and the host provided dishes, drinks in the fridge, and ample toiletries, a chess game, and even an game cube with video games! Indeed, it was a waterfront suite with 180 degrees view of the water. We were grateful for the peacefulness of the whole experience, despite the train tracks and the frequency of the trains passing through. We enjoyed our stay and we would be happy to return again.
Arthur
2016-08-02T00:00:00Z
Room Type
Entire home/apt
---
Property Type
House
---
Accommodates
2
---
Bedrooms
Edmonds, WA, United States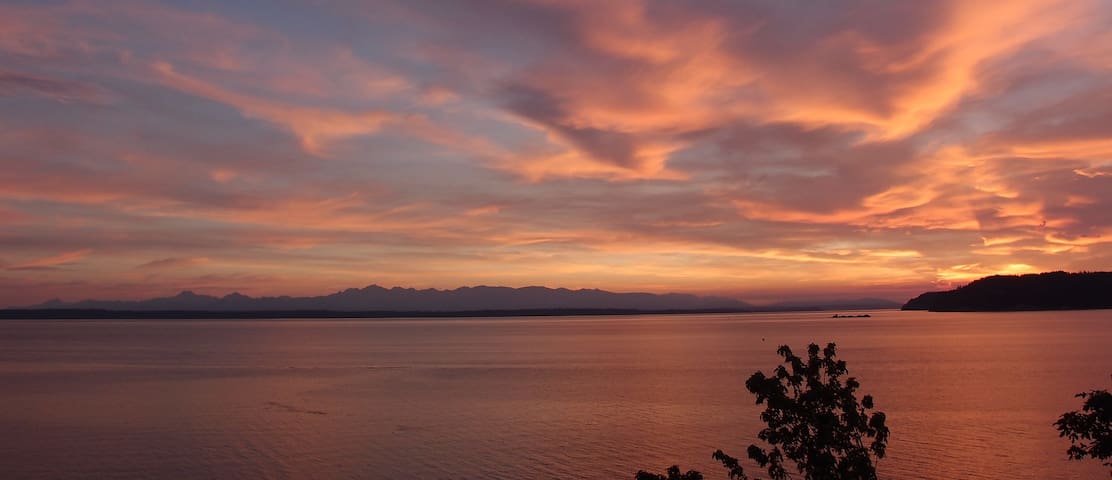 The Santa Rosalia is a newly renovated inn in downtown Edmonds. Each room is unique, decorated with art and furniture by local artisans as well as vintage finds. Restaurants, bars, bookstores, shops and a movie theater are within a block. Beach, marina, ferry and train are 5 blocks away. Room 3 has a bedroom and sitting room with king sized bed, full bath and room for a cot if needed. Room 3 can connect to Room 2 to make a two bedroom, two bath suite which can accommodate 5 people.
Room 3 is light and airy with a bedroom, sitting room and full bath all with vaulted ceilings. It has a king sized bed and room for a comfy cot if needed. Art by Gretchen Bennet and Buddy Bunting is on the walls. The bed is by Casper with the linens are by Matteo. Products by Handmade La Conner
Edmonds is a small seaside village with ample restaurants,bars and shops, 2 independent bookshops, an independent movie theater, art museum, historical museum, art center, marina, awesome summer farmer's market, breweries and a distillery. It's a great jumping off place for exploring the Puget Sound region.
Our second stay in a month--we love this place. The room is light and airy even when the weather is dark and stormy. The pantry in the basement common area is stocked with a variety of complimentary snacks, wine (!) and beer (!) from the brewpub one block away. The bed and bath linens are fantastic. We arrived earlier than expected to go to lunch. Catherine and her young son were cleaning the room. I said we'd return when scheduled after lunch. An hour later, Catherine's son walked into the restaurant (with Catherine following closely). He walked up to our table and presented us with our room key. That's service!
Gregory
2016-10-14T00:00:00Z
A great last minute find! Keanu and I loved the house, the room, and the neighbourhood. Catherine was a unique pleasure, one of the best hosts I've had. Her recommendations for the area, the surprise breakfast and the freebies in the common room all added greatly to our trip. Looking forward to our next getaway to Edmonds!
Glen
2016-11-13T00:00:00Z
Cute place and well situated just steps away from lots of neat shops, restaurants, and movie theater. We even walked onto the ferry to Kingston. Would stay there again!
Jennifer
2016-09-18T00:00:00Z
Catherine was so sweet and end up giving us an extra room because we had a wedding up the street we were setting up for and she wanted to give us the extra space. I wish I would have gotten more time to go down stairs in the little lounge area because everything was set up so nicely. I would love to stay there again.
Julia
2016-08-28T00:00:00Z
A beautiful, clean, carefully decorated and inviting space to call home base. Catherine was extremely professional and accommodating, and went above and beyond in making our stay comfortable and memorable.
Anna
2016-10-13T00:00:00Z
I hesitate to comment on what an utterly charming and comfortable space is provided by Catherine because I want it to be available whenever I want to stay there. I couldn't think of a more conveniently located property to visit Edmonds. We will definitely return.
Gregory
2016-09-26T00:00:00Z
This was out third stay in this room. Like our first two visits, everything was perfect. As a guesthouse, the Santa Rosalia allow visitors the flexibility to come and go as they please. The central location allows visitors to explore the offerings of downtown Edmonds. The Edmonds Center for the Arts is a short walk as are many restaurants and watering holes. Catherine provides amenities and treats that rival if not surpass those of luxury hotels.
Gregory
2017-01-20T00:00:00Z
Room Type
Private room
---
Property Type
Guesthouse
---
Accommodates
3
---
Bedrooms
Edmonds, WA, United States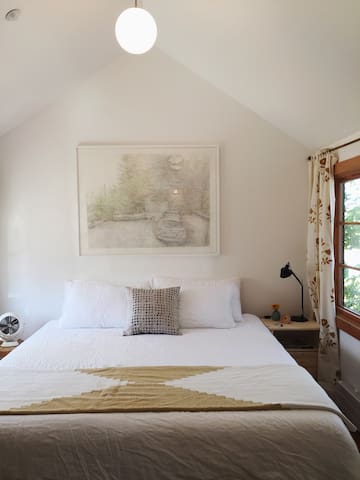 One bedroom level entry apartment in our downtown Edmonds residence. It is very quiet and has a bright southern exposure. It includes a fully furnished kitchen, Parking, and sidewalk to the unit which creates a secluded retreat type atmosphere. Sleeps 3, Portable crib for a baby and deluxe queen bed.
T This apartment is in a private setting with an enclosed courtyard There is off street parking near the sidewalk/gate for convenience. The full kitchen is furnished with pots and pans, dishes, Keurig, and plenty of coffee. There is a portacrib in the closet for a small child. We installed sound board to minimize noise between the house and apartment.
Our house is on a residential street three blocks to downtown Edmonds. There is easy access to all restaurants, shops and even the beach, but far enough away from the train that it won't shake rattle and roll you during the night.
We had a great stay in Edmonds at Kris' place. The apartment was very clean and comfortable, and the coffee and chocolates were a nice treat. It is a quiet and relaxing neighborhood, a couple of blocks from the main street and the harbor. There is a park at the waterfront where you can walk and see the trains go by. If you are looking to stay active, we liked Twist Yoga and the Harbor Square Athletic Club. The Pancake Haus was yummy and cheap.
Stephen
2017-03-22T00:00:00Z
I travel to Edmonds, Washington for business regularly. I have always stayed at hotels until I decided to try Airbnb. I stayed at Kris' during my last trip to Edmonds. From now on if available I will stay at Kris' place. It is quiet, spotless, comfortable, with most if not all the amenities of home. It has a separate entrance. It is walking distance to great restaurants and pubs, and other shops around town. I was also surprised on how spacious it was. Kris and her husband were very accommodating and make you feel welcomed. This is truly a gem of a place to stay. I highly recommend it.
Pino
2017-03-17T00:00:00Z
We had an absolutely lovely time staying in Kris' apartment in Edmonds! She thought of everything - beautifully and comfortably decorated, fully-stocked kitchen, use of the secluded patio off the kitchen and the sunny, view from the upper yard, wifi and cable tv, and the little extras like water bottles in the fridge, candies, shampoo and conditioner and our choice of soap in the bathroom, a box full of info about Edmonds, and even a basic stock of food and spices. The apartment is located on the bottom story of Kris' home and is just a short walk away from Edmond's downtown with shops and restaurants. You are only about 1/2 hour away from Seattle and have access to the Edmonds-Kingston Ferry and the Mukilteo Ferry-Widbey Island Ferry. There is so much to see and do in the area! We would HIGHLY recommend your staying here and we will certainly be back the next time we are in Edmonds.
Kathy
2016-07-17T00:00:00Z
Kris was welcoming and helpful from the moment we booked this perfect apt. She kept in touch from the booking date to arrival date and promptly answered any questions we had. Upon our arrival she greeted us in person, showed us around, and left us with chocolates!
Beth
2016-10-01T00:00:00Z
Very cozy and convenient. Had all the amenities as well as a great coffee maker.
Peter
2017-03-26T00:00:00Z
The apartment is exactly as described - very comfortable and quiet. I used the apartment for a business trip and felt much more comfortable than at a hotel. I will definitely stay again!
Kathryn
2017-02-02T00:00:00Z
This was the perfect little apartment for our needs we wish we would have found it earlier in our journey, The couple was very nice and took good care of what we needed. The town of Edmonds is very beautiful we wish it was summer time so we could of enjoyed it more.
Matt
2016-12-18T00:00:00Z
We could not have selected a better place to stay. We were within walking distance to downtown Edmonds where we found endless things to do and see. Our accommodations were clean, quiet, private,and well stocked with pots,pans,towels,and such. The host even added the extra touches of freshly cut flowers, chocolates, and specialty bath soaps. We will definitely be back and will highly recommend to others.
john
2016-08-07T00:00:00Z
Room Type
Entire home/apt
---
Property Type
Apartment
---
Accommodates
3
---
Bedrooms
Edmonds, WA, United States
Lower level of a single home: air beds, couch, recliner in an enclosed room with adjacent 3/4 bath plus full sized shared laundry down the hall. Level entry from garage. Parking, Non-Smoking, Wi-Fi, TV, Mini-kitchen (sink, refuse containers, refrigerator, toaster oven, microwave, electric kettle, French press, percolator, espresso machine).
Local. Suburban. Outdoorsy. Environmentally conscious. Safe, Secure, and Peaceful. Launch pad for Pacific Northwest adventures of all sorts. Home away from home. Note that the accommodations are a multi-functional room, with sleeping either on a queen sized air mattress, twin sized air mattress, or a couch, depending on personal preference. If you are keen to explore, there are ample books and maps available, as well as an owner with a brain full of ideas and experiences. The key to this lodging opportunity is all the comforts of home with lots of ways to enjoy exploring the Pacific Northwest, at a rate at or below the nightly local hotel rate. This space is tastefully remodeled, with numerous details and comforts. It stays warm in the winter, and cool in the summer, and buffers sounds from the rest of the house and surrounds. It's located in lovely Edmonds, Washington, just north of Seattle. Edmonds is "The Friendliest Town on Puget Sound." Seattle metro area day trips, 3 hour radius epic day trips galore, smaller family vacations, road trips with a base camp, and even while transitioning homes locally or transplants moving into the area. Commute distance for business travelers to Seattle, Eastside, Everett, Kitsap, Boeing. Prometric testing Center, Compass Courses maritime training, Swedish Edmonds Hospital, Rick Steves' Europe, Edmonds Arts Festival, Edmonds Community College, University of Washington, Edmonds ferry / train (Amtrak and Sounder), Edmonds Transit Center, Aurora Village Transit Center, Mountlake Terrace Transit Center and freeway stop.
The property is easily reached with just 3 turns off of either of 2 exits from Interstate 5. It is within walking distance of groceries, drug stores, banks, shops, restaurants, and even beaches and ferry and train travel as well as Interstate 5, but is down a quiet neighborhood street. The neighborhood never seems to lose power even in severe winter weather like ice and snow and wind storms. Location has worked well for savvy travelers looking for affordable, safe, clean, comfortable, accommodations.
Sarah and her family made us feel very welcome! We thoroughly enjoyed our stay and would suggest that anyone who needs a place to stay in the area stay at this AirBnB.
Felicia
2016-10-17T00:00:00Z
The space was very clean and modern with lots of amenities. The neighborhood was real quiet also. Had a great night's sleep! Thanks!
Chris
2016-08-22T00:00:00Z
Three friends of mine was visiting and we stayed at this place for 6 days. We are satisfied with every aspect. We had the entire downstairs space for ourselves, and we had access to a clean bathroom and a mini-fridge. The room was clean as well. Throughout the stay, Sarah reached out to us several times to see if we were doing okay. The neighborhood was convenient, with Costco and restaurants nearby and easy access to the freeway. We went to Seattle downtown many times, and it didn't take more than 40 minutes.
Hyunsu
2016-08-27T00:00:00Z
Definitely private and quiet. Amenities are as advertised and the guest area is very clean. Home is within walking distance of many shops and downtown Edmonds.
Tyler
2016-05-20T00:00:00Z
Sarah downstairs space is just like being at home
tom
2015-11-23T00:00:00Z
This was a great place to stay.We stayed for an entire month and it was perfect for us. Even though it had a shared entrance it was still a very private space. Having access to laundry was a huge plus! Sarah was a terrific host. The house and neighborhood are very quiet and safe. I would recommend this place to anyone looking to stay in Edmonds!
Jessica
2015-07-31T00:00:00Z
Easy access, great communication, awesome stay.
Whitney
2016-10-22T00:00:00Z
Sarah has created warm, inviting space and I enjoyed had a very pleasant stay. The room was spacious, quiet, clean, and private. The air mattress was very comfortable and I slept quite well. The bathroom was not attached to the bedroom, but it was clean, exclusive, and pleasing to the eye. The heated floor in the bathroom was a nice surprise! I would absolutely stay here again if welcomed back.
Kevin
2016-10-10T00:00:00Z
Room Type
Private room
---
Property Type
House
---
Accommodates
4
---
Bedrooms
Edmonds, WA, United States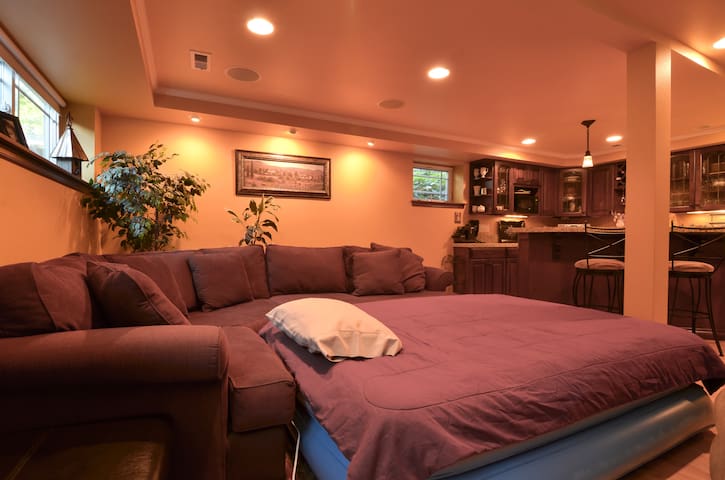 Comfort, privacy and natural light. Hear the ferry, breathe the fresh air from nearby Puget Sound. Enjoy the cool summer nights of the Pacific Northwest. Large private backyard and patio with automatic thermostat controlled barbecue (hickory pellets provided), covered parking, allergy free hardwood floors, spacious new kitchen and all new appliances - 3 BR, always 100% freshly cleaned. For family vacations or business travellers who enjoy privacy in a natural environment.
Enjoy the complete privacy and serenity of the entire house, with no host onsite - only a few houses away and only if needed. (A small area is kept off limits for storage only.) Plan a salmon barbecue in the backyard, with freshly stocked hickory pellets. Wake up to the fresh salty air from nearby Puget Sound and discover one of the most magical and intimate towns in the Northwest, all the while being within easy driving distance to everything. Freshly updated, spacious home with new oak floors throughout - bathed in natural lighting and completely private with newly added fenced back yard. includes new appliances, bedroom furniture, and an in the wall vac system that eliminates all dust and allergens providing fresh clean air throughout. All linen washed between guests. No carpet odors. House rests on top of a hill and overlooks the neighborhood below. A sprawling carport for easy dry entries. The street is not a through street. Traffic is sparse and the peaceful street is popular with walkers from throughout Edmonds. Three individual bedrooms plus two baths. Additional sleeping area in the living room. The house is beautifully but simply restored, clean and uncluttered The use of space is wonderfully efficient. The kitchen is to die for - spacious and inviting with new appliances large and small for every need- including rice cooker, espresso maker, coffee maker, blender. hot water dispenser for teas. For privacy, quiet, ease of use, cleanliness and comfort, this is the perfect abode. The bedrooms- Includes the master with large screen TV, sound system and queen size bed. The other two rooms each have a full size bed with the kid's room featuring a single bed bunk overhead. The kitchen (see pic) is upscale and very expansive - Corian counter tops with seamless sinks, separate cabinet island and fully stocked- easy to use and clean. Brand new hickory cabinets throughout blend with the new clear oak floors. Large backyard and garden are roomy and private and a great place for kids and adults to unwind. A very nice automatic barbecue uses natural hardwood pellets which are supplied onsite. Dining room table seats up to 6 easily. The living room has a fireplace, piano and the best sunset views. Outside on the patio and also under cover from the rain is a very nice, clean burning grill with a selection of natural wood pellets depending on the meat or vegetables to be cooked. The house is immaculate and super easy to keep that way by using the installed vac system which vents only to the outside. New furniture and bedding throughout the bedrooms. Living room furniture is used but very comfortable and carefree. The piano- (for piano afficionados or amateurs) is a 100% original restored Knabe Parlor Grand with a colorful history. Protected by a cover when not in use - and skirted when young children are present. This is something I have always wanted when travelling but never get! but can also be appreciated aesthetically by those who don't play. Ample parking always available including 2 large spaces under a uniquely huge and beautiful attached carport safely above street level, near the front door - protected from both rain and sun. Street parking accommodates any size vehicle with ease. Every room in the house has ample natural light. House has two bathrooms, and two flat screen TV's including one large theater system (with 3D movies provided) in the master bedroom. Includes the fastest free wi-fi available throughout. (FIOS). No cable TV but if that is a deal breaker let me know beforehand and I can bring in what you need. Installed TIVO provides for easy recording of all your basic network shows. Easy walk to a coffee shop, convenience store, gym, Vietnamese Pho restaurant, natural soups, pizza/ teriyaki, nouveau cuisine restaurant and bar - all together just a few blocks away- friendly neighborhood with little traffic. Jogging trails and parks close by. Within a 5-10 minute drive is the beautiful Edmonds waterfront, PCC Organic Natural Foods (freshest produce) and buffet, organic coffee, dog park, beach, outdoor swimming pool, forested parks with trails (10 minute walk), the ferry, Downtown Edmonds, Costco, Home Depot, 30 restaurants, Swedish Hospital (1/2 mile away), virtually any amenity you'd ever need. As a lifelong resident of Washington State, I'd be glad to point you in any direction throughout the entire Puget Sound region, including the best hot springs in the Olympics. Or stay home for one of the quietest, and friendly neighborhood experiences- for work or relaxation. Bus stop 2 blocks away. Amtrak trains stop down the hill in central Edmonds by the ferry. These trains are en route to Seattle, Chicago, Vancouver, Canada, and more - the train station is just a few minutes by car. In the early evening the sunsets are warm, soothing, and beautiful as the living room is saturated with natural light from the setting sun. Except for the tree tops you could see the Olympics. A great place to focus and feel completely secure. As a "landlord" I am generally hands off in order to protect your privacy unless you need me, in which case I am just a few minutes away. After staying in Edmonds once you will surely want to return. The downtown area has something for everyone and every taste and is just minutes away, just a few steps from the ferry to the Olympic Peninsula. On Saturdays visit the Farmers Market - Great for children or just for a casual stroll.
Relaxing, peaceful and quiet with wide spacious streets. Few cars. It is the vortex where walkers and pet owners from all over Edmonds quietly cross paths because of the comfortable route and roomy streets. Makes for interesting people and pet watching on weekends. Safe 10 minute walk to bus or convenience store and 3 restaurants.
Great stay Great communication Easy access Clean And a besutiful apple tree u can eat right off it
Yair
2016-08-31T00:00:00Z
I stayed at Tom's house whule teachig a class in the area. I wanted to be able to spend time with my other teacher and thought it would be ideal if we could be in a place with separate bedrooms and common living space. This place was perfect and surpassed our expectations. It was clean, totally clutter-free with fabulous amenities.I am looking forward to staying here again if I can. Tom was easy to contact and very helpfuk and accomodating.
Laurie
2014-02-24T00:00:00Z
The place was great. Immaculately clean and very welcoming. Tom came through for us at the last minute when Airbnb neglected to notify me that my previous reservation cancelled. I would definitely stay there again and I would recommend it to anyone. Also, Walnut Street Coffee is very close by and has wonderful espresso which was a bonus for us because we love coffee.
Charles
2015-07-27T00:00:00Z
Tom was so responsive to special needs and communicated with us in a timely and professional manner. He worked with our schedule and made check in smooth. He responded immediately to the few questions that arose during our stay. The house fit the description and more. It was a great location for us going north to the San Juans and south to the city. Edmonds offered plenty of eateries but the kitchen is well stocked for eating in.
Jody
2015-09-05T00:00:00Z
Beautiful house! Tom was great to work with and responded quickly to our inquiries. The house had everything we needed. It is located in a nice, quiet neighborhood. We would definitely rent this house again.
rose
2014-08-23T00:00:00Z
We thoroughly enjoyed our stay at Tom's home. Upon our arrival everything was set up in the most welcoming way. Tom has thought through all of the details and specifics in order to make your stay as comfortable as possible. In our opinion, this is an easy 10/10!
Jared
2016-06-23T00:00:00Z
Home is spacious with three bedrooms and two bathrooms, so perfect for a family. Home is also clean and clutter-free. Has a very nice new shower in second bathroom. Appliances are new and kitchen is well-appointed. Neighborhood was quiet and safe. The backyard is large, but not "fenced," as advertised, which I interpreted to be completely fenced in, which was important because we were traveling with a small dog that we told Tom about and which he agreed to (he said it "was nice yard in back for dogs" in his email to me). While disappointing that the back yard wasn't fenced in, to Tom's credit, he did make an attempt to remedy that within a couple days by doing some patch-up work on his own. Tom's assistant, Huy, was very helpful in getting us situated.
Shawn
2014-08-16T00:00:00Z
We stayed at Tom's place for 2 weeks and enjoyed it very much. The home was very clean, functional, and the location was perfect. We would highly recommend it and plan to stay again!
Paul
2016-08-24T00:00:00Z
Room Type
Entire home/apt
---
Property Type
House
---
Accommodates
7
---
Bedrooms
Edmonds, WA, United States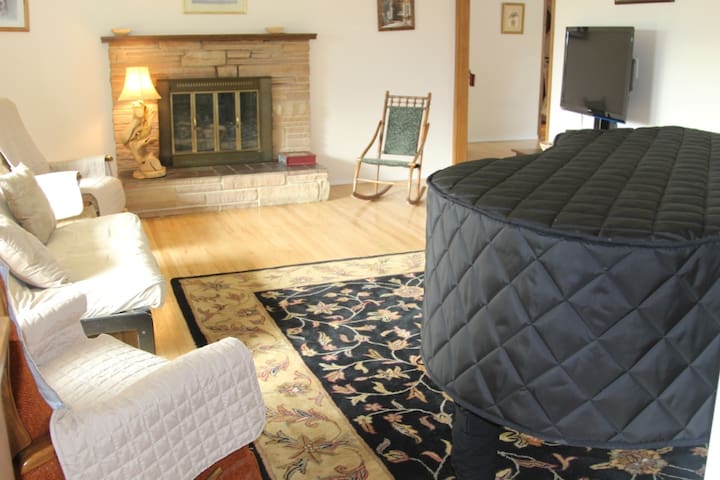 My house is very convenience, which around has many groceries and restaurants. It very close to Hwy-99, I-5, and I-405. Close to Edmonds Downtown, and Edmonds ferry.
Room Type
Private room
---
Property Type
Townhouse
---
Accommodates
3
---
Bedrooms
Edmonds, WA, United States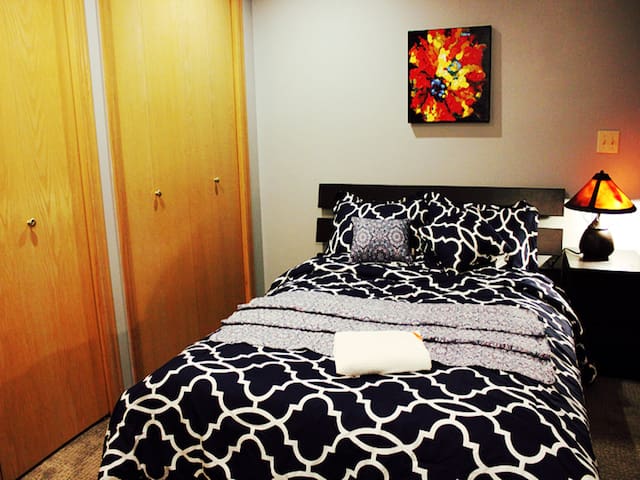 Edmonds - Airbnb
:
Average

4.97

out of

5

stars from

2246

guest reviews
Enter dates to see the total trip price including additional fees (but excluding any taxes).