Renovated Waterfront Cottage with private beach and spectacular views! The house sits on the edge of the bluff with views of a secluded cove on the sound and has access to an infinity deck where you can relax and enjoy the water views, the sunsets, the landscaped garden and the birdlife all around you. The stair case takes you directly to a private beach, right below the house, ideal for swimming, fishing or ..do more relaxing!! On a rainy day you can enjoy the same views from the living room !
The house was renovated in 2015 with central AC and all modern amenities. There are 14 feet wide glass panels in the living room and floor to ceiling windows though out the house for maximum sunlight and wonderful cross ventilation, the master bedroom also has large sliding glass panels and water views and the top floor bedroom has 190 degree views of the beach and cove. There is a bathroom on the second floor.
East Marion is a quiet and authentic village in the North Fork. There is a country store on the main road that offers quality products for your every day needs. East Marion is closed to Greenport, a quaint town on the bay side that has many boutiques and restaurants.
Room Type
Entire home/apt
---
Property Type
House
---
Accommodates
6
---
Bedrooms
East Marion, NY, United States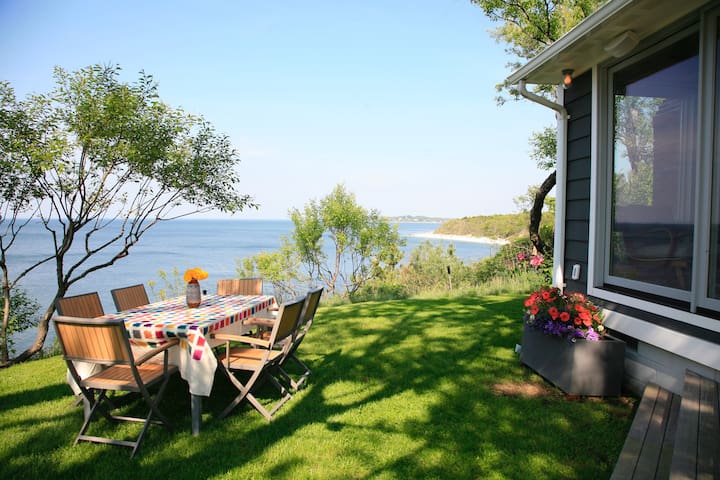 Bring the family and enjoy this quite beach home. Walk to sound beach, short drive to village of Greenport and Orient. Come see all of the wonderful things the North Fork has to offer. From vineyards, to great restaurants and beaches.
2 Story, Three Bedrooms. Great for family. Located directly off of a parti with tennis, soccer and basketball that you will have access to. Beach within walking distance.
The house is very close to Greenport, Orient and 2 beaches. Local farm stands and a lavender farm are within walking distance. The backyard is quite and private with access to a playground. We love Kontacosta Vineyard which is about 2 mikes down the road. You will feel like you are on a true retreat in East Marion!
The house was wonderful, clean and spacious for six people. We enjoyed time on the patio with the gas grill and were able to bike around the town. The beach at Rocky Point was about a 20 minute walk and it was really lovely and secluded. It is a very quick and easy drive into Greenport. Martine was readily available over the phone or via text to help with any questions and overall it was a seamless stay. We really loved the eat-in kitchen to cook meals and enjoy a low-key week on the North Fork.
Gillian
2015-08-16T00:00:00Z
Martine has a wonderful home with a well stocked kitchen! We had a great time there and it is near the beaches and farm stands. Really great, comfortable house. I got way more than I expected.
Rosie
2015-09-07T00:00:00Z
Room Type
Entire home/apt
---
Property Type
House
---
Accommodates
6
---
Bedrooms
East Marion, NY, United States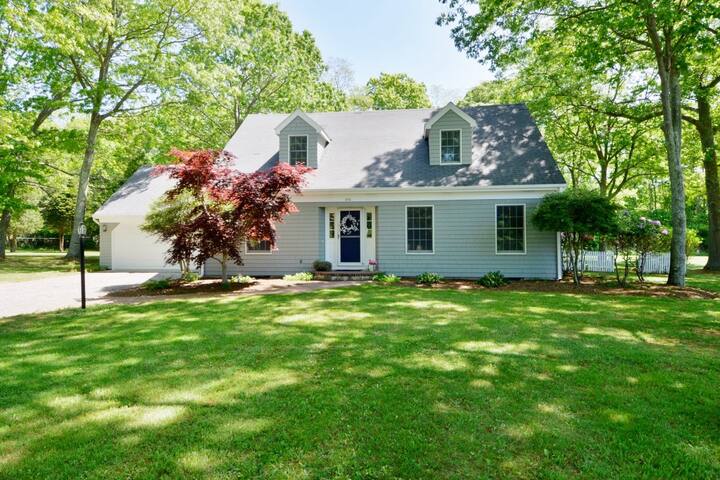 Located in a quiet residential community this comfortable, and spacious home is less than 3 miles away from the the town of Greenport where you can leisurely explore the unique shops and restaurants or even book a lighthouse cruise. Prefer to stay home? Grab a bottle of wine from a local winery, take the bike to Sep's farm stand for local produce, then head home for a short stroll to the beach, where you will also find picnic tables, a BBQ, a children's swing set and a paddle board to use.
Beautiful, comfortable, spacious home just 3 miles away from central Greenport. You can be fully entertained staying at the home being just steps away from the beach, or you can stroll into town for great food and more fun. Paddleboards and bikes are available for use. WHAT TO DO LOCALLY: -It's in the heart of wine country – world-class vineyards. -10 minutes from Orient Point where there's world class charter fishing boats for fishing -Greenport Brewery -Greenport is riddled with excellent restaurants and bars. -There's a gym/workout facility 10 minutes away by car (5 minutes away from 300 stairs to the Long Island Sound... you can do lunges all the way down and finish in the water!) -Playground/Beach overlook the Great Peconic Bay... Great for Sunbathing, boating, paddleboat and fishing. -Minutes (3 miles) from the ferry over to Shelter Island, if you want to get to Hamptons. Also, ferry to Sag Harbor... You're on North Fork and 30 minutes away from being on the South Fork -27 miles East of Riverhead--- Almost the tip of North Fork on long island -Half a mile from an amazing Lavender farm -3 minutes from Island's End golf course -Great for bike riding, hiking, running, or just chilling. TRANSPORTATION: -2 bikes with locks so you can zip around town -Minutes (3 miles) from the Hampton Jitney, which takes you into Manhattan (1h 40min ride into the heart of Manhattan) -Minutes (3 miles) from the Greenport train station -Uber available My place is good for (up to three to four) couples!
This was my first experience with Airbnb, and I have to say it went very well. The house is as advertised it is beautiful and spacious. The backyard is equipped with a very nice pergola strung with lights making it perfect for a late night hang out. The house was located about 2 miles away from downtown Greenport which is where my friends and I spent most of our time. If you feel like visiting a winery your in luck Kontokosta winery is only 4 minute car ride from the house. The owner Jim is very accommodating and genuinely cares about your experience in the house. I would definitely consider coming back to stay it was a very enjoyable vacation.
Craig
2016-09-06T00:00:00Z
Room Type
Entire home/apt
---
Property Type
House
---
Accommodates
8
---
Bedrooms
East Marion, NY, United States
My place is close to great views, restaurants and dining, family-friendly activities, the beach, and nightlife. You'll love my place because of the views, the people, the ambiance, the location, and the outdoors space. My place is good for couples, solo adventurers, business travelers, and families (with kids).
Room Type
Entire home/apt
---
Property Type
House
---
Accommodates
5
---
Bedrooms
East Marion, NY, United States
Our beautiful 4 plus bedrooms is a true get-away. Located within walking distance of the jitney and smack dab in between greenport and orient. There are 4 bedrooms with a possible 5th that is presently set up as another seating area on the 1st floor.
Beautiful pocket doors on living and dining room to let you transform those spaces into intimate experience. 4 bedrooms and a possible convertible 5th bedroom on main for maybe elderly parents not comfortable with stairs. I full bath with shower and one half bath. Relaxing wrap around porch for dining, relaxing or shucking corn! Property sits on 1/2 acre. Professional grade stove. Charcoal grill. Beautiful woodwork everywhere.
It's a perfect location bc easy to access orient and greenport. And walking distance to bay.
Great house on the North Fork! Lots of vintage charm and plenty of space for our group of six, it could easily have slept 8 or more. Stove and fridge were brand new, and she went out of her way to ensure we had BBQ and biking supplies at the ready.The front porch is gorgeous, and we spent a lot of time just relaxing out there. Allison was a great host - highly recommended.
Richard
2016-06-27T00:00:00Z
Allison was so friendly and was so helpful with tips for our stay, with kids. We had a great time visiting all the beaches and farm stands! The house has an amazing porch where we enjoyed all our meals! We made great use of the BBQ and the garden too. Very comfortable beds and large bedrooms.
corinne
2016-09-06T00:00:00Z
Allison was reliable and very responsive. Great location and spacious.
Ray
2016-09-01T00:00:00Z
Allison was warm and welcoming from start to finish, offering wonderful tips for food and vineyards in the area (almost all of which we went to). The house is exactly as described in the listing and by reviewers, and is on a beautiful, tree-lined street that ends at a sea shell lined beach. For a larger group (7 of us) the house was spacious enough to spread out without feeling cramped. All in all, we had a great time!
Joe
2016-11-13T00:00:00Z
Cozy comfortable and casual ... we loved it! Allison is very responsive. Next time on North Fork ... we're staying there. 8 plus an infant.
Fred
2016-09-26T00:00:00Z
My family just had a wonderful stay at this lovely vintage home. Allison went out of her way to make sure we felt at home. The location was great walking distance to a beech and many things to do close by. Alison was so quick to respond to any question I had and gave lots of wonderful recommendations! My family was thrilled with the choice I had made and everyone enjoyed!Th
Martha
2016-09-12T00:00:00Z
We had a wonderful time on the North Fork and and enjoyed this lovely home! Allison was a gracious and friendly host, she provided a fantastic dinner recommendation and other fun activities for the weekend. The home was charming and spacious, the backyard was beautiful to lounge in Sunday morning. The house was within close walking distance to the water and a great coffee shop/country store, which was perfect. I highly recommend a stay here!
Jessica
2016-05-23T00:00:00Z
Wonderful house for me and a group of friends. Great location, lots of bedrooms to spread out in, and a lovely garden where we ate all our meals. Allison was extremely responsive and helpful. I'd recommend the house again for sure.
Lauren
2016-08-08T00:00:00Z
Room Type
Entire home/apt
---
Property Type
House
---
Accommodates
8
---
Bedrooms
East Marion, NY, United States
Stylish restored 1850's farmhouse in the heart of the North Fork.
Ideally situated between Greenport and Orient, this charming 2-story, shingle-style farmhouse is the perfect location to explore the beaches and wine country of the North Fork. Located in the hamlet of East Marion, the house is a short bike ride to a beautiful and pristine private beach, the lavender fields at Lavender by the Bay, local farm stands, and East Marion's general store, the Fork & Anchor, for coffee, basic provisions and picnics to go. The picturesque town of Greenport with its shops, restaurants, wine bars, and amenities is a 5-minute drive away. The quaint village of Orient is a short drive in the other direction. The house is driving distance to over 40 vineyards and ideal for poking around the towns of Greenport, Southold and Mattituck, biking among nesting ospreys in Orient Beach State Park, kayaking calm waters, and day-tripping to Shelter Island. A mix of style and comfort, this charming home comfortably sleeps 8 and offers 4-bedrooms: a large master bedroom with a king-size bed and en suite bathroom; a lovely light-filled second bedroom with a king-size bed; a cozy third bedroom with queen-size bed; and a fourth bedroom with 3 twin beds and a kids' play area (games & toys provided) that's perfect for children. The comfortable living room opens to an open, well-stocked kitchen; and the dining area opens to an outdoor patio through French doors. The patio is enclosed by a shady pergola and makes an ideal summer dining spot. A covered wraparound porch off the living room is perfect for enjoying the late afternoon light. Additionally, there is a laundry room, outdoor shower, BBQ, hammock, and parking for multiple cars.
Located on the northern shore of Long Island, the North Fork boasts over 40 wineries, rolling farmland, and miles of beaches.
Jody's house was absolutely perfect. Great location for a weekend getaway and the house has everything you could need! I will definitely go back!
Anna
2015-10-12T00:00:00Z
Jody was extremely accommodating, easy to communicate with, and the house is just beautiful. Would absolutely stay here again!
Mackenzie
2016-09-29T00:00:00Z
Fantastic home to stay with a family or a group of friends. We had a wonderful time visiting vineyards and going to the beach- the location was perfect. The house is beautifully decorated and very homey! Would definitely return.
marni
2016-09-12T00:00:00Z
We had such a wonderful stay at Jody's beautiful home. We were only there for one night but hope to come back again for a longer stay. It is completely restored and tastefully decorated, which is very well represented in the pictures. It has a wonderful home-y feeling. The backyard is also beautiful, with a dining table, sitting area and hammock. We wish we had brought food to cook, there is a high end kitchen as well as a grill. Also, about 5 minutes walking distance is the bay! Thank you Jody for allowing us to stay at your home!
Catherine
2014-09-08T00:00:00Z
This is a beautiful property. Easily fit 6 adults and a few children. We enjoyed cooking in the kitchen which has lots of useful utensils. Living room and bedrooms were very cozy. We also enjoyed a day at the local vineyards and exploring the nearby towns. Would definitely recommend and would happily return.
Jo-anne
2014-09-29T00:00:00Z
Jody was an excellent host! She was prompt, clear, and extremely accommodating. The house was wonderful--beautifuly decorated and spacious; everything you would want in a North Fork stay. Our party accidenty left a few items behind and Jody was gracious enough to make arrangements and have everything returned. Overall a great stay!
Gabriela
2014-11-10T00:00:00Z
This home is a great way to spend a long weekend exploring the North Fork!
Rick
2016-09-06T00:00:00Z
Jody's house was perfect for our weekend group getaway. The bedrooms are spacious, the rooms well lit, and the kitchen is stocked. It is also easy to reach via car, Jitney, and LIRR. Jody was very helpful and provided a thorough guide to East Marion, Greenport, and Orient. While we spent most of our time at the house, we visited Truman Beach and Kontokosta Winery during our stay. I would definitely return to North Fork!
Karen
2015-11-29T00:00:00Z
Room Type
Entire home/apt
---
Property Type
House
---
Accommodates
8
---
Bedrooms
East Marion, NY, United States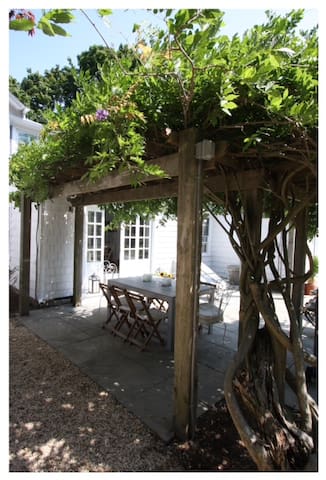 Enjoy this one bedroom cottage with pullout sofa room for 4. Kitchen, porch & bbq available. Next to the famous lavender farm and Seps organic farm. Close to Greenport shops and beach. Passes to private beach. Great getaway. Over 50 wineries to enjoy. Ferry to casino, shelter island and Sag Harbor
Patty was a lovely host who got back to us immediately. I would definitely recommend to friends/stay there again.
Lauren
2016-10-02T00:00:00Z
I was visiting the Greenport area with 4 friends and Patricia's cottage was great for what we needed, a quaint easy place to stay for 1 night. Patricia was very responsive and flexible with check-in & check-out times. The cottage is conveniently located, just a short drive from downtown Greenport.
Amy
2015-08-02T00:00:00Z
The host canceled this reservation 5 days before arrival. This is an automated posting.
Sandra
2016-07-18T00:00:00Z
good location, unfancy cottage, quiet, safe, easy to book.
emily
2015-09-06T00:00:00Z
Perfect for our stay to visit family just down the road. Walking distance to lovely lavender farm. 5 minute drive to lovely pebble beach. Close to all North Fork attractions. Fully air conditioned (though a bit noisy because of air conditioning). Full kitchen amenities. Only drawback: as of our stay, there was a construction site right next door (not active when we where there.)
Gretchen
2016-09-01T00:00:00Z
Patricia was a great host. Very helpful, responsive and accommodating. The unit was also in a very convenient and desirable location. However, the place itself left a little something to be desired. Honestly, the cottage was dingy, dusty, and dilapidated; some of the sheets provided had stains, and there was almost no water pressure in the shower. Additionally the "deck" mentioned in the listing overlooked an unsightly construction site and port-a-potty. Ultimately although we enjoyed our time in the area, we decided to leave the rental a day early.
Boris
2016-09-05T00:00:00Z
Patricia was very responsive to our inquiries--prompt, consistently friendly and easy-going. She was very flexible with our arrival time. The Pale Moon Ale amenities were a thoughtful welcome. The cottage was clean, well lit, nicely furnished with a very comfortable bed. We liked the location--convenient to the town of East Port and the ferry terminals, but set back from the road and quiet.
Michael
2016-03-26T00:00:00Z
This was the perfect place for us to stay for a night while we attended a wedding in the area. It's a great location, comfortable, and has everything you need for a short stay. Patricia was very nice and check in and check out was as easy as could be!
Andrea
2016-09-19T00:00:00Z
Room Type
Entire home/apt
---
Property Type
Loft
---
Accommodates
5
---
Bedrooms
East Marion, NY, United States
Tucked away between farmland and Long Island Sound, this very clean house is located in a very quiet private community with a magnificent private beach & tennis next to Island's End Public Golf Course that is open to the public. The pristine house sits on a half-acre of land backed to the farm. 5 minutes walk to the expansive private sound-front beach with its beautiful vistas of the rocky coastline. The seaport village of Greenport is a 5 minute drive with harbor front bars, restaurants, music
Our host was very accommodating . The house was lovely. There was lots of room to accommodate the five of us. The house was clean and comfortable . It's a short walk to a private beach on a nice neighborhood . I would definitely stay there again and recommend it to others.
Maria
2016-10-02T00:00:00Z
The house was big and spacious and very clean. the host was accomodating and helpful. We enjoyed our stay and look forward to visiting Long Island again soon
Mauricio
2016-10-23T00:00:00Z
Had a wonderful, relaxing week on the North Fork. Cirino and Agatha were courteous, friendly and helpful in providing all the information we needed while preparing for our trip and checking into the their home. The house was fully equipped, clean, comfortable, spacious and everything was as advertised. We had more than enough room for 6 people and the bedrooms on the first floor worked out well for my elderly parents. The neighborhood was quiet, the tennis courts are in great shape and the private community beach was picturesque and serene. Nice to be minutes from both Greenport and Orient Point. Great place for biking.
Robert
2016-08-20T00:00:00Z
Room Type
Entire home/apt
---
Property Type
House
---
Accommodates
8
---
Bedrooms
East Marion, NY, United States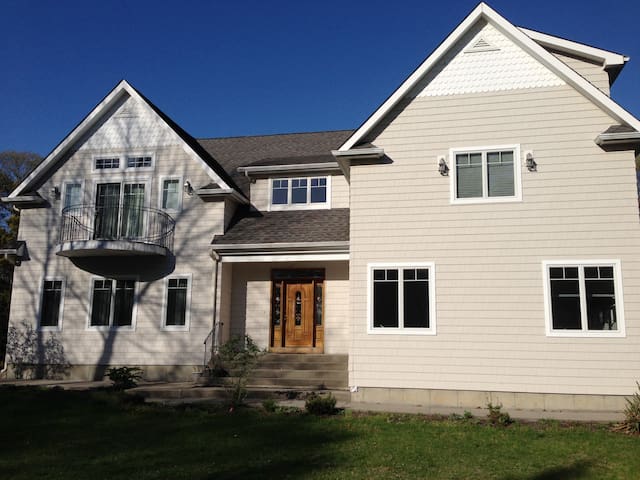 My place is close to Wineries, beach, tennis court, golf, restaurants, ferry to Connecticut. You'll love my place because It is close to the charming village of Greenport and it has deeded walking access to a semi-private beach. My place is good for couples and families (with kids).
Natalie was wonderful to deal with. Answered every question I threw at her, quickly. She gave me all the info I needed to make the stay perfect for my group. The house is so charming, and the location is great if you want to be near Greenport. The cab company Natalie suggested was amazingly responsive and treated us like Rock stars.
Claudia
2016-10-02T00:00:00Z
The house was beautiful, and all of the guests went on about how cozy and well decorated it was. There was plenty of room for us to have our own sleeping space and still be able to talk and hang out together downstairs. There was lots of room outside to enjoy (in warmer weather:) ), and plenty of space for parking. We were within 10 minutes of restaurants, shops, and wineries, which was perfect. Natalie was also incredibly helpful answering my many questions, always responded quickly, and was so pleasant to work with. If I ever find my way back to the North Fork I'll be hoping this house is available!
Kelly
2017-03-19T00:00:00Z
The host canceled this reservation 95 days before arrival. This is an automated posting.
Crystal
2017-03-27T00:00:00Z
Room Type
Entire home/apt
---
Property Type
Apartment
---
Accommodates
8
---
Bedrooms
East Marion, NY, United States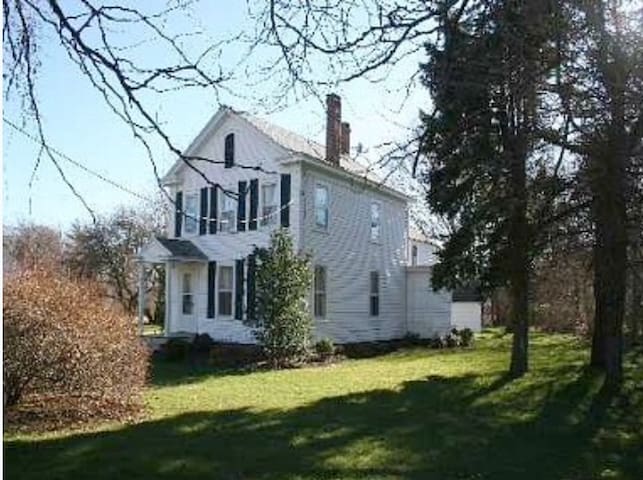 A very private modern beach compound perched on a bluff with its own private beach and sunset over the sea.
- 4 night minimum stay - This house has been featured in the NEW YORK TIMES & HAMPTONS MAGAZINE. 3 Bedroom 3 bath Upscale Modern House perched 100 ft above its own private beach on the North Shore of the North Fork of Long Island NY. Perfect Sunsets over the water. Mahogany Decks, outdoor jacuzzi overlooking the water, outdoor shower, cinema, wi-fi, rowboat, lounge chairs on the beach. chefs kitchen, herb garden, outdoor BBQ, gym, gated entry, access to private tennis courts. Close to Greenport town & Shelter Island and not far from the Hamptons. 6 guests maximum. 2 bedrooms with Queen Beds, One bedroom with twin beds. No Smoking. No Pets. No children under 10 years old. Winter rental discounts (1250/night instead of 1500) from November 1st to May 1st Hampton Jitney & Long Island Railroad stops are nearby. Greenport offers fine dining, boating, and many antiquie/vintage shops. Many vinyards, winerys & farm stands nearby. Golf course 1 mile away.
The Private Beach House is inside the private community of Pebble Beach Farms. After entry you will drive through working farm land for 1 mile out to the Bluffs on Long Island Sound to the property.
This property is very special! The location is superb, right on the beach in a private estate with virtually no one around - it felt like we had our own mile of waterfront which was great for swimming, sunbathing and win its own rowing boat. The house is great too - lots of space, furnished in a really interesting manner and with everything you need. It was our first time staying in an Air BnB home and we realised we're actually staying in someone's own house, so you have their things there too and as a result it's not like a plush hotel, all spotless and pristine. However, the pros definitely outweigh this. Finally the area is also perfect for a relaxing break. We went to Southampton, Sag Harbor, Greenport, Shelter Island, did watersports, shopping and generally chilled out!
Tim
2015-08-09T00:00:00Z
The location of the house it's beautiful. The house had an open layout, perfect home for entertainment.
Liz
2014-07-07T00:00:00Z
We've rented this house two years in a row and have enjoyed our time there immensely. The open plan of the living/kitchen and dining areas provides amazing views of the back yard and the Long Island sound. Wherever you are in the house, or while sitting on the deck, the view is captivating and relaxing. The sunsets are stunningly beautiful. There are a number of stairs down to the beach but the effort is rewarded by having a virtually private beach. The owner has provided lounge chairs and umbrellas. We could see families at the other end of the beach but there was nobody near us for our entire stay. The house is close to all of the amenities that make the North Fork special - restaurants, shops, wineries, farm stands, golf, tennis, water sports etc. Greenport is less than ten minutes away by car if you want to go out to eat or buy food. The owner and his property manager are responsive and helpful if any issues arise.
Joseph
2016-07-21T00:00:00Z
Room Type
Entire home/apt
---
Property Type
House
---
Accommodates
6
---
Bedrooms
East Marion, NY, United States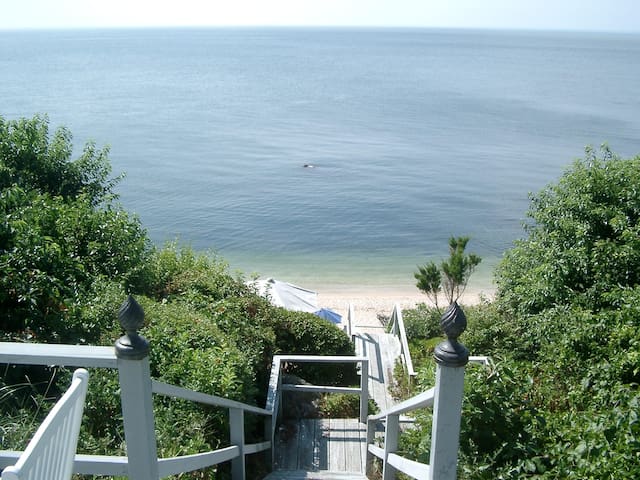 ONLY 2 WEEK RENTALS MINIMUM YEAR ROUND RENTALS ARE FROM FRIDAY TO FRIDAY AVAILABILITY FOR JULY & AUGUST IS ONLY DECIDED IN LATE SPRING- WILL NOT BE ABLE TO BOOK ANY JULY- AUGUST DATES UNTIL AT LEAST END OF APRIL. Seen on HBO's "Girls" - This super romantic six-bedroom house was originally built as a coast guard life saving station in 1895. It has just been beautifully renovated to maintain its classic farmhouse charm, but with all the modern conveniences.
The House is the ideal place to relax and getaway from it all. It has plenty of room for everyone to stretch out - a master bedroom with a king size bed, and 4 guest rooms all with Queen size beds as well as a 5th guest room with queen size bed and bunk beds. One room has an optional crib as well. The fourth floor of the Tower has an optional 7th bedroom. Climb up the ladder from the third floor where you have a desk and work place and crawl into a cozy bed where you are greeted with panoramic views. The Master bathroom has a steam shower and 6 foot bathtub. There are 4 bathrooms in all. The tower is five stories high, with a stunning room at the top to look out in all directions from an amazing vantage point. There is a loft-room with a 65" TV and full cable service. The house is equipped with wireless internet. There is central heat and AC, and there are ceiling fans in most rooms. Whether it is 6 couples or 3 families, there is plenty communal space for everyone to be together. The House also has numerous little hideaways for when you need time alone to read a book or take a nap. The possibilities are endless. The House lies on 3 acres of land in East Marion, New York with 300 feet of private beach on the Long Island Sound. It has a 50' x 16' swimming pool, ideal for swimming laps and lounging in the sun. There is a big rambling yard all around the house that leads down to the beach. Swim or sunbath on the private beach or relax in the shade on one of the four porches. This is a great house for huge get together's.
With abundant farm stands and fresh fish at your fingertips, this kitchen is the ideal place to cook and entertain. The large table seats 14, allowing everyone to gather around the dinner table. It's perfect for the ultimate dinner party. Visit the renowned wineries of Long Island. Tour the former whaling town of Greenport, with all its cultural charm, reminiscent of the Hampton's in the 50' s and 60' s. Here you'll find excellent restaurants and cafes. Explore Orient State Park and the local nature preserves. Ferries to Shelter Island, Sag Harbor, East Hampton, and Connecticut are a short drive away. Year round, this is a beautiful spot to visit.
This house and piece of land are spectacular. Every object is beautiful but warm and comfortable as well. The grounds are beautifully laid out, the views are gorgeous, the beach is glorious. There is everything thing that a family could need, including toys and costumes and sippy cups. The pictures do not do this place justice, it is rare and magic. I am very grateful to have gotten to spend time there.
Kevin
2016-09-20T00:00:00Z
The pictures simply do not do Caroline's home justice. It is romantic, magical and impeccably designed. I was so inspired by my stay at her home and hope I can return someday soon.
Melissa
2016-12-05T00:00:00Z
We had a magical week in East Marion with friends and family. It is a very special house and I hope to be lucky enough to return again someday!
S
2016-10-01T00:00:00Z
Room Type
Entire home/apt
---
Property Type
House
---
Accommodates
12
---
Bedrooms
East Marion, NY, United States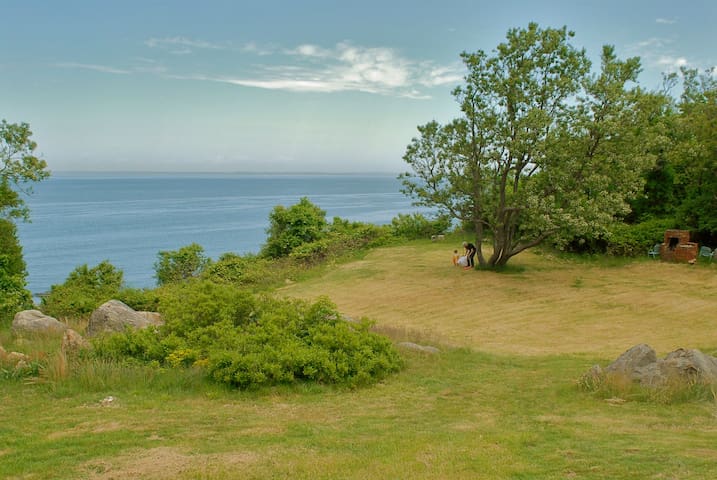 Life in the quiet, leafy hamlet of East Marion is delightfully simple and uncomplicated; no traffic jams or fashion victims here.
Relax for a couple of weeks or more in a bright, cozy one-bedroom cottage apartment on a country road, close to farm stands and beaches. A sunny lawn perfect for croquet, dining alfresco, and enjoying the stars awaits you along next to a wooded backyard. The most beautiful Sound beach on the North Fork is right down the road, a 2-minute drive or 10-minute walk. Nearby, the Lavender Farm is open to the public. Just a bike ride away, Peconic Bay beaches and estuaries beckon kayakers with shallow water warm enough for October swimming. The cottage apartment with its private front entrance is completely separate from the rear of the house which is owner occupied on weekends. In addition to one bedroom, the cottage includes a living room with a sleeper sofa (perfect for an extra child or adult), a fully equipped kitchen, and a bathroom. Linens and towels are provided, along with air conditioning, a charcoal grill, and a washer/dryer. Several bicycles, life vests, and one kayak are available to use. Pets are okay with prior approval (no cats please). Bird song fills the air at this idyllic cottage, and in the evening you'll see lots of deer, rabbits, and an occasional fox. A easy place to hike is Dam Pond Preserve in East Marion, and a favorite bike ride is to Narrow River Road in Orient, which is also a fabulous place to walk, kayak, and swim. At the tip of the North Fork, Orient State Park is home to a unique maritime forest and beautiful beaches, too. And if you like to fish, charter boats can be booked at many local marinas. When you're ready for civilization, lots of great restaurants, movies, theater, art galleries, and shops are a 10-minute drive away in Greenport. So come to the cottage, relax, have fun, and enjoy life in the slow lane!
Serenity on The North Fork is exactly as it's name implies. Speaking as one who had a writing deadline for a screenplay and a nine year old to entertain, I thought my task would be difficult. In truth, I found exactly what I needed to accomplish both. The house is really just two rooms, which are occupied by one Queen size bed and a couch bed. Once the couch is unfolded, there is no additional room to move around the room or visitors. We found that the outside space very beautiful and wild. Robin has maintained a lovely garden and herbs, which we used on a daily basis to cook with. We also enjoyed the enchanted forest, (my son's name for it) which the garden looks into. Being outside more than made up for the lack of interior space. If you love peace and quiet, the countryside, the stars and enjoy numerous evening feasts, smokes and breakfasts outside, this is a real find. The local beach is something out of Treasure Island. It is rocky, which my son enjoyed very much. Also there is a rock shaped like a giant's head peering out of the water, which apparently gets used to jump off in the summer. It is also the place to go to catch large fish. One of our favorite pastimes out on North Fork was fishing for our dinner. The rods paid for themselves many times over. Much of our fishing took place in Greenport, off the boardwalk at one of the local beaches. But the beach pass that Robin gave us, allowed us to access some other beaches. The best beaches that are accessible to the public require you to pay, so having the beach permit for your car, is a very important piece of the puzzle. On the downside, you must have a car or be athletic enough to bike everywhere. The cars zip along the road that leads to the beach, which made it hard for my son to enjoy biking there. It is about a 15-20 min walk, (7 min drive) so not as close as you would like it to be. Also if you are afraid of ticks, you need to coat yourself in bug spray or stay at the beach. We did not catch any ticks on us this vacation, but you are aware of the constant presence of the deer, which is something out of a Discovery Documentary, as they appear completely unafraid of visitors. I am a fan of seeing wildlife, so it did not bother me. In fact it felt a bit like being on a safari, seeing them so close with their babies. The kitchen was well equipped for every kind of dietary turn. The laundry worked well, combined with a line in the garden, should towels need to dry. Robin our hostess was always very pleasant and supportive about any concerns we had and letting us know not to leave food out for the deer. I would...
Eve
2014-08-31T00:00:00Z
We had such a lovely time at Robins place! It's cozy, perfectly located and equipped with everything you would need and more. Robin is super friendly and very accommodating. We would definitely love to stay there again!
Marie
2015-09-02T00:00:00Z
Robin is a very nice host. She provided to my children and to me the best hospitaly I'd never received all over the world. Her cottage is very confortable and the nature around it is really beautiful. I will go back for sure next year. It was the perfect place for my needs. The private beach (only 1 miles away from the house) it's so beautiful and the water is so clena that...you do not event think you 're in the ocean. good place to swim and relax. Thanks Robin !!! see you next year !!
Fabrizio
2014-07-23T00:00:00Z
Room Type
Entire home/apt
---
Property Type
Apartment
---
Accommodates
3
---
Bedrooms
East Marion, NY, United States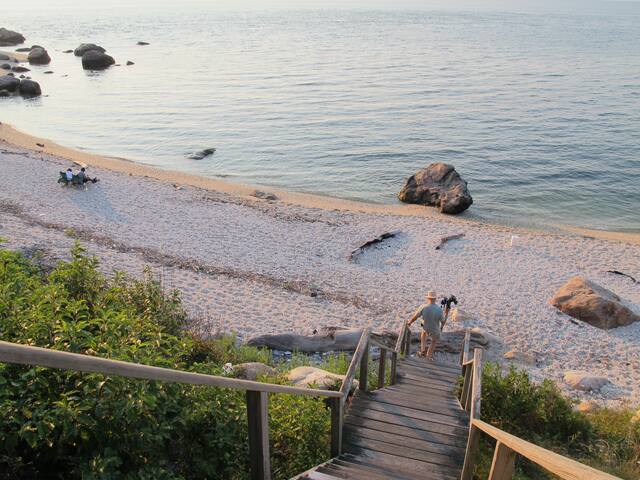 Spacious newly renovated Cottage. Located in back of the the Merlo Inn Bnb. 1 bedroom with pullout sofa. All appliances. Relax by our in ground heated pool or enjoy the day at our Private Trumans beach. You'll be back again. Close to all farms, vineyards and Greenport all ferries.
It's brand new and interior designer renovated. Great location.
Lavender Farm walking distance. And Seps farm. You could go to any sound beach or waters on the bay side. Great area quite and private. Small grocery store nearby called Fork and Anchor.
Room Type
Entire home/apt
---
Property Type
Cabin
---
Accommodates
6
---
Bedrooms
East Marion, NY, United States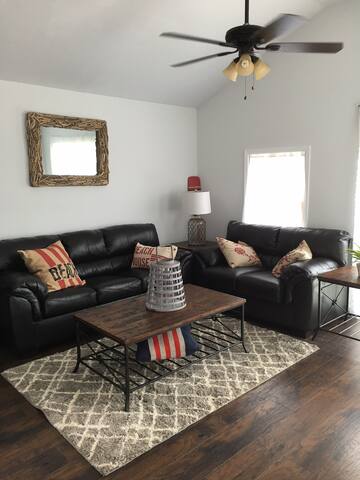 My place is close to the beach, restaurants and dining, and great views. You'll love my place because of the location, the ambiance, the people, the views, and the outdoors space. My place is good for couples, solo adventurers, and business travelers.
Please note that our properties will NEVER be found on (SENSITIVE CONTENTS HIDDEN).
This was a beautiful place in the perfect location. Expertly restored, impeccably clean and close to pretty much everything. I cannot recommend this place highly enough.
Montgomery
2016-07-17T00:00:00Z
Had a wonderful stay. Newly renovated, great a/c, clean, nice outdoor area and beds for 3. Great location near beach, wineries and Greenport restaurants.
Anthony
2016-07-31T00:00:00Z
This was a last minute weekend getaway and we couldn't have picked a better location ! The house is wonderfully restored and set in a quiet neighborhood but very close to parks and restaurants. Victoria was very accommodating and even offered to put up a safety gate on the stairs when she realized we had a young child with us. Thoroughly enjoyed her tour of the other properties and can't wait to come back for a longer stay.
Rizwan
2016-07-24T00:00:00Z
Victoria's place is adorable and perfect for a couple. East Marion is a cute little strip of victorian houses and old farmsteads between Orient and Greenpoint. The duplex is simple but clean, very comfortable and honestly a great spot for a quiet weekend away.
Corinne
2016-09-11T00:00:00Z
The host was amazing. She provided us with complimentary bottle of wine and snacks. The Duplex was beautifully renovated and immaculate. We will definitely be back.
Taki
2016-08-29T00:00:00Z
Our host was very responsive via email and text and wanted to greet us on our arrival. The home was very clean and comfortable and was a conveniant stay while visiting nearby Greenport.
William
2016-08-21T00:00:00Z
Room Type
Entire home/apt
---
Property Type
Apartment
---
Accommodates
3
---
Bedrooms
East Marion, NY, United States
1 mile to town of Greenport and wineries, tennis courts , 1/2 block to the beach. Spacious backyard with propane grill, , 4 large bedrooms including two master bedrooms , finished basement with arcade game , large kitchen, dining room & living room
Superb location and easy access to a great beach, which surprised us! Very comfortable with excellent facilities. Santa even provided a delicious blueberry pie! Bedrooms were all spacious and comfortable with excellent central AC.
Chris
2016-07-26T00:00:00Z
Room Type
Entire home/apt
---
Property Type
House
---
Accommodates
8
---
Bedrooms
East Marion, NY, United States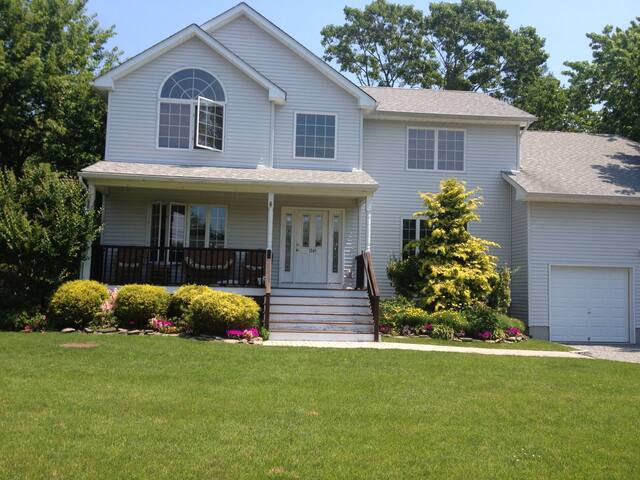 My place is close to great views, the beach, restaurants and dining, and family-friendly activities. You'll love my place because of the ambiance. My place is good for couples, solo adventurers, business travelers, and families (with kids). Minimum stays apply as we are compliant with local laws. During July and August we only offer 30-day rentals but will consider other requests if we are available. Kindly email us at (EMAIL HIDDEN) with your details.
We had the MOST wonderful stay at Victoria's beautiful home on the North Fork. The house is new and very clean but also feels cosy and homely. It is impressively well stocked - coffee machine, toiletries, yogurt and milk in the fridge, ice machine, beach towels, even a blender.... The property is set back from the road behind the main house, which makes it wonderfully quiet and secluded. There is a large back patio with a BBQ and then a huge private back garden surrounded by trees and frequented by deer! Victoria was also a perfect host - very easy to get hold of when we were arranging our arrival on the day and gave us some good advice about the local area as well. And to top it all off - she greeted us with a basket of treats and a bottle of rosé from a neighbouring vineyard - definitely the way to my heart.... We will definitely be back and highly recommend this host and home to anyone considering a trip to East Marion, NY.
Sophie
2016-07-11T00:00:00Z
Room Type
Entire home/apt
---
Property Type
House
---
Accommodates
5
---
Bedrooms
East Marion, NY, United States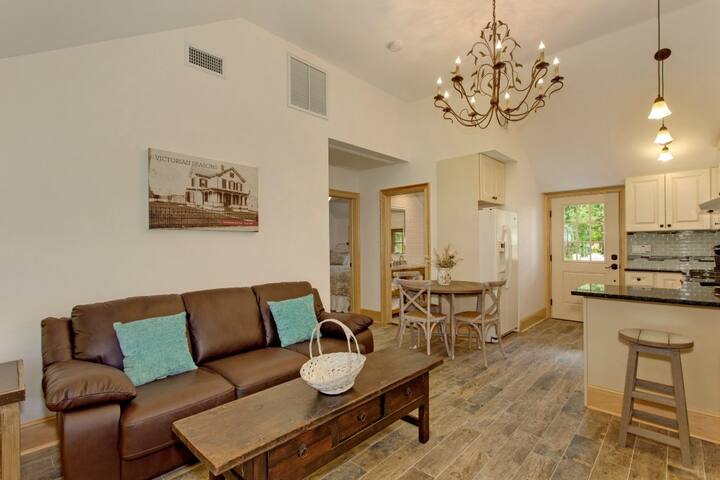 Shabby-Chic Beach Cottage a short walk from a shared private beach. 2 bedrooms & 2 bath cottage sleeps 4-5. Open Kitchen to Sitting Room with breakfast bar. Screened Sunroom for all day into night eat/drink/relax. Very private & safe.
Relaxed Beach Cottage with Sunroom. House fits 5 people (Master bedroom has Kingsize bed, Small room has a bunk bed with Full size on bottom and Single on top) Shared Private Beach (5 mins walk) Parking on driveway for 2 cars. High-Speed Wifi (50Mb Up/Down) Gardeners Bay Estates is very private and also very safe for children North Fork Hampton Jitney bus stops end of Old Orchard Road. Pet Charge: $25/night. Pet Deposit $150
Quiet & peaceful with the beach a short walk away.
Giles was a wonderful host, and definitely made us feel welcome. The house was clean, classic, with a modern touch that felt really inviting, warm, and current. The screened in porch was our favorite part, and each night of our stay we enjoyed local fish with the windows open. Overall, it was a great experience and I would definitely recommend Giles as a host and his house as a destination.
Andrew and Megan
2014-10-06T00:00:00Z
Giles was very hospitable and courteous in answering any questions we had. The cottage was very nice and clean with central AC, which was great considering it was humid while we were there.
Jack
2015-06-22T00:00:00Z
We loved this cottage! The neighborhood was very quiet and serene. We stayed here for our anniversary and it was the perfect place to relax for a few days. The cottage is very comfortable: couches you can sink into with a good book, a big and comfy bed, and an open kitchen. We spent a lot of time in nearby Greenport which has several good restaurants. From East Marion we explored Shelter Island, Sag Harbor and Montauk within a few hours by car (including two ferry rides). Giles was a great host and this was the perfect place to escape the city for a few days. Would stay here again and highly recommend to friends.
Dawn
2014-09-23T00:00:00Z
The reservation was canceled 11 days before arrival. This is an automated posting.
Danielle
2014-09-02T00:00:00Z
We loved our stay at Giles's beach cottage. It was lovely and quiet and a great place to explore Orient Beach State Park and other local treasures. We highly recommend it! We did think it was a wee bit pricey, but we also waited a long time to book, so didn't have many options. In any case a great stay.
Jacqui
2015-07-24T00:00:00Z
Giles' cottage is a lovely and comfortable base for exploring the North Shore. Very close to Greenport (you can bike there), and a short walk to a beautiful private beach. Great area for kids, too.
Josh
2015-06-09T00:00:00Z
A perfectly located home, a stones throw from the beach. Parts of the house still seem like a bit of a work in progress; the yard lacks seating or a BBQ, the bathrooms are in need of renovation and the kitchen is a bit disorganized and there were dirty dishes in the dishwasher when we arrived. However, we fell in love with the area and hung out in the wonderful sunroom most of the time. We had a perfectly relaxing weekend and really enjoyed our stay.
rachel
2015-07-13T00:00:00Z
Giles was very responsive. We got to the house and the cleaning lady had not done a good job. We contacted Giles who was traveling internationally. He did his best to remedy the situation and asked if he could send another person to clean the next day. Unfortunately we decided that based on the conditions we weren't going to stay our entire trip. A few notes for travelers who like to cook at home--the grill is extremely small and the refrigeration options (correctly pictured) are two small fridges next to one another with very little freezer space. The house is dog friendly but the beaches in the pictures are not.
Jamie
2015-06-15T00:00:00Z
Room Type
Entire home/apt
---
Property Type
House
---
Accommodates
5
---
Bedrooms
East Marion, NY, United States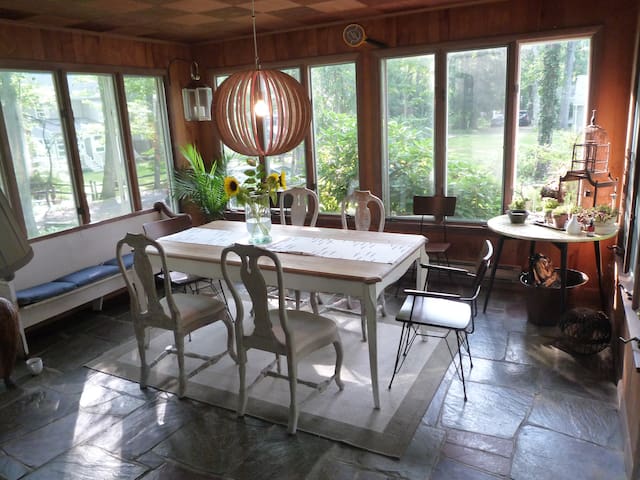 Chill out in a quiet private hideaway up in the treetops of Greenport any time of year. The studio is located on the 3rd floor of a large home built in 1850. It has beautiful vaulted ceilings and oozes of charm. Quick walk to the shops, restaurants, waterfront and everything else Greenport has to offer. Outside of the tourist loop-- private and convenient! Stay for a night, or stay for many, this studio has everything you need right in the historic hamlet of Greenport.
Recently renovated apartment in a historic home. Tons of natural light and everything about the space and home is unique!
Greenport is a friendly fun village where you can walk and bike to beaches, vineyards,restaurants ,galleries and nature preserves. There is something for everyone.
Great stay! the place was exactly as described and check in/check out was a breeze!
Kevin
2017-02-20T00:00:00Z
Cindy was responsive and hosted a beautiful floor in her home that is central to Greenport with easy access to the town in a nice part of the neighborhood. Quick answers, easy check in, local (URL HIDDEN) was a pleasure and recommend with confidence. The Apple TV with Netflix, etc was a nice added touch!
Jesse
2017-01-07T00:00:00Z
Perfect. Exceeded expectations. Cindy was accessible and made sure we had everything we needed for a comfy and delightful stay - from drinks and snacks to fluffy white towels and choicefully selected toiletry brands. The apartment is simple but very clean, light and spacious in feel. We will stay here again!
Alexandra
2017-01-15T00:00:00Z
My girlfriend and I decided to spend a long weekend in Greenport to get out of the city. The Jewel is a ten minute walk from downtown Greenport with easy access to the wineries and beaches by car. The room was carefully decorated, and it was easy to get lost wandering around examining all the little details. It was furnished with the essentials such as a coffee maker (with coffee and coffee filters), shampoo, soap, towels, milk, cereal, snacks, etc. There were a number of ladybugs in the windowstill, but that was a bonus for us personally. We would definitely consider staying again!
Jonathan
2017-04-03T00:00:00Z
The Jewel is a wonderful place to stay. It's very spacious, but also cozy. Cindy was so kind, and even took the time to leave snacks in the fridge! I felt right at home, and didn't want to leave when my trip came to an end. This is definitely the perfect place to stay if you're looking for something that is quiet, but also walking distance to the town.
Kaycee
2017-01-14T00:00:00Z
The apartment was beautiful and so clean! We had a very comfortable stay and Cindy was extremely acclimating and thoughtful, leaving food and drinks for us as well! Definitely recommend to anyone and will definitely try to stay there again when returning to Greenport!
Aine
2016-10-16T00:00:00Z
We loved our stay in the studio. The sun shines in so beautifully in the morning with our morning coffee. It is a lovely and cozy studio in walking distance to Main Street and Front Street.
mariann
2017-02-26T00:00:00Z
Cindy's place was exactly as described. It was very clean, cozy and perfect for a quick getaway. She left snacks and drinks in the fridge for us, offered tips on activities to do around Greenport, and was very communicative. Thank you for a great stay, Cindy!
Maggie
2017-01-04T00:00:00Z
Room Type
Entire home/apt
---
Property Type
Apartment
---
Accommodates
2
---
Bedrooms
Greenport, NY, United States
Enter dates to see the total trip price including additional fees (but excluding any taxes).