Beautiful recently renovated 4 bedroom Mediterranean Style Villa in family-friendly Redondo Beach, just 5 mins drive to Manhattan Beach Pier with wonderful restaurants, bars and beach. Large and spacious 2800 sq feet open floor plan with a sunny terrace w/ BBQ grill and free parking perfect for a comfortable stay. Easy access to all of LA's major tourist attractions.
This Italian style Villa has been recently renovated to the highest standard. The open floor plan includes a large modern kitchen, a dining room, 2 living rooms, 3 bedrooms (2 en-suite), 4 bathrooms, a sunny terrace w/ BBQ pit and a private study. The sunny terrace includes a large gas BBQ pit.
Redondo Beach is a safe family friendly beach community bordering Manhattan Beach and Hermosa beach. Great shopping, public parks, restaurants and bars at a walking distance. Villa is one block from a running track.
The house is nice and clean with many beaches and stores around the location, and it's not far from LAX. The host was really nice with the family she welcomed us the first day upon our arrival, and showed us the place. The house is like what mentioned on the description.
Mohamed
2016-04-26T00:00:00Z
Kiran was an excellent and welcoming host. Her home was very clean, well decorated, equipped, and spacious. Myself and those staying with me all felt very comfortable and relaxed. I would stay here again 100%!
Garrett
2016-07-29T00:00:00Z
Stayed for a week, family of 2 adults and 2 children and the house was excellent. Very spacious and well appointed. As I needed to work during my stay the study was an added bonus to get some peace! I would definitely stay again. My wife used the bus and there is a convenient bus stop on Artesia just 5 mins walk to get to Redondo pier or Galleria shopping mall.
richard
2017-02-26T00:00:00Z
A beautiful home and a wonderful host. Thank you so much for everything. We will be back!
Sean
2016-05-03T00:00:00Z
Kiran's place was beautiful! Such a comfortable, great place to relax after our time working hard at our conference. The villa was spacious and luxurious- exactly what we were looking for. Kiran was attentive and made sure I was well informed regarding emergency contacts, and the amenities within the house. I'd definitely stay again. Thank you, Kiran!
frankie
2016-10-23T00:00:00Z
We were greeted by Kiran's property manager Christie on arrival, she was very attentive, showed us round and made sure we knew how to contact her if we needed. We had a leak in the kitchen which was addressed swiftly and efficiently (fixed within 24 hours). The property was large and spacious, with the only draw back being a lack of entertainment in the communal areas (no T.V nor Sound System) which meant if you wanted to watch T.V you had to do so in your bedroom. There is a lovely patio area in the back with a grill which we utilised frequently. All in all I would recommend this property, it has what you need, fully functioning kitchen, well proportioned and well looked after.
Cheryl
2016-03-11T00:00:00Z
It was welcoming, nice neighborhood, close to the beach. Will gladly rent it again
Claudia
2016-07-11T00:00:00Z
Just as described - all around great experience. Thanks
Lisa
2016-08-07T00:00:00Z
Room Type
Entire home/apt
---
Property Type
Villa
---
Accommodates
10
---
Bedrooms
Redondo Beach, CA, United States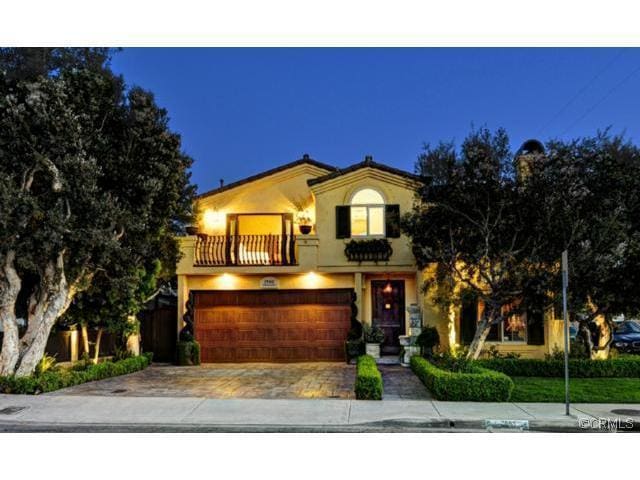 Overlook a breathtaking panoramic 5 story view of the Los Angeles beaches & the Hollywood sign. Hands down one of the best ocean/city sunset views in LA.
FEATURES / AMENITIES Beautiful home w/panoramic views of the ocean/main channel/city lights. Steam rooms, saunas, stone jacuzzi oasis, Two full wet bars equipped with sub zero refrigerators, game room w/professional billiards table, elevator, two grills, large open kitchen w/center island & a guest house. Custom glass windows & doors throughout the house provide a spectacular 180 degree view from every angle. Panoramic views span down all floors with an amazing rooftop deck & seated patios on every floor. Spend one night here & you'll appreciate the house & the entire experience. Spacious double living room with wet bar, fireplace, 4 couches, a plasma tv & a large outdoor seated patio. Perfect for curling up by the fireplace with family or having a cocktail with friends. The large kitchen has everything you need. Cook a feast or arrange for a private chef to come & prepare your meal while you enjoy the view from the dining room with seating for six. Game /Family Room has a full wet bar, a professional pool table, family room seating area, outdoor patio with seating. A full size bed with a full bathroom. The bedroom layout- There are two king size bedrooms, 2 queen size bedrooms, a full size bed in the game room, two queen size pullout sofas, an extra long twin size rollaway bed, two queen size airbed mattresses & three super comfy couches for sleeping. The luxurious master suite has a fireplace & jacuzzi tub. There is a separate seating area off the master bedroom with a door that closes that has two queen size pull out sofas, ensuite bathroom w/shower and fridge/bar in the enclosed area (two bathrooms total in master bedroom). The "in-law" suite separate guest quarters has a queen bed, steam room & cedar sauna. All bedrooms have ensuite bathrooms, walk in closets, robes, slippers, towels, shampoo, conditioner & top of the line 1000 thread count sheets. I have had a lot of guest count of 16 stay here. My goal is to make as many family/businesses as comfortable as possible. If you need something please ask. I really love hospitality & want to make your stay as enjoyable as possible.
It's a peaceful and quaint family neighborhood. 24 hour security patrols the neighborhood. Conveniently located near the beach, LAX airport, and major westside attractions. It's a 5 minute drive to local movie theatre, Whole Foods market, CVS pharmacy, and brand new 24 hour Fitness Gym. Close to 405 fwy. 6.2 miles to Third Street Promenade 8.8 miles to Rodeo Drive 11.7 miles to LACMA 15.9 miles Sunset Strip 25.5 miles to Universal Studios BEACH ACCESS 4.8 miles to Venice Beach / Canals 6.7 miles to Manhattan Beach 7.3 miles to Santa Monica Beach 18 miles to Malibu Pier 56.3 miles to Laguna Beach
This house was beautiful and spacious. The view is even better - the pictures do not do it justice! You can see the entire coastline from Marina Del Rey to Venice to Santa Monica to Malibu. You can see all of West LA and Century City/Beverly Hills. On a clear day, you can easily spot the Getty museum, the Hollywood sign, and Griffith Observatory. The best part for me was definitely sunset from the rooftop deck. My fiancee and I were newly engaged at the time and watching the sun set over the ocean was a moment we will never forget! My only concern when I was trying to decide whether to rent the house was noise from LAX, which is nearby. However, this was not an issue at all. No planes flew over the house and I could not hear any airplanes even when I was actively listening for them. The neighborhood was also very quiet and safe. Kimberly was an amazing host. She was very responsive to email and text. She was flexible with checking in and out of the house. She personally made sure everything in the house was perfect and suitable for me when I got there. Kimberly even stayed to hang lights out in the spa/patio area when I told her about my special occasion! She truly went above and beyond for me. Even after checking out, when I realized that I had left behind some personal belongings, she made sure I got them back. Five stars for service! Five stars for the house and that amazing view! I would not hesitate to visit again or rent from Kimberly again in the future.
John
2015-10-11T00:00:00Z
What can I say about this house - it's simply perfect if you're looking for a special location with a stunning view. We were a group of 11 guys who spent the nights before in Vegas and then ended our trip in L.A - so we were looking for a special place to stay which had enough space for all of us and we definitely found it with this amazing house!!! Vasi and Kimberly made our stay even more perfect with all the inputs they gave us and the way they treated us - all I can say is THANK YOU and we'll be back for sure!!!
Phil
2017-03-19T00:00:00Z
This was one of the best trips I've ever been on, a big part of that was because of this house. The host gave us a great walk through, you'll need it in a house this big. The neighborhood was a quick uber ride away from Venice, Santa Monica, etc. Can't wait to stay here again for my next LA trip.
Jonathan
2017-04-02T00:00:00Z
Great location! Spacious place for our group of eight, could handle several more easily. Amazing views of the city and ocean. Older residence with some areas remodeled, some not, though original all high end. Aquarium was awesome. Managers/owners very available and helpful. They said further renovations planned. We would highly recommend it! We really appreciated that we were able to check in early arriving and late leaving with our flight times.
Mike and Lori
2016-09-28T00:00:00Z
Had to meet the plumber after midnight the first night of my trip. Bathrooms very outdated. View overlooking an oil rig.
Nate
2016-10-24T00:00:00Z
We had multiple family members flying in for our son's wedding and we needed a home to gather in for fun but also one that provided plenty of space. Our ages ranged went from 18-91 so we needed plenty of nooks for people to rest in whilst others socialized. This home really made our family reunion so much more special. Yes we had problems when we first arrived from LAX. Some AC was out and the game room bathroom faucet did not work. They were promptly fixed the next day though and probably would have been fixed the evening we arrived but we were too tired to have workers there. The bigger issue was the shower not working in the guesthouse bathroom. There was also a very strong mildew smell where the shower had leaked on to the carpet. We lived with it and Kimberly tells me it's all in the process of being fixed so it shouldn't be any problem for any future guests. This is definitely an older home that must have had it's heyday back in the 80s but its still an awesome space. Very well equipped, everyone loved the large spaces we had to relax in and the multiple, quiet sleeping areas. So many bathrooms was great too with everyone getting ready for the wedding at the same time. The close proximity to the airport was very helpful. We were able to have groceries delivered by Sprouts and walked to an Italian restaurant and wine store the day we arrived. Fabulous! I would recommend this home to anyone and I found Kimberly very responsive to the initial problems. Lots of great memories were made during the 4 days we rented this pretty spectacular home. Thanks so much Kimberly!
julia
2016-06-14T00:00:00Z
Kimberly was gracious, professional, helpful. Even though our arrival time was delayed until 10PM, Kimberly enthusiastically greeted us, got us oriented in this 4 story/6,000 sq ft home, and made every effort to answer our numerous questions. The morning views from the rooftop deck were absolutely breathtaking!
Jon
2015-10-26T00:00:00Z
The house was great. Perfect for what we were looking for as an alternative to a hotel for a business trip. Lots of room, good wifi, and close to where we needed to be. Hot tub was nice too! Kimberly was very helpful pointing us to some local eats and activities. Would stay there again.
Erik
2016-03-03T00:00:00Z
Room Type
Entire home/apt
---
Property Type
Villa
---
Accommodates
16
---
Bedrooms
Los Angeles, CA, United States
Enter dates to see the total trip price including additional fees (but excluding any taxes).