Comfortable, private room has a double bed and en suite bathroom with wet room style shower. It is quite separate from the rest of the house. There are tea and coffee making facilities and fresh towels provided.
This comfortable double room has been decorated with Provençal fabrics and a stunning canvas print of Paris by night hangs above the bed. You are able to access your en suite bathroom directly from the bedroom.
The Mill House is superbly placed for accessing Edinburgh with all its cultural and historical attractions. It is perfectly situated for walkers and cyclists and those wanting to enjoy the delights of Edinburgh. You are within minutes of the Pentland hills and Water of Leith walkway. Up the hill in the village of Currie there is a post office, bank and small supermarket.
Immaculate and perfect attention to detail. Rebecca and her family were delightful. Highly recommended.
Yvonne
2016-10-09T00:00:00Z
Is really good ! I feel like in my home . The family is pretty good !
Julia
2015-09-05T00:00:00Z
Perfect and more. Rebecca is extremely welcoming and thoughtful. This was my first day at work at the research park nearby and Rebecca gave me a lift from the station and eased any worries I may have had about arriving on time. The accommodation was excellent - bedroom, bathroom and sitting room. She also provided wholesome food showing her love of food. I highly recommend her Airbnb.
Elspeth
2016-05-27T00:00:00Z
Wow, this is a really good place to stay. Beautifully finished, peaceful location and lovely hosts.
Paul
2017-03-05T00:00:00Z
We enjoyed our overnight stay. Our accommodation and facilities were great and Rebecca and her husband Jimmy made us feel very welcome in their home. Our stay was for a school reunion so we were familiar with the area and enjoyed being back again.
Lindsay
2015-09-27T00:00:00Z
Rebecca made us feel right at home when we arrived. The room and bathroom were lovely! Rebecca recommended many places to see on our short trip. We hope to visit again some time in the near future!
Joanna
2015-03-08T00:00:00Z
We arrived later than we'd agreed but this was no problem to Rebecca who welcomed us in to her large modern new house. Our sat nav maps must be out of date but (SENSITIVE CONTENTS HIDDEN) Maps eventually came to the rescue. The room is a good size and comfortable with en-suite bathroom and generous shower. A TV was included un the separate sitting room / study that is made available for visitors' use. The breakfast arrangement was unclear.
Chris
2015-09-14T00:00:00Z
The accommodation was fantastic as there was a separate lounge area as well as the ensuite. Unfortunately we did not manage to take advantage of this as we were visiting for business. The overall space was very large and more than sufficient. It was a new build so was very modern and was also decorated to a high standard. Rebecca and her family did everything they could to make us welcome. I would not hesitate to stay again and would definitely recommend it.
Dahalia
2016-08-01T00:00:00Z
Room Type
Private room
---
Property Type
House
---
Accommodates
2
---
Bedrooms
Currie, Scotland, United Kingdom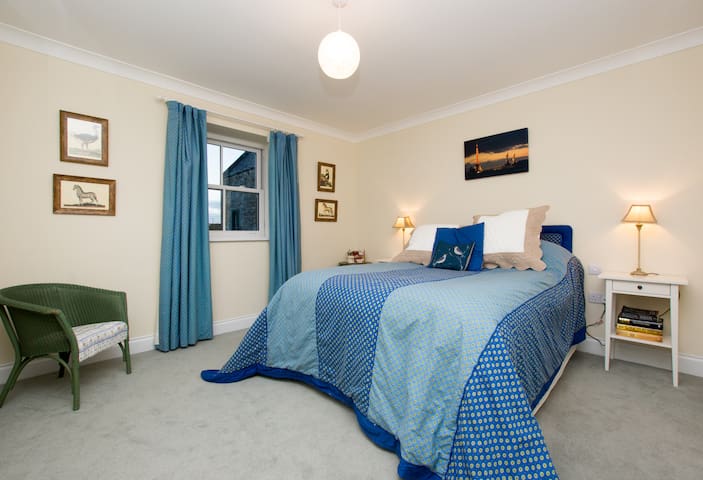 Spacious open plan living area available for a maximum of 2 people with private bathroom, kitchenette and double bed. Great transport links into the centre of Edinburgh- around 30 minutes by bus. Heriot Watt University, Pentland Hills, local bistros, cafes, bars and shops all within walking distance.
Freshly renovated bright (2 large windows ) Large open plan living area- double bed , wardrobe, sitting area and kitchenette, separate private bathroom/wetroom with power shower. (the bathroom is separated from the hall with a heavy curtain and not a door) Radio, iron and ironing board, fridge, microwave, kettle, toaster all in the flat for you to use. Towels and bed linen provided Please note there is no oven/hob for cooking (however there is a microwave, kettle, toaster, fridge and George foreman grill to prepare light meals.) Also please note there is also no washing machine for you to do laundry.
Quiet residential leafy suburb of Edinburgh Lovely cafes, local shops, post office , bistro, pubs and restaurants all within walking distance. Heriot Watt University is a 20 minute walk/10 minute bus journey from the house. The Pentland Hills are easily accessible from the studio.
Great cosy little place. Kimberly and Caroline are lovely and very welcoming. Fantastic value for money. Definitely recommend
Ramin
2016-09-07T00:00:00Z
Great place to stay for a few days in Edinburgh. Cozy and comfortable place. Warm with all necessary conveniences. Bus stop just around the corner.
Rory
2017-03-19T00:00:00Z
A very cosy place to stay and for a good price! Easy to get a bus to the city and not far from the airport.
Kristin
2016-06-14T00:00:00Z
Kimberly's place was very cozy, placed in a nice neighbourhood, close to the bus stop. Our host was very kind and helpful. When we come back to Edinbourgh, we would gladly stay at Kimberly's
Justyna
2016-07-25T00:00:00Z
This self contained studio was exactly as described - a fantastic base for us to explore the Edinburgh Fringe Festival. The studio was in a quiet area and had everything to make our stay comfortable - we arrived to a lovely warm welcome from Caroline and nothing was too much trouble. Both Caroline and Kim were friendly and extremely helpful and prompt to respond to any queries (both before and during our stay). In terms of location this was ideal for us - a very short walk to a bus stop with frequent buses right into Edinburgh. We would highly recommend this property.
Sam
2016-08-10T00:00:00Z
This is the second time I've stayed here, and just like before, both Kim and Caroline were very friendly and everything was spot on. The place is very private and in a lovely neighborhood.
Vitor
2016-06-27T00:00:00Z
A very nice stay in a lovely safe and friendly neighbourhood set on the border between country and city. A 5 minute walk to an easy bus ride into Edinburgh, while very close to the gorgeous Water of Leith walk or a wander into the Pentland Hills to feel miles away from city life. The flat was very comfortable once the heating was turned on. Our hosts were always approachable and accommodating. Note: no clothes washing or cooking facilities (one can get by with the mini bar, microwave and sink though), Chinese take away and small supermarket in easy walking distance. The view from the flat window is simply stunning and many a pretty sunset was enjoyed. Thanks for a lovely stay while we found our feet during our move to Edinburgh :)
Sherryn
2015-09-28T00:00:00Z
Despite me getting the dates wrong for my booking. Kimberley was wonderfully understanding and worked around this to help provide me with accomodation. I turned up on her doorstep a week early......Kimberely was lovely and within 10 minutes had sorted out the accommodation for us. Very helpful and friendly hosts. The location is great, 2 min walk from a coffee shop, local takeaways and shops. 2 min walk to the bus stop where the 44 bus takes you into the centre of Edinburgh in 30 min. I personally like the fact the accomodation is self contained with its own front door, makes for a nice private space.
George
2016-07-15T00:00:00Z
Room Type
Entire home/apt
---
Property Type
Guest suite
---
Accommodates
2
---
Bedrooms
Currie, Edinburgh, United Kingdom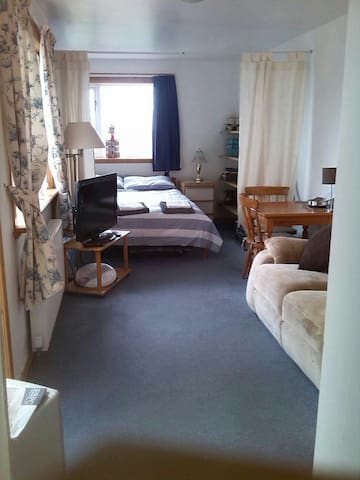 This Studio flat is beautifully furnished located in Currie and very close to Juniper Green village. The flat has 3 beds can accommodate young family or 3 adults. The kitchen area is fully equipped with a washing machine, fridge, microwave, toaster and mini cooker.
There is a very handy supermarket in 2 minutes walk also pub, coffee shop, deli and restaurant. Local bus stop about 2 minutes walk from the flat, which will take you to city centre in 15 minutes and 10 minutes drive to airport. Free car park
Absolutely great neighbourhood with lovely and helpful people. I love the fact that it is close to Edinburgh City Centre to commute in 15 minutes, at the same time benefit to be near countryside and friendly welcome of a small village. The flat overlooks the Pentland Hills, and is few minutes away from the walk way up the Water of Leith. We have coffee shops, local shops, banks, restaurants and pubs, all within a few minutes walk from the flat. Heriot Watt University about 4 minutes drive.
The host canceled this reservation 4 days before arrival. This is an automated posting.
Sushil
2017-04-03T00:00:00Z
Room Type
Entire home/apt
---
Property Type
Apartment
---
Accommodates
3
---
Bedrooms
Currie, Scotland, United Kingdom
Bright, spacious and comfortable double bedroom with exclusive access to main bathroom in family home in quiet residential area close to Edinburgh. Airport 10 mins away with good local transpsort links to the city (Train, Bus & Park & Ride). Local bars, restaurants, coffee shops, takeaways all within easy walking distance. There is also a chemist, bakers, post office and small supermarket all close by.
Bright comfortable end terraced villa in a quiet residential area close to Edinburgh and the beautiful surrounding countryside.
Currie is a lovely suburb of Edinburgh close to the beautiful Pentland Hills and The Water of Leith with lots of good walks and cycle paths and easy access to the centre of historic Edinburgh. It has a few bars serving food, restaurants, coffee shops and takeaways (Chinese, Indian, Fish & Chips, Pizza and Kebabs). It also has a small supermarket, chemist, bakers and post office. There is also a medical centre and dentist in case of emergencies. Heriot Watt University is only 10 minutes walk from the property. Edinburgh Park and The Gyle Shopping Centre are 15 minutes drive. Edinburgh Airport is also only 15 minutes away.
Room Type
Private room
---
Property Type
House
---
Accommodates
2
---
Bedrooms
Currie, Scotland, United Kingdom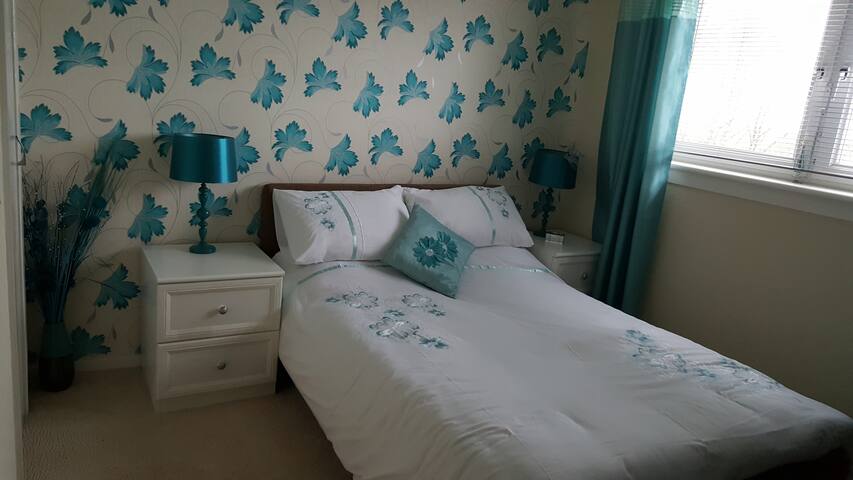 Bright, spacious rooms in quiet residential area, within minutes walk of bus and train routes into Edinburgh. Great local walking on the Water of Leith walkway and Pentland hills. House is furnished to a very high standard & cosy with a great host!
*Please see my other listing for photos. Airbnb doesn't let me transfer them!
Michelle was a wonderful hostess - warm and welcoming with a great sense of humour. Close to airport which suited us after a long flight. All beds comfortable and cosy, nice fluffy white towels. We loved our stay and was appreciative having seperate rooms.
Moya
2016-08-21T00:00:00Z
Very friendly host, flat is cute and comfortable
Mark
2016-09-02T00:00:00Z
Michelle is one of a friendlyst host we have ever meet. She really cared about everything, left directions, some food and drinks for our arrival. The Area is great located and you can easy take the bus to go downtown edinburgh. Thanks for taking so good care, Michelle. Have a wonderful 2016!
Susie
2016-01-05T00:00:00Z
Thanks very much for last week's visit Michelle. The facilities are excellent.
Andrew
2016-08-20T00:00:00Z
Michelle was a very cordial host and my room was very comfortable during the stay! Thank you so much!
Jeorge
2016-08-26T00:00:00Z
Room Type
Private room
---
Property Type
Apartment
---
Accommodates
4
---
Bedrooms
Currie, United Kingdom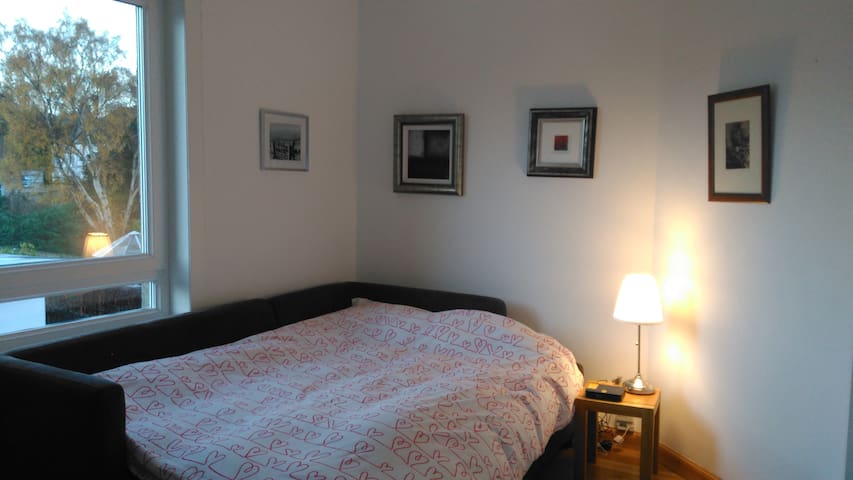 Near the Pentland Hills & Heriot-Watt University.10 min taxi to (URL HIDDEN) bus/train route to city.Dbl bedroom & en-suite/shower.Free parking and WiFi. Continental breakfast. You're welcome to share family TV room & (URL HIDDEN) in rm.
In the country with all the amenities of the city nearby. Heriot-Watt University is only 15 minutes walk away. Beside the Waters of Leith walkway, our village is located beneath the stunning Pentland Hills Regional Park. We have nearby Chinese & Indian (Bangladeshi) fish and chips/pizza take aways and good pub food too! Also a bakers, chemist, post office and convenience shops all within walking distance. The Ricarton Inn serves lovely local pub meals and there's various lovely little local cafes for lunches, scones or coffee & cake...mmmmm:) Comfortable Dbl bdrm and ensuite/shower in extended part of house. Linen/towels & toiletries (URL HIDDEN) facilities provided in room. Hairdryer provided on request.
Within 30mins walk you can be in the stunning Pentland Hills which offer beautiful views of the city.Also 10 minutes walk will take you along the 'Waters of Leith'. You can meander through the city on the 11 mile stretch, lovely for a bike ride or a walk. You would never know you were in a city!We live in a very tranquil area with lots of local amenities within walking distance.
We had a great time staying at this place-is easily accessible from scot rail in 20 mins from Edinburgh station and buses and is a quite tranquil neighbourhood. The hosts are a wonderful Scottish family and they kept us really comfortable and were very kind and helpful. It was a experience to cherish and we went back with happy memories of the trip . Highly recommend to book this
MANOJ
2015-08-16T00:00:00Z
Lovely and friendly place to stay. Very clean and welcoming! Would stay again!
Rosie
2016-03-11T00:00:00Z
Always a happy guest in their home
Caleb & Lauren
2015-12-10T00:00:00Z
Always a joy staying with this wonderful family! Had a sing off to Disney princess movies with their daughter Kara last week. Can't wait to see them again
Caleb & Lauren
2015-11-03T00:00:00Z
Heather is an amazing host. The entire family is extremely welcoming. Stay with Heather if you want to stay in a great location, sleep in a cozy ensuite bedroom, and have nice conversation with genuinely good-hearted people. I would definitely come again.
Caleb & Lauren
2015-10-20T00:00:00Z
Heather is the perfect host. As soon as we booked our room Heather contacted us about our stay, to make us very welcome to her home and to Edinburgh. Their home is very convenient to Curriehill train station and also to Heriot-Watt university. The room is very cosy with a roomy en-suit. Breakfast was perfect to start the day. I stayed with my six year old daughter and Heather made her feel very special and just knew how to make her happy. My only regret was that we were only there for one night but I know that we will be back to enjoy the perfect place to stay. If you want to explore Edinburgh city, take walks along some of the most beautiful country side or want to visit a student staying in Heriot-Watt, this is the perfect place to stay with one of the nicest families that you will ever meet.
William
2015-09-27T00:00:00Z
Lovely room and made to feel welcome by host family. Good dining nearby and close to airport would definitely recommend.
Alan
2015-08-30T00:00:00Z
We were so fortunate to find such a great family and home to stay for a couple days in Edinburgh! We were treated like extended family by Heather and Steve and it made us feel so welcome. I hope to come back and see them soon! Thank you to their whole family!
Sean
2016-08-12T00:00:00Z
Room Type
Private room
---
Property Type
Bed & Breakfast
---
Accommodates
2
---
Bedrooms
Currie, United Kingdom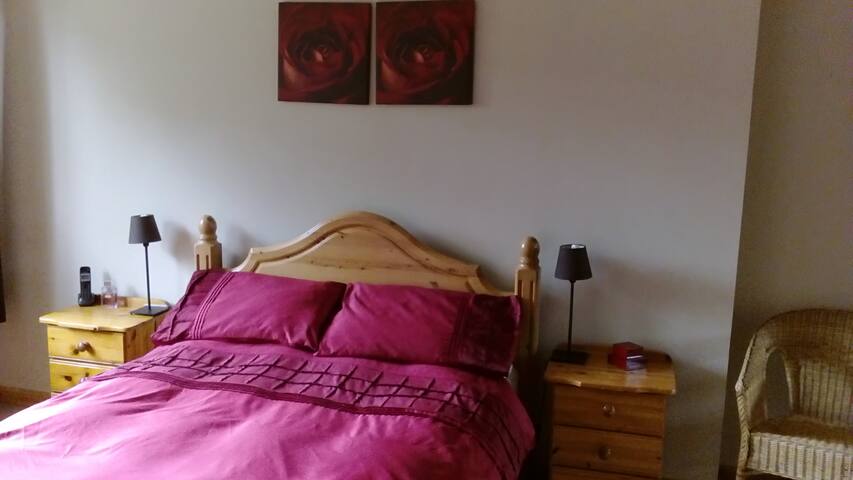 A spacious and comfortable double room in a Victorian family home on the outskirts of Edinburgh. Situated near the beautiful Pentland Hills National Park, with direct access to the city centre by frequent bus service, you'll have the best of both.
My best friend and I stayed one week by Katherine and it was a very nice time. Katherine and her husband are very nice and friendly horsts. The room was very pretty and nice. The bathroom is amazing it is clean and it has a big shower. In the house they lifes three other roommates and with them you will share the big kitchen. The location is near to the pentland hills and it takes 35min to the centre of Edingburgh with the bus. The Bus stop is next to the house. 2 minutes from the House is a smal supermarket and a bakery, so the location is really good and you have everything you need in the near. We were three days hiking and three days in Edingburgh. Thx Katherine and Mark for this nice stay.
Mel
2016-03-31T00:00:00Z
Staying with Katherine was absolutely delightful and could not have asked for a better host! Very easy location, welcoming set up and great facilities. Especially loved the garden and stream at the back of the house- truly magical! This accomodation was better than we could've imagined and we would definitely recommend staying here!
Charlotte
2016-05-01T00:00:00Z
It was a pleasure to spend the week at Katherine´s house. The room was cosy and Katherine was very welcoming and helpful. Thank you!
Lisa
2016-04-24T00:00:00Z
Nous avons passé une semaine inoubliable chez Katherine. Nous avons adoré la maison et son jardin. Katherine est une hôte formidable. Elle est discrète tout en étant disponible. Je vous recommande cette maison pour découvrir Édimbourg et ses environs. Merci Katherine. Vous avez rendu notre séjour en Écosse encore plus agréable. A bientôt. Djidjiga et ses enfants.
djidjiga
2016-07-18T00:00:00Z
Room Type
Private room
---
Property Type
House
---
Accommodates
2
---
Bedrooms
Currie, United Kingdom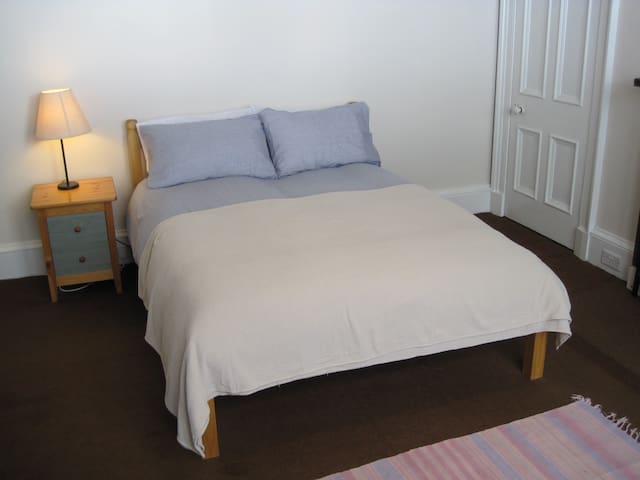 Bright, spacious home in quiet residential area, within minutes walk of bus and train routes into Edinburgh. Great local walking on the Water of Leith walkway and Pentland hills. House is furnished to a very high standard & cosy with a great host!
My beautiful tranquil home, in the foothills of the Pentlands is available to rent, all or each room. All bedrooms have all been photographed, so you can choose. Price is for the whole place and can accommodate a maximum of six people.
I recommend this place. It was big, in a good area and the landlady was very nice and helpful. The cleanliness of the bathroom wasn´t so good as it should have been though.
María del Carmen
2016-08-14T00:00:00Z
Michelle was very welcoming, the accommodation was great and I highly recommend anyone to stay there. We only stayed one night but would liked to have stayed longer.
Nicola
2016-01-02T00:00:00Z
The host canceled this reservation 12 days before arrival. This is an automated posting.
Yuefeng Peter
2016-07-10T00:00:00Z
Room Type
Entire home/apt
---
Property Type
Apartment
---
Accommodates
6
---
Bedrooms
Currie, United Kingdom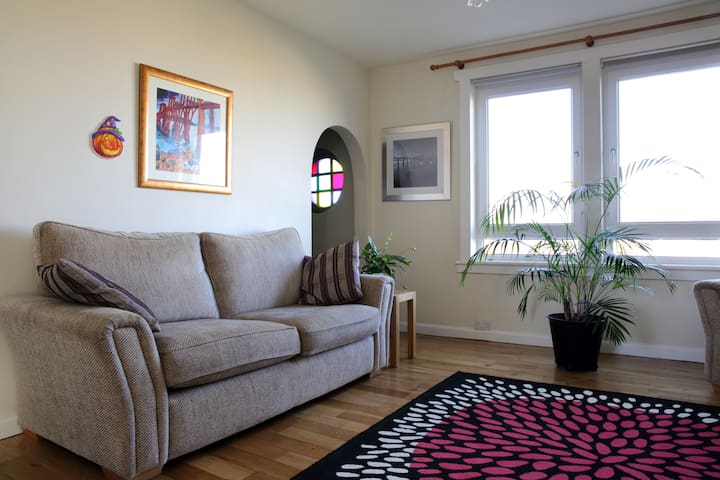 Blinkbonny is a unique, peaceful village in the Pentland foothills, with easy access into Edinburgh. Perfect base for groups and families who want to enjoy the festival, but also Edinburgh's beautiful outdoor spaces. 30 min bus service to town centre (24 hr), park and ride options available. 4 spacious bedrooms with own bathroom, stunning open plan living. Garden with deck and BBQ, parking available. Come enjoy the best of Edinburgh!
This comfortable, beautiful living space will provide a tranquil and relaxing base from which to experience the hustle and bustle of Edinburgh's festival. All bedrooms have their own bathroom, with an open living and outdoor space perfect for socialising with a group of friends. The village setting is truly unique, with walks from your door for all range of abilities.
Blinkbonny is nested in the Pentland foothills with great walks from your door. It's nearby Currie's Kirkgate conservation area, as well as the historical mill villages of Juniper Green and Balerno (connected by Water of Leith). Blinkbonny park is 3 minutes walk (no play park). Maps for local Pentlands walks will be provided at the house. Riccarton Inn provides a decent nearby pub, with a guest ale on tap and reliable pub grub. Sainsbury's at Lanark Road West is reasonably stocked with some fresh produce.
Room Type
Entire home/apt
---
Property Type
House
---
Accommodates
8
---
Bedrooms
Currie, Scotland, United Kingdom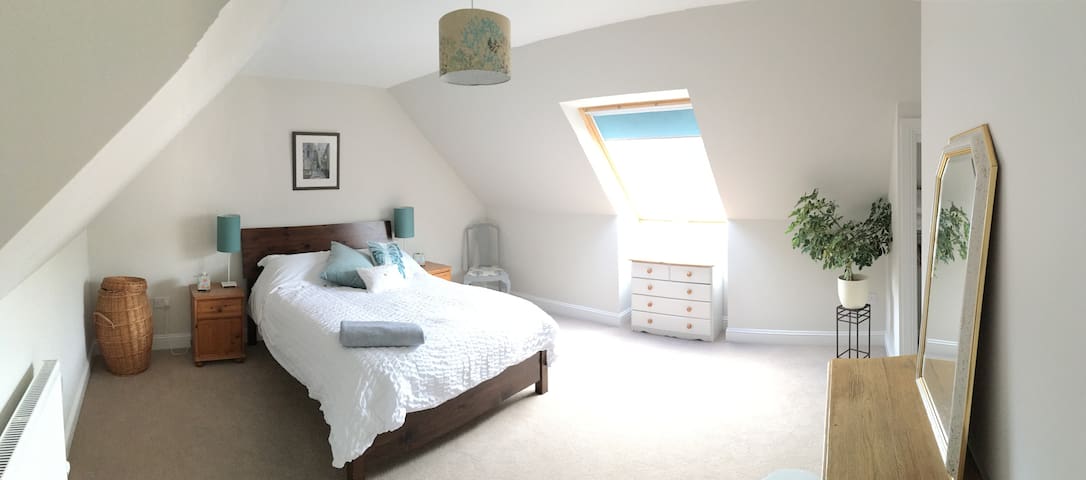 I live in a 3 bedroom detached house. It is very bright with large windows. There are lovely views of the Forth Road Bridge in the distance from the back garden. The bedroom has recently been decorated and the house is in good decorative order.
BRIGHT SUNNY SINGLE ROOM IN DETACHED HOUSE IN CURRIE. SLEEPS ONE PERSON. TEA/COFFEE MAKING FACILITIES AVAILABLE IN BEDROOM. SPACIOUS CHEST OF DRAWERS AND CUPBOARD WITH HANGING SPACE. FLAT SCREEN TV. TABLE AND CHAIR. SHARED LARGE BATHROOM. USE OF FULLY FITTED KITCHEN AND GARDEN. GOOD BUS SERVICE TO CENTRE OF EDINBURGH APPROXIMATELY 30 MINUTES AWAY. AIRPORT CLOSE BY AND GYLE SHOPPING CENTRE. LOVELY WALKS IN CURRIE AND BALERNO. THERE ARE LOCAL SHOPS AND RESTAURANTS NEARBY WITH EXCELLENT LOCAL BUTCHER. * FRESH LINEN, TOWELS AND HAIRDRYER PROVIDED. * MODERN FULLY FITTED KITCHEN WITH DISHWASHER. * BREAKFAST AVAILABLE ON REQUEST. * WIRELESS INTERNET. * FREE STREET PARKING. MYSELF AND ANOTHER PROFESSIONAL LIVE IN MY DETACHED HOUSE. CURRIE IS A BEAUTIFUL AREA CLOSE TO TOWN BUT FEELS LIKE YOU ARE IN THE COUNTRY.
Currie has lots of local shops and Juniper Green also has local shops and restaurants. Water of Leith walk goes through Currie to Leith.
I used Connie's double room on this occassion, and can say that it was an absolutely lovely stay. The room, and in fact the whole house, was comfortable, and the well sized garden presented a good outdoors alternative for the daytime. Connie herself was an absolutely lovely host, friendly and incredibly sweet and welcoming. I would certainly return there in the future, and would happily reccommend it to anyone.
Christine
2012-08-10T00:00:00Z
The house is very comfortable, warm and cozy for any length of stay. The landlady keep the house very clean and ensures that we have a comfortable stay. The view from the window is fantastic, overlooking a hill and a stream is nearby. The bus connections are available to all parts of the city thru the city center 24 hrs a day. It is very quiet and rejuvenating. I give it a 5/5. Home away from home.
vikram
2015-09-21T00:00:00Z
Fantastic flat, nice, clean and quiet. Best choice if you visit as a student. Connie is a magnificant host and I definetely will book her flat again when I come back!
Lukai
2017-03-08T00:00:00Z
Room Type
Private room
---
Property Type
House
---
Accommodates
1
---
Bedrooms
Currie, United Kingdom
Our home is located in Currie, Edinburgh, 10 mins by train to the historic and beautiful city centre, or 20-30 mins by bus. The Pentland hills are nearby, so too are lots of golf courses. Edinburgh hosts many museums, galleries and of course the Castle.
We live in a lovely area, near to open parkland and great amenities (brilliant local pub/restaurant, mini-supermarket). Airport 25 mins away.
Room Type
Entire home/apt
---
Property Type
House
---
Accommodates
6
---
Bedrooms
Currie, United Kingdom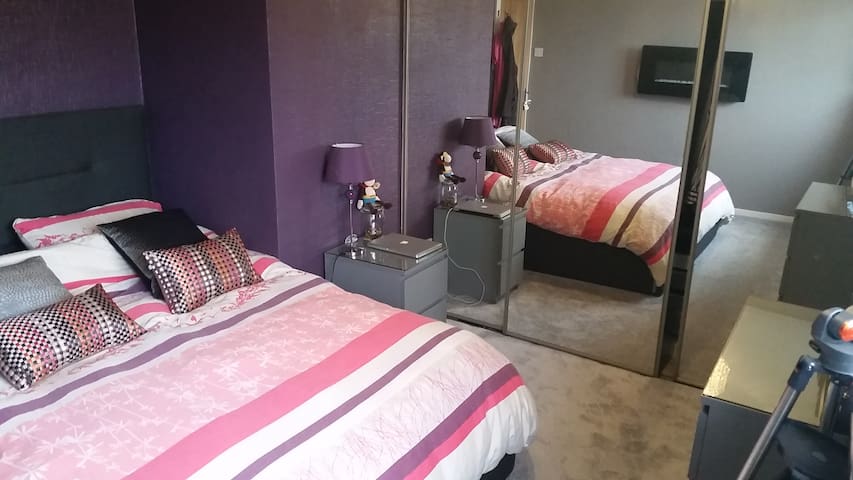 Located in one of Edinburgh's most beautiful districts, within minutes you can explore unique boutiques and cafes in Bruntsfield. Enjoy a short walk through the Meadows and end up in the famous Old Town of Edinburgh. Or, take the bus right from our street. Our place is a newly built addition to an 1874 manor, combining modern comfort with classic features. Relax with us in the communal rooms, drink a glass of wine on your secluded balcony, or enjoy a bubble bath in your private bathroom.
We have lived on Strathearn Place for almost fourteen years. Over two years ago we decided to build a brand new home, where we now live. This is where you will also stay, and like all the many people who stop and stare at our new creation I am sure that you will also fall in love with our abode.
From our place it is easy to go anywhere you like! There are dozens of artisan cafes minutes away from our house as well as highly rated restaurants. Our neighbourhood is quite special. It is surrounded by nature and beautiful old houses while also having direct and quick access into the centre of the City of Edinburgh.
Fantastic home, great room, the view from the balcony is lovely. Hosts were incredibly accommodating and helpful. Thanks for having us in your lovely home!x
Caragh
2017-03-26T00:00:00Z
Our favourite place so far... Such a modern, light and comfortable house. Location was great, parking off the street, walking distance to local shops. Place was spotless and had everything a traveller would need. Eilidh and her family made us feel at home and were outstanding hosts. Would definitely come back.
Julia
2016-09-11T00:00:00Z
Estremamente positiva Extremly positive
Francesco
2016-09-08T00:00:00Z
Lovely home in a very nice part of the town. Easy to walk or get the bus into the City Centre.
Dan
2016-09-19T00:00:00Z
Excellent host, friendly and helpful. They help us with all, 100% recommended.
Alvaro
2016-09-04T00:00:00Z
The accommodation is in a beautifully designed modern barn-style extension to what was the family house previously, but which has since been sold off. The extension is in the garden of their former house but feels completely private. Everything is brand new and as a result, it was all spotlessly clean, fully-functioning and entirly irritation free! Eilidh and her family could not have been more welcoming or accommodating, inviting me to join them for both supper and breakfast and giving me the run of the house. My room was perfectly appointed, with a very comfy double bed, new comfy pillows and very good duvet, coffee and tea making facilities with, I was delighted to see, the wonderful Tunnock's Caramel Wafers and Walkers Shortbread included! It has a lovely little 'Juliet Balcony' off the room, which catches the last of the evening sun and is also lit so I could sit out and read til quite late. I had exclusive use of a fantastic bathroom with both bath and shower, and lots of lovely products, courtesy of Eildh acting as an agent for the (URL HIDDEN) range. The wi-fi was fast and plentiful, the location quiet and not far from all amenities or the city centre, with off-street parking available. The garden is still in the process of being landscaped and once finished, this will be a very, very special place to stay indeed. Eilidh and her family could simply not have been more welcoming - it felt like a home from home and I honestly can't recommend it highly enough. I shall definitely return.
Jim
2016-09-17T00:00:00Z
Eilidh's home is in a beautiful, peaceful neighborhood. We were totally delighted when we first saw the place. Her family are cultured and classy, brought up with values. They welcomed me and my wife like we were family and we had many hours together, chatting and exchanging stories. Our bedroom, in fact the whole house looked modern, brand new and extremely clean, we never once had any concern about cleanliness. The new bathroom was for our exclusive use, all modern fittings, very comfortable. The home is in a wonderful area, about 20 minutes through The Meadows, golf links and then Edinburgh University campus to the old town. We walked there and back almost every day, I'm going to miss those walks. Eilidh and her family are such gracious hosts, we would love for them to visit us in South Florida and stay with us, it'll be our pleasure to take care of them. 5 stars all around, one of our very best AirBnB experiences.
Unser
2016-09-15T00:00:00Z
My stay here was fantastic! The room and home were beautiful. This was honestly my best air bnb experience that I've had so far. Eilidh was very kind and welcoming and her mother even gave me a ride to the bus I needed to catch in the morning, saving me a long walk with a heavy pack. I would definitely recommend staying here and certainly hope to stay again myself! The location is great and I was able to walk to Edinburgh castle and everywhere else I wanted to go.
Hailey
2016-09-03T00:00:00Z
Room Type
Private room
---
Property Type
House
---
Accommodates
2
---
Bedrooms
Edinburgh, Edinburgh, United Kingdom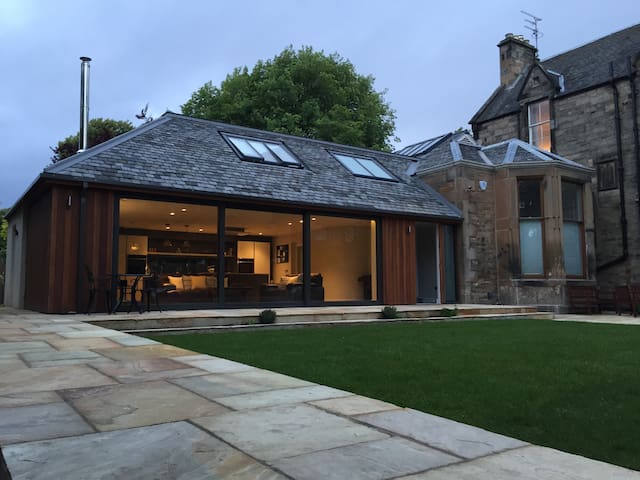 Single room with attached living room in a colonies flat. It was built in the 1800s, so expect cosy and interesting, without some of the sleek hotel-like amenities! The bedroom itself is wee but functional. The attached living room has a TV, lots of books and an ornate fireplace. It is perfect for an overnight stay for travellers heading onwards by train or plane. Handy location. 2min from: Haymarket Station, Tram, EICC, art gallery, cathedral. 15min from: castle, Royal Mile, Princes St.
As well as being a beautiful and convenient there is a real sense of the Edinburgh identity.Check out the community swimming pool/ sauna/ gym nearby. There are many restaurants on our street we would recommend including First Coast, Locanda di Gusti and Xiangbala Hotpot.
I was so excited about staying traditional Scotland style building. Location, facility and host were perfect. Highly recommend this place
ユウタ
2017-04-07T00:00:00Z
Great central location near Haymarket Station. Leonie and Ruairidh were hospitable hots with good knowledge of the sights of the city.
Nate
2017-04-04T00:00:00Z
Room Type
Private room
---
Property Type
Apartment
---
Accommodates
1
---
Bedrooms
Edinburgh, Scotland, United Kingdom
Overlooking the beautiful parkland and neoclassical buildings of the Scottish National Gallery of Modern Art in Edinburgh's west end :-)
Overlooking the beautiful parkland and neoclassical buildings of the Scottish National Gallery of Moden Art in Edinburgh's west end, Hamish's Room is the ideal place to stay for visitors who want quick access to the city center but want to be away from the hustle and bustle. Highly reccomended is a visit to the gallery - admission is free and guests can explore sculptures by major artists such as Anthony Gormley, Henry Moore, Rachel Whiteread and Barbara Hepworth, and discover the dramatic lawn at the front of Modern One, designed by landscape architect, Charles Jencks.
Hamish's Room is in Edinburgh's West End - Highly recommended is a visit to the gallery - admission is free and guests can explore sculptures by major artists such as Anthony Gormley, Henry Moore, Rachel Whiteread and Barbara Hepworth, and discover the dramatic lawn at the front of Modern One, designed by landscape architect, Charles Jencks. Guests can also enjoy woodland walks in and around the gallery.
Room Type
Private room
---
Property Type
Apartment
---
Accommodates
2
---
Bedrooms
Edinburgh, Scotland, United Kingdom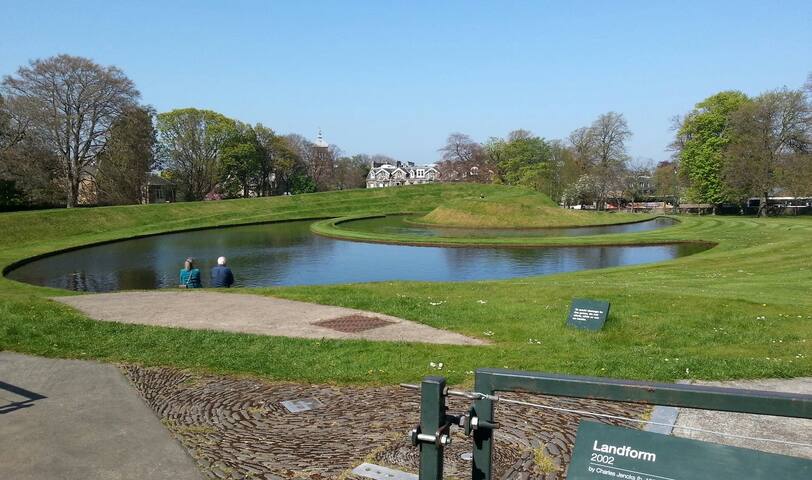 Cosy single room- perfect for single traveller. Comfortable bedding, towels and basics supplied for example tea/coffee, bread, cereals, drinks trolley, milk, bathroom items I.e shampoo, conditioner, shower gel, shower cream and face scrub. Located in an old building, 3rd floor and note that there is no lift.
Very diverse neighbourhood- shops, cafe, stadium, take-always etc. Close to Water of Leith walkway - beautiful nature trail.
Staying at Christiaan's made my short trip to Edinburgh much better. He was friendliest host I've ever met, gave me the best tips I could have to explore around the city, as well as he is a gifted cooker. The flat itself is spotless, good facilities close by and easy access from most of the train stations and bus stops. I'm definitely coming back to Edinburgh and undoubtedly Christiaan's place is my choice.
Julio Guilherme
2016-11-26T00:00:00Z
Christiaan was a very gracious host, lives in a beautiful and conveniently located apartment, provided excellent advice during my stay and was good fun to sit and chat with in the evening. I'd definitely recommend his offer of hospitality.
Tom
2016-09-14T00:00:00Z
Christiaan is an amazing host. He was extremely flexible when it came to check in time- due to my bum ankle, I had to change when I was arriving. His apartment is very cozy and relaxing to stay in. Upon arrival there are a ton of take out menus, a lovely bar, a welcome gift of whiskey, and even the offer to cook in his kitchen. He far exceeded anything I could have expected from a host, and even though I was just there for one night, he went above and beyond to make me feel comfortable. He even gave me a ride to the airport in the morning! Again, far beyond anything I could have imagined. Christiaan truly makes you feel at home in his place. He is a very worldly person who is proud of his city- he is very passionate about and had a ton of information for Edinburgh. His flat is only 10 minutes from Princes's Street by bus, and since Edinburgh has city wide free wifi- he was always so easy to reach and responsive. If you are a solo traveller looking to stay in Edinburgh- you should stay here. You will be happy you did!
Jessica
2016-10-18T00:00:00Z
Great host! Kind, accommodating, and generous. Thank you.
Nicole
2016-09-16T00:00:00Z
It was an amazing experience in Edinburgh! Christian's place is perfect if you are traveling alone. You can ask any questions about Edinburgh and Scotland and he is always happy to respond. The room is cozy, located in a quiet but convenient area. I would definitely use his place again!
Kenichi
2016-11-09T00:00:00Z
Christiaan was a delight, a true gentleman and very hospitable, I felt very comfortable or shall I say too comfortable in his house and in his company, he has got very nice and tidy, apartment and goes out of his way to get you settled and comfortable. The area is nice, and there are plenty of supermarkets and take aways to cater for you if you need it, Christiaan place is a short journey to center of town and 20 minutes away from the airport which makes it ideal. I had a very pleasant stay at his house and enjoyed his company and he was so kind to give me a lift to the airport which was extremely kind and generous. Thanks for the lovely stay Christiaan and see you soon.
Darius
2016-10-01T00:00:00Z
Really nice boy. Clean house. Good comunication from the city center. I felt that I were in my house
LUCIA
2016-09-12T00:00:00Z
Christiaan is extremely convivial and the place is immaculate, I had an excellent night halt. The room is suitable for short stays.
Achintya
2016-09-03T00:00:00Z
Room Type
Private room
---
Property Type
Apartment
---
Accommodates
1
---
Bedrooms
Edinburgh, Scotland, United Kingdom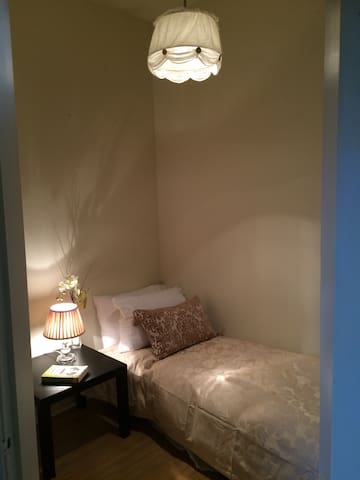 Comfortable room with en suite shower, for singles or couples , in the leafy conservation village of Colinton, childhood home of poet Robert Louis Stevenson. A short bus ride from the historic heart of the Festival city of Edinburgh.
Pleasant airy room in this traditional 19th century cottage, in the historic village of Colinton, with a lovely view of garden and greenery. With a very comfortable bed , good heating and an en suite shower room, this is ideal for singles or doubles needing a relaxing base for daily explorations of the city.
Colinton Village is in a conservation area 15 minutes from the centre of Edinburgh. It boasts beautiful walks along the Water of Leith , encompassing the local history, including the childhood home of the famous Scottish writer Robert Louis Stevenson . The Pentland Hills Nature Reserve, where countryside meets the city, is only ten minutes away.
Pam was absolutely lovely and the cottage was exactly as described! Each morning we had an incredible breakfast and Pam was as lovely, friendly and interesting as we could have asked for. The beds were incredibly comfortable, the en suite shower spacious, and the neighborhood beautiful. It's an easy bus ride into the center of town and I would gladly stay here again any time!
Julia
2015-07-03T00:00:00Z
Pam lives in the lovely area of Colinton just 20 minutes on the bus from the city centre. It's so different from the other areas of Edinburgh in which we have stayed and is well worth a visit. The area has lots of historical features plus nice places to eat including the Spylark Tavern which is just 50 yards from Pam's front door. Pam's cottage is as lovely on the inside as it looks from the outside and you'll find her to be a great host. We can thoroughly recommend staying with her.
Simon
2015-12-20T00:00:00Z
Pam lives in the most idilic little town by the river it was a fairy-tale like atmosphere. Pam was so lovely when she welcomed us into her home and made us feel like we were staying at a friends house. However- it was the breakfast which topped the weekend for us! Such a thoughtful and friendly host taking care with the little details which make you feel welcome, we would love to stay again
Anna Tree
2016-03-31T00:00:00Z
We had a great time with Pam in her cottage. She took care for us and especially for our babyson mika, giving him toys and playing with him. Pams cottage is really beautifull and comfortable. She is an amazing Person and her scottish breakfast was really delicious. If you go to edinburgh we can absolutly recommand staying at Pams.
michael
2015-08-27T00:00:00Z
Pam was a warm, friendly and hospitable host and we were very comfortable staying in her 18thC cottage. The private room and ensuite had all we needed for a great stay. We would recommend Pam's cottage to everyone.
Chris
2016-06-21T00:00:00Z
Yes, really a charming cottage of an also very charming landlady. Helpful but not intrusive. Colinton village is a lovely neighbourhood with good connections to the city centre. I had a great time and can highly recommend there to stay!
Alfred
2015-08-30T00:00:00Z
Pam was so helpful and welcoming before and during our arrival. She helped us with finding her place and kindly offered suggestions to us for things to do while we were there. She fixed us two fantastic breakfasts, and was such a wonderful conversationalist. We loves the area and the ease of travelling to and from her home on the buses. We would definitely recommend staying with Pam.
Lara
2016-07-17T00:00:00Z
Pam is such a lovely and smart person and for us a real superhost! The rooms are very cosy and clean and you feel at home from the very beginning. Breakfasts are superb and Pam had good advices how to get into the City and where to go there. Pam gave us a Perfect start on our journey and we love her for that. We hope to come back and stay in Rose Cottage again.
Bernd
2016-08-31T00:00:00Z
Room Type
Private room
---
Property Type
Bed & Breakfast
---
Accommodates
2
---
Bedrooms
Edinburgh, United Kingdom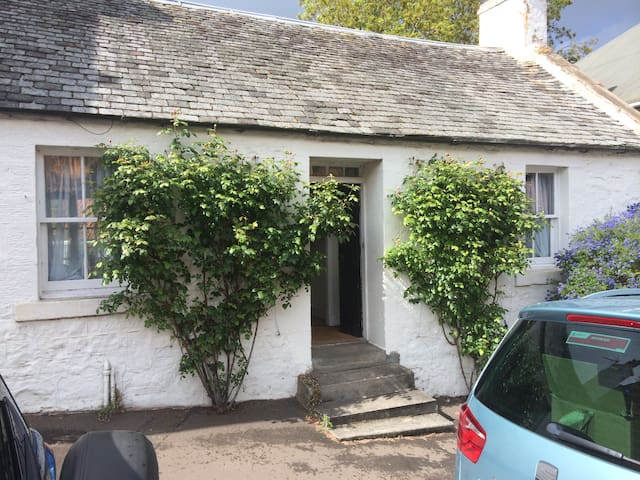 If you love both the buzz of the city and nature, then our place is just right for you. Our 2-bedroom apartment is within easy reach of Edinburgh City Centre - 15min drive by car, 25min by direct bus or 30min cycle ride along the picturesque Union Canal. At the same time, we are only a quick walk from the scenic Pentland Hills National Park, which lends itself well for short and long walks.
Juniper Green is a historic and quiet village at the bottom of the Pentland Hills National Park within easy access of Edinburgh City Centre and the airport. There are a small no. of local amenities within walking distance - convenience store, pharmacy, bank, local pub etc.
These people are the bests hosts, they will accommodate you in every way. I was fortunate to meet Katja because she helps you around when you new and lost in the country. Their house is beautiful and it is in a stunning, safe, quiet and historical community. The house is always clean and all the utilities are at your disposal.
Dawie
2016-11-19T00:00:00Z
Place and local area were much better than expectations. Beautiful house on the hill with breathtaking view to Pentland Hills which is really close. All instructions from hosts how to get to their flat from Edinburgh were complete and clear. We fallen in love with this house and Juniper Green :) Hosts were really nice and welcomed us really warm with being engaged to make sure that all is OK to us.
Hubert
2016-09-29T00:00:00Z
Pleasant as the first occation. We would absolutely recommend staying here! Balazs and Julia
Balazs
2017-01-24T00:00:00Z
Very nice couple and artsy clean accomodation. Appreciated being able to watch a movie on their telly.
Iva
2017-02-11T00:00:00Z
I had a great time at Edinburgh. The accommodation is perfect and made me feel like being at home.
Lena
2017-02-25T00:00:00Z
Katja was away for the duration of my stay but her communication was perfect. I was greeted by Blagoj at the property and given a tour. The house is stunning with very clean kitchen and bathroom facilities. The owners have a beautiful unique style. I would highly recommend this stay to anyone visiting Edinburgh who doesn't need/want to be right in the centre of the city.
Nico
2017-01-17T00:00:00Z
Katja and Blagoj both were great and I have to admit, surprisingly kind and helpful hosts. They had even took us for a trip with them and gave tips for further travels even outside of Scotland. We had a great time with them and would come again if they agree as well Julia and Balazs
Balazs
2016-12-05T00:00:00Z
Blagoj and Katja are wonderful hosts. They were very welcoming. They gave us all the information we need to get around, and they have awesome tips for travelling in general. Their place is great and very pleasant to stay at, not far from Edinburgh. The neighbourhood is safe and calm. Thank you for everything!
Roman
2016-08-19T00:00:00Z
Room Type
Private room
---
Property Type
Apartment
---
Accommodates
2
---
Bedrooms
Juniper Green, Scotland, United Kingdom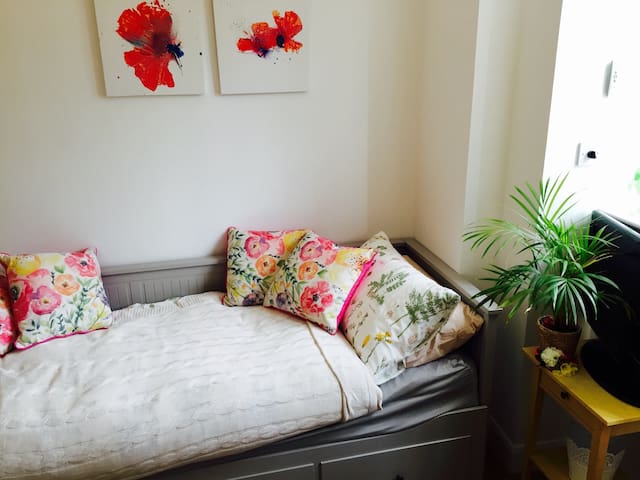 A light and spacious Double room on the first floor with king size bed. Louis XIV themed furnishing and decor. Full Virgin Media package and Wifi.
The house is a listed building and part of Edinburgh's Heritage.
A unique luxury home from home.
Gill is a delightful, down to earth lady; her home is not only spotless but furnished and decorated with exquisite taste, and it was a privilege to have stayed there.
Kev
2016-08-10T00:00:00Z
The room was incedably spacious with a very comfortable bed with a Virgin Cable enabled TV. Gill was very hospitable and approachable and extremely friendly. Central Edinburgh is about 10 minutes away by bus (stop just outside). A very enjoyable stay, would recommend to anyone!
Alex
2016-01-29T00:00:00Z
My husband and I had such a delightful stay at Gill's place. We felt so welcomed from the very beginning. And the room were was absolutely amazing! It was spacious and so comfortable. We loved spending our evenings relaxing after our long days of traveling. We would highly recommend this listing to any one hoping to stay in a convenient location in Edinburgh.
Beth
2016-07-29T00:00:00Z
Host was welcoming and friendly, the room exceeded our expectations would love to come back on our next visit :)
xavier
2015-08-31T00:00:00Z
Had a wonderful time at Gill's!! She was so accommodating of us and gave great tips of where to go in the city. The room was lovely and spacious, would definitely return!
Ayoola
2016-02-06T00:00:00Z
Had a great stay here! Gill gave clear instructions to get to her home and I had no problems using the bus. Room was big - as was the bathroom. I had great conversation with Gill and Dave. Lovely people! The place was in a perfect location and I used the bus to go everywhere! Very safe area.
Sarah
2017-03-09T00:00:00Z
Looks as beautiful as the pictures! The best airbnb experience I've had so far. Everything was in excellent condition– it felt like a proper resort :) I couldn't have asked for a better room! I highly recommend this room to anyone who wants to tour Scotland– it's only a short bus ride from the city centre and we had no problems getting around at all. Thanks so much for everything, Gill! I hope that you had a good trip and managed to soak up all the sun you could get :D Take care and God bless 3
Delia
2016-03-02T00:00:00Z
A beautiful room with fantastic hosts and everything a traveller needs. I would recommend Gill and Dave's place to anyone traveling to Edinburgh.
SUSAN
2017-02-23T00:00:00Z
Room Type
Private room
---
Property Type
House
---
Accommodates
2
---
Bedrooms
Edinburgh, Midlothian, United Kingdom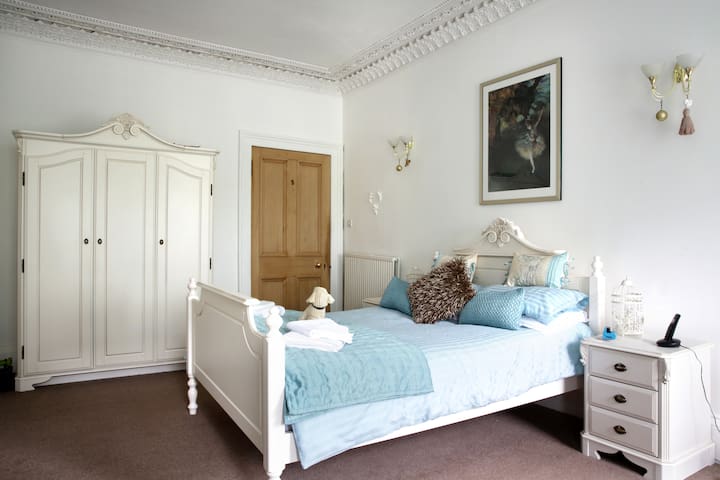 Enter dates to see the total trip price including additional fees (but excluding any taxes).