Enter dates to see the total trip price including additional fees (but excluding any taxes).
Los Murmullos" is located between the town of Comala and the nearby community of Nogueras", unique place for rural tourism, an intimate spot in a private paradise, filled with trees, a creek, flowers and exotic birds, iguanas and the view of the volcanoes.
El Suspiro" is a charming and unique Mexican country style touristic villa located within the premises of "Los Murmullos". It's the perfect hiding place for complete relaxation after a day spent exploring the mythical Comala and its surroundings, the "Volcán de Fuego", the beautiful and peaceful city of Colima or nearby Manzanillo. There is also another option: "The Silence", a beautiful independent suite located in one of the property main house wings, with a private entrance, garden and parking. Has all the services, ( telephone, internet, cable TV, cofee machine, etc.) a Queen bed size, complete bathroom and dressing room. Could be also extended with an extra fee, to a beautiful and confortable living room next to the bedroom. Gardens and the rest of the 20 thousand squere meters property are available for walking and visit. It coudld be add an extra fee for the swimming pool use Patricia and me will be glad to help for any need or information
We are located in a Comala suburb 500 m away from the small town of Nogueras Hacienda where a beautiful museum of local prehispanic crafts is. By car is the best way. If not Comala downtown is 1 km away. Nogueras 500 m. There are buses from Comala to Colima every 20 min. This property is very quiet, with out streets and cars, lights or loud sounds. Is also completly safe for us and for the wild life and the beautiful big trees that live here.
Our stay with Jesus was wonderful. We fell in love with Comala and with Jesus house. A gorgeous house. We stayed in a private bedroom of the main house. This is very convenient, we had our own bathroom, walk-in closet, terrace with table. We had access to a kitchen as well. Most rewarding was feeling part of the Comala community. At a walking distance to Nogales and Comala center, but far enough to feel in a country house. This house is a hidden gem. Wonderful views to the Volcan of fuego.
Sandra
January 2017
This is a beautiful place on the outskirts of Comala. We stayed in the private casita on the owners property. It was very peaceful with beautiful grounds. The casita is very well decorated and comfortable with a small outdoor kitchen and dining area. The hosts are a charming couple from the area who were very helpful! We will return.
Lucinda
February 2017
Jesus and Patricia were lovely hosts. Their place is a little piece of paradise, with a pool, secluded kitchen and living area away from the main house, and WONDERFUL birds and vegetation. It was a welcome change from the noise and activity of Guadalajara. I can't speak highly enough about Los Mumullos.
Kris
May 2016
Room type
Private room
---
Property Type
Villa
---
Accommodates
2
---
Bedrooms
1
Comala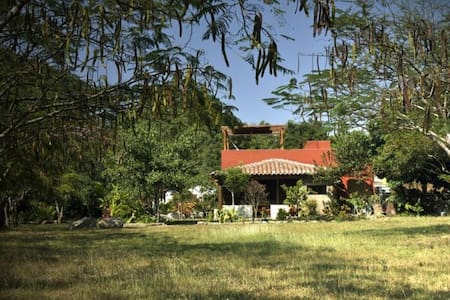 Hermosa habitación privada en casa compartida, rodeada de naturaleza, al pie del Río Comala y bajo las faldas del Volcán de Colima. A 5 min. caminando del centro histórico de Comala A 10 min. en auto de la Ciudad de Colima (conexión con autobus posible) A 40 min. en auto a la playa más cercana (con uno de los mejores surfbreaks en el mundo: Pascuales) A 30 min en auto del aeropuerto de Colima A 1,5h en auto del puerto de Manzanillo A 2,5h en auto de Guadalajara
Somos una pequeña familia. Carli, Matt & Bali (nuestra pequeña hija de casi 3 años de edad). Dos hermosos perros, rescatados de las calles nos completan y acompañan cada día (Siena and London). Te invitamos a vivir la experiencia de dormir en una zona densamente poblada de arboles centenarios con un clima tropical fresco y húmedo, barrio Comalteca en el corazón de Comala experiencia única, con todas las comodidades. Las aves endémicas, ardillas e iguanas te darán los buenos días cada mañana. Somos "Pet friendly", por lo que, si deseas traer a tu mascota, ¡también es bienvenida!. Siéntanse libres de usar toda la casa y ser nuestros invitados en su estadía. La piscina (sin calefacción), la rampa de skate (para usar en Junio 2017 otra vez), el jardín, la terraza, el ingreso al río, así como la sala y el comedor... y si compran sus víveres, pueden hacer uso de la cocina también. Básicamente tiene acceso a todo, excepto a nuestros espacios de trabajo (dos oficinas), y claro, nuestra propia habitación. La habitación privada que ofrecemos, se encuentra en la planta baja, y cuenta con su propio cuarto de baño privado, con ducha. Existe una segunda habitación, en un espacio "abierto" en la planta alta de la casa, donde se encuentra la cama de los niños (si es que se requiriera) y donde podemos poner una cama individual si es necesario. El baño para el huésped que deseé dormir aquí se encuentra en la planta baja. El área de la piscina está rodeada de árboles, y cuenta con área para hacer asados y carnes asadas. Normalmente siempre hay algún miembro de la familia en la casa (Carli o yo). Así que si tienes cualquier duda o problema o si deseas unirte a mí para un día de surf en la playa, eres (son) bienvenido(s) :)
Estamos en un área privilegiada, lo suficientemente cerca del centro histórico, donde ocurre todo en el Pueblo Mágico de Comala, y al mismo tiempo, lo suficientemente lejos del bullicio y del ruido. La piscina se encuentra a 1 minutos a pie de distancia de la casa, frente a la puerta principal. La terraza, el ingreso al río y la rampa de skate se encuentran en el jardín trasero. El estacionamiento es directamente enfrente de nuestra casa. El lugar es muy seguro por lo que no hay nada de que preocuparse. Hay una parada de autobús a 5 minutos andando. Este autobús lleva directamente a Colima (cuesta al rededor de $20 pesos, con un trayecto aproximado de 20 minutos). Existen servicios de tours guiados, combies locales y taxis en el centro. Es una zona de muchos arboles y plantas, la casa cuanta con mosquiteros y ventiladores, sin embargo, no deja de ser una zona húmeda, por lo que recomendamos a nuestros huéspedes lleven repelentes anti-mosquitos ó tomen vitamina B12. De ser necesario nosotros se las proporcionamos.
Room type
Private room
---
Property Type
Villa
---
Accommodates
3
---
Bedrooms
1
La Cañada