Right on the lake in Central Queenstown sits this newly renovated three bedroom penthouse with sweeping 180 degree views of Lake Wakitipu and the Remarkable Mountains! 6 minute walk to the center of town. Perfect for a luxury escape to the mountains!
It is a newly renovated 3 bedroom penthouse positioned right on the lake in Queenstown. It's conveniently located and just a 6 minute from walk from the centre of town. The apartment is on a single level and is only available to lease as a WHOLE apartment rental. We do not lease this apartment by individual rooms. There are three bedrooms: Master Bedroom with a King sized bed and Ensuite. Second Bedroom with Queen bed and shared main bathroom. Third Bedroom with two Single beds and shared main bathroom. LED SMART TV, NETFLIX and Wireless WiFi are included. The apartment accommodates a maximum of six guests. We love kids and this apartment is definitely child safe and friendly! Guest Access Guest will have access to the whole apartment and can come and go as they please. This is not shared accommodation. The apartment has a dedicated under cover car park on the lower level of the building. Please note there is no elevator and there is access only to the apartment via stairs. We are three stories up. Interaction with Guests There may be someone to greet you on your arrival, however you will have the whole apartment to yourselves for the length of your stay. Getting Around ADELAIDE VIEWS is a six minute walk from town. It is almost at lake level so very little hill climbing!
What a view! Nothing more to be said really. You could sit there for hours and take in the stunning vista. The hosts were great and got back to us really quickly when we needed. It is only a short walk into town, so a great location. Thank you for a fantastic stay in Queenstown - we will be back!
Toby
2016-04-06T00:00:00Z
This apartment is in a great location, with an awesome view. It is nice and close to town, but still relatively quiet. And the apartment itself is very comfortable and modern. The garage was very handy as there were quite a few cars on the street (which is also quite steep).
Paul
2016-04-27T00:00:00Z
Lovely place and perfect location
Troy
2016-04-30T00:00:00Z
Great property in an excellent location with outstanding views of lake and mountains. Walk into town is approx 10 minutes so not too far away from the centre of town and all the bars and restaurants etc. The apartment was quiet and tranquil and well equiped with all necessary amenities. Highly recommend and would definitely stay there again.
Judith
2016-09-25T00:00:00Z
It was an absolute pleasure to stay at Lucky#8 Penthouse. The place is exactly as the photographs and the views are as breathtaking. The area is very close to the center, so you can walk there if necessary. It is also close to the lake so we can go for a nice leisurely walk every morning. An absolute gem!
Katherine
2016-04-23T00:00:00Z
When my wife and I first walked into this place, we took one look around and asked "what are the squatters rights in this country?" Seriously, we cannot say enough great things about this place. Not only is the apartment spacious, well-appointed and in a great area to explore much of Queenstown, but the views are incredible. You can walk just up the road (or take the more scenic walk along Lake Wakatipu) to the downtown area to explore the local shops, bars and restaurants and pick up some supplies at the local grocery store; or, if you are seeking a quieter day, there is always the option of enjoying some local wine out on the large balcony in peace and quiet, soaking up the absolutely breathtaking landscape. Rob and Charles were excellent and gracious hosts, being both friendly and responsive. Because my wife and I were traveling on our honeymoon, we arrived to a very kind note congratulating us and a lovely bottle of wine. In person, we communicated with Rob and Charles' friend Benn, who was very welcoming, attentive and hilarious. We cannot say enough nice things about our hosts, or recommend this place enough.
Joel
2015-11-19T00:00:00Z
Robert and Charles' place was amazing. Not just the beautiful views but the impeccable decor! I just loved all the artwork and items they chose to brighten up their place. It was ideally located -- just a 10 minute walk into the town center. We didn't discover til the penultimate day of our stay that we could actually take a walking path from the condo through Queenstown Gardens into town! No need to even walk along the main streets. There are walking paths galore, actually. The condo's kitchen was fully stocked, which was great because we bought items to prepare breakfast everyday. The condo itself was warm and cozy on the winter nights, heated by the gas fireplace and bathroom heaters. The bed heaters really came in handy as well. We loved Queenstown so much, we vowed to come back one day. When that day comes, we hope Lucky #8 will be around for us!
Emilia
2016-06-18T00:00:00Z
Everything was great! Communication from the hosts was excellent from the time of booking till after our stay. The apartment was beautiful, exactly like the images and the view was even better! Would highly recommend this listing and will definitely be staying here next time we're in Queenstown!
Shari
2016-04-01T00:00:00Z
Room Type
Entire home/apt
---
Property Type
Apartment
---
Accommodates
6
---
Bedrooms
Queenstown, Otago, New Zealand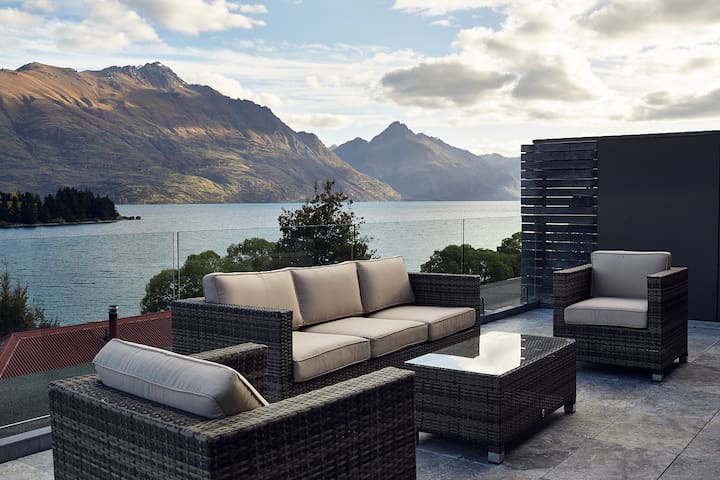 Spacious warm studio room with comfy king size bed, leading onto large lakefront patio with spectacular views. Modern en-suite with mini kitchenette, Storage wardrobe/closet, relaxing chairs, TV, coin operated laundry, and close to local amenities.
You have your own private apartment with your own private balcony! Our location is perfect for the upcoming snow season with NZ Ski transport pick up and drop off just a stones throw away on the main road :) There is a mini kitchenette area complete with mini fridge, washing up liquid, dining ware, microwave, sink and kettle. There is unlimited wifi and Netflix that can be viewed. If staying with us for 3 nights or more let us know what wine you lean more towards (red or white) and we'll have a bottle waiting to greet you while you take in the breath taking view.
We are located right on the Frankton track between Queenstown & Frankton, beautiful and scenic easy walk to or from town right beside Lake Wakatipu. If you walk up towards Frankton on the walking track you'll be at the very tip of the Frankton Bay which is has a beautiful park over looking the lake, great for stunning sunset pics! Our favourite healthy place to eat is Rehab which is located in the heart of Queenstown. Fresh juice, expertly blended smoothies (all dairy free), amazing breakfast bowls, healthy lunches with vegan and meat eaters options. Queenstown may be small but you are spoiled for choice from all the restaurants and bars. I am a Remedial Massage Therapist with my own clinic in Queenstown. During your stay if you have any aches or pains or just want a bit of relaxation, let me know and I can book an appointment in for you! Whether you're here in Winter or Summer (or anything in between) there are loads of things to choose to fill your day. From walking trails, to jet boating, to sky diving or a bungee and wineries, we'll list all those kind of things in our handy dandy guide book.
Megan was great with communication, and her place was sooo comfy and clean!! Unfortunately, we encountered some very cold, wet weather when we arrived to Queenstown - so her Netflix on the Tv was perfect to watch when we weren't checking out the cozy pubs in town!!! Would highly recommend!! Our view of the lake was stunning!!!
Jess
2016-05-14T00:00:00Z
Fantastic place to stay. Lovely view and very comfortable. Great advice provided by host as well. Would definitely stay again!
Jessica
2016-05-15T00:00:00Z
We instantly fell in love with this apartment. It's beautiful, ultra clean (this coming from a total neat freak) and very spacious. The heater in the bedroom is brilliant, especially in chilly spring time when we were there, and it regulates the temperature you set. The king size bed is absolute heaven, the comfiest we've ever slept in with extra snuggly bedding. Pair that with the stunning view of the lake and mountains and you'll understand why we didn't want to get out of bed every day. You have your very own large balcony and there is nothing between you and the lake, it's a perfect view - the photos don't do it justice. There's a table and chairs to sit on out there which we used as a desk for working on our laptops. The shower is huge and water pressure is excellent, and there's lots of space to put toiletries in the bathroom which was so useful. There's also a heater in the bathroom so you don't freeze when getting out of the shower. The wifi speed was pretty good though understandably slower on the balcony. Having Netflix was a huge bonus and a luxury we really enjoyed. The apartment is only 15-20 mins bus ride from the airport (no. 11, $8.50 each) and about 10 mins from the centre of town ($5.50 each). You can buy tickets easily on the bus and the bus drivers are very helpful. The bus stop is directly outside the apartment complex so very convenient but it is quite a steep climb up the hill to get to the main road and even more challenging with 20kg of luggage so may not be suitable for those less able to walk. The Frankton track is right outside the apartment front door so very handy for a scenic walk round the lake to the centre of town, but it's not quick so be prepared to walk anything from 45-60 minutes. We didn't meet Megan but she was a great host and were blown away by the cleanliness and styling of the apartment that she maintains. We had trouble logging into wifi at first and then issues receiving messages from Megan to resolve it, but once she realised this she promptly contacted us to make sure we had everything we needed. It's hard to put into words just how amazing this apartment is. Literally the only thing that could improve what is already a wonderful place is a slightly bigger kitchen, as there's not much worktop space to play with (and using the microwave was slightly challenging because it's on a high shelf) but it's enough to make tea and coffee (which Megan kindly provides) and simple snacks. We would without doubt book to stay here again if and when we return to Queenstown.
Siew Lee
2016-10-16T00:00:00Z
Excellent place in a quiet part of outer Queenstown. Walkable to the central city or just over 5 minutes drive in the car. Very comfortable bed, easy check in arrangements & outstanding balcony space. Would definitely stay there again - thank you.
Ben
2016-12-28T00:00:00Z
The apartment is very clean, and Megan has everything sorted with a guide book prepared. The view from the balcony is spectacular. As advised by Megan, do keep the windows closed or keep any light off at night. I totally understand that the next morning when I woke up seeing insect bodies on the balcony. Glad I read the guidebook! The bed is very comfortable and I like how the shower room has constant hot water. That's a plus! Location wise, it's just within 10 mins drive to Queenstown Town Center.
Peony
2016-02-15T00:00:00Z
The view at Megan's is wonderful and in a great location. But perhaps what I liked most was how organized and helpful she was. Megan provided tons of helpful information prior to my arrival that I greatly appreciated. Then once you are there she has a folder full of other helpful bits and bobs. There were two beers in the fridge and a bag of popcorn that were most welcome since by the time I got back from my Milford Sound tour, I had zero energy to leave the apartment for food. Staying at this place felt like staying in a hotel room at a 5 star hotel without the hassle and annoyances of a hotel. The morning of my departure I was able to take some photos from the balcony that were some of the best pictures from my New Zealand road trip. I also ended up with beautiful pics of a double rainbow over the lake. Doesn't get much better than that!
Ashleigh
2016-05-12T00:00:00Z
The property was a stunning view and very comfortable and cozy. A plethora of information was provided for things to do and although Megan was not there my experience was fantastic!
Damon
2015-10-25T00:00:00Z
Megan's place was so awesome - a warm and comfortable space, lovely bed, and amazing views! The little touches to the place were much appreciated, from the lovely scent used, through to some breakfast foods and milk. The location was great as it was only a short drive into town, and it was also a really quiet environment.
Heather
2015-11-05T00:00:00Z
Room Type
Entire home/apt
---
Property Type
Apartment
---
Accommodates
2
---
Bedrooms
Queenstown, Otago, New Zealand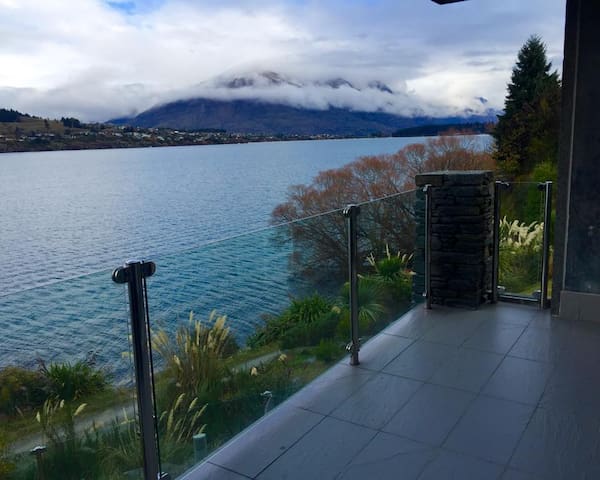 Centrally located in Queenstown, Million Dollar Views is a 2-bedroom apartment with magnificent lake and mountain views. Conveniently located, we are within walking distance to shops and restaurants. Located in a quiet part of town, we are pleasantly set apart from the bustle and rush that Queenstown can sometimes experience. The apartment is fully self-contained with a full kitchen. A washing machine and dryer are also provided. The bedding in the apartment consists of one Queen bed and two singles. Best suited for a couple or a family with up to 3 children. If you are arriving in Queenstown by car, covered parking is provided for your convenience. Whether you are a ski bunny visiting Queenstown in winter to take advantage of our amazing slopes, or an adrenaline junkie looking for your next thrill, or simply want to enjoy the scenery, Million Dollar Views is the perfect place to base yourself. Amenities and Inclusions: * TV * Air Conditioning * Kitchen * Covered Parking * Family and Child Friendly * Washer * Dryer
Great unit in an even better location. Collection of keys and directions hassle free. Views are just as you see from the pictures. Very well set up for a couple or small family. A long weekend stay is possible for four adults too. We loved staying here and will definitely not hesitate in rebooking Million Dollar Views if we return to Queenstown.
Emily
2014-08-05T00:00:00Z
The apartment was great and the view is indeed GORGEOUS. Would be good to know that the house is on a rather steep hill, if you aren't driving that would mean a legit hike up back. Other than that, it was a pleasant 4-day stay. Would definitely be back :) Thanks Brian & Lynece!
Sharifah
2014-04-19T00:00:00Z
The room has an amazing view - though it is a steep climb from town. Kitchen is well equipped, and heating works really well. Parking is a little awkward, but thats common in such a hilly area. Close proximity to town. Arrangements with land lord for keys etc were easy. Very good value, and I would reccomend it to friends.
(EMAIL HIDDEN)
2014-10-01T00:00:00Z
Thank you Brian for a most incredible holiday experience!! We loved your cosy and comfortable house and could not get enough of those spectacular views! Easy walk to town and to everything we needed to get up to the ski slopes each day. Fantastic communication and information from Brian and local contact Lynece. We felt very much 'at home' and hope to come back soon!
Stephanie
2015-07-06T00:00:00Z
Great place in prime location! Clean tidy apartment with all the essentials for a good holiday! Short walk to centre of Queenstown. Quiet area and the apartment has breathtaking views, would highly recommend! Thanks for letting us stay!
Jordan
2015-08-20T00:00:00Z
Nice place, close to town center, equipped with everything we want, beautiful view.
Xinyue
2016-10-14T00:00:00Z
Amazing. The pictures in the listing don't do it justice. Great views, very comfortable apartment, and very conveniently located to the heart of Queenstown. Area was very quiet at night, which you can't say about all of Queenstown. Communication with Brian was direct and to the point. Support was there as well if we ran into trouble, which we didn't. Key pickup and drop off were convenient. Overall, a great experience that was the high point of our trip in New Zealand!
James
2013-11-16T00:00:00Z
Good instructions re key pickup, easy to follow driving directions and once we found the information file(it was on top of kitchen shelving) all very straightforward. Very accurate description, million dollar view for sure and great place to watch all the activity on the lake or just daydream as the landscape changes in the light. Good(peaceful) location. it's near to Queenstown without being in the thick of it, having a car was good as we could drive to a street on a lower level and park and walk into town. It's quite a hike uphill otherwise!
Angela
2015-02-27T00:00:00Z
Room Type
Entire home/apt
---
Property Type
Apartment
---
Accommodates
4
---
Bedrooms
Queenstown, Otago, New Zealand
Our one - bedroom apartment has a king size bed in the bedroom and 2 single beds in the lounge. There is also a flat-screen television. Full kitchen facilities are available along with a dining area. A washing machine and Free WiFi are also available for your convenience. The apartment also features lake views from all rooms. Our warm, comfortable apartment has an air conditioner along with a heat pump for those cooler months. Conveniently located, the apartment is only a 5 minute drive from the centre of Queenstown and is within walking distance of the lake (there is a lovely lakeside trail to walk, run or cycle on). Public transport (bus) passes our street quite regularly (every 15 minutes during the day, and about every 30 minutes in the evening). We look forward to meeting you soon. Amenities and Inclusions:- * TV * Wireless Internet * Air Conditioning * Heating * Kitchen * Parking Included * Washer
Excellent! Highly recommend the personal and friend touch!
Holly
2015-07-12T00:00:00Z
Quiet and peaceful. Excellent beds so slept really well. A great way to arrive in Queenstown and wind down for the holiday ahead.
Nigel
2015-02-09T00:00:00Z
I love the Welcome Note stuck on the door. It was really a nice gesture. The view was amazing but the awesomeness extends beyond just the lovely scenery we enjoyed. The apartment is well kept and maintained; we love the juice, eggs and bread (it is so nice to have breakfast before heading out for sightseeing). There is nothing more we could have asked. On a personal note, the fantastic heating system nursed me back to health as I caught a cold during a chilly stay in Te Anau. We have taken a business card and we will definitely recommend the apartment to anyone who wants accommodation in Queenstown. I forgo a stay in Hilton to live here for a couple of days and all I can say, definitely the best choice ever.
Ivy Victoria
2015-05-01T00:00:00Z
We loved staying at Chris and Leslie b&b. it was very cozy, spacious and very clean! The views from the apartment was breath taking and Chris was really friendly, funny and helpful since the moment we walked to his door. Also the breakfasts provided was excellent so we fully recommend this B&B for anyone going to queenstown and we will defiantly go back.
Felipe
2013-06-25T00:00:00Z
It is lovely place.
YUNYA
2017-01-12T00:00:00Z
Lesley and Chris went out of their way to make us feel really welcome at the apartment - breakfast supplies, everything clean and tidy and an info sheet to get us going. We only stayed at the apartment for 2 days but loved it - it's a 5 minute drive into the centre of Queenstown and has a stunning view of the lake too. Recommended!
Tom
2015-06-22T00:00:00Z
The pictures taken did not do this place justice. It was even better than expected. After being in the plane for 10 hours, with a 14 month old baby on tow, it was lovely to be at home. Facing an amazing view, with all the basic necessities and more provided, I wish that I will be staying at Lesley and Chris's place again. Unfortunately, I have booked another place towards the end of our trip. It was very nice of them to provide a breakfast starter pack - milk, juice, eggs, bread etc... & with a baby... an equipped kitchenette and a laundry washer came in very handy. She had also given us a map... very thoughtful indeed. My son was very happy to crawl over the place and I have no qualms about it as it was very clean and tidy. All heaters and wifi were working well. We had no trouble finding the place as the directions provided were clear. Lesley took the trouble to greet us even though the weather was not favourable. Replies were prompt. I highly recommend their place to both families and couples. Would love to stay there again.
Ann Jee
2016-10-28T00:00:00Z
We didn't have a lot of time in Queenstown but Lesley was a wealth of information and readily helped us figure out a game plan for our night on the town. The apartment was clean and spacious. Wonderful view! Wish we could have spent more time there.
Emily
2016-01-23T00:00:00Z
Room Type
Entire home/apt
---
Property Type
Apartment
---
Accommodates
4
---
Bedrooms
Queenstown, Otago, New Zealand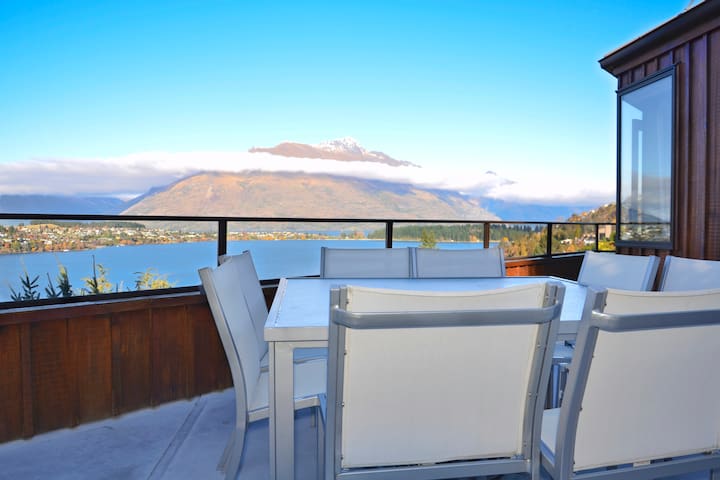 A modern and small home available near central QT. Suit couple looking for a weekend getaway or travellers who would like their own private space. 15 - 20min walk to the centre. Large balcony which is the perfect spot to gaze out over the lake and mountain ranges.
Petite and modern. This home has everything you need to make it your home away from home. The main bedroom has a queen bed and the 2nd room now has a new double bed. There is a heat pump for cooler nights and winter times. The views from the living room and bedrooms are sensational - it's like having your own private look-out! Free view TV and WIFI is available. The house is fully kitted out with all kitchenware and there is also a laundry room with washer and dryer. There is also storage under the stairs for skis. It's about a 15-20min walk into town or a 5min drive/cab ride. Its a 10min cab ride from the airport. A bus into town is available at the bottom of the hill. The property is on a private road which means there is very little traffic. There is a parking space at the house for guests. There is a walking track at the bottom of the property, which takes you around the lake or there is a walking track up the hill behind the property for those who like a good hike. The house is non-smoking. Smoking on the balcony is acceptable provided the butt pot is used. Check in is at 2pm. Check out is 11 am. All linen is provided.
15-20 minutes walk to the centre of QT. 10min cab ride from the airport. There is a walking track at the bottom of the property, which takes you around the lake or there is a walking track up the hill behind the property for those who like a good hike. The property is on a private road which means there is very little traffic. Parking space is available to park in.
Nina was very responsive and the house was comfortable and well stocked with helpful items. True to the pictures-Amazing views of the lake from the balcony and bedroom!
Sue Lyn
2016-04-16T00:00:00Z
The view of this cottage is great. However, we had some unpleasant experience with the landlord. If you would like to try your luck, my suggestion would be: 1) keep all the correspondence in written; 2) upon your arrival, do a thorough inspection on the house and advise the landlord all the deficiencies in written.
catherine
2016-02-15T00:00:00Z
Amazing Lake view! Our family had a great time here. Nina was also easy to reach. Enough condiments on the cabinet made it convenient for us to cook. I also loved that there were extra hot water packs!!
Sae A
2016-08-02T00:00:00Z
Such a beautiful and well appointed home away from home. View was amazing. We wanted for nothing, and lots of lovely touches including fresh flowers
Jacquie
2015-04-14T00:00:00Z
Fabulous home!! Such amazing views and equipped with anything you could want or need! The beds were amazingly comfortable and very cozy. The house was very clean and all directions were very clear when getting to the house. There was even a little book that could answer any of your questions you may have that rests on the coffee table. Nina was very helpful and I would recommend her place to anyone! Definitely will have to have another stay there! :D
Rachel
2015-07-28T00:00:00Z
Nina's place was amazing. It was exactly as pictured and I couldn't of asked for a better experience. The views were incredible, the apartment was clean and very comfortable. It was in a great location - you could either walk into town during the day or take a relatively inexpensive taxi, or rent a car. Will definitely recommend Nina's place to others.
Katherine
2015-09-08T00:00:00Z
We loved our stay, perfect location for exploring Queenstown and the views from the balcony are definitely amazing. Also a great base for day trips. The unit was very well presented and comfortable place to relax. I couldn't recommend staying here any higher.
Dean
2015-02-22T00:00:00Z
Very comfortable accommodations overlooking the mountains and river! We were able to walk down to the bus stop for our excursion. All conveniences of home were available. A nice drive to town and the grocery store. Great WIFI and information provided for activities.
Susan
2016-05-04T00:00:00Z
Room Type
Entire home/apt
---
Property Type
House
---
Accommodates
4
---
Bedrooms
Queenstown, Otago, New Zealand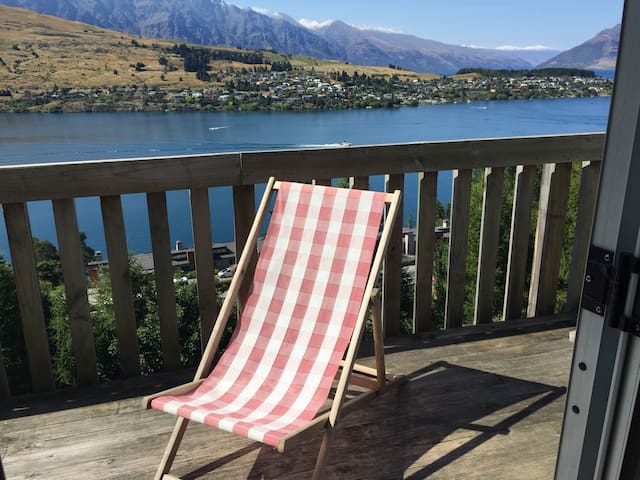 Peninsula Road cottage (crib) is the perfect relaxing holiday spot in summer and winter. From the moment you walk in, you will feel relaxed.
A character crib modernised and contemporised, it has all the comforts and yet still retains the simplicity of a traditional holiday house that you remember from your own childhood holidays. Basking in all day sun with expansive water views, this crib is the perfect base for your holiday. In summer you can practically spend all day on the sunny deck- morning coffee and papers, al fresco lunch and then to enjoy the long Central Otago evenings with drinks and BBQ dinner until it gets dark well after 10pm in summer. In winter you can enjoy the sunshine streaming in the windows and the log burner whilst you take in the views of the calm lake and snowy mountain tops. It's so warm and cosy in winter that a relaxing dinner at home and local pinot noir after skiing will be very appealing. The crib was one of the earliest on Kelvin Heights and has been built in several stages and now recently refurbished. The two queen bedrooms are connected internally or can be accessed independently through French doors off the large deck; There is plenty of off-street parking. The garden is in constant bloom for most of the year so you can enjoy fresh flowers during your stay.
Sunny cottage sits in the most perfect little garden which is terraced by stone walls. Sitting outside breathing the clean New Zealand air was the best part of our experience. The kitchen is very well equipped to cater for all your cooking needs, the beds are comfy and the neighbourhood quiet with well maintained homes and gardens. This is the perfect place to relax and enjoy a few days. Fiona was very easy to communicate with which is the best quality a host can have.
jo
2016-11-29T00:00:00Z
We stayed 5days at Fiona's place and we had a wonderful time with our 6 month old baby. The time we spent at the spacious sun deck was fantastic and her well maintained garden was so beautiful. Strongly recommend this house.
Marcus
2017-02-15T00:00:00Z
We had a great time stay in Fiona's place. The view is absolutely beautiful. The house is clean and hve everything we need. Fiona is very helpful and gave us lots of tips of Queenstown about where to go and where to eat. Thumbs up!
Kitty
2016-01-22T00:00:00Z
We had a absolute great time in this old cottage. Fiona was able to bring it back in the modern time and it looks absolute fantastic with very tasteful colors and exactly the right amount of interior. It was very hard for us to leave the great view from the terrace over the sea day by day. Perhaps this is the only bad thing to say about this place as it would be shame not do explore the interesting and adventures surrounding. The adrenalin capital of the world. Many thanks for a nice time. Would be nice if we could come back one day.
Jörg
2013-12-27T00:00:00Z
It is a magnificent abode in a magnificent surrounding. The property is large, very clean and very comfortable. There are splendid views from the living room and the deck. One just feels like spending more time soaking up the beauty of the lake and the surrounding mountains. Some of the best pictures of our trip were taken from the deck of the house. The house is well equipped with all kitchen amenities and we actually cooked on many occasions. The bedrooms are spacious and beds very comfortable. The property is at a 10 minute drive to the city centre and we did not have any difficulty getting there as we had a rented car with us. The bedrooms may feel a bit cold initially but it gets alright once the heat pumps are turned on. Fiona is a very gracious host. She was extremely welcoming from the day we booked her property. She gave us some very useful suggestions about sight seeing on our way to Queenstown. She is easily accessible on phone and always willing to lend a supporting hand. I would highly recommend Fiona's house for those who want to have a memorable stay in Queenstown.
Manu
2015-09-30T00:00:00Z
Great apartment! looks exactly as the picture shows. Fully equipped with everything you need.
June
2016-03-15T00:00:00Z
Such a cosy little cottage with ample space for a family of four. It was within a short driving distance to town and easy access to Queenstown surrounds. It can be a bit tricky to find at night but you'll get used to it. The house was clean and well stocked with the essentials. It had two heat pumps which was enough to keep the place warm at night. The view was what you expected as shown in the photos. Fiona was very helpful and easy to communicate with. She gave clear instructions and we didn't have any issues during our 3 days stay. We had a lovely time staying at this cottage with spectacular views.
Marc
2016-09-19T00:00:00Z
Fiona was such a joy. She was a host and a tour guide. She helped us navigate food and wine throughout New Zealand. Her house was beautiful. The views are memorable. Thank you for an amazing honeymoon!
Kristyn
2015-05-21T00:00:00Z
Room Type
Entire home/apt
---
Property Type
House
---
Accommodates
4
---
Bedrooms
Queenstown, Otago, New Zealand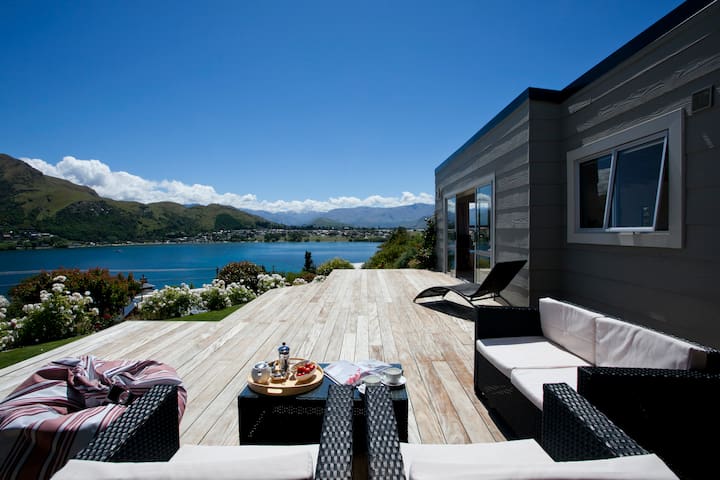 NEW TO AIRBNB! Our charming country guesthouse, with a rustic country feel is located in an elevated position overlooking the picturesque Queenstown mountains. Drenched in all-year, all-day sun, you'll relax with the majestic countryside panoramas and reflect back on your day watching the sunset over the mountains. Fully self-contained, with free internet, this is the perfect accommodation for a relaxed country holiday, centrally located between Arrowtown, Frankton and Queenstown.
Our guesthouse is the perfect location to relax on your visit to Central Otago. Pines Cottage is fully self-contained and has everything you'll need to ensure you'll feel comfortable and relaxed during your stay. You'll enjoy a modern, well appointed kitchen, stunning bathroom, sunny dining area and free unlimited internet. Washing machine in the cottage. We're located in the heart of spectacular countyside between Queenstown, Arrowtown and close to the famous Central Otago vineyards. Our home enjoy all-day, all-year-round sunshine and incredible views of Queenstown's iconic mountains! The bedroom is on the upper level with a king bed and a single bed. (King can be split into 2 singles). You will be provided with clean, comfortable linen, heating, blankets and electric blankets for extra warmth (in winter.) A flat screen TV with access to Freeview is also provided, with a sofa to relax on. Downstairs is an open plan dining and kitchen area. The well equipped kitchen is available for use and has all the essential utensils and equipment you'll need to cook a great meal during your stay. A bench top toaster oven can be used to grill/bake a small dish, a 2-element hotplate can be used to cook on and there is a microwave. Also included is complimentary tea, coffee, and a modest selection of condiments including herbs and spices and herbal teas - own food must be provided. An espresso machine and a blender are also included for those who like to really kick start their day with a coffee or smoothie/juice! Included in the cottage is everything you'll need for laundry, including washing machine, ironing facilities and detergent. The bathroom is on the ground level and offers a walk-in tiled shower, toilet, wall-mounted heater and heated towel for extra warmth in winter. Luxury, soft, towels, shampoo, conditioner, bodywash and handsoap are also provided. Our guesthouse will be fully prepared for your arrival, including fresh, clean linen, towels and will be pre-heated in winter. For bookings of seven days or more the cottage will be serviced mid-stay. If you require additional servicing during your stay, please arrange this prior to arrival and we can advise of the charges involved. Small groups of up to three people are accepted - the King bed can be split into to King Singles (configuration of the bed must be requested at the time of booking). Strictly a maximum of three persons per booking permitted.
Dalefield is a peaceful, quiet and sought-after residential location, conveniently located centrally between Arrowtown, Queenstown and the Queenstown International Airport. The historic gold-mining town of Arrowtown is seven minutes drive with three of Queenstown's famous golf courses and two luxury day spas. Charming and quirky Arrowtown is on every visitors' itinerary and has incredible walking tracks, regular festivals, a boutique cinema, sophisticated souvenir shops and some of the best cafes and restaurants in the area!
Had an awesome and comfortable stay at Stu's place. Stu and Kate were out of the country when we arrived, but it was still easy to contact them. Definitely recommend this place!
Alicia
2016-12-11T00:00:00Z
Stu and his family were super welcoming and gave us a lot of suggestions of the area. The cottage was very well made with beautiful craftsmanship, very well decorated, and super clean. We enjoyed our stay very much and are looking forward to coming back some time.
Jess
2016-11-03T00:00:00Z
Amazing spot! My family and I stayed here and Stu and Kate were wonderful. The places has all the creature comforts of home (toiletries, even toothpaste! Farm fresh eggs etc.) Was very nice after a lot of traveling. Close enough to Queenstown and nice to have a space to get away from the busy town! Fantastic!
Kanza
2016-11-23T00:00:00Z
We stayed at Kate and Stu's for almost two weeks and it was perfect. Private and quiet but close enough to the conveniences of Queenstown and Arrowtown among other sights, hikes and trips to be just what we were looking for.
Amy
2016-10-31T00:00:00Z
Fantastic standard alone accommodations! Stu and Kate were great hosts and a lovely family. We would definitely stay here again.
Arnold
2017-01-11T00:00:00Z
The cottage is located on the top of a hill, thus mastering a good view over the landscape. It is equipped with all the modern convenience for a tiny place. It comes with quality supplies of shampoos, toilet paper, shower gel, body lotion, etc. Nice touch with heated glasses in the rest room. The dinning room/kitchen is a bit small, with the washing machine stacked over the dishwasher (so we have to stand on a chair to fill in washing powder). Electrical Ovens have to be removed from closet to put on a operating platform for cooking. The only bedroom has a slanted roof, which makes the room a bit compact for three people. It has two beds, one single and one double. The entrance to the cottage is a glass door with total transparency and no curtain. One might enjoy a bit more privacy by fitting it with a curtain So if you are a couple traveling with/without a kid, this place is highly recommended.
Gongyu
2017-01-28T00:00:00Z
We had a wonderful time at The Pines Cottage. The accommodations provided us with the amenities we needed for a comfortable stay. The washer was especially appreciated. The location was quiet with beautiful country scenery. It was very convenient for local sightseeing and day trips to South Island points of interest.
Laura
2017-02-26T00:00:00Z
We had a splendid 2-night stay at this beautiful guest cottage, just outside of Queenstown. Lovely secluded location but still close enough to pop into town for restaurants and shopping. The cottage is quite close to the main house, but Kate and Stu give you plenty of space and privacy. Their dogs get super excited to see you but we're dog people so didn't mind - they're all friendly anyway :-) Parking right outside, cute well-stocked kitchen, beautiful bathroom, lovely big A-frame bedroom, gorgeous scenic farm views. Thanks again for a great stay!
David
2017-03-17T00:00:00Z
Room Type
Entire home/apt
---
Property Type
Guesthouse
---
Accommodates
3
---
Bedrooms
Speargrass Flat, Otago, New Zealand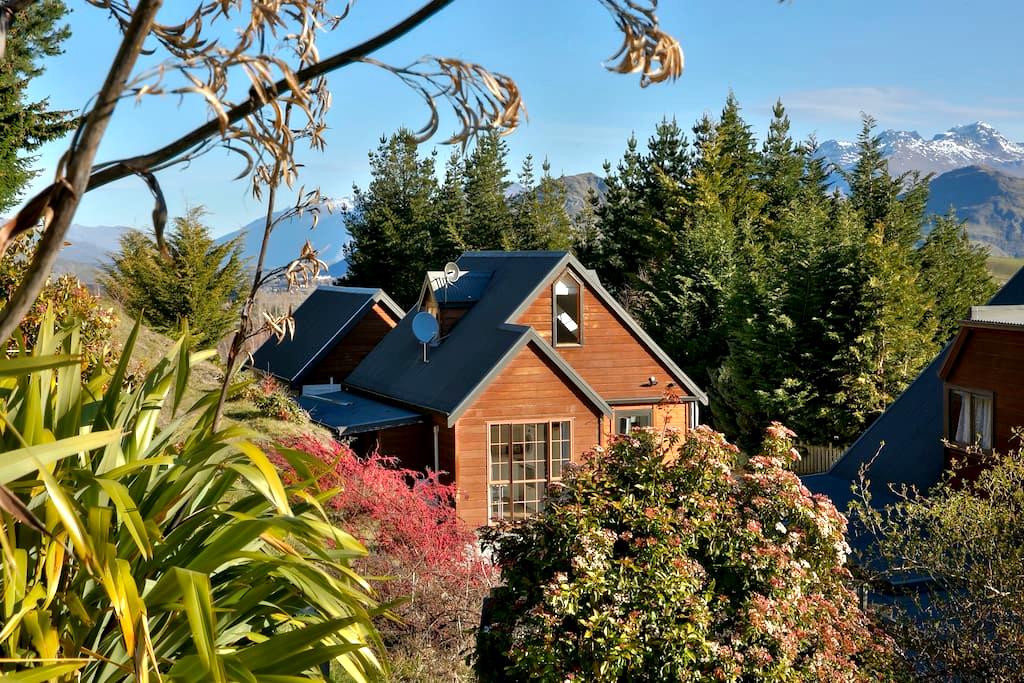 Wake up in your home away from home to the morning chorus of tuis and bellbirds. Only 8 minutes drive from downtown Queenstown at Wilson Bay. You will be staying in a lovely, clean, and modern fully self contained room with a queen and single bed with ensuite and kitchenette.
We live on a property where we are returning the environment back to native New Zealand bush, but we also enjoy a garden profuse with flowers and edible plants and fruit in summer. Our ever growing populations of tuis and bellbirds are a constant delight and they will serenade you with their famous bird song all year round. Your room is fully self contained with ensuite and kitchenette and is clean, modern and has everything you will need for your visit. All linen is included. We supply tea, milo, instant coffee, sugar, milk, and chocolate cookies. You are welcome to sample the bounty of our many fruit trees, our wild strawberries all around our property , and vegetable garden in summer. In winter the roads around Queenstown can be icy and covered with grit, please take care. In winter our steps to your room and the bridge across the stream can also be icy, please take care.
Wilson Bay is hugely popular with the locals in summer for water sports, and all year round for the Wilson Bay walking track, the Phoenix Track and the renowned 7 Mile mountain biking tracks. Try your luck fishing in the bay or at one of the many hotspots nearby. We also live in close proximity to many other walking, hiking and mountain biking tracks.
It was a cold day when we arrive and everything was ready, the heater turn. Grant was there to welcome us and met Monica later when she came in, friendly and beautifull couple. The place is peacefull and clean and comfortable, just as describe. Love the birds singing...
Zaleha
2016-10-12T00:00:00Z
The Tui house is situated in the perfect location, as you are just outside of busy Queenstown, & you have Wilson Bay as your front yard. The views are spectacular! The property is beautiful & and the self-contained unit is clean, spacious & it has a unique New Zealand feel to it. Thank-you Monica & Grant!
Jenner
2016-01-03T00:00:00Z
The house is sooooo beautiful,about 10 minute drive from queenstown centre. Everything in our room are sweet and useful.Monica and Grant are as lovely as there house!It is really a great place to have a holiday.
子依
2016-02-21T00:00:00Z
We enjoyed our stay. Thank-you very much.
Paul
2016-01-09T00:00:00Z
It is 8mins drive to the Queenstown center. Walking to Wilson beach only take around 5mins. The house was very lovely! 30mins drive to Glenorchy. There also have electric blanket under the bed. We are very satisfied!
Sylvia
2016-02-15T00:00:00Z
Grant and Monica are very nice people, they shared places of interest with us and informed us what the locals did do. Place was really good and cozy, the atmosphere is fantastic as it's homely and away from the bustling city. Wilson's bay in front of their home, highly recommended.
Cruise
2016-06-20T00:00:00Z
Monica and Grant are delightful hosts. Their home is a sanctuary among trees and flowers, with balconies overflowing with potted plants and unusual decorative items, and a chorus of various birds to serenade us. They both were exceptionally helpful with advice on not only the Queenstown area, but also areas we were traveling to later in our trip. They were very welcoming and accommodating, and their dog and cat made us feel like we were home. The rented unit is on the ground floor of their two-story home. It is an airy studio with a comfy bed, a tidy kitchen, and a nice bathroom. (The shower was nice and hot!) The home is located a few kilometers up the beautiful Glenorchy Road from Queenstown, which suited us just fine. Queenstown can seem to be overrun with buses and tourists, so it was great to get away to the quiet. This also gave us a beautiful view of the stars. I would definitely stay at Tui House again if we came through Queenstown again!
Melissa
2016-03-16T00:00:00Z
My family and I had an great time in Queenstown and we couldn't have asked for a better host. Monica and Grant always made us feel welcome and touched base to make sure everything was going well. The room is everything we wanted and is in the best spot on Wilson Bay. We will definitely be back.
Leon
2016-09-25T00:00:00Z
Room Type
Entire home/apt
---
Property Type
House
---
Accommodates
3
---
Bedrooms
Closeburn, Otago, New Zealand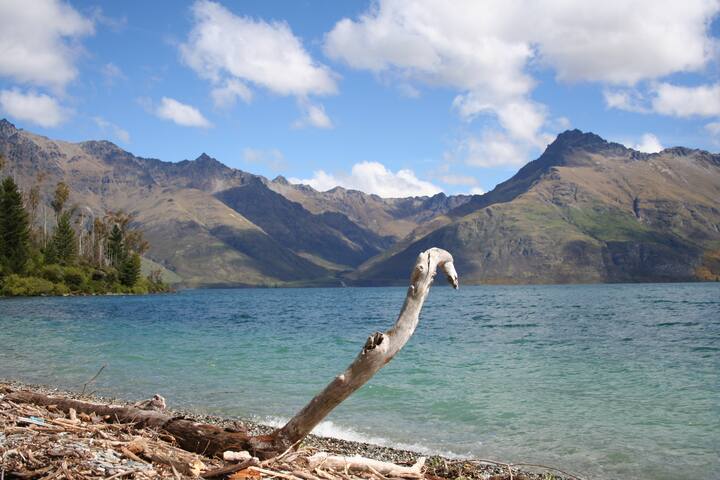 Great views across the lake , only 10 min drive from central Queenstown, . You'll love my place because of the views the tranquility, rural setting and only 10 min to Queenstown town centre. The House comes fully equipped with all bedding, towels with a full kitchen and BBQ for your use during your stay.
The cottage is superbly renovated and situated in an Alpine location, with uninterrupted views across Lake Wakatipu. Located in a private setting, only ten minutes from Queenstown along world famous Glenorchy Road, it is perfect as a couples retreat or take advantage of our additional unique spaces to make this home ideal for groups or families. This is the perfect home away from home, in which to relax after an adventurous day out experiencing all that the Queenstown region has to offer. •Spacious relaxing lounge with fire, leading to covered deck with outdoor dining for up to 8 guests. • Bathroom with walk in rain shower and under floor heating. • Generous master bedroom with king bed, facing a huge picture window showcasing the spectacular views over the lake and surrounding mountains • Ideally located private Jacuzzi, with postcard views of the lake and mountains • Large screen LCD TV and Bluetooth stereo in the lounge, with local Freeview channels as well as Netflix available on request. • Fully equipped kitchen with breakfast bench seating and all amenities should you like to take a break from our famous restaurants. • Outdoor living and dining area with Four Burner Gas BBQ • Laundry facilities, including washing machine, iron and ironing board all included. Rates include complimentary wireless internet & local phone calls. Additional Facilities: Snug Our comfortable snug, in the cottage itself, is available to sleep an additional two guests in a double bed. If not used as an additional bedroom, this is a great place to relax with a book and soak up the mountain views through the double doors onto the deck. Sleep out Our converted Silver Planet Airstream 1950's caravan, adjacent to the cottage, has been fully renovated and converted into a spectacular sleep out with queen bed and cozy finish. Perfect for additional guests and can sleep two guests comfortably. (Whilst it is comfortable all year round, our sleep out may not be suitable in winter for those who aren't accustomed to the Queenstown chill.)
A warm, welcoming home with a stunning view and great access to Queenstown and beyond. We loved soaking in the hot tub at the end of each day. Beds are comfortable. We will definitely book again when we return!
Cam
2017-03-10T00:00:00Z
If you are looking for an idyllic setting with magnificent views, a clean and modern home just ten minutes from Queenstown then i highly recommend Closeburn Cottage. Jason and Scott were so helpful and attentive. A welcome basket on arrival was such a nice touch. We absolutely loved our stay and hope to return soon. We didn't want to leave!!!
Emma
2017-01-10T00:00:00Z
The pictures do not do justice to this cottage. It has a breathtaking view and Scott was really on top of everything. He was quick to respond to any of our needs and he went above and beyond to make sure that our stay was comfortable. He even prepared a gift basket for us :) Scott's cottage is a must when visiting Queenstown (15 min drive from downtown).
Arjun
2016-12-27T00:00:00Z
This place is a must rent, a fabulous getaway for Queenstown, immaculate, quiet, with spectacular views and everything you need. Jason has thought of everything, it is so comfortable and very clean. An excellent place to relax and escape the craziness and traffic of Queenstown. The view is breathtaking, and the garden is lovely, clearly a much loved cottage by the lake, thanks so much for sharing it, we would definitely come again.
Emily
2017-02-26T00:00:00Z
Really could not have chosen a much better spot. All the views that Queenstown is known for, but without actually having to be in the city with all the noise and traffic. Loved the seclusion, but how close it was to town. Super clean, super cute, and the owners were very responsive. Ended up staying at the house more often than planned because of how great the beds were, the incredible view, and the very usable kitchen. Cannot recommend highly enough!
George
2017-02-18T00:00:00Z
Cottage was perfect, nice and cosy with a GREAT view, wake up with a smile every morning. Power in the area was out due to mother nature and Scott organised an alternative stay for the night, perfect hospitality service!! This was for our honeymoon and we couldn't of chosen a better place! Outdoor jacuzzi has a great view, no need to visit the onsen hotpool when there's one in your backyard!! Definitely come again when I'm in town!
Raymond
2017-01-27T00:00:00Z
This place is absolutely amazing. In addition to the sheer beauty of the location, the attention to detail inside the house to make it guest-friendly was exceptional. Hot tub is great too -- but ultimately it's that view! We are already planning our next stay here.
Daniel
2017-04-02T00:00:00Z
Beautiful well decorated cottage with super comfy bed. Well appointed and it was the perfect size, loved the views and the porch for reading. The cottage is just far enough from town to feel quiet, but less than a 10 minute drive in for dinner or activities. Would recommend to any couple or small group!
Giselle
2017-01-03T00:00:00Z
Room Type
Entire home/apt
---
Property Type
House
---
Accommodates
4
---
Bedrooms
Closeburn, Otago, New Zealand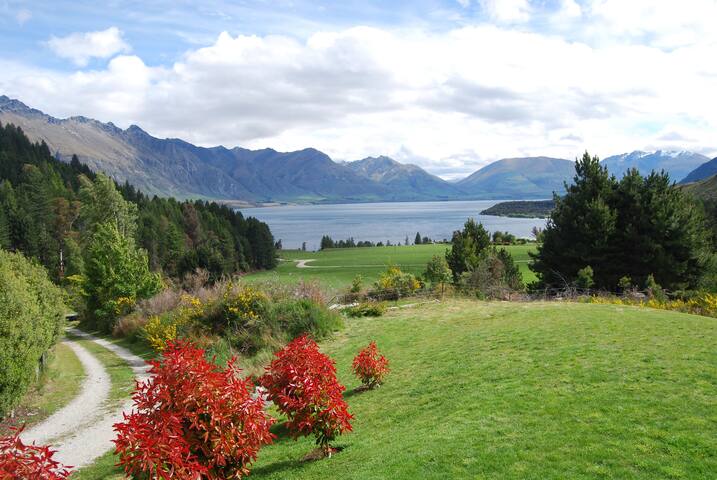 Southerly is a magnificent rural home where guests feel they are perched on the top of a mountain with some of Queenstown's best views of the lake and mountains- yet it is only a short 10 minute drive from the town centre.
Extensive living areas and outside grounds make this house the perfect location for a family holiday or a week away with a group of friends. It is equally ideal in both summer and winter. The roaring fires are a joy to relax beside after a day's skiing and the manicured lawn overlooking the lake is the ideal location for an evening aperitif in the late afternoon sun. It is beside the internationally renowned Matakauri Lodge and our guests are able to enjoy the award winning restaurant and spa facilities at the lodge.
Our family has stayed in a number of homes over the years and the Southerly was absolutely awesome and fabulous. The views are even more stunning than you can imagine from the photos. The home was extremely well furnished, especially the kitchen. Touch of Spice was extremely helpful ... from day one when they helped to make sure we had items to eat and drink upon our arrival to the introduction of the private chef, Fabien (who was magnificent) that prepared our dinner on our final evening. There were a couple of minor cliches ... but they were quickly remedied either by Judi from Touch of Spice of the property manager. Future visitors should, however, keep a couple of things in mind. The road to the Southerly is a gravel road and steep. We did not have a car and used cabs from Queenstown when necessary. The smaller Prius cabs would get stuck going up the gravel road. Fortunately we developed a relationship with Danny from Green Cab (who we would highly recommend) who's vehicle had no problem. Second, the wi-fi is super S-L-O-W ... okay for emails and text message ... but if you plan to download web pages or stream Netflix or use Apple TV forget it. Plus, the cell phone reception is very spotty. However, these were minor inconveniences. In summary, we would highly recommend this property and Queenstown as a vacation destination might be one of the best locations in the world.
Doug
2016-01-08T00:00:00Z
Room Type
Entire home/apt
---
Property Type
House
---
Accommodates
8
---
Bedrooms
Closeburn, Otago, New Zealand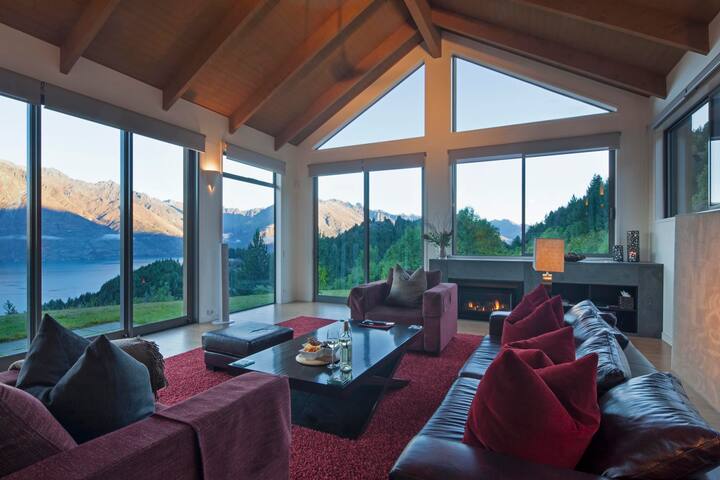 Well located, spacious, light filled townhouse with dramatic views from every room. Warm and welcoming, this home comprises 3 bedrooms & 2 bathrooms. One master bedroom with queen bed plus 2 bedrooms with the option of either 2 x twin singles or 1 x king bed. The open plan living area opens to a balcony and onto a private courtyard with BBQ facilities. A fully equipped kitchen completes this home away from home with dining for 6 people. LCD TV, DVD player &surround sound system, Wireless internet and children's games. Dedicated ski gear drying cabinet. Pump heating &new luxurious bathrooms. The location of the apartment has the best of both worlds, just a 2 minute drive to town or a leisurely 10 minute walk. The ski fields, golf courses and other activities are all close by. Across the road is a resort hotel with gym, sauna, restaurant &bar facilities providing regular bus transport to town &ski fields. Enjoy the glorious lake and mountain views! Internal access from garage with additional outside parking.
Fantastic place - best airbnb places I've stayed to date. Fully equipped kitchen, great heating (hot water, electric blankets & even the bathroom floors!), quiet neighborhood (although still centrally located) with a good view of the lake. Michele is also very accommodating and very responsive. I highly recommend staying at her place!
Samantha
2015-08-15T00:00:00Z
Unfortunately due to some complications, we weren't able to stay at the property we had originally booked. Michele was absolutely brilliant in organising something else for us at such short notice and the quality of accommodation was amazing! Michele definitely went out of her way to make sure we were happy and we had a bed to sleep in. She was always just a phone call or an email away to answer any questions. Even though we weren't able to stay with her, I would recommend booking with Michele to any one!
Kat
2013-09-03T00:00:00Z
Everything as mentioned ! 25 mins walking from the main center ! Excellent service !
Akhil
2017-02-18T00:00:00Z
Wow what a fantastic place with an amazing view of the lake & mountains from every room. If you can tear yourself away from the view their are plenty of games & DVDs. There's even a drying room for ski gear. The 2 bathrooms are fully tiled & the kitchen is extremely well stocked with dishes etc. The double dish drawer dishwasher was very much appreciated. This place would have to be the most homely Airbnb we've stayed in. Thank you Michelle
Judith
2017-01-24T00:00:00Z
It was a wonderful stay at the Chamecy. All in our party liked the place very much. Queenstown and its surroundings are beautiful, the landscape is stunning and people are friendly. The place is located in a quiet neigborhood and the town is only 5 minutes away by car. The view of lake Wakatipu and the Remarkable mountains from the house is stunning. Great choice.
Frank
2017-01-31T00:00:00Z
Really enjoyed staying at this beautiful house. Breath taking view and great amenities!
YESUL
2017-03-09T00:00:00Z
Staying at Michele's Fernhill house was fantastic. The location was quiet but close enough to town to walk. The view was better than described - it was amazing. Michele's house had eveything we needed, beds were comfortable and the kitchen great. They even had a christmas tree set up which made the house feel like home. Thànks Michele - we had a great time.
Helen
2016-12-23T00:00:00Z
The view was simply amazing!! This was a very comfortable stay and the house had everything we needed and much more. It really felt like a home away from home. It's a little further from town than anticipated but if you have a car it doesn't really matter.
Natalie
2017-03-18T00:00:00Z
Room Type
Entire home/apt
---
Property Type
Apartment
---
Accommodates
6
---
Bedrooms
Fernhill, Otago, New Zealand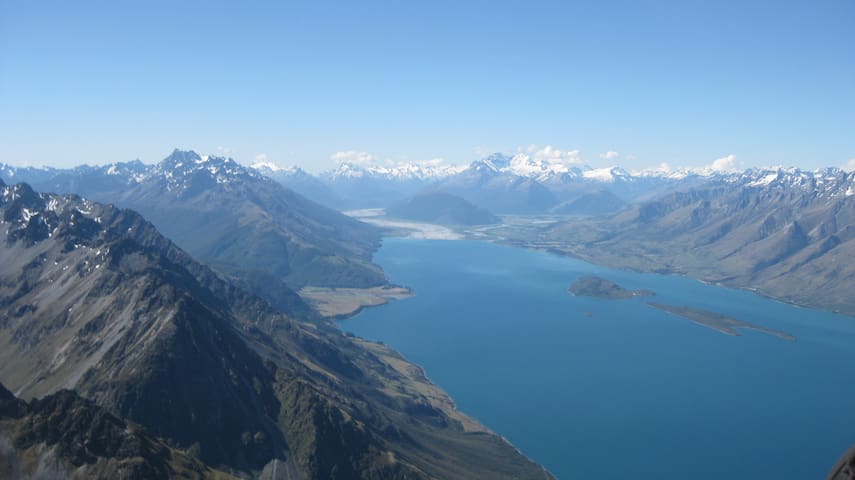 Enjoy stunning views and luxury surrounds while staying in Queenstown at Aspen Height Villa. 3 bedrooms, 2 bathrooms and an open plan dining kitchen and lounge with views of mountains and lake from any spot in the house. 3 mins to the CBD
Luxury Accommodation at our 5 star ultra modern state of the art holiday home. Set high above Queenstown in the prestigious Aspen Grove subdivision and surrounded by multi million dollar homes. Featuring up to the minute new furniture and fittings and an Ipad to stay in touch with family and friends. Take in the stunning vista,s of the Remarkable Mountains Range, Lake Wakatipu and the srrounding Queenstown CBD. A great place to watch the famous 100 year old TSS Earnslaw Steam Boat pass by while enjoying the peace & quiet away from it all. Relax on the deck and enjoy a BBQ with family and friends. Our Holiday Home is north facing and enjoys all day sun through floor to ceiling windows to take in some of the most spectacular views you will find anywhere in the world. A gas log fire and heat pump are provided to keep you cozy and warm in winter or cool on those barmy summer
Aspen Grove is an up market subdivision with stunning visas of the surrounding area with similar multi million dollar properties. Our holiday home is on a private road perched just above a recently completed $22 million dollar holiday home making it the most expensive property constructed in Queenstown
Our stay at Rodger's villa was delightful. It is conveniently located, spacious, and has an amazing view. Our dealings with Rodger were hassle free. I would stay there again.
Ivan
2013-08-18T00:00:00Z
The house is really nice. The view is amazing but a little bit far from downtown,but it will be fine if have a car. Rodger is a great host and very professional. Although we had little trouble , I believe we can perfectly solve it.
Xincheng
2016-02-17T00:00:00Z
great place, nice view
Joe
2015-09-01T00:00:00Z
The house is just gorgeous, it far surpassed our expectations. it is larger than I expected and has three great sized bedrooms, The living room is lovely and the view is wonderful. It is 5 mins from Queenstown downtown and 15 mins from the airport. Thanks Rodger!
Ray
2015-07-26T00:00:00Z
We had a great time at Aspen Heights. Simply stunning views from the massive windows! It was a great base for exploring Queenstown and very easy and comfortable for us as a family.
Shona
2015-10-04T00:00:00Z
Room Type
Entire home/apt
---
Property Type
Apartment
---
Accommodates
6
---
Bedrooms
Fernhill, Otago, New Zealand
Restored character villa set on idyllic country grounds with a gentle stream flowing through and surrounded by stunning views of the Remarkables ski fields. Enjoy the many restaurants, bars and shops that Historic Arrowtown has to offer or take a short drive to Queenstown. Peace and tranquility will be found at our modern homely villa. We look forward to welcoming you soon.
Warm and inviting spaces are the key to this house. Plenty of space to kick back and relax after a hard day skiing or exploring the local area. Large lawn areas and decks are perfect to make the most out of the warm summer weather and enjoy some alfresco dining. Central heating throughout the property acess to we'll appointed lounge with direct garden access.
Arrowtown has an impressive array of cafes, bars and restaurants to try. Queenstown is only a short drive away. Wonderful setting allowing you to enjoy the very best of the area. Located very close to three wonderful golf courses, biking trails and fabulous walking trails. This area really offers something for everybody.
Beautiful town outside of Queenstown. Nice big room, friendly and helpful hosts!
Melody
2016-11-28T00:00:00Z
Nice place
Ophelia
2016-12-29T00:00:00Z
This is a great place- about 5 minute drive from Arrowtown, with views out over the mountains, a private room but very spacious with a great on-suite bathroom. Our hosts were very friendly and welcoming with great tips for places to go and we really enjoyed our stay. You do need transport to get there but pretty easy to find.
Sue
2016-11-20T00:00:00Z
This house is wonderful, an old farmhouse with well refurbished interior. We were stunned by the comfortable furniture (very new bath) and the great atmosphere of the house. Andrew is a very nice guy, everything was simple and easy. The two dogs are gorgeous. We'd definitely recommend staying here.
Lisa
2017-01-13T00:00:00Z
Andrew's place had the same quality as a 5 star hotel! The bedroom area consisted of a large, comfortable bed with a tv (linked up to Netflix), fridge and tea making facilities. The bathroom was beautiful; large waterfall shower, standalone bath and double sink. There was also a large walk on wardrobe. It was all pristine and very clean. The location of the property is close to arrowtown and about a 10/15 drive into the centre of queenstown. Perfect for exploring the area and taking part in the activities queenstown has to offer but set in a quiet location. Andrew was a great host, he didn't mind that we had turned up fairly late owing to a long drive that day. He was very friendly and approachable. All in all a great stay - thanks for having us!
Tom
2017-01-26T00:00:00Z
Great place! Lovely spacious room - fantastic interiors done in the bathroom. Amazing dogs and good wi-fi. We had a bit of a glitch with the bed on the second night but otherwise an excellent stay! Special thanks to Andrew for getting us a mini-fridge since we had some stuff to store.
Rahul
2017-01-08T00:00:00Z
A lovely room with awesome ensuite. Great having access to netflix. Great location easy access to arrowtown and the surrounding vineyards. Gorgeous dogs!
Trinity
2017-03-08T00:00:00Z
A lovely home in a lovely ,quiet location . My room was excellent, with comfy bed, TV, fridge and a huge bathroom with double sinks, double shower and a huge bath. Lynsey was a perfect host. Hoping to revisit in the future.
Alan
2017-01-11T00:00:00Z
Room Type
Private room
---
Property Type
House
---
Accommodates
2
---
Bedrooms
Arrowtown, Otago, New Zealand
Located at the world renowned Millbrook Resort in beautiful Queenstown. Enjoy breathtaking views over the resort and mountains. The perfect spot to base yourself for a relaxing retreat, or an active holiday. You may never want to leave! Welcome!
Recently renovated, modern style house in one of the most sought after properties at Millbrook Resort and Spa. Amenities include a full kitchen, cosy fire place, SKY TV in living and master bedroom, washer and dryer, high speed internet and doors opening up on to your private lawn with spectacular views. Sit in or outside and watch golfers on the 3rd hole or admire un-interrupted views of Coronet Peak Ski Resort. Master bedroom has a king bed, en-suite and TV (with Sky), and second bedroom has two king single beds. All have new linens and down comforters. This property comfortably fits 4 people (extra persons may sleep in living room if needed, please inquire). Bring your rental car - 2 free parking spots also included! More about the location - Millbrook Resort has an award winning fitness center and spa, tennis courts, 27 hole golf course, fine and casual dining options. If you are planning on a relaxing getaway, or romantic retreat - you are in the right spot! Please note, these amenities are not included in the rental cost but you are welcome to pay for and use them at your leisure. This is not a party house and the area is very peaceful and calm, please be respectful of this.
Millbrook Resort is located near the neighborhood of Arrowtown, Queenstown - a must see for tourists with cute cafes and restaurants, scenic walks, a boutique movie theater, small grocery store and shopping. Queenstown is also only a short drive away. If you are here for a skiing trip we are only a 5-10 minute drive to the base of Coronet Peak!
Was a great stay! Good value for money being in a high peak tourist area.
Katie
2017-01-22T00:00:00Z
Lovely stay in Queenstown! Lindsay was very quick to respond, and very accommodating! Beautiful home on the golf course, with a very private feel. Views of the lake each morning were quite tranquil. Highly recommend to anyone looking for some peace and quiet a short jaunt from the bustle of Queenstown.
Jennifer
2015-09-04T00:00:00Z
A wonderful home in a stunning location. Highly recommend this place which is situated in a peaceful town outside Queenstown
Michaela
2015-12-24T00:00:00Z
Our stay at the Arrowtown Cottage was wonderful. The home is well furnished, clean and set on beautiful grounds in a location outside of busy Queenstown, but close enough for short trips into Queenstown, Arrowtown and the nearby Gibbston Valley wine region. Although we did not meet Lindsay, she responded quickly to inquiries and provided clear instructions for access to the home. I highly recommend this cottage for up to 4 adults or a family as a great base for exploring the Lakes Region and Queenstown area.
Suzy
2016-01-09T00:00:00Z
Once again a brilliant stay in a beautiful location!
Tiffany
2016-08-08T00:00:00Z
It was very nice dealing with Lindsay even though we did not end up staying at his cottage in the end!
Jana
2016-01-24T00:00:00Z
Super place, fantastic views. The house had everything that we needed. Lindsay was great to deal with. We had other accommodation fall through and Lindsay managed to facilitate us on extremely short notice. We enjoyed our time and would highly recommend this place.
Trevor
2016-03-31T00:00:00Z
Had a really great time in the cottage, recommend it highly!
Jase
2016-02-22T00:00:00Z
Room Type
Entire home/flat
---
Property Type
House
---
Accommodates
4
---
Bedrooms
Arrowtown, New Zealand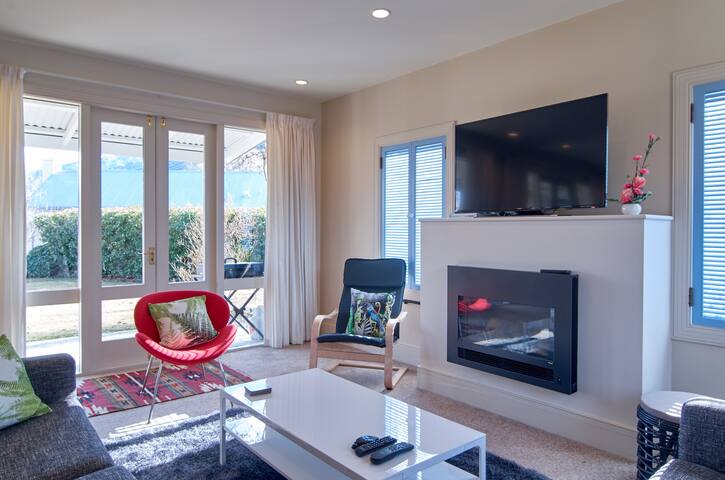 Self-contained cottage in a stunning setting at the bottom of coronet peak ski field 15 mins from Queenstown. Adjacent to a creek and ponds and art studio its a romantic private hideaway with beautiful views.
We have a self-contained cottage in a stunning setting at the bottom of coronet peak ski field 15 mins from Queenstown. Adjacent to a creek and ponds and art studio its a romantic private hideaway with beautiful views Wonderful views of mountains 15 mins from cosmopolitan Queenstown , restaurants. Private deck overlooking creek romantic two roomed cabin. beautiful walks. lakes and rivers nearby. Also a next to a working artists studio. Walks from just outside the door... Bed layout: 1 King(s), 1 single bunk. A further Queens size bed is available upon request downstairs with its own entrance (to book this is an extra charge of $50/night). Best suited to a couple, small family or a small group of friends. The bathroom is literally one step outside the cabin so be quick in winter and embrace the adventure! :) "Stary stary night dawned grey and cloudy perfect for sleeping in under the duvet. Talk about being at one with nature when the ivy climbed through the bathroom window. We Love it. In Finland the perfect retreat is M"okki" ...This is M"okki"" Helena and Don, Quebec
Quiet, rural and sunny. King size bed and single bed reside within the main living of the house.
Angus is such a nice guy with creating his on mini version of New Zealand -- an amazing nice courtyard with all the view and this Lush Cabin is sitting inside it. We got a warm welcome and great experience in there for 2 days. The cabin and its courtyard is beyond beautiful. Living here itself is a travel experience which any 5 star hotel can not provide. One of our unforgettable memories in New Zealand.
Huan
2015-02-23T00:00:00Z
A wonderful little retreat tucked away from the hype of Queenstown. Everything we needed including a comfy king size bed. The cooking facilities consisted of a portable hot plate and microwave and plenty of pots and pans. Gus was very accommodating host, and is a very interesting person to talk to. Thanks Kel & Vicki
Kel
2017-02-23T00:00:00Z
Such a cute picturesque little cabin! We absolutely adored it. Would definitely stay here again.
Jackie
2017-01-20T00:00:00Z
A very nice & quiet stay, very peaceful & special with Gus's art on the walls
Chris
2017-01-30T00:00:00Z
Very comfortable stay and Angus was a very responsive and generous host. Just be aware that the bathroom requires a few steps outside of the main lodging. Not a big deal but just something to be aware of.
Kari
2017-02-17T00:00:00Z
Awesome cottage reminiscent of a typical kiwi bach. Lots of character, very peaceful, incredible location. We had a wonderful time and it was so nice to stay somewhere so close to town yet so rural. I would definitely book in again.
Amy and Mikey
2016-12-11T00:00:00Z
We loved the artist cabin. It was the perfect accommodation for us and it made our 4 nights in Queenstown memorable. The cabin is cosy, unique and charming and super convenient specially if you have/rent a car. The location is beautiful, you see the woods from all the windows, it has a little terrace with a bbq pit (we had couple of perfect steak dinners outside), it is 10min drive from Queenstown center. Angus is so welcoming and we even enjoyed a glass of wine at his yard with him and 2 of his friends one evening. He also let us use his 2 mountain bikes and we did a beautiful track through gibbon valley (so recommended) We went in summer time (december) so the weather was just perfect.
elena
2015-01-01T00:00:00Z
This Cabin provided the ideal get-a-away experience. I mean why else do we travel? If not to leave our comfort zones and try something new. It's a beautiful short drive from Queenstown. The cabin is quiet and very cozy. Angus was very accommodating - he also let us borrow his bike to take ride to the river. It was a great experience with tons of breathtaking views. If you appreciate nature and a lil peace and quiet, this is the perfect place.
Yess
2015-02-26T00:00:00Z
Room Type
Private room
---
Property Type
Apartment
---
Accommodates
3
---
Bedrooms
Arrowtown, Otago, New Zealand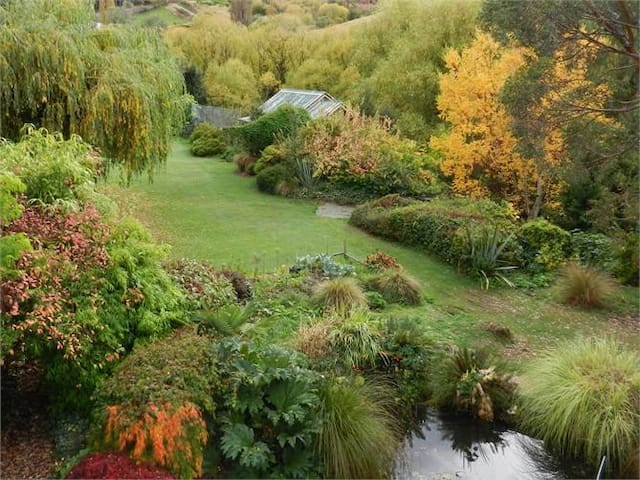 My place is peaceful with great views, so good for couples. Even though it is in a rural setting, the place is around 5 minutes from Arrowtown, 10 minutes from Frankton and 20 minutes from Queenstown, by car, where there are many eating, shopping and entertainment facilities. The room and ensuite are modern, spacious and warm.
Wonderful place to stay (we stayed 7nights), a special oasis, like a spacious executive sized and styled hotel apartment with ensuite oversized bathroom/utility room with a beautiful, comfortable private living space and sofa/tv/sound system and large comfortable bed and living area leading out to a beautiful garden and mountain views. Cristina and Graham seem to have thought of everything from bathrobes, iron, cafetière (coffee plunger), extra blanket, electric blanket etc.. and were easy to communicate with and very helpful with suggestions on where to go. The room had a table/chair for me to use as a desk when I had to do some work on my laptop too. Easy car parking with space next to the room with fast internet. Quick access to Arrowtown (6mins by car) which has a great Thai for lunch and lots of other great places to browse/shop/eat and walk/cycle by the river which was used in first LOTR film. World famous Queenstown is less than 20mins away by car and we recommend going via Arthurs point since the main road into/out of Queenstown passing close to the airport can get quite busy. Recommend days out include driving to Glenorchy and back and on another day, heading to Wanaka (53mins by car) too and Rippon winery which is reputably the most scenic in the world. Recommend this Speargrass place if you have your own transport.
Darren
2017-03-04T00:00:00Z
Fantastic rural location with amazing views. Very high standard of accommodation. Much better than expected for the price. Would've stayed longer had it been available.
Gary
2017-02-17T00:00:00Z
I had great experience with Cristina and her husband, who were extremely welcoming and helpful for my entire stay. The room was large and quite nice. Also has a great view from the sitting area and all the amenities you could hope for. I definitely recommend!
Matthew
2017-01-14T00:00:00Z
Cristina's beautiful home is perfectly located to explore Arrowtown, the Gibbston Valley, Queenstown or Wanaka. Its also a perfect place to relax in the sun with a vino tinto and soak up the view of Coronet Peak, the countryside or the garden. The accommodation is spotless, super comfortable with a travellers needs well considered. Add Cristina & Graham's warm and genuine hospitality and it's a winner.
Anne
2017-04-01T00:00:00Z
Everything is Perfect! Cristina is really nice and kind host and she advised us lots of activities and tours in terms of Queenstown and Milford sound. The room is literally awesome and it has clean and wide bathroom. Highly recommended.
Yeseul
2017-01-17T00:00:00Z
Absolutely stunning home in a gorgeous peaceful location with mountain views. The room is fitted out with everything you could possibly need and it is meticulously clean. Cristina and Graham are most welcoming and friendly hosts. I'm looking forward to staying again :)
Michael and Kylie
2017-02-05T00:00:00Z
Cristina and Graham are a lovely couple and their house is immaculate. I have no hesitation in recommending you to stay with them.
Alex
2017-01-21T00:00:00Z
This was a great place to stay! The room is quite modern, large, and situated in a quiet setting. Hosts were very friendly and a pleasure to work with. Highly recommend!
Ely
2017-02-16T00:00:00Z
Room Type
Private room
---
Property Type
House
---
Accommodates
2
---
Bedrooms
Speargrass Flat, Otago, New Zealand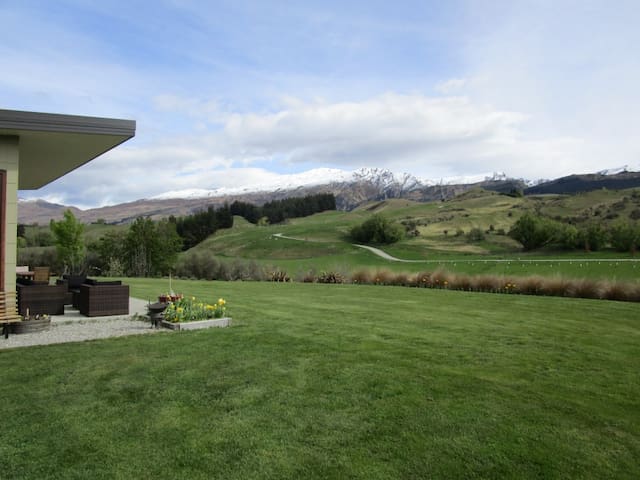 Amazing room in a large home on a golf course on the edge of Historic Arrowtown. Be captivated by the scenery and amazed by all the surrounding region has to offer, golf, wineries, hiking, restaurants, adventure sport, skiing, cafes, mountains and lakes
This beautiful room is located inside a large family home. The Queen sized bed is extremely comfortable with a lightweight and very effective duvet and there is a large wardrobe available for guest use. There is a TV in this room.
This is a review from one of our previous guests:- Wow did I get lucky here an awesome lovely quiet place to stay right in the heart of the Millbrook resort. Big thankyou to Anne + David who are great host's and for going out of there way to do so much extra for me while I was stayed in their wonderful home. Bit about the lovely home they have wonderful views everywhere you look it makes you relax even more and it's just so peaceful and quiet it made it very hard to pack my bags I didn't want to leave!! My bed was the best I have ever slept in (other than my own) so so comfy, the bathroom was very large and the shower was without a lie was fantastic. My double room was a perfect size they also have another room larger that could sleep 3, my linen was very clean also with a lovely soft warm duvet I had everything I needed oh yes I forgot so very quiet which meant for me a great night's sleep for my entire stay of a week, so for anyone single or a couple don't just look go ahead and book you will get a great surprise on how relaxed you will feel after spending time here and you are so close to many awesome golf course's and the little town named Arrowtown is a must. On my lastnight we had a BBQ together and you must ask David to organise a trip to the Arrowtown butcher's to get these famous sausages best I have tasted yet very yummy. Okay I didn't much of a chance but they had some amazing books about the area and NZ History worth a read! Then with a drink in hand just a few steps out the back door opens you to views that will amaze you I will 100% promise you wow factor will kick in very quickly and at that moment I made my mind up I will back again. The breakfast is perfect just what you need to get the day started even though I didn't have it everyday due to me having to leave very early to do some photography (Don't forget your camera it's a must). So overall my experience staying here with Anne and David was just perfect it could not have worked out any better everything went to plan I was a very happy chappy there is not one thing I could grumble about, just a very lucky man to have found this home and now have new friends in the host's. I wish you and your family all the best and I will be back I promise you that. So anyone looking for a short or even a longer stay I have no doubt in my mind you will have a ball if you don't you are very hard people to please. HUGE Regards from Tack
Very nice place and the environment is excellent! It is also very near the downtown.
Candy
2016-11-20T00:00:00Z
Great company, venue. By far the friendliest and nicest hosts I have met
Jonathan
2017-03-11T00:00:00Z
You must try. Nice family. We love them.
JESSICA
2016-12-29T00:00:00Z
David and Anne, are a charming couple, who live in a beautiful clean, large, family home. The bed and pillows were so comfortable. They went out of their way to make us feel welcome, the house is situated in a picturesque park with mature trees overlooking a pond, it was a delight to waken up to the birds call. We had a beautiful breakfast each morning of cereal, fruit, yoghurt tea and toast. A short drive to Arrowtown which is very worthy of a visit. We stayed four nights it could not have been better.
William Miller
2017-03-20T00:00:00Z
Is a private residential area. Quiet and standalone. 19min drive from queenstown. It will be convenient if you hav car and do not mind to spend little bit of petrol thru and fro. Great home with every amenities provided. Host are friendly and you can get many information from them. They serve you light breakfast! Excellent.
Steron
2017-02-14T00:00:00Z
Lovely, welcoming hosts who provided heaps of helpful info about the area. The room was clean and comfortable. My only critique is that it was quite expensive for a room in a busy house (our most expensive AirBnB in NZ). We didn't have many choices in the Queenstown area because of NYE, so perhaps it isn't as expensive at other times of year. In any case, we had a lovely time and appreciated the hosts' NYE advice!
Jason
2017-01-02T00:00:00Z
Room Type
Private room
---
Property Type
House
---
Accommodates
2
---
Bedrooms
Arrowtown, Otago, New Zealand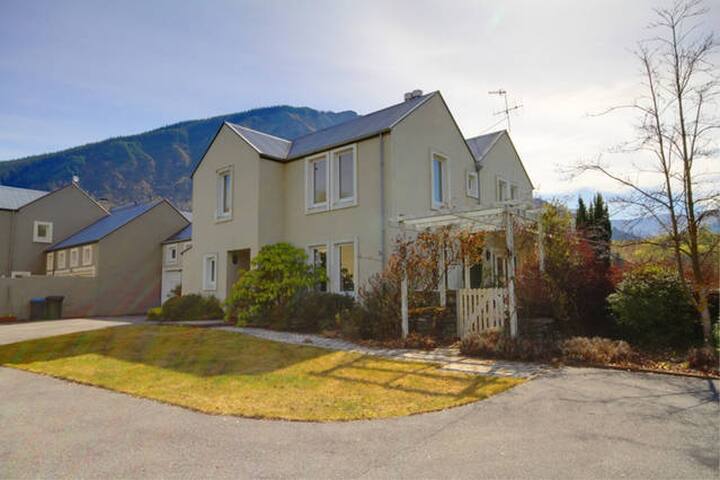 Romantic retreat. Magnificent views of Alps yet only 4 mins drive from historic Arrowtown and 10 mins to Queenstown Airport 5*Certificate of Excellence 2015 King bed and ensuite shower Access to garden, spa and outside seating area Full NZ breakfast or continental available at an extra cost.
Possibly the best views of Coronet Peak ! Perfectly situated between Queenstown and Arrowtown Quiet and peaceful rural location. Fantastic outdoor facilities. Romantic escape.......
Perfectly situated only 4 mins drive from historical Arrowtown and 10 mins from Queenstown Airport. Secluded hideaway, high in the Dalefield Countryside with fantastic views of the Southern Alps. Awarded 5* Certificate of Excellence 2015! Enjoy a glass of wine in the spa pool and take in the mountain air. Many outdoor areas to relax. bbq available or order a pizza from our Wood fired pizza oven. Only 20 mins from Coronet ski lifts, Gibbston Valley vineyards, and 5 fantastic golf courses. The Hills and Millbrook Resort 5 mins away. Or hire a bike from us to the Queenstown Trails located immediately below the property. Amazing walks and cycle trails on the doorstep!
What a beautiful place! Michael and Sam made us feel so welcome and every detail was thought of! The views from the patio are phenomenal with lots of comfortable seating, binoculars, fire stove, etc. We stayed in the upstairs suite (Michael kindly accommodated my son and girlfriend and they slept in the den ). Comfy beds, great shower and everything you could possibly want. The views throughout the home are amazing. We were treated to a delicious breakfast each morning too. Michael had great recommendations for activities. We loved the little town of Arrowtown and are so glad we decided to stay here rather than busy Queenstown! I would highly recommend Speargrass Rise!
Patricia
2016-01-01T00:00:00Z
We had a wonderful stay at Speargrass Rise. The house and room are spacious and totally comfortable, every detail is thought of through the stay, the view is spectacular and the breakfast was delicious. Very close to Arrowtown which is also really worth a visit, and our hosts kindly booked us a table at a great restaurant as well as remembering out honeymoon which added a great personal touch to our stay. Could not have been better and highly recommended. Thanks Michael and Sam and see you next time!
Ben
2016-02-20T00:00:00Z
Very clean and comfortable, beautiful view and great breakfast. Close to both arrowtown and queenstown.
Chelsey
2016-04-28T00:00:00Z
This place is a real gem. Friendly, welcoming hosts, beautiful accommodation with sublime views and a very comfortable bed. Breakfast was ample and delicious. One of the loveliest places we stayed on our travels.
Jessica
2016-01-05T00:00:00Z
Very comfortable room with a separate lounge and lovely views. Perfect location and a wonderful breakfast ! Thanks Michael and Samantha
Monique
2016-05-24T00:00:00Z
We had a wonderful experience in Speargrass Rise. The room was so lovely, and Michael provided us with a bottle of champagne, so lovely. The hot tub was amazing! You can relax and enjoyed the warm water with very beautiful view.
Putu
2016-04-24T00:00:00Z
Couldn't have had a better experience. Michael, Samantha and Bridgett were amazing and beyond accommodating. Only regret is not staying here longer. If only we could give more than five stars! We will definitely find a way to come back here, make sure you check out the stars at night!!! Oh, and we are getting an English setter companion for our Irish setter now.
Manny
2015-12-08T00:00:00Z
A very welcoming host and wife in a beautiful home in lovely surroundings. Michael made a superb breakfast.
Norma
2016-02-16T00:00:00Z
Room Type
Private room
---
Property Type
Bed & Breakfast
---
Accommodates
2
---
Bedrooms
Arrowtown, Otago, New Zealand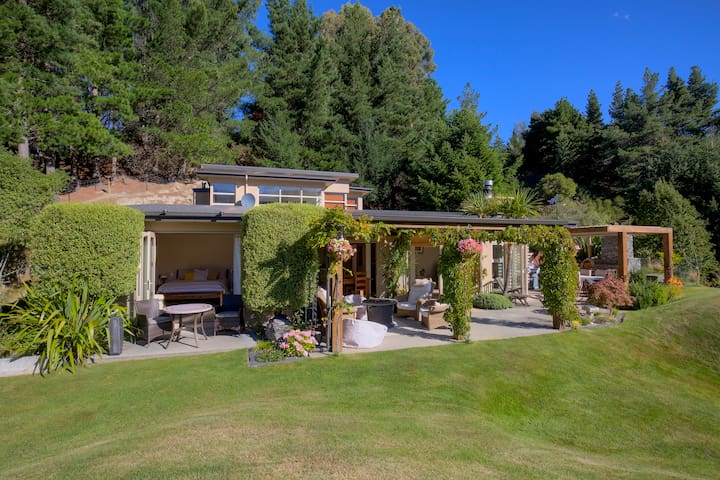 Closeburn - Airbnb
:
Average

4.91

out of

5

stars from

1190

guest reviews
Enter dates to see the total trip price including additional fees (but excluding any taxes).