We have this empty room where you can sleep a day or two with the intimacy you deserve.
Room Type
Private room
---
Property Type
House
---
Accommodates
2
---
Bedrooms
Ciudad Nezahualcóyotl, Edomex, Mexico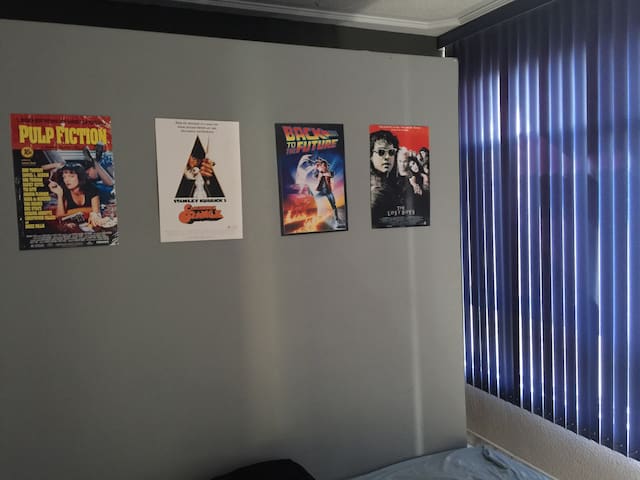 Small room in a late 1940's apartment in the heart of Mexico City. It's a few blocks from Bellas Artes (Palace of Fine Arts) and walking distance from Zócalo (historic main square), with several public transport nearby and great to move to other parts of the city.
Its a room with an individual bed and a desk. Enough to rest and get confortable. The apartment is a third floor and there's no elevator. On the street are a few gay bars, on weekend nights the street get's very busy. the building has a problem of german cockroaches (the small ones) and often you can see them at night in the kitchen. I fumigate regularly, clean the kitchen on a daily basis, and once a week someone comes over to make an in-depth cleaning. The amount of bugs is not excessive but you should have it in consideration.
I'ts a neighborhood with a lot of movement, people, history, museums and nightlife. Nearby are restaurants, coffee shops, markets, etc. It's a naturally chaotic neighborhood because of it's political, cultural, commercial and touristic importance.
I made huge mistake,I stay only 2 nights in Mexico city! City is amazing,and Diego was really great host! Thank you,and see you soon amigo! :)
Aleksandar
2016-10-20T00:00:00Z
Diego was friendly and accommodating! My bus schedule changed constantly but he was so friendly so I am grateful :-). Nice location with easy access to metro or to center on foot. Stylish flat and well-equipped room. Thank you !!!!
Ling
2016-07-19T00:00:00Z
He's very nice. The position of the apartment is very close to the subway station, it's very easy to get anywhere you want.
Yi
2016-04-25T00:00:00Z
Right down town. Diegos pad is beautifully laid out and he even gave me a towel despite not being there more than about 12 hours. Great guy.
Lenhardt
2016-11-23T00:00:00Z
Great location in the city center. The apartment looked like it does in the photos. Diego was a good host, speaks very good English, and was nice enough to show me around some.
Eric
2016-02-18T00:00:00Z
My stay in Diego's place was perfect! His apartment is beautiful, clean and in the city center. Everything is close. Diego is a wonderfull person, very helpdull and friendy. Gracias Diego por todo!
Anna
2016-06-02T00:00:00Z
I couldn't have wished for a better introduction to Mexico City. Diego is an amazing host (he will go out of his way to make sure you feel right at home and even took me out for my first Mexican brekkie after I arrived at his place). The apartment is gorgeous and deserves a spot in any interior design magazine. It is also very conveniently located as it is close to all the main attractions. If I ever were to come back to Mexico City, I'd be sure to check if Diego has availability, gold star stay!
Pauline
2016-10-07T00:00:00Z
Good value. The apartment is located in the central, very close to subway station and various tourist attractions, also surrounded by many fantastic restaurants. Diego stays at home most of time, thus it is convenience to check in. Also Diego is a really nice person, and gave me a lot suggestions.
Wang
2016-07-11T00:00:00Z
Room Type
Private room
---
Property Type
Apartment
---
Accommodates
1
---
Bedrooms
Ejido del Centro, Distrito Federal, Mexico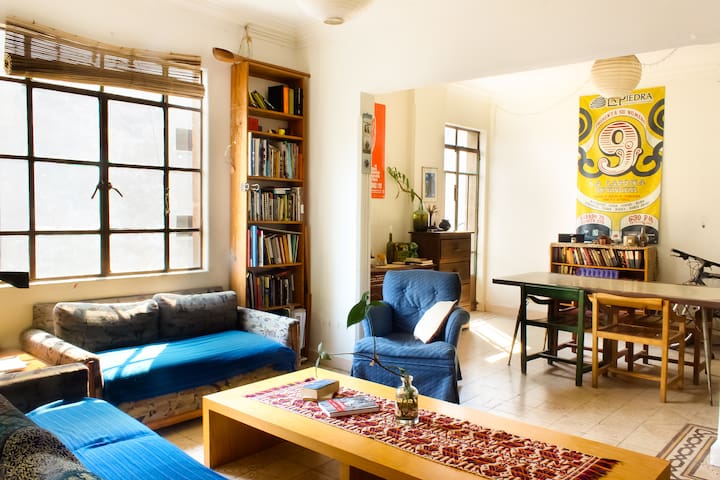 Places of interest: Good location, close to Reforma, Insurgentes and Centro. Access to public transport, quiet and safe. You will love my space, it is cozy, beautiful light, tasty food and good vibe. My place is good for adventurers and pets.
We are a couple of cooks and chocolate makers with an extra room. Accommodation includes breakfast and we can gladly recommend good food places around the city. We want to provide an experience like home, a cozy and pleasant place.
It is a family neighborhood, with several food places nearby, we are a walking distance of Reforma Avenue, Castillo de Chapultepec and Zona Rosa.
Angel and Mariana were great hosts and instantly became great friends. The place is great for a solo traveler and has great energy. I enjoyed the time with the hosts and their multicultural friends. I did a learn how chocolate is made and tried a few samples too. Mariana and Angel are down to earth couple and I wish them all the best for their future endeavors:)
Phaneendra
2017-03-11T00:00:00Z
Mariana and Angel were such a breath of fresh air! Their home is in a quaint area of San Rafael, away from the loudness of the main avenues of the city, but close enough to the metro station, metro bus, and a short walk to El Monumento de Revolucion. They were the most hospitable, helpful, and down to earth hosts I have had the pleasure to stay with so far. I was lucky to enjoy two incredible home made breakfasts (they are chef/chocolatiers) and great conversation. They even shared a special sample of some of their delicious chocalte and jams. I most highly suggest staying with this lovely couple and to have them cook for you! I will definetly return once in Mexico City again. Muchas muchas gracias a ustedes!
stephany
2017-02-25T00:00:00Z
The host canceled this reservation 7 days before arrival. This is an automated posting.
Ines
2017-03-09T00:00:00Z
Angel and Mariana are phenomenal hosts. I highly recommend staying with them during your stay in CDMX. The neighborhood is surrounded by some of the city's most vibrant neighborhoods and is very walkable. The hosts will likely treat you to their signature dishes and will try their best to accommodate your needs. They are very flexible and attentive. I will surely contact them again whenever I'm in town.
Miguel
2017-04-10T00:00:00Z
Excelente, lugar, excelente trato, excelentes desayunos
Joel
2017-03-15T00:00:00Z
Una experiencia de viaje, veraz y acorde a la realidad. Limpio, te da tu espacio y desayuno!!!!
Joel
2017-03-05T00:00:00Z
Totalmente recomendable! Angel y Mariana fueron unos excelentes anfitriones con una vibra muy agradable, el lugar esta súper limpio y cómodo, pude dormir excelente y ambos me ayudaron en todo momento.
Paola
2017-04-11T00:00:00Z
Room Type
Private room
---
Property Type
Apartment
---
Accommodates
1
---
Bedrooms
Ciudad de México, Ciudad de México, Mexico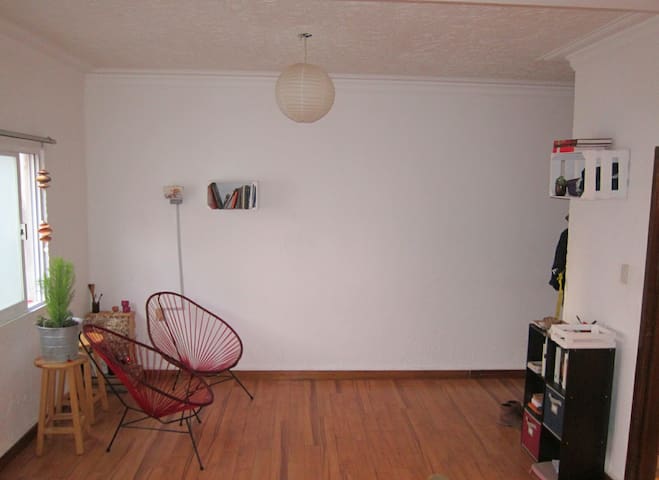 Cozy, comfortable and centrally located apartment suite has a small living room, bedroom with king size bed and bathroom. It has TV, refrigerator, microwave and coffee maker. It is located in a completely separate first floor with its own entrance. Distances: 10 minutes Airport, Foro Sol and Autodromo, 5 minutes from Plaza Delta, 15 minutes Colonia Roma and Condesa Access to expressways and public transportation Very bright and all amenities like shops, supermarket and laundry nearby.
completely private and independent department. Modern, bright and very comfortable. With all services for business trips and leisure. The location is the most central in the City of Mexico and with great proximity to the airport. road and transport access to any part of the city.
quiet, very central with access to fast roads, public transport, shops, services place.
Room Type
Entire home/apt
---
Property Type
Condominium
---
Accommodates
2
---
Bedrooms
Ciudad de México, CDMX, Mexico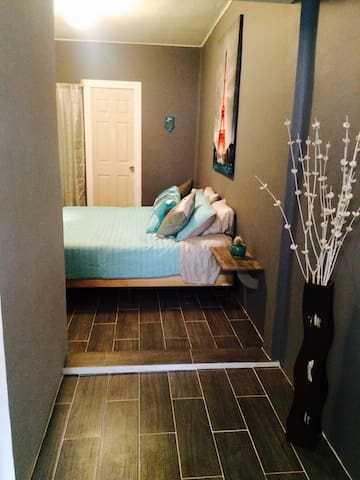 Comfortable apartment, naturally iluminated and full equipped, with a beautifull private cover terrace, in the corner of one of the main avenues on downtown, a few minutes from the zocalo The location balance the closeness to the principal square, the main turistic attractions, restaurants, museums and traditional places, with the peace of a traditional zone surrounded by transportation and safety.
The apartment has its own private terrace and a privilege location inside the building: it is in the front side and there are no neighbors up, besides it has a ope space from where you can see the traditional Ciudadela square, (a park in which people get together outdoors every Saturday to dance "danzon", a traditional latin rhythm). A few steps from here you can find the Ciudadela crafts market, which is the main of its kind, here you can see and buy crafts from every state of the country.
The location is in downtown, in front of the traditional Ciudadela square, (a park in which people get together outdoors every Saturday to dance "danzon", a traditional latin rhythm), the Library of Mexico and the Ciudadela crafts market, which is the main of its kind, here you can see and buy crafts from every state of the country. This is a housing area in the downtown, near the turistic zone, just walk five blocks to be there: Twoo blocks away is the famous San Juan market, in which you can buy gourmet and exotic food and enjoy some prehispanic products, as maguey worms, for example. Walk a little more and and you will find the China town, the Central Alameda square and the Palace of Fine Arts, one of the main turistic attractions. Walking ten minutes more in the turistic Madero street (full of stores, restaurants, and coffe shops), you will arrive to the Zocalo. For your personal needs, there are lots of grocery stores around, even, the building has a grocery store in the low level; the supermarket is three blocks from here, as well as bakery, drugstores and banks (4 of them into two blocks around); also the Balderas subway station and "metrobus" station that can lead you to the Zocalo square if you don't want to walk
Everything was very nice, especially the terrace, there was a lot of maps and notes for us to help explore. The only thing we weren't happy about is that the host didn't had a lot interest about our arrival or checking out.
Kristina
2017-01-17T00:00:00Z
this place is great for a couple. the bed was good to sleep in, a good shower, good kitchen, great terrace. very clean and practical with just the basic anemities. books on mexico and well explained guides. ana lilia has even made a short guide book! it's a very well organized airbnb place. ana lilia puts lots of efforts to make your stay comfortable and easy. she responds immediately to questions and is very friendly. there is enough utensils in the kitchen to cook basic meals and she has a toaster and close by is a great market. I would definitely book her place again.
Silvana
2016-07-27T00:00:00Z
Amazing as usual. Another great stay at ana's apartment. Great host.
Jose
2016-10-02T00:00:00Z
Ana left lots of great tips and advice in the apartment. She sent very useful directions for a taxi from the airport. Like others said, getting in/out of the apt was easy with the doorman and concierge. The balcony was a nice place to relax at night.
Justin
2017-01-01T00:00:00Z
This apartment is beautiful and in a great location. It's walking distance to Palacio de Bellas Artes and Zocalo. The library in the Ciudadela is worth checking out. There is a doorman at the building and they are always very helpful. The area felt very safe. The apartment has a nice balcony great for relaxing drinking wine or coffee. We had a great time there.
Marisela
2017-03-26T00:00:00Z
I had a wonderful time at Ana's (URL HIDDEN) was honestly located at a great area..away from alot of foot traffic but less than five minutes from the scenic (URL HIDDEN) well the metro.The rooms were great as well the private terrace/private access to the roof top.The doorman were very friendly and made me feel safe.I highly recommend this place. Ana was a great host and was always available.Thank you Ana. I would stay here again..hands down.
Jose
2015-11-23T00:00:00Z
Ana Lilia was not able to meet in person because of her work schedule but through texting and email was a very welcoming host. She thoughtfully included directions written in Spanish for the airport taxi driver. She answered all questions and had the building staff take of any of my requests. Her apartment was well-equipped and has written directions and helpful hints in each room. There was a booklet giving suggestions of what to do in Mexico and helpful maps of services in the neighborhood.
Jerry
2016-05-27T00:00:00Z
What a great host and a wonderful little apartment. The terrace was great, and the location very central and convenient. A secure building with 24/7 front door staff. Would recommend!
Paul
2016-02-29T00:00:00Z
Room Type
Entire home/apt
---
Property Type
Apartment
---
Accommodates
2
---
Bedrooms
Ciudad de México, Distrito Federal, Mexico
It is a very spacious apartment with plenty of natural light, it has a long balcony to relax, meditate, have a beer or glass of wine or just chill; there are many transportation facilities and food places nearby. It is a quiet apartment, with good atmosphere and without restrictions of use nor schedule.
The atmosphere in the apartment is relaxed and pleasant. We like to meet people and share travel and life experiences. We love coffee, whiskey, wine, beer and good food. We have a guitar with which we share pleasant and philosophical moments; there are books, movies, video games and a good selection of HD sports channels and more.
There are a variety of restaurants and cafes in the area. There are places of "comida corrida", Gyros, tacos of many types, hamburgers, Italian restaurants, barbecue, Mexican antojitos, Venezuelan arepas, artisan ice cream and many more. Parque Delta shopping center is a 10-minute walk away and there is also a park with a jogging track and dance lessons in the evenings.
Had a very nice stay, welcoming and nice people to share your weekend with!
Jeroen
2017-02-27T00:00:00Z
It was really great house compared to price. The hosts are very kind, friendly and they helped us for everything.
Pınar
2017-03-14T00:00:00Z
great clean room with balcony! great for budget traveling! there are many restaurants nearby and public transportation is convenient.
Eloise
2017-03-16T00:00:00Z
Luis and his roommates are awesome, helpful and respectful. The apartment is well located: it is close to downtown, the bar/nightclub neighborhoods and the airport. It is also close to the subway and metrobus station. If you ask Luis in advance, he will be eager to join you to the tourist areas or to go get a beer. It is always awesome when a local joins you. 10/10 would stay there again.
Carlos
2017-04-11T00:00:00Z
¡Un gran anfitrión! A pesar de haber acordado una hora de llegada, estuvo abierto a recibirnos mucho antes con una actitud siempre propositiva. La estancia en el lugar se mantuvo sin invasiones y respetuosa. Algunos problemas con la salida de agua caliente durante el primer día de alojamiento, pero comunicándonos se resolvió.
Mariana
2017-03-28T00:00:00Z
Javier es muy atento en todo momento
Raz
2017-03-25T00:00:00Z
Todo bien, es un lugar muy bonito, casi no estuve pero son muy accesibles, lo recomiendo.
Michelle
2017-04-02T00:00:00Z
Excelente servicio y muy tranquilo el ambiente.
Fer
2017-02-22T00:00:00Z
Room Type
Private room
---
Property Type
Apartment
---
Accommodates
3
---
Bedrooms
Ciudad de México, Ciudad de México, Mexico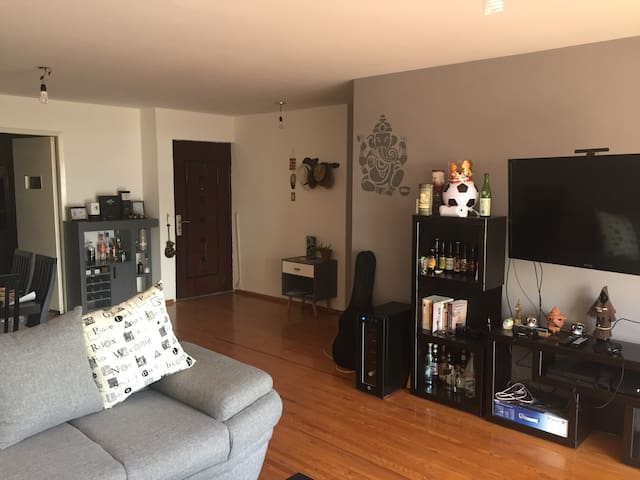 Free Wifi! Brand new apartment/studio has the BEST location possible in the historic center of Mexico City. Metro/underground lines are only 3 minutes walking. Nearby to CONDESA,Roma and Airport. 2 Restaurants , 1 ATM and bank on site.
Please feel free to check out my other listings in the same building :) The location is simply Amazing. Main avenue so it is super safe. The metro lines are only one block away. Close to great restaurants (there's a samborns restaurant in the First floor.) -Across the Street: Alameda Central -Next door: Museo de Memoria y tolerancia. - 5 mins walk from REFORMA AVENUE, one of the landmarks in Mexico city. -Next to the Hilton Hotel and the Ministry of Foreign Affairs. Most major monuments are walking distance. ACTIVITIES (ON SITE AND NEARBY) -RESTAURANTS: A variety of restaurants , including the famours Sanborn's "CASA DE LOS AZULEJOS", where Pancho Villa and Emiliano Zapata once sat nicely side by side and had breakfast: we can only guess what they talked about. -SHOPPING: jewelries, antiques, libraries. Department stores: Palacio de Hierro, Sears and Liverpool. -BIKE RENTAL at ALAMEDA CENTRAL (right in front of the building). Sunday mornings the area closes to car circulation until 2pm, so people can take to the streets on their bikes. -ENTERTAINMENT: Live Theatre, Cinemas, ARENA COLISEO (Famous wrestling theater). Palacio de Bellas Artes, Museo Nacional de Arte, Museo de Estanquillo... Impossible to list them all. This is the city with the MOST museums in the WORLD!!! Murals by Diego Rivera in the Ministry of Education. MORE ATTRACTIONS: Palacio de Bellas Artes. Ángel de la Independencia. El Zócalo. Museo del Templo Mayor. Museo de Frida Kahlo y Diego Rivera. Museo de Antropología. Castillo de Chapultepec. Parque de Chapultepec. Torre Latinoamericana. La condesa. Avenida Presidente Mazarik. As we say in Mexico: "Mi casa es su casa" (My home is your home), so relax, feel at home and enjoy your stay. I am an email away for any question you may have.
This is really the heart of the city. It's the only apartament complex in the Juárez avenue. It's simply Amazing to go out and have everything close to you.
i recommend this place it's right in the central of the Mexico City. Close to every places which were suggested online. The host is reliable and takes care of our check in and the security guard on the lobby is friendly! Cute and clean place, we love the studio during we stay and lots of polices around the downtown area. Nearby has many restaurants and also Hilton just two minutes walk! Good place and nice host!
Quincy
2016-05-14T00:00:00Z
Overall very good experience! Very nice location and good amenities. We even took opportunity and used gym in the basement. I recommend this place. The only concern is that it is hard to adjust temperature of the water in the shower it is either too hot or cold.
Serg
2016-04-28T00:00:00Z
The location of the apparent was perfect and the view amazing. More then what we expected we felt right at home.
Bianca
2016-08-20T00:00:00Z
My mother and I stayed in this apartment. The location was magnificent. Within a five minute walk to the Palacio de las Bellas Artes and a 15 minute walk to the Zocalo. I LOVED LOVED LOVED the location. It was a very lively and happening area. Please note that the shower is either really hot or really cold but we dealt with it. Also, the apartment is right on the street so it can be quite noisy on Friday and Saturday night, however, there is so much to do that you really should not be spending your Friday and Saturday night in the apartment. The apartment is modern and has all necessary kitchen amenities. Really close to 7Eleven and supermarket where you can buy your coffee, bread, and snacks.
Nina
2016-10-23T00:00:00Z
My fiancé and I had the BEST time in Carlos's apartment! The location is nothing short of perfect and the view is breathtaking! If you can try and stay here. Carlos was very responsive to our needs and did his best to make us feel at home. The place was immaculately clean and the towels and linens were fresh. The downstairs security was also a plus. So many great nearby restaurants and cafes. We would definitely go back in a heartbeat. The only thing that was a bit of a drawback was the water in the shower. After I had mentioned to Carlos about the pressure and temperature he told us that the whole building was experiencing piping issues. Obviously it wasn't impossible to take a shower but the water was either scalding or frigid. After a long day out and about, we would have liked to take a nice shower.
Karla
2016-07-26T00:00:00Z
The best location. Nice and clean apartment with an incredible view. Equipped kitchen. It's a great option to stay in. La mejor ubicación! Es una gran opción para alojarse.
Rosa
2016-12-02T00:00:00Z
Very nice apartment, on the edge of Alameda Central, centrally located, great views. Park looks great with trees blooming purple flowers!
Todd
2017-03-19T00:00:00Z
Carlos' place was the perfect location, very comfortable and beautiful. We loved the apartment and the views. We were able to see everything in Centro by walking. The Tourbus pick up is right in front of the building as well. We will definitely return!
Patricia
2016-12-29T00:00:00Z
Room Type
Entire home/apt
---
Property Type
Apartment
---
Accommodates
4
---
Bedrooms
Ciudad de México, D.F., Mexico
Fully renovated apartment with private terrace located in the best area of the city centre. All the rooms in the apartment are connected through a great glass-house-like corridor, which also hosts the stairs to a completely private terrace. The property is located just meters away from Regina Street, one of the most vibrant streets in the area.
Salvadors Apartment is absolutely beautiful! He really has an eye for interior design. The communication was quick and uncomplicated. Check in and check out was very easy. Salvador even let us stay a bit longer, because our plane left in the evening. We loved the rooftop! At night it was a bit louder since it was the weekend and the streets were buisy. We had some problems with the boiler and the hot water, but Salvador was super helpful! We can only recommend staying at Salvadors Apartment! Cheers and hopefully see you again one day.
Zoe
2017-04-09T00:00:00Z
EXCELENTE LUGAR
Paulina
2017-04-02T00:00:00Z
Room Type
Entire home/apt
---
Property Type
Apartment
---
Accommodates
2
---
Bedrooms
Centro, Ciudad de México, Mexico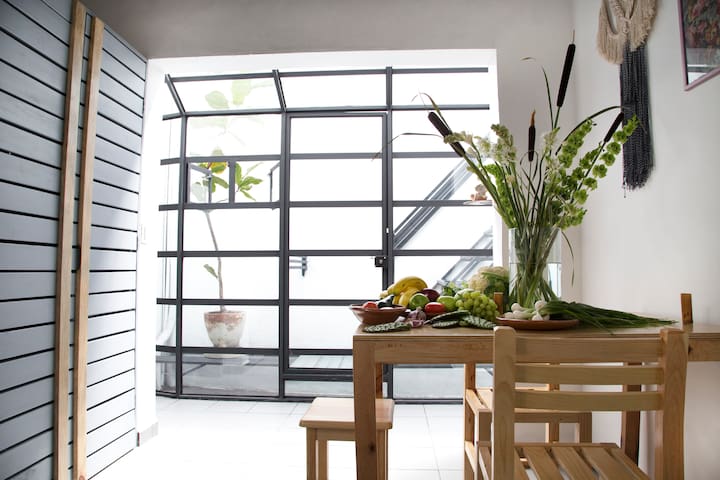 It is located three blocks from the Zocalo of México.Lugares of interest: museums, churches, markets, historic districts, nightlife, public transport metro and metrobus two blocks from the airport. You'll love my place because of the atmosphere, the neighborhood and the comfort of the bed. My accommodation is good for couples, adventurers and business travelers.
It is located within the polygon 1 Historic center of Mexico City, where places are nearby; direct the Zocalo (Cathedral and Sagrario Metropolitano) street from the Holy Trinity Church, two blocks north Square Lotero and Church, an Academy of San Carlos, Museo Jose Luis Cuevas, National Palace, museums street, south restaurant , bars etc
Leslie and her mother are fine hosts and her little girl is sweet and quiet . The apartment is right in the historic center but as it is set back in the building there is no street noise . Nice . Recommended !
David
2017-03-06T00:00:00Z
The locations is great, just several minutes away from the famous square and cathedral. We didn't meet Leslie in person and his friend hosted us, she is very helpful and provided us all the information we need. We enjoyed our stay.
YINGZI
2017-01-01T00:00:00Z
Leslie's house locates near Zocalo, which takes about 15mins on foot. Best location to travel around Zocalo! Her house is clean and she does her best to make me feel comfortable in her house.
Boryoung
2016-09-16T00:00:00Z
Leslie's a nice host She and her family are lovely people.
Simone
2017-02-15T00:00:00Z
Leslie is a wonderful host and is very helpful in answering any of your questions. The apartment is centrally located (about a 10 minute walk from the Zocalo). She even woke up at 5 in the morning to call us an uber and made sure we got to the airport! If you want to stay in a place that is close to the city center while having an authentic experience, then contact Leslie to stay at her place!
Garrett
2016-12-23T00:00:00Z
Excellent stay with Leslie and her little one year old baby. They made me feel very welcome and Leslie was happy to help with any requests that I had. Room was simple but everything that I needed. Quiet area and was able to get some good sleep every night. Overall this was a great stay! Highly recommend this place
Matt
2016-10-25T00:00:00Z
Leslie was very helpful and she gave me some productive suggestions about my travel in Mexico City. Her place is very near to the history center which makes it easy to go around the city. Even though I don't speak a lot of Spanish, we managed to communicate with each other smoothly by using (SENSITIVE CONTENTS HIDDEN) translate. Thanks for hosting me! Wish you all the best!
Steven
2017-03-15T00:00:00Z
it's a big house,which make us feel comfortable n relaxed.Leslie live with 3 persons.Her little baby,her mother n her friend.we talk to each other just like old friend.
振伟
2016-09-02T00:00:00Z
Room Type
Private room
---
Property Type
Apartment
---
Accommodates
2
---
Bedrooms
Ciudad de México, Distrito Federal, Mexico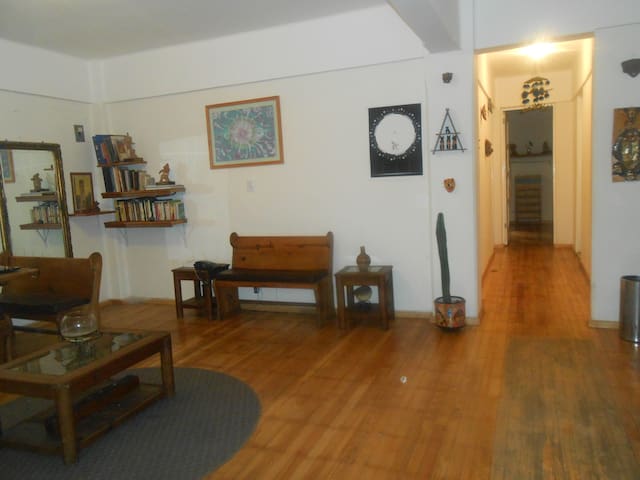 Cosy and luminous flat with two patios, in the heart of Roma Norte. The flat is very silent and has two beautiful patios. All the common areas can be used at any time, and we would be glad to help you with anything during your stay.
The flat has two very luminous and quiet patios, a cosy living room, dining room, big kitchen, bathroom and two bedrooms. It is recently renovated. It is very quite, luminous and safe.
The flat is located in the heart of Roma Norte, one of the coolest and safest districts in the city. It is the most animated district in Mexico City, with lots of cultural events in every corner. Everything is quite Green for being in the city, with parks only 5min away walking. In 10minutes walking you can reach Condesa and Juárez.
Monica is an excellent host. The room was clean, cozy and warm with a friendly and welcoming ambiance. Very lovely decorated as well. Would highly recommend
Chloé
2016-12-17T00:00:00Z
This was the best Airbnb I've ever stayed in. Not only was the apartment beautiful, comfortable and well located, Monica and Manuel made me feel like family. They have great recommendations for what to do and where to eat and are really fun to spend time with. I would definitely stay here again! Esta casa fue mi Airbnb favorita! El apartamento era muy bonito, cómodo y bien ubicado y Mónica y Manuel me trataba como familia. Tienen muchas buenas recomendaciones para comida y que debes hacer y son muy divertidos. Es muy fácil pasar tiempo con ellos como si fueron amigos antiguos. Me quedaría aquí otra vez!
Leila
2017-02-20T00:00:00Z
Great value for the location. Monica and Manuel are super helpful.
Elizabeth
2017-03-09T00:00:00Z
Gorgeous space with wonderful vibes! The hosts are so very kind and helpful. Highest recommendation!
Juliana
2017-03-31T00:00:00Z
The space was great and they're some of the nicest and most friendly people you'll meet
Ray
2017-01-22T00:00:00Z
very beautiful appartment in a nice area, sourrounded by little restaurants and good access to public transport. communication was perfect and the couple is very friendly and helpful. Defintely can recommend to stay here!
Steffen
2017-01-23T00:00:00Z
Great people who were very open and welcoming. The neighborhood is wonderful and easy to get lots of places. The room is plain but meets all your needs. The home is beautifully decorated and super clean. Would absolutely stay here again!
Kimber
2017-03-18T00:00:00Z
Monica and Manuels apartment is just lovely, very good value for money and in a perfect location. They were so helpful and friendly, we will most definitely visit again if we are Mexico City.
Lucy
2017-04-11T00:00:00Z
Room Type
Private room
---
Property Type
Apartment
---
Accommodates
2
---
Bedrooms
Ciudad de México, Ciudad de México, Mexico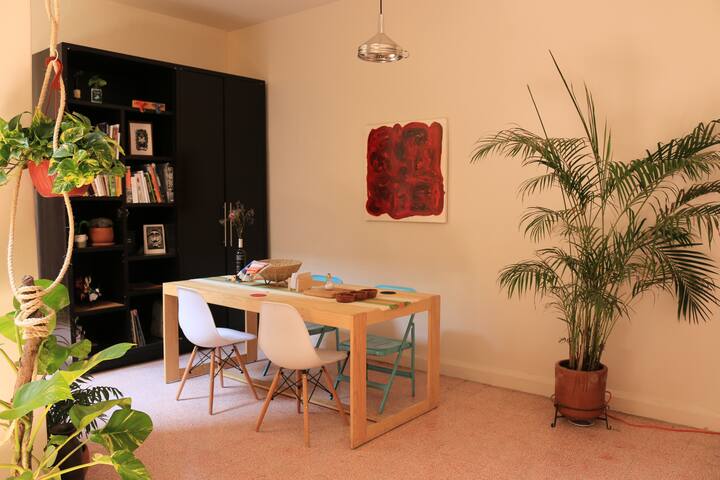 Downtown, several transport options, museums, restaurants, cafeterias, traditional and historic places, night life. It is a lovely place in the downtown, with a very comfortable new bed, the space is cozy, well illuminated. My accommodation is good for visitors, business travelers, adventurers or even couples.
The apartment is part of a fully 40's-50's functionalist building, so roofs are high and rooms spacious. Decoration is eclectic with some art déco, neo victorian and minimalist elements. For me is important ground coffe and tea, and it is a pleasure to share.
In the area, there are nice squares and streets to walk, cafeterias, bars and restaurants. Downtown offers several kinds of food, like Mexican, Asiatic, Lebanese, Italian, Peruvian and international.
Rodrigo has a lovely and convenient place very close to the "centro" and he was kind enough to show me around town on my first night there. The only word of caution I have is: this is not a place for light sleepers! The traffic just outside the window is very noisy outside, even at night. Otherwise, I had a great time.
Farah
2017-03-28T00:00:00Z
The host canceled this reservation 7 days before arrival. This is an automated posting.
ben
2016-12-31T00:00:00Z
Rodrigo is a very friendly gentleman and a good host. I recommend you stay with him because he has a lovely apartment close to the Centro histórico at a good price. He is also very knowledgeable in the history of many aspects of the city and the country.
Rigoberto
2017-03-23T00:00:00Z
Generally good and Rodrigo is very hospitable and flexible. Things are as outlined in the posting except for the noise at night - big trucks? In the middle of the night. Rodrigo says the neighbourhood is trying to do something about it. I liked the new park nearby on the way to the Pino Suárez metro.
Craig
2017-03-20T00:00:00Z
Rodrigo's place is lovely, very clean, comfortable, cozy, with nice artistic vibe/decor in the main room. Rodrigo was an amazing host, very helpful and extremely knowledgeable about the city's history, art, and literature. The location is also fantastic - within walking distance of the palace and city center. 100% would stay here again!
Anna
2017-03-04T00:00:00Z
Fine
Enrique
2016-12-18T00:00:00Z
Rodrigo es muy buen anfitrión. Su departamento está muy bien ubicado, y él lo mantiene muy limpio y amoblado con buen gusto. Habitación espaciosa, ventilada y luminosa. Lo recomiendo sin dudas.
Gonzalo
2017-03-16T00:00:00Z
房东很友好,地方也比较容易找到。
meng
2016-12-30T00:00:00Z
Room Type
Private room
---
Property Type
Apartment
---
Accommodates
1
---
Bedrooms
Ciudad de México, Ciudad de México, Mexico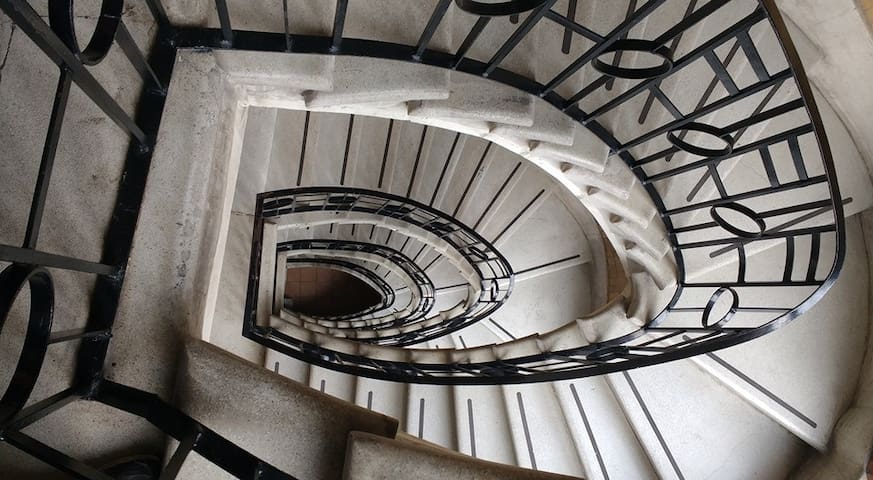 Nuestro departamento es sencillo y funcional con ubicación inmejorablemente a 5 min de la Catedral 10 min Palacio de Bellas Artes . Excelente lugar para descubrir el corazón de la ciudad de México.
MI ALOJAMIENTO TIENE UNA UBICACION INMEJORABLE ,ES CONFORTABLE ,LIMPIO , ECONÓMICO Y HAREMOS TODO LO POSIBLE PARA QUE TU ESTANCIA SEA MEMORABLE
El centro histórico es uno de los mejores lugares para iniciar el descubrimiento de la ciudad nuestro hospedaje esta a 3 calles de la Catedral ,de diversos museos , restaurantes , teatros y muy bien conectado con el aeropuerto , metro bus y 4 líneas de metro que permitirá acceder con facilidad a las principales atracciones de la ciudad.
Ezequiel is a very personable and gracious host.
James
2016-09-26T00:00:00Z
Ezequiel is very friendly and tries to accommodate your needs. The location is insanely central, couldn't get more central.
Kim
2016-09-05T00:00:00Z
Good location for the center. Accommodation a little spartan which would suit backpackers to a T. No towels provided.
Patricia
2017-01-25T00:00:00Z
No complaints! The reviews are very accurate. It was my first airbnb experience and Ezequiel did a fantastic job. Everything necessary for our trip was made available and I really appreciated the efforts made to make the necessary arrangements to meet with us after the indicated check-in time. All in all, I would recommend this to a friend looking for something nice, clean, quiet and in the center of town.
Glenn
2016-12-11T00:00:00Z
It was ok, the room is clean, everyone was nice, and due to my lack of spanish, everyone I encountered was patient. This was my first airbnb experience, so I didn't have any expectations, so I will assume everything I encountered was fairly normal.
Marcellus
2017-02-13T00:00:00Z
It's a nice place in the middle of all the Market's and buildings .. its the place to be !
Ismail
2017-04-06T00:00:00Z
Great place in a great location. Ezequiel was super friendly and told us everything we needed about the neighbourhood. Would recommend this place if you want to be in the mix of it all in the Centro Historico.
James
2016-12-15T00:00:00Z
It was clean, in a centric place and good for the price. The host was super friendly and he showed us some good place to go out in CDMX.
Abel
2016-08-29T00:00:00Z
Room Type
Private room
---
Property Type
Apartment
---
Accommodates
2
---
Bedrooms
Centro de la ciudad de México, Ciudad de México, Mexico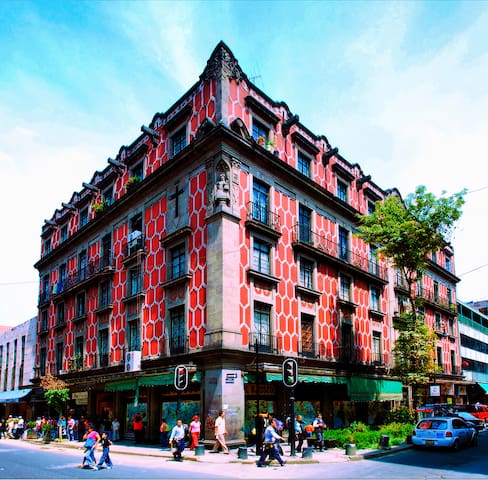 Room Type
Private room
---
Property Type
Apartment
---
Accommodates
2
---
Bedrooms
Ciudad de México, Ciudad de México, Mexico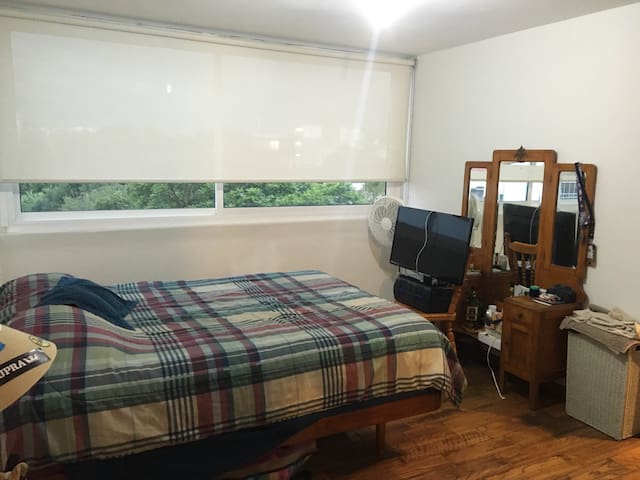 Only 5 minutes away from "Centro Histórico". One block away from metro and from the main and most beautiful avenue in the city "Paseo de la Reforma". Easy access to all public transportation to go anywhere. You will love my place because of its central location, security and vigilance on the building, very close to main touristic areas. It is a comfortable and respectful place. My space is good for couples , adventurers and business travelers.
Private room with 1 SINGLE BED, there's no problem if 2 PERSONS sleep in the same bed, or we can provide an extra inflatable mattress. We live in a comfortable and beautiful apartment right in down town with a great mobility, just few minutes away from main touristic areas. 1 block away Paseo de la Reforma avenue, 5 minutes away from Zócalo and Bellas Artes, 15 min away from Ángel de la Independencia and Monumento a la Revolución, 20 min away from Roma, Condesa and Polanco, 5 min away from Forum shopping mall. Everything to few metro stations away.
Excellently located and well communicated. The neighborhood is one of the most historic areas of the city. You can find available all kind of public transportation. You will find from big shopping malls with cinemas, ice skating, gym, etc. even traditional markets with a full variety of typical food.
Clean, tidy, organized and thought out room for a brief night in mexico city. Warm and inviting couple. Close to transportation. Love that they are so cultured with mexico!
April
2016-09-15T00:00:00Z
I had an excellent time with Charly and Jesus in their very neat and tidy flat near the historic centre. They got me settled in and showed me around the neighbourhood. Really useful when it came to local knowledge for trips out, and also great fun to watch TV with when I stayed in. Absolute bargain, couldn't have asked for more.
Angus
2016-09-22T00:00:00Z
The guys were great, I really enjoyed my stay, very comfortable and super clean! Would def come back!
Erick
2017-04-06T00:00:00Z
I use Airbnb quiet often but this was my one of the best stay. Charlie and Jesus are so much helpful. They started contacting me on (SENSITIVE CONTENTS HIDDEN) just after booking and did everything till the check out. The room is really nice and cozy. They had already arranged every thing for me in the room: City Maps, Discount vouchers, water bottle, Shampoo and Soap. Moreover they have decorated their house so artistically that you will love it. The Appartment is only 2minute walk from Metro station "Garibaldi". Thanks guys for helping and guiding to visit your city.
Bilal
2016-10-15T00:00:00Z
Jesus and Charly were excellent hosts! They were friendly, helpful and welcoming the entire week of my stay and made me feel entirely at home. My flight arrived late at night, but they were kind enough to let me check in at that late hour, and provided good directions to their apartment. When I arrived I found they had provided maps and entertainment guides for the city, and even bottles of water! The room is clean and comfortable as advertised, and all the amenities function as listed, including the wifi. The location is close to the center of downtown, and convenient to many sites. The only drawback, which is not mentioned in the description, is that the street outside the building is frequented by prostitutes and some homeless people. I was not harmed or bothered by anyone near the building during my time there, and if you do not mind walking by these people on the street, you have nothing to worry about. The neighborhood is safe during the day, until perhaps 9-10 at night. After this, you will either need to take a cab, or just stay in at night, as I did. Within two blocks are an internet cafe, a bakery, and street food vendors. Overall this is an excellent place and I very much enjoyed staying there and getting to know Jesus and Charly. They are good, experienced hosts, and you can trust them to help if you need anything.
Eric
2016-08-12T00:00:00Z
Great location, great guys, great time!
Canyon
2017-03-12T00:00:00Z
Both Jesus and Charly are very friendly and helpful ,Charly come back home from his work to pick me up ,which made me feel like home warming .,and the house is cleaning ,you can enjoy a peaceful night here
怡君
2017-03-28T00:00:00Z
Jesús and Charly were fantastic hosts. The room was very clean and the bed was really comfortable. I was only at their place for a short amount of time but it was really nice to talk to them both. Thank you for having me in Mexico City!!!
Ronald
2017-04-11T00:00:00Z
Room Type
Private room
---
Property Type
Apartment
---
Accommodates
2
---
Bedrooms
Mexico City, Mexico City, Mexico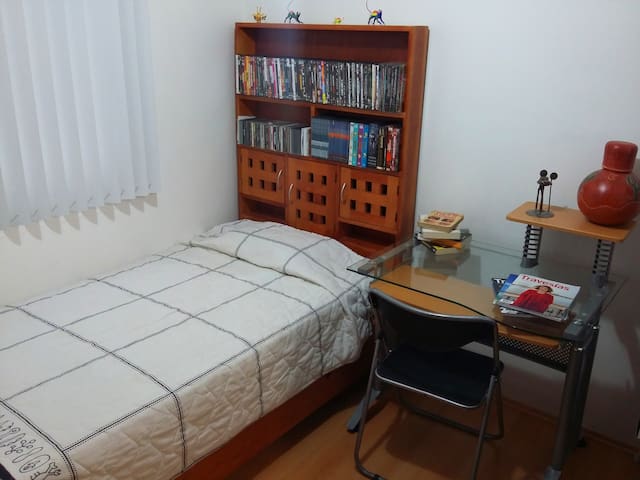 Great place to visit Mexico City, walking distance to metro and metrobus public transportation, museums, galleries and the coolest restaurants and bars in town!!
We have a lovely appartment right in the heart of Roma Norte. It is very spacious and illuminated. Your room is completely private and comfortable. You will have access to our kitchen, with everything you need from utensils to space in our fridge. We also have a washing machine if you need to wash your clothes before you continue your trip.
La Roma is such a great neighborhood! Just around the corner there is a great cafe called Delirio, with great great breakfast, bread, etc. There´s also a grocery store, drug store and convience store in walking distance. If you want to go out at night, 5 min away (walking) you will find all the bars/clubs that are trending. La Roma is full with great places to go out.
I had a great experience staying with Isa and Bere! The room and the apartment are comfortable and clean, and the place is very well-located. I would stay here again, highly recommended! Tuve muy buena experiencia en el departamento de Isa y Bere. El cuarto y el departamento están bien cómodos y limpios, y está ubicado en un lugar céntrico de la ciudad. Me quedaría allí otra vez, lo recomiendo.
Emily
2016-06-30T00:00:00Z
Truly enjoyed our stay here! We felt very comfortable and was exactly what we needed for a 1 night stay. Didn't get a chance to meet Isabel but we met her roommate which was nice and welcoming. We took her dinner recommendations at a local taco restaurant and later headed for churros at El Morro all within a short walking distance. They also have an Oxxo on the corner which made it a quick and convenient stop for bottled drinks and snacks. Thanks for everything!
Glenda
2017-04-08T00:00:00Z
Best location in city. Great people. Beautiful home. So accommodating! Stop your search this is the place you want.
Jeffrey
2017-04-10T00:00:00Z
Isabel and Bere are great hosts and friendly!. They are flexible with check in and check out times which was great for me. The apartment is in a quiet part of Roma Norte with many restaurants and bars really close. The room is very well kept and clean because they have someone who cleans it everyday. I would stay again without a doubt!
leon
2016-12-11T00:00:00Z
Isabel was incredibly welcoming and made us feel like family, offering to help with anything that we needed or to make recommendations for places we wanted to go. The place is like a hidden New York brownstone with high ceilings and very good security, right in the center of a really hip neighborhood with cool restaurants and bars. Can't wait to go back!
Charles
2016-07-31T00:00:00Z
Isabel is a great host, very accommodating to check-ins, and the house is very clean. The house is centrally located with many shops and restaurants around. I would stay here again, if I return to the city!
Alexis
2016-11-14T00:00:00Z
Isabel's place is exactly what she says it is. in the hip and trendy La Roma Norte area with lots of bars and cafes around, Like she says the house is old and the bathroom lights don't always work, so if that doesn't bother you then this place is great! big house, super comfy bed, a good kitchen to use, laundry ( machine also old but works!) big TV and Isabel is super friendly and very helpful!
Alexandra
2017-02-24T00:00:00Z
Great location. Lovely hosts. Beautiful clean room with kind energy.
Santiago
2016-10-26T00:00:00Z
Room Type
Private room
---
Property Type
Apartment
---
Accommodates
2
---
Bedrooms
Ciudad de México, Distrito Federal, Mexico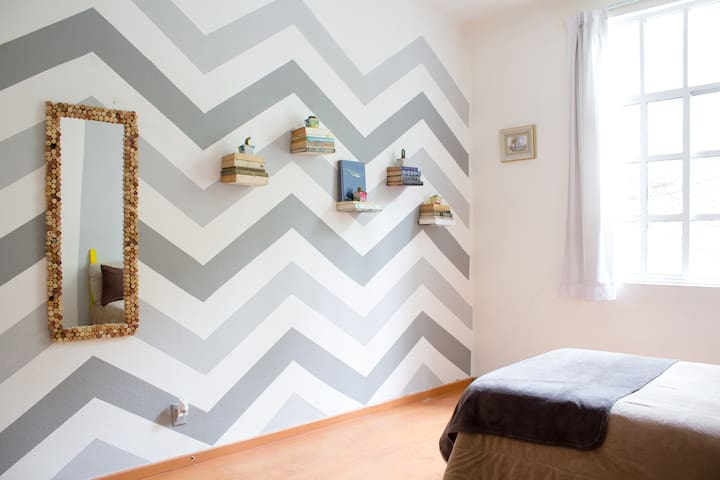 This is a private room above our apartment. It is separate from our living area, so you essentially have a mini-apartment to yourself. Private entrance, private bathroom, privacy! Located in hip Roma Sur, there's plenty around and plenty of ways to get around.
This is a room above our apartment that has been turned into a guest suite. It is entirely separate from our own living area, and has its own entrance and its own bathroom. While I didn't list "kitchen" as one of the amenities in the tick boxes, we have furnished the suite with a mini-fridge and a microwave, so you're not entirely beholden to the restaurant scene (although in Mexico City that wouldn't necessarily be a bad thing either). There's also reliable wifi (I have used it up there to video-chat with family), a fan, a universal power strip to charge your devices from whatever country, and a supply of potable water.
You'll have easy access to the rest of Roma Sur, and Roma Norte and Condesa border that. All three of which offer some of the most charming streets and the best eating and drinking in this megalopolis. Your guide book will back me up on this.
Room Type
Private room
---
Property Type
Guest suite
---
Accommodates
2
---
Bedrooms
Ciudad de México, Ciudad de México, Mexico
I have two bedrooms available in a centrally located apartment in the Roma Norte, close to metro and bus stations. My house is an art studio, filled with paintings and folk art from my travels around the world; perfect to relax at the end of the day!
My house is a working studio, in which I paint every day; it is filled with my work and with my collection of art and artifacts collected around the world.
La Roma is a great neighborhood, which is just the perfect mix of a gentrified West and Mexico. Street food is to be found on every corner (and I am happy to send you to the best stalls), as well as high-end restaurants, galleries, museums, and shopping. Its quiet, tree-lined, with beautiful late Victorian architecture and lovely fountains, statues, and squares. Its a 15 minute walk to the gay neighborhood of La Zona Rosa, 20 minutes to La Condesa,
David is a wonderful host. Prompt, clean, friendly. He provides everything you need, including atmosphere. His home is literally a gallery and we had a wonderful stay. To date, I've stayed in many AirBnB homes and its been a while since I've been made as comfortable as David made us feel. The room is beautiful and large with a bed for two, a comfy couch, and a desk to work, which was all put to use. The location is prime, truly in the heart of one of the best neighborhoods Mexico City has to offer. The price is unbeatable. Five stars.
David
2016-08-07T00:00:00Z
David, Pablo and his assistants were all very nice and helping ! We unfortunately stayed only for 1 short night but we would definitely have stayed longer if we could have ! the house his very charming, the room lovely and the art works add an unique touch to the place ! Clean, beautiful and well located ! Go for it !
Nelly
2016-08-16T00:00:00Z
Great room/place, comfortable stay with an even better host! David is inspiring, beyond kind and extremely pleasant as well as an amazing artist. The dog is a sweetheart! It was a great first time in Mexico City experience. Thank you!!! Will be back :)
Elizabeth (Betsy)
2015-10-21T00:00:00Z
I absolutely loved my stay at David's! The place in located in a great location with much to do around. The room was spacious and the decor was just lovely. Definitely considering staying here again when I return to Mexico City!
Jacqueline
2016-06-19T00:00:00Z
I loved staying here ! David was away while i was staying but his friend hosting in his place was so friendly and helpful, a great host! I felt very at home and like i could really relax.
Poppy
2016-03-08T00:00:00Z
We loved staying at David's apartment! It is beautifully decorated with art from all over the world, and his dog is an incredible sweetie. The room was very comfortable and David was a great host. Location was fantastic, you can spend days just walking around seeing interesting things and eating good food.
Saira
2016-05-16T00:00:00Z
My 2nd stay here and I enjoyed it as much as the 1st time. Everything is great! Location, Accomodation, Price, Atmosphere! David gave me another room then the one on Airbnb but it is at least as good as that one. Would come back a 3rd time for sure!
Marc
2016-07-28T00:00:00Z
David is a very lovely host, helpful and smiling :) Roma norte is a great place to be, very safe and full of nice bars and restaurants, markets and everything you might need. The house is full of art objects and David's creations, I would definetly reccommend it! Thanks David!
simona
2015-07-03T00:00:00Z
Room Type
Private room
---
Property Type
Apartment
---
Accommodates
2
---
Bedrooms
Ciudad de México, Distrito Federal, Mexico
Very beautiful downtown loft with easy access and very safe, very close to the World Trade Center. Apartment in perfect condition and very comfortable, with king size bed and terrace. It has everything needed for a business traveler or a couple.
Exclusive, very bright, with a beautiful terrace with flowers and plants. The bed is like Ritz Carlton, the mattress of very good quality, very thin sheets and down comforter European type. The immaculate white towels as the best hotels, hair dryer, wifi. Welcome Details
The Naples neighborhood is very safe, the department is located in a quiet side street. although it is very central, no noise truck two minutes from Superama listening, open 24 hours
Rosy is a Great host!, great apt! It's all Very clean and safe. I highly recommend it!
Eyal
2016-10-05T00:00:00Z
Rosy is a wonderful host, very accessible and friendly. However, the apartment is has a few problems: broken windows allow cigarette smoke and insects to enter, bed terribly soft and uncomfortable, kitchen needs coffee maker, filters and working blender.
Lance
2017-02-18T00:00:00Z
5 stars super service in evreryway!!! They made my vacation a dream vacation With super acomodations and super treatment thimbs up
Teresa
2016-08-08T00:00:00Z
We really enjoyed our stay here, the loft was beautiful, convenient and very well located in Mexico in a nice area. We were perfectly welcomed by Rosa Andrea, so kind and available to help you for anything you might need! Thank you!!
Cassandre
2016-07-20T00:00:00Z
Everthing as listed except the cigarrate odor. Wish blankets did not had dirty spots.
Jorge
2016-08-10T00:00:00Z
Great location in Mexico City
sergio
2017-02-21T00:00:00Z
Rosy is an amazing person, very receptive and willing to help. The loft is very comfortable in a quite street and nearby different restaurants, bars, bakery, supermarket, very well located. I recommend.
Marcel
2016-11-23T00:00:00Z
El Loft de Rosy esta muy bonito, la la cama inmejorable, la zona esta excelente muy bien ubicado con muchos restaurantes caminando, recomendable.
Rosalba
2016-11-21T00:00:00Z
Room Type
Entire home/apt
---
Property Type
Loft
---
Accommodates
2
---
Bedrooms
Ciudad de México, D.F., Mexico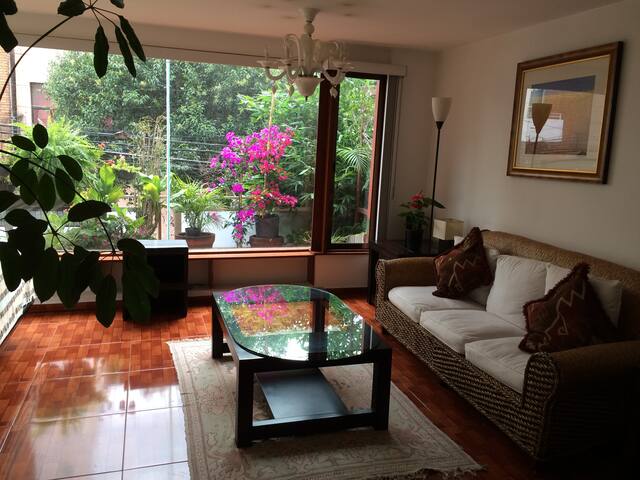 Enter dates to see the total trip price including additional fees (but excluding any taxes).