I made this house for the end of the world (Dec 2012) Is located in the middle of a private mountain above a typical Mexican Town (Piaxtla). Offer and incredible views and all the services inlcuding pool in order to make your visit great one. WiFi now The house is in the State of Puebla, not in the City of Puebla in a place called Piaxtla, Puebla 2 Hours away from Puebla City and 3,5 hours away from Mexico City
Located 2 hours away from Puebla City and 3.5 hours from Mexico City this beautiful Villa is in the middle of a mountain surrounded by a typical Little Town. Safe and isolated with breathtaking views and the ideal environment to enjoy and be with yourself. Great for families, Friends, couples or retirement events. 3 Independent Houses that can easily fit 6 to 10 people comfortably.
The house is in the middle of a property (the mountain) where you can make a lot of activities, like camping, hiking, eat typical food etc.. The best part of this Villa is that you don't have neighbords, the town is below the house. If you want to be alone and sourrounded by nature this is the place. The mountain is a private property with wildlife (deer, rabbit, fox, eagles etc...)
Ok this place was amazing as was Don Pancho (Francisco's father). We really enjoyed our time, and were BLOWN AWAY by Pancho's above-and-beyond hospitality. The property is gorgeous, with romantic settings, and comfortable resting places. But what we couldn't get over was Don Panchos' loving care for us. He had the house stocked with milk, eggs, cereal, fruit, coffee, soda, juice, etc. and made these available to us without charge. He also gave us a tour of the city and even treated us to a meal on the house. In gratitude we also treated him to a meal, and enjoyed our time together. The hike up was beautiful (and not as bad as some have suggested), there were tons of birds (I'm a birdwatcher and loved seeing orioles, hummingbirds, chachalacas, and other cool birds all around the property), and we loved the solitude on top of the hill.
Thaddeus
2015-08-15T00:00:00Z
Weekend in Piaxtla was more than special! Pancho, Francisco's father, was taking a great care of us as and showing around the town, introducing to local people, climbing everyday to the mountain to be sure that we have everything set, singing mexican songs (Pancho is a very good musician and I am sure he broke many women hearts with his songs!). It seemed that Christmas came a bit earlier this year, we were loaded with presents from Francisco and Pancho, they made us feel at home and gave us extra night for free. The village itself is very calm and clean, the market is full of goods and there is a good pizza place close it. From the mountain on which the house is situated you can see the whole village and in the horizon the highest volcanos of Mexico, the view and the atmosphere is very special there. We already miss Piaxtla and Pancho, we hope to come back there soon!
Victoria
2014-11-30T00:00:00Z
The house is on the moutain with a great view and quiet atmosphere. It is huge with 3 comfortable, clean and pretty bedrooms, a kitchen, a yard and a swiming pool. The night I drank with my friends and talked and sang, felt like we were in the summer vacation. We really enjoyed ourselves. Especially the owner is so kind and friendly. He bought food, beer and did BBQ for us. I hope I will visit this place again. This experience is fantastic. So far, it's my best Airbnb booking.
Sijie
2015-12-02T00:00:00Z
Staying here is truly an adventure. We were here for 3 days, 2 nights, and wish we had scheduled a longer stay. It is in a lovely setting high on a hill overlooking a small, traditional Mexican town. We never saw another "gringo" when we were there, which was very refreshing after being in other spots in Mexico where many gringos congregate. Climbing the hill to the house is a bit of a challenge and you would probably not want to do it more than once a day, but the rewards were wonderful. The pool was a welcome place to spend time in the afternoon when it can be a bit hot. Francisco's father Pancho and his assistant Ignacio made certain that we were always taken care of and they even provided a large meal the first day of our arrival. If you want an unusual experience and a bit of an adventure in a beautiful place, you will enjoy this casa. It is a bit difficult to get to, but we arranged an Uber from Puebla, which was easy, pleasant and inexpensive. Pancho was waiting for us when we arrive and took us to the house. He arranged a taxi for us on the last day and we took two other local buses from there to Oaxaca. That took most of the day, but was also an adventure. We recommend this house for anyone who wants a different experience of being a tourist in Mexico, well worth any effort it takes to get there. It is probably not an easy place for very young and very old.
Wenda
2017-01-26T00:00:00Z
Francisco's house was just gorgeous,we miss the time talking with his father,really gentle and helpful,thanks again!
Molly
2014-10-08T00:00:00Z
This was by far the best AirBnB I've stayed in. Francisco's father was incredibly helpful and welcoming, coming by each day to check on everything and clean the pool. It's definitely an interesting experience - I come from living in a big city and spent a whole month in this fairly remote part of Mexico. I'd highly recommend it. It's only about two hours from Puebla if you need a break from the remote area or need any supplies from the city (I had to go twice, once for new shoes as they didn't have my size in the town and again for a new charger for my computer). Francisco also went above and beyond what any other AirBnB host has in my experience by having internet installed (not as simple as it sounds when it involves convincing a telecom company that doesn't want to run wiring all the way up the mountain). Although the internet was a bit slow (5/1), it was exactly as described and very stable/reliable.
Matt
2016-05-02T00:00:00Z
I am so lucky I got to stay in this home, by myself, for an entire month! I have been traveling for quite a while and wanted a place in nature that I could just Be - a lot of meditating, painting (a self retreat). Francisco generously offered to take me to and from as I didn't have a car and was going to stay for a while. His father Pancho greeted us with a kitchen full of delicious fruits, snacks, wine, and other drinks! Pancho came to the house for about an hour each day to take care of the pool, bring me drinking water, and even taught me how to play guitar. Every week he would meet me at the bottom of the hill to take me to the pueblito's mercado. I am vegetarian and there was plenty of veggies and goodies to chose from! Pancho is one of the most kind and giving persons I've met. Everyone in the village loves him and he will introduce you to everyone too :) The house itself is beautiful. I love the natural building materials, which makes us feel like we are more a part of nature. Yes there are insects and animals (I even saw a deer!) - and this is the wonderful part of living there. I was there mid January- mid February and it was a comfortable temperature. Towards the end of my stay it got pretty hot. I felt lucky because there is a cool breeze that flows through all day in the courtyard. At night you can see all of the stars! Like any village in Mexico, expect to hear a bit of noise - announcements, marching bands, church sounds. I hope to come back in the future and visit Francisco and Pancho and the house :) Thank you so much for being accommodating and such warm hosts.
Colleen
2015-02-21T00:00:00Z
Wow! The house is amazing and has great views, Fransisco's father was very welcoming and helpful. We had a lovely stay relaxing in the pool and BBQ's. Would highly recommend this place and we will definitely be come back!!
Hayley
2015-05-04T00:00:00Z
Room Type
Entire home/apt
---
Property Type
Villa
---
Accommodates
6
---
Bedrooms
Puebla, Puebla, Mexico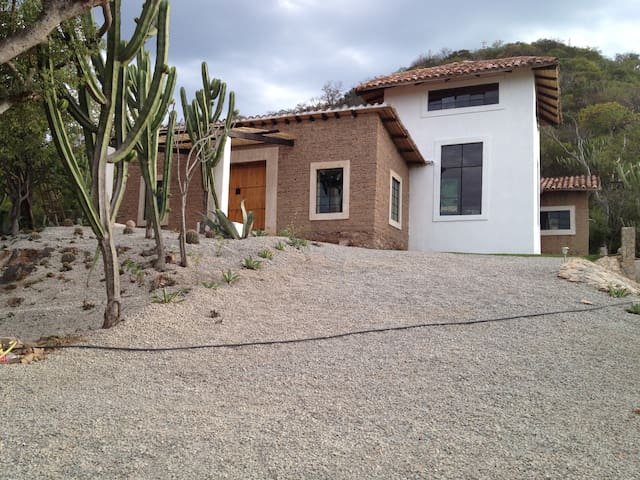 Habitaciones compartidas o individuales para estudiantes, amuebladas, con servicios de agua, gas y luz incluidos.
Room Type
Shared room
---
Property Type
Villa
---
Accommodates
12
---
Bedrooms
Heroica Puebla de Zaragoza, Puebla, Mexico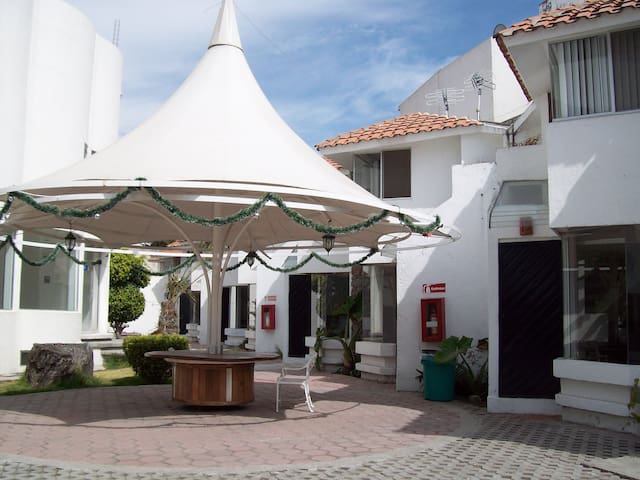 Chulavista - Airbnb
:
Average

5

out of

5

stars from

28

guest reviews
Enter dates to see the total trip price including additional fees (but excluding any taxes).