The house is located in Chiclana. Great connections with other cities, just 10 minutes to the best beaches in the area and leisure places. A really quiet place without any noises or roads closer. The swimming pool and al the garden is private.
The house it is placed in a quiet context, and just 15 minutes away from the city. That makes this property a perfect place to rest few days from the busy life of the city. The great connections gets to this house an excellent location to be in the best beaches of Andalusia in 20-40 minutes (La Barrosa, Los Caños, El Palmar, Zahara de los Atunes...). There are also a lot of great touristicpoints close to the house like the city of Cádiz, Jerez, Conil, Los Caños, Vejer...
The neighborhood is just 20 meters from a natural park about 10500 hectares. There is a big supermarket just 5 minutes driving from the location. The city of Chiclana is just 10 minutes to the location and it is well-known the leisure places like golf courses, hotels, restaurants and discos.
The house was as described- very beautiful, charming and an absolute pleasure to stay in. The garden is very well kept and sunny throughout the entire day. The pool is a decent size and lovely to cool off in. Ivan was a great host- quick to respond to questions and very easy to meet with for getting set up in the house. I would highly recommend staying here!
Camilla
2014-09-18T00:00:00Z
Un très beau séjour à Cadix, dans une très jolie maison, bien entretenue. Jolie piscine également. Accueil chaleureux de Maria, en dépit de la barrière de la langue. Très bon emplacement pour les visites. Apportez toutefois votre antimoustique!
Catherine
2014-07-27T00:00:00Z
Maravilloso chalet, ideal para parejas o familias, tranquilo, sin ruidos. La piscina una gloria y la zona ajardinada un encanto. Lo unico negativo los mosquitos al anochecer que han hecho que no pudieramos disfrutar de todas las comodidades que ofrecia la casa. Totalmente recomendable y muy bien situada para visitar pueblos y ciudades cercanas.
Jesus
2016-09-05T00:00:00Z
Logement tout à fait conforme à la description et aux photos : très propre, bien entretenu, calme, bien équipé, accueil chaleureux et bien situé pour visiter. On s'y sent bien. Nous recommandons vivement ce logement.
Claire
2016-07-17T00:00:00Z
Die Schlüsselübergabe lief unkompliziert über Ivans nette Mutter. Der Garten des Hauses ist mit seiner wunderschönen Bepflanzung und seinem Pool eine echt Oase der Entspannung. Das Häuschen beinhaltet alles was eine kleine Familie benötigt. Cádiz und die nächsten schönen Badestrände sind in ca. 20 Minuten mit dem Auto zu erreichen. Ein großer Supermarkt ist drei Minuten entfernt. Wir fanden den Garten, Haus und Pool so relaxed, dass wir oft lieber dort blieben als an den Strand zu gehen! Wir können diese Location auf jeden Fall empfehlen!
bernhard
2015-08-30T00:00:00Z
Nous avons passé une semaine fantastique dans la maison d'Ivan. C'est un petit coin de paradis, pour les parents et les enfants... Le quartier est calme.Nous conseillons ce logement sans aucun problème. De plus, nous avons été accueillis par la maman d'Ivan, incroyablement gentille, accueillante et surtout, très disponible pour nous aider ! Merci pour tout
Valérie
2016-07-31T00:00:00Z
Nuestra estancia en la casa ha sido inmejorable. La casa cumple con todas las expectativas y María, la anfitriona, también. Estuvo pendiente y atenta durante toda nuestra estancia. El porche y la piscina son el mejor espacio de la casa. La ubicación es tranquila y bien ubicada para acceder a las playas y pueblos de Cádiz (con coche). En resumen, todo perfecto.
Dori
2015-08-13T00:00:00Z
Room Type
Entire home/apt
---
Property Type
Villa
---
Accommodates
5
---
Bedrooms
Chiclana de la Frontera, Andalusia, Spain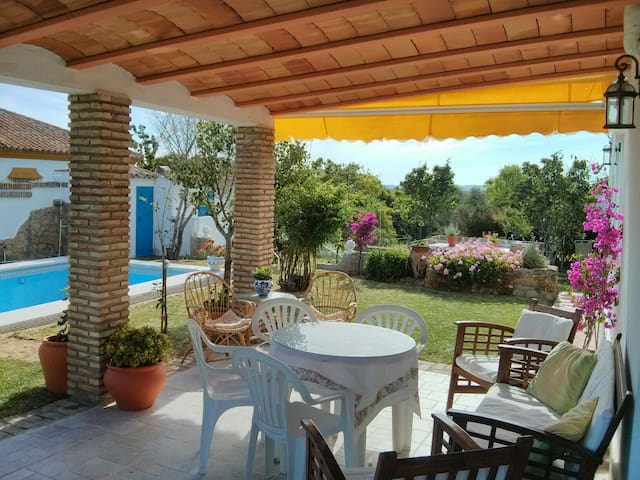 The Magnolio is an Andalucian, very neat and wide style, equipped to detail, where they can enjoy a pleasant holiday with family or friends. It has two large porches, barbecue and a beautiful swimming pool along with the very broad back porch make unmatched for relaxation and enjoyment space. In Chiclana, about 5 km from the beaches of the beaches of La Barrosa and Sancti Petri and in an area which all services: supermarket, pharmacy, bakery ..
The house is very nice, on one floor, with 150 meters and 500m constructed plot. Has two very large, especially the rear, where the pool and barbecue area and a sofa and a very, very cozy dining porches.
The area where my house is located has all the services without taking the car: supermarket, pharmacy, bakery, newspapers, butcher, delicatessen, greengrocers, etc ...
The host canceled this reservation 90 days before arrival. This is an automated posting.
FRANCISCO
2016-05-15T00:00:00Z
Nuestra estancia en la casa de Susana ha sido estupenda. Durante los tres días que estuvimos en el Magnolio, pudimos disfrutar de la piscina, de la barbacoa, de sus dos magníficas terrazas, y de todas las estancias. La casa es tal y como aparece en la web: muy acogedora, amplia, cómoda, e ideal para compartir unos días con familia o amigos. Susana ha sido una anfitriona estupenda desde el primer momento. Pudimos disfrutar la casa desde el viernes a mediodía hasta el domingo por la tarde, sin límite horario. Nos facilitó toda la información necesaria sobre la ubicación de la casa (situación de bares, comercios, playas y demás), y siempre ha estado disponible para cualquier consulta. Sin lugar a dudas, para futuras estancias, consideraremos de nuevo el Magnolio para disfrutar de unas vacaciones estupendas.
Elena
2016-07-03T00:00:00Z
Wir haben uns von der ersten Sekunde an wie zu Hause gefühlt. Susanas Haus hat unsere Erwartungen noch übertroffen. Es ist sehr geräumig und stilvoll eingerichtet. Der Garten ist sehr gepflegt und die Terasse nach hinten am Pool bietet perfekte Möglichkeiten für einen gelungenen Familienurlaub. In unmittelbarer Nähe befinden sich alle Einkausmöglichkeiten für den alltäglichen Bedarf. Susana ist eine tolle Gastgeberin, die stets erreichbar ist und sofort mit Rat und Tat zur Seite steht.
Christiane
2016-10-22T00:00:00Z
Hemos disfrutado de unos días magnificos en familia en esta casa idilica que mejora en directo. Las fotos no le hacen justicia, la casa es amplia, comoda y dispone de todo lo necesario para disfrutar de unas vacaciones sin preocupaciones. La limpieza era impeclable y no le faltaba un detalle (barbacoa, cuna, picadora, secadores, etc.). Susana, la anfitriona, estuvo muy atenta a nuestras necesidades desde el mismo día que nos confirmó la reserva y puso a nuestra disposición todo aquello que necesitamos, planos, lugares de tapas, sitios a visitar o realizar la compra, etc. Sin duda recomiendo el magnolio como lugar para pasar unas buenas vacacines, mostros repetiremos seguro.
Sergio
2016-07-13T00:00:00Z
Room Type
Entire home/apt
---
Property Type
Villa
---
Accommodates
12
---
Bedrooms
Chiclana de la Frontera, Andalucía, Spain
CASA DE ALHAMBRA is a delightful luxury villa set in its own private garden for you, your family and friends to enjoy. We invite you to rent this beautiful chalet with its outdoor swimming pool. It is ideal for your vacation on the Costa de la Luz. This modern villa with its independent power supply sleeps up to 6 people. It is set in the midst of quiet Stone Pine woodlands and is 5 minutes away from the shops and the white sands of the 8 km Barrosa Beach, one of the finest beaches in Europe.
Our villa is is situated in its own private walled garden. You are not over looked and have exclusive use of the swimming pool.
Set in Stone Pine woodlands the area is typically Spanish. It is quiet away from the bustle of the tourist hotels but within 5 minutes of the beach. 300 metres away is Venta Lopez, a typical Spanish Venta which serves good food and tapas at a reasonable price.
Room Type
Entire home/apt
---
Property Type
Villa
---
Accommodates
6
---
Bedrooms
Chiclana de la Frontera, Andalucía, Spain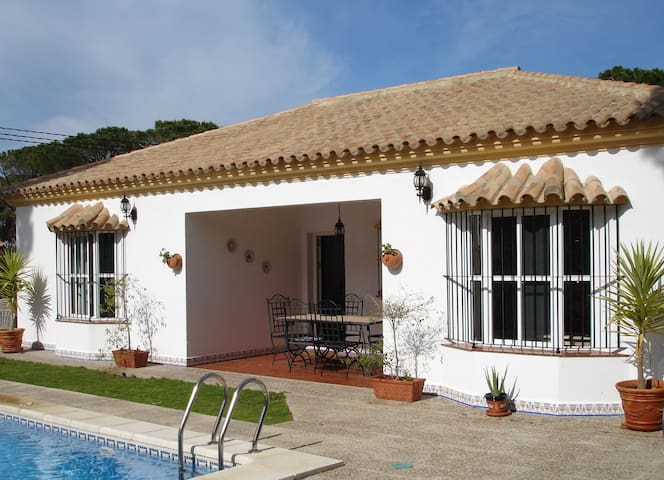 My villa is close to the beach. Enjoy my housing for outdoor spaces. My accommodation is perfect for couples, families (with children) and large groups. possibility of 16 beds with 3 sofa beds
My villa is divided into three apartments each giving a choice to lie or awakening his time
Close to shops
Room Type
Entire home/apt
---
Property Type
Villa
---
Accommodates
16
---
Bedrooms
Chiclana de la Frontera, Andalucía, Spain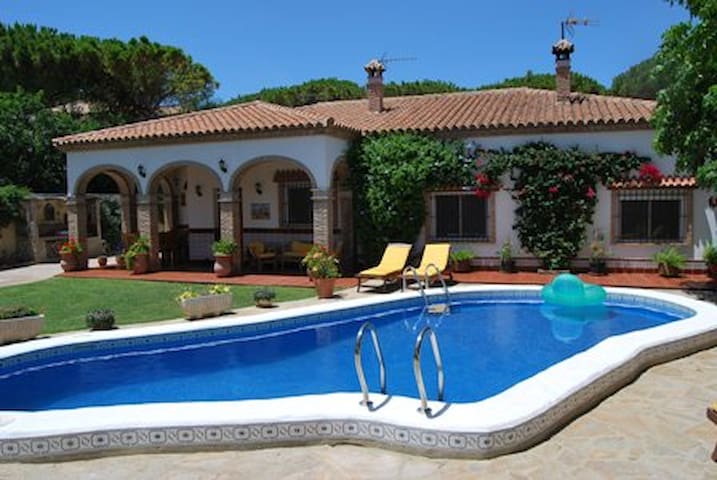 Casa Bella is a beautiful detached villa with lovely gardens and private swimming pool. There are 3 bedrooms, 2 bathrooms, kitchen, lounge/dining room and free wifi.
Nous avons eu rdv sur le parking d'un supermarché à 5 min de la maison. Très pratique pour faire les courses. Ensuite Eileen nous a guidé jusqu'à la maison. Le jardin est très agréable et bien entretenu. La piscine est également superbe et conforme aux photos. la maison était très joli mais malheureusement pas très propre et pas très bien entretenue. Les couverts n'étaient pas propres et pour 5 personnes nous n'avions que 3 petites cuillères. Les tasses donnaient l'impression de ne pas avoir été lavées, la bouilloire était inutilisable car pleine de tartre. Dans les salles de bain il y avait une forte odeur d'égouts et tous les robinets étaient complètement entartrés. Le porte savon et la brosse à wc en métal étaient complètements rouillés. La Taie d'oreiller d'une des chambres était complètement jaunie. Pour les rangements il n'y a que des penderies et 1 commode dans la chambre des parents mais insuffisante pour une famille et pas asser de cintres. Il n'y a pas de clim dans la maison donc nous avons voulu un soir utiliser les 2 ventilateurs qui étaient dans les chambres et il y en avait un qui ne fonctionnait pas. Dans l'ensemble nous avons passé de bonnes vacances mais avons été déçus par le prix payé et l'état de la maison.
Wapha
2016-07-30T00:00:00Z
Una casa impecablemente perfecta para disfrutar relajadamente y una anfitriona maravillosa.
Alberto
2016-07-18T00:00:00Z
Séjour très agréable. Eileen est prévenante et simplifie tout autant que possible. La piscine est indispensable en été. La plage de la Barrosa est à 20 mn environ. Elle est très propre, l'eau est chaude et les vagues sympas pour les enfants et les plus grands. La maison est assez calme dans un quartier à proximité de supermarchés bien pratiques. Il est très facile d'accéder à Séville et Gibraltar. Séjour parfait pour nous.
francois
2015-07-25T00:00:00Z
Desde el momento que llegamos Eileen, nos mostro la casa y es exactamente identica a la fotos. Se encuentra cerca de un centro comercial y gasolinera, pero en 5 minutos en coche hay mas centros comerciales donde elegir. La casa tiene de todo en lo relativo a la cocina, ademas wifi, tv plasma, mini cadena musica, DVD, antena parabolica. Sin duda lo mejor la piscina, cada sabado vienen a limpiarla, aunque siempre el agua esta clara y tambien a cortar el cesped. La playa esta a unos 25 minutos en coche y simpres se puede elegir entre La Barrosa de Chiclana o bien las Calas de Conil. Esta ubicada perfecta para conocer el resto de las poblaciones limitrofes e incluso Gibraltar que esta a menos de hora y media. Por mi parte y el resto de las personas que hemos ido es 100 por 100 recomendable y Eileen en todo momento atendio alguna pequeña necesidad sin importancia. Y lo mas importante para nosotros, pudimos llevar a nuestra mascota Jerry.
Pedro Miguel
2015-08-31T00:00:00Z
Room Type
Entire home/apt
---
Property Type
Villa
---
Accommodates
6
---
Bedrooms
Chiclana de la Frontera, Andalucía, Spain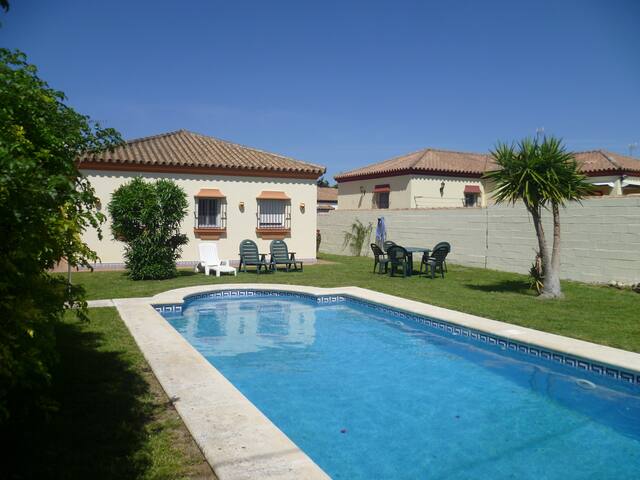 Villa Los Naranjos with pool and air conditioning in the seaside In Andalusia, Chiclana of the city of 75000 residents Frontera with the most beautiful beaches of the Costa de la Luz. La Barrosa, with the tourist pole The Sancti Petri along the beach.
Detached villa with 600 field mêtres or children will have fun with parking for several vehicles
Area outside the quiet town center to enjoy the pool and BBQ, 800 yds from Eroski shopping center
Todo perfecto, Francisco atento desde el primer momento. Lo recomendaria totalmente a mis conocidos
Ignacio
2016-06-27T00:00:00Z
Hemos pasado un fin de semana genial. La casa es perfecta y no le falta un detalle para pasar una estancia perfecta. Mil gracias por todo Francisco
Alicia
2017-04-09T00:00:00Z
Cómodo y práctico. Eramos 7 y nos ha ido muy bien. Con supletorio incluido.
Montse
2017-02-27T00:00:00Z
La casa está en perfectas condiciones y no le falta ningún detalle.
María
2015-09-13T00:00:00Z
Un óptimo anfitrión, la casa es muy buena mismo para el invierno, además es de facil acceso, cerca de mercados y de carreteras de llevan a Cádiz y al Conil.
Laura
2015-02-15T00:00:00Z
Pasamos 6 personas un puente de 3 días en la casa en Mayo. La casa es exactamente como describe Francisco en su anuncio. Estuvimos muy a gusto y pudimos encontrar la casa gracias a que nos enviaron la ubicación. Es recomendable llevar coche. La casa está perfecta, la piscina estaba lista para su uso y aprovechando el buen tiempo hicimos una barbacoa. Recomendaría esta casa a cualquiera que quiera pasar unos días en Chiclana. Saludos!!
David
2016-05-03T00:00:00Z
Todo ha estado perfecto, la casa esta completisima de todos los enseres que puedas necesitar, esta un poco alejada del bullicio, cosa que no es inconveniente con el coche, y ademas puedes disfrutar de la tranquilidad del entorno. Francisco, el encargado de darnos las llaves, es muy atento, correcto y educado, en general todo perfecto.
JORGE
2015-07-03T00:00:00Z
La casa es preciosa y muy cómoda aunque nos costó mucho encontrarla. Tiene un acceso más sencillo por la parte de atrás del Eroski pero el gps nos mandó por otro y fue una odisea sobre todo por la noche. en general quedamos muy contentos.
Baff
2016-02-14T00:00:00Z
Room Type
Entire home/apt
---
Property Type
Villa
---
Accommodates
7
---
Bedrooms
Chiclana de la Frontera, Andalucía, Spain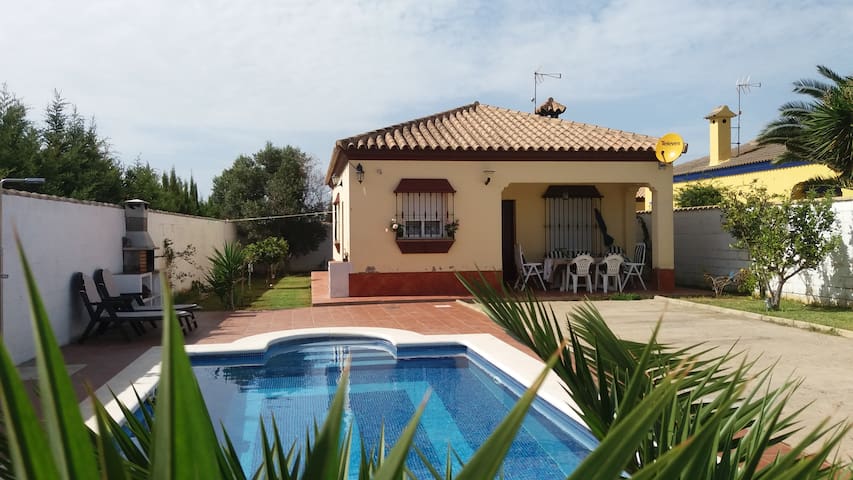 Villa con jardín privado de 700m2 situada en el green del hoyo 9 del Golf Las Lomas y a 1500m de la Playa La Barrosa. Cuenta con 4 dormitorios dobles (el principal con baño en suite y terraza con vistas al golf), 3 baños, cocina y salón. La villa se encuentra totalmente equipada, jardín con porche cubierto y amueablado, ideal para las comidas y cenas de verano. Parking privado, Aire acondicionado frío/calor, radiadores eléctricos.
La villa se encuentra en un entorno tranquilo con vistas al campo de golf y a un pinar, pero a la vez muy bien comunicada y cerca de la playa La Barrosa, restaurantes, centro comercial, farmacia y zona de ocio.
Room Type
Entire home/apt
---
Property Type
Villa
---
Accommodates
8
---
Bedrooms
Chiclana de la Frontera, Andalucía, Spain
Spacious villa for a pleasant holiday, decorated rustic style, with private pool and barbecue. Located in a quiet area with large supermarkets, restaurants, cafeterias, etc., and no parking problems.
The villa is quite spacious, has several areas to be reunited with their friends or family. It has a large area outside where you can make barbecues and enjoying the marvel be climate we have, as well as the pool area which is several hammocks and parasols where you can sunbathe. Inside it has a large enclosed porch where you can eat together and relax. With regard to habitability has five bedrooms, two marriages, two with twin beds and one with a bunk bed; two bathrooms with tubs and two toilets; a large kitchen with table for six that communicates with barbecue which has space for 14 people; an inner porch where you can relax, watch TV and have a table and a spacious living 8comensales.
It is an intermediate area of the city, between the historic center and beaches. It does not have any parking problems because in high season in full beach area is quite difficult as in the historical district.
Room Type
Entire home/apt
---
Property Type
Villa
---
Accommodates
10
---
Bedrooms
Chiclana de la Frontera, Andalucía, Spain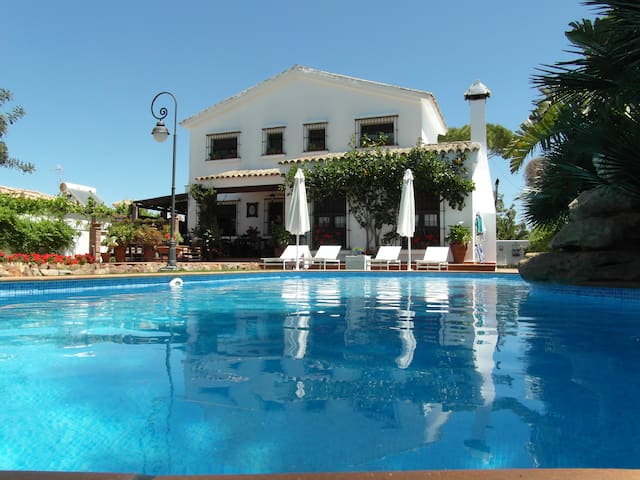 Attractions: beach, art and culture. You'll love my place because of the outdoor areas and light. My accommodation is good for couples, adventurers, business travelers and families (with children).
Gran alojamiento. Chalet de reciente construcción, todo nuevo. Gran parcela y preciosa piscina. Muy recomendable
Zahara
2017-02-19T00:00:00Z
Room Type
Entire home/apt
---
Property Type
Villa
---
Accommodates
9
---
Bedrooms
Chiclana de la Frontera, Andalucía, Spain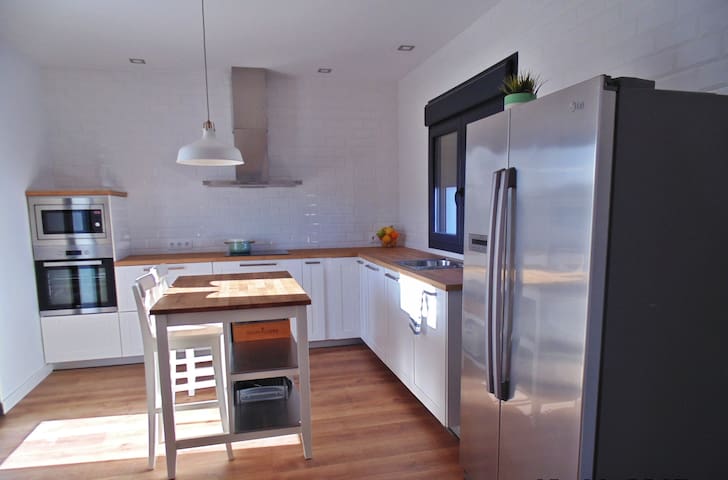 Villa located in San Andrés Golf in Chiclana de la Frontera (Cádiz) is a very quiet and close to the beach area and the Roche Barrosa Housing is a detached villa can accommodate up to 8 people using the main house and 4 plus up to 12 people if they use also the apartment attached to the house and paying the extra price per person in a single plant becomes fully equipped They are separated by a courtyard but both within the same plot
detached villa on one level in the urbanization San Andrés Golf area Santci Petri Barrosa. The plot is 2000 m2 and consists of two buildings a) Main Chalet b) auxiliary house or for service. A) Main Chalet consists of 4 bedrooms and 3 bathrooms, exterior toilet, a living room, kitchen and laundry and ironing a porch and pool, all rooms have large wardrobes. The master bedroom and one of the secondary have the bathroom inside the room and the other two rooms share a bathroom. One of the secondary bedrooms have the bathroom ready for people with physical disabilities, in the shower there is a folding chair and you could even get into the shower wheelchair, he has arranged for disabled toilet with handholds. From the master bedroom leads to the private garden and pool has a beautiful view of the golf course. The living room is separated by a large fireplace overlooking the two both the living room and the dining room. The kitchen is large and spacious, this fully equipped, has both gas and ceramic vitro The porch overlooks the area private garden and pool overlooking the 5th hole golf course on the porch there are two areas of dining with a table for 12 people and another area with 2 sofas and coffee table. The pool is attached to the porch and in the same there sunbathing area with 8 chairs. The pool is not closed but has a summer canvas car to be able to cover. b) Auxiliary House or Service: It is another small house consisting of a lounge room of 27 m2 with 2 bunk beds (4 beds) a sofa bed an en suite bathroom and a fully equipped kitchen. Garage for one car, but within the plot can park 2 other cars.
It is an area that is available commercially all kinds of trade and restoration
Thanks a lot for the great Month in your House. It is a beautiful House and a nice Area to life. The Service was great. Thanks a lot for all......Regards Marcel
Marcel
2016-05-01T00:00:00Z
good day! We stayed in Villa with 21.09 on 16.10.2015 . We are 2 families consisting of 2 adults and 2 children. All of us loved the stay. The Villa itself and the whole environment complies with the description. Very quiet and peaceful place. Large swimming pool and a large kitchen. the house has everything needed for daily life. So as the house is far enough away from the beach and the shops have to rent a car. For us it was not a problem as we were driving from Malaga on 2 rented cars. All who love a relaxing , comfortable stay, we recommend this Villa.
ilia
2015-10-17T00:00:00Z
Very beatufull house with a very well equiped, comfortable kitchen. The house is huge, even better then on the pictures! Swimming pool is great. The arrival was excellent.
Bibi
2016-05-08T00:00:00Z
Han sido unas vacaciones maravillosas, la comunicación con Amparo fue fluida y la casa es preciosa y muy bien equipada, ideal para familias con niños
Marisa
2016-12-30T00:00:00Z
Room Type
Entire home/apt
---
Property Type
Villa
---
Accommodates
12
---
Bedrooms
Chiclana de la Frontera, Andalucía, Spain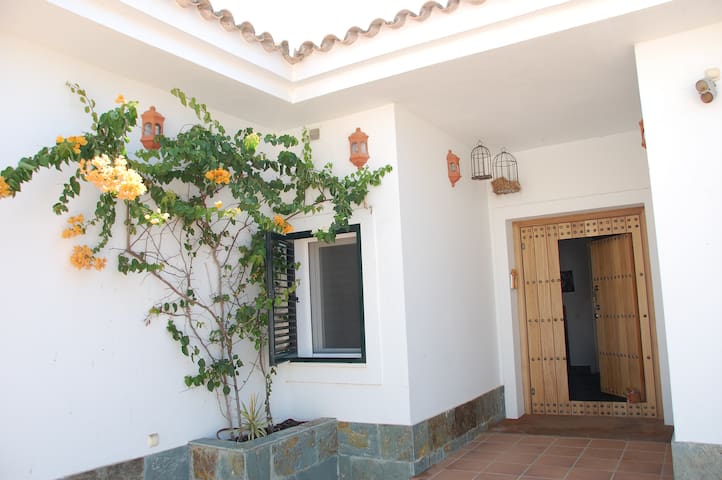 For more detailed information surrounding housing and enter: website villaeltrebolnovosanctipetri
It is the best urbanization of Novo Sancti Petri for their spaciousness, green areas and facilities. Children have a park within the development without having to go outside to play, has paddle courts for sport and wide streets for cycling .. The house has a nice porch with spectacular views to a golf course surrounded by pine trees, where you can have lunch, drink coffee, read in a relaxing atmosphere while the children are playing, doing doporte or bathing in the pool safely as it is a gated community where only owners can access. More information on website villaeltrebolnovosanctipetri
Description of Novo Sancti Petri and surroundings in villaeltrebolnovosanctipetri website
Nuestra estancia en Villa el Trébol ha sido estupenda. Rosamaría es una estupenda anfitriona. La casa estaba en perfecto estado de revista y además nos dejó unos detalles de bienvenida. Equipada con todo tipo de accesorios, nos sobraron varios enseres que llevábamos. Un muy buen gusto a la hora de la decoración. La comunicación ha sido muy fluida en todo momento, siempre disponible pasta lo que nos hiciera falta. La urbanización es ideal, en un ambiente muy familiar. En fin, que hemos quedado encantados. Repetiremos seguro.
Fernando
2015-05-04T00:00:00Z
Room Type
Entire home/apt
---
Property Type
Villa
---
Accommodates
6
---
Bedrooms
Chiclana de la Frontera, Andalucía, Spain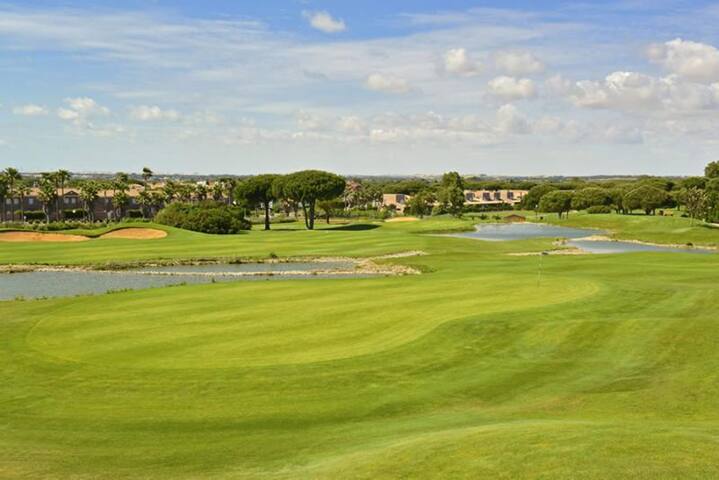 Great villa with private ilumintaed swimming pool in Sancti Petri Hills golf course. Views to pines and golf. Large solarium. Sun & golf each season.See weather forecast at Chiclana!. Even winter. 4 bedrooms and 3 bathrooms. Full equipped. Suite Main bedroom with own bath and terrace. Air conditioned house. Underground garage. Big basement. Great pine forest and golf course views from the large solarium. WifI download unlimited
Room Type
Entire home/apt
---
Property Type
Villa
---
Accommodates
10
---
Bedrooms
Chiclana de la Frontera, Andalucía, Spain
'Val de Rosa' is 15 minutes' drive from the beach and is a great centre for visiting the cities of Cadiz and Seville, and the white hilltop villages of Andalucia. You'll love the accommodation because of the comfy beds, the garden and pool, and all the facilities on offer inside and out. The house is good for couples, large families and children, and groups who want a little extra privacy by staying in a separate annexe. Please note we give discounts for smaller parties except in July & August.
'Val de Rosa', in the semi-rural village of Pago del Humo, consists of a 4-bedroomed villa together with a separate 1-bedroomed studio annexe sharing the same generous garden ground. The garden is walled on 4 sides, making it completely private, and has an area of lawn, a fishpond, a swimming pool with loggia, a south-facing patio, and a garden room with its own barbeque.
Room Type
Entire home/apt
---
Property Type
Villa
---
Accommodates
8
---
Bedrooms
Chiclana de la Frontera, Andalucía, Spain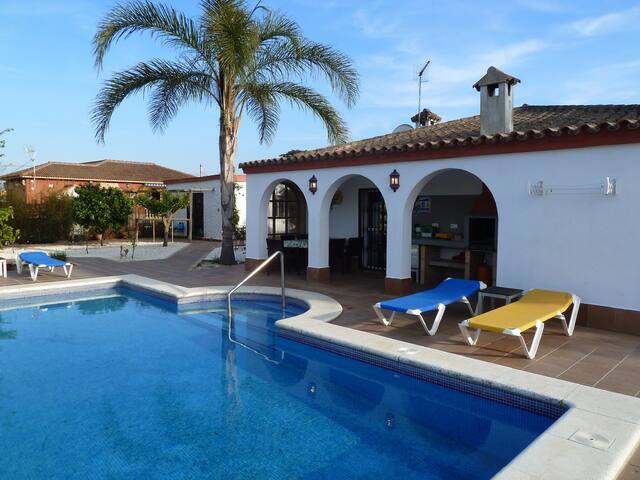 La vivienda se encuentra en uno de los pinares cercanos a la playa existente en chicalana, el pinar de los Guisos; es un zona tranquila y muy bien comunicada tanto con el centro del municipio como con la playa. Vivienda de 480 m2 de superficie.
Vivienda de 480 m2 de superficie distribuida en dos plantas sobre rasante y planta sotano como sala de juegos, dispone de gran salon de 45 m2, cocina, , 5 dormitorios, 3 baños y un aseo, patio y tres pòrches, además dispone de zona ajardinada de 1000 m2 con piscina propia. Dispone de wifi y de TV inglesa por satelite.
Room Type
Entire home/apt
---
Property Type
Villa
---
Accommodates
10
---
Bedrooms
Chiclana de la Frontera, Andalucía, Spain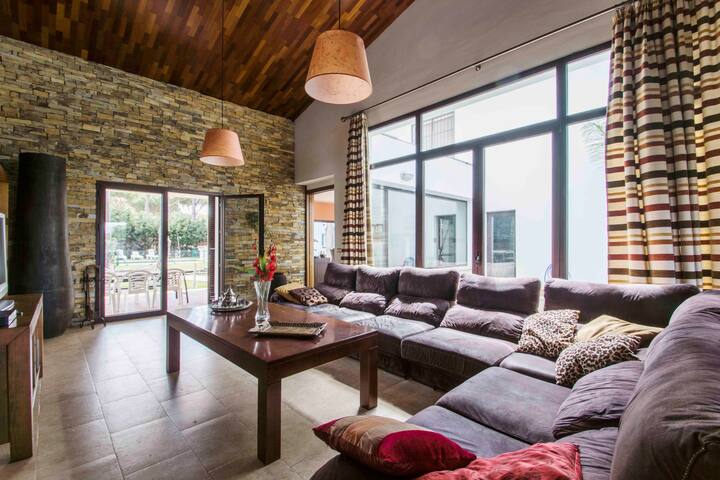 Located 440 meters from the beach of La Barrosa, the Villa is fully equipped even with air conditioning. It has a private garden and a swimming pool shared with the other seven Villas. BBQ, WIFI, parking and all amenities.
The villa has everything you need to be comfortable and enjoy the holidays; the area is very quiet but close to everything (beach, close to restaurants etc).
The beach is only 400 meters and there are two recommended bars down the Mojama Beach (great sunsets) and Snack La Barrosa (more typical). Noli Restaurant is very close and provides home cooked meals. Manguita is the famous seafood restaurant. Indigo drinks, Saint patricks and a number of pizzerias and bars are all within a short walk.
Room Type
Entire home/apt
---
Property Type
Villa
---
Accommodates
6
---
Bedrooms
Chiclana de la Frontera, Andalucía, Spain
2000 mt farm in urbanization with golf, has 2 separate accommodation areas with WIFI TV and AA.Una ground floor 1 bedroom 2 beds 90, living room with 1 sofa bed, kitchenette and baño.Otra 2 storey house room d 1 sofa and 2 armchairs, toilet, kitchen and dining room downstairs. First floor 1 bathroom with shower and 3 bedrooms, one with 180 bed and balcony, one with 90 and terrace bed and one with 90 + trundle bed. For rent all together or each home separately from € 150 d.
The farm borders the Dehesa El Campano rural area that provides tranquility and allows you to enjoy splendid sunsets.
Urbanization "San Andres Golf" has very easy access from junction 15 of the motorway A-48 and just bordering the golf course and social club, take the Avenida de Luxembourg to reach the farm (No. 120) which is a 10-minute walk from golf. The journey of about 8 km to the beach area Barrosa and Novo Sancti Petri is easy and it takes 10 mn by car. The nearest restaurant is the Golf which is open to the public. The service area of El Colorado (gas station, pharmacy, bakery, food, restaurants, veterinarian) is about 2 km walk from the N-340 which is accessed just leave the complex.
Es una casa con mucho encanto, volveremos. It is a cozy and comfortable home, with great sunset views. We will be back.
M
2016-08-13T00:00:00Z
Es una casa increible. Moderna y acogedora. Sin ruidos, mucho espacio. genial.
Fernando
2016-08-29T00:00:00Z
Room Type
Entire home/apt
---
Property Type
Villa
---
Accommodates
7
---
Bedrooms
Chiclana de la Frontera, Cadiz, Spain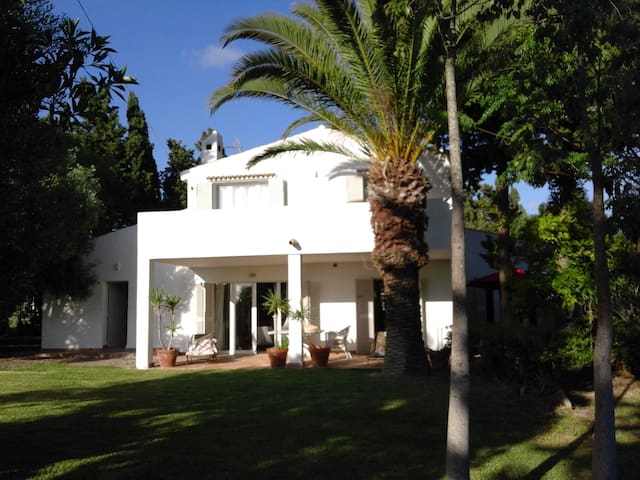 Maison de vacances idéale avec des enfants et des amis, qui peut accueillir 6 adultes et 4 enfants: située dans un grand jardin clos au calme avec piscine privée sécurisée, et accès plage 5 minutes à pied !
5000 m² private garden with pine trees and lawn. The house has an ample front terrace 30m² with armchairs and coffee tables. The private swimming-pool is surrounded by a spacious sun-bathing area with ample mattresses, head-stands. The pool area is delimited by a geranium hedge and gate for children's safety. The private tennis court is on the side of the house. 4 bedrooms are at your disposal (10 beds) and two 2 bathrooms (bathtub, toilet, bassin, bidet in both).A very spacious living-room with fire-place, kitchen, breakfast room, laundry room. If you wish, for a really worth while extra cost, we can provide our cook: she prepares your meals according to your wishes, she can even shop for you!. We could also organize your housekeeping, for an extra cost : a lady who can clean the house and terrace on a daily basis as well as wash and iron your clothes. Included in the price : a gardener takes care of the pool area in summer, and garden all year round. You just have to relax and have fun! Rental prices include gardener, electricity, gas, towels and bed linen. Wi-fi internet available on request : 20€ per week. Costa de La Luz :300 days of sunshine per year!The ideal destination from March to November Set on the Atlantic coast, less crowdy than the Mediterranean .500m from the house:The Barrosa Beach-8 km of white sand backed with dunes and the Atlantic ino, music in the streets all night long.
5 minutes away on foot from the beach, bars and restaurants, Los Olivos, is located in the priviledged area of La Barrosa, in a pine-forest, which provides privacy and shade.
Room Type
Entire home/apt
---
Property Type
Villa
---
Accommodates
10
---
Bedrooms
Chiclana de la Frontera, Andalusia, Spain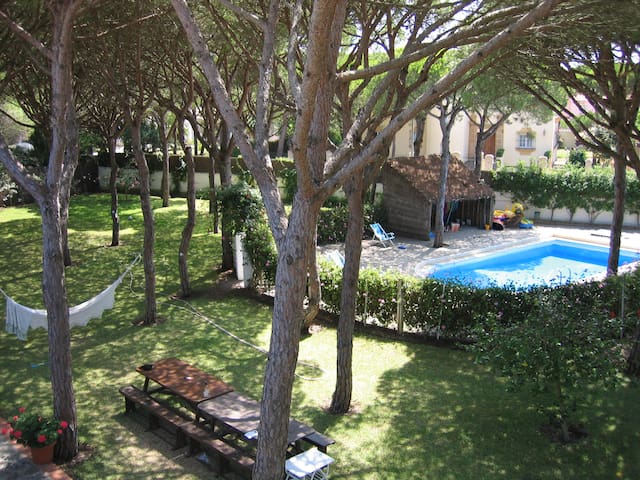 The Hacienda EL MAYORAZGO is situated in the middle of the country side of Conil, with its beautiful views over meadows and fields up to the Atlantic Ocean. You will love the accommodation for its coziness, its majestic views as well as its peace and freedom away from the stressful day-to-day work. EL MAYORAZGO is adequate for couples, travelers or business people that want a break from their routine, as well as for families (children, grandma and grandpa are well appreciated).
Für Familien mit Kleinkindern können wir folgende Ausstattung kostenlos zur Verfügung stellen: - stabiles Kinderbett mit vollwertiger Matratze - einfache Wickelauflage - Hochstuhl For families with little children we can provide following equipment free of charge: - stable baby bed with proper matrass - High chair - Wrap support
Die Hacienda liegt auf einer unverbauten Anhöhe mit Blick auf Felder, Wiesen und bis zum Atlantischen Ozean. Die Nachbarschaft besteht überwiegend aus Bauern. In näherer Umgebung gibt es Hunde, Hühner, Rinder, Schafe, Pferde auf der Weide... alles was zum Landleben dazu gehört. The Hacienda is situated on an hill with beautiful views overlooking fields, meadow up to the Atlantic Ocean. Neighborhood consists mainly of farmers. In the surrounding area there are dogs, chickens, frogs, cattle, sheeps, horses on fields ... all what makes country life attractive.
It was really nice place to be. If you like countryside with beautiful view and feel OK of being within five minutes driving to town (Conil de la Frontera), then this place is born for you :) Iris, the landlady, was absolute top in every meaning, very helpful when we had trouble finding some place, looking some amenities, she was always with many suggestions and proposals. (many thanks to her!!) What we truly loved was fireplace in the hacienda, since January was quite cool, thus having live fire in house, made our otherwise cool nights very pleasant warm. When we arrived, we found with surprise that food products for our first need were made available. We felt like being at home.
Terje
2017-02-08T00:00:00Z
Una casa muy grande y acogedora recién reformada, dotada de todo lo que hace falta para pasar unas buenas vacaciones, en un sitio muy tranquilo y sin ningún problema para aparcar, con un jardín muy amplio y una amfitriona inmejorable que ha estado muy pendiente de que no nos faltara de nada. Si podemos seguro que volvemos, lo recomendamos mucho!
Mireia
2016-08-22T00:00:00Z
Iris es una anfitriona perfecta. Muy atenta, responsable, amable, en definitiva un encanto! Siempre pendiente de que no te falte de nada y estés a gusto. La casa es grande y espaciosa; está muy bien cuidada, ideal para familias que quieran pasar sus vacaciones en Conil. Está situada en el campo, en una zona muy tranquila a escasos 7 minutos en coche del centro del pueblo. Sin duda, si decidimos volver a Cádiz, no dudaremos en recurrir tanto a la anfitriona como a la casa! MUY RECOMENDABLE!
Paula
2016-08-27T00:00:00Z
Nous avons été très gentiment accueilli par Iris malgré l'heure tardive ! Frigo plein, jouets pour les enfants, vins pour les parents, ... La maison est spacieuse et confortable La présence d'un chenil proche nous a obligé a redoubler d'efforts pour nous adonner à de véritables grasses matinées mais la serviabilité d'Iris a eut tôt fait d'effacer ce léger désagrément
Thomas
2017-02-25T00:00:00Z
Nous avons passé de merveilleuses vacances dans cette hacienda remplie de charme. Iris était une hôte très chaleureuse qui a pris le temps de nous faire découvrir les diverses beautés de sa region, et ce toujours avec le sourire. La maison est idéale pour une famille voulant découvrir l'Andalousie car très bien située. En espérant revenir un jour ...
alain
2016-12-27T00:00:00Z
Il nostro soggiorno a Conil è stato molto piacevole, grazie alla casa, ampia e ottimamente organizzata, in buona posizione sia per raggiungere le spiagge di Conil e della Costa della Luz, che per fare escursioni in Andalusia. Un grazie particolare alla nostra ospite Iris, per la gentilezza e la disponibilità veramente unici (abbiamo trovato la casa in perfetto ordine, compresa una prima gradevole fornitura base in cucina!). Un plus per la veranda. Non possiamo che consigliare questa sistemazione.
Francesca
2016-08-14T00:00:00Z
Room Type
Entire home/apt
---
Property Type
Villa
---
Accommodates
5
---
Bedrooms
Conil de la Frontera, Andalucía, Spain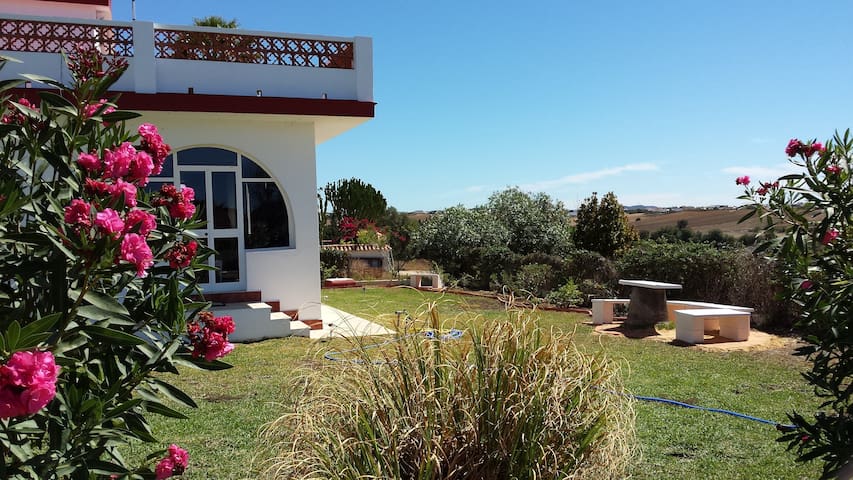 1

–

18

of

71 Villa Rentals
Enter dates to see the total trip price including additional fees (but excluding any taxes).