Our secluded home, overlooking the entire village of Wakefield, is a year round retreat that some liken to a boutique resort + almost NO bugs. For the Ottawa Citizen, "its ultra-green with some of the best views of the Gatineau Hills and River anywhere." Privacy is now increased via a new external staircase to the 2nd floor that separates the Upper and Lower Listings. And we're still handy to Ottawa/Gatineau, Wakefield, a River swim & the Gatineau Park's all-season trails.
Even with epic views ( YouTube search: Time Lapses by David Nobbs ) through ultra-wide windows and doors, you are always comfortable with radiant floor heating throughout our PassivHaus. Constant breezes, with sheltered windows & concrete floors act as heat & cool sinks, so sleep through any Quebec heat wave or cold front (2-sided wood fireplace in Living & Master Bedroom) under massive pine beams & vaulted ceilings. No A/C noise, 16'' thick walls, a secluded, forested setting, our house in the tree tops is a retreat year round.
Our Guidebook highlights our favourite Wakefield (and environs) activities. Closer to home, we can guide you around our 2 acre wooded lot and immediate neighbourhood, and suggest hiking/snowshoeing trails nearby.
We really enjoyed our time at the Barefoot Tree House. From the moment we arrived we felt right at home. David was the perfect host ensuring we had everything we needed to feel comfortable. The view is exquisite and the home décor brings your spirit to life. We loved all of the amenities that filled the home: chefs kitchen, built in sound system (with recommended playlists… they have an excellent ear for music) and a gorgeous patio (that was essentially bug free) that allowed us to relax and dine in. We also had a chance to visit the red bridge, which is a must along with the many great boutique restaurants that are located on the main strip.
Dilshan
2015-08-23T00:00:00Z
We really enjoyed our stay at David's home. It's even more spectacular when seen in person. He made us feel right a home and was very accommodating, and helpful in providing us with recommendations for site seeing and dining out. The local community is absolutely beautiful and the people are very friendly. Definitely a place we hope to return to next year.
Kristina
2015-08-10T00:00:00Z
Overall, we had an excellent experience. We were running a little late and David called us to make sure everything was ok and that we were finding the place ok. As soon as we arrived we were welcomed and shown around. The place is absolutely lovely, with a breathtaking view. The majority of our time there was spent outside on the deck. The shower is also an absolute must. We will be returning in the future.
Alex
2015-09-21T00:00:00Z
David has a fantastic house with truly beautiful views of Wakefield, but unfortunately we had a disappointing stay. While David specifies in his listing that "The listed price is for the entire first floor (2100 sq. ft.), including the Kitchen, Deck & BBQ" (and the place is also designated on airbnb as an "entire home"), he in fact uses the first floor on a regular basis and interrupts guests who stay there frequently. For example, for the first two and a half hours after our arrival, David essentially stayed in the living room/kitchen while we were on the deck, which was uncomfortable to say the least. I assume he was waiting for other guests to arrive on the second floor. In the morning, David arrived at around 10:30am and began using the kitchen and the living room once again, until the guests on the second floor checked out at around 11:30am. Subsequently, David went back and forth between both floors at numerous instances (for example, he wouldn't let us close the European-style patio doors ourselves in the living room, and came late in the evening and early in the morning to do so. He also came to cook his meals, answer the phone, etc.). Adding to the disappointment was the fact that breakfast was supposed to be included (as per the listing), but the host appeared surprised upon hearing we were expecting breakfast in the morning. He pointed to a loaf of bread on the kitchen counter and "lent" us two barely empty jars of jam/peanut butter, not the kind of treatment you are expecting when paying such a price per night. In fact we found it quite startling that a host would give leftover jam to guests staying in a "luxury villa". There was no usable coffee machine (only a French coffee press and unground coffee beans), no butter, and pretty much nothing else. The next day he brought us some strawberries. David is a nice person but unfortunately his inability to truly make the first floor a private space for the guests to use, together with frequent interruptions and a nonexistent breakfast, made for a disappointing stay and renders his listing inaccurate . I would recommend future guests to stay on the second floor and avoid the first one. The house is very well built and we did enjoy the nice views, the fresh air, and the relaxing atmosphere.
Sora
2015-09-22T00:00:00Z
We loved the place and the view while dining and just relaxing on the deck. The location was perfect for a quick get away and we loved how the place was decorated and the shower was to die for.
Brian
2015-08-26T00:00:00Z
Simply put, this listing is advertised as "Entire Home", but that was not what was delivered. We filter out "Shared" listings when searching because we are not interested in sharing space with anybody, well-meaning though they may be. I hesitate to write a negative review, but Airbnb encourages honesty. The pros: place is beautiful, better than the pictures. Million dollar view. Truly one-of-a-kind. But in practice: we booked six nights. We arrived and were confounded at the fridge full of the host's food, and dishes in the sink. What followed was a confusing two-hour period wherein the host showed us around and explained what we needed to know about the property (the diningroom table was inexplicably off-limits)...and then he simply did not leave. He was somehow upset at the fact that we had shopped and brought six days worth of food, frozen meat, (URL HIDDEN) our 6-night private rental of a home with a large kitchen. He advised in our correspondence that he'd be staying in an apartment on the premises. He did NOT mention that it shares an entrance with the main house, which we had rented. I would have been prepared to accept that oversight had he still treated the scenario like an "Entire Home" rental and made himself scarce except for entering and exiting, but through the course of the first evening (we arrived at 6pm on the first day), he was in and out of our unit upwards of 8 times. We knew it was entirely inappropriate for him to be there at all but it was late, and we were enjoying dinner on the deck. We decided to see what the following day brought. In the morning we learned that he had been up early, helping himself to our coffee in the kitchen of our unit. He clearly had no inclination to respect any kind of boundary. The site encourages the renter to first talk to the host before lodging a complaint - so we did, and he was highly defensive. I confronted him about the fact that the place was obviously listed incorrectly and he replied that there WAS no correct designation on the site for his place. Well, there is, it's called "Room in Home". I called Airbnb and they confirmed that I was 100% in the right - he shouldn't have been in the unit at all. They fell over themselves apologizing, gave me a full refund, and found us a new place...but it was the long weekend so it took an extra night to get us out of there. Put a major damper on our vacation. I'm aware that this listing has plenty of glowing reviews. I have no idea how to account for that, other than to say, perhaps he simply didn't stick around all those times. Because if you rented this place and it truly was an "Entire Home" without the nosy landlord LITERALLY IN THE UNIT WITH YOU, it would be worthy of all those glowing reviews, and then...
Aaron
2015-09-10T00:00:00Z
David is a terrific host and has a beautiful home. We truly enjoyed our time. Thank you.
Tim
2015-10-09T00:00:00Z
Room Type
Entire home/apt
---
Property Type
Villa
---
Accommodates
4
---
Bedrooms
Wakefield, Québec, Canada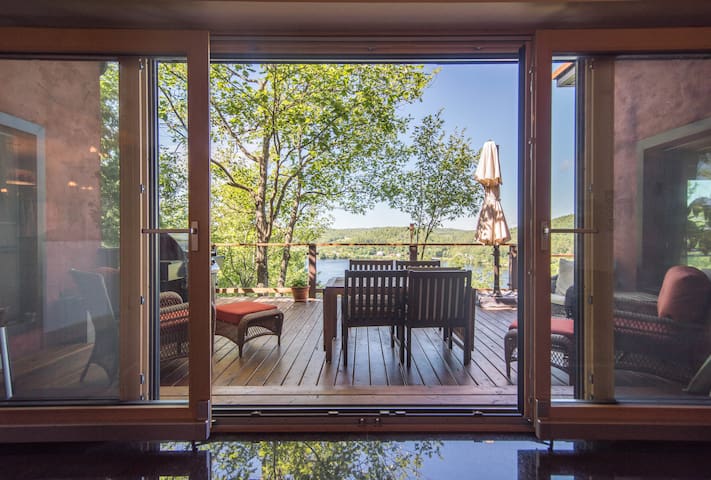 Nestled among six acres of forest and ponds, the Grand is ideally located in the vibrant community of Wakefield, twenty minutes north of Ottawa. We are an easy five-minute walk to numerous restaurants, café's, gift stores, music venues and galleries. Folded within natural beauty of the surrounding Gatineau hills are a myriad of great golf courses, family friendly ski hills, lakes and rivers. The atmosphere blends French country and Austrian architecture, with a touch of beach house Zen.
Room Type
Private room
---
Property Type
Villa
---
Accommodates
2
---
Bedrooms
Wakefield, Québec, Canada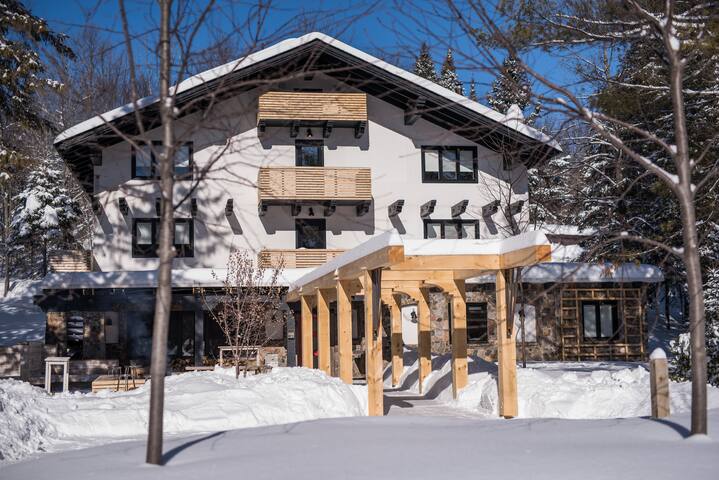 Home is great for couples, solo adventurers, business travellers and families. Quick easy commute to Canadian Tire Center and anywhere in Ottawa. Very peaceful property with lots of wildlife to enjoy. Walking trails and many little spots to relax and enjoy your time here. We do have 2 bedrooms available that accomodate 4 people or more if needed.
Very spacious tuscany style home, feels like you've gone to a retreat down south.
Conveniently located 10 minutes from Canadian Tire Center, Kanata and 5 minutes from Hwy 417 & Hwy 7 as well as Almonte. 5 minute drive to large golf course and also Aquatopia Conservatory.
We thought catherines place was lovely! Great property, lots of wildlife and they were excellent hosts. Very friendly and accommodating, will definitely be visiting again :)
Amanda
2017-03-20T00:00:00Z
The host canceled this reservation 86 days before arrival. This is an automated posting.
Sandra
2017-04-05T00:00:00Z
Room Type
Private room
---
Property Type
Villa
---
Accommodates
4
---
Bedrooms
Ottawa, ON, Canada
Cedar Dream is riverside big dream house cover 2 acres land . In this link which we rent out is the ground storey of the whole house with two bds, living room,bathroom,independent backyard.pls noted this is not whole house. this is not only one stay but also one view and one scenic to spend your holiday .Different season different fun with the water, and sit on the decks to spend one day to relax ,feel the sun rising and sunset . ( you can rent our first storey or the whole house pls consult
Cedardream is one big luxury riverside house with two storeys located near the Ottawa river which is designed by the famous construction company ,in this link which we rent out is the complete ground storey including two bedrooms, living room, bathroom,cooking kitchen, independent backyard( you can find all in the pics) .Although this is one storey of the house , but it keep good private space separately(even separately backyard , you can stay in your private space or share with others in the public space .Cedar is not only one house ,but also one river view and one scenic spot to spend your holiday with your familly or friends . you can enjoy lot of the fun with the water, and stay on the decks to spend one day to relax,watching the sun rising and sunset, what beautiful view you can feel . this is the best valuable choice for you. Different season you will find different view and funs. If you have more people in your group you can also rent our first storey or the whole house(pls consult fiwh the hoster). .The facilities including the swimming pool, kayaks, baseketball, bicyclette,BBQ .About 30 minutes to downtown Ottawa. Cedardream is one dream house you will fall in love with her special view and nice design at the first sight . She is not just one housestay, You can feel the river view 360 degree, every different angle,every seasons you will find the different views. Enjoy and relax for some days near the river, feel the nearest waterview. That is very quiet and spacious place for you to spend the holiday . (We have another link for the first floor , and also the other link for the whole house if you need to rent pls ask the hoster).
one side with small mountain, one side is Ottawa river , lot of funs you can find . pls dont disturb and come to the neighbour's area ,
Lucy and her husband were extremely hospitable and were very helpful when we had questions. Breakfast was prepared for us in the morning and let us use their facilities like BBQ, pool and the hot tub. They opened up their beautiful home to us and we are very grateful for such a spacious and clean place for our first AirBnB experience.
Joey
2016-08-02T00:00:00Z
Beautiful location in the middle of nature and right by the water. Clean and spacious place. Very friendly and accommodating host. Will go back in the future.
Suresh
2016-09-05T00:00:00Z
Super river view from private back yield. Cozy decoration. Clean and comfortable. Worth your stay with family or friends.
Daniel
2016-10-27T00:00:00Z
Lucy's home is outside of the town of Aylmer, Quebec on a very private street with access to the Ottawa River. Her home has a pool and hot tub in the backyard but we were not encouraged to use them so we didn't. We enjoyed the views, and the comfortable Queen bed on the lower level with our own bath and shower. We enjoyed quiet walks in the evening in this tranquil setting.
arlen
2016-07-11T00:00:00Z
Beautiful quiet location with new to Canada family. You are sharing gorgeous home on the Ottawa River with access to large deck and hot tub. Above ground pool was unavailable. We did however misunderstand and concluded our area of home was apart from family but the home is open construction without doors between family level and lower guest area. Breakfast the first day was cereal, breads and spreads. Day two fruits, jam & peanut butter was added. Coffee tea milk provided with toaster and toaster oven. The hosts were extremely respectful with both baby and son quiet. Quiet time 10pm-8am we rose earlier but host did not seem to mind. They also provided laundry and allowed us to use their soap, very nice. One point bring drinking water theirs is well water and has smell. Shower worked well. Overall our first Airbnb experience made us feel a bit uncomfortable living with a family.
Rick
2016-09-03T00:00:00Z
Very nice place!
Vincent
2016-06-20T00:00:00Z
The host canceled this reservation the day before arrival. This is an automated posting.
Parham
2017-04-09T00:00:00Z
Excellent stay generally, house is very clean, tidy, and has lovely amenities. A free breakfast was thrown in too. However, it's worth stating that the listing is marked as 'entire house', which is somewhat misleading. Although the floor is separate as indicated in the listing, it's not securely separated - just by stairs - and there is also some noise audible from above. I would not describe this as 'entire house'. That said, everything else about our stay was excellent and Lucy and her husband were superb hosts.
Andrew
2016-09-09T00:00:00Z
Room Type
Entire home/apt
---
Property Type
Villa
---
Accommodates
4
---
Bedrooms
Gatineau, QC, Canada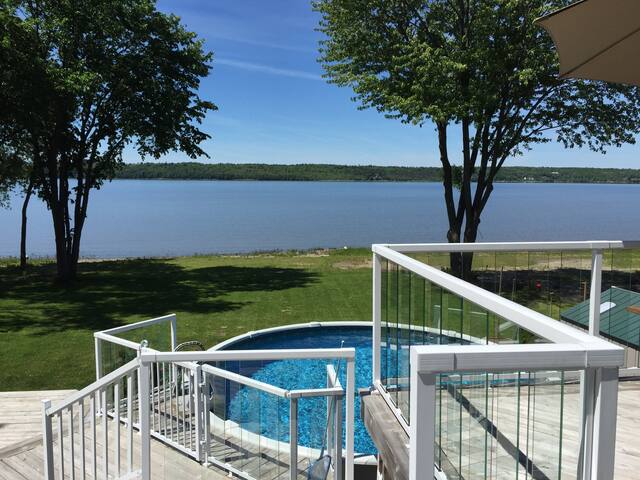 This is one room of the luxury riverside house,Cedardream familly hotel located Just at the border of the Alymer Gatineau, across the bridge that is Ottawa about 25 minutes to downtown ottawa ,nice decks ,swimming pool you can enjoy lot of funs near the river with the river . we have several different rooms for choice, river view room will be more 20 dollar more charges than the other room. if you want to find one good quite and nice view location for your holiday that is the best choice .
Cedardream is one dream house which is luxury furnitured ,located in fron of the Ottawa river , every seasons you have different feeling .This is one completely floor of the luxury riverside house which located Just at the border of the Alymer Gatineau, across the bridge ,about 25 minutes to downtown ottawa ,private entry , nice decks ,swimming pool you can enjoy lot of funs near the river ,swimming in the river ,fishing, canos , there r two bedrooms and living room, bathroom, separate entrance with the second floor. if you want to find one good quite and nice view location for your holiday that is the best choice . The Ottawa river is directly in front of the house and access to the beach is easy with young children.Good choice for the family
The host canceled this reservation the day before arrival. This is an automated posting.
Camilla
2016-07-14T00:00:00Z
Very nice welcoming family, we really enjoyed the stay, nice quiet home directly on the river and they provide a canoe or two for free, also two bicycles are available, clean room, living room and 3 decks, in which u can grab chairs and enjoy the spectacular view. Huge bathroom with bathtub. Available fridge and hot water boiler. They also welcome you to use their kitchen which is fully loaded. BBQ is available and ready to use, but with a 10 dollars fee for propane. Nice small swimming pool, u can also swim in the river. I will be going there again soon!
Saad
2016-08-07T00:00:00Z
Room Type
Private room
---
Property Type
Villa
---
Accommodates
2
---
Bedrooms
庞蒂亚克, QC, Canada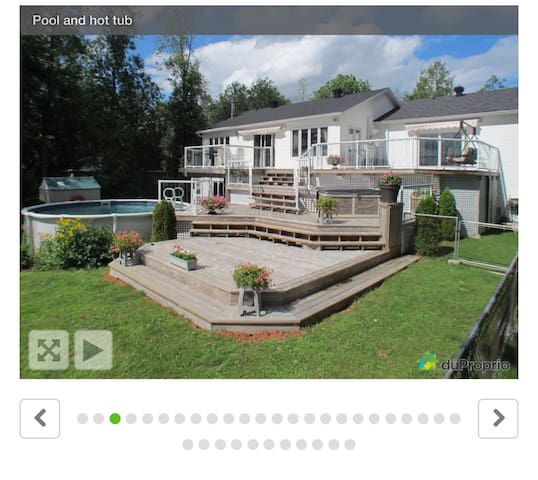 6 dedrooms, sleeps 16, directly on a beautiful sandy beach, a pure lake. You will love this place!
This cottage is one of the most lovely strawbail cottages in the world and according to some, the tallest! It can accommodate 16 people in every way even in the dining room or at the picnic tables on the beach.
There is the lake with its pure spring water, and 350 acre natural domain to explore, an 80km bicycle trail just out the door, a skating rink on the lake and a snow sport paradise during the winter…this is a place to love!
Most incredible weekend in a very special place!!! This cottage far exceeded my expectations and was a perfect place for our girls weekend. Plenty of sleeping space, fully stocked with all the necessities and such a cool space to hang out. It was very private and the land and lake is very pretty. The design of the interior spaces and open concept is perfect for a big group. Host was wonderful! Absolutely no complaints!!! Definitely want to go back :)
Ali
2016-07-11T00:00:00Z
Our stay at Dominique's lovely home exceeded our expectations. She was absolutely fabulous and the house is spacious, comfortable, and fully equipped with anything you would need. The lake is wonderful, with a paddle boat, canoe and a platform to jump from! The water was simply perfect and we had a great time swimming and boating. And, they lent us fishing gear!! The kitchen and layout in the main room is great b/c of the open format. Everyone likes to crowd around the kitchen typically and with it being open and spilling into the dining room and family room, everyone felt together, yet not cramped. I would highly recommend this place to anyone. I hope to go back. Thanks, Dominique!
Kate
2016-08-15T00:00:00Z
We had a great weekend at Dominique's cottage. There was plenty of room for our large group, the kitchen had everything we needed, and the swimming was great. The setting was beautiful as well, on a quiet lake.
Ryan
2016-06-27T00:00:00Z
This strawbale cottage was stunning! We had a group of 17 people inside, and there was plenty of room for all of us, a beautiful kitchen and dining area, and beds for all. The house was clean and had everything we could want. The backyard and beach area were beautiful; fire pit, chairs overlooking the water, wood-fire sauna, canoe and pedal boats, swim-out dock. The little town of Kazabazua is cute, and around the area there is a lot of wildlife and trails. An amazing place to stay only an hour from Ottawa!
Megan
2015-06-21T00:00:00Z
Room Type
Entire home/apt
---
Property Type
Villa
---
Accommodates
15
---
Bedrooms
Kazabazua, QC, Canada