10min walk to the train station and the bus station, 40 minutes from Disney Paris. In the city center, in the quiet courtyard. Building with secure access. You will appreciate modernity, calm and brightness of this apartment. The keys will be between 9am and 19h. However, we thank you to tell us what time you plan to arrive during your booking request. The scheduled departure time to 10h, perhaps "negotiated" depending on bookings.
The accommodation has been completely renovated in 2016.
Alley overlooking the River Marne and close to shops and restaurants and the park.
Florence et Roland sont très accueillant et disponibles, l'appartement entièrement refait à neuf est très agréable.
Anita
2017-03-08T00:00:00Z
superbe appart au calme près du centre ville ,avec parking a proximité et avec un bon accueil "que demander de mieux"
Frederic
2017-02-24T00:00:00Z
Logement identique aux photos....logement tout neuf manque un peu de finissions et d'équipements dommage ,par exemple rideau dans le couloir et porte d'entrée (la lumière de l'escalier reste allumée en permanence ) donc très gênant pour ceux qui dorment dans le salon ...le canapé n'est pas top pour dormir ,surtout adultes (une nuit ça va mais pas plus) ....nous y avons passé une nuit avec nos enfants le rapport qualité /prix est excellent . Nos enfants rajoutent... Il manque le Wi-Fi. Merci
Elisabete
2017-02-17T00:00:00Z
Très bon accueil de la propriétaire, logement bien rénové et agréable, mais manque des équipements : aucun rangement pour vêtements, pas de devidoir wc, ni porte savon. Je pense qu'il faut ôter le pictogramme d'internet, pas de connexion possible.
jocelyne
2017-04-05T00:00:00Z
Logement confortable, agréable et bien décoré au cœur de Château-Thierry. Nous le recommandons vivement !
bilal
2017-02-13T00:00:00Z
Un logement agréable , idéalement situé. un accueil convivial.
Solene
2017-03-04T00:00:00Z
Room Type
Entire home/apt
---
Property Type
Apartment
---
Accommodates
4
---
Bedrooms
Château-Thierry, Hauts-de-France, France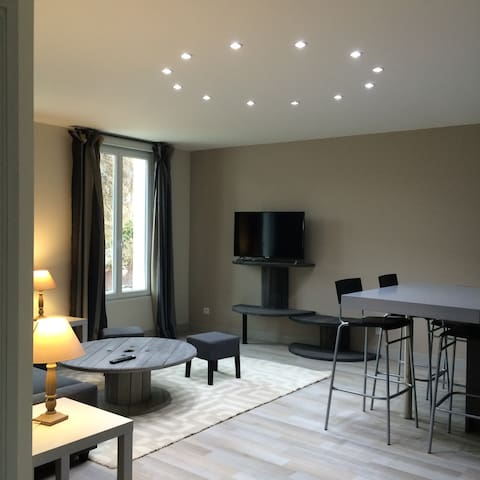 A 35 mn de Disneyland Paris et 35 mn de Reims loue chambres dans maison de plain pied avec 1 étage. Située au cœur de la Vallée de la Marne sur la route des vins de champagne. La vue sur les vignes est superbe en ttes saisons. Au total 2 chambres parentales, 1 chambre TV & bureau. 2 wc indépendants. Entrée sur 1 salon, salle à manger, cuisine ouverte de 50 m2, entièrement parquet. Bibliothèque bien garnie et mobilier importé de Bali.
Des hôtes très accueillants, des chambres impeccable, le séjour à été ressourçant !
Arnaud
2017-01-19T00:00:00Z
Très agréable moment! Chambre au top, décorée avec goût et tout le confort nécessaire! Hôtes très accueillant! Je reviendrais avec plaisir
Ingrid
2017-03-08T00:00:00Z
Room Type
Private room
---
Property Type
Bed & Breakfast
---
Accommodates
2
---
Bedrooms
Brasles, Hauts-de-France, France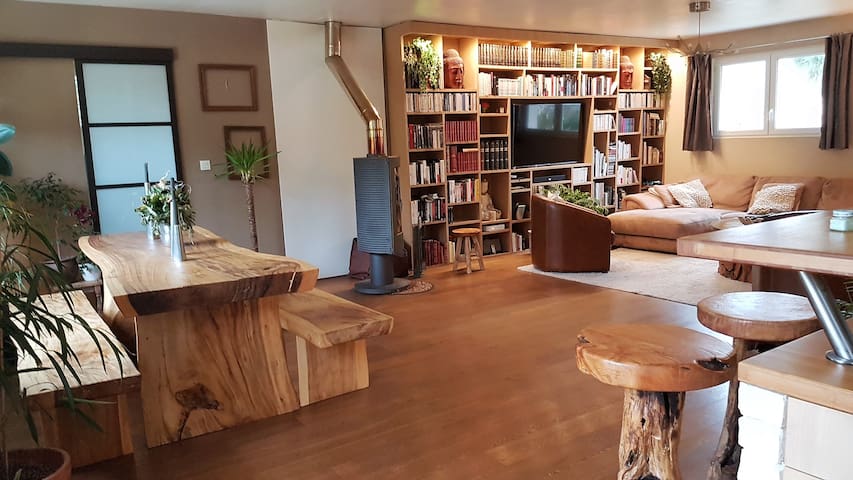 My property is located near Chateau Thierry and has 50kms of Reims, 3 / 4h Disneyland and 90km from Paris. Enjoy my housing for outdoor spaces and the pampering of a wilderness cabin with the drill. My accommodation is perfect for couples, families (with children) and four-legged.
Chalet outhouse team, a phyto-purification system for wastewater. The forest offers mushrooms and blackberries in the garden different fruits according to the seasons
The host canceled this reservation 6 days before arrival. This is an automated posting.
Adrien
2017-01-14T00:00:00Z
Nous avons passé un week-end très agréable dans le chalet douillet de Gisèle. Chalet rustique (au vrai sens du terme !), confortable, bien chauffé (radiateur). Pas de cheminée mais presque grâce au poêle à gaz pour se réchauffer les pieds confortablement installé dans l'un des beaux fauteuils du petit salon bien meublé. Cuisine bien équipée. Produits de base disponibles : thé, café, eau minérale, liquide vaisselle, beurre, confiture, ... Système autonome et écologique avec eau provenant directement d'une source (non potable) et toilettes sèches. Le tout fonctionne très bien. Ballade en forêt à proximité, beau jardin, petits animaux à contempler, tout ceci a fait le bonheur de nos enfants ! Excellent accueil, merci Gisèle. Le noix du jardin ont été appréciées ainsi que les viennoiseries à l'arrivée !
Edwige
2016-11-13T00:00:00Z
Le logement de Gisèle se trouve en pleine forêt au milieu de la nature.Les garçons ont adoré se promener et suivre les paons dans le jardins. C'est idéale pour retrouver son âme d'enfant et vivre dans une cabane. Le logement est joliment décoré et très pratique. J'avais vraiment envie d'essayer ces fameuses toilettes sèches...
Perrine
2017-02-19T00:00:00Z
Le logement est parfaitement décrit et très agréable. Le cadre est excellent pour les amoureux de la nature et pour se reposer.
Gaëtan
2016-12-30T00:00:00Z
Le chalet en forêt de Gisèle est mieux que sur les photos car celles-ci ne rendent pas compte de sa merveilleuse atmosphère de chaleur et de quiétude. A l'intérieur tout y est doux, de la décoration aux matières. La cuisine est parfaitement équipée, les lits sont hyper confortables, les serviettes sentent bon. Les produits de base sont présents ( si vous avez oublié votre gel douche au votre café ) et pour les frileux (n'ayez crainte, le chalet est très bien chauffé !) il y a des couvertures moelleuses et des couettes en plus. Quant à l'environnement, c'est magnifique! Les champs voisins et le jardin sont très beaux. Nous venions nous reposer de l'activité parisienne et malgré notre court séjour, nous sommes repartis régénérés! C'est très intime et vaste en même temps. On s'est sentis chez nous! Gisèle fut d'une disponibilité rare, répondant à nos besoins et ceux de notre fils toujours avec une grande gentillesse. Elle avait prévu une très délicate attention pour le petit déjeuner : baguette fraiche et pains aux chocolat. Elle nous a également prêté 2 vélos et s'est débrouillée pour nous trouver un vélo enfant! Dorénavant, si nous avons besoin de nous reposer au vert, nous savons où aller !
Céline
2016-11-01T00:00:00Z
Malgré l'absence de Giséle,souffrante, nous avons eu un accueil trés chaleureux de la part de son fils.Si vous aimez la nature, l'odeur et les craquements du bois, l'authenticité de l'ancien, ce chalet est fait pour vous; Nous avons été récompensés par la visite de 3 chevreuils devant la porte! A refaire sans modération!
Gérard
2016-09-27T00:00:00Z
Un chalet calme et paisible. Super pour aller faire de grandes balades en Foret.
Nolwenn
2016-11-17T00:00:00Z
la localisation est sympathique mais niveau de confort assez moyen pour le prix
catherine
2017-02-13T00:00:00Z
Room Type
Entire home/apt
---
Property Type
Chalet
---
Accommodates
4
---
Bedrooms
Brasles, Nord-Pas-de-Calais Picardie, France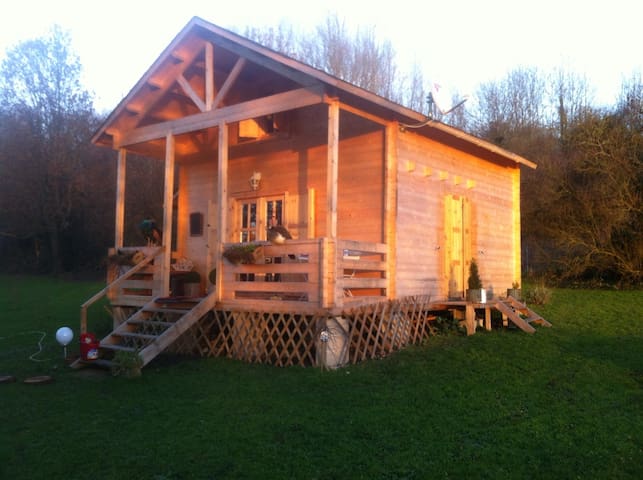 Studio furnished with sofa and mattress on mezzanine, located on the first floor of a building overlooking the Court of Chancery of the castle. Great spot, especially quiet and sunny
Room Type
Entire home/apt
---
Property Type
Apartment
---
Accommodates
2
---
Bedrooms
Château-Thierry, Hauts-de-France, France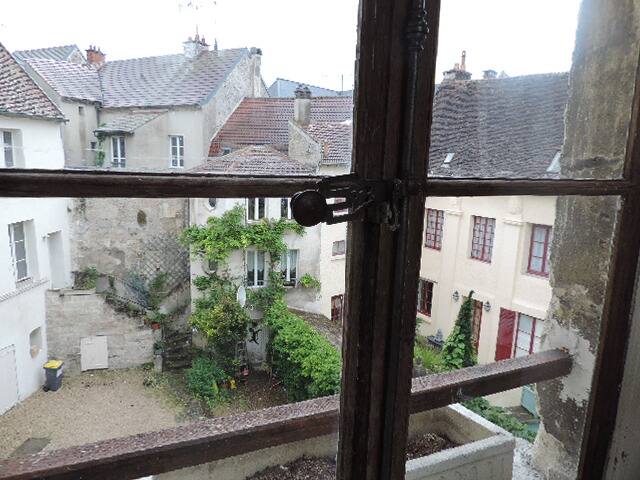 F2 apartment renovated and tastefully in a quiet area !!! For lovers of the kitchen you will find a fully equipped kitchen. Large table and workstation. cozy lounge with sofa, armchair, coffee table and TV stand. double bed, walk-in shower. multimedia devices. Wifi available. Terrace with lovely views of the canal and the city. 1st floor, equipped with a lift. Free parking. A welcome tray with coffee, tea, sweets will be available.
Lovely view of the canal and the city. Near any trade! Downtown 10 min walk to train station
Cartier quiet, relaxing view of the canal in front of the marina.
Our stay was perfect! The apartment has everything you need and is extremely clean. Xavier made sure our check-in went smoothly and was very flexible. Un airbnb parfait pour une petite escapade dans un petit village avec beaucoup de charme.
Marc
2016-07-11T00:00:00Z
Nice stay, contact was great. Great for visiting champagne region.
Sjoerd
2017-02-19T00:00:00Z
Very modern and perfect equipped Apartment in a quiet surronding next to the center. We didn't met Xavier himself but his mother was a really great host.100% recommendation
Tina
2016-06-06T00:00:00Z
J'ai passé 4 jours dans l'appartement de Xavier pour un déplacement pro. Absolument rien à redire : appartement nickel (ultra propre, super bien équipé et surtout très joli avec une terrasse avec vue sur la Marne), très bien situé en plein centre. Xavier a été toujours disponible, très sympa et accueillant (merci encore pour le parapluie et de m'avoir déposé le ce matin ;)). Je recommande évidemment à 100% !
Clémence
2016-08-04T00:00:00Z
Très joli logement, bien placé au centre de château Thierry. Bon accueil de Xavier. Excellent.
Emmanuel
2016-02-17T00:00:00Z
Super appart,hôte très dispo et arrangeant. Je vs le conseil pour votre séjour.
Jérémy
2016-07-07T00:00:00Z
Au travers de son accueil, convivial et de sa gentillesse. Agréable quartier au bord de la Marne.Aux premières loges pour le feu d'artifice .a
bernard
2016-07-17T00:00:00Z
Nous avons été très bien accueillis par Xavier. L'appartement vient d'être refait à neuf, avec beaucoup de goût. Il est également très bien situé. Une adresse que nous recommandons les yeux fermés !
Olivier
2015-10-11T00:00:00Z
Room Type
Entire home/apt
---
Property Type
Apartment
---
Accommodates
2
---
Bedrooms
Château-Thierry, Picardie, France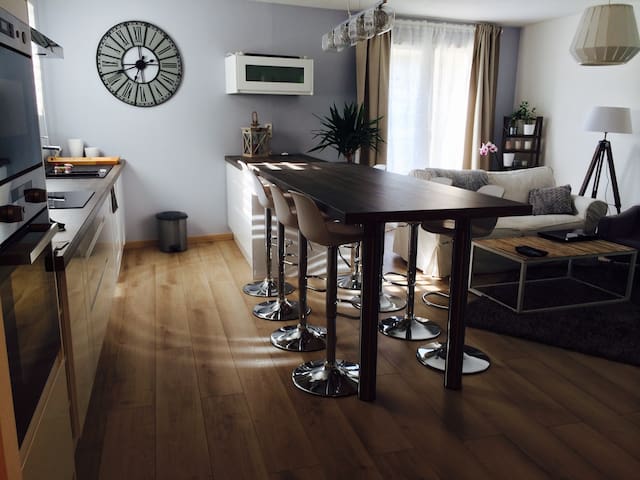 Studio city center close to all amenities. On the second floor. Building with secure access. In court, quiet.
Located in the heart of the city Castelle, near the banks of the Marne and the old castle.
The host canceled this reservation 5 days before arrival. This is an automated posting.
Charlotte
2016-10-17T00:00:00Z
Le logement correspond bien à l'annonce. À recommander !
A
2017-02-26T00:00:00Z
Au top
Ff
2016-12-02T00:00:00Z
Accueil sympathique. Appartement neuf et propre idéalement situé dans le centre de Chateau Thierry !
julien
2016-07-04T00:00:00Z
Merci pour votre accueil. Dommage que votre autre location ne soit pas disponible pour la fin juin début juillet. Les différents séjours étaient très agréables.
christophe
2016-06-17T00:00:00Z
Accueil très sympathique, lieu agréable et joliement aménagé. J'ai passé un très bon séjour dans ce petit cocon idealement situé dans Chateau Thierry. Merci .
julie
2016-02-27T00:00:00Z
Petit appart sympa qui correspond bien à la description et à la photo. Accueil chaleureux.
Fernando
2016-03-25T00:00:00Z
ce studio est très bien pour 1 personne en passage pour raison professionnelle
Corinne
2016-11-10T00:00:00Z
Room Type
Entire home/apt
---
Property Type
Apartment
---
Accommodates
2
---
Bedrooms
Château-Thierry, Picardie, France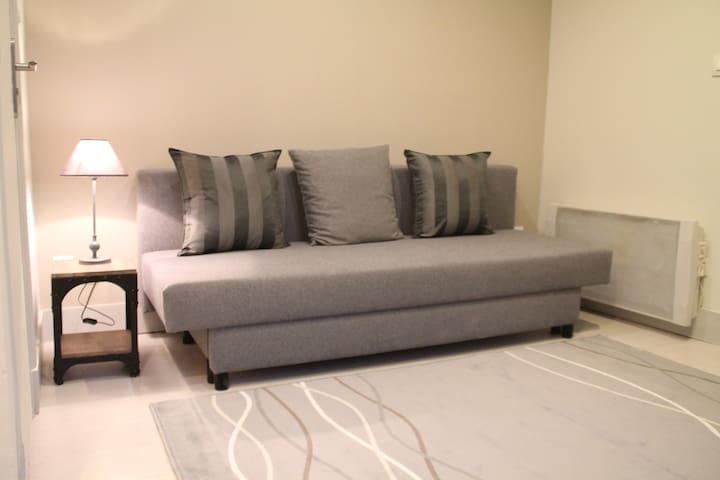 In a beautiful house overlooking the valley of the Marne, we offer a large separate bedroom with toilet and shower. WIFI available
In an attractive house with a view of the valley of the Marne, we propose you a big independent room(chamber) with dress(toilet) and privative shower. Refrigerator, microwave oven. Available WIFI free of charge You can take advantage of the garden to relax (2 terraces of 25m ²) It is possible to use the barbecue A parking lot at arrangement(measure), bus stop and stores in 5 minutes in feet, city center in 10 minutes. To visit Eurodisney in 40 minutes In 5 minutes of the American cemetery (bellot wood) Cellars of champagne Walk on the edges of the Marne Jean de La Fontaine museum Municipal swimming pool in three minutes on foot
We had a lovely time staying at Marie and Guy's home. They were super accommodating and very helpful. Upon arriving Marie ensured we had everything we needed in order to make our stay pleasant. She even showed us the view of the vineyards and the Chateau-Thierry American Monument from their back gate. What a spectacular view. Their garden and lounging area are perfect for quiet evenings, reading, or a small barbeque. In fact, Guy and Marie went the extra mile and hosted the most lovely small Sunday afternoon Barbeque. We really enjoyed the opportunity to share drinks, food, and life with these two wonderful people. We would highly recommend staying at with them, and we look forward to any future stays. The only thing you have to be mindful of is that the WiFi signal is not very strong, but the signal worked well enough for (SENSITIVE CONTENTS HIDDEN), e-mail, and social media. Thank you!
Amber
2014-05-27T00:00:00Z
Even though we were arriving late in the evening, Guy was very accomodating. It was much appreciated!
Rebecca
2014-03-22T00:00:00Z
We had a great stay at Marie & Guy's place. They were super friendly and helpful. The Room was clean and perfect for two people. The bathroom was our access only. All in all it was like a whole Flat (except the kitchen)
Fevzi
2014-02-10T00:00:00Z
We really enjoyed our stay with Marie & Guy, very nice people. Wish we had the time stay more than 1 night. The place and the environment is very nice and has everything you need. Marie & Guy respond very quickly if you have questions. Definitely recommend this place to others!
Heidi
2014-09-22T00:00:00Z
This is *the* place to stay if you are coming to Château-Thierry. Marie and Guy have a lovely home, beautiful view, and wonderful hospitality. My room was very clean and included nice extras like goodies to snack on, water, fridge, and good wifi. In addition, I had great conversations with Marie and Guy; between their English skills and (SENSITIVE CONTENTS HIDDEN) translate, they made me feel at home even though I do not speak French.
Mark
2014-09-29T00:00:00Z
Our hosts were very helpful and nice, spoke good English. The apartment is very clean and bright, in peaceful neighborhood, full of vineyards. Close to the supermarket with car.
Piotr
2014-09-11T00:00:00Z
A great place to stay! Guy and Marie were incredibly nice and went above and beyond what I expected. The room was very nice and private and even had its own terrace. The house is great and the hosts are wonderful!
Jordan
2015-07-07T00:00:00Z
Marie & Guy were both nice, warm, and accommodating. They were friendly and eager to recommend their favorite things in the area (for example, Marie strongly suggested we visit the Champagne cellar caves). Beautiful house. Very private room/bathroom separate from the house. Gorgeous area, and very pretty view into their backyard garden area. You can easily walk to the Chateau-Thierry American monument from the house. As an extra tip, I recommend visiting the HUGE hypermarche supermarche Carrefour. I wish I had taken into account how rare this was in France, and bought some more French odds and ends (for example Marseillais soap/shampoo/apres shampoo) while there!
Sarah
2013-10-28T00:00:00Z
Room Type
Private room
---
Property Type
House
---
Accommodates
2
---
Bedrooms
Château-Thierry, Picardy, France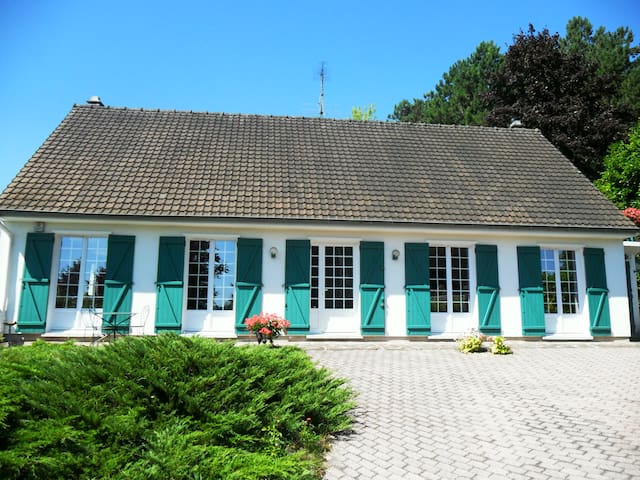 Bel appartement luxe, situé dans un immeuble récent et design en centre-ville, vue Marne, au coeur de la route de Champagne. Bel espace de 90 mètres carré entièrement meublé. Salon, salle à manger sur cuisine ouverte/ 2 chambres avec lits doubles/ 2 WC/ 1 salle de douche. Chateau-Thierry, ville de Jean de la Fontaine, située entre Paris et Reims, au coeur de la Vallée de la Marne. Frais de ménage obligatoires 35€ Caution de 1900€.
Room Type
Entire home/apt
---
Property Type
Apartment
---
Accommodates
4
---
Bedrooms
Château-Thierry, Hauts-de-France, France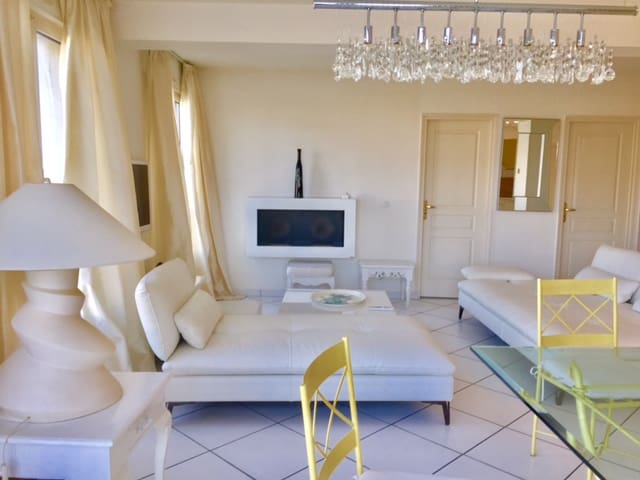 warm house 3 km from the Chateau-Thierry Station 2 bedrooms (160cm bed), one with dressing room, 1 large bathroom (shower + bath), 2 toilets, kitchen, living area of 50m2, wood stove, perfect for a quiet moment by the fire .. 60 kms of Reims, 60 kms from Disney, many furniture Industrial metal so pay attention to young children nonetheless. (For the summer, barbecue, jacuzzi and garden are available) deposit € 1,000
caution 1000€
quiet, small parking lot down the house for those arriving by car
Nous avons passé un excellent weekend chez Anthony dans sa charmante maison rénovée par ses soins. Anthony, hôte très flexible, sympathique et accueillant, a tout fait pour rendre notre séjour aussi agréable que possible. La maison, située aux portes de la Champagne, est refaite à neuf, très bien entretenue, avec une mention spéciale pour le poêle à bois, la spacieuse salle de bain et la terrasse qui donne sur le jardin. Nous recommandons !
Christian
2017-02-26T00:00:00Z
Room Type
Entire home/apt
---
Property Type
House
---
Accommodates
4
---
Bedrooms
Nogentel, Hauts-de-France, France
Panoramic French window, central air conditioning, high speed WIFI, there are stairs in the room, above is bed, have 1.5 meters wide. The following is a sofa tea table carpet and other items
Room Type
Private room
---
Property Type
House
---
Accommodates
2
---
Bedrooms
谢尔里, 皮卡第, France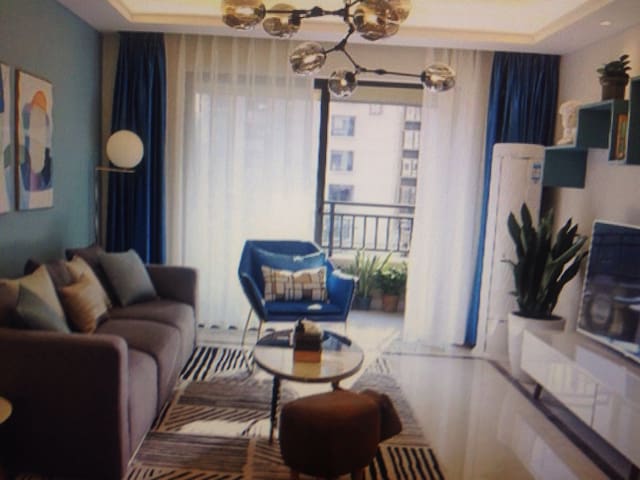 Au cœur de la cité historique des Fables de La Fontaine, belle et spacieuse demeure de caractère du XVIIIème siècle bâtie sur 3 niveaux et proposant 5 chambres (15 couchages) et 3 salles de bain. Récemment restaurée et mise en valeur par une décoration contemporaine, la maison dispose d'une grande salle de séjour et d'une vaste cuisine idéales pour les réunions de famille ou entre amis. Au beaux jours, son jardin vous offre un cadre privilégié pour la détente et pour profiter du barbecue.
Demeure historique, classée au patrimoine historique de la ville de Château-Thierry, au calme, datant de la fin du XVIIIème siècle. Construite en pierres du soissonnais, la maison était autrefois utilisée comme le Bureau d'Octroi du département de l'Aisne. Cuisine accessible en libre utilisation ou possibilité de profiter de repas préparés par votre hôte (menus variés) Situation: 10 mn à pied du centre ville (restaurants, commerces, cinéma...) 5 mn à pied du Musée Jean de la Fontaine. 5 mn à pied des promenades du bord de Marne. 1 mn d'une boulangerie 20 mn à pied de la gare SNCF Arrêt de bus (accès gare SNCF) à 1 mn Accès autoroute : 5 mn en voiture Disneyland Paris : 45 mn par l'autoroute A4
Quartier calme et non bruyant comptant de nombreuses maisons historiques classées.
Room Type
Entire home/apt
---
Property Type
Villa
---
Accommodates
15
---
Bedrooms
Château-Thierry, Hauts-de-France, France
Notre maison est située dans un quartier calme de Château-Thierry, à quelques pas des caves Pannier. Entre Reims et Marne-la-Vallée (40 min de Disney), prenez le temps de découvrir la cité des fables, les bords de Marne, le vignoble de champagne, ... Idéal pour les familles avec un jardin clos, une cabane, un potager, des jeux de société, ... Salon de jardin, tables et transats vous permettront de profiter de la nature et du soleil lors des belles journées de printemps ou d'été.
You can reach the office, the laundry room with washing machine and dryer. You will have available for small and greatest board games. There are also toys 6 months to 10 years (infants, dinette, small cars, bicycles ..). Opportunities to provide equipment for children (high chair, cot ...).
Room Type
Entire home/apt
---
Property Type
House
---
Accommodates
8
---
Bedrooms
Château-Thierry, Hauts-de-France, France
Chambre dans maison a la campagne a 7 km de Château Thierry souvent entièrement libre la semaine.
Sejour agréable et calme!!
Kh
2017-03-16T00:00:00Z
Room Type
Private room
---
Property Type
House
---
Accommodates
2
---
Bedrooms
Chartèves, Hauts-de-France, France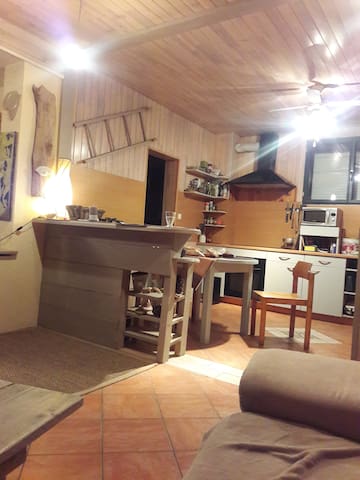 For a stopover between Reims and Paris, located on the "Route du Champagne" a simple room, contemporary & Indian décor in a small house with a garden and terrace. Note: all accessible parts, except the owner of House.
The Cuban flag on the front door puts you in the mood ... Push the door, you are somewhere else!
Long Avenue, which leads straight to the center of Château-Thierry (10 minutes walk) beautiful walks on the banks of the Marne flowing quietly behind the house, and of course the sunny hillsides planted with vines of sight ... a small supermarket less than 100m open all're day except Sunday.
Eric's place is great and he's a wonderful host...fun and very entertaining! He made my stay very special by taking me to some historical places outside of Chateau-Thierry that I really wanted to visit. His accommodations at his house are very comfortable and he makes you feel right at home. Highly recommend staying at Eric'(URL HIDDEN) a real treat.
Jim
2016-07-19T00:00:00Z
Eric was an absolutely fantastic host! We felt right at home, even with our very brief night in Chateau Thierry--we were en route to Bouresces for a seminar and needed a place to stay since we were coming from Paris. Not only did Eric both pick us up from the train station and take us to Bouresces--a gesture going far above and beyond what I would have expected from a host--he shared with us his homemade wine and gave us plenty of tips for travelling the Champagne countryside during our stay. The room was beautiful, as was the rest of the house: very clean, quiet, and well-kept, with everything we could have needed. We felt very much at home and frankly wish we could have spent another few nights there. Chateau Thierry is a gorgeous, idyllic village that deserves attention and would make a lovely destination on its own--and Eric's place is well-positioned for a great visit. We wouldn't hesitate to stay here again and would recommend Eric's house any time!
Peter
2016-08-29T00:00:00Z
Chaleureux accueil d'Eric dans une charmante maison qui témoigne des voyages au bout du monde de son hôte. Belle chambre confortable et au calme, une immense salle de bain. un excellent pied a terre a 5 mn du centre ville.
Alex
2016-07-04T00:00:00Z
Room Type
Private room
---
Property Type
House
---
Accommodates
2
---
Bedrooms
Brasles, Picardie, France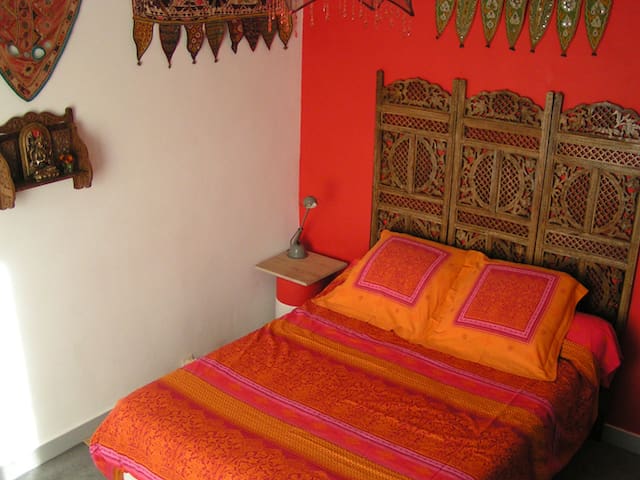 In a beautiful house overlooking the valley of the Marne, we offer a large green bedroom with en suite toilet and shower. Refrigerator, microwave oven. You can use the garden to relax (25m ² terrace) Parking available, bus stop and shops within 5 min
microwave oven and refrigerator available
Staying with Guy and Marie was a great way to stay in Chateau-Thierry. They went above and beyond to help in any way possible with my visit. It was like staying at a 4 star hotel. Great advice for the area and great conversationalist. I will be back again.
Richard
2015-07-06T00:00:00Z
Marie and Guy were wonderful hosts. Their top floor room was comfortable and pleasant, and very close to attractions in Château-Thierry. Parking was on street on a quiet cul-de-sac. There is a separate back door entrance but is best to use the main entrance. The shower was nice, as was the breakfast items (coffee and muffins).
Mark
2016-04-05T00:00:00Z
Marie and Guy were axing hosts. They contacted mr before-hand. The room was perfect and even had a little balcony that was nice to sit out on and enjoy the view. Everything was cleans and organised and they even provided a microwave, fridge, kettle and a tin of little treats. There was even a couple of bottles of OJ in the fridge. I would go back and if course recommend that others stay with Guy and Marie.
edward
2015-03-25T00:00:00Z
Marie and Guy were great hosts, they made me feel welcomed the second I contacted them to rent their place. As soon as I got there even there neighbors were welcoming. The space was exactly as listed and was perfect for my stay. They offered to help multiple times during my stay and were willing to make my stay better anyway they could. Highly recommend this place if you are staying in the area.
David
2015-06-01T00:00:00Z
Très bon accueil, un endroit très au calme. Nous avons passé une très bonne nuit. Nous conseillons le séjour chez Marie et Guy
Emilie
2016-10-30T00:00:00Z
Alles perfekt!
Hannes
2016-06-13T00:00:00Z
Tout était très bien. C'était un logement parfait après une journée fatigante à Paris. Merci beaucoup!
Sina
2015-03-26T00:00:00Z
Bon sejour , Marie et Guy très sympatique Très belle maison Chambre très agreeable avec sa terrasse
Gilles
2016-06-20T00:00:00Z
Room Type
Private room
---
Property Type
House
---
Accommodates
2
---
Bedrooms
Château-Thierry, Picardy, France
Mont Saint Père est un charmant village situé entre la rivière Marne et le vignoble(champagne) La chambre de couple est en rez de chaussée avec terrasse donnant sur une cour fermée pour le véhicule. Salle de bain et WC indépendants.
La maison est en pierres meulières, elle est agréable et est située au coeur du petit village. Il y a 2 chambres, la 1ère pour le couple et la 2sde pour 1 personne. Possibilité d'accueillir bébé également. Pour la location des 2 chambres, je n'héberge que des personnes qui sont de la même famille ou qui sont amis.
La Marne est situé à 50 mètres et il fait bon s'y promener. Village natale du peintre Léon Lhermitte.
Wonderful location and a great hostess! Thank you very much for everything. We hope to visit you again soon! All the best! Astrid, Ralf and Michel
Astrid
2015-12-02T00:00:00Z
Everything was really good. Francine was most welcoming, very friendly. The great breakfast was a bonus also.
Anthony
2016-05-27T00:00:00Z
The host canceled this reservation 3 days before arrival. This is an automated posting.
sandrine
2016-06-11T00:00:00Z
The host canceled this reservation 60 days before arrival. This is an automated posting.
Catherine
2016-01-12T00:00:00Z
We enjoyed staying at Francine's apartment. Beautiful French house with a very nice garden (beautiful flowers and terrace!). Francine is a very hospitable person, she tries to speak English. She was very flexible with check-in and -out times. We had a very late arrival, and preferred a late check out. The room smells a bit musty. Be aware that the second bedroom (single bed) is combined with the bathroom. We loved the breakfast with homemade marmalade. Very convenient to park the car inside the fence.
Annemiek
2016-09-04T00:00:00Z
The host canceled this reservation 12 days before arrival. This is an automated posting.
Marie-Paule
2015-06-30T00:00:00Z
A fantastic stay. Francine is a great host! After a long cycle we were welcomed with a cold beer and some much needed water. We were welcomed next morning by a breakfast of croissant, tea and homemade jams and yoghurt. A very welcome break.
Arthur
2015-08-11T00:00:00Z
Francine is super-nice, and very welcoming. Her house is very comfortable, and very tastefully decorated. Perfect for our overnight stay for a nearby wedding.
Victor
2015-07-19T00:00:00Z
Room Type
Private room
---
Property Type
House
---
Accommodates
3
---
Bedrooms
Mont-Saint-Père, Picardie, France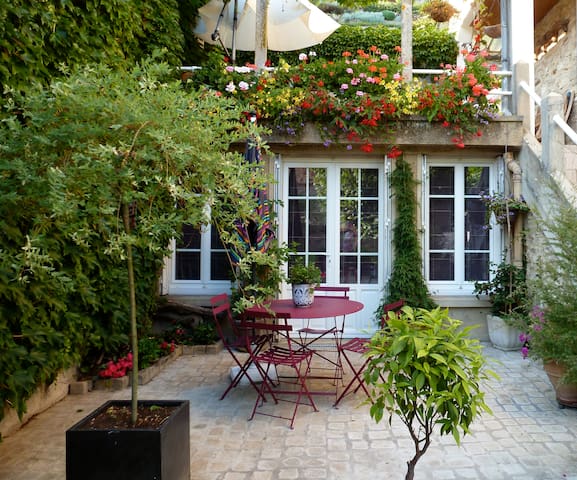 30 minutes from Marne La Vallée (Disneyland) and 40 minutes from Reims, single storey house with 1 stage located on the road of wines of Champagne in full Marne Valley. 2 master suites and 1 king size bed. Overlooking vineyards, beautiful in all seasons. warm furnishings, teak imported from Bali. 4mX2.5m library well stocked. 1500m2 of land. A side entrance terrace and a large garden terrace with its rounded seating to admire the vineyards.
The house is fully parquet, as we ask you to remove your shoes upon entering. We recommend that young children's parents to support them in the staircase to the first floor, the latter being a bit "dry".
Room Type
Private room
---
Property Type
Bed & Breakfast
---
Accommodates
4
---
Bedrooms
Brasles, Hauts-de-France, France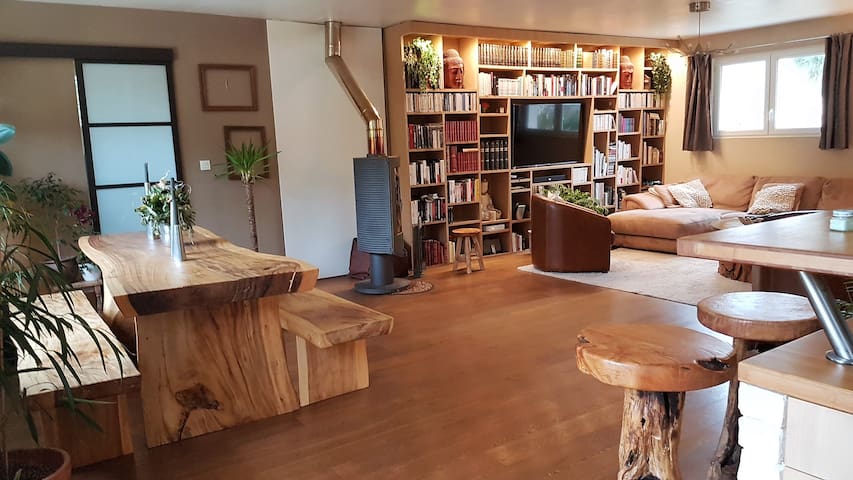 En pleine nature, à côté de notre ferme, venez séjourner dans notre mobile home tout équipé Idéal si vous voulez passer un moment au calme et simple. Ferme sans voisin au milieu des champs, avec les animaux (poules, coq, moutons, chats)
Vous viendrez séjourner dans ce mobile home indépendant tout équipé pour une nuit, un weekend ou une semaine, pour être proche de la nature, et profiter du calme, tout simplement. A l'intérieur : - 2 chambres avec grand lits - Salon avec TV - Cuisine équipée (frigo, plaque gaz, micro-onde, senseo, bouilloire, grille pain) - WC - Salle de bain (douche) Vous aurez tout le confort d'une maison à la campagne avec en prime le calme et la nature ! Vous pourrez passer faire des balades au bord de la Marne, dans les bois, les vignes et les champs autour de la maison
Lieu calme au milieu de la nature Le village est à 3km de la ferme, vous y trouverez quelques commerces : Poste, bar, tabac, superette, pizzeria, fromagerie, producteurs de champagne, boulangerie, boucher, pharmacie, médecin, coiffeur, gare Château-Thierry à 15 minutes en voiture visitez les caves de Champagne, cimetières Américains, Musée Jean de la Fontaine, Château médiéval (spectacle de rapaces, aigles), Piscine municipale, cinéma, complexe avec spa (sauna/hammam/salle de sport) Reims est à 35 minutes de Château thierry pour visiter les caves det champagne, la cathédrale (voir le son et lumière sur la façade), vous balader sur la place d'Herlon, faire les boutiques…. Paris et Eurodisney à 50 minutes.
Room Type
Entire home/apt
---
Property Type
House
---
Accommodates
4
---
Bedrooms
Chézy-sur-Marne, Hauts-de-France, France
Enter dates to see the total trip price including additional fees (but excluding any taxes).