Meu espaço é perto do centro, cidade turística religiosa - Nossa Senhora Aparecida, maior romaria da Santa fora da Basílica de Aparecida e do sul do País. Eixo Geográfico entre as Capitais: Florianópolis, Porto Alegre e Curitiba. 130km do aeroporto mais perto. 50km de Pista de aeroporto. Belas paisagens e áreas de turismo junto a UHE Campos Novos e trilhas ecológicas.
Room Type
Entire home/apt
---
Property Type
House
---
Accommodates
2
---
Bedrooms
Campos Novos, Santa Catarina, Brazil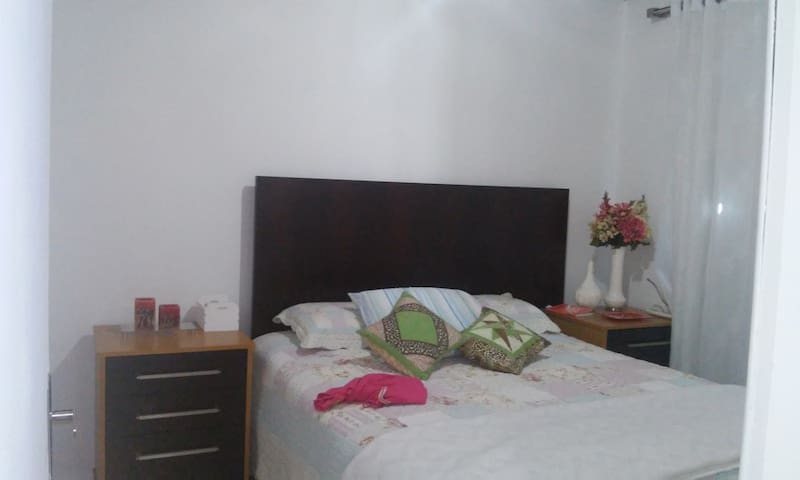 Diego foi um excelente anfitrião! Tudo limpinho e ótima localização. Recomendo!!!
Caroline
2017-03-27T00:00:00Z
Excelente opção para estadia na região de Joaçaba. Uma casa nova, bem conservada e um anfitrião muitíssimo educado, que me fez sentir em Casa.
fernando
2016-11-24T00:00:00Z
É uma casa nova, muito bem conservada e extremamente limpa e organizada. O lugar é excelente e bem estruturado. Espere roupa de cama e toalhas de ótima qualidade.
Conrado
2016-10-29T00:00:00Z
Ótimo local e anfitrião atencioso.
Odair
2017-03-10T00:00:00Z
Casa é realmente muito aconchegante, tem tudo que precisa pra uma ótima estadia, o anfitrião me recebeu extremamente bem. Tem uma vista muito bonita e o bairro é super calmo, mesmo assim muito fácil acesso ao centro da cidade.
Heber
2016-10-28T00:00:00Z
Bairro ótimo, casa incrível anfitrião sensacional. Excelente estadia em todos os sentidos. Muito obrigado pela magnífica experiência, Diego!
Renan
2016-12-30T00:00:00Z
Room Type
Private room
---
Property Type
House
---
Accommodates
2
---
Bedrooms
Joaçaba, Santa Catarina, Brazil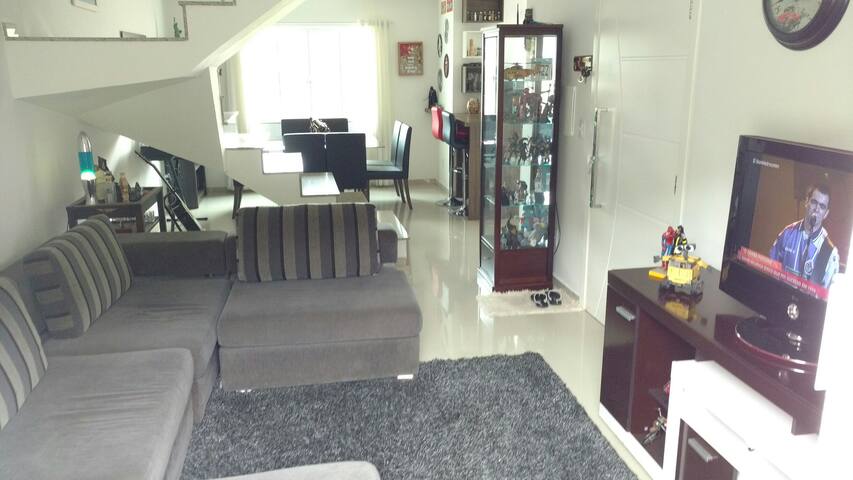 Essa é a minha casa de campo particular, passo a maioria dos finais de semana lá, é um lugar com muita natureza e requente... ideal para curtir o friozinho em grande estilo com uma lareira e um fogão delicioso..... Todos que foram se encantaram
Villa Santa Catarina Brazil It is a private place, where we spent the weekend, we have a very good structure, a place for parties accommodating up to 80 people, ponds for fishing, forests, incredible as it seems, being inside has internet. cable. The house has a fireplace, 106 m2, a wall all glass within the forest. The address on file is not correct, since it is a place, I put my home address. But the house is ideal to spend with family, 4 fish in ponds, walking through the woods, watching TV on freight fireplace. Very good also for a romantic couple, as the room has a super king bed, fireplace and many movies on cable TV (full package) The site is 15 km from Treze, the city is a treat, is the Brazilian Tyrol, where you find craft brewery, mini-city, pizza, bowling, hot springs etc.. Worth a visit. house rules: The general rule is to keep everything in order not to throw garbage around. exportiva can fish fishing (fishing and loose) and some fish to eat locally. Eating fruits of the season. (Loquat, orange vergamota, plums, peaches, figs and others)
Os vizinhos são bem acolhedores e muito prestativos, caso precise deles estarão prontos a ajudarem, eles adoram uma boa conversa e gostam de conhecer pessoas, isso é claro, se derem abertura para isso. o vizinho mais próximo mora a 40 metros de distância. Caso não queira, nem um irá perturbar. São vizinhos tranquilos
An excellent location, quiet, tranquil, with its own ponds and orchards. The house is brand new and used as a weekender by the host Fernando and his family. The quality of the furnishings and accommodation is extremely high. Beautiful floors, kitchen and fireplaces, wood-stove and dining area, TV WiFi etc.. Fernando was extremely kind and helpful. Highly recommended.
Simon
2014-06-12T00:00:00Z
Beautiful home & compound in idyllic country setting! Our family spend a month here, and had a great time. Perfect for anyone who would like to get away for the city for a luxury get away or explore this facinating part of Brazil, including the charming transplanted Austrian town of Treze Tilias. Although the listing does not show it, there are three seperate buildings and plenty of room for a much larger group of people. Our host, Fernando also provided us with all sorts of extras such as fishing gear, churrascos and family visits! You can relax at the compound, go fishing, bird watch, exlore the surrounding forest trails or visit with the friendly neighborhood farmers! Fernando and his family were extremly gracious, genourous and helpful hosts, as were our neighbors. We could not have asked for a better reception. However, the house is in the country, about 10 km from the nearest town/ shops, so you will need a car to get aroud and you should be prepared to live and deal with the local wildlife, including the ubiquitous Brazilian burrachutos. Overall it was a great experience and we can highly recommend both the location, the house and our hosts.
George
2014-01-24T00:00:00Z
Fernando was very friendly and made us feel welcome and comfortable right from the start, including exchanging our dollars for Real when we first arrived. This was very helpful since the banks were closed by the time we got there. He was extremely flexible in meeting us and taking us out to the ranch house. He adjusted his schedule to accommodate our arrival and our first afternoon in Joacaba. He even stopped at the neighboring dairy to get us a bottle of fresh milk just before we got to the ranch house.
Mary Lee
2015-05-03T00:00:00Z
We stayed for two nights with a family of 5 Fernando welcomed us at his place of business in Joacaba and accompanied us to the sitio after first getting us some fresh milk from the farm ! The house had everything what was promised A nice fireplace with plenty of wood provided Internet and cabletelevision Important for us to be able to watch the championsleague final Greatplace outdoors but with modern necessities
Daniel
2016-05-30T00:00:00Z
alguns anfitriões fazem a diferença e Fernando é desses. A casa é fiel às fotos; e como fica afastada do comércio, encontramos na geladeira opções que nos ajudam a começar a estadia. vinho, refrigerante; amenities para toilette...Mas Fernando foi além: esquecemos uma valiosa câmera ao sair e ele não só a encontrou como se dispôs - e cumpriu - a entregar 200 km adiante. Honestidade a toda prova; o Air bnb pode se gabar de ter anfitriões assim!
jeanne
2014-11-11T00:00:00Z
Realmente um lugar incrível. Fácil localização e acesso. Anfitrião atencioso. Foi ótimo passar alguns dias nessa casa de campo, o contato com a natureza e o estilo rústico são demais.
Junior
2016-06-20T00:00:00Z
Adoramos o lugar, nos sentimos em casa, tudo muito confortável e limpo...Todo o lugar é especial,o chalé é muito mais lindo pessoalmente e a natureza do lugar um show a parte. Os anfitriões nos deixaram bem a vontade e foram muito prestativos...Voltaremos e indicamos para quem quiser sossego,natureza e conforto.
Clara
2015-01-05T00:00:00Z
O lugar é ótimo. Uma casa com todo o conforto e o clima bucólico do campo. Quando chegamos a casa estava super limpa e arrumada. As grandes janelas de vidro nos aproximam ainda mais da natureza. O piso de madeira, a churrasqueira e a lareira internas são um show à parte. Descobri que o melhor churrasco se faz com lenha e não com carvão. Lugar ideal para aqueles que querem deixar de lado a correria das grandes cidades.
Camilo
2015-01-02T00:00:00Z
Room Type
Entire home/apt
---
Property Type
House
---
Accommodates
6
---
Bedrooms
ibicare Ibicaré, Santa Catarina, Brazil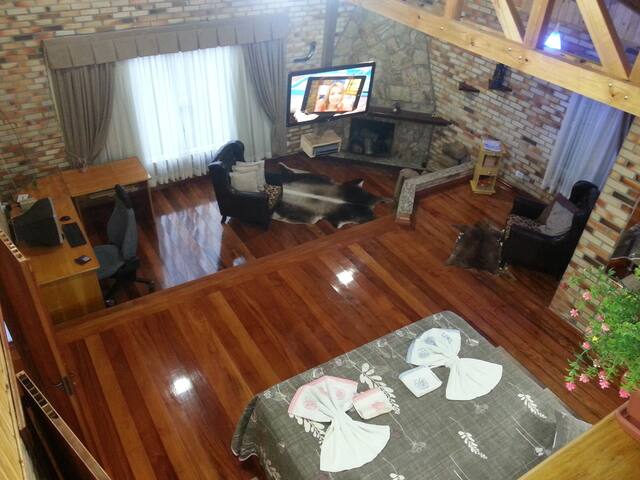 A experiência com esta viagem foi muito boa , melhor impossível , o lugar é lindo , ideal para turismo rural , o Fernando nos recebeu na cidade de Joaçaba (mais fácil de encontrar ) e nos levou até o sitio ,ficou sempre disponível para qualquer dúvida, fomos com as filhas e minha mãe , elas adoraram , pescamos , fizemos trilha, vimos as vacas serem ordenhas em uma fazenda próxima, nos aquecemos no fogão a lenha , a casa é melhor equipada do que nas fotos , tudo muito limpo e arrumado , a propriedade com muitos pés de frutas , horta , ficamos com vontade de voltar em breve, da próxima vez irem com as bikes pois o local é muito bom para pedalar.
igOr
2015-07-13T00:00:00Z
Room Type
Entire home/apt
---
Property Type
House
---
Accommodates
10
---
Bedrooms
ibicare, Santa Catarina, Brazil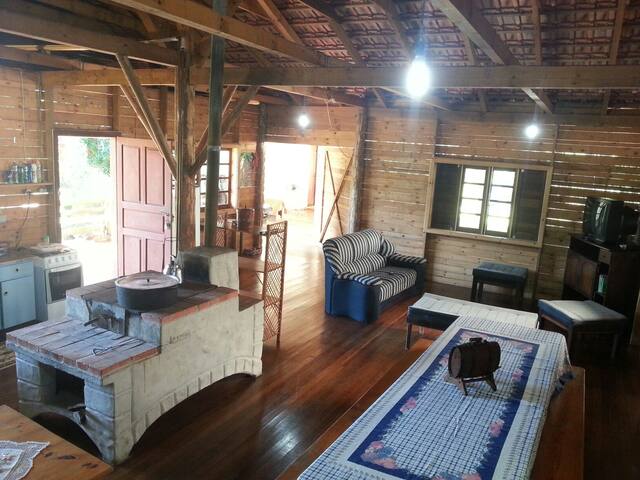 Enter dates to see the total trip price including additional fees (but excluding any taxes).