Cozy house at the foot of one of the Andalusian wonders, the castle of Almodóvar del Río. Located in a real Andalusian village, 20 km from Córdoba, we offer everything you need to live a more magical experience in Andalusia.
We've thought of every detail to make you live a perfect Andalusian experience. Get up every morning to sun drenched Cordoba with it scents of orange trees and their blossom. The house is designed for 4-5 people, families or groups who want to enjoy and relax for a few days in one of Spains best regions.
Our house is located at the foot of the castle of Almodóvar, the best preserved castle in Andalusia. Legend has it that beneath the castle there are thousands of secret entrances that connec the castle with the river Guadalquivir, and its people. Who knows, maybe a secret passage is hidden under the house... :)
A lovely place in a very lovely town. Fabian gave very good advice about where to have dinner. And he was very active in communication, including giving directions and all that. We really enjoyed our stay in his place. The house is really close to the catsle and to the center is just about 5min walk. It's a pitty that the day we arrived is a bit chilly and so we didn't sit at the beautiful balcony for too long.
Ada
2016-02-10T00:00:00Z
Yes we were made feel welcome, the listing was accurate however for some reason we were looking for No. 33 instead of 50. It's a nice neighbourhood
Brid
2016-10-22T00:00:00Z
We had a fantastic stay in Almodovar. Fabian's aunt Ani lives just down the street and was able to meet us and let us into the house. The whole family was very accommodating and thoughtful. When the wifi wasn't working, they had someone come and fix it the next day. Ani brought us a traditional Spanish dish to try. It felt like staying with friends rather than renting out a house. The castle is just two blocks up, a very stunning sight. Cordoba is an easy drive away, and we were able to make day trips to Ronda and Granada (but be warned, there's a good amount of driving involved). The house is just as advertised. Clean and homey. A well stocked kitchen convenient for cooking.
Gabriella
2015-09-19T00:00:00Z
Property was as described and very adequate for family of four. There were a few food items like bread and fruits for breakfast. Neighborhood felt safe. Fabian was not available in person, only by phone, but his aunt was there to welcome us and see us off. Only problem is she spoke very little English.
Bal
2016-05-19T00:00:00Z
The house is just beautiful and very functional. Fabian and his aunt helped us to find it. Recommended!
chunpeng
2015-10-02T00:00:00Z
This was a beautiful house, well-equipped, and with a great view overlloking Almodovar Del Rio. It's just a short, but steep hike up to the castle, and an easy drive into Còrdoba. Be sure to make time for the castle, as it's worth the hike. Fabian was very attentive and accommodating in making sure our check-in was smooth and easy in spite of our tardiness in arriving. The house was very clean and spacious, and one of the best airbnb's we've had in two months in Spain and Portugal. I would definitely recommend staying in Almodovar, one of the most beautiful and picturesque of the white hill towns, and by all means stay at Fabian's. Perfect!
Doug
2015-10-17T00:00:00Z
Fabian's place is lovely and well equipped and he is great to communicate with. He answered his emails from us very promptly and helped us deal with all our issues and a concern we had with our rental car. His Aunt and niece were also fabulous and helped us too. They gave us the keys and greeted us when we arrived. They also provided us with supplies to make breakfast etc., which was most welcome.
Jan
2015-11-21T00:00:00Z
Fabián's auntie waited for us at the gate. They prepare some bread, milk and fruit for us. The house is clean, bright, and comfortable. Very close to the castle, which is a must see in the area. Fabián recommended to us a fabulous restaurant in the town. We spent an unforgettable night there. Overall Fabián's house is a great place to stay near Cordoba.
Li
2016-05-08T00:00:00Z
Room Type
Entire home/apt
---
Property Type
House
---
Accommodates
4
---
Bedrooms
Almodóvar del Río, Andalusia, Spain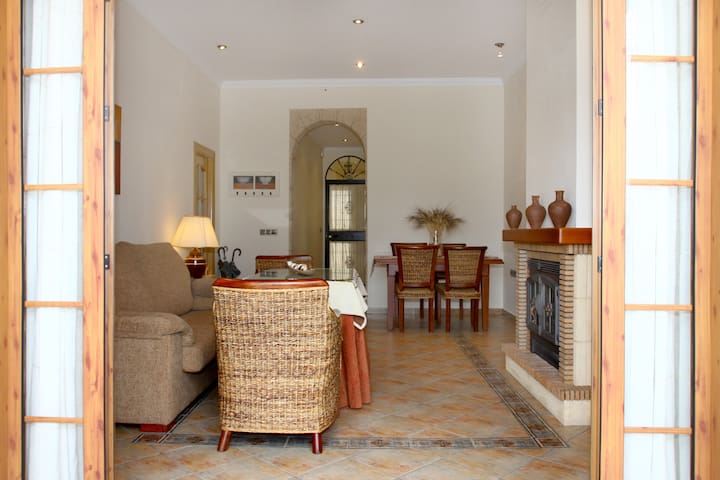 1900 maison de maître entièrement restaurée avec tout le confort d'aujourd'hui. Sa façade est protégée pour sa valeur architecturale.
Room Type
Private room
---
Property Type
Boutique hotel
---
Accommodates
2
---
Bedrooms
Almodóvar del Río, Andalucía, Spain
Достопримечательности: Замок Альмодовар, Пантано La Brena, Сьерра-Морена, Рио Гвадалквивир, ежедневно общественный транспорт, 24 км. Кордова, искусства и культуры, центр деревни, Сьерра-Морена природный парк. Вы будете любить свое место из-за открытых площадках, людей, окружающей среды. Мое жилье хорошо для пар, авантюристов, деловых путешественников и семьи (с детьми). Минимум 2 гостя за бронирование.
Family house exceptional location. In the center of the town (8000 inhab.)
Очень центральная торговая улица. Рядом библиотека, городская ратуша, аптека, супермаркет, кафе, баре и местная кухня. ATM.
The host canceled this reservation 26 days before arrival. This is an automated posting.
Silvia
2016-09-11T00:00:00Z
Room Type
Entire home/apt
---
Property Type
House
---
Accommodates
6
---
Bedrooms
Almodóvar del Río, Andalucía, Spain
Stunning home in the centre of the lovely town of Almodovar Del Rio which is set at the foot of an amazing castle. The house is a beautiful Spanish town house, reformed to a high standard and designed around an central patio.
Great position in town centre, lovely house furnished to a high standard
The house is in the centre of a lovely town with lots of bars and restaurants, is also close to Cordoba city centre. The house is also in a perfect setting for many activities and also has a stunning lake close by : Cordoba Waterski & Wakeboard : (URL HIDDEN) Activity centre: (URL HIDDEN) Activity park: (URL HIDDEN)
Wonderful village to visit. Huge house and Debbie is an excellent host. We would stay again.
Mal
2017-04-09T00:00:00Z
The host canceled this reservation 26 days before arrival. This is an automated posting.
Derrick
2016-02-26T00:00:00Z
We had a very positive experience with Deborah and her beautiful Spanish home in an area within driving distance of Cordoba. It well worth the drive to stay in a big home in a,quiet little town. We liked the restaurant she suggested and the castle on top of the hill with beautful views. Unbelievable value to stay in her home.
John
2016-05-04T00:00:00Z
This was our best Airbnb experience. The house was even better than the listing. The kitchen was stocked with basic groceries. The view of the castle from the rooftop terrace was amazing
Christopher
2016-03-21T00:00:00Z
Very beautiful house, everything is perfect, top recommended
Shuang
2016-05-03T00:00:00Z
The host canceled this reservation 14 days before arrival. This is an automated posting.
Virgilio
2016-03-11T00:00:00Z
We had a lovely three days in Deborah's house. The house was very clean and even better than what we could see on the pictures; it is very well equipped. Matt was there to welcome us when we arrived and to show us around. As we arrived a little late in the day, it was nice to find some milk and orage juice and the bottle of red wine was a great attention. The house is located some 30 minutes away from Cordoba and near some great attractions. A very good place.
Claudine
2016-05-02T00:00:00Z
Hemos pasado en ella el puente de la Concepcion. La casa es genial en todos los aspectos. Es acogedora, con una distribución ideal y muy tranquila. Es una señora casa con todas las de la ley. Para los amantes de los fogones la recomiendo 100%. La cocina es una auténtica gozada. Su chimenea convierten las tardes de invierno en idílicas. Sus camas no pueden ser mas cómodas. Hemos disfrutado mucho. Lo recomendamos y esperamos volver.
Isabel Antonia
2015-12-07T00:00:00Z
Room Type
Entire home/apt
---
Property Type
House
---
Accommodates
10
---
Bedrooms
Almodóvar del Río, Andalucía, Spain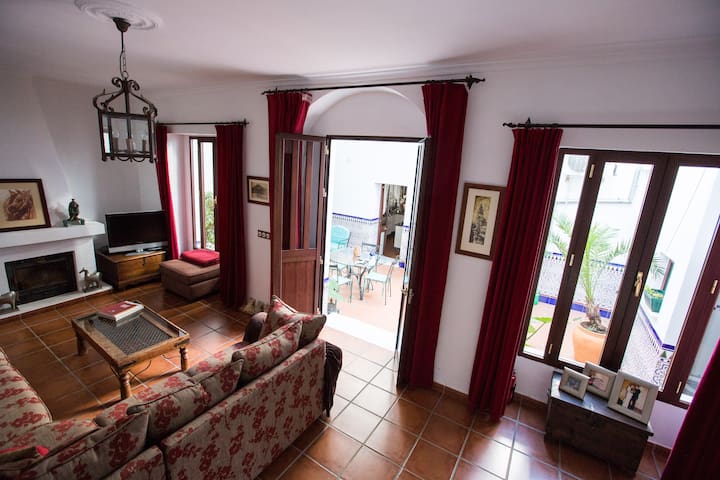 Possibilité seulement louer une partie 6 ou 2 personnes. S'il vous plaît me demander! Maison avec 2 chambres séparées, Up: (. 4 lits de 90 et 1 de 1,35 m) Salle de séjour avec canapé et canapé-lit, 3 chambres, salle de bains et la cuisine; basse-cour est l'entrée du studio rustique avec canapé, 2 lits 90, cuisine et salle. Aussi le toit avec barbecue.
Possibility only rent a portion 6 or 2 people. Ask me! House with 2 separate rooms, Up: (. 4 beds of 90 and 1 of 1.35 m) Living room with sofa and sofa bed, 3 bedrooms, bathroom and kitchen; low courtyard is the entrance to the rustic studio with sofa, 2 beds 90, kitchen and bathroom. Also roof with barbecue. It is located at the entrance of Almodovar del Rio, village just 22 km from Córdoba Capital. In this town you can see the famous and majestic castle. You can also make a visit to the swamp of the forest, where you can almolzar or drink in the restaurant-viewpoint and where organized sports and water activities. (URL HIDDEN) This option is renting the entire house, they will have access to all areas, 3 bedrooms, 2 lounges (1 Rustic), 2 bathrooms, 2 kitchens, patio and roof terrace with barbecue. * Possibility to rent room only rustic with sofa bed, minimum 2 nights, 2 people, prices from Sunday to Thursday 39 € / night + 15 euros cleaning price Friday and Saturday and eves = 49 € / (night + 15 € cleaning. Also possible only rent house without rustic lounge = 6 people, minimum 2 nights. Price from Sunday to Thursday 65 € / night + 20 euros cleaning price Friday and Saturday and eves = 75 € / (night + 20 € cleaning. We will have a first contact to the delivery and collection of keys, and will be available in case of any need on our phone. You should be warned with estimated arrival time for the handover. We recommend not miss the majestic Castillo de Almodóvar del Río. We recommend the restaurant lookout swamp Breña Almodóvar for lunch and coffee. Do not fail to visit Cordoba Capital, the area of the Jewish Quarter and the Mosque. If you do not have your own car, it is best to get to the bus station Cordoba Capital, which is next to the train fair. The ride is not recommended for the high price. On the website of the bus station is all the info almodovar selecting destination: the trip is just 2 euros each way and 4 € back and forth several times to choose and lasts 30 minutes. link: http: (URL HIDDEN)
Nous vous recommandons de ne pas manquer le majestueux Castillo de Almodóvar del Río. Nous vous recommandons le restaurant belvédère Brena marais de almodóvar pour le déjeuner et le café. Ne pas manquer de visiter Cordoba Capital, la zone du quartier juif et de la mosquée.
Trés bonne réception. Mis en contact avec le barman d'a côté qui est une perle. Sangria très peu chère, plateau de poisson et salade pour presque rien;-...Parfait
Pierre-yves
2016-08-10T00:00:00Z
La casa de Esperanza es maravillosa. Las fotos de la web son bonitas pero lo que nos encontramos al llegar es mucho mejor de lo que nos esperabamos. Superó nuestras espectativas. Muy amplia y acojedora. Tiene de todo y el patio y la terraza de arriba con la barbacoa y vistas al castillo son espectaculares. Y Esperanza es una gran anfitriona, muy amable y atenta en todo. Recomendado al 100%!! Hemos quedado muy satisfechos en nuestra estancia, tanto que ya estamos pensando en volver!
Cristina
2016-08-05T00:00:00Z
La casa está genial y es muy acojedora, fue una lastima no poder disfrutar más de ella, del magnifico patio que tiene y la maravillosa terreza para hacer una barbacoa. Esperanza muy atenta y servicial.
noelia
2016-05-03T00:00:00Z
Room Type
Entire home/apt
---
Property Type
House
---
Accommodates
8
---
Bedrooms
Almodóvar del Río, Andalucía, Spain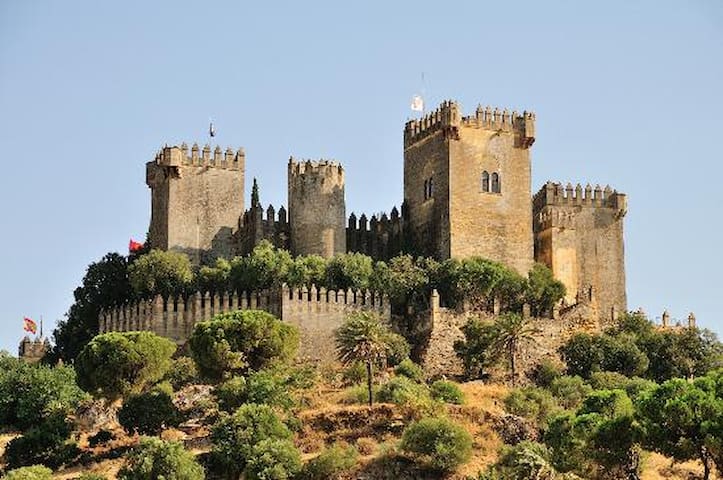 This chalet, located in Almodovar Del Río, is ideal for 9 vacationers. It offers 3 bedrooms, an enclosed garden and WiFi.
This chalet, located in Almodovar Del Río, is ideal for 9 vacationers. It offers 3 bedrooms, an enclosed garden and WiFi. The lounge is perfect for unwinding after a day of exploration. Curl up on the comfortable sofa and enjoy a good book in front of the fireplace or take advantage of the amenities on offer, including WiFi. The kitchen is well-equipped for cooking up your favorite meals. Enjoy your feast around the dining table which seats 9 or outside, in the garden enjoying views of the garden. The chalet has 3 comfortable bedrooms, 1 including 2 single beds, 1 including a single bed and a double bed and 1 including 3 single beds. Several bathrooms are available, one with a shower and toilets. Separate toilets are available. The chalet features a central heating, a dryer, ironing equipment, a washing-machine and a desk. Notice that the cleaning, towels, bed linen and tourist tax are included in the rental fee. Parking is available onsite and is private. Smoking inside is not allowed. Pets are allowed. Parties are not allowed.
This chalet, enjoys a privileged location that will allow you to enjoy your stay in the area. Many activities await you in the surroundings such as Horse riding, Hiking, Cycling, Swimming, Sailing and Water skiing. You will also find great bars and restaurants at 500 m
Room Type
Entire home/apt
---
Property Type
Chalet
---
Accommodates
9
---
Bedrooms
Almodovar Del Río, Spain
Almodóvar del Río - Airbnb
:
Average

4.46

out of

5

stars from

54

guest reviews
Enter dates to see the total trip price including additional fees (but excluding any taxes).