Iria is a perfect host, who immediately made us feel like friends! Her home is a hidden piece of paradise in the beautiful galician forest. The room is quiet, clean, spacious and tastefully decorated. We enjoyed a quiet and delicious breakfast with Iria, she is an inspiring artist. We will repeat the experience soon. We promise. Thanks Iria.
Belén
2015-08-25T00:00:00Z
Iria's house make me feel a bit jealous because it was too beautiful :) We have a problem in finding the place and Iria came to pick us up with her car. The house is a truly piece of art with a truly Galician atmosphere. Iria was really kind and friendly, taking breakfast with us and spending a lot of time talking about everything. The best place to stay and resting during your trip in Galizia! Highly recommended.
Lisa
2016-08-21T00:00:00Z
Stay at Iria's house is like to be in a magic world...everything tells a story like her wonderful art. She is an amazing woman and she created a place where you feel home...Adorable are also Rocco, Lukas and the cats family!
Alma
2015-08-18T00:00:00Z
Iria was "un sol". The house is even more amazing than it looks in the pictures. It has "encanto" even on rainy days. I was able to walk to the nearby pueblos with Rocco, the lovely dog that resides as well in the house to buy a few groceries and necesities. And Lucas the donkey adds to the charm as well. All in all an amazing experience. I hope to return!
Andi
2015-08-14T00:00:00Z
Iria's house is a dream, it looks like coming out of a fairy tales book. The room is very big, clean and comfortable and so is the bathroom. The common spaces are simply amazing, the small back garden in particular is lovely. We enjoyed the company of the cats, the dog Rocco and the donkey Lucas. Iris was a lovely host, we had long chats and we felt like friends in the end. We couldn't hope for a better experience. Strongly recommended to countryside lovers.
alessio
2016-08-16T00:00:00Z
Nuestra estancia en esta casa tipica gallega ha sido un placer. Iria nos hizo sentir como en nuestra casa tan pronto como llegamos. Es un sitio con mucho encanto y tranquilo. La habitación es muy amplia y comoda. Iria nos dejó todo lo necesario para el desayuno y el aseo y la comunicación con ella fue muy fluida y buena en todo momento. Los habitantes peluditos de la casa son también encantadores, especialmente Roco, que se llevó estupendamente con nuestra perrita Ayla. Sin duda, un lugar muy recomendable.
Ruth
2016-08-09T00:00:00Z
Room Type
Private room
---
Property Type
House
---
Accommodates
2
---
Bedrooms
A Coruña, Galicia, Spain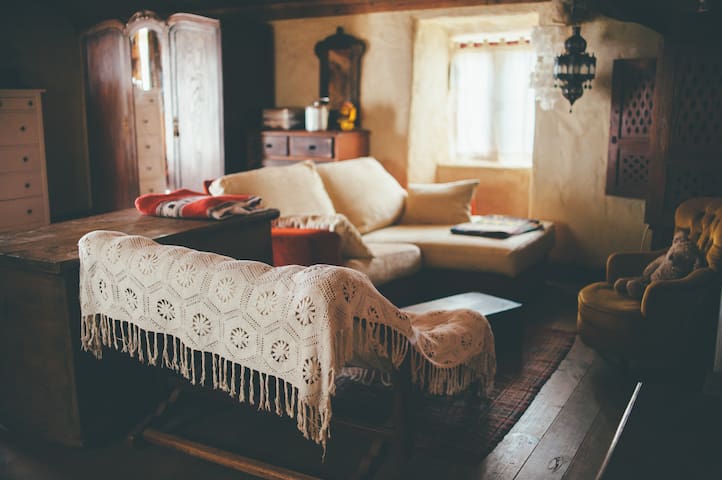 My place is good for couples, business travellers, families (with kids), and big groups.
Approximately 20 minutes drive from La Coruna & 40 from Santiago de Compostela sits this large rural house. The house is accessed through a gated private driveway & is surrounded by lush green private gardens. This house is set over 2 floors , with a 40 squared meter King size room with ensuite , 2 double rooms & 1 single room , this house can sleep up to 7 adults very comfortably . The ground floor is set up with 2 large reception room , a living room, Dining room, a small office area & library , shower / bathroom & modern fully equipped kitchen. The garden with it's lush lawns also has a verity of fruit trees with an abundance of fresh apples , pears , peaches , cherries , lemons & even kiwis , that guests can help themselves to when in season. The house is serviced with free WIFI , washing machine, dishwasher & all rooms are fully central heated. There is parking space for about 4 cars. The small town of Carral is a few minutes drive away, with a few supermarkets, many small family run shops such as butchers, grocers etc and a few bakeries selling the nationally famous bread "Pan de Carral" , empanada & local delicacies . There is also a local indoor & outdoor swimming pool as well as a medical centre and police station. There are many things to do in the area , some of the most beautiful beaches in Galicia are just a short drive away , there are ridding stables close by or why not join the famous Camino De Santiago with the Camino Ingles route passing right outside the house . The large coastal town of La Coruna is 20 minute drive away with many shops , amazing restaurants & quaint cobbled streets to enjoy . In the summer months there are many "village fiestas" that take place in the surrounding towns and villages most evenings which are not to be missed, listen out for fireworks in the day as they advertise the nights festivities ahead.
Most of the neghbous are Galician local famalies & all are very friendly, although few will speak English . If you exit the gate which is to the left of the front door & then left onto the main road , a few meters up the road is a small bar/shop for your convenience. Also the bus stop with buses into La Coruna .
Elena´s house is great for large families. All the divisions are very large and have all the facilities you need for a short stay. Kitchen fully equiped and the area was very relaxing with a great garden for kids to play. Altough we only spoke to Elena by mail, she was very helpful and accept all conditions we asked her. Her naighbour received us and show us the house with a great smile! Coruña and Santiago are very close, so you have 2 big sities to visit around. Highly recomended. Relation Price/quality excellent! Thank you for everything, Elena! Hugo and all his friends
Hugo
2017-01-02T00:00:00Z
We have spent several perfect days in Elena's house. The house and plot was a big surprise for me as in reality it was much and much better that you can see on photos. The house is really big, with 4 bedrooms on the second floor and huge common space on the first. From all windows you have really nice view to the picturesque mountains and every morning when we opened windows the scent of blossoming trees was amazing. The house is perfectly located if you are going to discover part of Galicia between La Coruna and Santiago as well as the coast part. Elena was a great host even thought she was out of Spain we had very good communication! Thanks a lot and hope to come back !
daria
2016-07-11T00:00:00Z
Magnifica casa con preciosas vistas, muy bien equipada y decorada con mucho estilo.Maravillosos atardeceres desde el porche.Las recomendaciones locales de la guía de la casa nos fueron de mucha utilidad. Atención perfecta por parte de Isabel.Nos encantaría poder repetir!
Bernardo
2016-08-23T00:00:00Z
Una casa preciosa y enorme. Con 4 habitaciones (tres de ellas muy grandes) y un inmenso jardín. Con barbacoa exterior y una mesa con gran sombrilla para comer fuera. Un lugar en el que relajarse y disfrutar de la tranquilidad del lugar. Elena ha sido una estupenda anfitriona (junto con su vecina Fina). Además todo estaba muy limpio, ordenado y nuevo/reformado (decorado con mucho gusto). Sin duda repetiremos. Recomendamos este alojamiento al 100% :-)
Alejandro
2016-08-08T00:00:00Z
Nos sentimos más que cómodos, comodísimos. Mejor que en nuestra propia casa. El nombre describe con acierto como es: "una gran casa". El anuncio se queda corto en la descripción de lo agradable, completa y acogedora que es, a pesar de lo bien que el anuncio y las imágenes describen todo, no dejas de sorprenderte al verla. La ubicación está ideal para visitar toda Galicia, pero eso sí hay que madrugar para las visitas a la Rías Baixas. El barrio es muy tranquilo para poder descansar. Recomendaría incluso añadir un día extra a tus vacaciones para poder disfrutar de tan estupenda casa. Muchísimas gracias por todo, Elena. Ha sido un placer disfrutar de estos días inolvidables.
Antonio
2016-08-05T00:00:00Z
Room Type
Entire home/apt
---
Property Type
House
---
Accommodates
7
---
Bedrooms
Carral, Galicia, Spain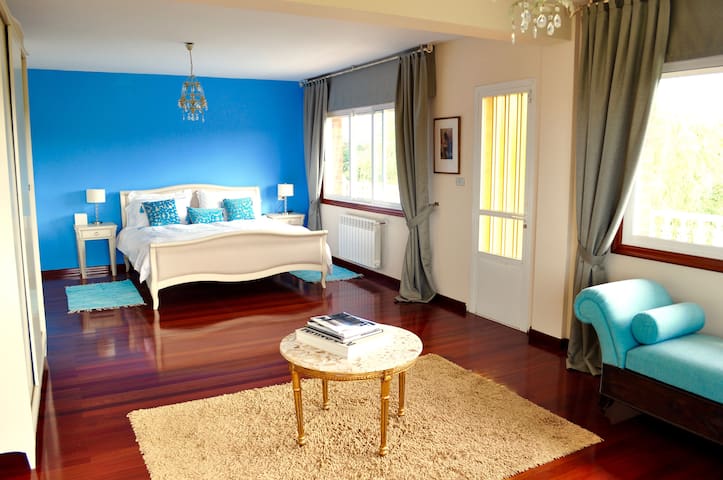 Zona rural para los amantes a al senderismo y con posibilidades de dat paseos a caballos
Room Type
Private room
---
Property Type
House
---
Accommodates
1
---
Bedrooms
Celas, Galicia, Spain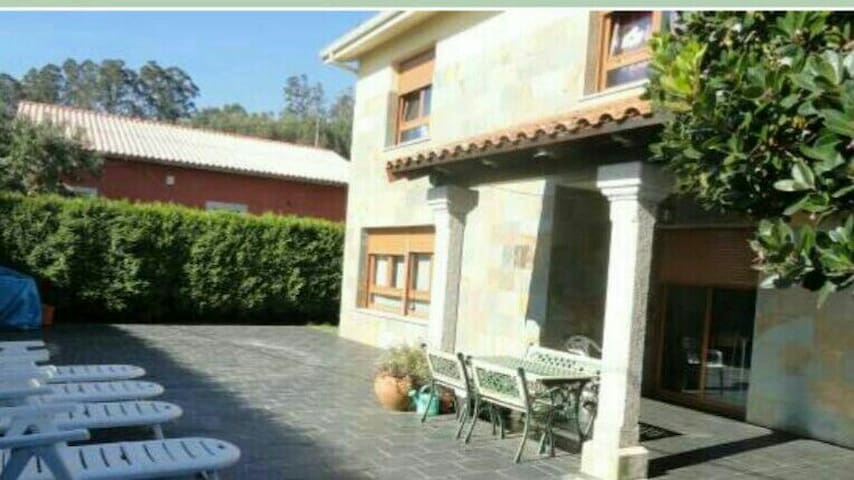 Chalet de 220 m2 y finca ajardinada de 2.000 m2. 4 dormitorios (2 camas de matrimonio y 2 individuales). 3 baños. Cocina equipada. Aire acondicionado. 2 amplios salones. Porche cerrado. Piscina de 10m.x5m. con amplia zona de comedor cerrada (60 m2). Muy cerca de la ciudad y de la playa.
Zona muy tranquila a tan sólo 15 minutos de la ciudad y de distintas playas. Muy bien orientada, en verano le da el sol todo el día. Clima muy agradable.
Zona tranquila con pocos vecinos.
Gostamos da semana em Culleredo. Ambiente calmo e privado, mas perto de tudo.
Thomas
2016-07-31T00:00:00Z
La casa es espectacular en un lugar muy tranquilo pero cerca de Coruña. Todo muy cuidado tanto la casa como el jardín. En la zona de la piscina hay un quincho perfecto para hacer comidas con grupos grandes de gente. Los anfitriones son muy atentos y siempre intentan que te sientas como en casa. Además fueron muy flexibles con la hora de entrada y de salida. Nosotros si volvemos repetiremos alojamiento seguro.
Paloma
2015-08-19T00:00:00Z
La casa preciosa, el jardín, terraza y piscina perfectos. Las vistas desde la mesa de la terraza espectaculares. Un entorno realmente tranquilo pero a la vez cerca de playas, tiendas y ciudad. Mi familia y yo hemos pasado 15 días idílicos. La casa tiene de todo y realmente nos sentimos que estábamos en un hogar y no una casa de alquiler. La cocina equipadísima. Las vacaciones perfectas en esta casa.
dana
2016-08-16T00:00:00Z
Room Type
Entire home/apt
---
Property Type
House
---
Accommodates
6
---
Bedrooms
Culleredo, GA, Spain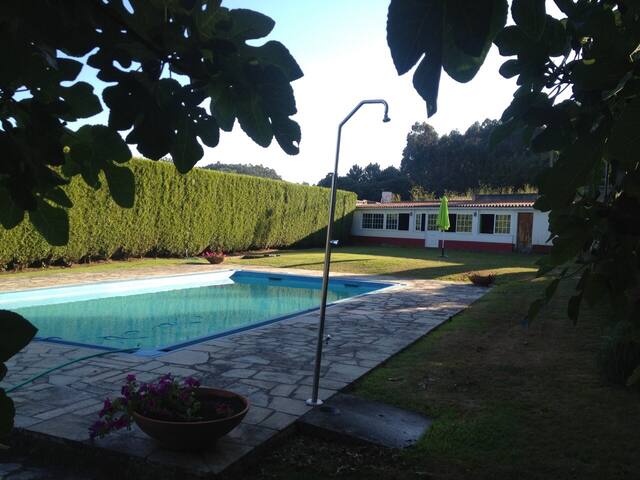 Belle maison avec chambre loft grenier. La maison est dans un beau 2 maisons plus que le jardin et la piscine est partagée avec une autre maison. communication Idéal avec la route et l'autoroute est à moins de 10 minutes de Betanzos, 20 minutes de La Corogne et à 40 minutes de Saint-Jacques-de-Compostelle. Les plages sont à environ 15 minutes en voiture.
Excellent place to stay. Superb pool in a nice garden, spacious house with two levels and all commodities. We enjoyed our breakfast under the patio everyday, supermarket & bakeries in closest walking distance (< 200m). Mabegondo is close to Betanzos, cute old town with great food (tortillas!!) and a good place to radiate around Galice in general.
Jorg
2016-08-09T00:00:00Z
todo perfecto y acorde con la descripcion del anuncio
isabel
2016-07-23T00:00:00Z
La casa de Marta es perfecta, esta muy bien equipada, la piscina es fantástica y ella ha sido muy amable con nosotros. La recomiendo vivamente.
Mercedes
2016-08-23T00:00:00Z
Room Type
Entire home/apt
---
Property Type
House
---
Accommodates
4
---
Bedrooms
Abegondo, Galicia, Spain
Casa Tranquila offers 6 rooms with bathrooms each. Quiet area 5 minutes from the airport by car 10 minutes from downtown by car. A 2 min you have the third round and motorway. Each room is 30 euros. 2 people maximum per room. If you are looking for nature and relaxation is your home.
Area surrounded by nature and very quiet
The host canceled this reservation 12 days before arrival. This is an automated posting.
Cristina
2016-08-22T00:00:00Z
Room Type
Private room
---
Property Type
House
---
Accommodates
15
---
Bedrooms
La Coruña , La Coruña, Spain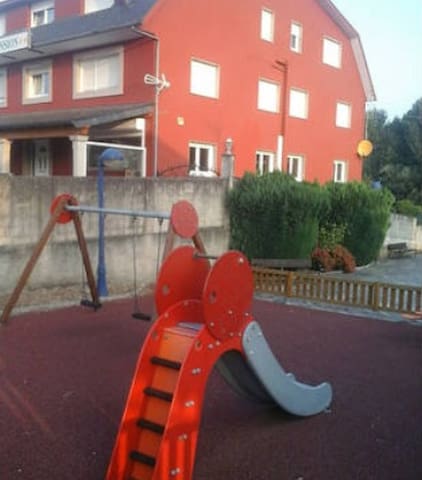 Habitación con cama 1,20 cm. baño,una sala anexa al dormitorio,ventanas a jardín. Habitación , armario, wifi; a 10 min. del aeropuerto de La Coruña y 15 min. de centro ciudad
Room Type
Private room
---
Property Type
House
---
Accommodates
1
---
Bedrooms
Culleredo, Galicia, Spain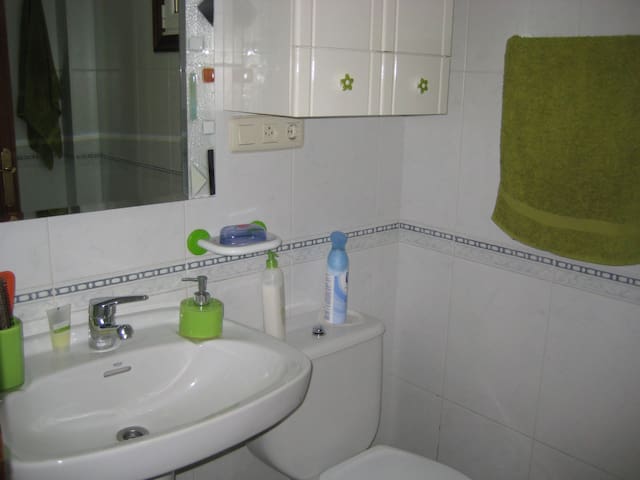 The luxury country house in its architecture combines the tradition of Galicia a modern, bright design. The house is located in the idyllic village Crendes (Abegondo) 500 m from the lake Cecebre, 15 km from Coruna and 8 km from the nearest beach.
With its 260 square meters of living space, 3 bedrooms (sleeps 6), two bathrooms, a separate toilet, a spacious kitchen, a stunning open plan living room with large windows, 1 balcony, 2 terraces, 1 hectare of gardens and garage (2 cars), it can nothing to be desired.
The house is situated in an ideal location to explore from there Galicia and to be excited.
The reservation was canceled 19 days before arrival. This is an automated posting.
Pablo
2014-11-17T00:00:00Z
From enquiry to check-out, Marija has been very helpful and everything went very smoothly. Marija also provided us with local knowledge of the places to visit and eat. The house and its surroundings is beautiful. Some memorable bits for us - picking chestnuts around the compound and spotting a little hedgehog at the gate! Highly recommend for a great country home experience!
Tiffany
2015-10-21T00:00:00Z
La casa es maravillosa, construida con un gusto exquisito, y las vistas y la luz son inmejorables. El jardín es amplio y con buenos árboles, que garantizan silencio y relax. Los suegros de los propietarios, que son quienes nos recibieron, fueron encantadores. Sin duda para repetir, por lo especial que te sientes entre tanta armonía, belleza y paz.
Barbara
2014-11-12T00:00:00Z
La casa esta muy bien formulado. Hemos pasado unos días fenomenales!!!
Estrella 慧颖
2015-04-02T00:00:00Z
Muy bien todo, la casa es realmente preciosa, tanto por dentro como los exteriores. Tiene un jardín impresionante. La casa estaba perfectamente equipada. Leonor y su marido fueron muy amables y nos atendieron en todo lo que necesitábamos. Os recomiendo llamar a los propietarios antes de ir para que os indiquen bien como llegar. Nuestro GPS no anda muy fino. Seguro que, sin problemas, os dan indicaciones, como hicieron con nosotros. (quedaos con el camino, que no es difícil pero de noche se ve distinto a de día). Os lo recomiendo a todos sin duda. Acierto 100% y genial de precio si vais varios.
Santiago
2015-05-11T00:00:00Z
Una de las casas mas bonitas que he visitado en la zona. La casa es tal cual se muestra en las fotografías, sin embargo el jardín y bosque junto a la casa son mucho más bonitos cuando los visitas. La casa es muy cómoda y ofrece todo lo necesario para unas maravillosas vacaciones. La casa esta en el campo y en vehículo es muy fácil y rápido acceder a las vías principales para conocer los alrededores. Marija ha sido una excelente anfitriona.
Nayeli
2015-12-11T00:00:00Z
La casa es tal cual aparece en el anuncio. Preciosa y espaciosa. La zona, muy cerca del embalse de Cecebre, es muy bonita y cercana a Coruña. Tanto Manuela, la cuñada de María, como sus padres, que fueron los encargados de facilitarnos las llaves, fueron encantadores.
Luis Miguel
2015-10-12T00:00:00Z
La casa es fantástica y espaciosa para tres parejas. Se encuentra en el campo, a 20 minutos de A Coruña. La única pega que tiene es que es difícil de encontrar, sobretodo, de noche. De hecho, nos perdimos en más de una ocasión. Leonor y Manuel, quiénes nos recibieron a la llegada y nos guiaron hasta la casa, fueron atentos y muy agradables en todo momento.
Anna
2016-02-23T00:00:00Z
Room Type
Entire home/apt
---
Property Type
House
---
Accommodates
6
---
Bedrooms
Abegondo, Galicia, Spain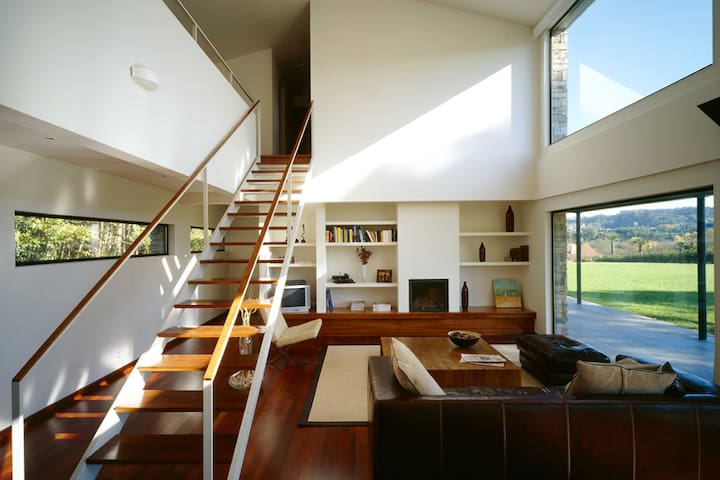 47m2 room in terraced house, pleasant rural environment, 10 minutes from the city. With pool, beaches very close and interesting to know Galicia routes.
Room Type
Private room
---
Property Type
House
---
Accommodates
2
---
Bedrooms
Oleiros, Galicia, Spain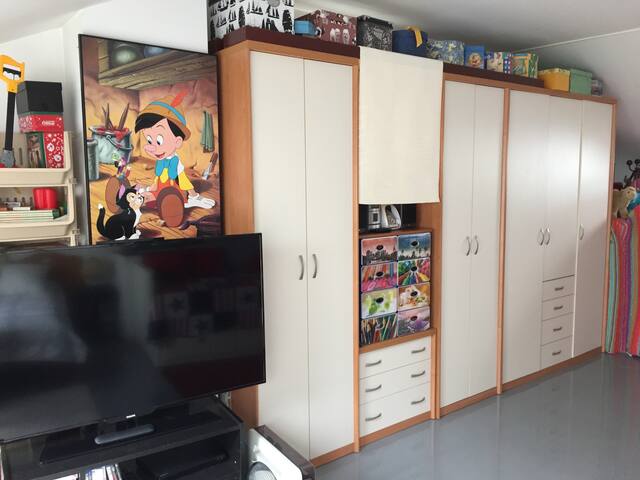 No lo dudéis, recomendado al 100%. La estancia ha sido perfecta. El apartamento está limpio y muy bien equipado. Dolores es muy simpática y atenta. Sin duda repetiría.
Jose
2017-02-25T00:00:00Z
Dolores es una mujer extraordinaria te ayuda todo lo que puede en cuanto a excursiones y rutas que no debes perderte, siempre está pendiente de que estés bien, su casa es muy acogedora y cómoda está en un lugar tranquilo pero a la vez cerca de A Coruña, para nosotros ha sido un placer estar en su casa
Carmen
2016-08-13T00:00:00Z
Un alojamiento y una anfitriona de 10. Tanto el alojamiento como la localización era perfecta además de tranquila y Dolores no nos ha dado problema respecto a la hora de llegada siendo más de media noche. Los 2 perrotes que tiene, un encanto y super educados además de mimosos y el mío encantado de jugar con ellos. Recomendado 100% en todos los aspectos. Muchas gracias por la estancia Dolores. Si volvemos por la zona contamos contigo.
Celeste Rosa
2017-03-25T00:00:00Z
Todo el tiempo estuvo disponible para hablar con nosotras. Nos dejó café y cosas para desayunar. También se ofreció a darnos un paseo por Coruña. Se necesita coche para desplazarse .
Amparo
2016-07-29T00:00:00Z
Room Type
Private room
---
Property Type
House
---
Accommodates
2
---
Bedrooms
Oleiros, Galicia, Spain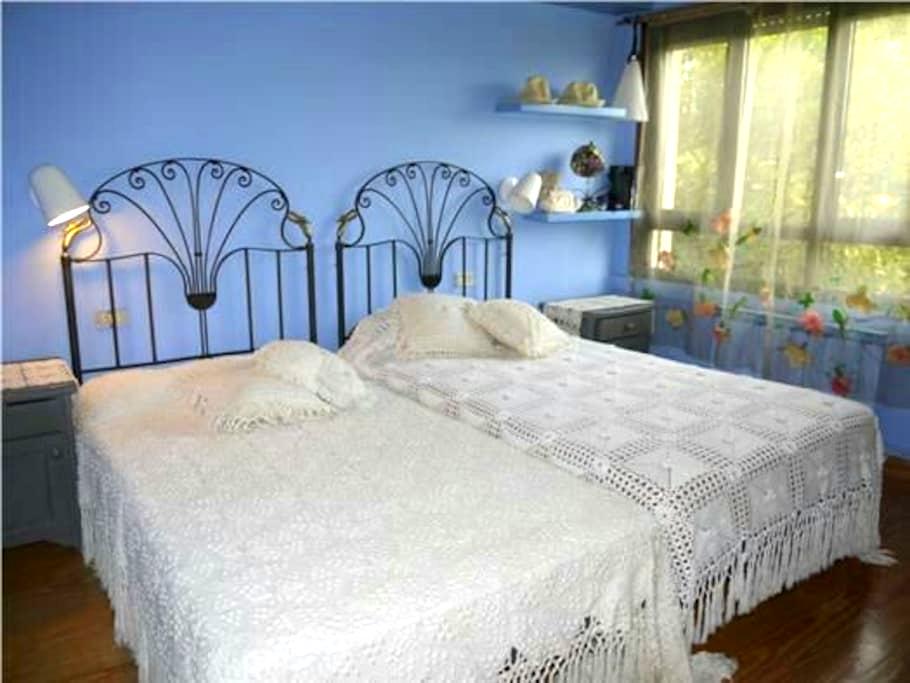 Casa unifamiliar con mucho gustó habitación con baño completo y vestidor
La tranquilidad y lo cerca qué tanto estoy de la ciudad cómo de las playas
Room Type
Private room
---
Property Type
House
---
Accommodates
2
---
Bedrooms
O Carballo, GA, Spain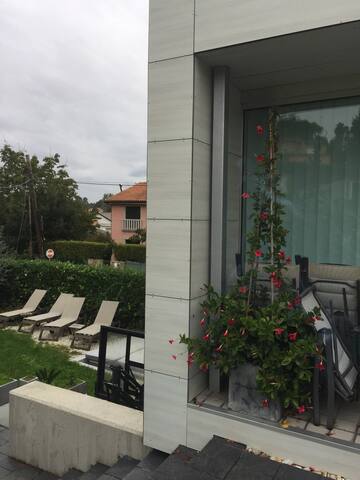 the house is very nice, clean and from good design! Beatriz made us find things for breakfast and made us very happy!
Antonello
2016-08-16T00:00:00Z
Las fotos reflejan la casa, de diseño cuidado. La zona es muy tranquila pero a cierta distancia de la playa (5-6 km). Tiene servicios muy cerca y muchas cosas para ver en un radio pequeño. No conocíamos la zona y nos gustó mucho.
Jose
2016-08-24T00:00:00Z
Room Type
Entire home/apt
---
Property Type
House
---
Accommodates
6
---
Bedrooms
Oleiros, Galicia, Spain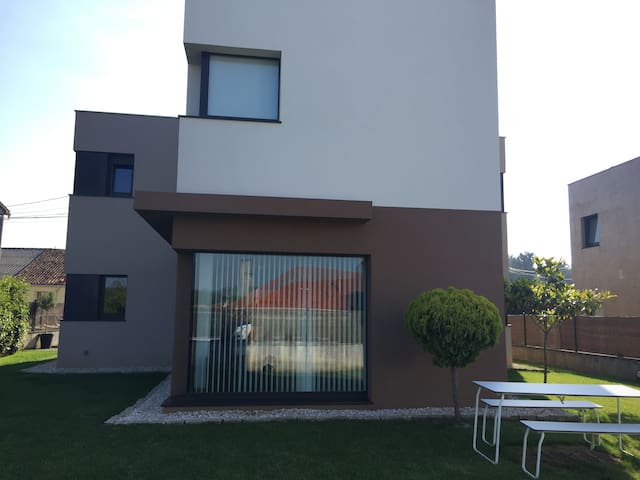 Gran chalet de 500 m2, 5 habitaciones, 5bañosjacuzzi, 3 terrazas, gimnasio, cine, videoteca, bodega, garaje para 3 coches, biblioteca, lavandería, bar, sala de juegos para niños, futbolín, dos cadenas Hi-Fi B&W y JBL, PS2 y 3, barbacoa, cerca playas, excelentes vistas, opción de canguro, chófer y/o barco.
Excelente chalet individual para 10 personas en zona tranquila, con excelentes vistas al valle y las montañas, a 10 minutos del centro de la ciudad de La Coruña, a 15 minutos de las mejores playas de Galicia y a 30 minutos de Santiago de Compostela, ideal para dos o tres familias. A cinco minutos del aeropuerto de La Coruña (servicio opcional de recogida en coche con chófer). ENGLISH: Great Villa of 500 m2, 10 people, 6 bedrooms, 9 beds, 5 bathrooms, 5 TV, alarm, security, jacuzzi, 3 terraces, gym, cinema, library, wine cellar, gardener, garage for 3 Cars, laundry, bar, games room for children, football, two Hi-Fi B&W and JBL, PS2 and 3, BBQ, close to beaches, excellent views, option of babysitting, chauffeur, VIP car and ship for 10 people.
La casa se encuentra en una zona tranquila y a la vez muy bien comunicada con las principales vías de acceso a la cuidad de La Coruña, muy cerca del nudo de acceso a la autovía A6, autopista AP 9 y tercera ronda de acceso a la cuidad. A cinco minutos del aeropuerto de La Coruña, con posibilidad de recogida en el mismo a los huéspedes con vehículo con chófer.
Room Type
Entire home/apt
---
Property Type
House
---
Accommodates
12
---
Bedrooms
Cambre, Galicia, Spain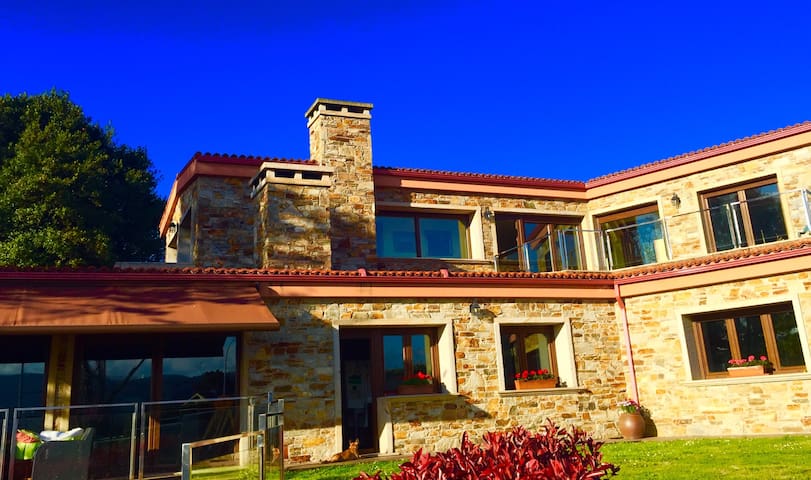 Rustic stone house, newly renovated room. Six kilometers from the beaches of Gandarío and Santa Cruz. It has its own garden, granary, barbecue and parking area. The house is attached to another detached house with totally independent gardens.
Room Type
Entire home/apt
---
Property Type
House
---
Accommodates
3
---
Bedrooms
Sada, GA, Spain
En suite rooms. Fully equipped communal kitchen. Free Wifi. Secure parking spaces. Bus stop across the road. 20 min drive to city centre and nearby beaches. Quiet residential area overlooking city and atlantic ocean. Ideal for couples and families.
The rooms are spacious and en suite.
This is an upper-end residential area overlooking A Coruña. It is very safe and quiet.
Our hosts were super friendly, uncomplicated and caring. They told us the best places to eat and for going out. The flat is really nice and clean and we enjoyed our stay very much.
Sinje
2017-03-26T00:00:00Z
The place is Nice and clean.Miguel Parents were very nice and welcoming!
Charles
2016-06-12T00:00:00Z
The host canceled this reservation 13 days before arrival. This is an automated posting.
Cristina
2016-08-21T00:00:00Z
The house is situated outside the centre of A Coruña. But by bus and by car it is easy to go to the centre. The parents of Miquel live in front of the house. And they welcomed us very friendly. The house is seem like in the pictures. Thanks for your hospitality!
Mirella
2016-08-02T00:00:00Z
Tuvimos algún problema para ponernos en contacto con él antes de la llegada pero finalmente él mismo se puso en contacto con nosotros a través de otro medio el mismo día de la llegada. Por lo demás todo perfecto, Miguel y sus padres son unos anfitriones de 10, éramos 5 personas y nos dieron 4 de sus habitaciones y la cocina de la planta de arriba entera para nosotros. Incluso nos hacía falta alguna utensilio de cocina y nos prestaron uno suyo sin ningún problema. Las vistas maravillosas y encontramos la casa perfectamente gracias a las indicaciones de Miguel. 100% recomendable.
Sergi
2016-08-10T00:00:00Z
Gostámos muito. Casa como nova. Local sossegado. Vista magnifica sobre a Ria da Corunha.
Carlos
2015-09-02T00:00:00Z
Estancia perfecta, la relacion con el anfitrion fue de lo mas cordial. nos explico como llegar a lo lugares que queriamos conocer, tambien lugares que a el le parecen de interes para visitar. La estancia fue perfecta.
Jesus Manuel
2016-08-22T00:00:00Z
Nos recibieron sus padres, que viven al lado, una pareja encantadora que todo el rato estuvieron pendientes de lo que necesitamos!! Además nos dijeron sitios que visitar que no hubiéramos ido si no nos hubieran orientado ellos. Todo muy limpio y muy cómodas las habitaciones con su baño dentro. Muy bien comunicado por bus y taxi. Muchas gracias
Raquel
2014-09-10T00:00:00Z
Room Type
Entire home/apt
---
Property Type
House
---
Accommodates
5
---
Bedrooms
A Coruña, Galicia, Spain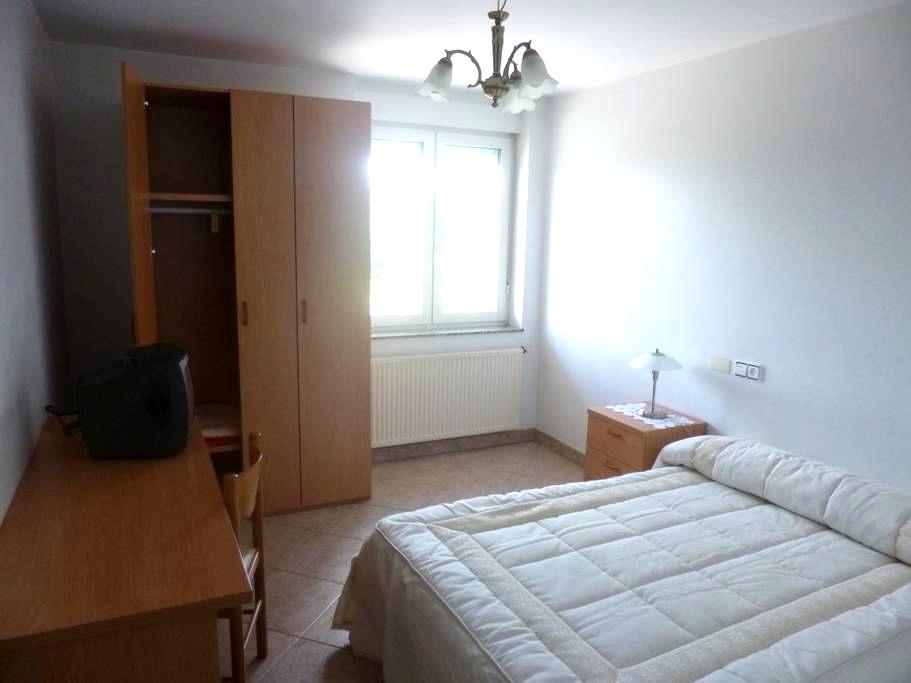 Villa 7min center with pool, barbecue, table football, ping-pong, darts, board games, TV with play 3 sound bar area to be seated at outdoors or indoors in the living room with fireplace, large table dining, bathroom, beds, not overlooked.
A quiet place where you can celebrate an event, birthdays, or just come with family or friends to spend a few days to unwind and enjoy the tranquility and fun group games with multiple leisure offer.
Room Type
Entire home/apt
---
Property Type
House
---
Accommodates
16
---
Bedrooms
Urbanización Breogán, Galicia, Spain