Grande maison restaurée dans un village médiéval près de la mer Adriatique , dans une belle ville italiene très authentique . Accessible à partir des aéroports ( Ancona , Pescara ) et un peu plus loin Rome et en voituire de l'autoroute A14 (à 12 km).
Large restored village home in medieval village near the Adriatic Sea, in a lovely old, authentic Italian town. Accessible from area airports (Ancona, Pescara) and a bit further but with good airport bus from Rome, car from Bologna, Rimini and Pisa. Two bedroom, two bath house on 2 floors, my home is completely furnished and tastefully decorated with a combination of antiques and modern amenities. There is a dining room, music room and gourmet kitchen on the ground floor, plus separate full bathroom (shower) with washer/dryer. The music room has a grand piano, and there is a sleep sofa in this room. Second floor has elegant living room with views of distant mountains and satellite TV, 2 bedrooms with double and queen beds, 1 very large bathroom with tub and shower, and a library/study. There is also a sleep sofa in the living room. The house is located on the main street of the town, across from the Town Hall, Post Office and a lively cafe in the piazza. A few feet away you will find shops, bank, pharmacy, newspaper store. Don't miss the street fairs and fiestas in the summer!!! Read more about the area (Le Marche) and the house at (URL HIDDEN) Contact the owner by email. The two provincial capitals nearby, Ascoli Piceno (mine) and Fermo, are really lovely and worth a visit, along with the outstanding wineries in the area (Offida, Ripatransone, Montefiore, etc.)
Carassai is a wonderful place in Italy and Jane an even more perfect person. - We had such a good time in her great place and the contact to her was extraordinary reliable and warm hearted friendly. - It´s sad that we didn´t learned to know her personally but life has countless ways and maybe one day..... So, if you are looking for "real" Italy with an american host in a very very aesthetic house - this is your place.....:))
Roland
2012-07-28T00:00:00Z
Accoglienza ottima. Jane ha fatto di tutto per garantire un soggiorno senza problemi. Ci ha messo a disposizione la casa con quanto conteneva. Non abbiamo avuto nessun problema durante il soggiorno e sicuramente ci sentiamo di consigliare il soggiorno ad amici e conoscenti.
Giovanni
2016-08-16T00:00:00Z
Room Type
Entire home/apt
---
Property Type
House
---
Accommodates
4
---
Bedrooms
Carassai, Marche, Italy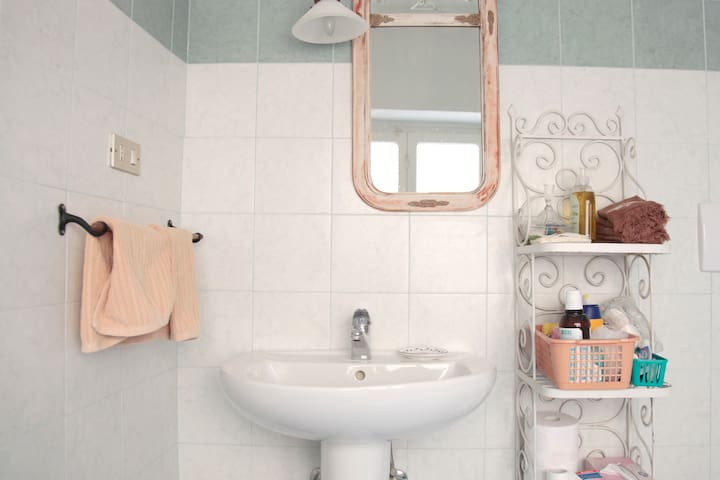 This is the perfect experience for those looking for rural tourism with close contact with nature. The adriatic see (12 km), and the Sibillini National park (30) are very close. There is no lack of things to do!
The farmhouse is a beautiful restored house, it stands in 10 acres of land with fruit, olive trees and also its own vineyard. here you can enjoy a paceful stroll through the fertile land.
within walking distance, or a very short drive, you can find the historic hilltop village of Carassai with its excellent baker, takeaway pizza, restaurant and a small supermarket.
Paola was very kind. It would be difficult here to express all the things she did for us. Suffice to say, after a recent earthquake in the area, in a single day she discovered her apartment for us had been damaged and actually found a wonderful back up place. All that effort just to make us feel welcome. She suggested things to do, and places to go. She also welcomed us into her winery. I felt a connection to the area because it is the home of my great-grandfather, but that connection is stronger now because it is also the home of a friend. Thanks Paola and Luca!
Dave
2016-09-01T00:00:00Z
Check-in was very easy. Paola and Luca told us about nearest markets, best restaurants and cafes and provided much information about the best beaches and interesting attractions nearby. They are excellent hosts. They're very kind, cheerful, always smiling and always ready to help. The villa is very spacious, perfect equipped, comfortable and clean. It was a great vacation in a beautiful and cozy place with a wonderful views. I highly recommend this villa for all travelers who are traveling to this part of Italy and want to live in cleanliness and comfort. Thanks for yours hospitality and welcome to Saint-Petersburg! And special thanks to Kasimo! :)
Daniil
2016-06-25T00:00:00Z
Paola a été très accueillante et toujours à disposition pour répondre à nos question . Elle nous a fait découvrir son vin qu'elle produit elle même qui était délicieux. l'endroit était propre, et climatisé. je vous le recommande
Amélie
2016-07-28T00:00:00Z
Room Type
Entire home/apt
---
Property Type
House
---
Accommodates
6
---
Bedrooms
Carassai, Marche, Italy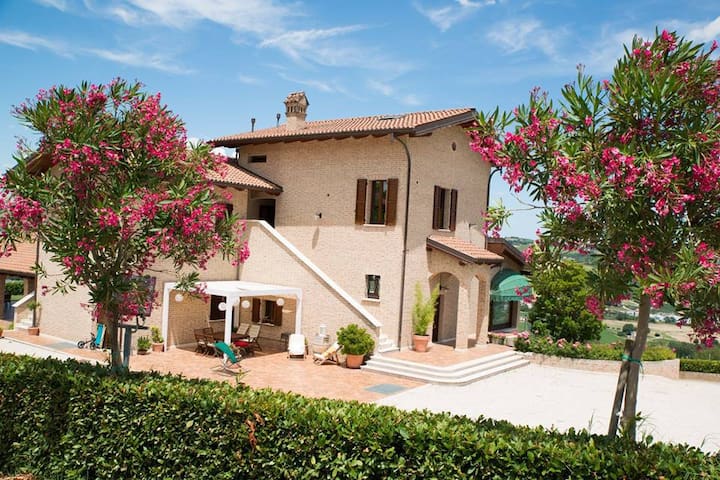 If you're looking for an accommodation to host a group of 14 people in Italy then Villa Moltini is your place to be! Eight rooms, seven bathrooms, three kitchens, a pool, a wonderful terrace and a lush garden with amazing views. Paradise on earth!
The villa is divided over three floors and can host up to 14 people. This makes it the perfect place for a wonderful group holiday. There is a large living room with a group kitchen and access to a large sunny terrace. The pool cools you off and the wonderful views cheer you up. Come and see for yourself!
Nature, hills, mountains, olive groves, vineyards, medieval towns, the seaside, great restaurants; Le Marche at its best!
Room Type
Entire home/apt
---
Property Type
House
---
Accommodates
14
---
Bedrooms
Carassai, Marche, Italy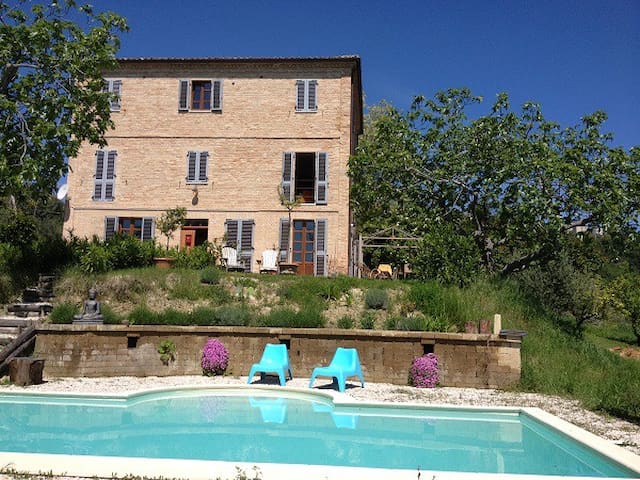 A well furnished villa with a private swimming pool and stunning views. Peaceful and relaxing surroundings where you can while away the hours around the pool or on the large beautiful terrace.
A well furnished villa with a private swimming pool and stunning views. Peaceful and relaxing surroundings where you can while away the hours around the pool or on the beautiful terrace, eating and drinking the local produce whilst admiring the wonderful surroundings and countryside. The villa is well equipped with everything a family would need including a games room with a table tennis table, darts board and table football. The villa is ideally situated for adults wishing to explore the coast or mountain areas and local villages or for families who want to spend time at the beach.
Our house is near the village of Carassai in the lovely region of Le Marche on the Adriatic coast. We are fifteen minutes from the coast and forty-five minutes from the SibiliniMountains. The nearest coastal towns to our house are Cupra Maritima, Pedaso and Grottmare. On the map these are shown half way between Ancona and Pescara.
Room Type
Private room
---
Property Type
House
---
Accommodates
10
---
Bedrooms
Carassai, Marche, Italy
Casa Tizi has been restored in the typical Marche style with a personal touch and paintings of the painter F.Tizi. It's a self-catering house in a long row of medieval buildings, looking out over the old town wall of Petritoli with stunning views.
Bright and inviting Casa Tizi has two terraces; one in front of the entrance with big windows and the other one above in a sheltered area with terrace furniture. It is inviting all year round due to underfloor heating on both levels. On the ground floor you will find wicker chairs at the dining table in front of the large windows. The open-plan kitchen behind the cast iron staircase offers everything you need for self-catering, and a cosy seating area. Upstairs is the double bedroom with a spacious wardrobe. In front of the large windows of the terrace there is another sofa(bed) from where you can immerse yourself in the most beautiful panoramic views.
Our Italian neighbours are very friendly and are especially pleased when one greets them. We can suggest different walks that start from the house. You are 20 mins from the beach and 40 mins from the Sibellini mountains (views from the terraces) and in reach of many different places of cultural and/or historical interest all around Petritoli. There are a lot of cutural and gastronomic events all year round in Southern Le Marche.
We had a great time in Petritoli. Margitta's house is amazing, extremely comfortable and there are some beautiful paints in it. She is a fantastic host, very kind and she gives you all The informations that you need. We'll come back as soon as possible
Ilenia
2016-08-21T00:00:00Z
We had a brilliant time in Casa Tizi. The house is in the village so you can meander through the cobbled streets as you wish. Margita was a fabulous host and always around for help and advice. The local neighbours are what made the trip special; they offered us fruit from their garden and we would often chat on the street, watching the sun go down. Fabulous holiday!
Bella
2015-08-12T00:00:00Z
Margitta's place was MOREEE THAN PERFECT. Petritoli is such a very niceeeeeeee town. And Margitta's house has a very wonderful view for the sunset. It sets right in front of her house. Margitta also no doubt is a very good owner! The house is extremely clean and beautiful. She was very helpful for transportation info i need and everything. Also gave us itinerary around petritoli. Her house is complete of everything you possibly need! Kitchen set. Bath necessity. Perfect! Hope i can stay there a bit longer :) thanks Margitta! Ciao! And she speaks english very welll :)
Sylvia
2016-07-09T00:00:00Z
We had a great time at Casa Tizi. The house is lovely and in a special village where the local people are very friendly; they gave us fruit and vegetables from their gardens! The view from the house is stunning and the lovely beaches are about a 25 minute drive through beautiful countryside. We also visited vineyards and olive oil factories in the area. Margita is always there to help if you need anything.
Bella
2015-08-19T00:00:00Z
My first visit to Marche; what an undiscovered gem, and Margitta's little place a real find. Margitta is a fountain of local knowledge and keen to share. The little village of Petritoli a picture book with views to die for. Definitely a place to recommend and to return to.
Zane
2016-05-11T00:00:00Z
Quaint is the word - for anyone who likes architectural character then this is the place for you.. Arches, exposed brick and wooden beams all contribute to the genuine rustic atmosphere of the town and the area. Given the shape of this house, with light coming from only one end, I'm sure its not so easy to photograph - I feel the pictures can't give full justice to the property, especially the brilliant, undisturbed view it looks out on to, which can be enjoyed from a small but comfortable porch/balcony area up stairs or a small patio (seen on the thumbnail picture) which Margitta had set up with a small table and candles. Margitta was friendly and communicative - everything you'd want from a host. The town in which this house is located is especially pretty and has a good selection of small cafes and restaurants, which seem to be open at the times you'd want them to be (sometimes rare - it would seem - in rural Italy). There is a supermarket only 10 minutes down the road by car - a boring but highly useful practicality for those wanting to live economically. Locals seem warm and friendly, and a real sense of community can be felt in the evening times when they come out to sit, chat and drink. I went with my girlfriend and we found the space worked perfectly for the two of us, and the atmosphere and ambience of both the house and the town was quintessentially romantic. I would highly recommend this place to anyone who appreciates aesthetics, ambience and rural Italy. I myself will, most definitely, return.
Bill
2016-07-27T00:00:00Z
I went to Petritoli for my 50th birthday, and brought friends with me. This apartment was occupied by a couple on their honeymoon, and it did not disappoint. It is indeed cozy and romantic, and filled with art. Located on the far side of Petritoli and overlooking the amazing countryside, you feel like you have stepped into a movie. The maginficient bathroom alone is worth the trip. But it is the town of Petritoli that makes this a must rent: the people are warm and friendly, everything is walkable, the two bars are hubs of friendly activity (snacks all the time, gelato, strong Wi-Fi, outdoor seating - you get the picture), and the views make your jaw drop all day long. Margitta is the perfect host - she welcomed us with open arms, was responsive to one small issue, and was a charming friend every time we saw her on the streets. An incredible rental. P.S. - contact the guys at Turis.Marche to help coordinate your activities, they are the best!
Matt & Shannon
2016-08-03T00:00:00Z
We had a wonderful time in Petritoli with our very helpful AirBnB hostess Margitta Hoffman; she was often available and helpful in many ways. She knows seven languages and translated for us and some of our friends as well besides giving us and them general directions and advice. Make sure you have cash in this town - there is an ATM for getting cash withdrawals but we personally found it difficult to access any cash - not sure why... We were in Petritoli for an "international" wedding - our AirBnB was clean, quiet, and as well-equipped as a New Zealand motel with lovely view of the surrounding countryside. As it was cool with some thunderstorms in the afternoons we were glad of the polar fleece blankets. The quirky spiral staircase access to the bedroom mezzanine would appeal to many. The accommodation was within 200 metres of the bars (small eateries /restaurants) but be prepared as there is a lot of uphill and downhill walking to get around. Great exercise! We highly recommend Margitta's AirBnB!! The welcoming fresh roses were a pleasant surprise.
Marti
2016-06-10T00:00:00Z
Room Type
Entire home/apt
---
Property Type
House
---
Accommodates
2
---
Bedrooms
Petritoli, Marche, Italy
The property is located in the historical center of Petritoli (FM), 15 km from the Adriatic Sea and 40 minutes from Park Sibillini you rent comfortable apartment of 110 sqm fully furnished
E' un alloggio caratteristico , al centro del paese dove lateralmente a distanza di 20 Metri ci sono i bastioni dei tre Archi , immobile molto adatto per una famiglia che vuole avere tranquillità e serenità , immersa nel verde al centro del paese con splendide vedute dei monti Sibillini , del mare Adriatico e della vallata del fiume Aso.
Borgo Medioevale
From my first contact with Walter he was fabulous. He even arranged to pick me up from Ancona train station and take me to his place in Petritoli. His place has wonderful views as far as the eye can see. It also has a cute little balcony/terrace area outside the front door to sit and listen to the birds and watch the sun come up. He very kindly left me some wine, fresh fruit, tea, coffee and milk. His home was very clean and it was right beside the Palazzo and lots of local restaurants. He was a great host. I would stay there again for sure. Thanks for my short but very relaxing stay!
Jackie
2016-06-05T00:00:00Z
The location of Walter's Holiday House is unparalleled: perched on the edge of a magical Italian hill town overlooking the gorgeous country. The living room has two huge picture windows looking out into the countryside. The house is nice and comfortable. The master bedroom has air conditioning! Walter was a great and welcoming host.
Matt & Shannon
2016-08-04T00:00:00Z
This holiday home is not up to standard for the mainstream tourist. It is old. And poorly maintained. This is particularly annoying in the kitchen and the bathroom, where is no normal shower, but a deep shower tray and a handheld shower, a cracked basin, and a wobbly toilet seat. The decor is from 50 years ago, not everybody's taste. Overall it was fairly clean, but it did not feel clean. The duvets needed airing. The view is beautiful, and it was quiet. The host, Walter, was most forthcoming. He met us at the airport, waited endlessly until we finally got our car, and guided us to the house, which was a 45 minutes drive. In the house he kindly supplied us with fruit, milk, biscuits, pasta and wine. Most generous.
Anne
2015-11-01T00:00:00Z
Room Type
Entire home/apt
---
Property Type
House
---
Accommodates
4
---
Bedrooms
Petritoli, Marche, Italy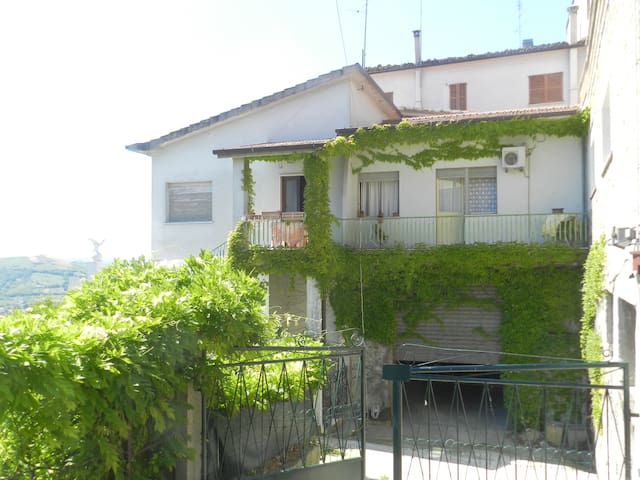 The "Casale del Levriero" is situated on a hill, in a panoramic position overlooking the sea, hills and mountains. Nestled in the olive groves and vineyards, it is about 6 km from the sea. The accommodation , "Il Pampino", located on the ground floor, consists of living room and sofa bed, kitchen, dining area, double bedroom and bathroom.
The apartment "Il Pampino", consists of living room and sofa bed, kitchen, dining area, double bedroom and bathroom, also has a private porch where it is possible have breakfast looking at sea, mountains and hills simultaneously. The bed linen and towels are included, the kitchen is equipped.
Guests appreciate the quiet, the lovely sea and mountain views and the beauty of nature that surrounds us, our discretion and willingness and sympathy.
Room Type
Entire home/apt
---
Property Type
House
---
Accommodates
4
---
Bedrooms
Montefiore dell'Aso, Marche, Italy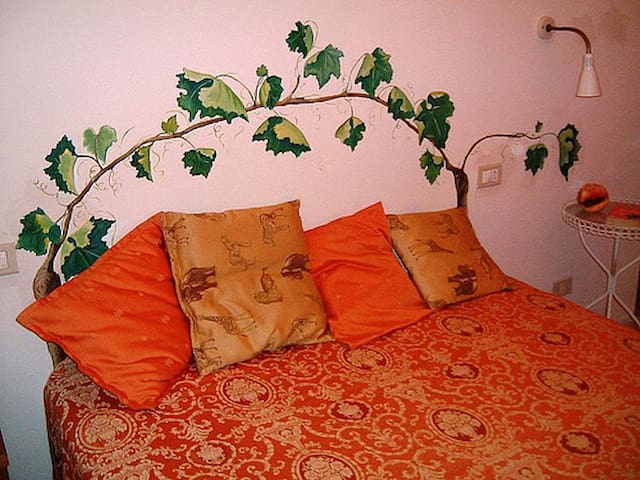 Easy to relate to people
Room Type
Entire home/apt
---
Property Type
House
---
Accommodates
4
---
Bedrooms
Valmir di Petritoli, Marche, Italy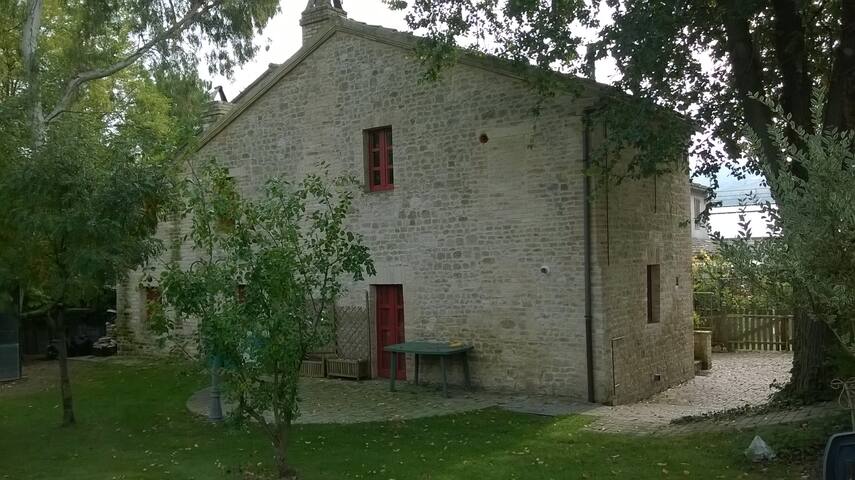 Accogliente villino immerso nelle colline offidane con ingresso indipendente, spazioso giardino con amaca e barbecue, cucina, tv, due camere ed un bagno. Circondato da ulivi, il villino offre uno splendido scorcio sulle verdi campagne circostanti
Per chi desidera staccare la spina e concedersi una vacanza rilassante immersa nel verde, questa sistemazione sembra essere l'ideale. A pochi km dal paese e non distante dal mare e dall'incrocio autostradale, la casa sembra un'ottima base d'appoggio per rilassarsi e scoprire le Marche.
Room Type
Entire home/apt
---
Property Type
House
---
Accommodates
3
---
Bedrooms
offida, Marche, Italy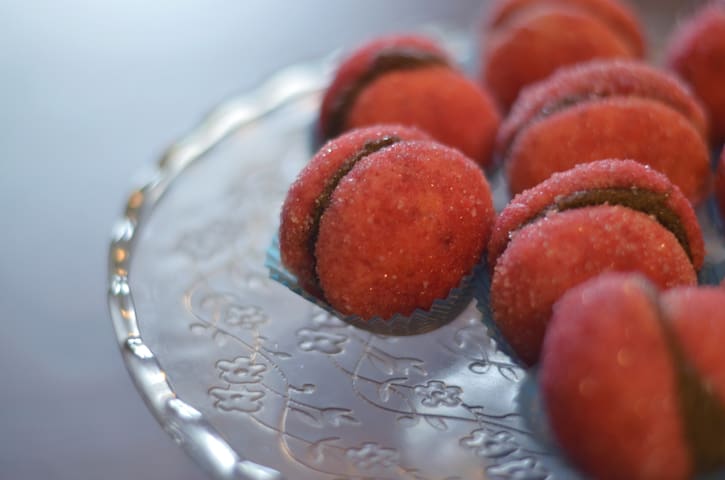 Nestled in the hills, between the sea and and the green countryside, Country House I Lauri offers wonderful views, in a simple but refined
The Country House I Lauri is a structure surrounded by greenery in a renovated cottage retaining original architectural standards
Room Type
Entire home/apt
---
Property Type
House
---
Accommodates
2
---
Bedrooms
Montefiore dell'Aso, Marche, Italy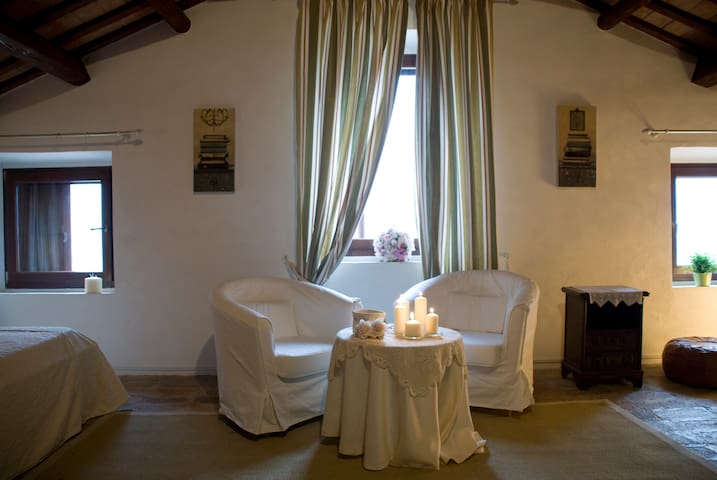 Casa perfetta per una famiglia media di 4 persone, gode di un giardino privato ed una piscina situa in un altro spazio verde da condividere con un'altra famiglia. Casa posizionata a 20 minuti di macchina dal mare e dai Monti Sibillini.
A 20 minuti di macchina dal Mare Adriatico e dai Monti Sibillini
Room Type
Entire home/apt
---
Property Type
House
---
Accommodates
6
---
Bedrooms
Montalto delle Marche, Marche, Italy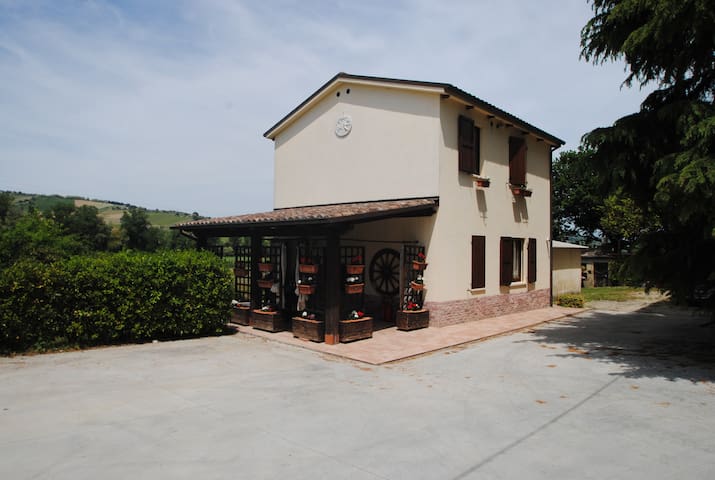 Die Villa, die im Jahr 2011 mit großer Sorgfalt und Bauqualität renoviert, befindet sich in einer beneidenswerten Lage. Vom Garten können Sie die Bergkette der Sibillini und Gran Sasso und die Hügel des Tesino Tales vom Hause bewundern, im Tal (1,5 km), ist es ein 15 min Groton und seine schöne Strände, ideal für Familien mit Kindern. Das Haus ist auf 3 Ebenen. Im ersten Stock gibt es vier Doppelzimmer mit 2 Bädern, ein Bad, Im Erdgeschoss einer
Room Type
Entire home/apt
---
Property Type
House
---
Accommodates
8
---
Bedrooms
Ripatransone, Marche, Italy
The farm Galanti is in Cossignano (AP), only 15 minutes drive from the beaches of the Adriatic Coast (San Benedetto del Tronto Grottammare), 30 minutes from the city of art Ascoli Piceno and 45 minutes from the Sibillini Mountains. (4-6)
The 2 apartments (Manu Dani +) can be rented together (6-8 Seats
We have spent 11 days in the Agriturismo Galanti. We have been very happy with the accommodations, which are very clean, well maintained. We found that the location was extremely beautiful, private, peaceful, spacious and centrally located to allow us to facilitate our regular excursions including the seaside- which is 25 minutes away- and the surrounding villages. The picturesque village of Cossignano is walking distance with spectacular views -as is the Agriturismo Galanti -, with multiple restaurants at very affordable prices and great cousin, small stores, where one can buy fresh food, take it home and cook in the specious kitchen. Quinto and his wife Serenella are very attentive and committed hosts, kind and genuinely generous. They made our stay unforgettable. We highly recommend Agriturismo Galanti and we are definitely will return in the near future.
Judith
2016-09-29T00:00:00Z
Room Type
Entire home/apt
---
Property Type
House
---
Accommodates
6
---
Bedrooms
cossignano, ascoli piceno, Italy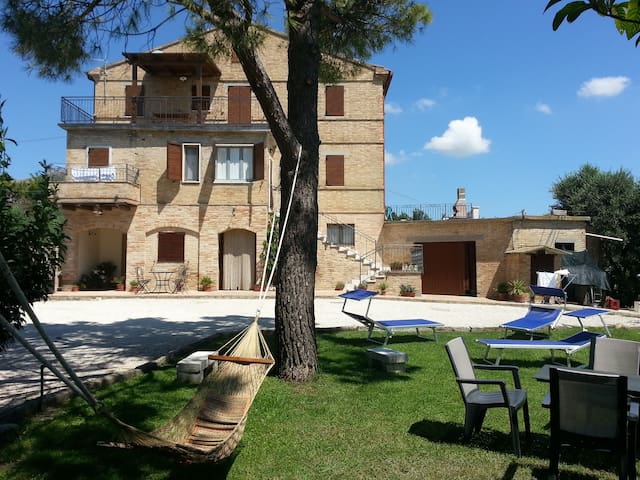 L'Agriturismo La Casa degli Gnomi is in the Marche region, in Fermo province (formerly Ascoli Piceno). It is part of Ortezzano, a small village with a unique geographical position compared to other villages in the area. It lies on the southern hillside, at 300m above sea level. It's only 20 km from the Adriatic coast (with well-know sea-side resorts Porto San Giorgio, Pedaso, Cupramarittima, Grottamare and San Benedetto del Tronto). And the national park Monti Sibillini (with de well-know peaks Monte Vettore, Motagna della Sibilla and Sassotetto) is at only 30 km from the agriturismo. L'Agriturismo La Casa degli Gnomi is the heart of an organic farm of 30 Ha. Fruit trees are planted in the fields (prunes, pears and peaches). The vineyard is planted on the slopes of the hills, close to the village. The varieties of grapes are specifically planted for making the famous wines of the Marche: the Rosso Piceno (made of Montepulciano, Sangiovese and Merlot grapes) and the Falerio (made of Trebbiano, Passerina en Pecorino grapes). What we offer: Two apartments on the ground floor of 55m2. Each apartment has it's own entrance, a fully equipped kitchen, a 3 persons bedroom, a master bedroom and a bathroom with shower. One apartment on the first floor of 45m2 with a fully equipped kitchen, a 3 persons bedroom, a master bedroom and a bathroom with shower. Two apartments on the second floor of 30m2. Both with a fully equipped kitchen, a bedroom with a double bed and a bathroom with shower. One room of 15m2 with a double bed, a refrigerator, a television and a bathroom with shower.
Room Type
Entire home/apt
---
Property Type
House
---
Accommodates
2
---
Bedrooms
Ortezzano, Marche, Italy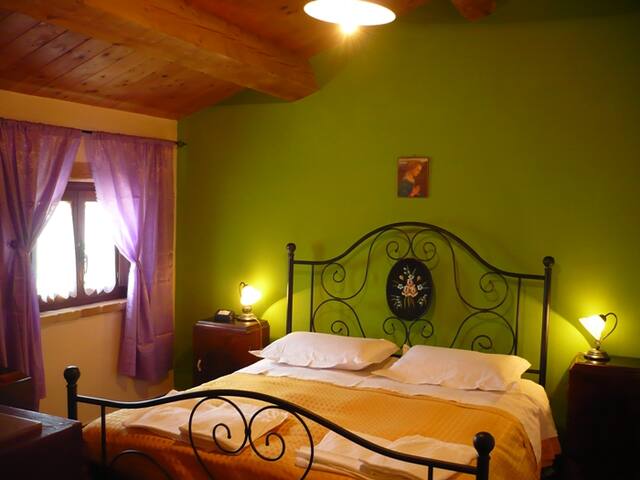 This 5 bedroom gem on the italian country side, with views of the Adriatic, will offer a once in a lifetime vacation! In true Italian style there are brick archways, beamed and vaulted ceilings, terracotta tiled floors, farmhouse windows and shutters. A fabulous hand built kitchen has been designed for this property. Five double bedrooms of Casa Leopardi contain en-suite bathrooms with a traditional Venetian plaster corner fireplace and a free standing bath. Three bedrooms have French doors leading onto to spacious outside terraces on the second and third floor, with amazing views over the surrounding countryside.
Room Type
Entire home/apt
---
Property Type
House
---
Accommodates
10
---
Bedrooms
Montefiore Dell' Aso (AP), Italy, AP, Italy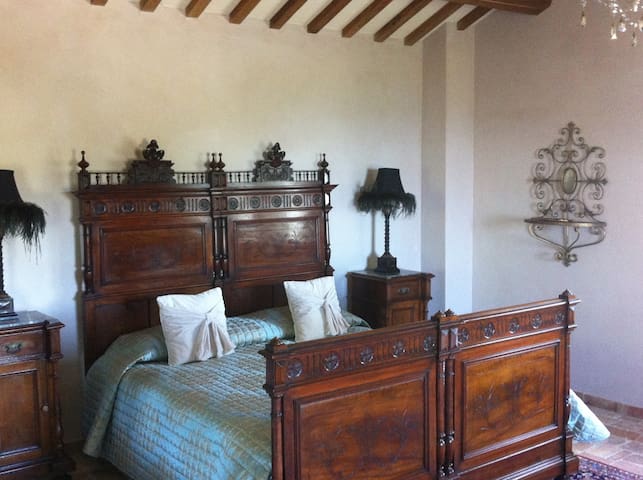 Immersed in the green hills of Piceno and created to accommodate those who appreciate nature, historical, culture and flavors. It is in an ideal location to experience the sea (15km) and mountains (30km by Sibillini and Laga).
The farmhouse, lovingly restored, consists of two apartments (4 and 6 beds) with spacious rooms, large wardrobes and wrought iron beds; ceilings are characterized by wooden beams and bathrooms decorated with artistic ceramics from Vietri. Both apartments have a kitchen and a large living room. In a large garden and gazebo will allow you to eat outside.
The B & B is located within walking distance of sports facilities: tennis, soccer, fitness trail and near a large playground.
Abbiamo soggiornato nella casa "Margherita blu" di Giuseppina dal 18 al 23 agosto, ed è stata veramente una vacanza deliziosa e rilassante, in una casa molto bella e curata in ogni suo dettaglio. L'accoglienza riservata dalla nostra ospite è stata calorosissima, come mai non ci è successo prima : al nostro arrivo e durante tutto il soggiorno abbiamo potuto assaggiare vini e cibo tipici prodotti dai nostri ospiti. Giuseppina e la sua famiglia sono dei veri ambasciatori delle Marche e non mancano di dare utili consigli sulle cose ed i posti da vedere.
Anaïs
2014-08-24T00:00:00Z
Giuseppina is de perfecte gastvrouw. Aankomst en vertrek werden vlot geregeld, we kregen tips over de omgeving en er stond zelfs een fles witte wijn koel uit de wijngaard van haar familie. Het appartement is erg praktisch, ruim, proper en heel goed gelegen. De perfecte uitvalsbasis voor een bezoek aan de streek!
Anke
2015-08-07T00:00:00Z
Abbiamo trascorso una piacevolissima settimana. Il posto è facilmente raggiungibile e dista circa 20 minuti di macchina dal mare. E' possibile quindi spostarsi agevolmente per visitare gli innumerevoli borghi antichi delle vicinanze e gli splendidi paesaggi collinari e di mare tipici della zona. Il cibo, le persone ed il luogo sono una combinazione perfetta per un soggiorno all'insegna del riposo e della cultura. Giuseppina è molto gentile e piacevole; con i suoi consigli e le sue attenzioni, ha reso la nostra vacanza perfetta(URL HIDDEN)
Marco
2016-08-20T00:00:00Z
Room Type
Entire home/apt
---
Property Type
House
---
Accommodates
10
---
Bedrooms
Cossignano, Ascoli Piceno, Italy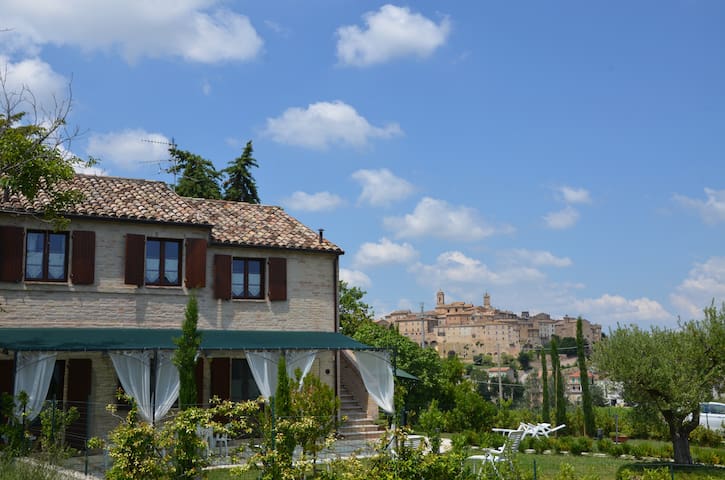 Casale nei vicoli del paese su quattro livelli così disposto : Sala hobby cucina abitabile 2 camere da letto 2 bagni 4 terrazzi. Completamente ristrutturato. La posizione offre la possibilità di fare una vacanza fra mare e collina. Relax, Sagre e mercatini Porto San Giorgio, località turistica, dista 15 km.
Casa indipendente, ristruttura con vista meravigliosa sulle colline marchigiane
Room Type
Entire home/apt
---
Property Type
House
---
Accommodates
6
---
Bedrooms
Monte Giberto, Marche, Italy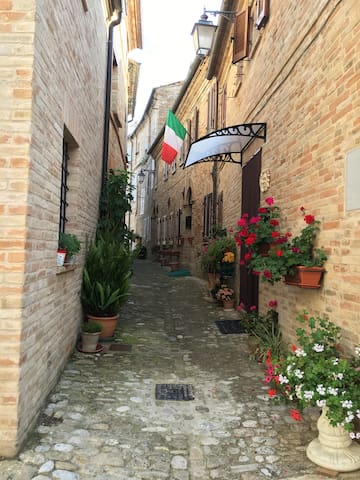 The house of the mulberry trees is a charming and cozy small house immersed in the garden with a private terrace which is accessed from the fully equipped kitchen.
In the center of Monterubbiano, a small medieval town set on one of the picturesque hills that run from the mountains to the sea you will find La Rosa Scarlatta, a typical house from the 17th century with an antique terraced garden. Monterubbiano is 463 meters above sea level and the view from the garden overlooking the mountains, the sea and the patchwork hills that make up this mysterious land of the piceni is breathtaking. The apartments have been created by carefully restoring the original building's storerooms and stables. The original character of the rooms have been maintained providing a unique atmosphere of times past. In the heart of the house is a small theater which is the home of the foundation 'diversoinverso – per un vivere piú umano' an arts and humanity foundation. The theater is used for the arts as well as a meeting place and guests are welcome to use it and attend events. "La casa del gelsi" (house of the mulberry trees) is a charming and cozy small house immersed in the garden with a private terrace which is accessed from the fully equipped kitchen. On the terrace you can sunbathe, relax in the hammock, have meals and cook on the barbeque while the sun is setting over the mountains. Upstairs is a quiet double bedroom and bathroom. The apartment has central heating. Maximum occupancy two people.
Only stay in this place during summer months, in the winter it is far too cold
Janet
2017-02-11T00:00:00Z
Room Type
Entire home/apt
---
Property Type
House
---
Accommodates
2
---
Bedrooms
Monterubbiano, Marche, Italy