Our comfortable mountain home located in Ponderosa Hills near Twain Harte, CA is on a quiet street with a great view! The location can't be beat. Close to Stanislaus NF, Yosemite NP, Dodge Ridge Ski Resort, Black Oak Casino, & More!
The space is the downstairs level of our home. It is 750 square feet with one bedroom and one bathroom. It has it's own separate entrance, kitchen, bath, laundry, living space, and deck. We are happy to share our upstairs deck, grill and anything else you may need with you as well. Breakfast is provided and includes oatmeal with a variety of toppings, assorted pastries and spreads, coffee and tea. If the weather is nice you can enjoy your breakfast outside on our large deck surrounded by the pines.
Ponderosa Hills is a quiet neighborhood with great views. Lots of nearby forest roads or hiking trails for walking and biking opportunities. We are near Stanislaus National Forest and are only 4 mi from Black Oak Casino, 13 mi from downtown Sonora, 25 mi from Dodge Ridge Ski Area, 31 mi from wine tasting in Murpheys, 46 mi from Big Trees State Park, and 60 mi from Yosemite NP Big Oak Flat Entrance.
Kelsey has been great communicating to us with great detail. The house was just amazing and super welcoming. We felt safe because of his husband job:)
Simone
2014-10-27T00:00:00Z
The hosts were very friendly and more than happy to answer all pf our questions about the area
Joe
2016-06-28T00:00:00Z
It's a really great place with a great view and great people. They made us feel at home. Kelsey gave us also good ideas for our trip. Thanks:)
Liliya
2014-01-08T00:00:00Z
Kelsey and Nick are very friendly and helpfull. There house is very clean and cosy. The view is amazing and it's so quite. We have our own bedroom and bathroom. It takes 2 hours and half to reach Yosemite valley. We strongly recommand the place ----------------- Kelsey et Nick sont trés accueillants et disponibles pour avoir des informations. Leur maison est très propre et châleureuse La vue est magnifique et le lieu est très calme. Nous avons notre propre chambre et salle de bain. Il faut compter environ 2h30-3h pour atteindre la Yosemite valley. Nous recommandons fortement cet endroit.
CHARLOTTE
2014-09-02T00:00:00Z
This place is a great mountain house which is quite and peaceful. Stay was fabulous and there was complimentary breakfast with granola oats and nuts. House is spacious and clean. Kelsey was very prompt with her response to any questions and she had put together a guide book with lots of suggestions and maps close by for hiking and recreation which was really helpful. Best place to enjoy nature!
Sujitha
2016-08-08T00:00:00Z
Very nice place! Ammodated late arrival. great facilities. Great night view of night sky. Helpful host who late . Good driving directions to the place given.
Di
2016-08-11T00:00:00Z
Kelsey and Nick's place was simply fabulous! They are lovely hosts and enjoy making people happy. We loved having breakfast (home-made granola with yoghurt and home-made bread with eggs) on the deck outside. Highly recommended!
Suzanne
2014-10-05T00:00:00Z
A great home-base location for those looking to explore this region. The unit is downstairs so expect typical household noise above and the layout is quirky but the rooms are spacious; great updated appliances. Clean and well furnished. Comfy bed for both side and back sleepers. It's a pristine and tranquil neighborhood in a hilly small town.
dan
2016-09-26T00:00:00Z
Room Type
Entire home/apt
---
Property Type
House
---
Accommodates
2
---
Bedrooms
Tuolumne, CA, United States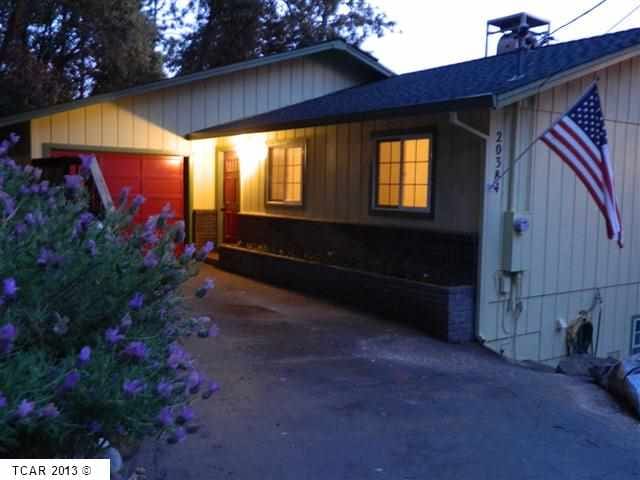 Easy access from Highway 4. Master suite with private entrance, bathroom with double sinks, and your own deck. Views overlooking garden and forested hills. Quiet residential neighborhood within walking distance( 1 mile) of downtown Murphys with its wonderful wineries, shops and restaurants. Mini Fridge in your room. Price includes a $6 transient occupancy tax mandated by the county.
Relax and enjoy a sunny morning with a cup of coffee or sit on the deck and enjoy the stars at night with a glass of award winning Calaveras County wine. Queen size bed with attached bathroom. Vanity has double sinks and walk in shower.
We are 2.25 mile round trip walk into downtown Murphys. Easy access from Highway 4, Big Tress State Park is about 20 minutes up the road, Bear Valley 45 minutes, Yosemite, Modesto and Stockton are nearby, 1-2 hours away. We have chickens. Incredibly safe neighborhood. There is a local occupational which is included in the list price.
We enjoyed our time. Very private. Plenty of space. We would definitely stay here again.
Julianne
2016-09-26T00:00:00Z
We arrived late evening and were welcomed by Susan's daughter who did an awesome job showing us the room and making us feel welcome. The room was very nice and had everything we needed. They even provided an extra mattress for our daughter. Nice touches with the candies, coffee and jelly beans. Just a short walk to all the activities in downtown Murphys. Will stay with Pete and Susan next time we are in this area.
Gene
2016-04-18T00:00:00Z
Excellent suburban neighborhood near downtown with dual sinks for a couple
Brian
2015-10-05T00:00:00Z
The amenities provided were exactly what we needed! We enjoyed our stay so much and cannot wait to come back again! The little things like the wine glasses, hot chocolate, and dessert snacks left out were perfect touches! And the fact that the shower was stocked was amazing!
sydney
2016-12-04T00:00:00Z
I arrived somewhat late, so nobody was at home .... BUT .... there were little notes all over the place, that lead me to the cozy, clean, warm, comfortable room with attached bathroom and made me feel very welcome after all. I slept well, felt safe, had a cup of well tasting coffee and some yummy cookies in the morning, that gave just the right energy to explore the cute little town of Murphys. This place is good and I am recommending it. Thanks Susan and Pete and daughter.
gisela
2016-03-14T00:00:00Z
Susan and Pete's place was perfect and very cute! Susan was there to greet us upon arrival and showed us around. The room was very clean and comfortable. The location of the house was also great, close to downtown Murphys. I can't wait to come back for another girls weekend! I would have liked to have more time to spend outside of the house, it was beautiful.
Erica
2016-05-30T00:00:00Z
Susan and Pete were very welcoming hosts. They set us up in a private bedroom in their home with our own entrance to come and go as we please. They provided us with tea, coffee, and sweets. The bed was very comfortable and everything was very clean. Murphys is an adorable little town that is within walking distance. Thank you both for such a pleasant stay!
Juan
2016-01-19T00:00:00Z
Susan and Pete asked that we contact them when we got into town-which we did. Susan met us at their house within five minutes and showed us the room and amenities. The room is spacious and the bathroom nicely appointed. There was freshly ground coffee for us if desired and tea available. The bed is very comfortable and roomy-we're used to an antique double bed. Fresh towels were in the bathroom-which was very clean and tidy. There was a nice sitting area right outside the door on the deck which we didn't make use of as we were getting an early start, but the morning sun did make it look enticing to delay our exit. We hope to be back next year at the same time.
Don
2016-02-08T00:00:00Z
Room Type
Private room
---
Property Type
House
---
Accommodates
2
---
Bedrooms
Murphys, CA, United States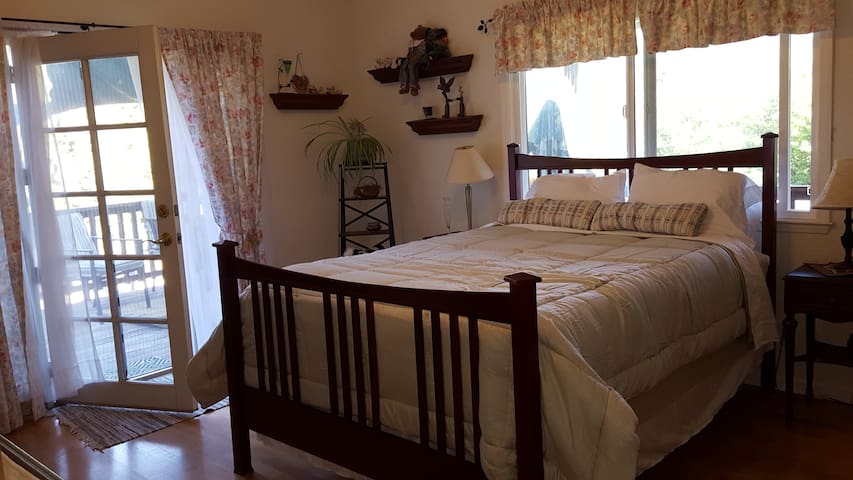 We are located in Blue Lake Springs/Fly-In Acres. Lake membership is included to Fly-In Acres lake. Its two blocks from the lake and golf. It is also very close to Downtown Arnold. You'll love our place because of the coziness, the high ceilings, the kitchen, the views, large deck, indoor cabin feel, modern kitchen and the comfy beds (two Queen beds and one bunk-bed). Our home is good for all. Pet friendly with a 15.00 per pet, fee...
Bring your bike and enjoy a scenic bike ride! Things to do nearby: Ski at bearvalley Access to flying Acres lake walking distance 2 blocks away Shop in Murphys (15 minutes drive) Visit Calavaras Big Trees State Park (10 minute drive) Explore Moaning Caverns (30 minute drive) Fish, hike or picnic at Lake Alpine (30 minute drive) Pan for gold at Columbia State Historic Park (40 minute drive) Ski at Bear Valley (30 minute drive) Golf at one of 6 golf courses Go winetasting in Calaveras County For more see the Calaveras County Visiter Bureau
Very nice, affordable and cozy cabin. It have almost everything you need when you return from Bear Valley (30-45 min drive). Very good kitchen, 3 TV+DVD sets. There is enough parking for two cars. Supermarket & several restaurants are 5-7 minutes drive in downtown Arnold. We had a great time at the cabin!
Andrey
2016-12-12T00:00:00Z
We loved this cute, clean, and cozy cabin. Perfect for a relaxing weekend getaway. Loved walking the neighborhood and exploring the area. The cabin had everything we needed and Colin was so helpful with check-in info and restaurant recommendations. We will definitely be back, thanks for a wonderful weekend!
Jennifer
2017-04-09T00:00:00Z
Absolutely beautiful! Will definitely stay here again!
Mayra
2016-12-26T00:00:00Z
I recommend!!
Josephine
2017-04-02T00:00:00Z
Great cabin for all of my buddies and I . It snowed right outside out cabin and we didn't even have to drive anywhere to enjoy the snow. Would recommend this cabin to anyone looking either for isolation or just an all around good time.
devin
2017-01-13T00:00:00Z
Our family of four had a great time, the movies and games were a huge bonus. My kids loved walking to the pond and exploring the woods.
Allena
2017-02-24T00:00:00Z
A wonderful cabin!
Jason
2017-03-20T00:00:00Z
The cabin has the perfect mix of secluded and community. The town(s) are not too far and have everything you need, the cabin came with much more than was anticipated, our host was on top of responding to our inquires and was very friendly. We stayed when it was raining cats and dogs and the house warmed up quickly and the washer/dryer were super helpful. The drive way is a little steep if you have a car with a trailer hitch, but otherwise this was a spectacular place to get away.
Lauren
2017-02-20T00:00:00Z
Room Type
Entire home/apt
---
Property Type
House
---
Accommodates
7
---
Bedrooms
Arnold, CA, United States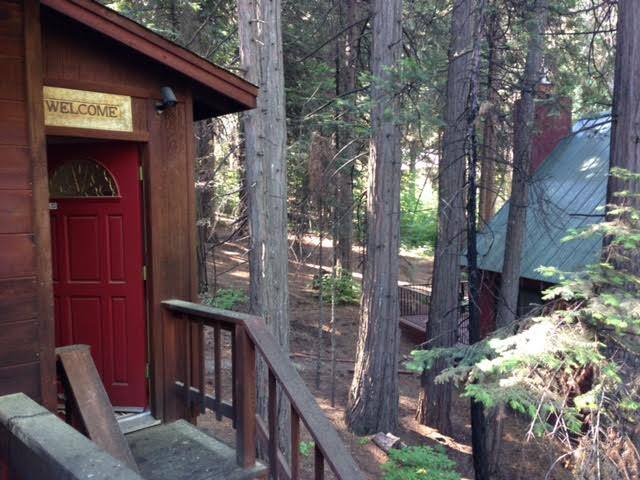 Our home is located in a quiet neighborhood 2 miles from Twain Harte. Highway 108 is 4 minutes away. From there you can explore up the hill: Dodge Ridge skiing, Pinecrest Lake, Emigrant/C.Iceberg Wilderness. Down the hill: Sonora, Columbia, Yosemite.
(We have two listings. The other listing is called Home in the Trees: Private Double.) The ROOM: This is a very spacious bedroom with two twin beds which can be put together to make one king bed. Just let us know which you would prefer when you make the reservation. There is a papasan chair, desk, nightstands, bar height table for four, and a few kitchen amenities on the long counter space. (You have full use of the kitchen upstairs.) You have a private .5 bath in your room with a full bath down the hallway. The shared hot tub is right outside your private entrance! Additionally we have a collapsible baby crib. The HOUSE: Our 2800 sf home is on two levels. Nine steps to the main floor and 12 steps to the bottom level. All bedrooms, 1.5 baths, hot tub, and laundry room are on the bottom level. The top floor, the main floor, is a huge great room. There is another 1.5 baths, full office if you are in need of a work space or printing, library area with two leather loungers and fireplace, piano and guitars, TV area, dining area, kitchen, and mudroom. Just outside is a 500 sf deck which is very nice in summertime. It has a fully retractable awning over the main section of the deck. You can go outside and relax, do your yoga, or pick some herbs for your dinner- May through October. We eat mostly organic foods. Feel free to use what is in our pantry to complement your meals. We have a basket full of some basic exercise equipment and two yoga mats. In winter you may borrow our snowshoes. Additionally we have one mountain bike you can use to ride the nearby RR grade turned into a riding path (non motorized.) Just a short 200 foot, somewhat heart pounding, elevation gain from the house will bring you to the Twain Harte ditch system. This is a system of waterways (our local drinking water) which has running/biking trails right next to it. You can easily get a five mile run out in the woods right from our home. We have a small swimming lake just down the street from our home which has a walking path. The lake is accessible year round.
Brentwood Park in Twain Harte was originally a summer community. There are still many cabins, but most have been winterized. During the past 25 years the lots have been bought up and have permanent homes. We have a small swimming lake just down the road and several in the area including Pinecrest Lake up the hill about 25 minutes. TWAIN HARTE: Twain Harte has a website which lists all the Saturday concerts for the summer and many special events. Also go to Stanislaus National Forest website to get hiking trails, fishing spots, and swimming. This would include the Pinecrest and the Emigrant Wilderness. The center of our town has a 9-hole golf course, mini golf, pizza, coffee shops, ice cream parlor, several restaurants, kids playground, skate park, public pool. The library and full service grocery store and pharmacy are two blocks away. SURROUNDING AREA: Travel historic Highway 49 both north and south. Going south, visit historic Sonora and Columbia, old mining towns. Jamestown has Railtown 1896 State Park. Black Oak Casino is in Tuolumne. Groveland, the Gateway to Yosemite, is about an hour drive. The entrance to Yosemite is 1.5 hours and the Valley floor is 2 hours. Going north you will encounter several more old mining towns. Murphys is popular for wine tasting. Traveling east across Sonora Pass (elevation 9600') will bring you vistas equal to Yosemite, just without the crowds. From this highway you can enter Emigrant, Hoover, and Carson-Iceberg Wildernesses. There is so much to see and visit you will need to come back!
We loved Liz & Terry's kindness and hospitality. They are amazing host.
Will
2017-03-05T00:00:00Z
Perfect place for a mountain getaway. The room is large and clean, Liz & Terry are awesome hosts. Liz prepared a sightseeing list for us. We would book this place again.
Dave
2017-04-01T00:00:00Z
Great house and great people. Very welcoming and hospitable and polite.
Cliff
2017-04-03T00:00:00Z
Liz and Terry are great hosts. If you need something just ask them and most likely they'll help you. There place is very nice
Hubert
2017-01-16T00:00:00Z
This place is great and close to nature. We saw four deers walked by within 10 ft one day at the place. Liz and Terry were very cool and let us use everything in the kitchen including olive oil and spices. Great stay!
David
2017-01-11T00:00:00Z
Outstanding hosts! Super kind and friendly! Everything was great with the accommodations. Thanks for letting us stay in your home!
Gavin
2017-01-26T00:00:00Z
My brother and I arrived later than scheduled because we got lost coming back down from Yosemite. They waited for us. We appreciate that a lot. The rooms and the bathroom were clean. I loved that the room has a its own toilet so I won't have to get out of the room in the middle of the night. Definitely recommend Liz and Terry's place. They were nice and hospitable.
Toni
2017-02-18T00:00:00Z
This place is located in beautiful nature. I enjoyed using hot tub and I was able to see deers walking by in the morning. I felt really relaxed spending a night in a nature friendly house! I was able to use the refrigerator and cook food using the kitchen as well.
Youngsen
2017-03-15T00:00:00Z
Room Type
Private room
---
Property Type
House
---
Accommodates
2
---
Bedrooms
Twain Harte, CA, United States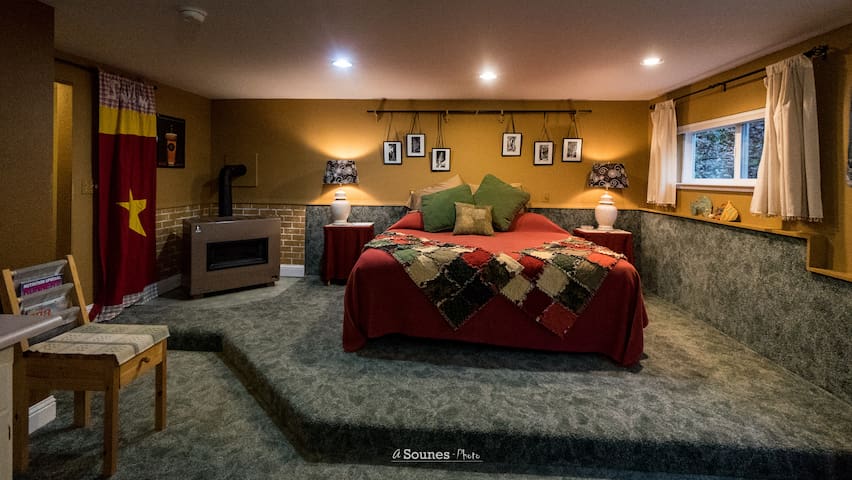 Our home is just 3 blocks walk from downtown. Access the room with a private door from the outside. You'll find a cozy one bedroom suite, perfect for a couple. On suite bathroom with bathtub! Coffee, tea, cereal provided!
Our home is on historic Bradford Street. Surrounded by some very lovely old homes. You may be awakened on Sunday to the sound of Church Bells from Saint Patrick's Church (just like in Europe) The room is perfect for a couple, with everything you'll need for a long weekend or a stop over on your way to or from Yosemite . The street we live on may be busy on week day mornings, as the county employees head to work but things quiet down a lot on the weekends. Friday morning is garbage day so it is a bit more noisy then! Our location is ideal for walking to downtown. You will find many fine restaurants and (email hidden) theater. A grocery market is just a few minutes walk as well as several banks, galleries and museums. The fairgrounds are just a few blocks away. Everything is within a very short and comfortable walking distance. The local Art Night 'Second Saturday' is held on the second Saturday of each month, from 5-8pm, where you will find many shops and galleries open and hosting local artists and musicians. In the summer you can walk to Farmer's Market on Saturday mornings. I've made a book with all the restaurants and area attractions to help you find your way around our community but feel free to knock on our door and ask questions. You'll find a comfortable queen sized bed. A bistro table and chairs for game playing. A TV with Comcast cable and high speed internet. There is a coffee pot, fridge and microwave, iron, ironing board. We recently upgraded our bedding, new carpet, new shower curtain and some new towels. Starting a new year!
In the beautiful Sierra Nevada Foothills, in the heart of California's "Gold Country" lies Sonora , named after the miners from Sonora Mexico who settled the City in 1848. Known as the "Queen of the Southern Mines", this pristine City still holds on to its historic charm with many of its existing buildings dating back to the 1800's. In fact, a walk along most streets in the City allows one to reminisce with days gone by; a brick or stone building, a slate wall, an iron shutter or fence, or a historic home nestled in an old fashioned garden. Along with Historic buildings the City is home to three museums. These museums give visitors an insight into the way of life in California's mining towns. The California State Park's of Columbia and Railtown 1897, just a short drive from Sonora, are also a must see to get the full "Mother lode" experience. The Historic Downtown is also home to the Tuolumne County Arts Alliance and several art studios featuring the brilliant work of local artists. Being known as the regional center for arts and entertainment visitors can enjoy live theater (walk to Stage 3 or a short drive to two Sierra Rep theaters) and year-round events and festivals. A short drive away you will find the wonderful Black Oak Casino with free live music nightly. Every season brings a natural beauty to Sonora. Visitors can also partake in the numerous winter and summer outdoor activities located just outside the City and in the nearby Stanislaus National Forest. These include skiing, hiking, boating, swimming and horseback riding. Sonora is an easy drive from the San Francisco Bay Area or the Central Valley. State Highways 108 and 49 pass through the City.
Laurie & Bob's place was very inviting and cozy! Great for cold winter days/nights. Conveniently located for a nice stroll into town's shops and restaurants. Enjoyed the decor which included Laurie's beautiful paintings! EXCELLENT STAY!
Emma
2017-01-02T00:00:00Z
Great stay at Laurie & Bob's. Excellent facilities exactly as described. Although the annex was attached to the house it was completely private with its own separate entrance. Easily walkable to local buzzing town centre. Really enjoyed the arts fest taking place on the Saturday night in Sonora. Thank you for an amazing stay!
Oli
2017-04-09T00:00:00Z
Our hosts were great, the place is comfy and as described. The local restaurants and shops are all very close (walkable!) and it was easy to find the place and to get in without any issues. We'd love to stay again if we find ourselves in the area! :)
Radha
2017-02-06T00:00:00Z
Just want to say that I agree with all the multiple positive reviews already given. It's a very peaceful place, and even Friday morning garbage pick up was fairly quiet. I would not hesitate to go back...
Sandra
2017-02-27T00:00:00Z
Where do we even begin?! The room felt like a private home. Bright and welcoming with a well stocked bathroom and kitchenette. Laurie and Bob left helpful notes around the room and a bunch of well organized books of local activities and attractions. Laurie was extremely helpful and gave great advice regarding the detour road to Yosemite and where to dine in downtown Sonora. Everything we needed was in walking distance from their home. Highly recommend! Can't wait to book more nights the next time we're in town!!
Chelsey
2017-04-07T00:00:00Z
Very nice stay! It was so sweet and quiet in Sonora, which was just what I needed and the room was clean and spacious and had it's own entrance so it felt like a small apartment even though it's listed as a room. The bed was comfy & there were breakfast options and tea in a mini snack room and a fridge to store my own items. And there were nice touches like bottled water and chocolates. Laurie & Bob were good about letting me know the essentials but maintaining privacy and space. It's a good spot!
Gemelle
2017-01-24T00:00:00Z
Great place! Clean, stylish, thoughtful and welcoming just blocks from downtown and lots of street parking.
Kat
2017-02-13T00:00:00Z
Great room, no check-in required, and walking distance to (beautiful and quaint) downtown Sonora. Highly recommended!
Jacob
2017-02-12T00:00:00Z
Room Type
Private room
---
Property Type
House
---
Accommodates
2
---
Bedrooms
Sonora, CA, United States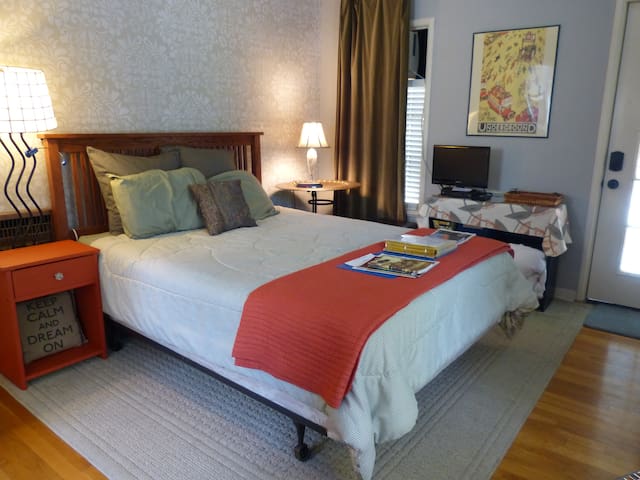 Our clean, comfortable cabin in Pioneer has everything you need to enjoy your time in the Sierra Nevada Foothills. Our cabin is a great place to relax and enjoy many activities including hiking, skiing, golfing, gambling, wine tasting and much more. Yosemite is approximately three hour drive from my cabin.
Our cabin in Pioneer is at a perfect location to enjoy both the Foothills and the High Sierra. The elevation of the cabin is 3,100 feet. The elevation is high enough to escape the valley heat but low enough so travel to the cabin in the winter is usually easy. During the winter the cabin occasionally receives significant snowfall. The cabin is close to snow parks and world class skiing at Kirkwood. Gambling at Jackson Rancheria Casino is a short twenty minute drive. The cute towns of Sutter Creek and Plymouth are close by and both have excellent wine tasting. Volcano is a fifteen minute drive, the town has restaurants and live performances in the evenings. Volcano is also close to Black Chasm Cave and Indian Grinding Rock State Park. Finally, Bear River Reservoir and Silver Lake are close by. Both offer excellent boating and fishing opportunities. Yosemite national Park is approximately a 3 Hour Drive from my cabin. We have satellite TV in the living room and the bedroom. The kitchen is stocked with everything you need to cook and barbecue. The washer and dryer works great for your laundry. The upstairs loft/bedroom has an air conditioner and heater that works great for creating ideal sleeping conditions. Downstairs the cabin can be heated using the wood burning stove or cooled using fans. Sleds are in the shed for recreational use. There are videos and games to play as well located near the TV sets. We will not be present during the stay. Our property manager will greet you and show you around the cabin. Please be sure to read the house rules as there's information about bedding and laundry expectations that you will need to know before checking in. Thank you. The neighborhood is peaceful and quiet. Deer and wild turkey have been seen frequently from the deck in the afternoon and evenings while relaxing on the deck. You'll need your car to get around because there's no public transportation close by. There is a taxi service available.There are many things to visit within half an hour drive or closer. Bring your cell phones, there is no connected land line. Cell phone reception is marginal at times but Pinegrove just down the road at the Post Office gets cell reception. I get reception a lot of times on the deck or by the kitchen window inside the cabin. There is no Wi-Fi.
The neighborhood is peaceful and quiet. Deer and wild turkey have been seen frequently from the deck in the afternoon and evenings while relaxing on the deck.
The peaceful pioneer cabin met our expectations well. It was a cozy cabin in a very quiet area. We brought our own sheets and slept quite well. It was very pleasant to wake up to the sound of a rooster nearby. Our host gave us a tour and made us feel welcome at this lovely spot.
Jeffrey
2014-09-12T00:00:00Z
We stayed in the Pioneer Cabin for just 1 night. It was a great experience. The cabin was just as advertised and a lovely place to stay. All equipment worked well including the stove which warmed the whole cabin quickly. Great bed in the master bedroom upstairs. Our greeter Amy was very friendly and answered all our questions. And the host chery; was very prompt in her responses. Thanks for making a wonderfull stay possible!
Stan
2014-03-27T00:00:00Z
The Mountains Are Calling And I Must Go.....Muir. Loved this cabin!!! My nieces and I had so much fun. They loved the rope swing and running around playing tag and hiding go seek. The cabin was clean, neat and tidy. Beds were very comfy. Cheryl was flexible and easy to communicate with. Amy her greeter is so sweet and helped me out when I realized I left a set of keys behind at the cabin. I definitely would like to return sometime.
Sue
2014-04-14T00:00:00Z
We had a wonderful stay at the cabin. Cheryl was very accessible online and Amy was a wonderful host. The cabin is clean, has an awesome deck and AC. The area is full of charm with small towns and fun hikes. Would definitely recommend this spot.
Rachel
2015-08-13T00:00:00Z
We had a great time staying at Cherly's peaceful Pioneer Cabin. We spend two nights relaxing amongst the trees and hanging out on the porch. Amy, the caretaker was very nice and helpful and we would definitely come back again.
Sam & Ashley
2015-05-26T00:00:00Z
Wonderful place! Check in/out was a breeze. Host was very communicative and we could not have asked for a better stay.
Kate
2016-12-17T00:00:00Z
We had a fantastic time staying here on our honeymoon, great setting and lots of space. We will be back!
Peter
2016-06-22T00:00:00Z
Great cabin, would recommend to everyone!
Tine
2017-01-23T00:00:00Z
Room Type
Entire home/apt
---
Property Type
House
---
Accommodates
6
---
Bedrooms
Pioneer, CA, United States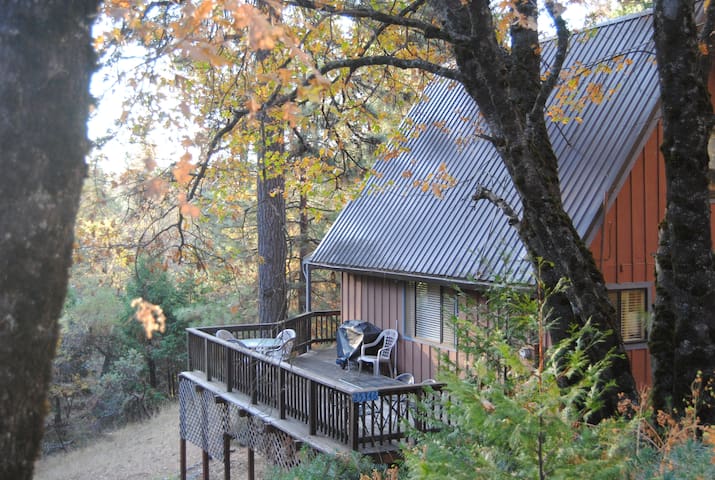 Remodeled home. Very sunny, on a large lot with all amenities that you may ask for :) Only 2.5 hour drive from San Francisco, 26miles to Yosemite entrance and plenty to do within 10min around. Best offer in the area! If you find a lower priced (but comparable!) home, send me what you've found! :)
* During the holidays and holiday weekend we have a 3day minimum stay * (unless it is a last moment reservation :) We rent the house when we don't use it ourselve. We equipped it with things that we use ourselves and like. You will find comfortable beds with nice foam mattresses and good pillows. The kitchen is perfect for a regular use, but you may find it to be too small to cook for a huge party. Living room has a wood burning stove and firewood is provided during allowed burn season. Home has central heat and a/c system. As of this moment the house has a TV screen with HDMI input. There is a Roku player that allows to stream online content like Netflix, Youtube etc. You are welcome to bring your laptop or other source of video/movies. There's no Cable TV service. As of Jan 18th, 2017 we finally got a dedicated internet line! ;) A big tree came down during the last storm and opened up a direct view to antenna tower! It is a stable 1.5Mbps (people form Bay Area don't read ;) good enough to read online, check e-mail, on-line chats, skipe/viber calls etc. It may be a bit slow for streaming HD videos, but Netflix, Youtube and alike work fine! Summer time or when there are no rains there's a patio table with 6 chairs outside on the back deck. You are welcome to use propane grill as well. Verizon and AT&T phones will usually work for calls/text, but 4G is not always there. New tower will be added nearby sometime soon.
Aleksey's place was great! We booked it very last minute because our camping plans got cancelled due to bad weather. He was quick in responding, the house was great, and it's not far from Yosemite. Thank you!
Neil
2017-03-22T00:00:00Z
Great house at a quiet place, everything we need are provided!
子超
2016-07-03T00:00:00Z
The house is great. The location is very convenient (30 min drive to Yosemite entrance). The host is responsible and very easy to work with. I have no problem with my stay at all and I would book again for my next Yosemite trip. Highly recommended.
Allen
2016-08-28T00:00:00Z
We had a great time at alekseys place! Would definitely recommend, big house, clean. Good communication.
Thomas
2016-11-22T00:00:00Z
The house is very good, comfortable and clean; everything is exactly as on the pictures and in description. It is located in a quite and beautiful place, with a natural brook near by. Alexey is a wonderful host: kept in touch all the time and answered our inquires within minutes. We had some problems with grill (gas balloon has to be replaced), he managed to arrange it in less than half an hour!!! We definitely recommend this place and if we have a chance will stay there again. Alexey, it was a pleasure to stay in your house, thank you:)!
Alexander
2016-04-05T00:00:00Z
This was a great place at a perfect location. Aleksey was available by text at all times and was able to get a minor requested repair done within a few hours. Beds were ok, similar to sleeping on a futon. Kitchen was fully equipped and ready to prepare meals for a family. Laundry and both bathrooms were ready to go and a crib was there for our baby. We had to leave early because of an emergency and Aleksey even offered us a refund. This was a great deal and we would stay there again.
Gerard
2016-05-04T00:00:00Z
We spent 3 great nights at the property. Aleksei is a great and very responsive host. The house was very clean and ready for us. It is probably the best location to explore Yosemite. Very much recommended.
Alex
2016-10-17T00:00:00Z
Aleksey is a great host! He communicated early and was very responsive to my contact during our stay. When our WiFi went down, he helped us get it back as soon as I told him about the situation. The house is as described - we found everything to be comfortable and cozy. The kitchen is well-equipped, the bathroom clean and organized. The WiFi was spotty at times but that was expected from the description... Plus deer and turkeys visit the property on a daily basis. Overall excellent experience!
Christina
2016-06-20T00:00:00Z
Room Type
Entire home/apt
---
Property Type
House
---
Accommodates
6
---
Bedrooms
Groveland, CA, United States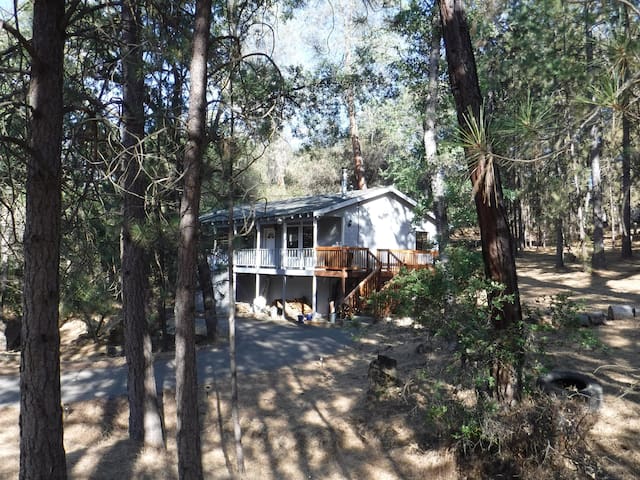 The Creekside Cottage is a great place to stay while visiting the Gold Country, on your way to KIRKWOOD, or just looking to relax. The cottage is easy to access just off highway 88, 3 miles from Jackson, CA and 1 mile east of the Jackson Rancheria General Store
The cottage is quite large for being just one bedroom. It has an ample living room with a huge wood stove, large kitchen/dining room fitted with a delightful propane heating stove and one bathroom. The space is easy to heat with the wood and propane stoves. The kitchen is equipped with all the essentials to cook your favorite meals. There is a gas range and oven, full size refrigerator/freezer and plenty of space and light to enjoy cooking up your meals. There is no internet available here. Cell coverage is poor to fair, but a land line phone is provided. There is no TV in the house. We clean the place ourselves for the $15 cleaning fee. If you are expecting a professionally cleaned space, this is not for you. If you want something economical and plenty clean for your average person, this for you.
This is an awesome part of the Sierra Nevada mountain range. The Jackson Creek is beautiful, the towns of Jackson and Pine Grove are both very close by.
Awesome spot. Would highly recommend en route to kirkwood from the bay or for relaxing and feeling relaxed. 10 / 10
Dan
2017-01-01T00:00:00Z
Spacious cottage (we had 2 people) with a great wooden stove for warmth! It was the perfect touch to our trip. We stayed one short night on our to Kirkwood. Great location close to the highway.
Jacklyn
2017-03-12T00:00:00Z
Comfy, cozy place! loved the seclusion of no internet access and limited cell reception.
Ashley
2016-12-23T00:00:00Z
The cottage was cute and cabin like. It was very spacious (we had four people). We used the futon in the living area and it worked out perfectly. The property is beautiful and just a few minutes from Jackson Rancheria Casino. We easily stayed warm with the wood fireplace. We had all the basic necessities, and a well equipped kitchen. We would love to stay again.
Kristen
2017-04-09T00:00:00Z
Great spot, hosts were very easy to work with, will be back.
Noah
2017-02-26T00:00:00Z
10 out of 10
Dan
2017-02-25T00:00:00Z
Sean is a super host! A nice touch was that he left us some beautiful tomatoes and peppers from his farm. I recommend the Creekside Cottage as a great place to stay!
Marlene
2016-11-13T00:00:00Z
The creekside cottage is cozy and inviting. It is located just down the road from the Jackson Rancheria and Casino. The cottage was perfect for me because I was able to enjoy the casino and return to a full feature kitchen. Overall, I had a great experience st the cottage.
Nicholas
2016-12-15T00:00:00Z
Room Type
Entire home/apt
---
Property Type
House
---
Accommodates
4
---
Bedrooms
Jackson, CA, United States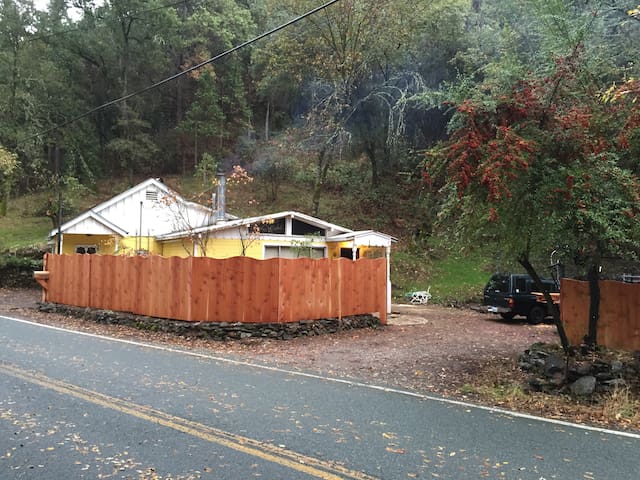 My two bedrooms have great views and a large yard, activities, art, culture, restaurants, hiking, wine tasting, Bear Valley Ski Resort and Greenhorn Creek Golf Resort are near bye. You'll love my place because the neighborhood is quiet and charming. The view of Bear Mountain is Majestic and the lakes and rivers are amazing. The beds are queen size. We provide coffee, waffles, fruit and orange juice for breakfast. Mini frig, toaster and microwave with dishes are also provided. Free Wifi & BBQ:-)
If you've never been to Angels Camp, your in for a historic treat. Located in Calaveras county and also know as frogtown. This name was based on one of Mark Twains short stories. This mining town sits 1400 feet above sea level so the weather doesn't bring much snow. The snow is just miles up the road along with so many other towns to see. Arnold....15 miles, Bear Valley....45 miles, Big Tree State Park... 20 miles to hiking, Lake Melons... 10 mile, Greenhorn Creek Golf resort... 5 minutes, Sonora....11 miles, pine crest just above Sonora.
The Neighborhood is very quiet, clean and safe. There is a park in walking distance. Golf Course, tennis courts, swimming pool, hot tub and Camps Restaurant are minutes away. It is located near Savemart, Cvs, Starbucks, Mikes Pizza, and Camps Restaurant. Birdwatching is very popular in our neck of the woods and you might see some deers, foxes and turtles all year round.
Very comfortable place to stay for our ski trip. Great value for the price.
Samy
2017-03-05T00:00:00Z
Fantastic hosts and hospitality, we felt really well looked after and the place was lovely.
Russell
2017-04-09T00:00:00Z
Very scenic, private, clean & gorgeous, nice warm atmosphere. Beautiful location and accommodations.
james
2017-03-18T00:00:00Z
Suzanne and Norm's offer two bedrooms located in a private part of a their house with a spacious bathroom area and a private entrance. You will stay on the second floor and will be able to enjoy the amazing panoramic views of the valley right from your windows. Suzanne's family lives in a different part of the house, so you will have as much privacy as you need. We were traveling with small kids and I'm usually very paranoid about them making too much noise, but even that wasn't a problem at all since there were no common walls with the hosts and noone was living on the first floor under us. The house itself is in an excellent condition, recently renovated, with fresh paint, new appliances and brand new HD TV. Bedlinen were crisp clean, carpets very well maintained and bathroom was extremely tidy (and most of my friends say I'm crazy about my house being very clean). Rooms are furnished with great taste and attention to details. The place had most things you would need for a stay as if at home, including kitchen utensils, dishware, fridge, toaster, a Keurig coffee machine (with coffee), microwave, shampoo/soap/body wash/toothpaste/etc..., and wifi. The temperature in the rooms was very comfortable. The Angels Camp area itself has many attractions, but Suzanne also filled the house with books for kids and adults, family games and snacks, so I had to force our family out of the house in the mornings. Moreover, there is a spacious lawn right at your doorstep with very nice outdoor furniture - you can enjoy a breakfast outside or just relax after an active day. The house sits in a very quite area (no car noise whatsoever) and the nights are super dark - it was very easy to disconnect from the troubles of the work life and just enjoy your time away in the country.The place is in close proximity to the Bear Valley (it took us about 1 hour driving to get to the ski area), and this is definitely good value for the area. Suzanne and Norm have two small dogs and even me, being a 100% cat person, loved both of them. The dogs are very well behaved and hosts always keep an eye on them. Suzanne and Norm were very welcoming, they seemed like a very sweet and generous family - ready to go out of their way to help us enjoy our stay.
Marina
2017-02-26T00:00:00Z
Room Type
Private room
---
Property Type
House
---
Accommodates
5
---
Bedrooms
Angels Camp, CA, United States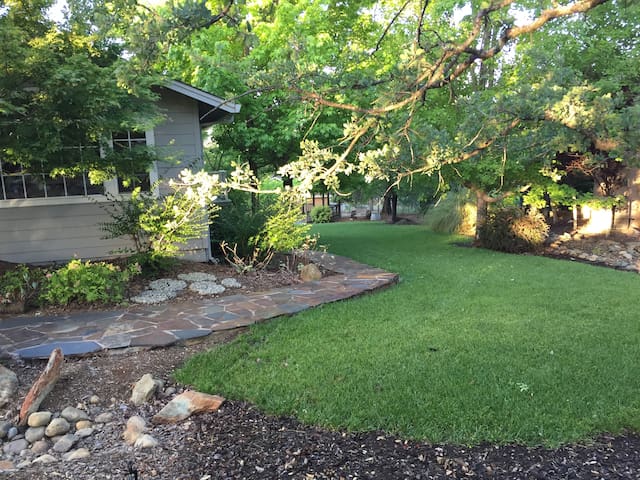 Welcome to our farm. Experience up close & personal electronics free "Old Time" farm activities. "Arrive as Guests! Leave as Family!" Interact with farm animals, cats & dogs. Can add breakfast and/or dinner to your stay.
You can help milk the cows, feed the cows, gather the eggs, swim in the above ground pool or jump on the trampoline. Our 40 acre farm is interactive or you can just chill out and relax in the fresh outdoors. We are located in Gold Country with many gold medal vineyards close by. Add a country breakfast and/or dinner for an extra fee and you are set to enjoy farm living. Great for the kids. Come as guests leave as family!
You are not paying for just a room. You are paying for a "FARM EXPERIENCE" All Farm activities are included in your stay. We are 6 miles from California Caverns. There are casinos, wineries, and many other country activities available including free swimming in the rivers and lakes. In the winter time Bear Valley is nearby for those who love the snow.
I stayed at Cathie's with my two year old son. She made us both feel welcome and there was plenty of stuff for an active kiddo to do. The meals were good and the animals were friendly. It is a farm, like Cathie says, so expect some dust and dirt. It's good for us! Thanks for making our stay so much fun.
Sarah
2016-08-22T00:00:00Z
Jenn and I had a good experience at the Willow Creek Ranch. Cathie was very warm and accommodating, and it was very easy to feel at home. The Instant Book was extremely convenient and helped us get away for a holiday weekend. Although we didn't make use of the farm-stay aspects of the location, breakfast was very tasty, and it was great meeting the families that were staying on the farm.
Dan
2016-07-05T00:00:00Z
If you're looking for a warm welcoming place to stay, this is the right place for you. Cathie and her family made us feel right at home. We also really enjoyed being able to interact with an the farm animals. Highly recommend!
Phil
2016-08-07T00:00:00Z
Room Type
Private room
---
Property Type
House
---
Accommodates
2
---
Bedrooms
Mountain Ranch, CA, United States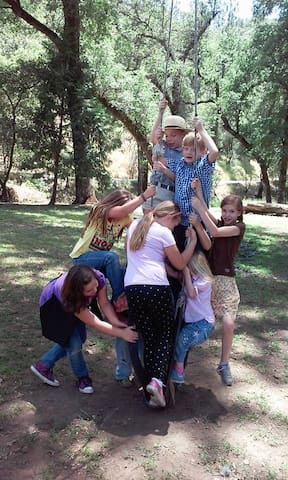 This secluded cabin is the perfect base if you want to explore the Sierras. The town of Mi-Wuk is just a 2.5-hour drive from San Francisco and located half-way between Yosemite and Lake Tahoe.
This secluded cabin is heaven for (almost) everyone... It's heaven for you and your significant other if you want to get away from it all (incl. the kids - don't forget grandma's long-standing offer ;- ). Spend some quality time together. Go hiking in woodsy Mi-Wuk or in the Emigrant Wilderness - the number of trails is unlimited. Explore Sonora's colorful Farmer's Market. Go wine-tasting in Murphys. Or just relax at your new-found home which with its abundance of light just exudes peace and tranquility. You really can't find a more romantic getaway! The cabin can also be heaven for you and your kids. You can swim, rent a boat or just lie on the sandy beach at Pinecrest Lake (free, no membership required). You can go river rafting, skiing at Dodge Ridge, sledding, or ice skating in nearby Long Barn. And there is fast and reliable WiFi, cable TV and a DVD player for when you come home after an activity-packed day and just want to chill. The cabin can be your own personal retreat if you feel the need to unwind and decompress. When was the last time you were alone? Go hiking, read a book, listen to music and your own thoughts - experience the power of solitude and come home to your family and job entirely refreshed. The cabin is definitely for everyone in San Francisco who wants to escape the eternal summer fog, see some blue skies instead of layers and layers of grey clouds, and soak up the rejuvenating sun. Yes, there is a real California out there - and it's less than three hours from the city and the trip is shorter and definitely more relaxing than driving to Tahoe. A note of warning though before you get too carried away and start daydreaming about booking a weekend in this little piece of paradise. You may not want to bring your teenaged children! Mi-Wuk is not South Tahoe, Sonora is not San Francisco. Our son loved coming with us to this area until he was 16 when all of a sudden computer games and (SENSITIVE CONTENTS HIDDEN) became all-consuming and "nature" was just a big bore. I give him 10 years until he realizes the foolishess of his ways! What our son is missing is a two-floor cabin that with its 1300 sq. ft. feels cozy yet spacious. The main floor has cathedral ceilings, a kitchen that is stocked with everything you need to prepare a gourmet meal, a dining area seating six, and a bathroom with shower and tub. There is a washer and dryer and we provide you with plenty of linen and towels. In the open living room you can enjoy the cozy comfort of a wood-burning stove (wood provided). There are two sofas which turn into comfortable beds. A sliding door leads out to a large wrap-around deck where you can always find a sunny spot and enjoy the incredible views over pine and cedar trees. A queen-size bed is in the spacious loft. Wake up to the chirping birds or the gentle sounds of the stream running through the property. Yes, this is heaven and you are more than welcome!
We went expecting a nice woods cabin, and it was so much beautiful than we imagine. The village is a mix between wilderness and a small town. But when you are at the cabin, you will feel like you are alone in the woods. The wood fireplace brings a sensation of warm welcome with winter scents. Peter was very helpful when we needed an advised and the cabin has everything you'll need. Finally, if you are planning to go during winter time, don't forget your car chains.
E. Cruz
2015-12-26T00:00:00Z
Peter was very helpful with information. His "cabin" is very nice with big windows looking at the trees. It heats very fast with the furnace. The kitchen has everything you need The whole home is well appointed. The bed was comfortable though up narrow stairs. The driveway is long and narrow but well lit. It's a very nice place. We enjoyed it very much. We definitely recommend it and will return! Very quiet and relaxing but not far from restaurants and a store. Thank you Peter for sharing your lovely home.
Randy
2015-11-23T00:00:00Z
I would give this place 10 stars if I could! The cabin is clean and spacious, yet feels cozy like a cabin should. It has everything you could need - from lots of firewood to keep you warm (not to mention central heating as well) to all those little kitchen amenities you didn't think of to bring but need in the moment, like oil or foil. Peter was extremely friendly and communicative; he even called us to check that we had everything we needed. I would definitely recommend the place and stay here again!
Briana
2015-11-05T00:00:00Z
Peter's wonderful A-Frame house in Mi-Wuk was a joy to stay in. Besides being perfectly comfortable, the house was very very clean, and ridiculously well-appointed. We've rented many a funky cabin up in the Sierras and it's normal for many things in the home to simply not work. This was certainly not the case here. Also, for those of you were might be on a working vacation, the internet speeds delivered here are excellent. Any working nomad will be very well pleased here.
Pausha
2016-10-18T00:00:00Z
Beautiful A-frame house nestled in the woods. We loved hanging out in the glass-walled, sunny living room and smelling all the natural scents of the outdoors. It was well equipped with everything you need for a long weekend including: a wood fireplace, cable TV, and a well appointed kitchen. This retreat is about a 2 hr drive to Yosemite valley and 30 minutes to Pinecrest lake. Peter was very communicative and clued us in to his favorite hikes and places to eat near the area. Thanks for letting us stay in your beautiful cabin Peter. It was a real treat.
Jaireh
2015-09-08T00:00:00Z
We had a wonderful stay at Peter's cabin. The location is beautiful and the cabin itself is completely lovely. This was a great winter escape for us, we even had some snow. From the looks of it, this would also be a fun place to stay in the summer. Peter was helpful and communicative before and during our stay. The cabin is well equipped with everything you'll need to cook and relax. If you're looking for a cozy cabin in a beautiful mountain setting, I would recommend Peter's place without hesitation.
Luke
2016-11-28T00:00:00Z
I have a thing for A-frame cabins and Peter's cabin was just as charming as the photos! Easy to find and Peter was super accommodating with our travel plans. The cabin is equipped with every thing you could need and plenty of wood to keep the fire burning. We were lucky enough to arrive to nearly a foot of snow (make sure to carry chains in the winter) and find several trails for some cold weather hiking. Having never been to this part of the Sierra's before it was wonderful to find such a hidden gem that doesn't see nearly as many people as places like Tahoe. I would absolutely recommend Peter's lovely mountain cabin if your looking for a quiet getaway.
Jamie
2015-12-29T00:00:00Z
My boyfriend and I really enjoyed our stay in Mi-Wuk Village. We arrived late at night and were glad to have printed out Peter's detailed directions, though we did still get a bit turned around trying to find the house. Luckily, the weather was great and we were able to get up the driveway without issue. The house itself is great: spacious, clean, and despite the large windows we felt that we had complete privacy. We loved sitting by the wood stove each night and it was great that firewood comes with the rental. The kitchen was well stocked with spices, dishes and all the cookware you could possibly need. Unlike other trips we've gone on, we opted to cook most of our meals at the house because it was just so convenient and we loved being in the cozy cabin. The bathroom also had everything we needed, including extra shampoo, soap, a hair dryer, towels, etc. It was like home away from home. We did also enjoy going out and about: definitely take the hike around Pinecrest Lake if you have a chance, and have some pizza in Twain Harte at "Prospector." We missed the snow this time around, so we hope to be back again soon for some sledding!
Sarah
2016-02-15T00:00:00Z
Room Type
Entire home/apt
---
Property Type
House
---
Accommodates
2
---
Bedrooms
Mi-Wuk Village, CA, United States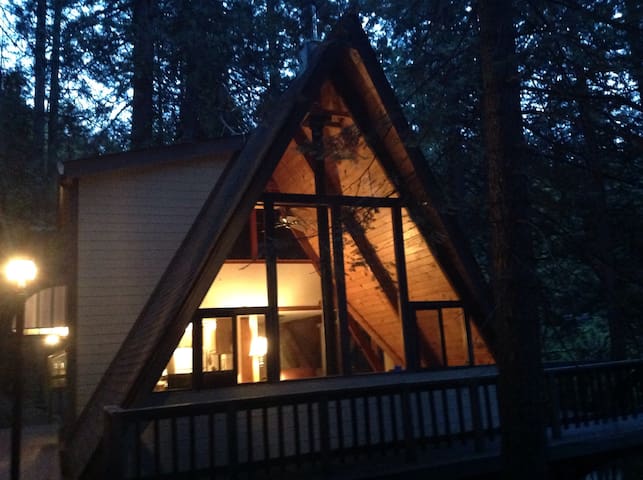 Our home is located in a secure gated community 23 miles from Yosemite main gate. It i It has 3 bedrooms, 2 bathrooms, sleeps 6 people, full modern kitchen, televisions, free WiFi internet, central heat/ac, washer/dryer, BBQ, located on golf course, very quiet cul-de-sac, lots of parking space. We have decking on three sides of our home with comfortable table seating. It is a perfect place to relax in the evening, enjoy snacks and drinks, and watch the deer roam the fairway.
We have a very clean, well-kept modern 3BR, 2BA home, with new furnishings & appliances, a full kitchen, on the golf course, a quiet cul-de-sac, in a gated community, a great setting, yet a quick 5 minute drive to downtown Groveland. WiFi included. Minimum 2 day stay. **Please note: Our home is not a bed and breakfast. It is located in a gated community and guest access is by permission only. You must enter through the main security gate. They will verify our guests checking in, and issue you a parking/access permit. There will be a charge of $25.00 per car. See the Yosemite Valley in all its splendor, visit Historic Jamestown, Columbia or Sonora, Wine Taste in the picturesque town of Murphys or just enjoy a quiet stay at our place and visit the many amenities of this resort community. Private Beach, tennis, golf, hiking You can watch the deer come out on the fairways in the early evenings and enjoy the beautiful sunsets over the adjacent pond with fountains. The historic town of Groveland is nearby with many interesting events and businesses. We have just installed new laminate flooring inside and expanded our deck areas with new composite outside decking. Deck tables and chairs, BBQ, satellite TV, A/C. WiFi all included. Beds: 1 King , 1 Day Bed (located in same room as King), 2 Queens, (An additional Queen airbed is provided if needed) it sleeps 6 comfortably and is complete with a full kitchen and all normal household amenities and,a regulation horseshoe pit in back. NO SMOKING HOUSE PLEASE NOTE: We are not a BnB. We do provide one set of linen (sheets, pillowcases, blankets) & towels.
Our home is on a cul-de-sac in a very quiet neighborhood. It is a short stroll to the HOA swimming pool for the kids and Clubhouse for golf or dining. A short drive to the marina for safe lake swimming and kayak rentals, paddle boats, sail boats, fishing, etc.
Mel is helpful and the house is awesome, 30 minutes from the gate of the park, location is good. Mobile phone signal isn't good, better to contact Mel earlier before arrive.
Chaozhi
2013-04-03T00:00:00Z
Very nice location, I will probably book it again! Highly recommended.
Florence
2013-05-07T00:00:00Z
Mel was great, was very flexible and made everything easy and seamless. The house was even better than advertised. Everything is new and updated and has everything that you'd need for a stay. Will definitely be staying here again when we make another tip up to yosemite.
Trevor
2014-09-28T00:00:00Z
Positives: This place was nicer than expected! It is very nice, updated and with lots of amenities. There are lots of free roaming the neighborhood. There is a community lake with a beach that is very nice. Positive and negative: the house had not been cleaned before we arrived. It happens, probably just a miscommunication with housekeeping. It was 9pm ish when we arrived. I contacted Steve and he had housekeeping bring fresh linens. They didn't want to change the sheets themselves...but they did come the next morning to clean the place. Overall it wasn't that big of a deal and Steve took care of it. Negative: if you don't like waking up at 6 am to beat the Yosemite rush, it will take you over an hour to get inside the park. Not Steve or the house's fault, just a fact. Overall: we really enjoyed the house and had a great time at the park
William
2016-07-18T00:00:00Z
Hi Steve, thank you and great stay overall. We were a little disappointed with the communication around the entrance fee. We arrived in two cars and it added 50$ to the overall budget. Not a deal breaker but I think guests should know about it at the time of booking.
Ayala
2016-11-26T00:00:00Z
The house is gorgeous! It's very comfortable and spacious. The view from the deck is beautiful. You can see deer running around in the evening. It's also pretty convenient. The house is about 30min from the Yosemite gate and there are restaurants and a grocery store close by. We had great time here!!
Yajie
2016-08-04T00:00:00Z
Wonderful home, great location!
Paolo
2014-05-04T00:00:00Z
Excellent location, excellent stay. As a group of four, we stayed two nights while we went hiking in Yosemite during the day. The drive between Mel's place and Yosemite Valley was about an hour and a half - a bit of a chore, but perfectly manageable if your group can wake up on time. The house is spacious, neat, and very well-furnished. The bedrooms and bathrooms are all big, comfortable, and laid out so that everyone has a lot of privacy. Very quiet at night. Deer would wander past us while we ate breakfast and dinner on the deck. The kitchen is exceptionally well-furnished. We cooked several big meals during our stay, and always found whatever pots, tableware, appliances, etc. we needed close at hand. Mel was on-point with communication, and made sure that we had all of the information we needed ahead of time, even when our own plans (arrival time, etc.) were up in the air.
Alexander
2014-06-02T00:00:00Z
Room Type
Entire home/apt
---
Property Type
House
---
Accommodates
6
---
Bedrooms
Groveland-Big Oak Flat, CA, United States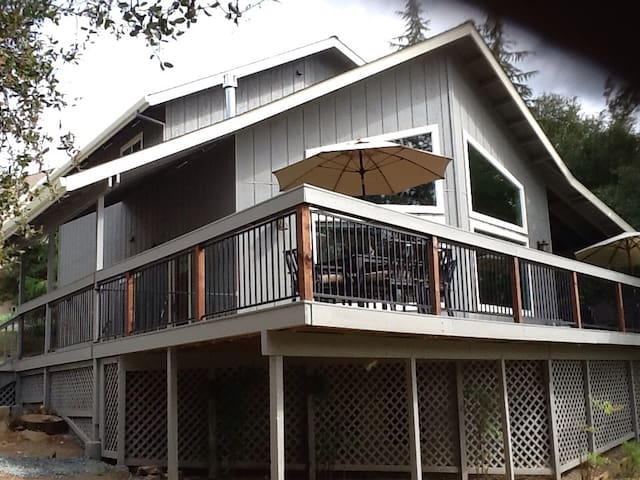 Located in Dorrington, along scenic California Hwy 4 at 5,000 ft. elevation. A charming and comfortable Sierra retreat, great for children, DOG FRIENDLY. WiFi, Cable TV, DVD/VCR, Fully-stocked Kitchen, Year-round access, Rec Center/Pool in Summer. Big Trees State Park nearby.
The 3-bedroom, 2.5-Bath home is located on a level lot at 2859 Kenshaw Way at the heart of a scenic Sierra mountains wonderland. Large pine and cedar trees provide cool shade in summertime while the large deck is sunny and has plenty of seating. Both a wood-burning stove and a natural gas stove provide winter warmth, as well as electric wall heaters in the kitchen and bedrooms. Nearby attractions include: The Big Trees Recreation Center (less than 5 mins.), fishing and water play in the Stanislaus River (10 mins.), Calaveras Big Trees State Park featuring walks through Giant Sequoia trees (10 mins.), many restaurants in Arnold (12 mins.), Gold-rush era Murphys with 26 wineries (20 mins.), Bear Valley Ski Resort (25 mins.), Lake Alpine at 7,400 elevation (25 mins.), the Ebbetts Pass and Pacific Crest Trail (40 mins.), Yosemite National Park and Valley Waterfalls (2 hour scenic drive). The home has a large Recreation/TV room with a caroms game table for kids, Comcast CableTV, and a new hide-a-bed couch. The Kitchen comes fully supplied with all cooking utensils, pots and pans, place settings, a drip coffee maker, electric range and oven, dishwasher, and slow-cook 5-quart crock pot. A couple of snowplay platters and snow shovel can be found in the outside closet, along with cans to temporarily store trash and recycling. Two comfortable private adult bedrooms have a queen-sized bed in each, and a third bedroom has 2 bunk beds and a standard double bed for the kids. With the sofa-bed, the cabin sleeps 10 max. A level, paved driveway is professionally snow-plowed in winter months.
The Big Trees Village neighborhood sits at 5,000 foot elevation in a heavily wooded region of the Sierra Nevada mountain range in Central California. The area can receive several feet of snow during wintertime storms, but is delightful, sunny and warm throughout the summer months and well into the fall. Dogwood trees are covered with white flowers in May and turn bright red in October. This climate is uniquely suited for the tallest and oldest trees in the world, the Giant Sequoias, or Big Trees. The neighborhood borders Calaveras Big Trees State Park, one of the largest protected forests of ancient old growth Sequoia trees in the world. An easy and level 2-mile loop trail guides you through the magnificent North Grove. The State Park charges a day-use fee. A 10 minute drive down Board Crossing Rd. into a beautiful canyon reveals the Stanislaus River, one of the last wild rivers in the state. The river is stocked with rainbow trout during spring and summer months near the Sourgrass Crossing Day-use and Picnic area just on the other side of the bridge. Short-term or annual fishing licenses can be purchased in Arnold at the Ebbetts Pass Sporting Goods store.
The house was the perfect location and size!!! Absolutely loved the patio and bbq was awesome... House was clean too! The only feedback I have that I would say need to be fixed in order for me to rent again would be the beds... They were all extremely uncomfortable and squeaky. So we have a newborn and we felt like we couldn't move because we didn't want to wake the baby. My husband also has a bit of a bad back and had to sleep on the couch by himself because the bed was pretty bad. We tried all 3 and they were the same. Even my parents bed upstairs said they felt like it was just a box spring and no mattress... The bunk bed was also falling apart it had ripped cardboard hanging down from the top bunk so when your on the bottom it looked really bad. If your staying for one night doable but multiple nights you need a good bed for good sleep. Also the freezer had a hole in top that someone just put tape over but it was leaking through down into the fridge part so there were puddles of water on the shelves of fridge where u would put your food. I had to hand dry every shelf when we got there! Other than that I loved the location. :)
Sarah
2016-08-12T00:00:00Z
This is a wonderful, spacious home in a lovely area, close to Calavaras State Park. The neighborhood has many houses, but there's the feeling of being in the woods and very quiet. It even has a lovely recreation area in a very natural setting. The owners were very accommodating, even purchased an electric mixer so that we could make a birthday cake. We particularly liked the huge deck where our 2 year old grandson could run around safely.
Nancy
2016-09-12T00:00:00Z
We had a wonderful stay at the Bluebird House! The house is beautiful and equipped with everything we needed to cook delicious meals, relax, and enjoy the snow. We found sledding hills nearby and the kids had a great time playing in the snow right outside the house. We hope to come back next winter!
Kaitlyn
2017-02-06T00:00:00Z
Great communication and instructions. The house was clean and comfortable. The large deck was nice and the neighborhood was quiet and peaceful. We would definitely stay here again.
Mike
2015-07-27T00:00:00Z
This a beautiful and roomy cabin. We had three children under the age of 4 and 7 adults. Everyone was comfortable and lots of areas to play and visit. The cabin was well stocked, very comfortable, and even nicer than the photos. It was a great value and a wonderful trip.
Sandra
2017-02-13T00:00:00Z
It was a great stay and great hosts who were communicative throughout the time!
Jennifer
2017-03-26T00:00:00Z
House was clean and spacious. David left instructions and tips for us. He was very quick at communication for the house. A very relaxing weekend.
Siobhan
2015-09-08T00:00:00Z
Very comfortable home within easy distance of skiing at Bear Valley. David was a very responsive host and we had a wonderful stay!
Tina
2017-01-29T00:00:00Z
Room Type
Entire home/apt
---
Property Type
House
---
Accommodates
10
---
Bedrooms
Dorrington, CA, United States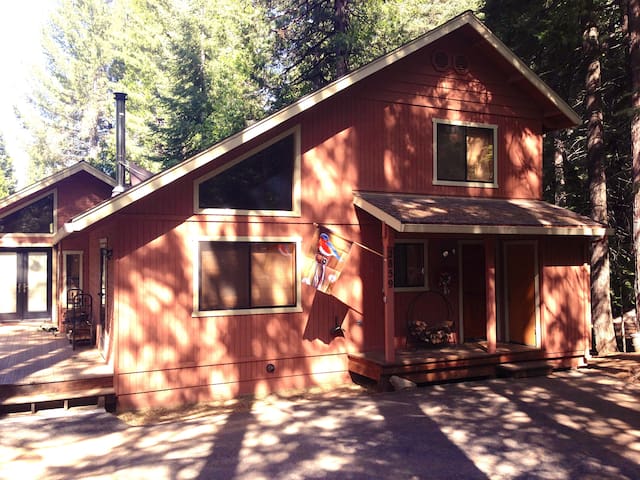 Placed on over 5 acres of land nestled in the foothills of the sierras at approx 4000 ft elevation this forested lot will calm your body, mind and soul. This 4 bedroom 2200 sq ft house can sleep up to 8 people or more with many facilities. This house has lots of modern facilities including a game room. 2 night minimum. No pets allowed inside or large gatherings allowed.
Beautiful home, super comfy beds, lots of space and secluded enough so no one bothers you and you don't bother any neighbors
David
2017-02-26T00:00:00Z
The host canceled this reservation 17 days before arrival. This is an automated posting.
Molly
2016-07-12T00:00:00Z
This is a fantastic Airbnb and Oisin was a wonderful host. I would definitely recommend it. Perfect for kids too.
Jennifer
2017-01-29T00:00:00Z
Beautiful home with a lovely and extremely well-appointed kitchen. Huge, fenced in yard. Lovely mountain setting with a cute little horse ranch around the corner we walked by. Comfortable beds with nice duvets. My son loved the gaming area and I loved the deck with sliding door off the master. Used BBQ and ate by the pond. Roasted s'mores on the firepit. Went to Black Chasm, interesting, good pricing. One of the nicest rentals we've stayed in, especially in this price range. Kitchen was a highlight. Most of the house was updated and modern. TV a little complicated, but we figured it out. I suggest a manual for users. Awesome Wifi. Can't tell you how many times rentals claim they have WiFi and it doesn't work. Worked great. It is a way up the mountain, and roads are curvy. Make sure you (SENSITIVE CONTENTS HIDDEN) it because mountain roads can be confusing. Definitely recommend this property!
Brenda
2016-07-20T00:00:00Z
Host was very helpful and responded quickly to any questions. Host also provided a helpful list of good places to eat in the vicinity, (list was perused and received the approval of local foodies!), each place we visited was great. wonderful jet tub to relax in after a day of hiking. The property was peaceful and both parents and kids enjoyed our stay immensely.
Adrian
2016-05-09T00:00:00Z
h
Hailee
2017-02-19T00:00:00Z
Sent important information promptly and we felt at home in this partially lived in house. The lights in the backyard made it easy for us to see at night. Lovely landscaping in the back, we enjoyed looking at the flowers. Kitchen was well stocked with utensils and cooking needs, and the house was beautiful and comfy. Owner was fast to respond and welcoming. We had a great time!
Adalyn
2016-06-20T00:00:00Z
You never know. Right? With Airbnb there's always a gamble. But not here. Perfect. Serene. And for the 3 days we were there, we were consistently surprised. Around every corner was an item we seemed to need but didn't bring, inside every cabinet was an appliance that made life easier. Pool table? Check. Amazon echo or Harmon Kardon speaker to play music from while relaxing on the porch and gazing into the woods? Yep. Want to BBQ? No problem, there's gas AND charcoal. How about a fire? Different fire pits, and fireplaces inside. We didn't even see the fish in the pond till the second day. We had a full weekend of wine touring with friends all set up, but next time I'm just bringing the wife and kids, and not scheduling anything but some quality time in the house playing games and bonding. The owner puts an amazing effort into not only stocking the place with things to make your trip more convenient, but an almost omniscient anticipation of the needs you don't even know you have. If I haven't made it clear by now, this place was perfect. My only hesitation in writing this is that I don't want the place taken every time I try and rent it..... Well done.
Carmichael
2016-06-13T00:00:00Z
Room Type
Entire home/apt
---
Property Type
House
---
Accommodates
8
---
Bedrooms
Volcano, CA, United States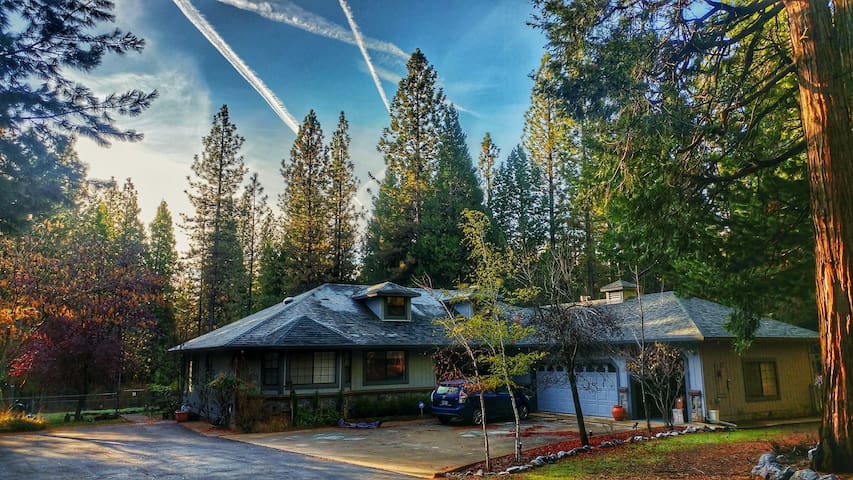 High Sierra home in Bear Valley, Ca. USA. Summer fun and activities easily accessible. Hiking, cycling,fishing , swimming, kayaking, boating, and much more all within 5 minutes. Spectacular views at 7.000 feet. Very easy access to the home in winter. Winter fun right out the front door.
Beautiful two story home with the best views of the Sierras in Bear Valley. Wake up to the sun rise in the east and have a day of unlimited adventure.
Quiet street with access to hiking Bloods Ridge at the end of the street.
Staying at Mary's place was a breeze. Would definitely go again.
Charlie
2016-09-05T00:00:00Z
Wonderful location overlooking valley. Great base to explore the surrounding area. Plenty of room for couples or family. Mary was very quick to respond to any questions we had.
Warwick
2016-10-11T00:00:00Z
Mary was incredibly easy to communicate with and very helpful. The view is better than the pictures indicate and the neighborhood is extremely quiet and peaceful. Our dog loved running around on the hiking trail just 50 yards down the street and at beautiful Alpine Lake not far away. The cabin is very cozy and well stocked. Make sure to bring groceries in as the local general store and "restaurant" options are severely lacking. If you are looking for a quiet escape in nature this is the perfect place.
Max
2016-09-25T00:00:00Z
The house is spacious, with beautiful views of the mountains. The kitchen is well equipped and large and there was plenty of counter space which is something you don't usually get in a ski rental. The snow mobile was easy to use and Mary gave us great instructions. She is very responsive and I would strongly recommend that people give her house a go. You will not be disappointed
Sheri
2016-12-29T00:00:00Z
Me and my group of friends had a great time at Mary's place (we were Skiing at Bear Valley over the weekend). The house is located in the idyllic Bear Valley village. The roads in the village were snow covered, so the last 2 miles to get to the house had to be done on a snowmobile (which was included with the house price and everyone loved this little 'adventure') Even though the ski resort is 3 miles from the village by car, at the end of the day we could simply 'Ski' back on a mountain trail which led straight from mountain top to the street where the house is located. Overall, an awesome experience!
Mukul
2016-02-22T00:00:00Z
Thank you Mary for the incredible stay. The home was perfect. Views were incredible and everything went smoothly. I look forward to coming back soon!
john
2016-02-01T00:00:00Z
We stayed in Mary's cabin over New Year's. We had an amazing time. The cabin is charming and comfortable. Highly recommend!
Nikita
2016-01-03T00:00:00Z
Great house with amazing views of the Sierras! Plenty of space with a really large downstairs area. Very quiet street. House had everything you would need for a great stay.
Shane
2016-06-20T00:00:00Z
Room Type
Entire home/apt
---
Property Type
House
---
Accommodates
5
---
Bedrooms
Bear Valley, CA, United States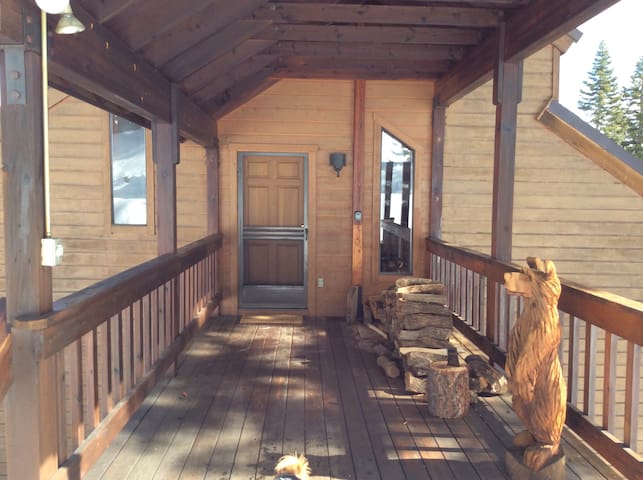 Discover the rich gold mining history of Sutter Creek and taste the large variety of wines produced in Amador County. Just three blocks from Main Street, with restaurants, shopping, wine tasting, a seasonal creek and park, and entertainment. Park your car and explore the charming town of Sutter Creek by foot!
Once you arrive there is no need to get in your car until you leave! Great places to walk, whether it is for exercise, to dinner, coffee, shopping, wine tasting or entertainment. You will find a very active little theater on Main Street and lots of California gold mining history everywhere you look.
If dancing is your thing, you may want to drive the two miles to Amador City for Dancing in the Streets every Saturday night from June through August. On Saturday mornings we have a Farmers Market just three blocks away. For breakfast, you can't beat Buffalo Chips for a classic morning start or if you want something out of the ordinary, walk another block to Element for a little more adventurous and very delicious menu. Chocolatte is the place to be for wonderful pastries and divine coffee, plus homemade chocolates that will stop you in your tracks. For a casual dinner it's back to Buffalo Chips for the best burger and fries in the county or to the Hotel Sutter for ambiance, a fun lobby bar with the coldest tap beer to be found, the Cellar Bar where you'll find live music on the weekends, Trivia on Tuesdays and HDTV for the big game on Sunday. I am excited to share this town I have grown to love so much!
Such a welcoming cozy place to stay! This was my second visit and I brought my aging mother along who was just as pleased with our two twin beds and attached bath. Access was not difficult for her. Judy was very helpful with what information we needed. The neighborhood was quaint and well kept and only 2 blocks off the main street. We enjoyed the chocolate covered pretzel sticks as a nice treat.
Janice
2016-11-01T00:00:00Z
Judy is so lovely and so is her home, dog and cat. Her house is super clean and the room and bathroom is just perfect. We ended up spending the whole day, instead of just the morning, here as we fell in love with this charming, gorgeous historic town. We loved our stay here and it's been one our favourite bnbs! Wished we booked longer!
Jon
2016-08-02T00:00:00Z
Judi was so easy to communicate with and her home was lovely. I wanted a place to retreat to that was peaceful and have some privacy. She has set up the room perfectly for people visiting. It's within her home but tucked away on the property with its own private bathroom giving a sense of privacy and quiet. Very clean, roomy, and well-thought out. I know the area from living in Calaveras County and her home is perfectly situated for walking to downtown Sutter Creek which has nice shops and restaurants and enjoying the other Hwy 49 towns. I was able to drive to Murphys, CA and enjoy my old haunts with ease. I hope to be back.
Suzanne
2016-10-18T00:00:00Z
This was first time I ever rented just a room off Airbnb. My experience was amazing!! Judi home was so warm and welcoming and so comfortable!!! And I love her dog and kitty!! Judi went above and beyond as a host. She knew I wanted to run long while I was there and she mapped a run out for me. I plan on returning to Judi's as soon as possible and highly recommend her home/ room to anyone!!
Joelle
2016-09-03T00:00:00Z
Nice, comfortable, well decorated room in a very quiet environment. Great location, walking distance (5 min) from main street with bars and restaurants. Judi was helpful and friendly. Highly recommended!
guillaume
2016-07-17T00:00:00Z
We had a wonderful time at your place. Very quiet and serene. Walking distance to the quant little town of sutter creek. We had a fabulous dinner at the Sutter Creek Hotel on the terrace. In the morning we slept till 9:30am because of the comfort. Thank you Judi for your hospitality. Mark and Janna Teske
mark
2016-09-25T00:00:00Z
We were welcomed like friends, both by the hostess as well as the adorable dog and cat. Sutter Creek is a great little gold rush town, and our stay with Judi made it even more enjoyable. Our room was very comfortable and clean. We enjoyed relaxing on the front porch and taking a neighborhood walk on our way into town, a short couple of blocks away.
Judy
2016-10-26T00:00:00Z
Judi is awesome! She's a great host and her place is the cutest. You won't be disappointed staying here at all. Price is so reasonable!
Janice
2017-01-22T00:00:00Z
Room Type
Private room
---
Property Type
House
---
Accommodates
2
---
Bedrooms
Sutter Creek, CA, United States
The Private Suite is perfect for couples, solo adventurers, and business travelers with a private entrance and lockable door to main house. Your suite includes bedroom with queen size bed, shower, sepatate toilet, sink and sitting room. My home is located on a quiet culdesac, one block from Murphys' Main St.
Murphys area boasts two dozen wineries, welcoming visitors year-round for wine tasting & tours. Most have tasting rooms right on Main St. "A stroll down tree-lined Main Street transports visitors back to the mid-1800s with buildings bearing thick stoned walls, iron shutters, and pastoral gardens with white picket fences. Murphys' rich and colorful past came alive in 1848 when John and Daniel Murphy established a trading post and gold mining operation in the area that is now their namesake. True entrepreneurs with the luck of the Irish, they were a part of the very first immigrant party (Stephens-Townsend-Murphy) to successfully bring wagons over the Sierra in 1844, paving the way for westward migration." -from Murphys Queen of the Sierra History Page
Harold is a kind and affable host. The Cottage is within easy walking distance to Main Street Murphys. We very much enjoyed our stay.
William
2016-10-29T00:00:00Z
The owner is a very nice man. Very accommodating, he gave us the tour of the place when we arrived, and left us alone during our stay. The room was actually 2, a bedroom and a good sized sitting room, with seating and coffee. The bed was awesome, a very comfortable medium firm Tempurpedic. There's also a shower in the bedroom. My wife and I were very happy to stay there, and will again in the future.
Clint
2016-11-13T00:00:00Z
Harold's place is very close to Murphys and you can easily walk to where all the tasting rooms, shops, and restaurants are located. Harold is a friendly host, gave us our privacy, and provided a really nice place to stay. The bed and bedding was really comfortable, and we slept very soundly. It's a quiet neighbourhood with easy parking. We will definitely be back.
George
2017-04-02T00:00:00Z
Very friendly. Conveniently located. Cute home.
Monique
2017-03-19T00:00:00Z
Harold is a great host and has a beautiful home. Our stay was wonderful! His house his in the perfect location to walk anywhere in town. We stayed in the attached suite but it felt very private--had a separate entrance and it's own bathroom and sitting room. The bed is a very comfortable memory foam mattress that provided a great night's sleep. We will definitely stay here again!
Ryan
2017-01-01T00:00:00Z
Very clean and cozy place. Dentally located in town. Harold was a very nice guy.
Scott
2017-02-19T00:00:00Z
The room is cute and cozy on a quiet street. Easily walkable to Main Street Murphys and plenty of food and wine.
Tiffany
2016-11-28T00:00:00Z
The host canceled this reservation 5 days before arrival. This is an automated posting.
Zachary
2017-01-09T00:00:00Z
Room Type
Private room
---
Property Type
House
---
Accommodates
2
---
Bedrooms
Murphys, CA, United States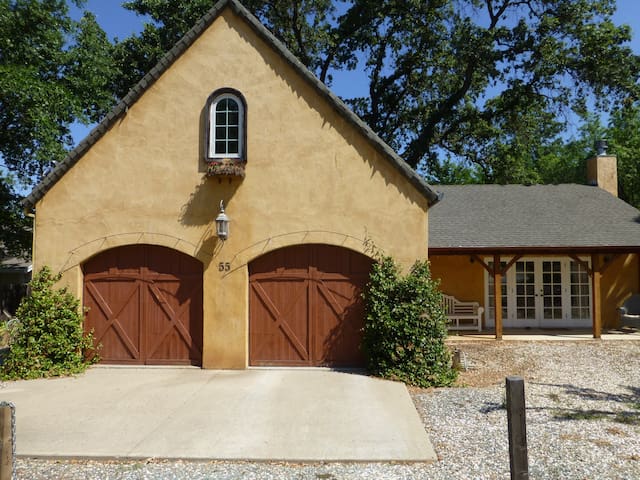 Casa en Coyote Creek is located close to the gold country town of Murphys with more than 20 wineries and some great restaurants. Nearby golfing, skiing at Bear Valley (1 hour drive), Big Trees State Park, hiking, fishing, and other family-friendly activities. You'll love it here because it's homey, comfortable, quiet, in a wooded setting with a creek, and very private . It is a great place for couples, solo adventurers, or even business travelers.
Many historic sites available nearby
Wonderful place. Easy to find. Just off Highway 4. Close enough to Murphy to be convenient, but far enough away from town to be quiet. Host is friendly, efficient communications.
Dave
2017-03-12T00:00:00Z
Deanna and Jim are very sweet and more than welcoming! Helped me out big time when my car broke down town. Their home is lovely and cozy, especially when Jim has the fire burning!! definitely a great place to relax after a day skiing and a night in murphys :)
James
2017-01-26T00:00:00Z
Very kind couple. Beautiful home and worked great for our family!
Jen
2017-04-02T00:00:00Z
This was our first time trying airbnb and after this experience I will try it again. We had three people for a ski weekend and the location was about 45 minutes from Bear Valley which is what we expected. They let us have the entire upstairs which worked great for us. Super friendly and accommodating. A great place to stay if you are in the area.
Jessica
2017-03-20T00:00:00Z
Very clean and convenient to Murphys. The hosts are friendly folks who keep it cozy in the winter.
Christopher
2016-12-31T00:00:00Z
We loved our stay with Deanna and Jim! This is a special place, surrounded by trees and a rushing creek, filled with light, and generously shared by its lovely hosts. It was a real pleasure chatting and laughing with them. Everything was spotlessly clean, the room and home were large and charming, the whole house warmed by the glowing fireplace on a chilly winter weekend. A five minute drive to Murphys with all its wine tasting and fine dining. We've stayed at many Airbnbs, and this one is tops : ) Highly recommended.
Erika & Dave
2017-01-02T00:00:00Z
The host canceled this reservation 3 days before arrival. This is an automated posting.
Minkai
2016-12-20T00:00:00Z
Deanna was very easy to communicate with and her home is lovely and spotlessly clean. The location worked very well for us as it is so close to Murphys.
Nina
2016-12-27T00:00:00Z
Room Type
Private room
---
Property Type
House
---
Accommodates
4
---
Bedrooms
Douglas Flat, CA, United States
Calaveras County - Airbnb
:
Average

4.95

out of

5

stars from

1327

guest reviews
1

–

18

of

300+ Home Rentals
Enter dates to see the total trip price including additional fees (but excluding any taxes).