Advertised BASIC PRICE: 3 bedrooms-6 pers/MAXIMUM 6 bedrooms-12(-15) pers:100€/extra room/2 pers//* 4 master bedrooms "en suite"(one with 2 bunk beds for 4(-5)children(or 2-4pers)/*1 double bedroom with bathroom in garage/*1 double bedroom, with large private terrace, bathroom downstairs//3 toddler beds//FULL PRIVACY, amazing sea- and mountain views//big infinity-pool, covered bar,BBQ// 15 min walk to beach by stairs- 2 min by car//*outdoor-jacuzzi at 50€/day suppl//5d/w 1-2h basic housekeeping
*Klassieke in 2000 gebouwde ruime luxe-villa met alle moderne comfort, overal verwarming en airconditioning, op unieke locatie. *Het ganse huis is privé beschikbaar samen met 3 master bedrooms voor 6 personen voor de basisprijs; Supplement van 100€/dag voor elke kamer extra; totaal maximum gebruik van 6 slaapkamers (supplement van 300€/dag) voor 12 (-15) personen. Gelijkvloers: *Inkom, traphal. *Zeer grote dubbele living (één met open haardvuur) met grote eetplaats, open leefkeuken met eetplaats. *Open koele gezellige patio/binnenplaats. *Wasplaats met wasmachine en droogkast. *Gastentoilet. *Groot overdekt terras met open haard/BBQ en bar met grote drankkoelkast. *Badkamer met douche en apart toilet aan BBQ/overdekt terras *1 slaapkamer gelijkvloers met double bed of twee enkele bedden; zonder eigen badkamer en suite *extra toilet en ook badkamer dichtbij met douche en toilet, in de garage. *Ongeveer 300m2 zuidgerichte terrassen *Buiten-jacuzzi (supplement 50€/dag) op apart terras met subliem uitzicht. *Groot zuidgericht overloopzwembad (12m-8m). Op de 1ste verdieping: *Drie grote master-bedrooms met dubbel bed (160cm-200cm), waarvan twee met privé-terras, "en suite" met ruime badkamers met ligbad/douche, (evt. twee enkele bedden om bij te plaatsen in één van de slaapkamers). *drie kinderbedjes/babybedjes om bij te plaatsen in de kamers. *Eén grote gezellige"kinder"slaapkamer voor maximaal 5 kinderen of 2 (-4) volwassenen/adolescenten in één-persoonsbedden/stapelbedden( 90cm-190cm), "en suite" met ruime badkamer met ligbad/douche. *6de slaapkamer met dubbel bed (van het appartement van de eigenaar) met zeer groot privé-terras, gedeeltelijk overdekt, met aparte ingang, gezamenlijk gebruik van de badkamer met douche en toilet op het gelijkvloers bij het overdekt terras/BBQ, enkel bij bezetting van méér dan 10 personen in 5 kamers.
Absolute rust en privacy, zeer exclusief en uniek gelegen in en met zicht op UNESCO beschermde Middelandse zeekust. Prachtige wandelroutes en fietsroutes. Schitterende "infiniti pool" en buiten-jacuzzi met zicht op de zee en bergen met de "Puig Major", immense grote zuidgerichte terrassen, elke avond prachtige zonsondergang boven de Middelandse zee! Rustig keien strand op 10 minuten wandelafstand, met pittoreske visserswoning, waar U, mits persoonlijke introductie bij Tony iets kunt eten/drinken (El pescador, Tony beach :-). Restaurant "Es Vergeret" (URL HIDDEN) in de baai op wandelafstand, open van maart t/m oktober, mogelijkheid eten af te halen en enige aankopen te doen (drinken, brood...) Restaurants en bars op 10min rijden (Sa Calobra) ganse jaar door geopend. Dichtste stad op 50 min rijden (Soller en Puerto Soller, Pollenca en Alcudia, Inca). Delivery service voor inkopen op ma-wo-vr, info ter plaatse. Persoonlijke excursies mogelijk per boot, info ter plaatse. Wild keienstrand op 10 min te voet of 2 min per auto, met privé parkeerplaats direct aan het strand. (URL HIDDEN)
We had the most wonderful time staying at Monte Bello. Great house at a fabulous location - We will miss waking up to those incredible views! Frank was so kind and welcoming, coming to meet us when we arrived and ready to answer any question and help us with information about the area. It made our time at the house so relaxing, knowing that we could speak to him any time. Thank you for the most wonderful time. We loved it so much, we would love to come back!
Serena
2016-10-01T00:00:00Z
Frank is a lovely host and this house is truly spectacular. A fantastic villa with an outstanding view. Me and my family had a marvoulus week in Cala Tuent and I sincerely recommend this place for families that wants a beautiful and calm place for rest and recreation. The local restaurant Es Vergeret also added an extra flavor to the stay. Frank's hospitality really made us feel welcomed as he introduced us to the community in a very personal way. We will most likely come back. :)
Mattias
2015-06-28T00:00:00Z
I make it short: House and host are just perfect!!!
Alexander
2015-10-10T00:00:00Z
Wow. What an awesome home. Frank went above and beyond to ensure our comfort. I cannot wait to return.
Daniel
2015-08-23T00:00:00Z
Frank is very friendly and did the best for us. We had a very relaxing stay with friends and kids, just enjoying the pool, the fantastic view and the beautiful sunsets! The spectacle continues at night with a magic sky! Many thanks Frank!
Vanessa
2015-08-18T00:00:00Z
After staying a lot of AirBnB locations, this was by far the best. The location - could not be beat. Frank was awesome in every way possible. Would highly recommend this spot. Congrats Frank on having one the best AirBnB houses in the world! Joseph
Joseph
2016-07-31T00:00:00Z
We had the best time. Frank is warm and generous with his hospitality and we felt sure would have been instantly helpful if we had needed any help, which we didn't. The house is beautiful and the views fabulous, Frank made us feel welcome and free to enjoy it to the full. There is a superb coastal walk from the beach, a really good cafe with a great terrace a short walk across the beach. Be sure to bring lots of bottled water with you it is a long drive to pick up any conveniences - there is a local man who will deliver food to the house 3 times a week. Thanks Frank for sharing your place.
Deborah
2016-04-08T00:00:00Z
Frank is the Man!! He truly made us feel welcome and comfortable,. The Place was exceptional and in one of the most remarkably beautiful settings possible.
janice
2015-06-10T00:00:00Z
Room Type
Entire home/apt
---
Property Type
Villa
---
Accommodates
12
---
Bedrooms
Escorca, Illes Balears, Spain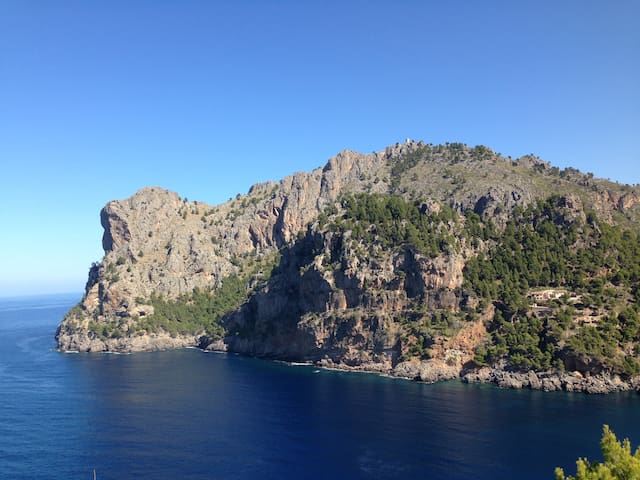 Historic finca with private access to the sea. Estate of 32 hectares land with pine trees, ancient olive trees, oak trees, lemon and orange groves. Idyllically situated between mountains and sea in the very heart of a UNESCO World Heritage site.
What if you could have mountains and sea view at the same time? What if the sunsets & stars would make you doubt whether it is real? What if you would just find out yourself?
Restaurant "Es Vergeret" with unique view at 500 meters. Private direct access to the pristine pebble beach through a 5 min hike through the garden olive and orange groves. The wonderfull "Torrenete de Pareis of Sa Calobra" is one bay away. Fantastic hike to Soller via the coastline of "Sa Costera" or via the Tramuntana mountains. Less then 30 houses in the Cala Tuent bay.
Everything about our stay in Cala Tuent was prefect. From the very beginning, before we even arrived, Karel was an extremely helpful host, supplying us with a treasure trove of help tips on where to go, what to see and do, where to eat and buy food. The house itself is like living in a small castle, and can sleep 14 very comfortably. The pool is beautiful and perfect for kids, as it has underwater steps, rather than ladders. The outdoor dining table is perfect for breakfast, lunch and dinner, providing shade even at mid-day. Also, as the house is up the hill, it gets a nice, cooling breeze. And the sunsets can't be beat. Finally, the caretakers Magdalena and Isidro are wonderful people who are there when you need them, but otherwise you won't even notice they're there – unless of course Isidro is dropping off boxes of fresh oranges from the orange groves! And Magdalena knitted two cute hats for the little children as a going-away gift. The beach is only a few minutes walk away. It's a small, pebble beach. Not good for building sand castles, but otherwise great for the kids and adults alike. The house is very remote, surrounded by mountains and beautiful, quiet nature – a prefect place to escape. However, if you want to be close to any sort of action, this isn't the place for you. The nearest grocery story is an hour away and getting in and out of Cala Tuent requires driving up and down one of the most serpentine series of switchbacks I've ever seen. Some small negative comments: The gas grill is too small to cook for more than 6 people. Considering the number of guests the house can hold, a proper gas grill would be a great benefit. The outdoor dining table can seat 10 adults, but it's a tight squeeze. The table is really meant for 8 adults, max. A bigger table would also be a great addition. Finally, this is no fault of the house or the hosts, but there are some vicious gnats that come out in the evening. Better fans in each of the bedrooms would help prevent bites when sleeping, and would remove any stuffiness when it gets hot. Other than these three things, everything was great and we would return in a heartbeat. This was one of those vacations where it was difficult to leave!
Brian
2014-07-14T00:00:00Z
You'll need quite a few superlatives to describe this place. The location is remote, but that's precisely it's charm. The views, no matter which direction of the wind you look is simply breathtaking. The house is ancient, but immensely spacious, comfortable and well equipped for 18. The interior and amenities are plain, but that's only another version of luxurious - as it's what we were looking for. The host is most kind and very, very responsive to his guests. The caretakers on site are discreet, charming and very helpful; their paella upon request delicious. If spending quality time with your family and friends is your vacation goal, this is the spot. If you only want lodgings to seek entertainment and commercial action - find something closer to civilization. But by any standards, consider the first option as a holiday. As the owner stated in one of our emails: "if you want to get off the grid, this is the place". How right he is. The Cala Tuent bay and the Can Lleig house are not for everyone. May it ever remain so.
harald
2015-08-01T00:00:00Z
A magical place in such a beautiful setting. The kids and grandparents loved it. We had a boat pick us up from the beach and take us down to Deia fur lunch one day. And made fresh orange juice every day from the orchard. Thank you !
Simon
2016-06-03T00:00:00Z
I spent a blissful week in Cala Tuent at Karel's holiday house with a group of friends. We were more than happy to barely leave the house but for wandering down to the beach or up to Es Vergeret for long delicious lunches. The house is incredible - huge, historic, beautifully laid out and has everything you could need. The grounds too including the large pool were perfect. Basically we just didn't want to leave! Karel made us feel very welcome and was helpful in offering for food to be delivered and careful to point out the distance on the windy roads to the nearest supermarket, this I think could be the only limitation for some guests. We all enjoyed the drive! We hope that we can visit again next year.
Alison
2015-08-08T00:00:00Z
Great communication throughout. House even better than we thought. Photos can never do justice to how stunning the location is-one of the most beautiful places I've ever been lucky enough to spend time
Bruce
2015-08-22T00:00:00Z
We're just back from a lovely week in Cala Tuent. Mixed weather and still the place was just great. Verry tranquil and beautiful, both the place and the surroundings. Our host, Karel was just great to answer our questions.
Markus
2016-09-27T00:00:00Z
Un petit coin de paradis, perdu sur la cote majorquine! 1ere expérience avec Airbnb mais que du bonheur. Un excellent contact avec Karel, qui fut très disponible et parfait dans ses réponses. Un accueil exceptionnel (le couple de gardiens est charmant et très attentionné), une maison grandiose et un lieu fabuleux. Tout ce qui était promis fut tenu ! Si vous souhaitez vous ressourcer au paradis, alors n'hésitez plus. Mais ne cherchez pas de commerces ou activités à proximité, il faut compter 50mn en voiture (ou 15mn en bateau, très conseillé !!!) Je pense que nous allons très vite réserver pour l'année prochaine !
SEBASTIEN
2014-08-16T00:00:00Z
L'accueil par le couple qui garde la propriété est remarquable de gentillesse. Leur sollicitude et leur disponibilité tout au long du séjour est également très appréciable. Karel, de son côté, donne de bons avis sur les activités accessibles sur place. La propriété est remarquablement bien située pour ceux qui aiment la nature, à la fois spectaculaire et très reposante. Nous gardons un excellent souvenir de notre séjour, avec la réelle envie de le renouveler.
Manuel
2016-08-22T00:00:00Z
Room Type
Entire home/apt
---
Property Type
Villa
---
Accommodates
12
---
Bedrooms
Escorca, Balearic Islands, Spain
Illes Balears - Airbnb
:
Average

5

out of

5

stars from

33

guest reviews
Enter dates to see the total trip price including additional fees (but excluding any taxes).