This breathtaking Aussie Beach-Villa is only 500 metres from the iconic Cronulla Esplanade and picturesque Greenhills Beach in Cronulla. You will be impressed, as you experience true seaside living in this amazing villa, set in a quiet street of the beautiful and elusive Greenhills Beach estate in Cronulla. This sensational villa is attached to a house however is completely seperate in living space, and provides a wonderful haven for effortless family living.
This villa is attached to a house, however is completely seperate in every aspect possible, set in a quiet and relaxing street of Greenhills Beach in Cronulla. The villa is only minutes to Sydneys most beautiful seaside esplanade and beach, and is also not too far from cafes, restaurants, bars and the shopping mall of Cronulla. In close proximity are also the Cronulla sand dunes and Wanda Park. It is a short drive to Kurnell, the birthplace of Modern Australia. There are various walking tracks, bike tracks, parks, playing fields and ovals as well as a skate park which is also close by. It is set in very close proximity to the beach, however there is also an element of bush living to the residence. Enjoy the surf, sand, and cosmopolitan restaurant and cafe culture. All linnen and towels are provided.
Cronulla is arguably the number one beach side suburb in Australia. 40 mins to the city and airport with a beautiful, peaceful, family culture with plenty to see and do including award winning cafes and restaurants. Follow the esplanade to watch the ocean become the bay, everything is in walking distance from famous surfing spots, fishing spots, snorkelling spots & spots for the kids to swim in the bay. Cronulla mall is exciting both day & night with plenty to see, do, eat & drink! The famous Northies is just down the road where they have something on literally every night of the week.
Will was an excellent host, very accomodating and helpful! Beaut property!
Helena
2017-04-06T00:00:00Z
Clean, new and right near the Greenhills and Wanda beaches. A longer walk to the main cafes in Cronulla but enjoyable if you have the time to walk the beach. Sand dunes close by, too! A thoroughly enjoyable stay. Thanks Will!
Robin
2017-04-09T00:00:00Z
Room Type
Entire home/apt
---
Property Type
Villa
---
Accommodates
4
---
Bedrooms
Cronulla, NSW, Australia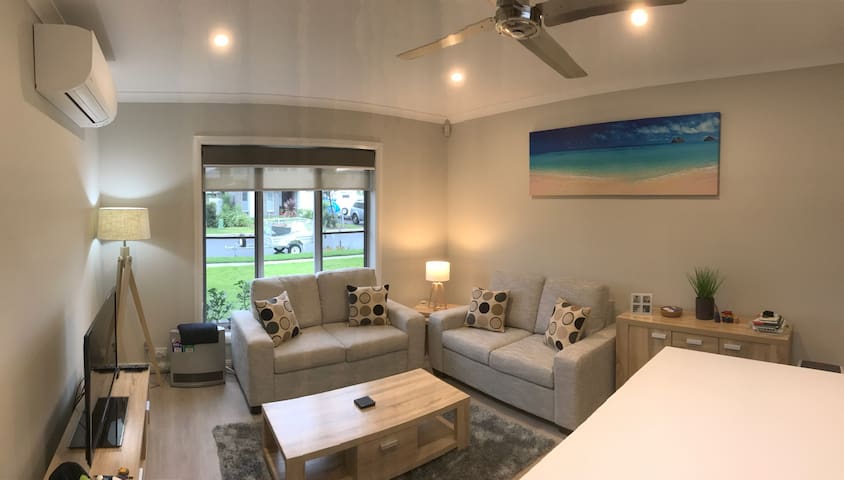 Renovated in 2014, open plan, crisp and clean. Bedroom 1-main bedroom, double bed & en-suite Bedroom 2 - childs small bed We permit a maximum of 2 adults + 1 child to stay in our home. Very quiet location
A single level villa, within a short walk to Gymea village. This is my home, and as such some personal items remain in the property.
Gymea is located 26 kilometres south of the Sydney central business district & primarily a low density, residential suburb. Located close to Gymea railway station, the suburb's shopping strip is known as Gymea Shopping Village. Over the last decade it has become a popular shopping and 'café culture' district with many cafés, restaurants, boutiques and gourmet food shops opened along Gymea Bay Road. Gymea railway station is on the Cronulla branch of the Illawarra railway line, part of the Sydney Trains network, which provides regular rail services to the city. Gymea is home to the Hazelhurst Regional Gallery and Arts Centre, which features art galleries, art studios, a theatrette, gardens, meeting rooms, gallery shop and cafe. A number of special events are held at the gallery throughout the year.
Samantha made us feel welcome straight away and was very informative. Nothing was an issue & she was quick to respond to any questions (despite being overseas in a different time-zone). Her place is immaculate (being recently renovated) and contains everything you could possibly need. Friendly neighbours & quiet spot close to everything. It was a perfect stay for our family of 4. I would recommend her to any airbnb-er in the future.
David
2015-08-22T00:00:00Z
Really comfortable place, with easy parking and access to Gymea. We found it perfect for our stay. Kids enjoyed playing with the toys and the place was left clean and tidy and beds were very comfortable.. Host was very good with communication when we asked for the wifi passwords etc. Would definitely recommend this place and stay again! Thankyou!
Renee
2015-11-02T00:00:00Z
I loved Samantha's place and we had a great stay there. The kitchen was beautiful and modern and it was a lovely place to cook in during a trip away. Samantha left out breakfast items, milk, tea and coffee. It was a lovely addition! And she was happy for us to use her essentials in the pantry which was great as we were able to easily throw together dinner in the house. There is a small garden too which was great for the kids to get some fresh air. It was a lovely homely cosy home that really made our trip enjoyable. Thank you Samantha. She also had highchair etc. available which was convenient for us. We were two adults and two kids and there was enough space for us. I think the second bedroom could be too small for two adults. The sofa bed is big enough for two people but it takes up most of the room so it may be a bit squashed. There were only single duvets/blankets on each of the beds, but we needed a double on one of the beds. Luckily we found extra blankets and this was just a small issue. Samantha's kitchen and house is well equipped with anything you would need.. from pots and utensils, to hairdryer Shampoo etc. The sheets on the bed were lovely too.. hotel quality! Samantha knew we had kids and she left out a couple of toys and books for my kids to play with. Very thoughtful. Thank you again Samantha! There isn't anything Samantha could have done to improve out stay! We didn't manage to meet her but communication before our stay was very good.
Amu
2016-03-28T00:00:00Z
She made us welcome and went extra mile to sort out WiFI ISSUE WE HAD. Property as described.
Edin
2015-07-13T00:00:00Z
Lovely house. Great for travelling with young child. Kitchen was well equipped.
Naomi
2015-07-28T00:00:00Z
Our stay at Gymea was lovely with a wonderful kitchen to cook with. The neighbourhood is nice and quiet and only a short drive to the miranda westfield. Lots of space. Stayed with my wife and 2 babies. Samantha was so kind to make our stay with a young family so easy eith a high chair, baby bath and crib. Thanks Samantha!
Timothy
2015-12-02T00:00:00Z
Great little villa which had everything we needed for a wedding weekend away with our toddler. Second bedroom might be a squeeze for 2 adults but was perfect for my Dad who travelled with us. Loved the Buddha radio station Samantha and the tea, coffee, cereal, bread was an unexpected extra. Many thanks. P.S. This is a TV free house!
Claire
2016-02-23T00:00:00Z
Room Type
Entire home/apt
---
Property Type
Villa
---
Accommodates
3
---
Bedrooms
Gymea, NSW, Australia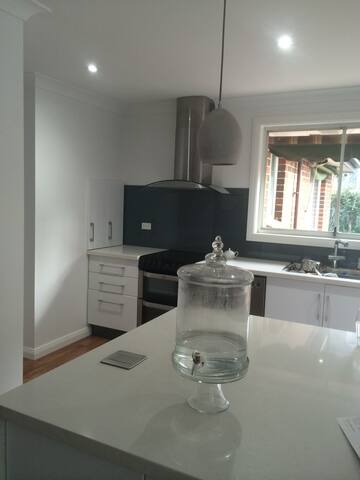 Located right next to the Coggle Bay Beach is this lovely Victoria style villa on the, riverbank of George River to the south of Sydney. It is 10 kilometers away from Sydney Airport, 5 minutes drive away from the train Station. Bus 303 takes you directly to CBD in 50 minutes( 19 km). Coffee shops, grocery shops, library, swimming pool, gym and sailing club are all within 800 meters radius. the famous Sydney Walk and Bicycle Track runs in front of the villa. Hosts will stay in the upstairs.
Located right next to the Coggle Bay Beach is this lovely Victoria style villa on the, riverbank of George River to the south of Sydney. It is 10 kilometers away from Sydney Airport, 5 minutes drive away from the train Station. Bus 303 takes you directly to CBD ( 19 km). Coffee shops, grocery shops, library, swimming pool, gym and sailing club are all within 800 meters radius. the famous Sydney Walk and Bicycle Track runs in front of the villa. The beautiful beach, the open sea swimming pool with shark protection net, fishing area and pontoon are all within reach. Families, local residents and tourists alike, enjoy picnic, BBQ, swimming, sunbathing, sports activities, fishing here, kids chasing after the seagulls laughing, dogs running to catch balls in the sea water. Couples walk hand in hand casting long shadows in the beautiful sunset. what a peaceful and beautiful scene. The villa is newly-renovated, bright and spacious, tidy, clean and stylish, (paranomic vew of the ocean from the outdoor & second floor) The hosts are a couple who enjoy travelling and arts.They love making friends all over the world. They will be more than happy to share with you their knowledge about Australia, Sydney and the local area . Their hospitality will make your stay warm, comfortable and very special. Hosts are a couple stay in the property upstairs.
臨海的街,步行5分鐘就有咖啡、餐館、公園、帆船俱樂部。
The hosts were a lovely couple who lived upstairs and was always willing to help us feel homely during the entire stay. House was clean and looked exactly as the pictures in the listing. Felt like home.
Hussain
2016-08-24T00:00:00Z
very warm felt at home !!!
Kudzaishe
2016-08-05T00:00:00Z
Criteria for the advertising for this property needs to be changed.
Fiona
2016-10-02T00:00:00Z
A very beautiful beach front house, located not too far from the city. Walking distance to shops and cafes. Everything's neat, clean and tidy. The hosts're friendly and helpful. However, the house's not been rented out for "entire place" as it was advertised. Hosts live upstair and share common areas such as kitchen and living room.
Sai
2016-08-13T00:00:00Z
Friendly host at an amazing location.
Liam
2016-12-04T00:00:00Z
Gilly and Ben were very nice and seemed to make themselves scarce, largely leaving the place to just us. The place in very nice and in a great location - directly across from the beach.
Damien
2016-11-13T00:00:00Z
Thank you for hosting us Gilly and Mr Zhao! The landlord is very friendly and easy to communicate. We stayed for 3 nights, this house pretty much offered everything! It is clean and tidy. It also comes with a very nice water view! There are many beautiful decorations in the house so enjoy it! I would highly recommend to big group! The location is a bit far away from the main sightseeing but you know when you come to Australia a car is must needed!
Yanwei
2016-11-05T00:00:00Z
Close to the city and the bay. It is convenient to go everywhere.
Zhenyu
2017-02-05T00:00:00Z
Room Type
Private room
---
Property Type
Villa
---
Accommodates
8
---
Bedrooms
Sandringham, NSW, Australia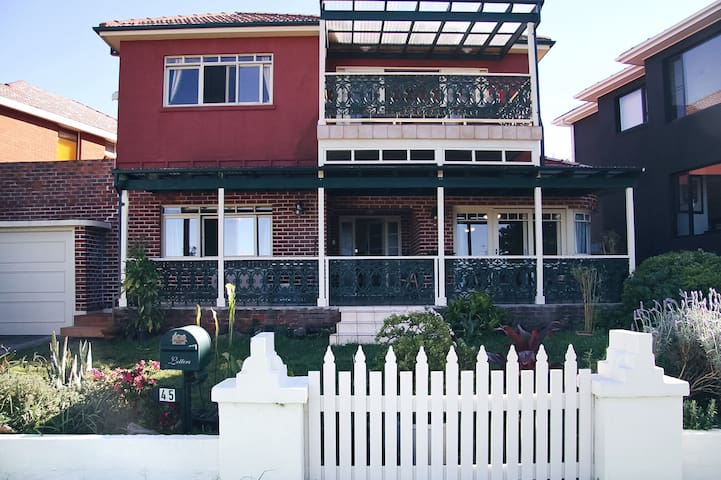 Close to the city and right at the beach - perfect. Luxurious and spacious, three bedroom home with open plan living and dining, all rooms with queen size beds, main bathroom with bathtub and master room with ensuite inc rainwater shower, TV and satellite connection. 2min from beach - 25min to city!
Spacious, three bedroom home with an open plan living and dining, 3 bedrooms with queen size beds, main bathroom with bathtub and master bedroom with ensuite and rainwater shower, TV and satellite connection (Foxtel) in lounge and master bedroom, DVDs and DVD player also available. Tranquil backyard with outdoor shower, outdoor setting and gas BBQ available for use. Air conditioning in lounge room capable of cooling the entire home (with doors open). Dishwasher available for easy washing, washer and dryer also available or for those who like to sun/air dry their items a clothes line is available in the backyard. Located a short 3min stroll to the beautiful Sandringham beach where you'll find soft sands, clear waters and parks. Some of the best Cafes within walking distance. Grab a tea/coffee or cold drink and enjoy a long (or short) stroll along the walking/bike paths and really take in the surroundings. Beach towels and sunscreen also available! And for those who prefer to get around on wheels, 2 bicycles accessible for use - one with basket to carry your things.
Safe, peaceful and tranquil neighborhood and surroundings. Plenty of parking space for those with cars.
Perfect as always!
Adrian
2016-09-19T00:00:00Z
Lovely home! Very clean with everything you would need including beach chairs, sunscreen, bikes,etc. Great location close to the city and airport but in a nice town with plenty of food, cafes and a beach close by. Quick and excellent communication from Michael as well. Highly recommended!!!!
Megan and Daniel
2016-02-17T00:00:00Z
Everything was above expectation, we loved our stay here because of the beautiful home that has been created and immaculately kept.
Janine
2016-04-12T00:00:00Z
Michael is the best host and his home is beautiful! He is very accomadating and we thoroughly enjoyed his home and his recommendations for what to do. Thank you soooo much for everything.
Nancy
2016-04-03T00:00:00Z
It was a very nice house. We enjoy it to live there. Michael was a great host. It was a great time in Sydney. When we come back to Australia WE would book this house again. Regards from Germany (near the alle of constance) Julia and the rest of the whole family
Julia
2016-03-26T00:00:00Z
Always a great place to stay! This was our second stay here and we will be back for sure! Cheers
Adrian
2016-08-12T00:00:00Z
Awesome place to stay. Highly recommended!
Adrian
2016-05-15T00:00:00Z
It was beautiful home and amazing experience I recommend experimenting with this home
Mohammad
2016-09-13T00:00:00Z
Room Type
Entire home/apt
---
Property Type
Villa
---
Accommodates
4
---
Bedrooms
Sans Souci, NSW, Australia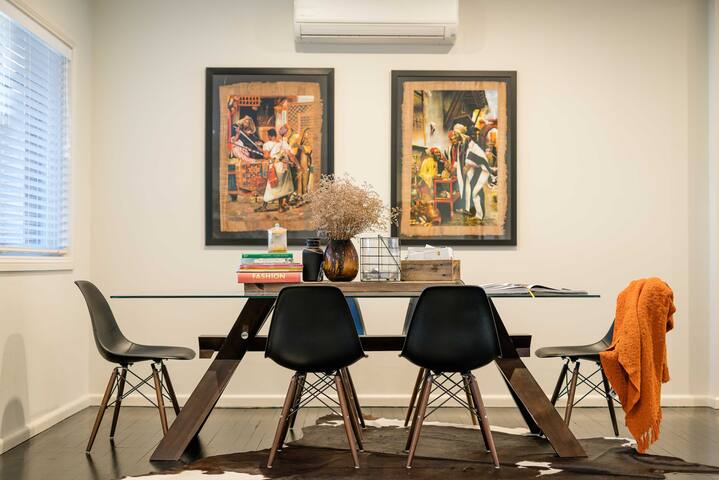 One private room for lease or can do entire home as well for the correct figure. This a nice little house with plenty of room for a few guests comfortably. North aspect so always nice and sunny. Very neat and tidy home well looked after. Only 10 minute walk to Kirrawee shops and train station. Great kitchen and able to cook breakfast, lunch & dinner if you please. Internal Laundry with washing machine. T.V. Free Wi-Fi. Plenty of car parking. Can leave furnished.
Guests are able to use half the house.
Room Type
Private room
---
Property Type
Villa
---
Accommodates
2
---
Bedrooms
Kirrawee, NSW, Australia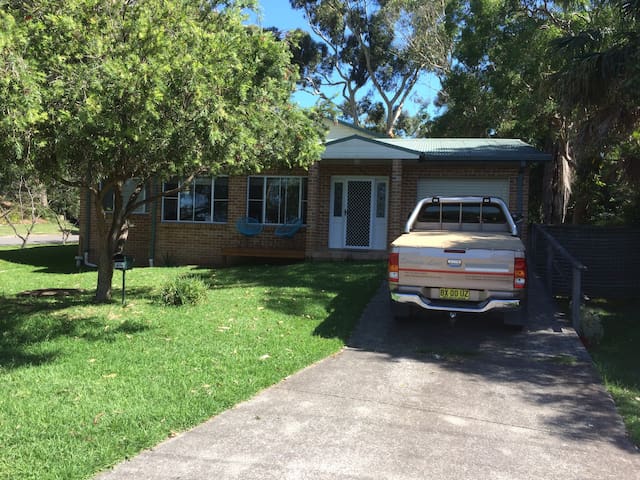 Ground floor big guest room with private entrance and private bath room/toilet/Laundry. Quite and peaceful. 2 minutes walk to Carss Park and beach, 3 minutes walk to Olympic standard local swimming pool and gym room. Famous café just in the park and local famous Chinese restaurant-Imperial Peking Just 3 minute walk , 7minutes drive to Hurstville Westfield shopping and business centre, 15minutes drive to airport and 37mimutes to Sydney CBD. 5 minute walk to bus stop. Street parking is available.
Carss Park is one of famous local Park for family Holiday, Beach/BBQ/Fishing/Swimming/ Relaxing/Carss park bush walk
The house is clean and comfortable, it is a place were you can enjoy your time. Suzanne and her family are lovely. The place is quiet, you can hear the song of the cockatoos.
Marco
2017-01-10T00:00:00Z
Suzanne's place was very comfortable, well furnished and clean. The flat has good range of basic equipment, and the bathroom has shower essentials. Suzanne was a helpful host, who was easy to communicate with.
Jon
2017-02-20T00:00:00Z
Place is excellent to stay for a couple who has a car because the location is not walkable to shopping malls or to go to the city ! Place has quiet environment being in residential area.
Cory
2017-04-02T00:00:00Z
Room Type
Private room
---
Property Type
Villa
---
Accommodates
2
---
Bedrooms
Blakehurst, NSW, Australia
Burraneer - Airbnb
:
Average

4.41

out of

5

stars from

41

guest reviews
Enter dates to see the total trip price including additional fees (but excluding any taxes).