Extremely Private 3000+sq. ft. estate perfect for large groups, multiple families, gatherings of all types. The property features a beautiful pool with a swim up bar, hot tub, trampoline, frisbee golf basket, and basketball hoop. House is equipped with free Wifi access, xbox 360, wiiU, and sony play station.
6 Bedrooms: 2 downstairs and 4 upstairs. 3 full bathrooms, 2 downstairs, 1 upstairs, garden tub in the master bath. Master Suite is downstairs Room 2 is also downstairs just across the hall from bathroom 2. There is a twin bed, and space for a queen size air mattress. Bedroom 3 is very large and private, there is a day bed, and space for a queen size air mattress. Bedroom 4 is very small, with a twin size bed. Bedroom 5 is good size and has a full size bed with a trundle. Bathroom 3 is a Jack and Jill set up Bedroom 6 is a bonus room that we use as an office and music studio, it is huge, you could set up 3 or 4 queen size air mattresses in this room alone. There is a wet bar with a mini fridge, sink, and mirror.
We have a very quiet and safe neighborhood with only one way in and one way out, there is a community park with a playground, a tennis court, a basketball court, a backstop, a covered pavilion, nature trails and restrooms, just a short 5-10 minute walk.
Room Type
Entire home/apt
---
Property Type
House
---
Accommodates
14
---
Bedrooms
Bulverde, TX, United States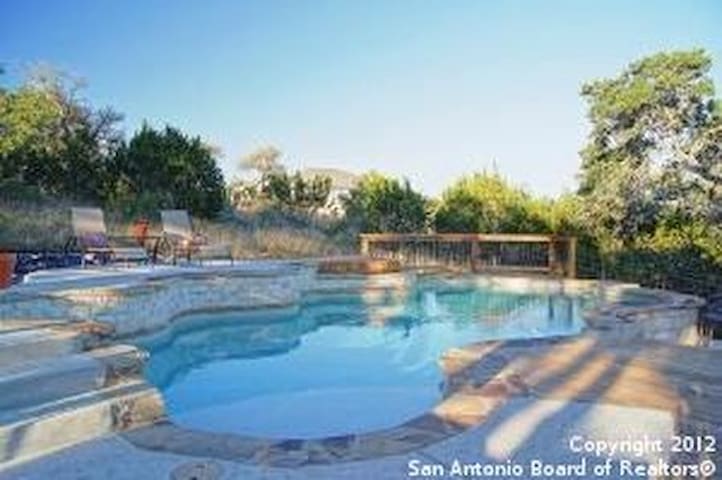 This gorgeous updated hill country home features four large covered decks overlooking the natural beauty of its surroundings. High hilltop views, as well as stunning landscaped, with two acres St Augustine grass, Koi Pond with fountain, over sized sport/tennis court, wysteria trellis walkways, private "secret garden" and hammocks under shady oak trees.
A separate porch to sit and watch our 10 deer family come eat in the morning or late afternoon (food provided). The entire property gives a tranquil feeling. There are large smart TV's with cable, Netflix, etc. in six of seven bedrooms, living room and family room. There is also a private reading room with beautiful views. Very open design allows for room to room views of all, one large more formal dining area with separate informal dining room, again with panoramic views. Natural light and hardwood floors create a calm ambiance with plenty of high ceiling areas for gathering. Our top of the hill estate is halfway between Boerne and New Braunfels off of Hwy 46. Very close to wineries, caverns, Canyon Lake, and 15 minutes to JW Marriott Golf Resort and shopping.
12.5 acres, 4 acres fully sodded and irrigated Saint Augustine grass, like a beautiful park. Swings for kids under trellis and in "secret garden", totally cool. Plenty of parking in front big circular parking and side huge area for motor homes, Harleys, four wheelers, etc.
These are some of the few times when words are not enough to describe a stay! Jeannie's communication in prep of our stay and during the stay was very prompt,giving us the impression that she was always there in person to help us. Chuck's welcome was just awesome with a detailed walk thru of the place,showing us all the amenities from drinking water bottles to every little item that one needs to make the stay as comfortable as (URL HIDDEN) was astounding to see the trouble that the host had taken to ensure we had everything we needed. We highly recommend this amazing place at any time of the year. More than 5 stars to the awesome host and property!!!!!
Girish
2017-03-13T00:00:00Z
Thank you for the 3 night stay at your beautiful home! It was a wonderful experience and looking forward to renting on other occasions!
Patricia
2017-04-03T00:00:00Z
Room Type
Entire home/apt
---
Property Type
House
---
Accommodates
16
---
Bedrooms
Bulverde, TX, United States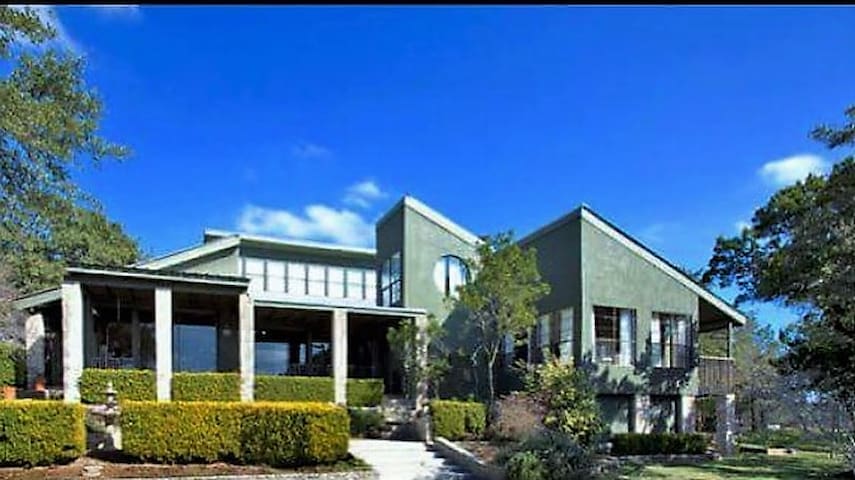 This is a great jumping off point for all your Hill Country adventures. Centrally located in the heart of the Texas Hill Country's most famous music venues. Gruene Hall, John T. Floore's Country Store, and Luckenbach, just to name a few, are just a short drive from the house. The house is well suited for groups attending weddings at local venues such as Kendall Plantation , The 1850 Settlement, and Anhalt Hall. This house is perfect for relaxing after a long day on the river with friends.
Relax to your favorite music inside or outside on the wrap-around porch.
It's a very quiet neighborhood. Please be respectful of our neighbors.
Stay was amazing. First time to get an Airbnb. Got there and Chris have us a tour of the house, which was emaculate. Beer tap that I paid for extra was filled and cooled when I got there. Great mid location between San Antonio and New Braunfels. I will definitely be staying here again.
Harrison
2016-08-29T00:00:00Z
Chris is an excellent air bnb host! The house is incredible and he made us feel extremely welcome. Once we got to the house, we were provided with a very detailed document listing the various amenities of the house, where everything is, how to use various electronics, etc. He allowed us to use all appliances and there were even miniature shampoos, conditioners, etc in the bathrooms. He even checked in with us during our stay via text making sure everything was going well and asking if we needed anything. The place is clean, quiet, and comfortable. It is a short drive from the river and the perfect getaway. My friends and I decided that this is the house we will be renting for the river from now on!
Mary Beth
2016-08-01T00:00:00Z
Chris was a wonderful host! He was very easy to communicate with and he did everything he could to make our stay enjoyable. Aside from being an incredible host, the house was amazing!!! It was secluded, but not too far from town and only 30 minutes away from the river. Chris had all the amenities we could have wanted, AND two awesome beers on tap. We ran into some car trouble on the way down and Chris was very understanding. He made an appearance the next morning and made sure we had everything we needed. We could not have asked for a better trip. I would recommend Chris and the Hill Country Base Camp to anyone and I would stay there again in a heartbeat!
Parker
2016-08-14T00:00:00Z
This home is simply amazing! Chris has absolutely everything and anything you could ask for. We felt as if we were staying at a 5 star hotel! We will book this home for all of our future trips to the hill country.
Kellie
2016-03-20T00:00:00Z
Highly recommend. We visited for a wedding, only a couple miles from Chris' house, which was perfect for our needs and a far superior option to that of a hotel. The property not only met, but exceeded our expectations, and our host was highly accessible and service-oriented. This place is spacious, quiet and private, but central to everywhere one might want to go in the Texas Hill Country. With a couple babies, we were quite comfortable and managed to get some much needed R&R. We will definitely keep this one on our shortlist.
Matthew
2017-04-02T00:00:00Z
Perfect. Comfortable for 6 adults. Well stocked. Quiet. Enjoyed a jog in the Hill Country. Chris was available and maintained communication. Will hopefully be back!
Susan
2017-03-12T00:00:00Z
Chris the host went above and beyond to make sure we had the best experience possible. He stayed in communication with us throughout the stay to ensure that we had everything we needed. The home has many great feature like the wrap around porch, keg beer, and a dart board that got a lot of action. Would recommend this home to everyone.
Riley
2016-05-16T00:00:00Z
Chris was an excellent host. He has an awesome house that is perfectly set up to enjoy the hill country to the fullest. The kitchen, living room and the bedrooms are spacious, but yet cozy. The wrap around porch allows for the perfect view of sunrises and sunsets. Not to mention the beer tap and great selection of beer, which is always a good start to the night. There is nothing more that I could have asked for and it was much more than I was expecting. I would (and already have) recommend this house and I will be looking for my next chance to stay there again.
Dillon
2016-06-06T00:00:00Z
Room Type
Entire home/apt
---
Property Type
House
---
Accommodates
12
---
Bedrooms
Bulverde, TX, United States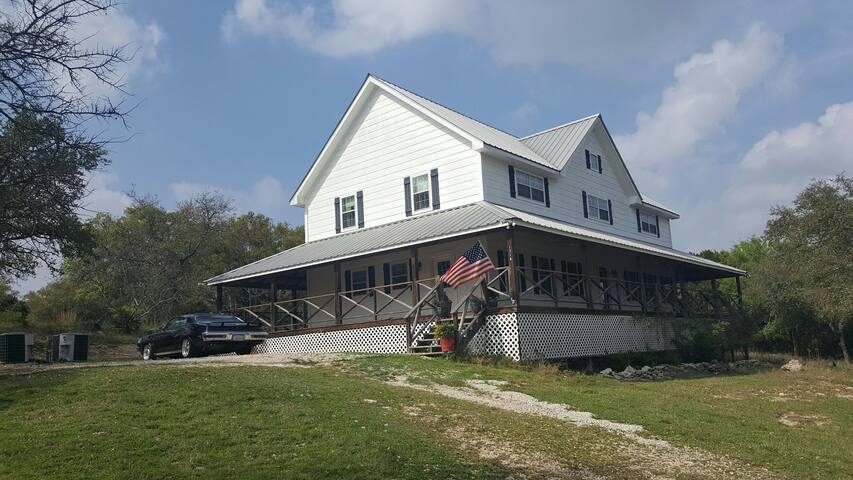 Gorgeous 4 bedroom 3 in a quarter bath home with all the amenities Lots of yard space front and back, hammock on a tree, many gorgeous trees with lots of shade all around the home and property. A large bar-b-q- pit in the back of a open patio with a outstanding hill top view of 5 acres surrounded by nature and the hill country. I have two large air mattress's. A lot of floor space. Don't provide cable but do Crome, full Internet service for Netflix, Hulu
Super clean nice 4 bedroom, 3 in a quarter bath with all the amenities. Minutes away from Natural Bridge Cavern, Wildlife, Starbucks, H.E.B. Plus, Walmart, CVS, Walgreens, shopping, 20 min from San Antonio, places to visit Sea World, Fiesta Texas, Boerne, Fredricksburg, New Braunfels, Schlitterbahn water park, the Comal and Guadalupe river, Canyon Lake, Guadalupe State Park. Great in town fast food restaurants such as Whataburger, Wendy's, Subway, Popeye's Fried Chicken, burger King McDonalds, Sonic, Little Caesar's Pizza, Gas stations. Only have internet for Netflix, Hulu, and a blue ray disc. player. Gorgeous back patio with a breathtaking fresh view of the hill country. Lots of mature trees with a front fig tree. Pizza hut and Dominoes pizza delivery available. Lots of parking space, large front and back yard. Any questions please feel free to ask lots of room inside open floor plan. Very quiet and private.
My neighbors are distant. You will have much privacy
We loved staying at this house. We had a larger group (~10 people) and there was plenty of space for us all to visit and enjoy the hill country. It was nice and quiet and the view was amazing! I would recommend staying here to anyone interested.
Laura
2016-07-18T00:00:00Z
Cozy place in the heart of Texas hill country. Luz was a great host by keeping everything very simple and by being very hospitable. We were very glad to have had the opportunity to stay at her place.
Tyler
2017-04-01T00:00:00Z
Luz's home was great for our family get together! The open kitchen, dining, and living room were wonderful for us to hang out in while cooking meals , playing games or relaxing. We loved that it was in a rural neighborhood with hill country views from the patio and back porch. We were attracted to the idea that there are several communities to explore within a 30 mile radius, but found ourselves wanting to just stay at the house to enjoy the beauty, peace and each other. Luz responded promptly to all of my questions and she had helpful instructions on several of the kitchen appliances. We would stay at Luz's home again.
Ann
2017-02-26T00:00:00Z
Spent 8 nights with my family and our aunt and kids. It was a very peaceful setting. The kids went the whole week with no electronics and were entertained by playing outside. Would recommend the stay to anyone.
Ramon
2017-03-18T00:00:00Z
Room Type
Entire home/apt
---
Property Type
House
---
Accommodates
10
---
Bedrooms
Bulverde, TX, United States
Our private guest bedroom has its own bathroom, private patio, and gorgeous views. Swim in the pool, float on a raft, listen to the waterfall, order pizza by the outdoor fire, or just relax on your own patio while the sun sets! Can't beat the location! We are just minutes away from Sea World and Six Flags. And, downtown San Antonio and the airport are 20min from our door. Your side key entrance to the house and back stairwell allows a more private way of accessing your space! It's bliss!
This house is Zen central! It's a relaxing get away and offers ease for all guests. The rest of the bedrooms in our house are on the opposite side of the house, so it feels very separate and private.
Our neighborhood is beautiful, wooded, with deer roaming the area. (Beware though, they are NOT afraid of cars!) We live on a little over 2 acres, at the very end of the cul-de-sac, with an empty lot beside us, and it feels very private.
Great stay, easy to find, Rachel was very friendly. Great pool and the views were amazing. Bedroom and bathroom were clean. Water and snacks were left out for my enjoyment. Definitely staying there again for another mini vacation
Johnathan
2016-09-21T00:00:00Z
Rachel was so welcoming and friendly! It was our first time staying at an Airbnb and she exceeded our expectations! Very beautiful house with gorgeous views we would definitely stay with Rachel again!
Nicole
2017-02-11T00:00:00Z
AirBnB should give Rachel the "Superhost" badge already. Her place is amazing. Definitely the best place in all of SA on AirBnB. If you're in the North SA area and need a place to stay this is it. You have your own comfortable private bedroom/bathroom and a balcony with amazing views. She even has a snack care package set up for you in the room. She's a fun sociable person with a beautiful family. The best host I've seen so far. The work week I was here was zen indeed.
Usman
2016-07-02T00:00:00Z
This house was one to remember. A modern, clean and spacious room with such a comfy bed! Private bathroom, private balcony, pool, hammocks, and DEER! This house was absolutely gorgeous, with a wonderful sunset and beautiful starry nights to accompany it. And the deer were such a wonderful part of it all. We couldn't have asked for a more welcoming family or home to stay at. Definitely would recommend and would absolutely love to come back!
Jack
2016-07-06T00:00:00Z
We stay very shortly for one night. Although, we never met Rachel, her husband was super helpful!! Communication with Rachel was great. Their home is beautiful and I wish we were staying for longer than a night to enjoy their amazing views. The room was SO welcoming with snacks, drinks, coffee, and so clean! We really enjoyed our brief stay! Definitely would recommend it.
Vanessa
2017-04-02T00:00:00Z
Wonderful host and very welcoming!
Reygie
2017-02-13T00:00:00Z
Me and my girlfriend had a wonderful time at Rachel's home. Even though we didn't personally meet the hosts, we felt welcomed by the warmth of their beautiful house. They were attentive without ever being present (e.g They left us a bottle of champagne as a gift for my girlfriend's birthday.) Our high hopes were met and satisfied. Thank you Reachel, thank you for the experience.
Alex
2017-03-11T00:00:00Z
I was hoping I guessed right from their personal photo that Rachel and Ian both have the happy gene. They do. I was hoping it was true their two acres would afford me the quiet I feel away from the buzz of cell towers and a zillion people and noise. It is so nice there that I would consider going for two weeks and just sitting on the deck and reading....with a jaunt to the very mellow public library (with a little playground and walking trail) just a few miles away and the far better than most version Whole Foods just a few miles away. This was my favorite AirBnB stay to date, and though I'm tempted to not get it too crowded lest I be unable to book dates I want in the future, I got here in part because others gave rave reviews. Full disclosure: Ian liked my jokes (then again, they are pretty good jokes). They even provided me the most exciting lightening/thunder storm I've ever seen in my six and a half decades. Now that's what I call great hosts.
Dan
2017-02-20T00:00:00Z
Room Type
Private room
---
Property Type
House
---
Accommodates
2
---
Bedrooms
San Antonio, TX, United States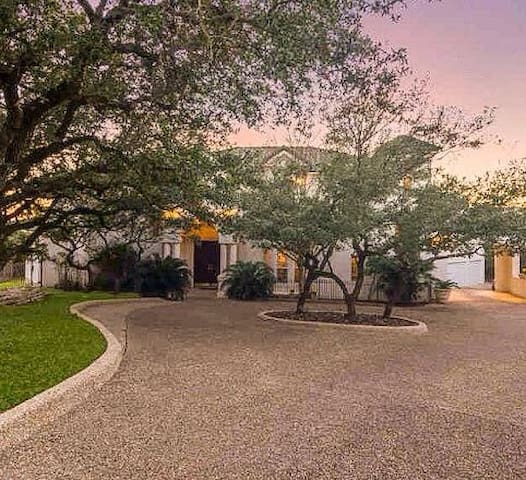 Our one bedroom is located in a nice two story 3 bed room house. Peaceful end neighborhood near the Forum for shopping and dining. It's 15 min from the heart of San Antonio. Easy access to highways 10, 35, and 410.
Room Type
Private room
---
Property Type
House
---
Accommodates
1
---
Bedrooms
Converse, TX, United States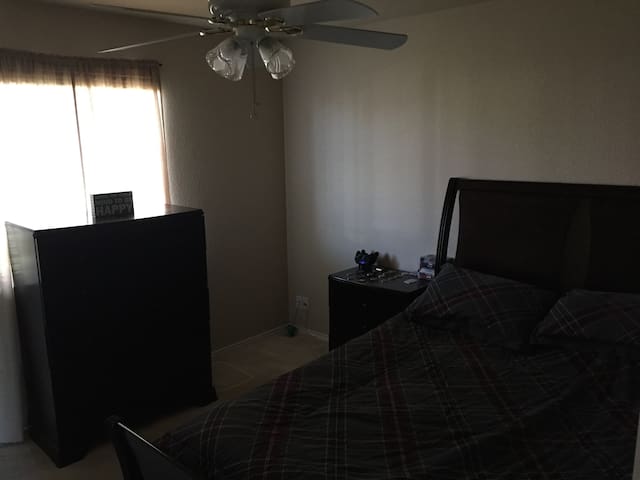 A private room in a central area. Queen size bed, your own closet, a full equipped kitchen, bathroom, and a re-creative living room. Feel free to hang around the house and have a great time. Downtown is just a few blocks south the neighborhood.
I love music and movies. I have a cool piano and a guitar that you can use anytime.
The neighborhood is a few steps far from what is consider downtown. It's great!
Emmanuel's place was exactly as described and just what I needed. He was also a very nice guy and easy to deal with. If you're on a budget this place fits the bill!
Brad
2017-01-13T00:00:00Z
Location is near downtown and it's in a quiet neighborhood. I had a nice overnight stay at Emmanuel's place after driving from Dallas. I'm glad I found a place to stay last minute because the host was quick to respond.
Derwin
2016-02-22T00:00:00Z
Nice guy
Ryan
2016-11-11T00:00:00Z
Emmanuel is a great host who made check-in and move-in a breeze. The place is a quiet neighborhood right on the edge of downtown, and we were surprised how fast and easy it was to get around via car, Uber, etc. Perhaps a bit dark/sketchy at night, but we never had any issues. The bedroom is a bit small as others noted, but it does its job and is well maintained (and I slept like a rock on the comfy bed.) Great value and location for those visiting San Antonio
Steve
2017-01-29T00:00:00Z
Comfortable place in a quiet area. The room was very clean, bed was comfortable and the arrival package was thoughtful. Host is a proud Texan and offers great information of the area. Entertainment and Wifi was excellent, making for never a dull moment in San Antonio.
Flavio
2016-12-06T00:00:00Z
Emmanuel is a great host; he's very hospitable and nice so, even though it was my first time using air b n b, I felt very comfortable, almost like in my own home. He explained to us how the application works, how to get around the city and which places were good to visit, so that made us feel more confident. If you want to stay at a place near downtown (by bus), don't hesitate to contact Emmanuel, you won't regret it.
Jacob
2016-09-18T00:00:00Z
Emmanuel is a great host, very friendly and fun. He offered to take us to a bar but we didn't make it, maybe next time :). The room is small but clean and it's about $6-8 by uber to get downtown.
Sarah
2016-03-05T00:00:00Z
Emmanuel was out but left the key for me. Later I met his roommate, Danny, and we had a nice conversation. As others have noted, there was a thoughtful fruit basket and bottled water waiting for me. There was plenty of parking on the street right in front of the house. The bedroom was quiet, though the bathroom (off the kitchen) is situated below some noisy upstairs neighbors. Great location for restaurants and getting to the Riverwalk, which is only a very short drive away.
Charles
2016-03-16T00:00:00Z
Room Type
Private room
---
Property Type
House
---
Accommodates
2
---
Bedrooms
San Antonio, TX, United States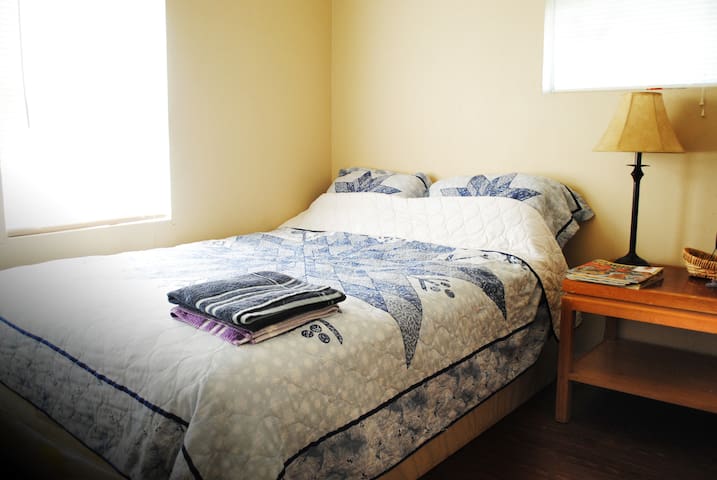 Queen bed, T.V. refrigerator, coffee maker and microwave in room. Large walk-in closet and private bathroom. Enjoy watching the deer from the beautiful deck. May use pool when weather permits.
Very peaceful and quiet room. Beautiful neighborhood. Watch the deer while you drink your morning coffee on our deck. You can even feed them!
That airbnb place was the best I ever stayed in. It was super uncomplicated, clean, quiet and you get everything what you need and want. Sharon and Chez is a super nice couple and we would definetly stay at the same place again if we come back. Thanks for your great hospitality. Johanna
Johanna
2016-05-16T00:00:00Z
This place feels like home they are amazing hosts!
Michelle
2016-10-19T00:00:00Z
As Airbnb stays go for us this was among the best. The room was very clean, had all of the necessities, and even had an in room frig and coffee and tea station. We were very pleasantly surprised at how every detail had been addressed. You can't go wrong by staying with Chez and Sharon. And yes there are plenty of deer to watch while sitting on the deck.
Claude
2016-09-29T00:00:00Z
Chez and Sharon were great! The place was very close to the freeway and restaurants. They are great communicators.
Jennifer
2017-01-24T00:00:00Z
Sharon was friendly and easy in her communications with me. I arrived before she was home and she made it easy and comfortable to get in to the house. I felt welcome right away. The room and the home were clean and lovely.
Valerie
2016-09-21T00:00:00Z
Sharon is a really kind host, who gave me great tips for things to see and walk; she was so sweet to lend me her trail book. The room was more than I could wish for with a really nice bed. Also very convenient were the refrigerator, microwave and the really big walk in closet. It was also the cleanest AirBnB I've ever been! The house is located in a really beautiful and quiet neighbourhood, with deer walking everywhere. If you are going to stay here, definitely spend at least (!) half a day on cycling on the beautiful river walk, visiting the multiple incredible missions. Very convenient and affordable is the BCycle system. I highly recommend you to explore the city on a bike; you will see so much more!
Maxim
2016-09-09T00:00:00Z
We have stayed at many BnBs and this was easily the best one. We arrived late at night, and Sharon was very accommodating and left a key for us. The room and bathroom are very private on their own side of the house. They've thought of everything. It was a very comfortable stay!
Jonathan
2016-08-03T00:00:00Z
The home is beautiful, welcomed by tons of adorable deer. The entire place was very very clean. Sharon was so very kind, even placed a huge umbrella out with a pool inflatable for my mother to enjoy. The bed was so comfortable, I've gotten more sleep than I have in weeks. It. Was. Perfect.
ashley
2016-07-11T00:00:00Z
Room Type
Private room
---
Property Type
House
---
Accommodates
2
---
Bedrooms
San Antonio, TX, United States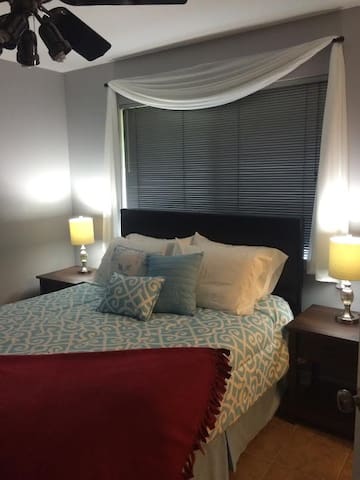 Our place is perfect for travelers of all kinds. Whether you are in town on business. or a quick get away, we have the space you're looking for!
Our home is centrally located and in a quiet neighbourhood. You will have a bedroom with a super comfy queen bed and a private bathroom directly across the hall from your room. The room has a dresser, closet and 32" flat screen tv with direct tv. We are minutes from loop 410, it's about a 15 minute drive to downtown and the river walk. We are 5 minutes from the airport and 10 from the Pearl Brewery area.
Such a beautiful & comfortable home. We felt right at home at Lisa and David's. Tebow (their dog) was such an adorable sweetie and the room was very comfy, bright and cozy. This is an excellent value for a private room and very clean and well stocked bathroom. Thank you so much for having us. We had a wonderful stay and highly recommend booking your place :-)
Cristy
2017-04-03T00:00:00Z
Lisa is a great host,we enjoyed staying at her home that is very clean and comfortable and private that is located in a quiet neighborhood ....great place to stay
David
2017-03-30T00:00:00Z
Super comfy bed! Nice private bathroom with great water pressure.
Nick
2017-03-19T00:00:00Z
David and Lisa are exceptionally friendly and inviting. True southern hospitality.
Matthew
2017-04-02T00:00:00Z
I really enjoy my stay. Very clean and confortable bed. Bathroom very accesible. My host host was extremely nice. Thanks a lot. I will definitely come back.
Sergio
2017-04-06T00:00:00Z
We had a wonderful stay! The hosts were absolutely wonderful. Would definitely stay again.
Samuel
2017-03-31T00:00:00Z
David and Lisa are exceptionally friendly. We enjoyed staying at her home that is very clean and comfortable and that is located in a quiet neighborhood .... great place to stay and the best price
RICARDO
2017-03-25T00:00:00Z
Lisa was very pleasant and helpful. Her house felt like arriving home and was very comfortable. She didn't mind that we took over her kitchen at breakfast either! I would definitely recommend a stay here!
Nicole
2017-03-24T00:00:00Z
Room Type
Private room
---
Property Type
House
---
Accommodates
2
---
Bedrooms
San Antonio, TX, United States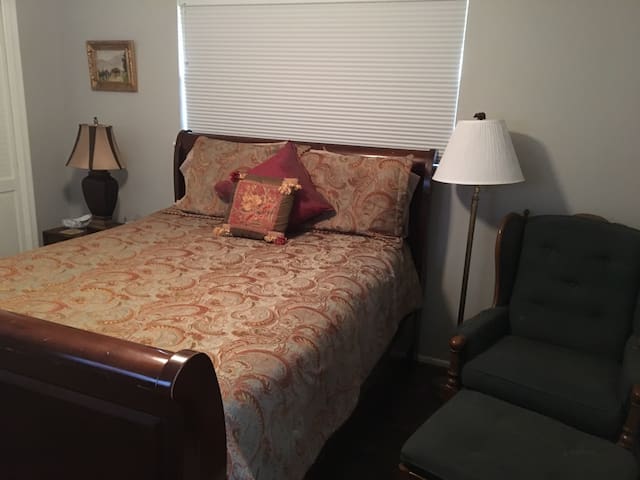 Our charming Craftsman home was built in 1915 and is only one block north of historic San Pedro Springs Park. It has been lovingly updated to provide guests with a comfortable, convenient place from which to explore this vibrant city. Only minutes from the Riverwalk, Convention Center, the Pearl, access to I-35 and I-10, you are sure to be able to get wherever you're going quickly and easily. Popular local restaurants and other venues are also nearby.
Our guest room is a pleasant reminder of the Craftsman period, decorated for the casual comfort of our guests. There is a comfortable queen size bed complete with freshly washed linens and extra pillows. The room has an en suite for your convenience and privacy. That bathroom leads to a private shower garden that, during the season, many of our guests have come to truly enjoy. Additionally the room has a beautiful light filled studio with a large antique roll top desk. The room is perfect for reading or even working if our guests need. The studio also contains a day bed giving the space the ability to comfortably provide for three guests, or simply allows for additional space to enjoy and relax. Amenities in the space include a small refrigerator, a 32" TV with HBO, Amazon TV, and Netflix, a coffee maker, plenty of plush towels, some toiletry items, a stereo, a small chest of drawers, hanging space for clothes, and WiFi connection. Additionally, our guests are invited to enjoy the public space in the house, a delightful living room, a large dining room, and a gourmet kitchen. For guests who plan extended stays additional use of the kitchen is also invited, and for our travelers who need to do a load of laundry in the midst of their travels, they have access to our washer and dryer. In short, what we have tried to do is allow our guests an experience of a comfortable welcoming space, a home away from home while they enjoy this wonderful city.
Alta Vista is a quiet neighborhood that adjoins the historic Monte Vista District, which contains some of the cities most beautiful homes. We are one block north of San Pedro Park, the second oldest public ground in North America, here you can find a Community Playhouse, Tennis Courts and a Public Swimming Pool (open in summer only). There are coffee shops within easy walking distance and its ideal location is only minutes from major city attractions.
We had a wonderful stay in San Antonio and Fletcher was warm and knowledgable about the area. We loved staying in their beautiful home and would come again. The bathroom is roomy and the ceilings are so high! The little sitting room to the side of the bedroom is a really nice space to chill out.
Kate
2016-05-27T00:00:00Z
Fletcher is a very welcoming and helpful host, with a beautiful house and garden. Our quarters were lovely, comfortable and just right, really. We appreciated the thoughtful snack, and loved being able to walk to great coffee (Press) and excellent Mexican cuisine (La Fonda) in a botanically interesting neighborhood (apart from the great architecture, there were many well-established plants). It was so nice to have a private entrance, as well.
April
2016-04-11T00:00:00Z
It's a wonderful house, far beyond our imagination. Everything deserves five stars!!! We felt totally homy in Mr Fletcher's house. The best place I have lived so far. Don't mention there is an extra outdoor shower in the backyard. I defenitely will live there when I visit San Antonio next time. It is completely worthy!
Qian
2016-08-07T00:00:00Z
Excellent and nicely private home. Hosts Fletcher and Alfredo were very gracious and helpful. Highly recommended
STEWART
2016-12-15T00:00:00Z
Fletcher's home is beautiful, accommodations are perfect and their hospitality is warm and welcoming. We could not have asked for a better experience. Highly recommend!
Laura
2016-08-15T00:00:00Z
Fletcher was a great host and the room/studio was wonderful! Fletcher has extraordinarily good taste and everything was very clean. Incredible find -- I highly recommend this one!
Colby
2016-10-11T00:00:00Z
Fletcher was a terrific host! The apartment is so wonderful -- and I can say that after having stayed at my fair share of Airbnbs. It's more like a studio than a room in an apartment. Fletcher was so hospitable and made me feel comfortable and right at home after a long day of travel. I'd recommend the room to anybody! Plus, it's in a great location. I hope to stay here again when I visit San Antonio in the future. Thanks, Fletcher!
Emily
2016-12-01T00:00:00Z
Fletcher was phenomenal. I thought I had already written a review, but I couldn't find it. So here it is. It was clean, just as advertised, and Fletcher was so friendly and helpful. Unfortunately, we only stayed one night and didn't get to spend much time there. But we will definitely book with him again if we're ever in San Antonio again! Highly recommend :)
Casey
2016-08-01T00:00:00Z
Room Type
Private room
---
Property Type
House
---
Accommodates
3
---
Bedrooms
San Antonio, TX, United States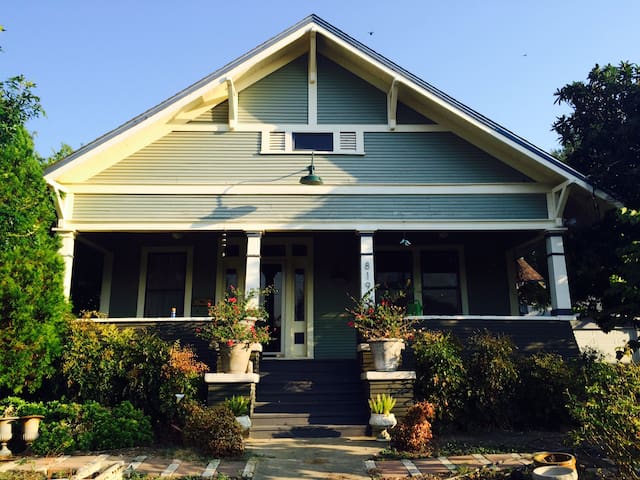 My place is close to family-friendly activities and nightlife. My place is good for couples, solo adventurers, business travelers, and families (with kids).
Great querky little house walking distance to down town/wurstfest. Very clean with comfortable beds and an awesome little back yard to enjoy. We would happily stay here again!
Kristy
2016-11-13T00:00:00Z
Shopping, Dining, River, Antique Shops, Church, River!!! What more could you ask for? Oh, the house is adorable, comfy, quaint, quiet, 1800's style charm. Everything is close by. We stayed here for a month during our relocation from Dallas to NB. It was so perfect and Kara is an amazing host!
Rhea &David
2017-03-12T00:00:00Z
This place was a great first experience with Airbnb! From the pictures, price, and location I was already expecting a nice place but it exceeded my expectations! My friends and I really enjoyed our stay and it was so nice to have the entire place to ourselves! Communication was great and their was a handbook with everything we needed to know about the place and the surrounding area! Would definitely stay again!
Alyssa
2017-03-16T00:00:00Z
Had a great time staying in the house. We went for a long weekend to float and hangout. The house was only a block away from Texas Tubes so it was easy to get to and no one had to drive. Downtown was also not very far and was a pretty easy walk.
Tamara
2017-03-19T00:00:00Z
Room Type
Entire home/apt
---
Property Type
House
---
Accommodates
6
---
Bedrooms
New Braunfels, TX, United States
My place is close to public transport and family-friendly activities. You'll love my place because of the outdoors space, the ambiance, the people, and the neighborhood. My place is good for couples, solo adventurers, and business travelers. Experience has learned we are a 10 minute drive from the airport with Uber, an $11.00 ride.
Just lovely, clean, quiet, relaxed home. We love guests, and look forward to your visit. The front rooms are my art studio, but we do have a room in the back of the house for sitting and relaxing with book or computer. People primarily relax in the bedroom. I love fresh air, and my space is cool in winter, and I like it be cool at night. Let me know if we need to adjust the temperature in the house so you can be comfortable.
This is a great stay, especially for the price. Miriam was welcoming and very sweet.
Melanie
2017-03-16T00:00:00Z
The host made you feel very comfortable and respected our privacy.
Kyle
2016-09-29T00:00:00Z
Private and comfortable. Just what was needed
Damien
2016-10-28T00:00:00Z
Nice place to stay for a stint
Norreal
2016-11-17T00:00:00Z
We had a lovely stay at Miriam's house. The room was clean and cozy and the bed was very comfortable. Miriam was easy to communicate with and a lovely host. Her dog is very sweet and friendly. Downtown is about a 15 minute drive.
Maddy
2016-12-07T00:00:00Z
We felt like home, Miriam Excellent host always reciving us with a big smile, the neighborhood was quiet and pacefull, we sleept like babies.
JOSE RICARDO
2016-09-18T00:00:00Z
Miriam's place was very conveniently located near I35. She was very accommodating & available to answer questions via phone, email or text. For my visit, she was able to allow check in earlier than posted on airbnb. The room, although not decorated with pictures on the wall, had a VERY comfortable mattress, which appeared to be very new. Plus, it was great to have a bathroom dedicated to the guest. Even though I wasn't there much except to shower & sleep, we found a few minutes to chat, which made the stay even more pleasant. The drive from downtown was about 15 min, longer during rush hour, which should be expected.
Judy
2016-10-10T00:00:00Z
I came in at almost 1000 pm and she was very gracious about me blowing her 9pm check in rules off. The dog (Kia) only barks once when you first come in and then quiets down fast. Clean towels and linens. A great value for just over 20 bucks and a great reminder that I need to express myself with some art.
Jason
2016-12-03T00:00:00Z
Room Type
Private room
---
Property Type
House
---
Accommodates
2
---
Bedrooms
San Antonio, TX, United States
This cozy private room, will make you feel at home during your journey around the globe. International traveler friendly, private accommodation with the famous San Antonian charm will satisfy all your needs for a comfortable stay for two . 3 min from I-35. 15 min to downtown/riverwalk, 15 min to the airport and 1 hour to Austin, TX.
This private room includes a Twin XL/Individual size bunker bed with wireless Internet, 32 inch flat Smart TV with Local Channels, Netflix and other popular streaming services are readily available. Shared bathroom When you'd like to freshen up, the bathroom has a bathtub and stand up shower with thick, fluffy, super soft, oversize towels and soaps, shampoos and conditioners. Family friendly amenities - Full kitchen at your service - Fully stocked laundry room - Family friendly tourist attraction brochures, maps and guides. Feel free to contact me with questions or requests.
The neighborhood is quiet and safe for walking, and we have friendly neighbors. The house is located on a public bus line to downtown, and short 15 min ride to the airport.
The house was great and so was the area. If you need to be on the east side, it's also perfect for Sam Houston military base!
Blanca
2016-09-20T00:00:00Z
Extremely welcoming family! Could not have asked for more!
Ben
2017-01-22T00:00:00Z
The room is amazing! It was clean, beds were comfortable, had all the amenities needed. The house had fast Wifi, guests were allowed to use all the kitchen equipment to cook up their own food, bathroom was also fully equipped with toiletries (and yes, towels are super soft and fluffy as mentioned!). Sofia did an amazing job communicating with us all the information we needed, especially since we had to drop off our bags before check-in time. In terms of location, there is a bus that brings you downtown, but it will take almost an hour to get there, so either drive (20 minutes) or get an Uber (about $12-14) if you want to save yourself some time. That being said, it is a great house, super cozy, both myself and my partner felt extremely at home living here. Would highly recommend this to anyone who's planning to visit San Antonio, or even to anyone who wants to stay here for a longer term!
Anastasia
2016-08-25T00:00:00Z
Mery was very nice host and the house was very clean. If I go there again I want to stay there again. So nice!
JINKYUNG
2016-08-23T00:00:00Z
This was the best Airbnb stay I ever had. I liked it so much that I stayed here for almost 2months and they are the most amazing people, will make you feel at home. The location of the house and cleanliness are upto the mark. I would highly recommend a stay over this place.
Aastha
2016-08-20T00:00:00Z
House was great! We didn't spend much time there except to sleep, but Maria was very helpful and accommodating!
Nic
2016-10-16T00:00:00Z
Great house and very welcoming! Loved my stay!
Skylar
2016-12-17T00:00:00Z
Super clean and relax place for everyone.
Emre
2016-10-09T00:00:00Z
Room Type
Private room
---
Property Type
House
---
Accommodates
2
---
Bedrooms
San Antonio, TX, United States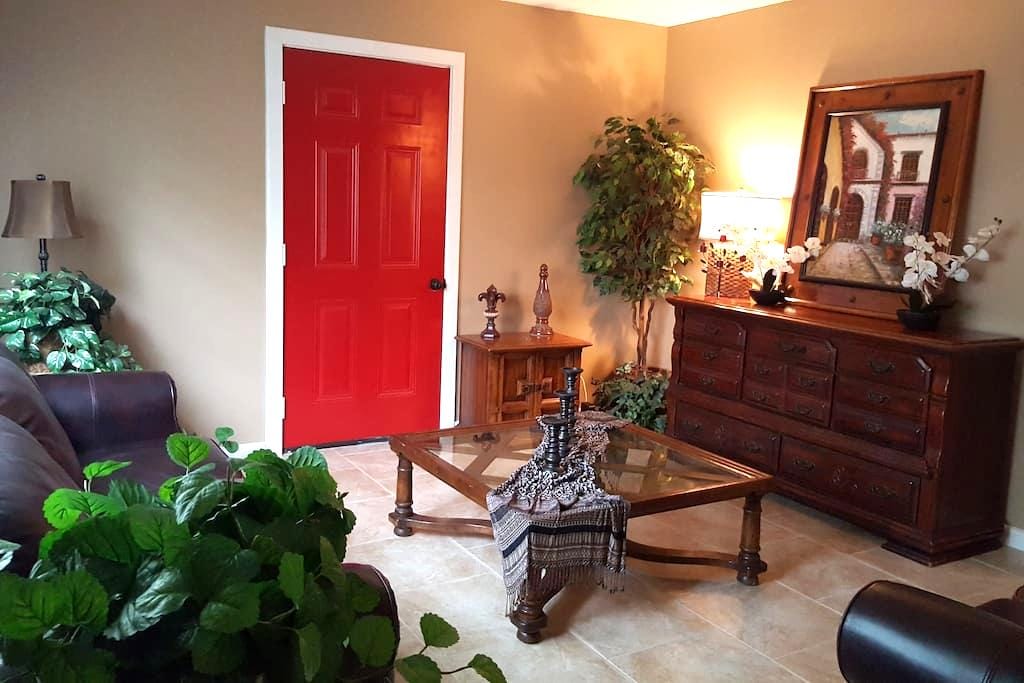 A huge Texas Oak Tree shelters our home on private mature grounds in San Antonio's Alta Vista midtown neighborhood, which is directly across the street from historical San Pedro Springs Park. Our 1910 three-story home's Private Guesthouse is luxuriously comfortable and conveniently located two miles driving distance to the Alamo, the San Antonio Riverwalk and Pearl.
The guesthouse is furnished with a super comfortable memory foam queen-sized wrought-iron bed. Your second floor quiet bedroom and bathroom has its own separate private entrance and is ACCESSED ONLY BY A REALLY REALLY small TIGHT & SKINNY SPIRAL STAIRCASE (large suitcases and bad knees, please consider my first floor listing ;) - Plush towels and high quality bed linens are assured. Please visit my FULL PROFILE PAGE by clicking on my photograph for availability at my other airbnb property LISTINGS AT THIS SAME ADDRESS AND ALSO HARMONY HILLS. This living space is located on the 2nd floor of the guesthouse and has lots of natural lighting provided by wonderful French doors that open up to the charming outdoor balcony. There is a huge full closet for your belongings The mini-kitchen is equipped with a coffee maker, tea kettle, refrigerator and a microwave. The private backyard patio garden has comfortable seats for lounging and the front porch seating area has a view of the front garden water fountain and historic San Pedro Springs Park. Please visit my FULL PROFILE PAGE by clicking on my photograph for availability at my other airbnb property LISTINGS AT THIS SAME ADDRESS AND ALSO HARMONY HILLS. The guesthouse is located directly across the street from historical San Pedro Springs Park, which has a spring-fed free public swimming pool during the summer. The McFarlin Tennis Center offers 22 lighted hard courts, with pro shop, lockers and showers. The Playhouse SA produces high quality live theatre that inspires, educates, and entertains audiences of all ages. They along with the San Pedro public library, softball fields, a grotto, a rose garden, a gazebo, a playground and a skate plaza are all located across the street within the borders of Texas' oldest park. You and our home are protected by an outside (external only) video security system. Save on transportation cost during your stay because our home is short driving distance to downtown's many wonderful eateries, bars and art galleries. The River Walk starting at the Pearl Brewery, San Antonio's new premier dining/entertainment destination, is less two miles away. Please refer to the guidebook for dining suggestions and activity recommendations nearby. Amenities: Hi-Speed Wi-Fi and a Hi-Definition cable TV with Apple TV (includes Netflix). Distances: - 5 minute drive to the city center (the Alamo, Pearl Brewery, San Antonio Museum of Art and the River Walk) - 10-minute drive to Brackenridge Park and golf course and the San Antonio Zoo located within it (Brackenridge Park is located just below the artesian headwaters of the San Antonio River) - 15-minute drive from the airport, The Quarry mall/restaurants/golf course and the Medical Center - 30-minute drive from the Texas Hill Country towns of Boerne and Helotes - 30-minute drive from many river outfitters (tubing, rafting and kayaking) along the Comal and Guadalupe Rivers - 45-minute drive from historic Fredericksburg and surrounding wineries - 60-minute drive from Austin - 45-minute drive from San Marcos outlet malls. There is easy access to public transportation with a bus stop that is less than a minute's walk from the home (information is provided below).
I love that our neighborhood offers historical San Pedro Springs Park right across the street with a live theater, tennis courts, a spring-fed pool (open in Summer) and a library. There are also mature tress and older homes all around Alta Vista and Monte Vista. Restaurants include: LA FONDA ON MAIN - an amazing Mexican restaurant. PRESS - a nearby cool coffee shop, PHO SURE - a tasty Pho restaurant, BARBARO - an award-winning bar/pizzeria, THE COVE – a live music, beer and burger restaurant, THE PEARL BREWERY - a brewery that has been converted into a 5-star hotel with amazing restaurants, shopping delights, free covered-parking and is also the start of the San Antonio Riverwalk pathway into downtown.
This location was cute, but the longer we stayed, more issues arose. The wind chimes outside were nice, but kept us up at night. They were securely fastened to the house, so we couldn't take them down. The Internet was very slow which made it difficult to respond to work emails etc. This also made it impossible to use the advertised Apple TV or Netflix.
Lauren
2016-12-09T00:00:00Z
Great place. Perfect space for two people. It was exactly as pictured and very clean. Plenty of street parking which you can see from the window. The neighborhood was very safe and quiet.
Jill
2016-09-21T00:00:00Z
Lovely and comfy place! Robert is really considerate and provides almost everything you'll ever need! They have an Apple TV which is really cool.
山杉
2017-01-22T00:00:00Z
The house was very nice. I liked the area it was in and it was easily accessible to all parts of town.
Jgmisowns
2016-02-28T00:00:00Z
We stayed at Robert's place in San Antonio for our honeymoon, and it was the best choice we could have made! The space was so tidy and airy, and the spiral staircase gave a little touch of adventure to our stay. The location was also perfect; we were within fifteen minutes of everything and enjoyed how the street that the house is on ran right into downtown! I suggest visiting the city as it is so beautiful and full of fun, and very romantic! This little Airbnb was the icing on the cake.
Sam
2016-08-14T00:00:00Z
I was greatly impressed by the hospitality we received! Despite our last minute booking, we were welcomed warmly into the guesthouse. Robert's mom graciously came out to make sure we had enough clean pillow cases although we had booked the room only a few hours before. What a happy, lovely woman! Robert also provides an excellent list of recommendations to San Antonio. We visited a few of the local eats he suggested and found ourselves quite impressed. We were very pleased with such prompt and generous hosts!
Carolina
2015-09-14T00:00:00Z
Host's parents were very accommodating upon our arrival. We, however, would not recommend this property for senior adults due to a circular staircase which is difficult to navigate with suitcases, etc. The room was clean and equipped as advertised. Bathroom was quite small and shower head did not function properly.
Gerald
2015-10-18T00:00:00Z
Entry description was accurate, welcoming snacks, pleasant neighborhood.
richard
2015-03-04T00:00:00Z
Room Type
Entire home/apt
---
Property Type
House
---
Accommodates
2
---
Bedrooms
San Antonio, TX, United States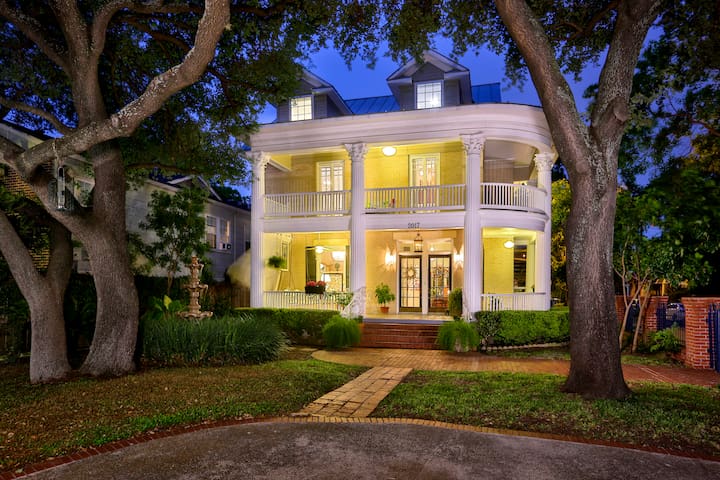 Two separate bedrooms bathroom, one low price! One bedroom has a queen, the other has 2 twin beds. You may book both rooms, $60 or just one, $40. For the 5-6th guest, there is an open space with full size bed available (Extra $20). Sleeps maximum six persons total. Owner lives in the house. It is near many restaurants, a park, airport and shopping. It is beautiful, clean and comfortable! Great place for all travelers! Check out: 7am (Mon-Fri) firm, and 10 am (Sat and Sun).
Safe, beautiful neighborhood!
Next door nature park where you can jog, bike or walk.
Lisa is an awesome host. I didn't spend much time interacting with her, but she seems really put together, and is very easy to converse with. The house is huge, clean, and gorgeous. The neighborhood is gated, safe, clean, and well maintained. I would definitely stay here again in the future.
Sam
2016-07-02T00:00:00Z
Lisa was extremely friendly and the house was very comfortable!
Brooke
2016-10-23T00:00:00Z
Lisa is so wonderful and her place was perfect for us! We have 2 young kids and a baby and she made us feel very welcome and comfortable. The accommodations were perfectly clean and her breakfast was delicious! Neighborhood was great, with a shaded park and paved trail practically across the street. It couldn't have been better!
Kami
2016-07-24T00:00:00Z
It was Really Good..
Narender
2016-10-15T00:00:00Z
Lisa was a wonderful host! The house is beautiful and very clean. The bedrooms were comfortable and exactly as described. She accommodated all needs and even made suggestions..we recommend Lisa as a host and we definitely will be back
Jj
2016-07-15T00:00:00Z
It is a stellar airbnb listing in San Antonio! The listing price is low for the hospitality you will get. Lisa was easily approachable at all times, she made sure her home was inviting, and prepared the best breakfast! The listing description and the pictures of the rooms were accurate. My friend and I felt comfortable staying at Lisa's and will do it again when in San Antonio.
Anna Maria
2016-07-18T00:00:00Z
Amazing house, Lisa is a very helpful and nice host.
Anička
2017-02-28T00:00:00Z
such the best host we've known, very friendly and kind with a beautiful and clean house
Carlos
2016-07-18T00:00:00Z
Room Type
Private room
---
Property Type
House
---
Accommodates
6
---
Bedrooms
San Antonio, TX, United States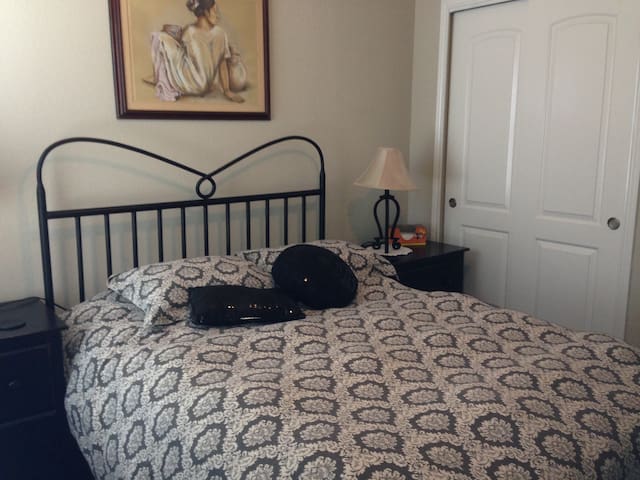 Cozy, urban home NW SA is a wonderful stay in between Sea World and Six Flags amusement parks. Less than 8 mi away from Medical Center. Have a quiet and soft stay on a queen size bed in the welcoming, comfy room. Enjoy bathroom for guest's use only. Downtown is 20-30 minutes away depending on the traffic, I'm located in the NW residential area of SA.
You will have access to your private room with a smart TV, WiFi, Netflix, queen bed, closet, ironing board and iron. Fresh towels will be provided for the shower. Feel free to share the living room with me and/or watch a movie on a big screen TV. The dining table can also be used to study.
Safe and quiet neighborhood located in NW of SA. There are plenty of places to go shopping or eat within a few miles.
Andrey is a considerate and friendly host and his home was inviting. I enjoyed my stay and loved the art work in the room.
Pat
2016-12-30T00:00:00Z
I didn't get to meet the host since I was busy most of the time I was there but Kot (his cat) was a wonderful host. Kot helped us out with a tour and the amenities. Audrey kept great communication and gave us privacy. Very respectful and beautiful home. Amazing value.
Ulises
2017-02-10T00:00:00Z
Super amazingly sweet host. The accommodations or clean and comfortable. Andrey is super nice and very welcoming. He also has a pretty cool little cat.
Angela
2017-01-04T00:00:00Z
Andrey was a great host. Everything is as described. I would recommend this place to anyone traveling to San Antonio.
Tad
2017-04-07T00:00:00Z
Very cozy room and easy to access off of San Antonio's outside loop highway 1604. Had a wonderful yet brief experience. Host was fantastic with quick communication.
Kristin
2017-01-05T00:00:00Z
Excellent value! Lovely room in a clean home with private bathroom and aromatic shampoos/soaps. Andre was a hospitable host with a kind personality. We were able to use the kitchen to store our food and eat as desired. Room has a TV with Netflix for entertainment and Andrey even offered us the living room TV to watch HBO if we wanted. We enjoyed the peaceful stay and the company of Kot, his sweet cat. We will definitely stay again if ever in San Antonio.
Cuong Kim
2017-03-14T00:00:00Z
Staying with Andrey was like staying with a dear, old friend we havent seen in some time! Everything from initial booking to the check out was superb and we could not recommend this place more. The bed was comfortable, the room was great and he even got us an extra electrical heater in case we would need it as a cold wave hit San Antonio during our stay. Andrey lives in a very nice, quiet, residential area. We loved his cat Kot, and spent quite some time playing with him! Highly recommended!
Jelena
2016-12-09T00:00:00Z
A must stay! Andrey was super nice and welcoming. He showed me around a bit and made me feel at home. Great place and great value.
Steph
2016-12-17T00:00:00Z
Room Type
Private room
---
Property Type
House
---
Accommodates
2
---
Bedrooms
San Antonio, TX, United States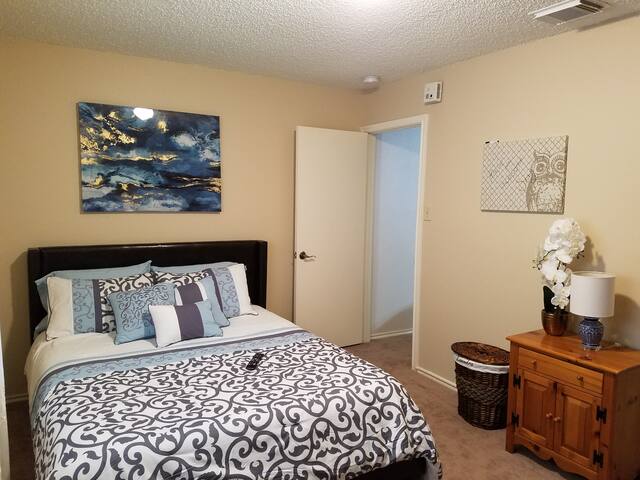 Beautiful House in Government Hill District, Centrally located close to downtown, Convention Center, Marriot, Drury Hotels, Valencia, Hemisfer Tower, Alamo Dome, "Pearl Brewery Complex", Paesanos, Zoo, Quarry Market, University of Incarnate Word, North Star Mall. 2 guests 1 private Rm & bath, incl. Dryer & washer.1 Parking St.
Cuando haga su reserva favor de poner el numero correcto de las personas que estaban en la habitación, me dará mucha pena tener que decirlo al momento que den check in y no deseo incomodarlos. Si desean agregar otra persona después de la segunda, ósea 3 o mas deberán comunicármelo por favor. Ya que el costo no sera el mismo aun duerma en el piso.
Esta Habitación #4 esta ubicada justo a la entrada de "La Mansion" La Casa y la Habitación dan directo hacia el frente del periférico 35 o I-35 (Interestatal 35) Como hablamos del periférico hay trafico de todo tipo al igual que el ferrocarril pasa muy cerca de este lugar. Si usted va a reservar este lugar es importante lea detenidamente esta información que le estamos proporcionando. Si usted no batalla con el ruido puede reservar. También le podre proporcionar tapa oídos en caso dado. Gracias por su atención.
Quiet, very clean accommodations, as described in ad. Great location close to downtown, very short Uber ride to attractions. Neighborhood looks a little rough around the edges but I didn't feel unsafe. Did not meet the hosts until I was checking out, but they were available via messaging and respond quickly. They were friendly and helpful! Great value for the price. I would definitely stay here again!
Heather
2016-10-29T00:00:00Z
The room was great and very comfortable. The location is very close to downtown. The host are extremely responsive and accommodating.
Caroline
2017-02-22T00:00:00Z
Our room in the older Victorian home was tastefully decorated and comfortable. It was spacious with 2 upholstered chairs along with a desk ( with 2 empty shelves above) and chair...providing room to unpack, set up our laptop and toiletries and stretch out. Loved the fireplace and mantle. A well appointed kitchen was available for our use. We also had a private bathroom with a shower. Great price and wonderful hosts!
Marsha and Bill
2016-09-19T00:00:00Z
Great spot, easy and fast drive to the airport! Really lovely and clean room with a shared bathroom on another floor. Easy parking. Pretty much just as described! Never met the host but they were super responsive and always answered my messages and questions promptly. While we didn't really use it the kitchen was clean and big! It's pretty close to the freeway so if road noise bugs you take earplugs (I live in a city so I didn't even notice but my mom wore some to sleep).
kaylinda
2016-11-21T00:00:00Z
Great people, very close to downtown!
Chloe
2016-09-06T00:00:00Z
A nice place and A warm welcoming The place is close to the airport and the main interesting places of San Antonio Everything is like described in the site And your host will make you very welcomed!
mathieu
2016-11-25T00:00:00Z
Great!
Bowen
2017-01-16T00:00:00Z
LOVED staying here. It's in a good area close to downtown San Antonio. Cheap Uber rides to and from the airport and downtown SA. The room (#4) was super clean and tidy and the private bathroom was great and had the toiletries included which is always nice. Osiris and Gabe were awesome and recommended places I should check out in the area. I hope to stay here again and I've already recommended this place to my friends who may visit San Antonio in the future.
Karl Lorenz
2017-01-30T00:00:00Z
Room Type
Private room
---
Property Type
House
---
Accommodates
2
---
Bedrooms
San Antonio, TX, United States
Traveling around the world solo is one of the most rewarding experiences in a lifetime, for some, it requires a big leap of faith, for others, it is an absolute adrenaline rush. Wherever you are on the spectrum, this is the perfect room for you, during your journey around the globe.
Private bedroom This suite includes a Twin-XL size bed with a pillow-top mattress, home office desk, and chair, wireless Internet, 32 inches flat smart TV with Local Channels, Netflix, and other popular streaming services are readily available. Shared bathroom When you'd like to freshen up, the bathroom has a stand-up shower with thick, fluffy, super soft, oversize towels and soaps, shampoos and conditioners. This bathroom is located upstairs of your private room in the main hallway, and it is shared with one other room/guest. Covered patio Enjoy your morning coffee, drink an ice cold tea or relax watching the sunset on our covered patio, it is the perfect way to wind up a great day out in the city. Traveler friendly amenities - Full kitchen at your service - Fully stocked laundry room - Tourist attraction brochures, maps, and guides. Feel free to contact me with questions or requests.
The neighborhood is quiet and safe for walking, and we have friendly neighbors. We are located on a public bus line to downtown, and a short 15 min ride to the airport.
Terri & Julian's place was perfect for my needs. Everything went smoothly during my short visit.
Omar
2017-01-03T00:00:00Z
Terri and Julian were excellent hosts. Very accommodating and clean house.
Joe
2017-02-04T00:00:00Z
Terri and Julian's place was perfect- I came to explore San Antonio with my son, who was recently stationed here. This was a great place to lay my head after a day spent walking and driving all over the city.
Majel
2017-02-27T00:00:00Z
The hosts were very easy to communicate with and the room had everything I needed. It was perfect for my short trip to San Antonio and I would definitely stay here again!
Gina
2017-01-31T00:00:00Z
This house is comfortable and has a good location.
Changwoo
2017-04-10T00:00:00Z
Terri and Julian were wonderful hosts!
Kate
2017-03-02T00:00:00Z
Terri and Julian are fantastic hosts. Great room and I always felt comfortable during my entire trip.
Eric
2017-01-29T00:00:00Z
A great find! Terri & Julian have a beautiful home in a quiet neighborhood close to the I-35 and not far from downtown. The accommodations were perfect: large kitchen with complimentary coffee and tea, on-site laundry, a "smart" TV with many channels, and very luxurious linens and towels. Both hosts were extremely attentive and communicative over both email and in person. The home is cleaned regularly by a housekeeper, there is driveway parking, and they offer discounts for extended stays of 7+ days. If you are travelling alone for business or sight seeing, you can't beat this cozy room. It also has a large desk and Wifi if you are looking for a quiet place or a writer's retreat. Whole-heartedly recommend this Air BnB and will be staying again.
Corey
2017-02-17T00:00:00Z
Room Type
Private room
---
Property Type
House
---
Accommodates
1
---
Bedrooms
San Antonio, TX, United States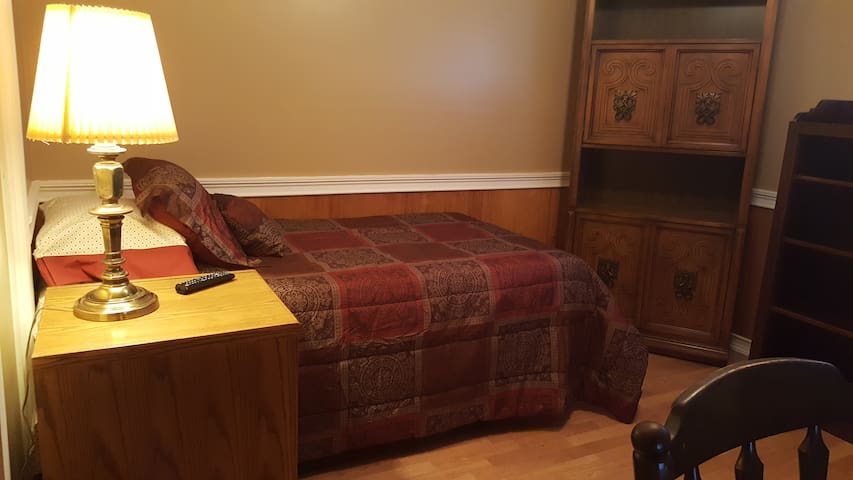 Bulverde - Airbnb
:
Average

4.79

out of

5

stars from

1052

guest reviews
1

–

18

of

300+ Home Rentals
Enter dates to see the total trip price including additional fees (but excluding any taxes).