Set in a stunning and peaceful location on The Isle of Skye, Boatbuilder's Cottage provides the perfect retreat for boat lovers and marine enthusiasts. This charming stone cottage built in 1886 is situated on the edge of Waterloo Boatyard, looking out over Broadford Bay. There is a beach, slip and a tidal mooring just in front of the cottage. We can provide additional parking space to store boat trailers if you want to bring your own boat.
Boatbuilders Cottage is the on the edge Waterloo Boatyard in the crofting township of Waterloo or Achaidhiurn (place of the Cairn), which overlooks Broadford Bay with views across to Ben na Caiileach, (the mountain of the old woman), Irishman's point and the small islands of Scalpay, Pabay and Raasay beyond. The Boatyard provides hard standing for the wintering storage ashore of boats (about 65 currently). There is also an independent boat building business operating out of the yard. The areas that are not used for the boatyard business have been extensively planted in trees over the past thirty years and have become a haven for wildlife with many species of birds, deer, pine marten, otters and increasingly, as the trees are being thinned out a wide diversity of plants and wildflowers. We also run a side business selling semi-mature trees in bags. We use the tree thinnings as boat props in the yard or for firewood. There are two woodland walks through the trees, which guests can use.
There are many beautiful places to see on Skye. There is excellent walking and mountain biking in the Cuillin mountains. There are good possibilities for kayaking, sailing fishing and other watersports. There is some great opportunities for bird watching and wildlife watching with many species right on our doorstep. both on land and at sea. The island has a rich geological and archaeological history.
A well equipped cottage in a beautiful location. The views from the cottage were stunning. Allan and Katherine were extremely helpful beforehand in advising us of problems with the ferry service which we weren't aware of. One issue alone has stopped us giving excellent reviews and that was the mattresses. Both were very thin and neither of us slept as well as usual. Apart from that, wonderful.
Marie
2016-09-13T00:00:00Z
We had a lovely stay here in Breakish. The location is perfect for exploring Skye from, close to Broadford where you have plenty of amenities & good places to eat local seafood. Our hosts Katharine & Allan made us feel very welcome & the boathouse has everything you would need. We would certainly recommend this place.
Sharon
2016-09-20T00:00:00Z
We had a great experience staying here. The place is easy to find and Allan & Catherine had prepared everything to make us feel welcome and to make the arrival very smooth. Once inside, the apartment corresponds to the description, is comfortable, clean and was perfect for our stay: it has everything you need to feel at home during your trip. Breakish is also a great base for exploring the Skye. Highly recommended!!
Ewa
2016-09-10T00:00:00Z
We were met by our host and after a quick tour we were left to ourselves. The cottage was great, in a beautiful spot and perfect to explore the island from. We loved it so much we stayed an extra night!
Alex
2016-10-12T00:00:00Z
Fantastic location, perfect in every sense
Scott
2016-10-14T00:00:00Z
The view is stunning. The house is as it is shown in the photo's. The kitchen is well equipped. We had lovely days and the kids amused their self looking for all kind of stuff on the beach. Allan and Katherine made our stay as comfortable as possible. It is a good spot for traveling around Skye. The only point of attention might be the "kuil" in the mattrass. Anyhow, it is a spot to return to.
Tjebbo
2016-10-22T00:00:00Z
Lovely little cottage perfect for a quiet getaway, amazing location right on waterfront with beautiful views and close to local amenities, less than 30 min to cuillains and 40 min drive to portree. Very friendly hosts with good communication
James
2016-08-26T00:00:00Z
While we didn't get a chance to meet Allan, his lovely partner, her son and their beautiful dog all made up for it. A very warm welcome and walkabout the house and the boatyard behind. Thank you for a nice experience.
Amitabh
2016-09-15T00:00:00Z
Room Type
Entire home/apt
---
Property Type
House
---
Accommodates
4
---
Bedrooms
Breakish, Scotland, United Kingdom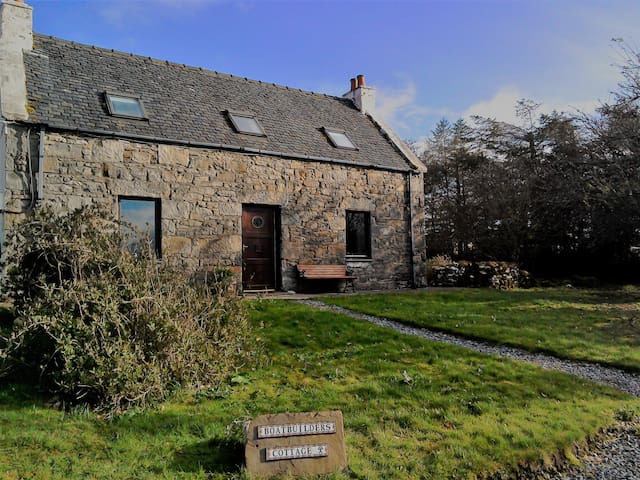 Double bedroom with ensuite walk in shower.Spectacular views ,TV,hospitality tray and continental breakfast included.
Room Type
Private room
---
Property Type
House
---
Accommodates
2
---
Bedrooms
Breakish, Scotland, United Kingdom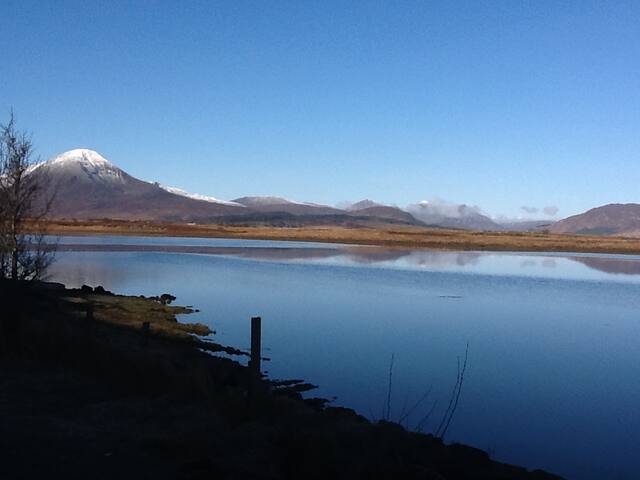 The Sea Captain's Croft is a traditional Hebridean croft , situated right on the shore near Broadford on the Isle of Skye. It offers simple but very comfortable accommodation is a simply stunning location, and would be ideal for those looking to experience breathtakingly beautiful scenery in a peaceful and calm setting. Our property is 10 minutes from the Isle of Skye Bridge, and 5 minutes by car from the shops and restaurants of Broadford.
Our croft has been in our family for over 100 years, and was home to our grandfather, Captain Neil MacLean. The house was restored around 10 years ago, and we would like to share it with you, so you can experience the beauty and calm of this wonderful part of Scotland.
Amazing place, great location and very cosy. Exceeded all expectations and highly recommend staying here if you get the chance
Chris
2017-04-10T00:00:00Z
Room Type
Entire home/apt
---
Property Type
House
---
Accommodates
4
---
Bedrooms
Breakish, Scotland, United Kingdom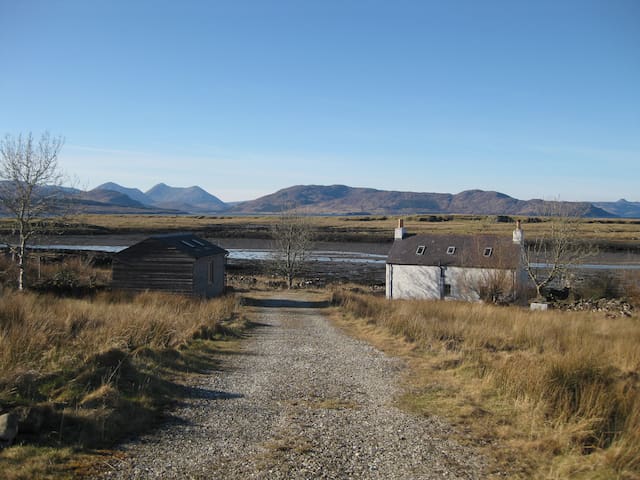 Knockenhooley Cottage is tucked away on the coast in the crofting township of Lower Breakish on the south east of the magnificently beautiful Isle of Skye. Set well back from the road down a private drive and on its own Croft, with enclosed large garden and gated parking, this traditional stone built cottage is the perfect warm and homely base for exploring all that Skye has to offer. She offers uninterrupted sea and mountain views. Surrounded by wildlife your closet human neighbour is more than 200 meters away. Yet the closest pub and restaurant is only 10 minutes walk away.
Inside the charming sitting room is warm and inviting with comfortable seating and a wood-burning stove at its centre to keep it nice and cosy. It is the ideal place to relax after a long day spent exploring the island. The stylish kitchen is well-equipped, with a dining area and even a dishwasher so there is no need to argue over whose turn it is to do the dishes! There is also a handy utility room that neatly houses the laundry facilities. The bright bottom bedroom room has French doors out to the garden's patio area, so you can open them and feel like you are 'bringing the outdoors in'. The main bathroom is modern and spacious with both a bath and a separate large shower cubicle and there is also a useful additional shower room. Upstairs are three double bedrooms, all of which are stylishly furnished with solid wood and leather bedframes and lovely views out over the surrounding countryside. The two main bedrooms are spacious and light with king-size and super King-size beds and the other bedroom is smaller but equally as attractive and welcoming. Outside there is plenty of parking on the gravelled area just by the door and there is a large grassed garden area to the rear with extensive sea views.
The cottage is part off a crofting community with beautiful elevated views over Broadford bay and the cullins. Peaceful and quiet atmosphere with sheep grazing on neighbouring crofts.
A great host and house.
Pannie
2017-01-10T00:00:00Z
This cottage has spectacular views of the water and mountains. It is freshly decorated and Elsa-Lou is very responsive.
Susan
2017-04-02T00:00:00Z
We enjoyed our stay in Skye at the Breakish Cottage. This cottage had beautiful views and our kids loved the back yard area to view the local animals in the area. Was a good central location and close to grocery stores and restaurants. Very clean and was recently remodeled. We were very comfortable during our stay.
Jenny
2017-04-05T00:00:00Z
Room Type
Entire home/apt
---
Property Type
House
---
Accommodates
8
---
Bedrooms
Breakish, Scotland, United Kingdom
Double room with spectacular views.Ensuite with walk in shower ,TV and hospitality tray n (URL HIDDEN) breakfast included
Room Type
Private room
---
Property Type
House
---
Accommodates
2
---
Bedrooms
Breakish, Scotland, United Kingdom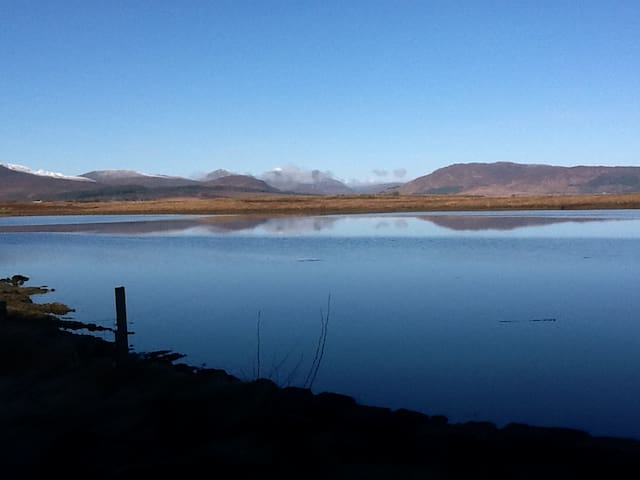 Tigh Holm Cottages are cosy, comfortable holiday homes. The cottages have open plan living room & kitchen/dining area. A utility room with washing machine, dryer and drying facilities is adjacent. Upstairs are two bedrooms & bathroom. Cot available. Views to sea, moor and mountain from garden. Walking guides and comprehensive information to help you plan your visit to Skye. WiFi.Parking Broadford with supermarket, fuel, cafes, takeaway and restaurants is a mile away.
Very nice cottage, really close to the main road, 1 mile from supermarket and fuel station, comfortable to move all around the island. Anita was very kind and helpful with us and our baby. Thanks!
Livio
2016-08-10T00:00:00Z
We were welcomed by Howard to this cottage which must rate as one of the best equipped places we have stayed in on our travels around Europe. It has been ideal for us to explore the beautiful Isle of Skye. It's location, only 10 minutes drive from the Kyle of Lochalsh, the gateway to Skye, makes it easy to get to and from the mainland over the (toll-free) bridge. It's only minutes from a range of shops, pubs and supermarket for supplies but the wealth of places to eat meant that we did very little "self catering" although the kitchen was equipped with everything needed for food preparation. The cottage was clean and very comfortable with good bed and quality bedding. It was warm and cosy and, although we had exceptionally good weather when we visited, we could imagine it would be fine if the weather wasn't as kind. There is so much information in the cottage about Skye and places to visit and we found this very useful in planning our days out. We would have no hesitation in booking this place again should we be in this beautiful part of Scotland.
Brian
2016-10-09T00:00:00Z
Everything was ok :)
Piotr
2016-10-29T00:00:00Z
Perfect, sweet cottage! Rural setting with great views but very close to a small town that had everything. Everything in cottage was very clean and convenient....and it was cozy.
Paige
2016-08-27T00:00:00Z
Great location in southern Skye. The place is on the older side, but it has everything you need and everything works just fine. Watch out for the midgeys that try to sneak in the windows!
Xavier
2016-08-24T00:00:00Z
Die Unterkunft, ein halbes Haus, unten zum Wohnen, oben mit zwei Schlafzimmer und Bad, ist komplett ausgestattet gewesen, uns fehlte nichts. Parkmöglichkeit auf dem großen Grundstück, wo wir auch draußen sitzen konnten. Ruhige Lage und freundliche, aufmerksame Gastgeber. Idealer Ausgangspunkt für die Insel wie auch das vorgelagerte Festland.
Bernd Lachmann
2016-06-13T00:00:00Z
Ce cottage de Breakish, chez Howard et Anita est vraiment très agréable et chaleureux. Nous y avons passé un très bon séjour. Il est très bien situé. Howard et Anita habitent à côté et sont charmants. Nous avons aussi beaucoup apprécié le calme des lieux.
Claudie
2017-04-11T00:00:00Z
Buena anfitriona todo muy limpio y unas vistas espectaculares con muchas comodidades en el hogar
Cristina
2016-10-17T00:00:00Z
Room Type
Entire home/apt
---
Property Type
House
---
Accommodates
4
---
Bedrooms
Breakish, United Kingdom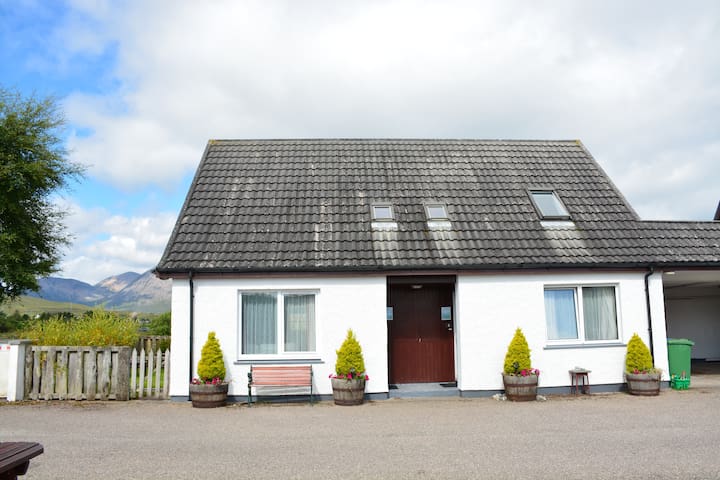 Twin room with large ensuite shower.Free wifi,TV and hospitality tray.Comtinental breakfast included?
Room Type
Private room
---
Property Type
House
---
Accommodates
2
---
Bedrooms
Breakish, Scotland, United Kingdom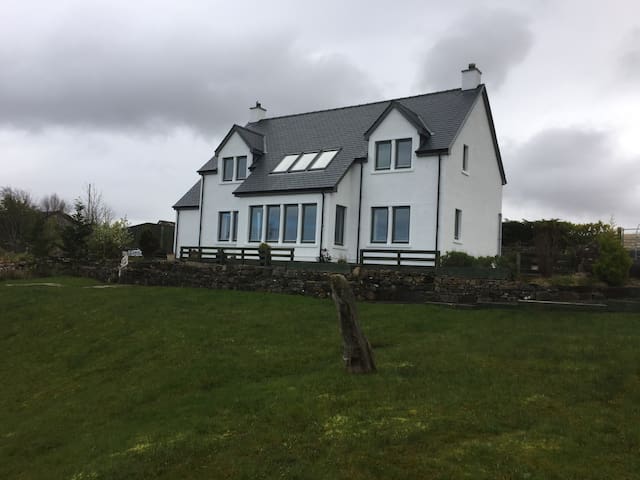 *** PLEASE CONTACT US FOR THE BEST PRICE FOR YOUR GROUP SIZE/DATES ***
Sandy beach nearby Spectacular sea & mountain views Comfortable lounges 3 bathrooms BBQ & garden furniture Piano, books & games The unique and tranquil setting of the house on its own 7 acre croft, boasts some of the most stunning panoramic views in the region, forming a very central touring base for all of Skye and neighbouring mainland. Bedrooms: The comfortable attic bedrooms comprise one Double Room ensuite and one Family Room ensuite (double plus single bed), plus a downstairs Twin Room with adjacent bathroom/WC. The upstairs bedrooms are traditional attic rooms with panoramic sea & mountain views, while the ground floor bedroom has partial views towards the Cuillin Hills and Broadford Bay. The house has a very sociable layout, with the central living-dining space providing uninterrupted views across the Inner Sound & Cullin Hills and Torridon Hills. A second living room is equipped with TV, for individuals desiring a separate space to relax, study or to play. The kitchen has a traditional cottage feel, and includes electric oven and gas hob, microwave, dishwasher, fridge/freezer, washing machine, drier, radio etc. Ashaig House is heated by gas central heating and the self-catering rental price is inclusive of heating. However please be aware that excessive consumption (running continuously) could become chargeable according to meter readings. Bed linen and towels are provided. Free parking for 4 cars. Skye's second village, Broadford, with its amenities including shops & pubs, lies within a 7 minute drive. How many guests? Suitable for families of 7, 3 couples, or 5 single guests (The third bedroom is made available for bookings received for 5+ guests.) This modernised cottage presents a home-from-home amid glorious Hebridean scenery, and the croftland in front of the house is fine for ball games, BBQs and kite-flying. The East 2 rooms of Ashaig House are not made available for let or occupied during self-catering rentals. The accommodation is self-rated as a top end 3-star+ grade property.
Bask in an early morning stroll across the golden sands of Ashaig Beach, passing Pulpit Rock, and returning by Ashaig River. On a very low tide, equipped with a pair of wellies, you can even walk across to the Ardnish Peninsula, which is nationally recognized for it's fossil deposits, providing a unique and interesting distraction for both children and parents.
We spent 4 days on Skye and stayed at Ashaig House. We were not so blessed with the weather but we had nonetheless a very nice stay! The house is easy to find and in a wonderful location: from nearly all the rooms you have a great view on the garden and behind it you see the sea and the beautiful shape of the islands. We found the house very cosy and very well equipped. I particularly liked the big window in the living room and couldnt get my eyes away from the view. Other good point: Breakish is a good location to visit the island and the mainland! We hope to come back to see more from this beautiful island and be able to walk on the white sandy beach in front of the house at low tide! :)
Isabelle
2015-05-13T00:00:00Z
This cottage is just awesome! We had everything we needed (washing machine, fully equipped kitchen, library, piano, 3 bathrooms). You can easily walk to the beach and the view out of the living room window is stunning. The cottage is perfectly located for a stay on skye. Our assumption was that it was raining much less compared to other places on the island :)
David
2015-09-03T00:00:00Z
Excellent house on the coast, lovely view to the sea and a superb island. Rooms nice and clean, much space in two living-rooms and a very well equipped kitchen. It was very enjoyable to meet John and we are only sorry that we didn`t hear some of his Klezmer music and did not have enough time to look for fossils. Thanks for hosting us, Ulli, Gundel and the family
Gundel
2013-10-14T00:00:00Z
A wonderful house in an amazing location. John was very helpful, and everything was very straight forward. Would absolutely stay again in the future. We were very fortunate with the weather and made good use of the BBQ. We found that everything we needed was provided. Highly recommended.
Kalev
2013-06-08T00:00:00Z
We really enjoyed our time at the farmhouse! It was easy to find and the accommodations were elegant, clean, and comfortable. Great location for exploring Skye and Wester Ross (which we highly recommend). Everything was just lovely!
Merritt
2014-10-01T00:00:00Z
Our stay at Ashaig House on the beautiful island of Skye was fantastic. The views from the large window in the family/dining room overlooking the sea were wonderful. The house was clean and well-stocked with everything we needed. The Coop was five minutes drive to obtain groceries and supplies. The recently tuned piano was a big plus for our musical family. We even had sunny weather for the entire visit which added to our perfect vacation.
Laurel
2015-04-24T00:00:00Z
Lovely cottage with beautiful views. John was very helpful and proactive about directions and the check in process. The cottage itself is beautiful and quite large - a perfect retreat for our 6 person family trip. Very convenient to the mainland as well as the southern part of Skye.
Lauren
2016-10-01T00:00:00Z
We arrived late in the evening and we couldn't believe our eyes the next day. What a lovely view. The house lies at a nice location from where we explored the whole island in two days. John replied very fast at our mails and was very kind and welcoming. Everything was clean, we felt very comfortable. A place we definitly would return to.
Karin
2014-03-07T00:00:00Z
Room Type
Entire home/apt
---
Property Type
House
---
Accommodates
7
---
Bedrooms
Breakish, United Kingdom
Newly refurbished self contained one bedroom cottage. Fully equipped - bright, modern, homely with a relaxing feel. Stunning views. Own off road parking. You can be totally independent and use the cottage as an ideal base to tour Skye and all it's scenic attractions. Several restaurants within easy walking distance. A warm and friendly welcome is assured to visitors from across the globe. We are happy to be flexible regarding check-in/out times if appropriate. Tea and coffee is provided.
As you can see from the pictures the cottage has a lot of space for two people, with fantastic views.
Room Type
Entire home/apt
---
Property Type
House
---
Accommodates
2
---
Bedrooms
Broadford, Scotland, United Kingdom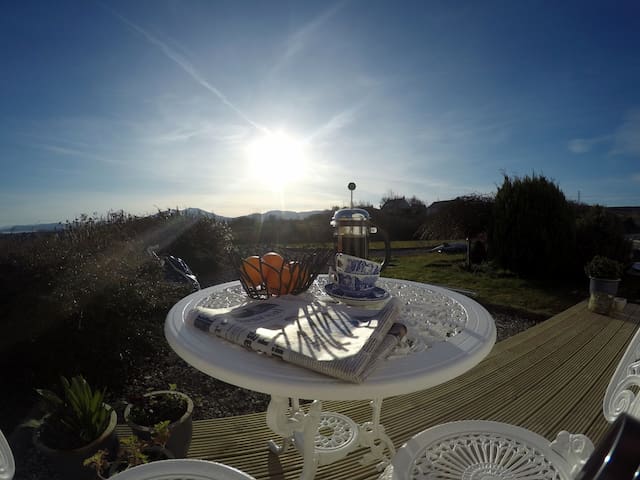 Ad Astra is a renovated (2013) Hebridean cottage, modernised to a superior and very comfortable standard. We are very proud to have been rated 4 Stars by Visit Scotlands' quality assurance scheme. (December 2016.) Ad Astra is conveniently located on Skye, 2 miles from Broadford, 5 miles from the Bridge, with stunning views of the Red Cuillins. Welcome!
Although Ad Astra was built in 1870, it's recent modernisation has brought the house up to date with clean lines, comfortable furnishings, and a cozy feel throughout. Please note the two bedrooms are upstairs, the bathroom is downstairs. The downstairs living area is open plan, incorporating the kitchen, dining, and living areas. In addition to the bathroom, there is a useful utility space at the entrance. Underfloor heating throughout the ground floor keeps the house cozy, and a combi boiler means hot water is available at any time. We are happy to provide a travel cot, high chair, and stair gates if required. We have tried to think of every comfort that we like to find in a holiday cottage ourselves, please have a look at our website for full details and more photos.
Lower Breakish is a working crofting village, with friendly locals, and a peaceful atmosphere. The house is far enough from the main road, the A87, that traffic noise is not an issue, but is still very accessible for motorists. We enjoy great sunsets, dark skies at night show off the Milky Way, and we are proud of our abundant wildlife. We have spotted otters near the house, a huge variety of sea birds and migratory birds using the inlet, seals out in open water, sea eagles, buzzards and sparrow hawks, and lots more... The village has a great beach at Ashaig, and a well known sea kayaking school (Skyak) a few doors away from us. Broadford is a short drive away with a supermarket, filling station, restaurants and shops. There are a wide variety of walking routes available nearby. We love the stunning views of the Red Cuillins from the rear of the house.
Our stay at Ad Astra was fantastic. As much of a treat as the visit to beautiful Skye itself. The home was filled with little luxuries and modern conveniences to make the stay wonderfully relaxing and a cosy little haven at the end of a day's exploring. The home was spotless and we couldn't have asked for a nicer location. Our hosts Cathy and Donald were incredibly welcoming although we didn't have the pleasure of meeting them in person their communication was brilliant and they couldn't have been more helpful, and whilst I am in no way suggesting that you do break this wonderful couples property when I did smash a glass they were very forgiving and understanding. Thank you both for such a magnificent stay and we will most definitely see you soon!
Harrison
2016-02-08T00:00:00Z
Ad Astra and Isle of Skye were the highlight of our three-week trip to the UK. After spending all day out walking, we'd return home to cook in the well-equipped kitchen, catch a nice bath in the beautiful soaker tub, then cozy up on the sofa with some wool throws to watch a movie (many available for guest's use) and finally tuck into crisp and clean beds for the evening. Absolutely perfect. The morning bunnies and sheep on the grounds were an added delight, and the espresso machine set the tone for another great day. We stayed for four nights and wished we had stayed longer. Highly recommend!
Shannon
2016-07-07T00:00:00Z
Everything about Ad Astra makes staying there an absolute pleasure. The design of the house and everything that is provided has obviously been thoughtfully considered. We loved staying in Lower Breakish and venturing out for walks and coming back to this amazing house. There is plenty of local information provided at the house to help plan your stay. We used various books to plan walks around different parts of the island and also information about eating out and self catering. We loved everything about the Isle of Skye and this wonderful house added to our experience. We would love to return one day. There is so much more to explore.
Phil
2016-07-10T00:00:00Z
Somebody wrote in a previous review that if this place is free for your dates then BOOK IT! I must say I agree wholeheartedly. This place is stylish, clean and comfy with all sorts of added touches of luxury to make your stay extra special. Although Cathy was out of the country at the time she still took the time to contact us a couple of times beforehand to make sure we were happy about directions etc. Fabulous house and a really great and welcoming host. Thank you so much.
Claire
2016-09-03T00:00:00Z
We absolutely loved our three day stay at Ad Astra and only wished we could have stayed longer! Cathy was super communicative and friendly from the very start and even got in touch with us about possible Northern Light alerts, which was really sweet of her and much appreciated. Her directions were spot on and when we arrived we found that the cottage was even better in real life than in the pictures and was equipped with everything we could need and then some. We felt so at home, and we will definitely be back. We can't recommend Ad Astra enough (although hopefully all these good reviews won't mean that it is all booked up next time we want to visit Skye!) Thank you, Cathy!
Claire
2016-08-09T00:00:00Z
We had a lovely 2 weeks stay in Ad Astra. The location was perfect for arriving on Skye after a long haul flight followed by the drive from Inverness. The cottage is very easily accessible to the rest of Skye and local amenities. Ad Astra was a delightful cottage, furnished tastefully and to a high standard. Cathy had consider every need for her guests and had gone the extra mile. I appreciated the lovely white fluffy towels and bath robes and the super comfortable beds. Having never been to Skye before, we are smitten! Thank you!! Kind regards, Jo, Chris and Alex Roberts
Johann
2016-07-24T00:00:00Z
We both had a fantastic time taking at Ad Astra. The cottage is modern with lots of great facilities for spending time on Skye. Plenty of maps and books for those wanting to get to see the isle a bit more by foot. Though we didn't get to meet Cathy all communication was simple and timely. The instructions left for us were clear and helpful. A nice touch was the bottle of NZ Sav Blanc and Oz Syrah for folk who have travelled from the Southern Hemisphere. Despite the rain it didn't stop us getting out and exploring the isle there is plenty to see and do in the outdoor side of tings and it was always nice to return to a lovely toasty cottage.
Gerard
2016-09-17T00:00:00Z
Fantastic house in a great location. Perfectly as described. Lots of very nice touches and the hosts very kindly leave DVDs and kitchen ingredients etc. Thoroughly recommend this house.
Tony
2016-04-07T00:00:00Z
Room Type
Entire home/apt
---
Property Type
House
---
Accommodates
4
---
Bedrooms
Lower Breakish, Isle of Skye, United Kingdom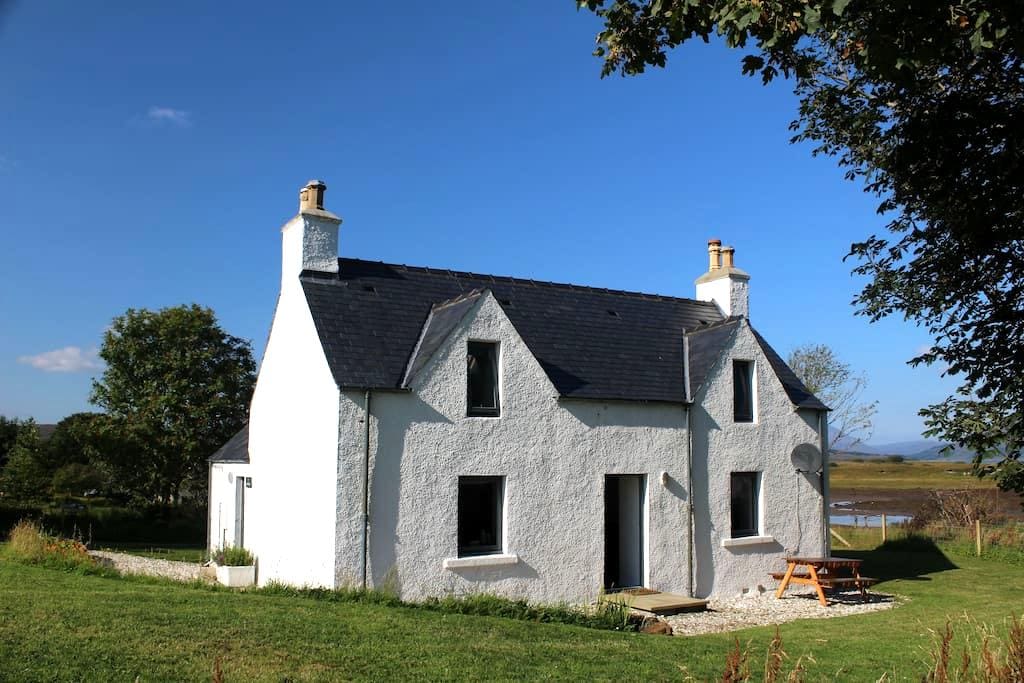 Pipers Cottage is a modernised but traditional croft house that was once home to a famous local piper. Pipers has bags of character and is a lovely cosy place to stay, Situated in the heart of Broadford.
Please note that in the bedrooms there is one double bed and two twin beds . The stove can take logs and coal .
Centrally located for exploring the whole of the Island and the Mainland. A very very good wee restaurant called Creelers is literally a 2 minute walk away.
A really nice play to stay. Comfortable and easy to find. The house is perfect!
José Sergio
2016-12-05T00:00:00Z
Susie was a great host who gave clear directions and even left us a welcome gift. Our stay was very comfortable, we didn't want to leave!
Eden
2017-03-31T00:00:00Z
Great communication. Place is just as described and spotless. Easy to find. Heating on and bottle of wine waiting on our arrival. Thoroughly enjoyed our stay and would recommend to friends.
Jenny
2017-02-26T00:00:00Z
Very nice cottage, with all necessary fournitures, well decorated and clean. There is also a lovely garden behind the house. Highchair and protection for the stairs for kids. We really loved the house and we highly recommend this place.
Carine
2016-09-04T00:00:00Z
Amazing cottage!!! Can't wait to stay there again!
Tanya
2016-11-12T00:00:00Z
My husband, myself, and my in-laws had a wonderful 3-night stay at Piper's Cottage. It is such a cute and comfortable place to stay, with plenty of room for two couples. It is in the perfect place to explore Skye, and I just wish that we had more time there! Susie was very responsive and kind both before and during our stay, and we would highly recommend staying here!
Rebecca
2016-06-18T00:00:00Z
We had a great stay at Pipers cottage. Susie made us feel very welcome and the cottage has been really well furnished and decorated. We liked the little thoughtful touches like the Skye soaps, nice toiletries and log fire all set and ready to light - much appreciated in the cold spell of weather we had! It's in a great location for exploring the rest of the island, and when you get back to Broadford at the end of the day there's a really good choice of local places to eat. We would definitely return to Pipers cottage when visiting Skye again.
Anne and Gordon
2016-04-30T00:00:00Z
The photos don't do Piper's Cottage justice! It's just beautiful, immaculate throughout and very well equipped. Really comfy beds with lovely linen. Susie couldn't have been more friendly and accommodating. Wouldn't hesitate to return!
Chloe
2016-05-14T00:00:00Z
Room Type
Entire home/apt
---
Property Type
House
---
Accommodates
4
---
Bedrooms
Broadford, United Kingdom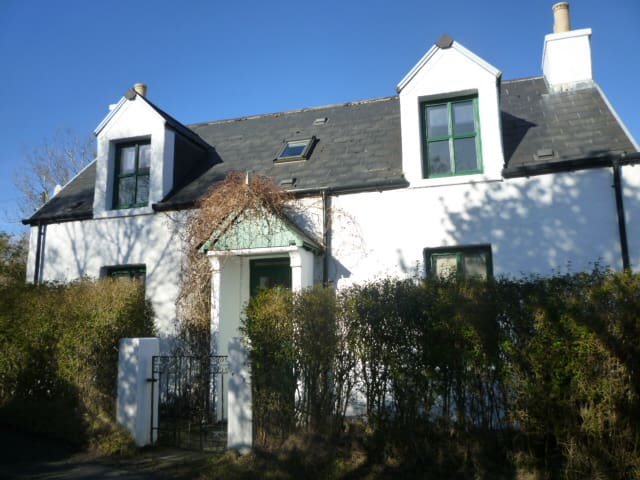 Centrally based with stunning mountain views, DunAlasdair is an ideal base from where to plan your daily excursions around the Island. With a large patio window and decking to to the rear of the property you can watch the sun set with a glass of wine, and if you're up early enough you'll see a spectacular sunrise over the mountains of Torridon to the east! The nearest restaurants and bars are a 5 or 6 minute walk, and other bars, restaurants and supermarket are within a 10 minute walk.
A contemporary longhouse design, with a bright and spacious living space with vaulted ceiling, hardwood flooring, and fantastic views.
Stunning views and a quiet location.
Beautiful little house, very nicely furnished! The house has anything you could wish for. Bradford is a good place from where to discover the isle of skye. Ali was very easy to communicate with, friendly and caring. I'd def. recommend staying there!
Julia
2016-08-18T00:00:00Z
We had some weired experiences with the toilet in the first night - Alasdair did all very well to clear the problem - thank you very much! The house has a high standard in all equipments and furnitures - to what we are used to normally. So it was a kind of luxurios stay for us and a good "base " to explore Skye. Beware the midgies.
Hubert
2016-08-25T00:00:00Z
Everything was as advertised. Beautiful accommodation in a beautiful location.
annemarie
2016-10-11T00:00:00Z
Really well equipped cottage. High quality throughout.
Tim
2016-08-29T00:00:00Z
Beautiful house, stunning views every direction. All the mod cons provided and good Internet. Excellent communication from host before and during stay. Broadford a good base for exploring Skye. Would recommend this listing for sure.
Dan
2016-09-15T00:00:00Z
Wonderful house. Everything is great. Many thanks.
Chen
2016-09-10T00:00:00Z
We were greeted by 2 Shetland ponies who were next door when we arrived. The house looks new and spotless clean. We love everything about the house. It is very well-designed and decorated. We personally love how each door and window cleverly opened up to beautiful views surrounding the house. We cooked a lot during our stay and we loved that the kitchen has everything that we needed. We had bad wifi connection on the second day there and when informed, the host was quick to response and tried his best to resolve it for us. But then again, we were told by other locals we met that having bad internet reception is normal when you are in the highlands, therefore we didn't really mind. The beds were comfy and the surrounding was really quiet at night. We slept like babies especially after a long day of sightseeing and hiking. We spent only two nights here before proceeding to Inverness. If only we could stay longer next time so that we could fully enjoy everything that's being offered in this beautiful home.
Zulkifli
2016-09-07T00:00:00Z
The house is beautifully furnished with a nice fireplace. There are restaurants and a supermarket nearby, which can be hard to come by on isle of skye so it was a perfect location for us for exploring the entire isle.
Michelle
2017-04-09T00:00:00Z
Room Type
Entire home/apt
---
Property Type
House
---
Accommodates
4
---
Bedrooms
Broadford, Scotland, United Kingdom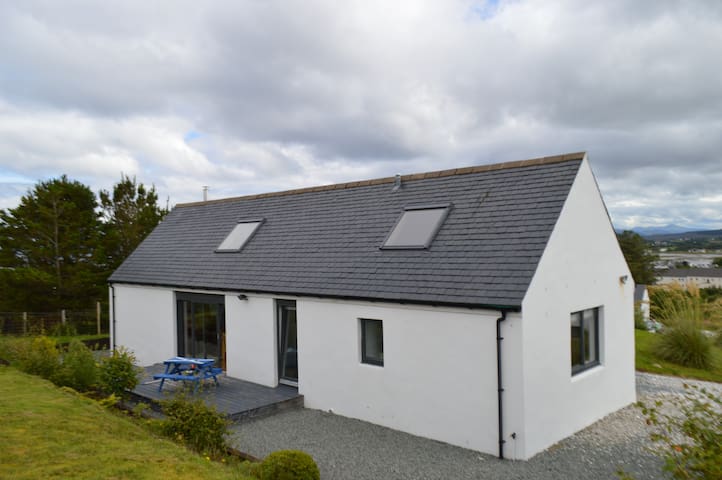 Surrounded by 87 acres of wild land, with its own seashore, Corry is a historic house in a world of its own. Built in 1790, Corry is one of Skye's oldest and most beautiful homes, hidden by trees, and sitting a hundred feet from the shore of Broadford Bay. The rest of the treasures of Skye are in easy reach, and Broadford and its restaurants are a walk or a short drive away.
Built in 1790, Corry lodge is an adored family home, with a personality and a story of its own. While it is lovingly prepared to welcome guests, it is also an old house, well-worn with highland life. This is one of two rooms on the second floor of our left wing (the other is listed as the 'snug room in historic highland home by the sea'). The bedroom has an antique four poster bed, with views over the garden; in the winter, when the trees are bare, the sea (only a hundred feet away) can be seen; in the summer, the sea is hidden by the trees . If you are approaching 6 foot or over however, the bed would be a little small and the sister, 'snug', room would be better; would also note that in the summer, the sea is more a glimpse through the spectacular trees that shelter the house). There is an ensuite bathroom, with a traditional bath with handheld shower. The room is approached down a short corridor from the main entrance hall and up a short flight of stairs. Tea and whisky on arrival; there is a sheepskin hot water bottle for cooler nights; Skye soap in the bathroom; and a kettle and everything needed to make a cosy cup of tea.
Corry is a wonderful neighborhood of its own, while offering great access to the rest of Skye and to the wider islands and highlands. On the estate, there are beautiful walks across land, up the hills at the back and along the kilometer of shore that fringes the estate. The sea can be seen from almost everywhere, with views across Broadford Bay to the islands of Pabay and Scalpay and to Applecross and the Highlands. There are also wonderful views to the Cuillins, including Ben-na-Caillich and its Viking Princess' tomb. The Lodge is within walking distance of Broadford, with a small range of local shops and the Waterfront Cafe, Cafe Sia, and the Harbour restaurant are all within walking distance and offering very good food (the Waterfront is a treasure for fish and chips, Cafe Sia is particularly well known for its wood-fired pizza). The wonderful bar at Isle Ornsay is just a short drive away. Corry is close to the Cuillins (black and red) and a wide array of islands and popular highland areas are within easy reach. Guests arriving by boat or yacht can be moored at nearby MacKinnon's Pier (see isl(URL HIDDEN) For those preparing to go on adventures or camp further afield, there is a Co-op nearby and a hardware store in nearby Kyle of Lochalsh.
We had an amazing experience at Corry House! Jeanne-Marie, John, and Ian were super friendly and warm (even baking a cake for the guests), the house is amazing and eclectic in the best way, and the location is great for exploring Isle of Skye. Big bonus for us - the 2 dogs that live there. We got to take Corrymore on two walks during out stay, which made the experience all the more memorable and special. Also, the bed was incredibly comfortable! We'd definitely recommend it and stay again!
Shari
2016-06-08T00:00:00Z
The host canceled this reservation 15 days before arrival. This is an automated posting.
Raimundo
2016-09-05T00:00:00Z
It's been a pleasure. Really nice host, enjoyed a walk together with the dogs (they're so sweet) and plenty of engaging conversation, with useful recommendations for our stay on Skye. The accommodation is exactly as described, friendly, warm and with a strong personality (lots of memorabilia). Definitely recommended if you want to go for a homely stay.
Claudio
2016-06-15T00:00:00Z
The house is fabulous with quirky gems all over the place. Jeanne-Marie is lovely host and made us feel very welcome. Would recommend this place to everyone. And credits for the good whiskey :)
Hannah
2016-09-17T00:00:00Z
Jeanne-Marie was very helpful pre-arrival and gave useful additional informations and adresses (shops, restaurant …). We met her father with whom we had interessing conversations. Corry lodge is a house of caractere and our stay there was quite and pleasant.
Gilles
2016-07-24T00:00:00Z
Before arrival the communication was very good. We met John who showed us to our room, which was very in keeping with the period of the house. The bed was very comfortable although slighlty narrow and short (it does say this in the description). The hand held shower over bath was good and the location was very quiet- good for a restful sleep! Sadly I didnt get to meet the host on arrival and my partner met her very briefly on departure.
Andrea
2016-08-20T00:00:00Z
Our stay at Corry Lodge was perfect from beginning to end. I would say that I felt at home almost immediately, from the wonderful hosts, to the comfort of the surroundings. If you don't know what to do, you will be offered some suggestions. It is extremely peaceful and restful at the lodge, deliciously quiet in the evenings. The setting is most beautiful and abounds with lovely jaunts and wonderful misty weather. The house, being so old, has an abundance of character - feels like it could tell many stories. I started missing the family and the house almost as soon as I left. Without a doubt, I would return for another visit with Jeanne-Marie and the Isle of Skye atmosphere.
Susan
2016-09-02T00:00:00Z
Jeanne-Marie is a great communicator and her home is wonderful. Thank you for the great stay!
James
2016-07-25T00:00:00Z
Room Type
Private room
---
Property Type
House
---
Accommodates
2
---
Bedrooms
Broadford, United Kingdom
Come and enjoy Skye from the comfort of our Gaelic speaking family home. Our home is based in Upper Breakish. 5 minute drive from the Skye Bridge. 5 minute drive to Broadford. 50 minute drive to Portree. 25 minute drive to Armadale. 1 hour drive to Dunvegan.
We have created a self catering, 1 bedroom apartment in the front half of our home. Our home is called Taigh Mairi, Scots Gaelic, meaning Mary's house. We named the house after the original owner. A friendly, well known, local lady. The locals called her Mary Bungalow. There is a large kitchen with dining area and open plan living room. Enjoy a real Scottish holiday experience, sitting by the log burning stove in the evenings (logs available to purchase).
See cows, sheep, horses, ducks, rabbits and buzzards. Dine in the Red Skye Restaurant. Have a paddle in the water at the golden sandy Ashaig beach.....all within a 10 minute walk.
The house is very well-equipped and super cozy. Catherine was very nice and forthcoming. Since we had really bad weather on Skye the house was a very welcome and warm retreat. It was also very easy to find. Especially because Catherine gave us directions for the arrival by ferry and also directions for when we arrive over the Skye bridge. The location is a perfect home base if you want to explore Skye by car. We had a great stay at Taigh Mhairi!
Birgit
2016-09-29T00:00:00Z
What a hidden gem! We had an amazing stay at Catherine and Pauls house, the only problem was that it was hard to leave to sight see! The place is brand new, very clean and has everything you need to cook. And the fireplace was very special. Would absolutely recommend :) Thank you for having us!
Grace
2015-11-06T00:00:00Z
We had a wonderful stay at this home. The area is incredibly beautiful. Everything we could possibly need was provided to us, so our stay was very comfortable and easy. We especially enjoyed coming back to the house in the evening and using the fireplace. We did not meet Catherine but Paul was very friendly and welcoming, we asked if they had some more firewood and he was extremely generous and provided us with more. I would definitely recommend staying here and if given the opportunity would stay here again. It is easy to drive around and access the rest of the Island from Breakish. Thanks for having us!
Alexandra Elisabeth
2015-12-02T00:00:00Z
The cottage was just as described - lovely views and equipped with everything we needed. Catherine was a very good host and made sure we were comfortable and asked if we needed anything. The cottage was in an ideal location for exploring the rest of Skye. Would love to spend a few more days in Skye and definitely would go back to the cottage.
Penny
2016-07-07T00:00:00Z
I was in vacation with mt bus and and out son of 5. Our three days in this Breakish House were amazing. The house is cosy and warm, perfectly furnished and confortable. A perfect solution for a family or a couple. The location is great for visiting both Skye and the Kyle area. Catherine and Paul are wonderful hosts, friendly and nice. We had loved this place!
Chiara
2015-08-19T00:00:00Z
Catherine greeted us when we arrived early and gave us a suggestion on a place to go for lunch. It was blustery and raining, so we did a long car trip around the isle exploring the beautiful surroundings. Mary's Cottage was such a cozy, clean & inviting place to come back to.
Marilyn
2016-09-12T00:00:00Z
My family really enjoyed our stay at Catherine's Breakish home on the beautiful Isle of Skye. Their home is in a great location on the Isle of Skye with great day trips only a few hours away (Fairy Pools and Niest Lighthouse). Catherine provided a map of an excellent walk through Lower Breakish which had beautiful views of the sea, mountains and animals (sheep and cows). Catherine, Paul and their two kids are lovely people and we enjoyed interacting with them over the course of our stay. I highly recommend staying here for your Isle of Skye adventures.
Jen
2015-08-29T00:00:00Z
We spent an excellent week on Island of Skye. We used Breakish as a starting point for our trips around Skye and we were very happy with that choice. All the family is very kind and helpful and we have only positive feelings about our stay. Everything went fluently. We also tried recommended restaurants - mainly Claymore satisfied our tastes and we returned. Many thanks to Catherine and her family to possibility stay at their house. We can only recommend.
Filip
2016-06-12T00:00:00Z
Room Type
Entire home/apt
---
Property Type
House
---
Accommodates
3
---
Bedrooms
Upper Breakish, Isle of Skye, United Kingdom
Located in the shore-side village of Broadford, Marble Cottage Holiday Let is a self contained home from home, offering comfortable and cosy seaside accommodation for couples, families and small groups of friends. Whatever your reasons for visiting our beautiful island, Marble Cottage is the perfect base to explore from!
This let was built as an extension to the family home, but is completely self contained with its own entrance, parking and outdoor space. The property sleeps four upstairs in one double and one twin room. There is a bathroom upstairs, shower room downstairs, fully equipped kitchen (no washing machine but there is a launderette a two-minute walk from the let, with coin operated washers and dryers) and lounge with comfy seating, dining table, tv and an eclectic stock of games and books. Outside there is off-street parking and a lovely colourful private courtyard garden with seating. The property sits on the shores of Broadford Bay, with sea views to the front, and mature trees with an array of nesting birds to the rear. *PLEASE NOTE: Although families with small children are very welcome, we do not supply cots or high chairs.
Broadford is a fantastic base from which to explore the rest of Skye, with all of the island's top sites and attractions within an hours' drive. Broadford, Elgol and the nearby peninsula of Sleat offer a range of cool and quirky local shops, pubs, galleries and restaurants, views of and access to the famous Cuillin mountains and lots of outdoor activities, all in a wild and beautiful coastal setting.
Great stay at Ellie's! Very nice and clean flat with plenty of space, 2 showers, central location in Broadford walking distance to some shops and places to eat and the co-op. Ellie was great and very accommodating as well, and was flexible with our check out time when I misread the instructions
Nick
2016-06-15T00:00:00Z
The whole cottage has a very welcoming air. We felt at home immediately. Absolutely everything you could wish for is provided from leaflets and books about Skye to binoculars for walks. Everything is of high quality. We were greeted by a very nice flower bouquet and some sweets, even milk was in the fridge. The location is good for exploring the island. Next to the cottage is a very fine fish and chips take away. I recommend the chili. Ellie and her family were very helpful when we had troubles with a missing suitcase. I absolutely recommend staying there!
Stefan
2016-07-10T00:00:00Z
We had an absolutely fantastic time. Ellie's house was perfect and we were super grateful for all the lovely little touches she left us!
Alex
2016-06-02T00:00:00Z
The host was not available to greet us upon arrival, however, the arrival directions were more than up to the task. The apartment was easy to find and convenient to the main road, It was also beneficial to have a supermarket and gas station so near the apartment.
Marilyn
2016-09-01T00:00:00Z
Beautiful cottage in a great location, with hiking trails, grocery and activities all near by. We really enjoyed our stay! We also appreciated the detailed info book with recommended restaurants, walks and activities. We had a few questions while at the Let and Ellie was incredibly responsive and helpful.
Jenelle
2016-08-28T00:00:00Z
Marble Cottage Holiday Let was the best of our B&B experiences in Scotland. The house is new and clean and well appointed. The location was perfect for us and Ellie went out of her way to provide us with bus schedules and maps that were specific to our needs. Highly recommended for two to four people.
Tom
2016-06-23T00:00:00Z
Marble Cottage is in a perfect location in Broadford. Walking distance to everything within Broadford. The house was very clean and comfortable and thanks to Ellie for providing milk & some yummy Skye tablet. Felt very homely and safe. Didn't want to leave. Thanks Ellie for folder with all the information about the house & Skye....we done the Misty Isle boat trip and Fairy Pools which were both amazing. Can't wait to return to Skye.
Patricia
2016-06-07T00:00:00Z
Thank you Ellie for such a lovely stay! The cottage was beautiful, really clean and cosy with everything we could need. Special mention for the fantastic kitchen which was properly equipped - not always a guarantee with holiday lets and it made such a difference to our stay. Ellie left us a lovely welcome note and some local chocolate - plus milk and fresh eggs, perfect for a cuppa when we arrived! The cottage also had a fantastic information folder with loads of beautiful local walks, which we did in the day. Great location too.
Rebecca
2016-04-27T00:00:00Z
Room Type
Entire home/apt
---
Property Type
House
---
Accommodates
4
---
Bedrooms
Broadford, United Kingdom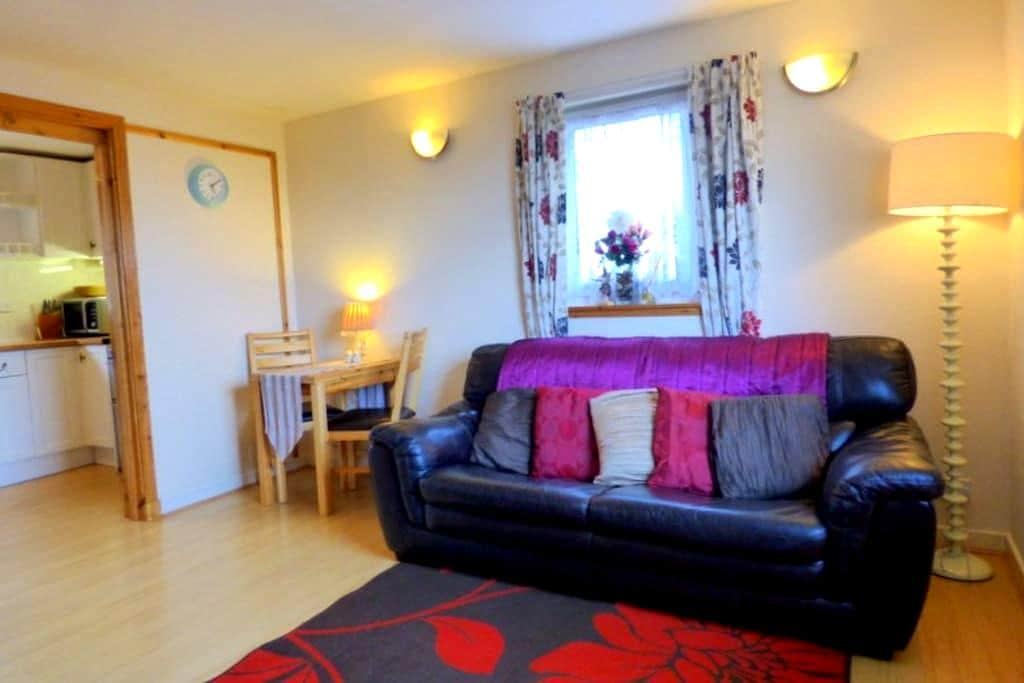 Hilton House is situated in the village of Broadford with uninterrupted views of Broadford Bay & amazing sunsets. You'll love the stunning sea views from the big windows. Great central location for hiking, wildlife, exploration & only a short walk to all the pubs and restaurants.
You have a modern fitted kitchen with oven and microwave, washing machine and dishwasher, along with all the pots and pans you'll need if you are eating. There is a really large living / dining room with fantastic views over the sea to the mainland and of the village of Broadford and the nearby mountains. There is central heating throughout so you will be cosy and warm along with a downstairs loo and upstairs bathroom. A double room with sea views can be found at the front of the house and a twin room to the rear.
Broadford is Skye's second largest village and is often voted one of the best villages in Scotland to live in. This article was written in a national newspaper - see why its the place to be! A VILLAGE on the remote Isle of Skye has emerged as one of the best places to live in Scotland, according to a guide published today by The Sunday Times. "Broadford, which has a population of about 600, has been named as one of the country's most desirable locations based on the high quality of life and stunning views on offer. The appeal of Broadford is as Skye's second biggest settlement but also as a gateway to island's other offerings" Within a few minutes walk you will find a café / coffee shop, a bakery, a book shop, market square, supermarket, petrol station, jewellery shop and several pubs and restaurants. You are also less than half an hours drive to Armadale in Sleat, Elgol, Plockton, Eilean Donan castle and the Cuillin mountains. Plenty to do nearby.
Great place to stay but can be a little bit hard for us to find the right direction. All in all, the place was quite clean and comfortable upon our arrival.
Dawn
2016-09-04T00:00:00Z
On the plus side, the views were great out the front windows and places to eat were an easy walk. But this is a house attached to a hostel. There is a connecting door so you hear people talking and phones ringing quite often. The inside is dated and needs some updating and repairs. It's an OK place to stay if you get it for a budget price, but it seems that the price changes depending on demand, and was definitely not worth what we paid.
Robin
2016-09-23T00:00:00Z
Lovely house and Mike was very accommodating despite our later-than-planned arrival! Really appreciated the clear directions as it was dark by the time we arrived. Everything was clean and comfortable and the views of the bay in the morning were spectacular.
Emma
2017-03-04T00:00:00Z
Lovely little house in a beautiful surrounding, had absolutely no problems with the house or host and really enjoyed our (short) but great stay. Had no problems with the hostel next door that other visitors had mentioned, although we were perhaps just lucky! Great little town with some lovely shops and restaurants and beautiful views!
Lucy
2016-10-23T00:00:00Z
Lovely house with amazing views across the sea.
Kate
2016-10-27T00:00:00Z
Such a great place- literally exceeded expectations! Very cosy, very warm, clean and bright, spread out over two floors. Big kitchen and 2 bathrooms. Stunning view of sunrise over the bay! Would definitely stay again!
Daphne
2016-08-11T00:00:00Z
We really enjoyed our stay! Mike and Catriona were really helpful and friendly! Hilton house is lovely and cosy with great view, even better than the photos~! convenient around Skye if with a car! Have to emphasize~The sea view was fabulous! It was a treat to come back 'home' those few days!
alyce
2016-07-18T00:00:00Z
Hosts are easy to communicate with. Great location, access to shops and restaurants. Clean and well equipped. Group of 4 recommend this property.
Reg
2016-07-07T00:00:00Z
Room Type
Entire home/apt
---
Property Type
House
---
Accommodates
4
---
Bedrooms
Broadford, Scotland, United Kingdom
Located on our working family croft in Upper Breakish, Breakish Moss Cottage has a lovely open outlook to the Sound of Raasay and seven Hebridean islands. We grow vegetables and these can be purchased as seasonably available and also free range eggs. The cottage has a cosy wood-burning stove and quality mattresses.
An added feature of the property is the delightful enclosed garden with lots of space to play, enjoy alfresco meals or merely to relax whilst watching a Skye sunset over the bay – or, if you're lucky, the Northern Lights. Whether it's a lazy Sunday morning reading the paper in front of the wood burner before a pub lunch or an afternoon on the beach with the children, Breakish Moss Cottage is a perfect base for your year round break. There is a terrace with a picnic table and a fully enclosed garden -great for dogs and children. A travel cot and high chair are available. There is wifi, washer, dryer, microwave, cooker, fridge and freezer, dishwasher, ipod dock and cd/radio. Off-street parking for 3 cars.
The village of Broadford stretches along a wide tidal bay: a fantastic place for rockpooling, birdwatching, kayaking or simply enjoying an afternoon of sun, sand and sea. It is an ideal base from which to explore Skye, with easy access to Sleat, the boat trips at Elgol, the Red and Black Cuillin mountains, and is about 30 mins. drive from Portree. It is also just 15 minutes drive from the Skye Bridge, offering opportunities to explore the hills of Kintail and the delightful villages of Plockton and Glenelg on the mainland. Broadford itself offers a range of facilities plus a variety of shops, restaurants, and galleries. It is at the centre of a network of low level walks allowing you to discover some of the area's extraordinary archaeological remains, as well as peaceful picnic spots, and tranquil places to enjoy the view and look out for dolphins, sea otters, or white-tailed eagles. Getting Around The cottage is walking distance from a variety of pubs and restaurants, shops, doctors, and a small supermarket.
Pictures accurately reflected croft. Plenty of plates, glasses, silverware. Enjoyed the dishwasher, washer/dryer. The wood burning stove nice, but not enough kindling and we were unable to find wood for purchase. Also, Alasdair did not have a hatchet so we could chop wood into kindling. Loved all the recycling, rubbish, composting, although there was not enough room in the recycling bin so we hauled recycling to Broadford.
Katherine
2016-08-18T00:00:00Z
Alasdair was quick to respond to all of our inquiries and went out of his way to make sure everything was in order when we arrived. The accommodation itself was charming and cosy and the surrounding area is, of course, beautiful. Definitely recommended.
Tom
2016-08-23T00:00:00Z
Myself and 5 friends had a wonderful stay in Alasdair's house. It was in an ideal location with easy access once you were on the island ( good as we had driven for 10 hours to get there). Alasdair welcomed us and showed us around and checked on us throughout the week. the house was fantastic for a group of walkers because it had a huge porch which we could use as a kit room and was away from the midges so we didn't get bitten whilst kitting up. the kitchen was well appointed and had everything in it that you could need. All in all we had a really lovely time on Skye and the house really helped make our time comfortable and enjoyable. The fire was great for the evenings and the view was spectacular and just a short walk to the beach to go and see those dark skies.
Florence
2015-09-13T00:00:00Z
We had a most enjoyable stay here on the Isle of Skye. This cottage is very well equipped, and in a good location for exploring the local attractions. The hosts were friendly, and conveniently live in a house just behind the cottage. They have a beautiful garden, and the lovely views from the cottage over a paddock with horses and out to the ocean added to the tranquility and relaxation of our holiday. I would thoroughly recommend this cottage!
Claire
2016-07-25T00:00:00Z
Alasdair picked us up from the local vilage when we arrived, which was a great help. The cottage is very well placed for exploring Skye and The Highlands and had all the basic requirements that we needed. I was initially worried about traffic noise as it is near to a busy road, but it was ok. We enjoyed our stay.
Susan
2016-09-13T00:00:00Z
We spent a wonderful week in Alasdair's cottage..!!! Very relaxing, only 5min walk to the beach, near to the bridge, which is nice, if you want to visit the mainland... The cottage is very cosy and the ideal place for a family holiday or a group of friends.... Skye is a magical place and it's beauty is breath taking, we went to Elgol and on a boat trip one day and that was absolutely stunning...I would recommend that trip to anybody, who goes to Skye..!! Weather wise, we thought it was a bit cool for July, but Alasdair has a stove in the cottage, that we lit every now and then... :-D he even provided us with a basket full of logs.. and with the stove on, the evenings were warm and cosy.. A highly recommended place...we hope to go again one day.. :-D
Jana
2016-08-07T00:00:00Z
Wonderful accomodations! Beautiful location and great host. Would stay again and recommend to all.
Julie
2016-05-13T00:00:00Z
Lovely cottage, perfect for a couple of days on the Isle of Skye! Very nice host!
Dominik
2015-06-14T00:00:00Z
Room Type
Entire home/apt
---
Property Type
House
---
Accommodates
6
---
Bedrooms
Isle of Skye, United Kingdom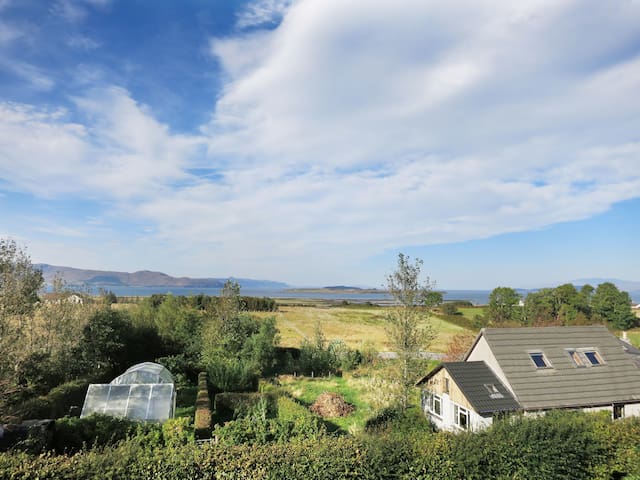 This luxurious self catering cottage is in an idyllic location, situated only a few metres from the seashore on Broadford Bay, which is one of Scotland's finest, most unspoilt nature havens. At low water the tide falls back some 100 metres and, as the sea rises to stop at the bottom of the garden, an abundance of birds feed at the water's edge. The occasional otter which crosses the shore can be viewed at close quarters from the comfort of the lounge, using the giant binoculars. Normal stays are 7 nights and benefit from substantial discount.
We took a traditional 3 bedroom cottage and transformed it in to a 1 bedroom luxury holiday destination. Bellow is a hint at what you will find: Bedroom (Upstairs) Wow! When a King Size bed is not enough try this wonderfully comfortable huge 7′ x 7′ Emperor bed with sumptuous Egyptian cotton linen. Wake up to a magnificent view over Broadford Bay. Fully equipped with a Wall mounted 42" TV with full Sky Package and a Spotify music link plus a jack plug for your own equipment (also plays in the ensuite bathroom). Ensuite bathroom Roll top His & Hers baths and His & Hers washbasins, large walk in power shower, variable mood lighting with music link from the bedroom, bathrobes and fluffy towels with hand crafted Isle of Skye Soaps. Lounge The comfortable lounge offers many features including an open fire (Gas, living flame), Bang & Olufsen TV and speakers with stereo and full Sky package, Unlimited Spotify Music link, Piano, Easily controlled mood lighting, Giant binoculars and a Tide clock. Kitchen An extensively equipped kitchen and on arrival a generous Hospitality pack. Utility/Drying Room Fully equipped with Washing Machine, Tumble Drier and a Pulley and some wellies if you fancy a walk on the beach. Reading Room iMac computer with printer as well as books, maps and an exercise bike. Downstairs Toilet Complete with a copy of the local paper, The West Highland Free Press Garden Shed Tandem bicycle, Bicycle helmets, Wellies and backpacks, BBQ charcoal, Two luxurious sun lounger chairs
Room Type
Entire home/apt
---
Property Type
House
---
Accommodates
2
---
Bedrooms
Isle of Skye, United Kingdom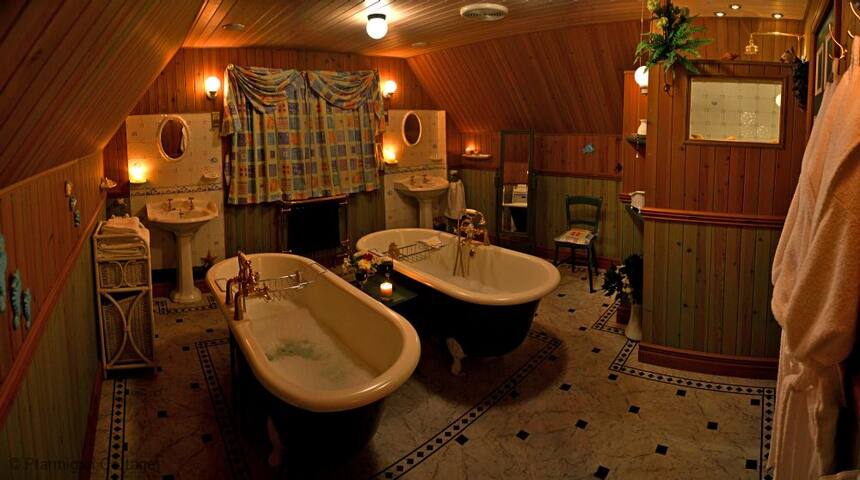 Breakish - Airbnb
:
Average

4.9

out of

5

stars from

464

guest reviews
1

–

18

of

38 Home Rentals
Enter dates to see the total trip price including additional fees (but excluding any taxes).