Peace in nature and still experience a lot ?? Then you are right here. Apartment fully equipped for max. 4 people (sofa bed in TM) - Close to the A2 / A9 / A10 motorways - Railway line RE7 Dessau-Berlin-Wünsdorf - Radfernweg R1 Paris-Moscow - Cycle Route German unit - Stage 19 Wittenberg - Beelitz - Natural bath in - course swimming without chemicals
Here they live in the holiday. Pure nature and excellent connections (A2, A9 and A10, B246 federal road, railway line Dessau-Wünsdorf), short travel times to Potsdam (30 minutes) and Berlin-Mitte (60 minutes) as well as in other tourist areas.
Borkheide is located in one of the largest pine forest areas in the region. From May to October Mushroom lovers will get their money. In the asparagus season from April to June Visits are recommended to surrounding asparagus farms of the surrounding area. By Borkheide the cycle path R1 (Paris-Moscow) and is ideal for long or short cycling.
Het is precies zoals Torsten aangeeft: Rustige omgeving maar met veel in de buurt. Met een gezin per trein naar Berlijn/Potsdam is bijvoorbeeld goed te doen, maar ook met de auto kan uitstekend. Wij voelden ons thuis in het huis en met twee supermarkten heel dichtbij en als je echt naar de bakker wil is dat ook te belopen. We waren er maar twee nachten en dat is te kort als je ook nog van de natuur wil genieten. Wij kwamen op een lastige tijd aan en hadden bovendien minder dag een dag tevoren gereserveerd. Ook in die dingen is Torsten heel flexibel.
daniel
2016-09-23T00:00:00Z
Wir waren recht kurzfristig auf der Suche nach einer Unterkunft für ein Wochenende im Grünen. Torsten hat sehr schnell auf meine Anfrage reagiert. Dabei war er sehr freundlich und ist auf meine Wünsche eingegangen. Die Wohnung war mit dem Fahrrad vom Bahnhof aus gut und sicher zu erreichen. Der Empfang war sehr freundlich. Während des kurzen Aufenthalts habe ich Torsten und ein paar Familienmitglieder in angenehmen Gesprächen kennengelernt. Die Wohnung ist liebevoll eingerichtet und toll ausgestattet. Alles war sehr sauber. Ich fühlte mich sehr willkommen. Die Wohnung liegt toll im Wald. Das war wie Balsam auf unseren Großstadt gewöhnten Trommelfelle. Brötchen und vieles mehr gab es im nahe gelegenen Supermarkt. Wir haben im Ort das Naturbad, den Fuhrpark der Freiwilligen Feuerwehr und das Flugzeugmuseum entdeckt und bewundert. Überall trafen wir auf freundlich grüssende Menschen. Es gab viele Radwege auf denen wir uns sicher bewegen konnten. Der Abstecher durch den Wald nach Beelitz Heilstätten war ein echtes Highlight.
Alexander
2016-07-18T00:00:00Z
Top Ferienwohnung, sehr freundliche Gastgeber! Wir kommen gerne wieder!
Roland
2016-04-02T00:00:00Z
Большая квартира в доме. Отдельный вход. Хозяева живут в отдельной части дома. Свой выход в сад. Очень чисто. Уютно. Тепло. Хороший интернет. Достаточно горячей воды. На кухне есть все что необходимо для готовки. Приятный городок. Нам все очень понравилось. Спасибо.
Роман
2016-05-14T00:00:00Z
Room Type
Entire home/apt
---
Property Type
Apartment
---
Accommodates
4
---
Bedrooms
Borkheide, Brandenburg, Germany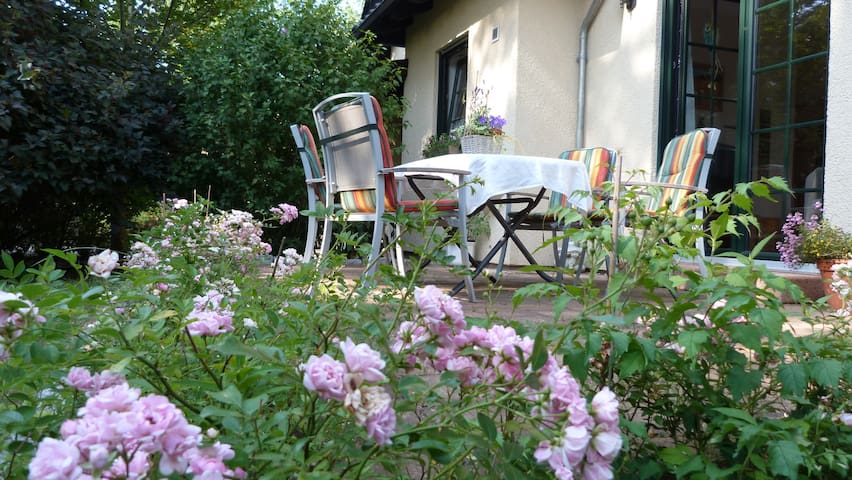 My house is near pine forests and the historic site of Beelitz Heilstätten (treetop trail) and the Erlebnishof Klaistow are in pedestrian and cycling nearby. The vacant apartment is part of the housing project (loud - live de.) And you have lots of outdoor space and in the neighborhood. My accommodation is good for couples, solo travelers, adventurers, families (with children) and big groups ... also for workshops and seminars. I rent the apartment completely or by rooms.
The house where the apartment is located, is a former barn that was rebuilt before, 2013. The decor is spartan and loving.
Tolles Wohnprojekt, durchweg liebe aufgeschlossene Leute. Gerne wieder!
Cathrin
2017-01-13T00:00:00Z
Room Type
Entire home/apt
---
Property Type
Apartment
---
Accommodates
10
---
Bedrooms
Beelitz, Brandenburg, Germany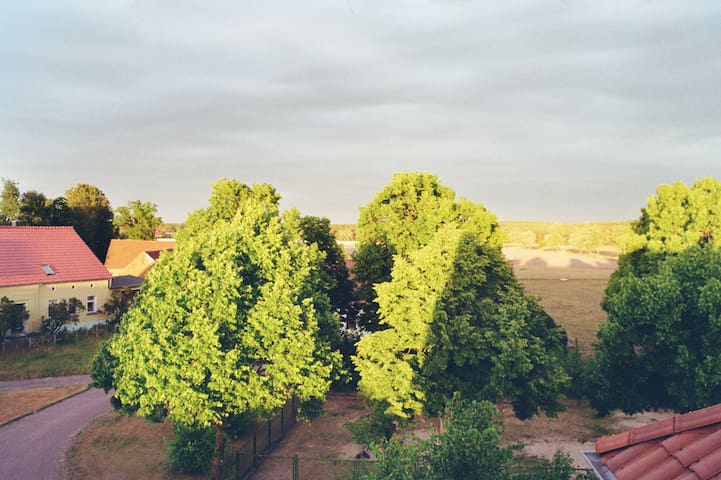 POTSDAM, BERLIN, SANSSOUCI, ROMATISCH, FAMILIENFREUNDLICH, TIERFREUNDLICH Herzlich Willkommen! Endlich Zeit. Zeit zum Genießen. Entspannung und Genuss pur. Der Hektik des Alltags entschwinden und bezaubernde Momente erleben.
Welcome! Finally time ... time to enjoy. Pure relaxation and joy. Experience magical moments and let the hustle and bustle of everyday life just disappear. Discover FERCH, the "Pearl of Schwielow lake" in it's ideal setting. And the end of the day, relax on the shore of Schwielow lake and enjoy the sunset and the peace and quiet of Nature. Spend your vacation in one of the most attractive recreational spots in all of Potsdam and Berlin, the inviting and romantic "Casa del Sol". Beach swimming area, boat yard and a variety of available dining options are, so to speak, directly on your doorstep. We gladly invite you to "Casa del Sol" and are looking forward to your visit. The vacation apartment and vacation house are currently in stages of renovation. However, reservations can now be made from June 1st. Casa del Sol Vacation Apartment The Casa del Sol is about 100 m away from Schwielow lake. Our 65 sqm vacation apartment with heated floors stretches across the whole first floor of the house that lays on a large 800 m² piece of land. The 65 sqm vacation apartment is decorated in a Mexican/Mediterranean and leaves no wishes unfulfilled. The bedroom is furnished with a double sized bed. As expected, amenities such as WIFI internet and cable television are always available. Not to mention, a flat-screen TV to watch it on. The kitchen is furnished with high-end appliances, giving you the freedom to cook for yourself on your vacation. You can reach the spacious terrace by walking through the living-room. There you'll find a built-in Whirpool hot tub. The hot tub is cool on hot summer days and warm on starry nights. The bathroom with shower, toilet and heated floors completes the overall picture. In summary: Perfect for couples, families, a vacation with friends, cyclers, or even for those just wanting a little water and sun. We even have a highchair reserved just for your little ones. Pets are welcome after pre-approval and a small additional charge. In the garden, you'll find a small balcony and an open lawn with furnished with seats, tables, and a grill that just beg you to relax. We challenge to find something that we don't have for you. We even have bicycles for adults and children for your use.
Ferch & Umgebung Caputh Bothe-Wassersport | Braumanufaktur | Einsteinhaus in Caputh | Heimatverein Caputh e.V. | Magix Wakeboarding | Reitstall am Caputher See | Schloss Caputh Ferch Fercher ObstkistenBühne | Fischerkirche Ferch | Gemeinde Schwielowsee | Japanischer Bonsaigarten | KulturForum Schwielowsee e.V. | Kulturscheune Ferch | Marina Ferch | Märkische Wildschweinbäckerei | Museum der Havelländischen Malerkolonie | Tourismusverein Schwielowsee e.V. Geltow Handwebereimuseum "Henni Jaensch-Zeymer" | Kirche Geltow | Sauna in Geltow Petzow Heimatverein Petzow e.V. | Restaurant Alte Schmiede | Schloss Petzow Potsdam Potsdamer Wassertaxi | Sehenswürdigkeiten in Potsdam | Stiftung Preußische Schlösser und Gärten | Waschbar | Weiße Flotte Potsdam Region & Brandenburg Reiseland Brandenburg | Potsdamer & Brandenburger Havelseen
We had a great time! The house was even better than the pictures. Claus and his family are nice people and very helpfull. Thank you!
Esmee
2017-02-20T00:00:00Z
Mooi Mexicaans ingericht huis. Veel ruimte voor twee personen. Rustige omgeving.
Wim
2016-10-02T00:00:00Z
Room Type
Entire home/apt
---
Property Type
Apartment
---
Accommodates
3
---
Bedrooms
Schwielowsee, Brandenburg, Germany

Our single room has been completely renovated in 2011 and thus opens up the possibility of staying in a nearly new, bright and comfortableaccommodation to spend. There are bathrobes. Please let us know if you want a breakfast, we will be happy to prepareone, which you can then take in the breakfast room to himself. If you want to treat yourself to a facial or foot treatment too, so you are welcome in the beauty salon "Petra Pieczonka" make an appointment for that. This salon is already in its second generation and offers a variety ofbeauty treatments. Cars can be parked in a large in-house parking. If required, there is thepossibility it in a garage to accommodate. Berlin and Potsdam also known attractions are nearby and are within a short time by car or public transport. For nature lovers, the surroundinggreen Märkische holds with its meadows, forests and lakes provide a richrepertoire of impressions, to see that it is worthwhile in any case. The rooms themselves are located in a quiet location on an equally quietbackyard are located, where the distance is 600m to the train station and a bus stop is located right outside the front door. If you have the desireInnensatdt to visit, so you can get to this within a few minutes by foot.
The room was beautiful and the bed was lovely, big and comfortable. The area was quiet and I really enjoyed my stay here. I wish it would have been longer than one night. Marion is a lovely lady and even though I don't speak any German, she was very welcoming and helpful. Thank you so much Marion :)
Donna
2015-11-21T00:00:00Z
Room Type
Private room
---
Property Type
Apartment
---
Accommodates
1
---
Bedrooms
Beelitz, Brandenburg, Germany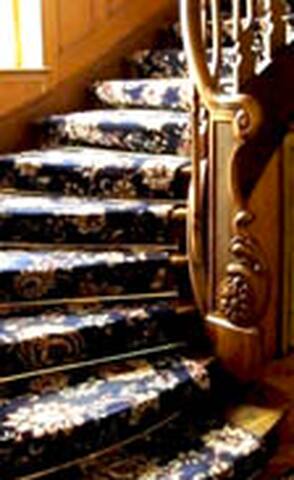 Our place is near Werder (Havel). It is situated in a rural area with recreation activities such as walking, cycling, swimming (in summer), horseback riding, golf, boat trips, sightseeing, arts & culture, ... Connections: From Werder train station 35 minutes by train to Berlin central station; from the nearby stop 40 minutes by bus to Potsdam train station; 4 km to highway A2, by car it is convenient to get about anywhere in East Germany with 3 hours
Wilko and Wenjing were lovely hosts. Very friendly, open, relaxed and accommodating. We had a great time staying at their place. The apartment is spacious, clean and comfortable. It was much larger than expected. The hosts and the apartment are very kid-friendly. I can definitely recommend staying here!
Tiffanie
2017-03-05T00:00:00Z
We had a wonderful time at Kloster Lehnin. Wilko was a delightful host, and went the extra mile to make sure we were comfortable. The apartment was tastefully and beautifully decorated, and we were very comfortable on both cold and warmer days. Plus the dogs are an absolute delight.
Ivy
2017-04-10T00:00:00Z
Really nice house and Wilco was a great host!
Stefan
2017-03-12T00:00:00Z
Room Type
Entire home/apt
---
Property Type
Apartment
---
Accommodates
6
---
Bedrooms
Kloster Lehnin, Brandenburg, Germany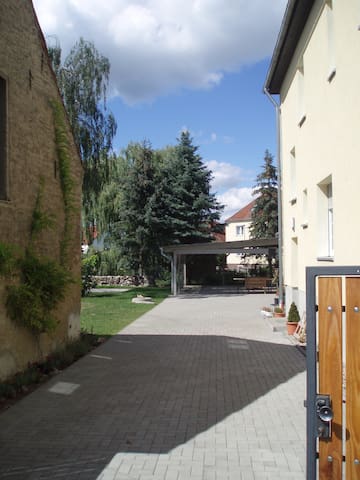 Proporcionamos a disposición nuestros viajeros joya cuando estamos viajando. Nuestra casa es muy acogedor y decorado de forma individual. Un jardín con terraza le invita a relajarse.
La planta baja tiene un gran salón con cocina. Allí se puede encontrar todo lo que se necesita para una comida relajada, té o café. Arriba se encuentra el dormitorio y cuarto de baño con bañera, ducha y WC. Una sala de polvo se encuentra en la planta baja en la zona de entrada.
El barrio no es muy grande, pero muy agradable, servicial y siempre han vuelto para una pequeña charla.
I didn't meet Mario but everything was arranged perfectly. The location is great for exploring the nearby lakes and there is a supermarket for buying food around the corner. The house is decorated individually and we loved sleeping on the water bed! A great place to stay for a relaxing weekend (or longer) away.
James
2016-07-18T00:00:00Z
Traumhafte Unterkunft, die genau beschrieben wurde.
Sebastian
2016-05-09T00:00:00Z
Wir haben Mario zwar nicht persönlich angetroffen, aber die Kommunikation zuvor war sehr freundlich und entgegenkommend. Empfangen wurden wir von seiner Mutter, die uns ebenfalls sehr freundlich begrüßt und uns Tipps zur Umgebung gegeben hat. Alles war zu unserer vollsten Zufriedenheit, die Unterkunft ist wunderschön und sehr stilvoll eingerichtet! Sehr praktisch ist, dass sich nebenan ein Rewe-Markt befindet, der bis 22:00 geöffnet hat... Alles in allem können wir die Unterkunft zu 100% weiterempfehlen!
Christiane
2016-08-17T00:00:00Z
Ich wurde sehr freundlich in Empfang genommen und das trotz meiner Verspätung. Ich habe sehr gut geschlafen, auch wenn ich eine Verdunkelungsmöglichkeit vermisst habe, am Abreisetag wurde ich sogar noch chauffiert, vielen Lieben Dank für alles.
Barbara
2016-08-07T00:00:00Z
Room Type
Entire home/apt
---
Property Type
Apartment
---
Accommodates
2
---
Bedrooms
Werder (Havel), Brandenburg, Germany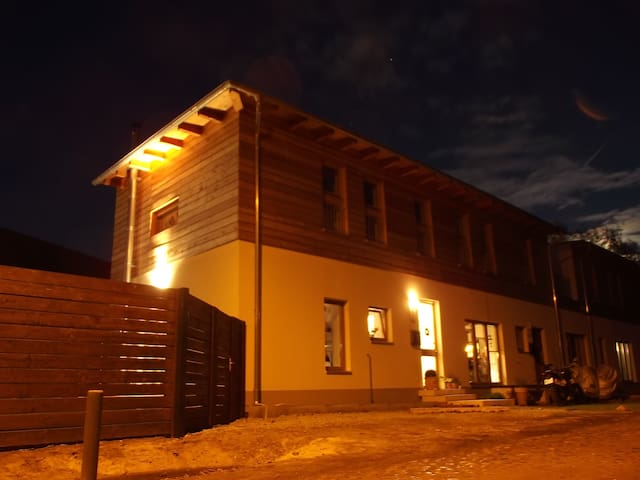 Beautiful holiday house located in Werder (Havel) near Berlin and Potsdam. Quiet place within a huge garden with view at a lake. 3 min walk to shops and restaurants. Swimming and fishing possibility. Wonderful area for bike trips. Berlin and Potsdam are nearby. Train goes every 30 min. 10 min train ride to Potsdam and 30 min train ride to Berlin city center.
Beautiful view at lake from spacious terrace. Located in huge, wonderful garden. Very quiet and relaxing place.
Room Type
Entire home/apt
---
Property Type
Apartment
---
Accommodates
2
---
Bedrooms
Werder (Havel), Brandenburg, Germany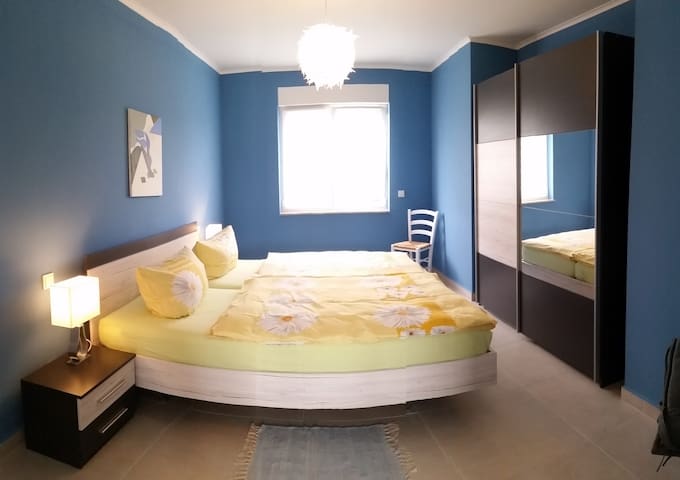 Nice little two room studio with kitchen and shower-bathroom on the 3rd floor of an old schoolhouse in Glindow. The rest of the house is a guesthouse where you may as well take your breakfast. The studio is sufficient for 2 Guests, the sleeping room is small. Get to the Autobahn in 5 Minutes (Ausfahrt Glindow), get to Berlin by car approx. 50min., the railway-station Werder in 5km. Train connection to Potsdam (15km) and Berlin (50km) every 30 minutes. Nice area for cycling and holidays, big lake only 100m away. Enjoy Berlin and relax in Glindow. Shopping of food may be done 200m from the place, restaurants are nearby (100m) and in Werder (3km). Bus station nearby, connection to the railway station Werder.
I enjoyed my stay here. The neighborhood was friendly as well as the host. If you ever come to Werder(Havel) this is a great place to stay.
Ese
2016-09-30T00:00:00Z
The region is very quiet and relaxing! The owners are very receptive!
Hulda
2016-11-27T00:00:00Z
Excellent and quiet place, nice people and surrounding, close to potsdam and not too far from west Berlin (by car)
Johnathan
2016-05-16T00:00:00Z
Die Begrüßung war sehr nett und das Notwendigste war vorhanden, sogar Butter, Marmelade und Hörnchen für das erste Frühstück! Auf dem Tisch stand ein Blumenstrauß, herzlichen Dank!
Susanne
2016-08-30T00:00:00Z
Room Type
Entire home/apt
---
Property Type
Apartment
---
Accommodates
2
---
Bedrooms
Werder, Brandenburg, Germany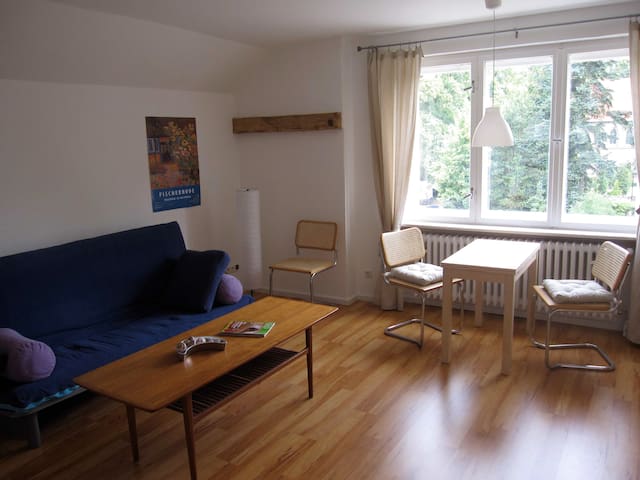 Wir vermieten in unserem großen Haus direkt am Wald ein schönes helles Zimmer. Insgesamt gibt es 2 Zimmer und damit Platz für 5 Gäste. Das andere Zimmer findet ihr unter "Sonniges Zimmer für kurze- oder lange Aufenthalte" Potsdam ist in 20 und Berlin in 35 Minuten mit öffentlichen Verkehrsmitteln zu erreichen. Diese Unterkunft eignet sich also perfekt für ein Wochenende mit "Sauna und Kultur" oder zum ruhigen arbeiten am Schreibtisch mit Blick ins Grüne.
Das Badezimmer mit Dusche und Toilette ist gleichzeitig auch das Kinderbadezimmer. Mit dieser Unterkunft kann gegen einen Aufpreis auch unsere Sauna mit Pool genutzt werden. Durch die Nähe zu den Universitäten von Berlin und Potsdam bieten wir die ideale Unterkunft für Eltern die ihre Kindern bei der Wohnungssuche am neuen Studien Ort unterstützen möchten. Auch wenn sie ihre Kinder besuchen möchten, ist die Lage des Hauses ideal. Möchten sie zu zweit ein entspanntes Wochenende in Berlin oder Potsdam verbringen und nach ihren kulturellen Unternehmungen wieder die Ruhe genießen, können Sie dies in unserem kuschligen Zimmer. Auf Wunsch gibt es ein richtige gutes "Sonntags Frühstück" auf Ihr Zimmer (gerne auch bio) Wir freuen uns auf Sie!
Room Type
Private room
---
Property Type
Apartment
---
Accommodates
2
---
Bedrooms
Michendorf, Brandenburg, Germany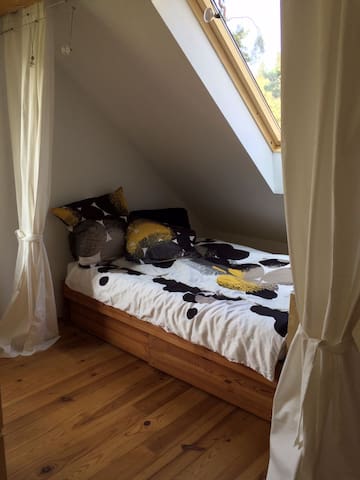 Mi alojamiento es en Werder (Havel), cerca de Berlín / Potsdam se encuentra en una zona con lago en medio de un huerto. Las tiendas y restaurantes están a 3 minutos a pie. Se puede nadar o ir a pescar en la zona de baño inmediatamente adyacente. Con la forma en bicicleta para explorar los alrededores. pero también se pueden hacer excursiones culturales a Berlín y Potsdam. En tren se encuentra en 10 minutos en Potsdam y 30 minutos en el centro de Berlín. El tren pasa cada 30 minutos.
Room Type
Entire home/apt
---
Property Type
Apartment
---
Accommodates
3
---
Bedrooms
Werder (Havel), Brandenburg, Germany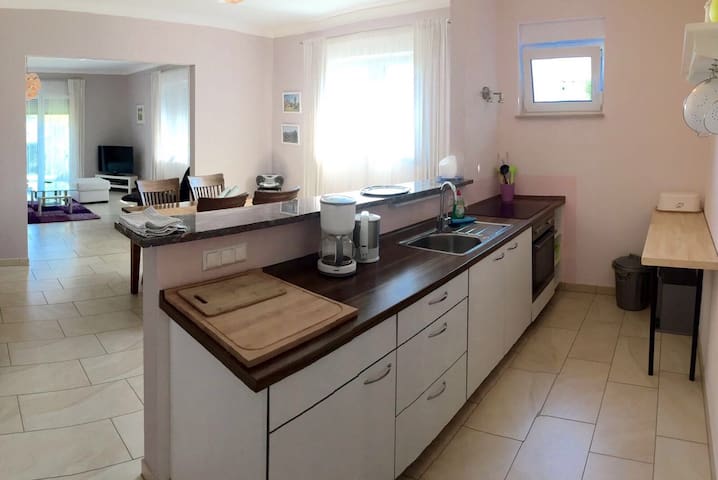 Stilvolle Wohnung im Erdgeschoß in der Villa Herold in Caputh mit seperatem Eingang und sehr guter Verkehrsanbindung nach Potsdam und Berlin. Der Bahnhof ist nur 200 m vom Haus entfernt und man ist in ca. 10 min am Potsdamer Hauptbahnhof.
Dies ist eine komplette stilvoll eingerichtete Wohnung mit mediterranem Charme in der VILLA HEROLD in CAPUTH (Bewertungen findet ihr auf meiner eigenen Webseite, da ich hier neu bin, sind hier noch nicht so viele) mit seperatem Eingang, Fußbodenheizung, barrierefreie Dusche, WLAN, Terasse mit Grill, in einer reizvollen und ruhigen Umgebung. Bettwäsche und Handtücher sind inclusive. sehr gute Anbindung an Potsdam und Berlin Bus , Bahn
Die Villa Herold und die Ferienwohnung befindet sich am Ende einer Sackgasse, dahinter märkischer leicht hügliger Kiefernwald. Vor dem Grundstück in einer Schlucht fährt ab und an ein Zug. Ansonsten ist das Grundstück absolut ruhig gelegen. Der Schwielowsee ist ca. 5 min entfernt(Bild 27) Das tourstische Zentrum von Caputh ist an der Fähre. Im Restaurant Zum Fährhaus kann man gut essen und der dort selbst gebackene Kuchen ist einfach unschlagbar lecker(Bild 26) Von der Seebrücke und Cocktailbar " Al Faro " im Strandbad / Seebad Caputh (Bild28) haben Sie ein fantastischen Blick über den Schwielowsee. Einen Hauch von Karibik wird Ihnen ein abendlicher Sonnenuntergang bescheren
This was a wonderful place. Torsten is a perfect host. I felt like we were living in a mansion for the 5 days. Will definately try to come back in the summer time.
Jeffrey
2015-12-28T00:00:00Z
The main disadvantage is that there is only one room with one bed and one sofa bed! I booked the place after searching for a place with 2 rooms. Torsten put his flat with 2 rooms and made a trick that he put additional price for the second room in his text! Although, the place is very beautiful and clean inside and outside the flat.
Mohamed
2016-09-23T00:00:00Z
Torsten ist ein super Gastgeber! Hilfsbereit, sorgsam, immer da, wenn man ihn braucht und auch immer für ein Gespräch bereit. Er hat uns frische Tomaten aus dem eigenen Garten angeboten und zum Cocktail eingeladen. Die Wohnung ist mit allem ausgestattet was man braucht. Es fehlt an nichts und das Strandbad ist in ein paar Minuten zu Fuß zu erreichen. Ab und an kommt mal ein Zug vorbei, aber die Stille danach war für uns Stadtmenschen wie im Paradies. Wir würden auf jeden Fall wieder zu Torsten kommen! 1000 Dank!
Jey
2015-08-15T00:00:00Z
Wir fühlten uns gleich von Anfang an willkommen. Die Villa sieht genauso aus wie auf den Fotos. Der Bezug der Wohnung war sehr unkompliziert. Die Wohnung war exakt so wie beschrieben und ist sehr liebevoll gestaltet. Es fehlte an nichts! Als sich unsere Kinder spontan ankündigten, konnten wir problemlos ein weiteres Zimmer anmieten. Für Ausflüge nutzen wir teils das Auto, aber auch gerne die Bahn, die sich ganz in der Nähe befindet. So waren wir flexibel und konnten unseren Aufenthalt bei Torsten geniessen. Sogar eine kleine Grillparty war möglich. Wir kommen sehr gerne wieder und Danken Torsten für die schöne Zeit in dieser einmaligen Oase!
Fabienne
2015-04-13T00:00:00Z
Het verblijf in Caputh in het appartement van Torsten was heel fijn. Het huis waarin het appartement zich bevindt is werkelijk een plaatje. Ook de tuin waarvan je lekker vanaf je terras kan genieten is geweldig. De foto's geven precies weer zoals het er uit ziet. Je kan zien dat Torsten alles met veel zorg onderhoud. Ook het appartement is mooi, schoon en rustig gelegen en van alle gemakken voorzien is. De douche en het bed waren erg comfortabel, de keuken is van alle gemakken voorzien. Torsten is een prettige gastheer waarbij we ons meteen welkom voelden. Hij liet ons uitgebreid het appartement zien. We mochten ook gebruik maken van fietsen, barbeque en een wasmachine. Voor eventuele vragen was Torsten altijd bereikbaar. De rustige omgeving bij bos en water is erg de moeite waard. De twee dagen die wij hadden uitgetrokken om de omgeving te bekijken, waren eigenlijk te weinig. Als we nog eens terug zijn in deze omgeving zouden we graag wat langer bij Torsten in het appartement verblijven. We hebben ons heel thuis gevoeld in het appartement en het was jammer dat het zo kort was.
Jolanda
2016-05-05T00:00:00Z
Wir haben uns sehr wohl gefühlt in der Ferienwohnung und kommen gerne wieder! Die Wohnung war sauber und gemütlich und Tosten ein sehr netter und verfügbarer Gastgeber. Persönliches Highlight was der Whirlpool, den dazuzubuchen können wir sehr empfehlen!
Marie
2016-01-01T00:00:00Z
Sehr netter Empfang, Thorsten ist sehr unkompliziert und bemüht. Das Haus ist wie beschrieben - sehr schön Hat uns sehr gut gefallen - Danke
Norman
2015-09-06T00:00:00Z
Wir hatten eine sehr gute Zeit in Torsten's Apartment. Es ist sehr gut gelegen und umgeben von einem wunderschönen Garten. Die Terrasse ist ein Traum. Torsten hat alles getan um unseren Aufenthalt so gut wie möglich zu gestalten. Wir kommen wieder!
Christian
2016-03-30T00:00:00Z
Room Type
Entire home/apt
---
Property Type
Apartment
---
Accommodates
4
---
Bedrooms
Schwielowsee, Brandenburg, Germany
Unsere Ferienwohnung der Kategorie IV bietet Raum für 3 Personen, Aufbettung möglich. Die Ausstattung lässt keine Wünsche offen. Der großzügiger Außenbereich steht Ihnen jederzeit zum Relaxen, Grillen, für Spiel und Spaß zur Verfügung.
- Belegung: 2 Personen/Doppelbett im Schlafzimmer, 1 Person in kleinem Einzelzimmer, - zusätzlich sehr bequeme Aufbettung im Wohnzimmer möglich - ruhige Lage, nahe am Waldrand, Natur pur - abgeschlossene, komplett eingerichtete Ferienwohnung - geeignet für Allergiker - großzügiger Außenbereich, Terrasse und Balkon - Bildergalerie der Malerin Margitta Kochman - zentral gelegen für Ausflüge in die Natur zu Fuß, per Fahrrad, mit den Pferden - zentral gelegen für Ausflüge mit den öffentlichen Verkehrsmitteln oder dem Auto in die nahegelegenen Großstädte
- kleiner, zentral gelegener Ort - Naturschutzstation mit organisierten Wanderungen (z. B. zu den Großtrappengebieten) - Reiterhof Peters im Ort - Radtouren - Burgenwanderweg, Kunstwanderweg, Eselwanderungen - Naturbäder - Thermalbäder
Perfect!
Eudora Ralph
2015-08-16T00:00:00Z
Room Type
Entire home/apt
---
Property Type
Apartment
---
Accommodates
3
---
Bedrooms
Brück, Brandenburg, Germany
It is a wonderful house situated on a perfect island. It is hard to find a more beautiful place. The house has all you might need, very stylish and clean. From the kitchen you can see a historical windmill and an ancient cathedral. Rustic landscape where you can really experience the best of local life. Very nice and attentive hosts, everything was perfect. We would like to come back.
Tania
2015-01-05T00:00:00Z
Es hat uns super gefallen: Sehr gemütlich, super Lage, sehr sauber und Vor-Ort Betreuung war perfekt. Vielen Dank auch für den Abholservice vom Bhf und den kleinen Osternasch!
Jules
2015-04-05T00:00:00Z
Sehr nette Wohnung mit allem ausgestattet, was man so benötigt. Die Lage ist traumhaft genauso wie die Umgebung. Tolle Betreuung durch die Verwalterin, Fr. Rouven.
Jörg
2015-04-01T00:00:00Z
Leider hatte eine heftige Grippe verhindert, dass wir unsere geplante Reise zur Ferienwohnung antreten konnten. Von Jutta und Gerd haben wir dann umgehend und unkompliziert die nötigen Unterlagen erhalten, um diese bei unserer Reiserücktrittversicherung einzureichen. Nochmal vielen Dank dafür. Die Versicherung hat uns übrigens gestern das Geld überwiesen. Wir hoffen sehr, dass wir noch in diesem Jahr die Reise nach Werder nachholen können.
Jürgen
2015-03-05T00:00:00Z
Die Erdgeschosswohnung ist mit ganz viel liebe und allen wichtigen und notwendigen Gegenständen ausgestattet. Die Lage direkt am Wasser ist fantastisch. Wir wurden sehr nett empfangen und haben viele gute Tips erhalten. Wir würden die Wohnung jedem weiterempfehlen!
Silke
2017-03-17T00:00:00Z
Traumwohnung im blau-weißen Landhausstil! Die Unterkunft ist wirklich wunderschön - sauber, wohnlich, modern, hochwertig und alles perfekt aufeinander abgestimmt. Alle Angaben in der Beschreibung sind richtig und der Preis ist mehr als gerechtfertigt. Die Küche ist super ausgestattet, das Bad hat alles was man braucht (tolle Dusche!) und überhaupt lässt die Wohnung keine Wünsche offen. Herr Grieshaber war bei der Buchung sehr freundlich und zuvorkommend. Empfangen wurden wir in Werder von einer ortsansässigen Ansprechpartnerin, die ebenfalls sehr freundlich war und gern unsere Fragen beantwortete. Sehr gut gefiel uns auch, dass in der Wohnung eine Mappe mit den wichtigsten Telefonnummern, Empfehlungen für Restaurants, Tipps für Aktivitäten etc. bereit lag. Die Insel ist sehr schön und vor allem sehr ruhig. Nach Potsdam braucht man mit dem Auto nur 25 Minuten. Wir sind wirklich begeistert und kommen gern wieder!
Sarah
2014-09-27T00:00:00Z
Wir waren mit unserer 2-jährigen Tochter zu Weihnachten in der Ferienwohnung und haben uns auf Anhieb sehr wohlgefühlt. Wir hatten sogar das Gefühl, dass die Fotos nicht die Gemütlichkeit und Besonderheit der Wohnung widerspiegeln. Vor Ort hat uns Frau Rouvel empfangen, die sehr freundlich und zuvorkommend war. In der Wohnung lag für unsere Tochter ein Schoko-Weihnachtsmann und eine kleine Tüte Gummibärchen sowie eine Flasche Mineralwasser für uns bereit. Die Heizung war angestellt, sodass die Wohnung mollig warm war. Die Wohnung ist geschmackvoll mit Bodenheizung eingerichtet, die Möbel (Armaturen, Einbauküche, Waschbecken, Duschkabine…) sind von hoher Qualität, die Wohnung ist sauber, das Geschirr neuwertig. Der Blick auf den See ist besonders, leider konnten wir die beiden Terrassen bei der Kälte nicht nutzen. Aber im Sommer ist es bestimmt ein Genuss auf der Terrasse Zeit zu verbringen. Zudem hat mir die Ausstattung mit allen relevanten Reinigungsutensilien gefallen. So konnte ich mich noch mehr wie zu Hause fühlen. Die Küche war voll ausgestattet, und es hat große Freude bereitet dort zu kochen. Die Ferienwohnung hat zur Unterhaltung einen Flachbildschirm mit HD-Fernsehen, spannende Bücher und einen CD-Player mit Radio anzubieten. Im Schlafzimmer war ausreichend Platz für das Kinderreisebett unserer Tochter. Allerdings wird das Schlafzimmer vom Wohn-/Esszimmer lediglich durch eine Schiebetür getrennt, d.h. es ist deutlich Lärm aus dem Wohn-/Esszimmer zu vernehmen. Die bodentiefen Fenster haben Fensterläden, was der Wohnung einen romantischen Eindruck verleiht. Leider kann das Schlafzimmer trotz der Fensterläden nicht ganz verdunkelt werden. Ein weiteres Minus waren Tierhaare auf manchen Möbeln (in der Wohnung sind Tiere erlaubt). Wir können die Ferienwohnung ohne Einschränkungen weiterempfehlen. Sowohl die Lage, die Ausstattung, die Sauberkeit als auch die freundliche Begrüßung und Unterstützung vor Ort hat uns überzeugt. Wir werden die Ferienwohnung sicherlich erneut anmieten, möglicherweise die obere Wohnung aufgrund der getrennten Schlafzimmer. Und noch etwas in eigener Sache: An Heilig Abend haben wir uns aus der Wohnung ausgeschlossen, leider auch noch mit dem Schlüssel im Schloss steckend. Frau Rouvel und ein Familienmitglied von Herrn Grieshaber waren sofort zur Stelle und standen uns sehr freundlich zur Seite - sogar so lange bis der Schlüsseldienst nach einer Stunde aus Berlin ankam und das Schloss öffnete. Trotz Heilig Abend und der eisigen Kälte haben sie uns keine Sekunde das Gefühl gegeben, Ihnen an diesem wichtigen Familientag die Laune verdorben zu haben. Dafür möchten wir uns auf diesem Wege erneut bedanken.
Canan
2014-12-27T00:00:00Z
Es war alles wie beschrieben und perfekt. Eine schöne schnuckelige Erdgeschosswohnung in der man sich einfach wohl fühlen konnte. Freundlicher Empfang durch die Hausverwalterin. Alles absolut sauber und schön.
Michael
2016-11-05T00:00:00Z
Room Type
Entire home/apt
---
Property Type
Apartment
---
Accommodates
2
---
Bedrooms
Werder (Havel), Brandenburg, Germany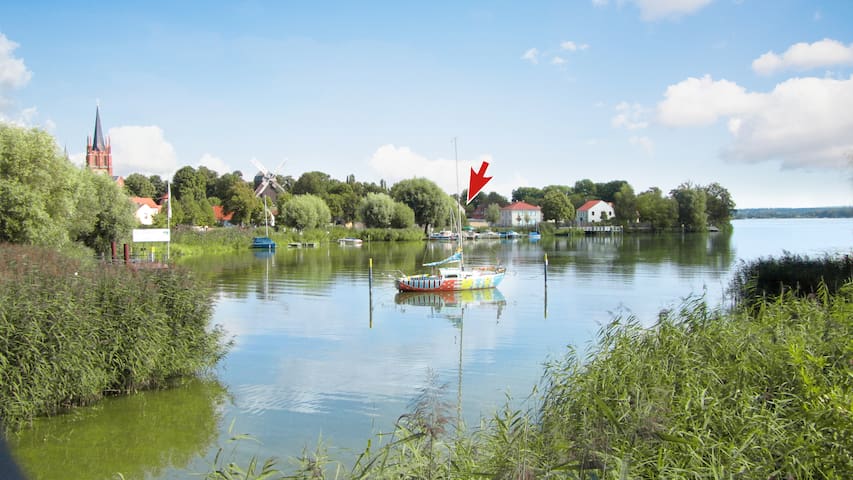 Beautiful apartment, small but nice. On the Grade II listed island of Werder / Havel Here is located in the main house, our developed and newly furnished small apartment. The apartment is located on the upper floor. The place Werder rises as a nationally recognized health resort of 2, - € tax per night, per person. This amount is due upon arrival. For children under 18 it is not to be paid.
Centrally located on the island of Werder, between the market of the old city and the regatta course, House is surrounded by historic buildings of the former hotel "Vienna" and the modernized Lendl our little cottage. Here is located in the main house, our developed and newly furnished small apartment. The apartment is located on the upper floor. They inhabit an area of about 45m². The 'living "," food "and" kitchen "is open and modern. A small sitting area overlooking the LED TV and the dining area for 4 persons offer a pleasant stay. The kitchen has everything you need for catering. The bedroom has a box-spring double bed. There is a possibility of extra bed in the bedroom, so you can stay with 1 or 2 small children.
Nearby is a church
Room Type
Entire home/apt
---
Property Type
Apartment
---
Accommodates
2
---
Bedrooms
Werder (Havel), Brandenburg, Germany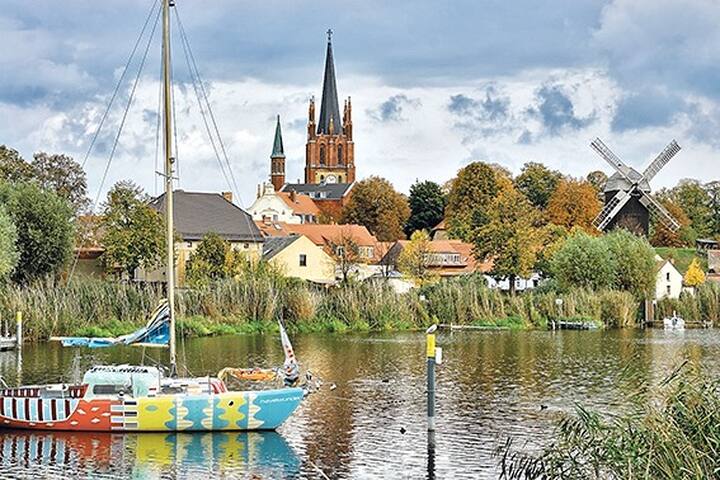 Liebevoll eingerichtete Ferienwohnung als perfekter Ausgangspunkt für Ausflüge nach Berlin oder Potsdam. Schöne Lage in Einsteins Sommerwohnort zwischen Wald und Badeseen. 1 Schlaf-/Wohnzimmer, Küche mit Essplatz, Dusch-Bad, eigener Eingang, Terrasse, Fahrradstellplätze. BettwäscheHandtücher inklusive. usätzliche Matratze/Kinderbett möglich.
Caputh ist ein in der Winterzeit eigentlich recht verschlafener kleiner Ort, der aufgrund seiner reizvollen Landschaft und Nähe zu Potsdam und Berlin von Mai bis September viele "Stadtflüchter" und Urlauber anzieht. Unsere aktive Gemeinde bietet neben den "Caputher Musiken" viele kulturelle Veranstaltungen an, wie z.B. das Fährfest am Anfang und die Kunsttour Ende August.
(URL HIDDEN) (URL HIDDEN) (URL HIDDEN)
We only spoke to Reina for a short while, but she was very nice. The place is beautifully furnished, very clean and only two minutes walk from local restaurants / shops / the lakeside - also a great location to explore Potsdam from (on a bike or by car). There is a small kitchen with a kettle, microwave, two hot plates and a fridge - everything you need to cook something small for breakfast or dinner. Thanks for great stay!
Martin
2015-05-04T00:00:00Z
Reina did a great job in making us feel welcome by providing all the info we needed, including info on bus lines. The house is very cosy, clean and in a quiet street. we had a great time and would definitely go back!
Stijn
2015-08-20T00:00:00Z
We had a lovely stay Reina's. The flair of an old cinema is just amazing. Furthermore, everything was well equipped, clean and nicely decorated. The surroundings are beautiful and small shops and a supermarket are at walking distance. We would really recommend a stay there!
Tim
2016-05-03T00:00:00Z
We needed a last minute stay and Reina was wonderful in her quick response and acceptance of our stay in a very short period of time. We wrote her in the morning and we were at her home by 4 pm. She was wonderful with her communication. She met with us upon our arrival and was very welcoming! Reina's flat helped make the last day of our vacation extra special! Her home is a renovated theatre which made the place extra cute and fun. It had everything you could need fit into a studio apartment. A complete kitchen, comfortable living space and good sized bathroom. I wish we could have stayed longer than a day. We LOVED the small town and ferry. It was a beautiful day by the river and it felt like a dream walking by the shore finished with an amazing dinner at a local restaurant recommended by Reina.
Yolanda
2015-10-11T00:00:00Z
Eine wirklich besondere Unterkunft, alles ganz angenehm und komfortabel gestaltet und auch für drei Personen wirklich gut geeignet. Der perfekte Ausgangspunkt um die wunderbare Umgebung zu erkunden. Vielen Dank!
Barbara
2016-04-02T00:00:00Z
Ich hatte einen angenehmen Aufenthalt für zwei Tage in der sympathischen Ferienwohnung. Küche und Badezimmer bietet alles, was man benötigt. Es macht natürlich einen besonderen Charakter dieser Wohnung aus, dass es sich hier um den umgewandelten Eingangsbereich eines ehemaligen KInos handelt. Einen Wohnung also für Cineasten. Sie liegt an einer ruhigen Straße und nur einen kurzen Weg von Fähre und Einsteinhaus entfernt. Ein kleiner Tipp für die Planung der Anreise mit dem Auto: Sperrung der Uferstraße zwischen Caputh und Ferch beachten!
Uwe
2015-09-27T00:00:00Z
Das waren zwei wunderbar unkomplizierte Tage in Caputh/Schwielowsee. Reina war eine sehr gute Gastgeberin, schnell in der Antwort auf die Buchungsanfrage und sehr nett im Kontakt im Vorfeld der Reise. Die Wohnung war genau wie beschrieben. Klein, aber fein. Liebevoll eingerichtet und sehr sauber. So muss es sein, vielen Dank für den schönen Aufenthalt und vielleicht bis bald...!
Oliver
2015-07-11T00:00:00Z
Muy amable la anfitriona y muy limpio el lugar. Esta en una zona muy arbolada y cerca de un lago.
Marcela
2013-10-01T00:00:00Z
Room Type
Entire home/apt
---
Property Type
Apartment
---
Accommodates
3
---
Bedrooms
Schwielowsee, Brandenburg, Germany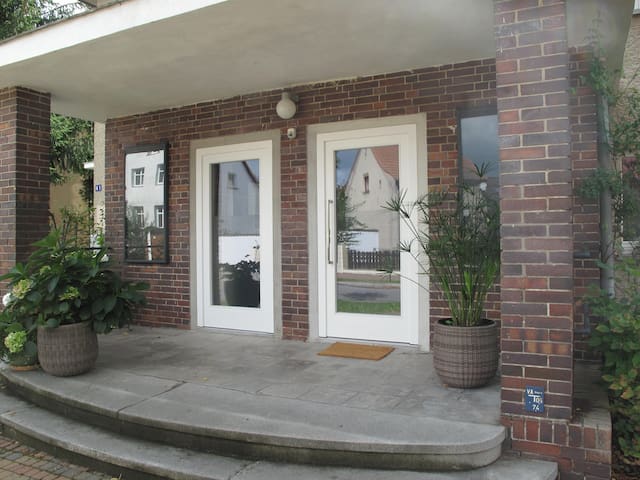 In the beautifully situated apartment you can also list dangle only time for a short trip the soul .... Especially the upcoming Christmas season Postdam and Berlin is beautiful ....
Since October 2016 can in my beautiful apartment (2nd floor, 54m²) holiday. Like it, the apartment can be rented for longer, I'm doing you then an extra offer! Enjoy your stay in my cozy apartment with a beautiful view of the island Werder. Have breakfast on the balcony in the sun and listening to the chatter of waterfowl. The apartment has a spacious living room with balcony and water views and an open kitchen. The bedroom also has water views. The bathroom is internal and has a bath. Shower gel, shampoo, towels, hair dryer are available. The apartment can accommodate 2 adults and an infant be booked (cot will be provided). The kitchen is fully equipped with new appliances, coffee maker and toaster are naturally present. The island is min in a leisurely walk in. 5 reachable. There you will find a gorgeous setting with beautiful houses, ancient churches and waterfront restaurants. In the immediate vicinity is a boat rental. The cultural city of Potsdam, close to numerous castles and gardens is in 10min by car. There is also good access to public transport. For cyclists, the surrounding area to explore beautiful trails and nature .... The residential area / neighborhood The apartment is peacefully situated in a residential community. here, since many older people live, the volume keeps very back .. The kinds of shops (EDEKA, NET ..) are within walking distance. Arrival / Transportation Werder is easily reached from the motorways around Berlin / Potsdam. You can park in the garage your car. Werder Train Station is reached by car in five minutes. From there you are in 15 minutes in Potdam-HBF and 35 minutes in Berlin-Mitte. The rent includes: Towels, bed linen, parking and tourist tax of the city Werder. This amounts to € 1.50 per person per night. This release has the Stadtwerder introduced for bookings from 01.05.2014. By paying the tax you receive a guest card, with which you get a variety of discounts.
Room Type
Entire home/apt
---
Property Type
Apartment
---
Accommodates
2
---
Bedrooms
Werder (Havel), Brandenburg, Germany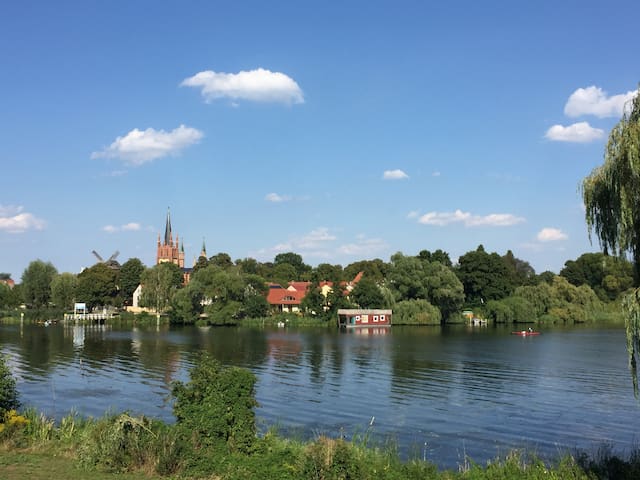 An relaxin' lil city near Potsdam - 15min away by Bus from the Potsdam Mainstation (Hauptbahnhof). You get or i have one room - with two large beds (each for 2) and one couch (also for 2 of you is its needed) - so normal sleeping or couchsurfing is the program for your days in my wonderful, small apartment. Meet nice people, celebrate you're young, take a look around - Geltow has for everybody something special to offer :D
Ein rustikaler, aber gemütlicher Stil mischt das alte Gebäude so gut auf, wie es nunmal geht - ich habe mir Mühe gegeben ein schönes zu Hause aufzubauen und bis jetzt hat es jedem gefallen der mich besucht hat, ich bin immer am Basteln, sollte sich etwas an der Einrichtung ändern, erfahrt Ihr es immer zu erst ;)
After all everybody here in Geltow is relaxed and cool - even if it would be louder later in the evening - we have a supermarket (Netto) 2min away by walk and a flower-store and butcher-shop next to us - you need 30min by walk or 10-15min to the next good restaurant by bike or bus (when you want to eat in Potsdam) - uhh or 30min to a very good Italian restaurants in Werder and the old town of Werder of curse - and yes about 20min (by bike) to Caputh - where you can take the ferry (?!) to the other side, with your bike it cost 1,50€ (1,26 GBP - 1,65 USD)......yes everything special is shown in my map down below ;))
The host canceled this reservation 4 days before arrival. This is an automated posting.
Stephan
2016-06-20T00:00:00Z
Alina is a friendly and welcoming host. Maybe her room is a reasonable place for up to 2 people, but I couldn't recommend it for 3 or more, because then 5 including Alina have to share a small bathroom which includes toilet in this room for 5 as well. The sleepingroom is full with 4 mattresses positioned on duckboards simply located on bare wooden pallets, and there is only an almost new but hand-frayed curtain which is too small to give total visual cover to the inner yard in which a car repair shop works. So, it is equipped very spartanously, but it works. We had much troubles on our first day, because Alina had an irritating house number on her airbnb-advertisement and because of missing wlan, stolen mobile and low battery it was ecactly that bad day we couldn't find it. In the meantime Alina solved this problem, on Airbnb you get the right house number, so it is quite easy to get there. It has a perfect reachability from Potsdam, by bus as well. Biggest problem for me was the door of bathroom which was uptight right from the start. Other family members left the door open or managed closing in some way - but not me, and for the first time in my life I damaged a door when trying to close it with follow up damage of door hooks. I agreed to pay Alina 150 Euro for this damage but only because I didn't want more troubles with her. I would never had such problems if this door wouldn't have been uptight. Surrounding from Alina's airbnb is nice if you go there by bike or car, eg Lake Schwielowsee ...and it's close to Caputh, which is my best hideaway area ever.
Anna
2016-07-24T00:00:00Z
Openness, friendliness and trust
Tomasz
2016-12-18T00:00:00Z
Alina is a wonderful host. The small town was an easy bus ride from Potsdam. The apartment was comfortable. My kids and I had a wonderful visit... Thank you!
Bob
2016-06-10T00:00:00Z
Alina is a great host. Even though we only stayed at her place while being on a working trip and therefor did not get the chance to talk much, she was very courteous. Thank you again!
Luisa
2017-02-08T00:00:00Z
The host canceled this reservation the day before arrival. This is an automated posting.
Tomas
2016-06-26T00:00:00Z
Alina was very helpful and friendly , we spent three days in her clean and calm apartment, the room is big with two cozy beds the surrounding area is green and beatuful and the Bus Stop is about 3 min far. Although Alina spend most time outside as well as we do but she could take care of the room and if we need anything or answers about the apartmrnt & city. I recommend it :)
Khalid
2016-09-23T00:00:00Z
Ganz toll organisiert, 100% Weiterempfehlung, hat alles wunderbar geklappt. Danke Alina!
Oliver
2016-04-18T00:00:00Z
Room Type
Private room
---
Property Type
Apartment
---
Accommodates
3
---
Bedrooms
Schwielowsee, Brandenburg, Germany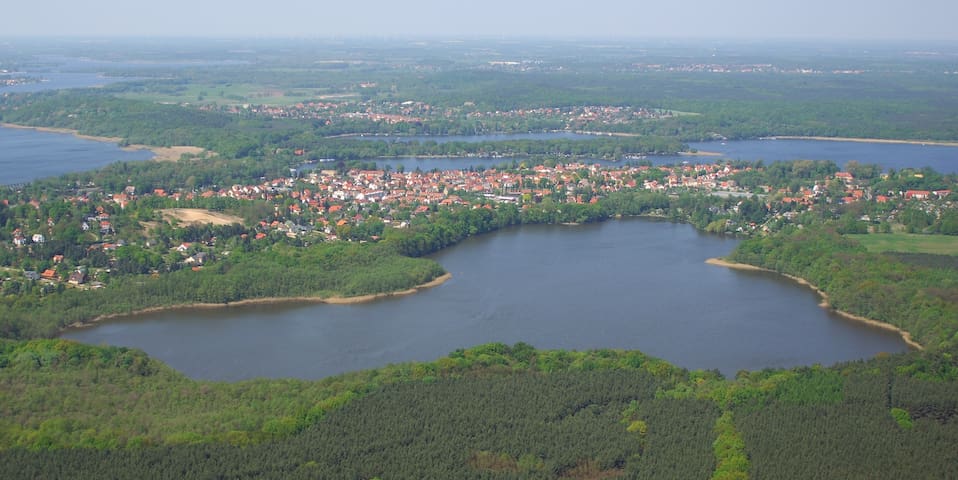 Borkwalde - Airbnb
:
Average

4.31

out of

5

stars from

72

guest reviews
1

–

18

of

26 Apartment Rentals
Enter dates to see the total trip price including additional fees (but excluding any taxes).