Easy Holidays is a well groomed cocoon allowing a couple, seeing with a child, to have a good stay on Bora Bora, and to do several activities. My accommodation is close to the beach, restaurants and the city. Easy Holidays will accompany you during your stay with its concierge available 7/7. You can also benefit from preferential rates for tourist activities. Check with your concierge.
Quartier calme, gardiennage de nuit
Mihu is such a lovely person. Thank you for your hospitality
Caroline
2017-04-04T00:00:00Z
It was a good place to stay in borabora . The location is quiet and nice . Thank you so much . It was a really good experience to us.
Yuri
2017-03-13T00:00:00Z
Room Type
Entire home/apt
---
Property Type
Apartment
---
Accommodates
3
---
Bedrooms
Vaitape, Leeward Islands, French Polynesia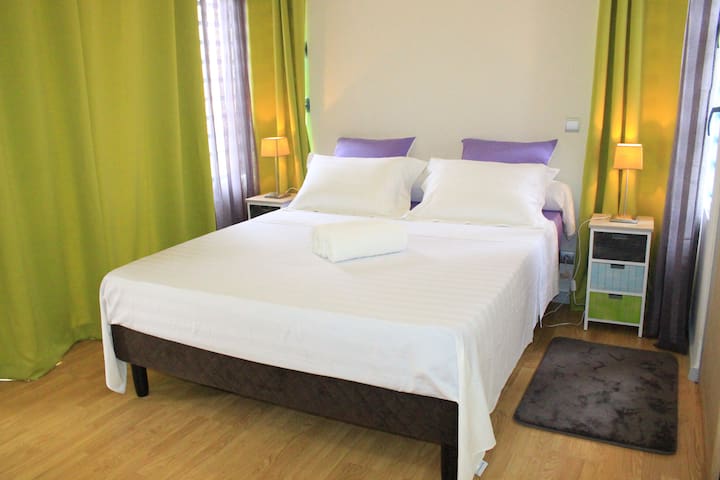 This newly built villa, aptly named Bora Bora One, sits privately and proudly within 30,000 sq. meters of tropical vegetation; overlooking the Pacific ocean on one side and the lagoon on the other. Views of neighboring islands and the towering Mount Otemanu surround this peaceful oasis. Direct private beach access on the lagoon, with calm safe waters, provides opportunities for sunning or snorkeling among the off-shore reefs.
A lighted path through the jungle leads to a private spot on the ocean side as well. A boat and captain are on-site for exploring Bora Bora and surrounding islands. Bora Bora sits just a one hour flight away from Tahiti in French Polynesia. The island is known as a romantic and very private paradise, with its pristine white sand beaches, lush tropical hillsides, and coral gardened lagoon. A villa-length covered terrace on the lagoon side of the house faces the wooden decked, black marbled infinity edged pool, the lagoon and a man-made offshore private island. An outdoor living room overlooks the views and pool. Outdoor dining opportunities, covered and open air, are found on the sands or poolside. There is also a bbq and informal dining on the ocean side, with views of the neighboring islands. Open plan interiors host elegant indoor dining, spacious seating areas, vaulted ceilings and large glass doors and windows opening to the gardens, beach and views. Five en-suite bedrooms each boast a seating area, a private terrace facing the lagoon, as well as en-suite bathrooms with marble walk-in showers. Bora Bora One is professionally staffed with a house manager, housekeeping, chef, waiter and boat captain. The Paradise Package, available on request and at extra cost, includes a chef, food, wait-staff and beverages in the three signature private in-house restaurants (dining experiences). Bora Bora One provides a tropical, lush private retreat for families, groups of friends, or corporate events in the romantic French Polynesian islands. Trekking, biking, fishing, scuba diving, jet skiing, snorkeling, whale and manta ray watching, or a Polynesian island tour, are all easily arranged by the skilled, attentive staff.
Beach: Beachfront on private beach, lagoon side. There is access to the ocean side beach as well. The Thalasso Spa: 5 minute walk or 2 minute boat ride Manta ray spot and coral garden: 3 minute boat ride Vaitape village: 15 minute boat ride Airport: 10 minutes away Tahiti: one hour flight
Room Type
Entire home/apt
---
Property Type
Apartment
---
Accommodates
10
---
Bedrooms
Leeward Islands, Leeward Islands, French Polynesia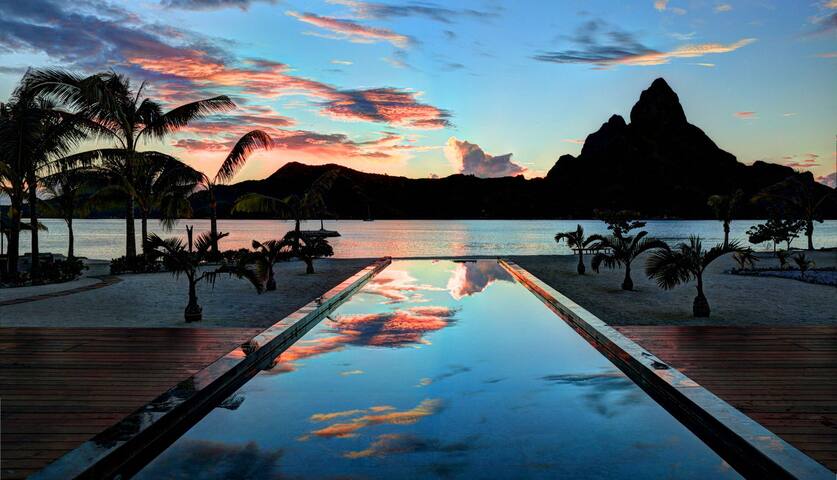 Nice Studio beachfront and garden, direct lagoon access, terrace, wifi, Laundry, shuttle transfers to the airport. Close to shops and restaurants ... For two people maxi ...
well-equipped apartment with Air Conditioning and a comfortable bed. Outdoor covered deck looks out onto boats moored nearby; next to gas station where boats fill up on fuel. Gérard is very helpful. Great value for money.
Patricia
2017-01-18T00:00:00Z
Gerard and fee fee were very kind hosts. We had arrived a day early in bora bora and Gerard was very quick with responding and hosting us the night we contacting him. Thanks for having us both
Dan
2017-03-11T00:00:00Z
Everything you could need and walking distance to eveything you needed. Lagoon tour was booked for us and picked us up outside bungalow...perfect and highly recommend.
Sandra
2017-01-23T00:00:00Z
Gérard was very kind and accomodating. The apartment was clean and had all nessassary equipment. I would highly recommend staying in this location.
Cassie
2016-07-16T00:00:00Z
Gerard's house by the sea is an amazing place to stay and discover Bora, we loved every second of our stay there! You can wake up and jump straight into the sea, the studio is comfortable with every useful amenity - aircon was appreciated! Gerard came to pick us up from the shuttle, drove us back and helped us in every way to make this a pleasant few days. Much homier than staying in a hotel. Would definitely come back. Thank you Gerard !!
Camille
2017-01-06T00:00:00Z
This is definitely THE WAY to visit Bora Bora. Way more affordable than resorts, amazing good care from Gerard (he's available most of the time for whatever you might need!) and the place is simple yet fully equipped for what might be needed for a short stay. At the moment we stayed there, the whole house seemed either new or incredibly well maintained and everything worked out just as smooth as we could ask. The backyard facing directly to the water is just amazing. Vaitape is a tiny city, but this place is at the same time quiet and close to anything that we could need from the city (10 minutes far walking from city center). Only little nit: WiFi signal is a bit weak in the backyard so it's hard to enjoy some connectivity and the delightful views at the same time :) A signal repeater would fix that, though. Thanks so much, Gerard!! We're definitely back!
Sergio
2017-03-06T00:00:00Z
From the moment I booked the apartment at Gerard's Villa Moana in Bora Bora, Gerard proved himself to be a great communicator, and that did not change throughout our stay at his lovely place right on the water. When we arrived on Bora Bora from the airport ferry on to the main island, Gerard was there on time to pick us up and take us to his place where we would spend the week. The apartment was clean, spacious and was within walking distance to big grocery stores, restaurants, shops, car rentals and basically everything that Vaitape had to offer. The shower was especially gratifying, great water pressure and plenty of hot water. The queen size bed was very comfortable and the air conditioning in the bedroom was spectacular, very quiet and extremely efficient. The wifi was adequate. We stayed in the ground floor unit with a beautiful view of the bay and the sunset, the ambience was amazing from when we woke up early in the morning until we got back from the days adventure and relaxed on the veranda until evening. Gerard has deep discounts arranged for his guests around town with car rentals, buggy rentals, and the fantastic lagoon tour that no one should leave Bora Bora without doing. Gerard himself also went out of his way to facilitate our ability to enjoy the island by offering to take us to and from Matira beach the day after we arrived, he also had kayaks available for us to use. He did many little things to enhance our stay such as hanging fresh picked bananas on the veranda and doing a load of laundry for us. Gerard is an awesome airbnb host, he lives close by and he really cares about his guests. He has been a resident of Bora Bora for over 30 years and can give you accurate information about everything on the island. When we were leaving and I was thanking him for a fabulous stay, he told me that most people only come to Bora Bora once in their life and he wants to make sure that he can make it the best experience possible for them, and that is exactly what he did.
Marilyn
2016-09-24T00:00:00Z
Gérard is a very nice,friendly and helpful host and the location of the house is perfect.Directly located at the waterfront,near supermarkets,restaurants and the centre of Vaitape.Gérard helped us to book a beautiful island tour and made it possible that we could spend the departure day at a small island near the (URL HIDDEN) was just perfect!! The house is cozy,clean,well equipped and Gérard offered us two bikes for free to go to Matira Beach or whatever we wanted.We would always choose his cute blue house again.He knows Bora Bora well and finds a good solution for your question.We could also use his washing mashine for free. Thank you Gérard to make our Bora Bora trip wonderful!
Sarah
2016-08-01T00:00:00Z
Room Type
Entire home/apt
---
Property Type
Apartment
---
Accommodates
4
---
Bedrooms
Bora Bora, French Polynesia
Pretty studio located on the mountain side, all comfort, air conditioning, access to a large common terrace, make this place a perfect place for a successful holiday for 4 people max ... All shops, restaurants and snacks nearby ...
Firstly, I was very grateful to Gerard for picking me up from the boat. He is generous in his lifts to you when he can. The accommodation was as per the picture, and there was good air con. The bathroom is a bit mah but so what. I was travelling as a single female and was lucky that I met a fabulous other girl also staying at the premises. Whilst it was just us 2, Gerard was awesome at giving us lifts to places, really made things easier. He was also kind enough to share his freshly caught tuna on my first night. Really lovely. What I would say is that there are a few rooms at the place, when it's full it means that Gerard is driving here, there and everywhere all day long. Though kind of him, he is just one person. The accommodation is near a big supermarket, Chinese take away, ATM and street food markets. Everywhere else, is a drive away. Bora Bora as a place - so stunningly beautiful but be warned, I'm an experienced hardened traveller who had my guard down whilst there (part and parcel of th overall feeling of the place), and lost all my cash. Not sure where, maybe when I paid in the supermarket but be on your guard, there are pickpockets around (as with everywhere).
Nadine
2016-08-19T00:00:00Z
Room Type
Entire home/apt
---
Property Type
Apartment
---
Accommodates
4
---
Bedrooms
Bora Bora, Leeward Islands, French Polynesia
Apartement ((PHONE NUMBER HIDDEN)) with a larged covered terrace ((PHONE NUMBER HIDDEN)) where you will be able to have a drink, take your meals or to sunbath (morning) and enjoy the afternoon shade. A pretty view of the two amazing mountains
Apartement (50m2) with a larged covered terrace (15m2) where you will be able to have a drink, take your meals or to sunbath (morning) and enjoy the afternoon shade. A pretty view of the two amazing mountains (Mt Pahia ft & Mt Otemanu as well as a tiny blue line of the lagoon. It's located in a small complex not far from the famous Matira Beach (2,6km/1,5mi) and from the main Vaitape village(3km/1,8mi) where you will found banks, food stores and shops… Close by there is a Tiki bar (drinks & tapas) (1.2km/0,7mi) and (1,7km/1,0mi) away the world famous Bloody Mary's Bar & Restaurant. You will found a confortable living room ( sleeping couch, flat screen TV, DVD player with dvd's) a dining table and a all equipped kitchen with a washing machine . A large air conditioned bedroom with a large king size bed ((PHONE NUMBER HIDDEN)') with a large double closet. Bath room with double sink, shower and separated toilets. Bed linen, bathroom & beach towels are at disposition. A good free wifi connection will help you to stay connected with your world and all your travel research. 2 or 4 persons will be easily enjoying the place 2 free beach bikes will be available. If needed you will be able to rent more bikes in the village We will also be able to help you get a rental car with a friendly discount price . The transfer airport is free Upon arrival after your pick up ,Marc-André will help you to do the first food shopping then will be happy to inform you to of all the activities and excursions to do for discovering the island of Bora Bora This location is for 4 nights minimum
Marc Andre was an incredible host. He picked us up on time and took us to the market so we could do our food shopping. There were 3 of us staying at his place and he went out of his way to drop off a third bike for us and snorkeling gear. He emailed us to make sure we were settling in comfortably. The place is clean and centrally located. I would recommend him to everyone!
Jacqueline
2016-04-02T00:00:00Z
Marc-Andre pick up us at the ferry. On the way to the apartment we get a lot of informations about the island. The apartment was like on the pictures. Marc-Andre was all the available for us and we get a reply of our mails very fast. The bikes are also good and Matira Beach is wonderful. We can 100% recommend the apartment and the owners.
Christopher
2016-05-17T00:00:00Z
L'appartamento è veramente confortevole e più grande di quello che sembra dalle foto. Equidistante da Vaitape e da Matira, un'ottima soluzione per soggiornare a Bora Bora. Lo consiglio a tutti. Annette e Marc Andrée poi sono ottimi, forniscono tutte le informazioni per le varie escursioni o visite. Vi ringrazio per l'ottima vacanza trascorsa nel vostro appartamento. Sabrina e Antonietta
Sabrina
2016-11-17T00:00:00Z
Un Grand Merci à Marc André et Anette pour leur accueil , leur description du lieu , des activites, des points de chutes sur l'île pour les courses .... Logement surper agréable de part sa deco , de grands espaces , une très belle terrasse.... Et également pour sa localisation sur l'île , à proximité de tous commerces, excursions, plage, snack ... Nous avons passé un très bon sejour , a tres bientot
angelique
2016-08-13T00:00:00Z
Recomendamos encarecidamete este alojamiento. Leí muy buenas evaluaciones al reservarlo pero la experiencia supera lo que se puede poner en palabras. Annett es la mejor anfitriona que hemos conocido. Le estaremos siempre agradecidos, resolvió todas uestras necesidades, alquiler de auto, excursiones, compras... Gracias! Hasta pronto
Sonia
2017-04-04T00:00:00Z
Room Type
Entire home/apt
---
Property Type
Apartment
---
Accommodates
4
---
Bedrooms
Bora Bora, French Polynesia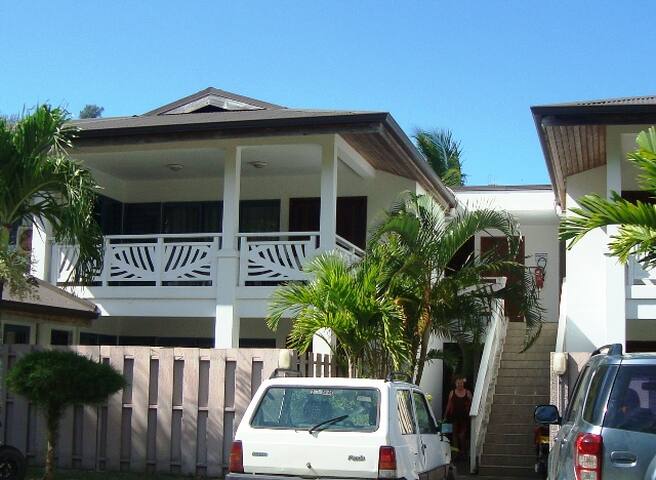 A comfortable studio, a nice view of the lagoon . Close to all shops and restaurants. Included: Wifi, laundry, air-conditioning ... Access to a private swimming pool reserved for our guests ... All tips for an unforgettable stay ...
All furnished garden studio, it could host up to 2 guests... Free : Wifi, laundry. Situated in the village of Vaitape, nested moutain side, not close to the street, calm... You have a view on the lagoon . 100m from the lagoon, 5km from the famous "Matira beach"... Within walking distance from restaurants and groceries...
Gerard is very nice, and provided good advice, always available. The bungalow is comfortable and clean with wifi. Very good stay in Bora!
jean-baptiste
2014-06-10T00:00:00Z
Gerard was a very generous and considerate host and made many excellent suggestions that made my stay in Bora Bora an exceptionally pleasant one. His place allows you to fully immerse yourself in the islands charms without sequestering yourself in a high end resort.
kanwarjit
2016-12-29T00:00:00Z
C'est super! Tres gentile! shhhhh.....don't tell anyone because I want to come back and I want to have the place to return to.
Terri
2013-06-27T00:00:00Z
"Le studio 3" a été rénové dans des couleurs vives et a une jolie vue mer mais sans balcon ni terrasse. Mais il est très petit et ressemble plus à une (URL HIDDEN) d'un coin cuisine. Comparé au prix des autres logements proposés par Gérard dans la même maison ou sur le bord de mer beaucoup plus spacieux, il est beaucoup trop cher. Gérard est très sympathique et j'ai eu beaucoup de plaisir a séjourner chez lui. Concernant les activités à faire dans la journée il est d'excellent conseil et je recommande vivement la sortie à la journée sur le lagon.
Eric
2016-08-15T00:00:00Z
C'est Gerard lui même qui a su donner une âme à ce séjour Amoureux de l'île il sait communiquer et transmettre. Par dessus le marché il se rend disponible Il a contribué à un magnifique séjour magique ! Les chambres sont très bien et à côté du super U, très pratique et restau. Merci Gerard !
Patricia
2016-07-30T00:00:00Z
Super sejour chez gerard, bungalow tres mignon, propre et tres bien aménagées. Literies tres confortable. Nous avons aimé l'accès libre au vélo et au kayak ainsi que le temps qu'il nous a accordé pour nous indiquer les bons spots et les excursions. Il connaît parfaitement l'île et est tres disponible.
Clemence
2014-08-25T00:00:00Z
Room Type
Entire home/apt
---
Property Type
Apartment
---
Accommodates
2
---
Bedrooms
Bora Bora, Iles sous le Vent , French Polynesia
Nice Studio beachfront and garden, direct lagoon access, terrace, wifi, Laundry, shuttle transfers to the airport. Close to shops and restaurants ... For two people maxi ...
Wonderful apartment with a helpful host! Pros: - Walking distance from grocery stores, cafes, restaurants etc (in Vaitape) - Gerard was waiting at the dock for us after we took the free ferry from the airport, and took us straight to the apartment. He was a great guide on the way over, pointing out places to eat, etc. - Apartment is bright and clean, and right on the water - Free use of kayaks and bicycles - Gerard even drove us to the Intercontinental after our stay, and we later contacted him about some taxi info and he was helpful even though we were no longer his guests Cons: - There were a LOT of ants in the apartment, so many they were even in the bed! I asked Gerard for a spray and he was very offended. He wiped them off the bed and said 'See? Gone!' and then told me that is why all the bees in Europe are dying. While, as a biologist, I fully understand the severity of the bee crisis in Europe, it doesn't mean I want to sleep in a bed full of ants. We ended up bringing some outdoor furniture into the kitchen to sleep on because we were uncomfortable. All in all, good experience for the price for the night before our stay at the Intercontinental.
Liz and Nick
2015-09-11T00:00:00Z
The host canceled this reservation 5 days before arrival. This is an automated posting.
Will
2016-08-07T00:00:00Z
beautiful place with an amazing view. Gerard picked us up and brought us to the quai again, he even booked a perfect lagoon tour for us, very good host! apartment without mosquito protection in the windows, but the view helps to forget!
Mike
2016-04-11T00:00:00Z
Gérard nous a gentillement reçu et aiguillé sur les choses à visiter le studio est impécable,les pieds dans l'eau et très fonctionnel à quelques pas de la ville
Jouvenot
2015-08-08T00:00:00Z
Gerard ns attendait a l'arrivée du bateau le logement est très proche il ns a indiqué les commerces supermarché pizzeria roulotte pharmacie situe sur la route ( n oubliez pas une lampe plus prudent pour être vu la nuit lelong de la route) Tt juste arrivés Gerard a réservé une excursion en mer pour le lendemain ( super ! Poissons, raies et pour moule plus impressionnant nager avec requin en pleine mer.) ensuite ns avons chevauche ces drôles de vélos qui n ont pas de freins pour aller plage 8 km (un peu loin motive pas a y aller...) Le logement est super je n ai pas cuisiné mais cela aurait été un plaisir étant donné e la vue que ns avons de la cuisine de la chambre et la terrasse. on s endort en regardant la mer Grâce aux kayaks à disposition ns avons pu aller au motu face à ns puis baignade ds la piscine située non loin du logement. Ns avons passés 4 jours à bora. Ce type de logement était parfait. Pour faire farniente a la plage en permanence privilégier les hôtels 5 étoiles...
Séverine
2015-02-27T00:00:00Z
Nous avons passé un magnifique séjour à Bora Bora et Gérard et son studio y sont pour quelque chose. Nous avons été accueillis par Gérard au quai Vaitape, il nous a emmenés au studio en nous indiquant les commerces et les bonnes adresses. Le studio est super et très bien entretenu. La vue est magnifique, (on peut voir le lagon du lit). La situation est idéale. Nous avons pu faire le tour de l'ile grace aux vélos prêtés par Gérard. Bref un séjour que nous garderons longtemps dans nos mémoires. Nous conseillons vivement ce logement. Nicolas et Mélanie
Melanie
2015-03-16T00:00:00Z
Gerard est tres disponible, accueillant et donne de très bon conseil sur ce qu'il y a à voir et faire sur l'île. Le studio était top aussi. Nous le conseillons vivement.
(EMAIL HIDDEN)
2016-04-22T00:00:00Z
Room Type
Entire home/apt
---
Property Type
Apartment
---
Accommodates
2
---
Bedrooms
Bora Bora, Leward islands, French Polynesia
Comfortable studio in a property belonging to a famous painter. The environment is very quiet, a breathtaking view from the terrace ...
Share for a moment the unique world of a renowned painter and sculptor
Gerard was very friendly and helpful at all times! Great accomodation and great price!
Joachim
2014-08-02T00:00:00Z
Gerard went above and beyond the expectations of any host I've ever stayed with. That's saying a lot. The villa was lovely and the dachshund puppies were the cutest things ever. Here's the thing. This isn't a resort. It's a nice home that's owned by lovely French artist. Great view of the mountain and the home is situated at the halfway point between the main beach and the town. Gerard has contacts everywhere, so I'd recommend using him for organizing tours, bike/scooter rentals and anything else. I was getting amazing deals through him. If you're traveling in the South Pacific and are tired of resorts, then this is a nice change of pace.
Charlie
2016-09-15T00:00:00Z
Gérard was a perfect host and the villa is just amazing. Tuscany in the South Pacific. Loved every minute of my stay in Bora and would definitely recommend the place.
Roman
2017-01-01T00:00:00Z
The place is beautiful and with great views of the Laguna. We didn't like the bugs too much and the dogs were a little noisy but beside that the place is wonderful and such a beautiful location . Perfectly located between the main beach and town - a form of vehicle is recommended though. Gerard had our luggage in storage for about a week, which was much appreciated. The greeting at the airport boat terminal was smooth!
Solvej
2017-02-25T00:00:00Z
We appreciated Girard providing transfers to and from the ferry to our residence, a villa owned by the gracious and renowned artist, Garrick Yrondi. Upon arrival at the villa, our jaws literally dropped in amazement of the villa's splendour and views. It is truly one of the most remarkable and singular accommodations we've experienced in all of our travels.
Greg
2016-07-22T00:00:00Z
Gerard could not have been more helpful or generous, in pick-ups and drop-offs, tips for booking activities and in arranging use of a friend's car for a couple of hours, plus use of a simple bike of his. He helps artist friend Garrick Yrondi rent out part of his grand villa...a three-level mini palace...lovely Grecian open-terrace and plaza architecture with lovely Yrondi paintings and sculpture throughout. Fabulous views of mountains. Short walk to a restaurant, a couple k's to Matira Beach and eateries there, a few k's to Vaitare for super marches, et al.
jim
2016-09-18T00:00:00Z
Villa reahanaa was an amazing experience. The villa was beautiful, the location was perfect , walking distance to beautiful Matira beach , the owner is fascinating and affable. The studio is a bit of a work in progress, but opportunity to stay in this beautiful home make up for the shortcomings. If you can find the extra money in your budget , I don't think you would regret booking the one bedroom instead. That unit is like having your very own fantastic villa. I only had brief interaction with Gerard, but felt he was genuinely available should I have any issues. He was extremely good natured, and answered many questions by email for me , before I arrived. I feel very lucky to have found this listing, and consider it one of the highlights of my trip to French Polynesia .
Christopher
2014-07-14T00:00:00Z
We really enyoed our stay in Gerard's house. This was a complete, very clean, comfortable apartment (bedroom, well equipped kitchen, bathroom, terrace) on the seaside, in the garden free bycicles and kayak. Gerard is a nice, caring man, a perfect host. He was meeting us at the airport, on the way home he showed us shops, restaurants, etc. It was nice chatting with him, he brought us bananas from his garden, fish with instructions how to prepare. We felt really at home. Thank you Gerard! Erika and Istvan
Istvan
2014-09-19T00:00:00Z
Room Type
Private room
---
Property Type
Apartment
---
Accommodates
2
---
Bedrooms
Bora Bora, Polynesie Française, French Polynesia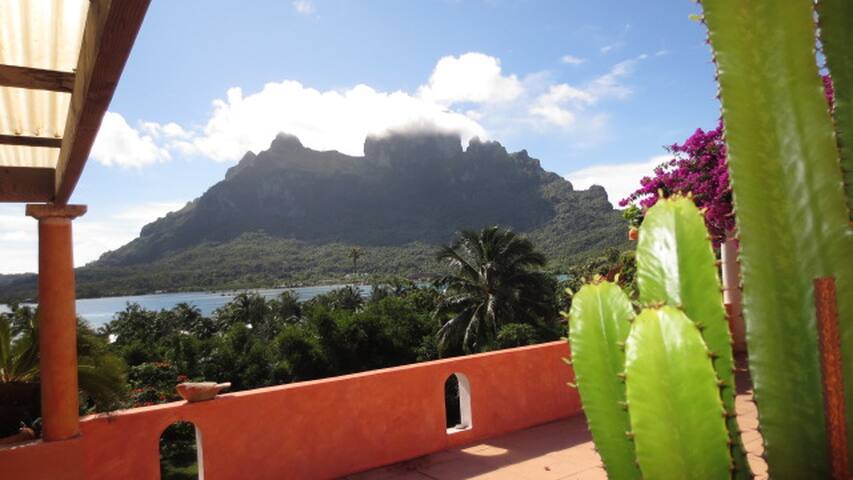 My place is between the village and the beach. You'll love my place because of the ambiance, the light, and the comfy bed. My place is good for couples and solo adventurers.
Share for a moment the unique world of a renowned painter and sculptor
The property is halfway between the village of Vaitape and the famous beach of Matira
Room Type
Entire home/apt
---
Property Type
Apartment
---
Accommodates
4
---
Bedrooms
Bora Bora, French Polynesia, French Polynesia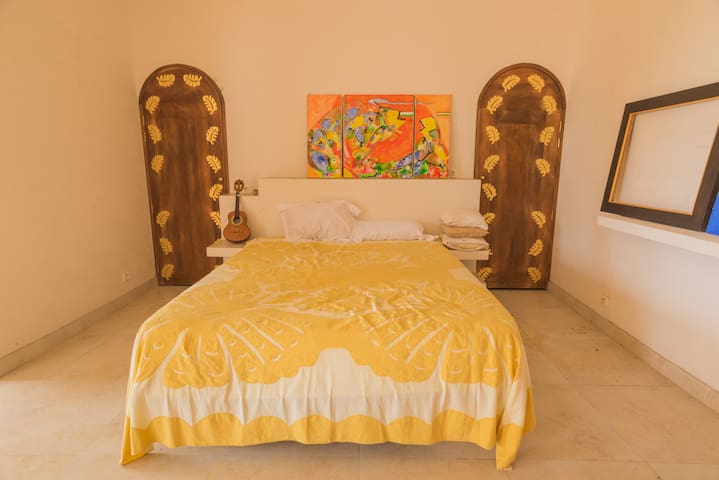 In a famous painter private property, a comfortable little house. Totally independant from the rest of the property. All amenities, including laundry and Wifi. An amazing view on the lagoon and mountain. The property is halfway between the village of Vaitape and the famous beach of Matira.
Share for a moment the unique world of a renowned painter and sculptor
Very quiet and the astonishing view on the mountain and lagoon ...
Room Type
Entire home/apt
---
Property Type
Apartment
---
Accommodates
3
---
Bedrooms
Bora Bora, French Polynesia, French Polynesia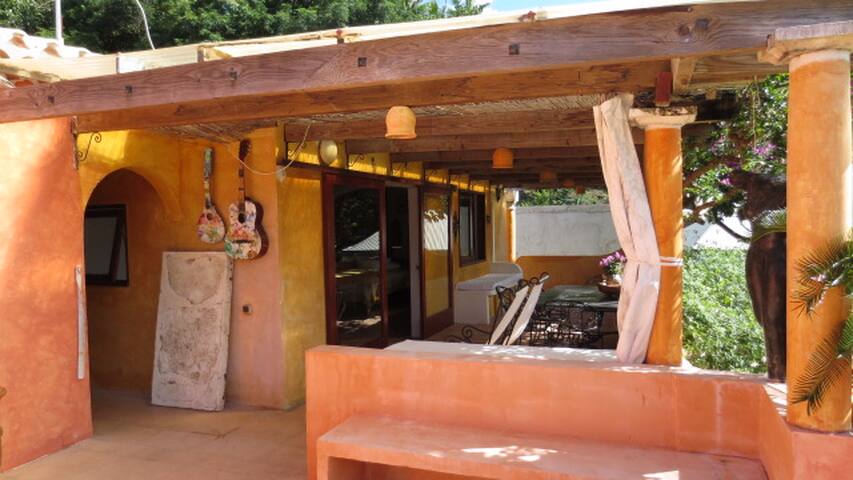 Huge studio located on the mountains side. In a walking distance from groceries, snacks and restaurants. Fully equipped, amazing lagoon view , AC, Wifi, laundry, free shuttle...
Staying at Gerard' place was a true Bora Bora experience. He was kind enough to fix us some tours and tell us where to eat the local food. We realized in the coming days that he really saved us from getting ripped off by hotels! It's a recommended stay. Room is clean and well appointed. And travelers get a taste of real Bora Bora island as everything is at a walking distance...
Ananya
2014-12-18T00:00:00Z
Great experience! Wonderful accommodations, especially the view. Gerald is a gracious host and make the stay very welcoming, and definitely worth the stay
Lyndsi
2016-09-28T00:00:00Z
Gèrard was amazing host, very welcoming and helpful. The place superb clean and we had everything we needed. Also,amazing sunsets at his place!!
Birutė
2015-12-05T00:00:00Z
Accueil très professionnel de Gérard, tout est très bien rodé: il vient vous chercher/déposer gratuitement à la navette-bateau de l'aéroport et vous présente les environs à votre arrivée, ce que nous avons apprécié. Ses studios sont bien situés pour découvrir l'île à pied ou à vélo, proches des commerces. Il nous a conseillé de belles balades avec vue imprenable sur le lagon, merci encore! Le logement est propre et fonctionnel,avec une belle vue de la terrasse et des moustiquaires pour toutes les ouvertures,ce qui est suffisamment rare pour être souligné!! Seul bémol, l'isolation phonique avec les logements voisins, nous avons eu la malchance d'avoir une famille bruyante, sans que cela ne gâche notre séjour malgré tout, habitués que nous étions des coqs et chiens polynésiens et armés de bonnes boules quies en conséquence! Nous vous le recommandons!!
gaëlle
2016-08-10T00:00:00Z
logement agréable. Le quartier est très quelconque.
Gibelin
2015-07-16T00:00:00Z
Magnifique studio très central! Gérard met des vélos à dispositions. Je recommande.
France
2016-05-01T00:00:00Z
Room Type
Entire home/apt
---
Property Type
Apartment
---
Accommodates
6
---
Bedrooms
Bora Bora, French Polynesia
Huge studio located on the mountain side, fully equipped with AC...In a walking distance of groceries, snacks and restaurants...Free > Wifi, laundry, pickup from airport shuttle,...
Our impressive studio offers a privileged view of the lagoon. It features an exterior loundge that can be easily transformed into an extra room, sleeping up to 6 guests. Nested mountain side, 200m from the lagoon...The famous "Matira beach" is 5 km away...Free use of a nice swimming pool close to the lagoon... Within walking distance from restaurants and groceries.. Free : Wifi, bicycle, laundry...advices and smile...
Gerald and his loyal furry friend, Fifi, were excellent hosts. Gerald goes above and beyond to make his guests welcome. He is generous with his time and knowledge. Gerald and Fifi picked us up and dropped us off again at the airport boat shuttle, provided kayaks, bicycles and even did our laundry at no extra charge. Gerard gave us great information about the island, restaurants and sights. If we were to live on Bora Bora, I know we would choose Gerard to be a good friend. The lodging Is beautifully decorated and has upscale finished like tile and stone. It was so much more spacious than we expected. Plenty of room to relax. We were especially thankful for the large open porch with roof, where we spent our days during the rains.
Karen
2016-05-16T00:00:00Z
We were impressed, the host very helpful. it was our first time there and Gerard took very good care of us, he even more helpful that dealed with Safari tour and lagoon tour. so, we got pretty good deal of the tours which was cheaper than the regular price. Just one day in the mainland we felt like we were local people there. Gerard is generous and kind. He even dropped us back to the dock. His place is nice and warm, pretty much close to everything. once he picks you up, he would tell you where the amazing local restaurants are. In sum, you would be definitely in love with the mainland (Vaitape)
tosares
2016-03-05T00:00:00Z
The lodge is lovely and has a very good value. It's very close to all kind of facilities and yo a pick up spot for lagoon tours (highly recommended!). Gerard is very helpful and can help you booking your activities as well as scooters, cars or bike at good prices. Highly recommended!
Alexandra & Giuseppe
2017-01-01T00:00:00Z
We were picked up by Gerard at the harbor and was very welcoming and explained us about the area and the sites of the island. If we needed something for the apartment we just asked and it was provided. We really loved our stay at this place.
Jesper
2016-12-28T00:00:00Z
We had a great time at the apartment! The studio is very comfy and Gérard is so friendly and helpful - we loved the fact that he offers free bikes and kayaks, pickup/dropoff rides to and from the quay, laundry service, and more and more... he gave us the best insider tips to make the most of our vacation. We highly recommend the boat excursion that he suggested! we're very happy we chose to stay with him and feel that we got a great value deal in a place that's usually very expensive.
Gadi & Keren
2014-09-28T00:00:00Z
Everything was perfect. Gèrard is super friendly, kind and helpful. He gave us lots of fruits from the garden, helped with directions, restaurants advices, etc. The apartment is in great location n super confi (I loved the mattress), clean and tidy. I'd recommend the place 100%.
Lucia
2015-12-19T00:00:00Z
Gerard is a wonderful host and his place has everything one would need. I was traveling solo and the place suited me perfectly. He's got everything you could reasonably expect including aircon, cooking facilities and a nice outside area to appreciate the views, entertain if you so desire. He is also close to the Mai Kai yacht club which serves fantastic meals and is recommended in the latest Lonely Planet guidebook. He's also close to the #1 ranked restaurant on tripadvisor. Gerard also has great links with tour operators and you will not find better rates than he can arrange.
Shaun
2013-12-20T00:00:00Z
Apt was extra large and comfortable. We loved the huge balcony and a nice view of the laguna. Apt is conveniently located in the largest town - Vaitape, and close to supermarkets and restaurants. Gérard let us use his bicycles and going to a beach is a nice and pleasant bicycle ride. He has also picked us up and dropped us off to the harbor in his 4x4 land rover, together with his faithful Fifi puddle. Gérard was also helpful in setting us up with tours and finding the good deals.
Ivan
2015-08-18T00:00:00Z
Room Type
Entire home/apt
---
Property Type
Apartment
---
Accommodates
6
---
Bedrooms
Bora Bora, Iles sous le Vent , French Polynesia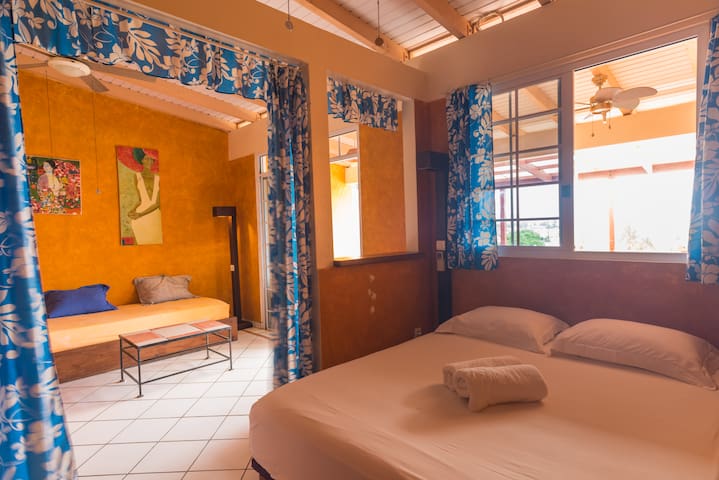 Bora Bora - Airbnb
:
Average

4.4

out of

5

stars from

69

guest reviews
1

–

12

of

12 Apartment Rentals
Enter dates to see the total trip price including additional fees (but excluding any taxes).