An exceptional sunny house for groups with beautiful panorama views, spacious garden and a high-quality design and equipment. Something special for demanding guests also offers sauna and indoor jacuzzi, outdoor jacuzzi, hobby room and garden lounge.
The house is located on the hill in a beautiful valley, on the border between Luxembourg and Germany. At the altitude of 350m located, guests can enjoy a great view up to Echternach (L) and the Mullerthal (L). Whether family vacation, cultural trip or sports vacation - our villa offers the perfect starting point for your holiday! A 2000 m2 large park-like grounds with a variety of shrubs, trees and spacious lawns is equipped for rest and relaxation. A closed garden pavilion with panoramic windows and newly created large garden terraces and garden lounge invite you to relax. Furthermore, there is an outdoor whirlpool with 2 sunbeds in the garden, which invite for complete relaxation. In the house the guests will find 6 comfortable rooms with 6 bathrooms for the great living and vacation feeling. Together with indoor wellness equipment (indoor sauna & indoor wirlpool) the guests may enjoy the great time together. The house has a geographically central location between the cultural centre's Echternach (5km), the capital of Luxembourg (25km) and Germany's oldest city of Trier (25km). Beautiful and attractive destinations such as Castle Weilerbach, Chateau Vianden, Ferschweiler rock plateau, Mullerthal, wine region of Mosel and much more are located in the surrounding area and offer numerous excursions .. Also restaurants, cafes and bars are both in Bollendorf, as well as in the near distance eg in Echternach. For sport active people the area offers a lot. Gorgeous golf places, hiking trails and bike paths along the river Sauer or high wire and climbing park will delight everyone. There are canoes and swimming pool open in the town, more pools in the area. In winter, with the nearby Beaufort (L) an ice rink for skating and ice-karting available. Also horse riding, hot air ballooning, paragliding and other sports are offered in the area. Altogether there are nearly 370m2 spacious, pleasant atmosphere in the newly renovated house available, which offer every comfort for up to 16 people or like families with children. Overall, the house has 3 floors and was completed 2015, the house has spacious, quiet bedrooms and a sunny, cosy living-dining area with views of the River Sauer. Guests have a fully equipped kitchen, which includes up to 16 people dishes and cooking utensils. The 364m² large house has: - 6 separate bedrooms (3 with double beds 180x200 and 6 single beds 90x200) - A reading room (with a double sofa bed for max. 2 persons), - A hobby room (with a double sofa bed for max. 2 persons) with pinball and foosball - A living-dining area, - An entrance hall, - A generously equipped kitchen (with coffee maker, microwave, washer dryer, etc.) - A spa room (with a modern sauna, indoor hot tub and shower). - In total 6 bathrooms with showers and a small toilet room. The entertainment centre in the living and hobby room feature a large HDTV with international TV channels, a CD / DVD / Blu-ray player and stereo system with, an movie library with a wide range of films for children. It also features a USB media player, which allows you to connect your hard drive and play your own music or video content. A shelf of books and brochures, information material and brochures about the local area and attractions can be found in the house. Also toys and games for children and adults are at guests' disposal. The unlimited WiFi internet access is also included in the price. In addition, the house has underfloor heating and a living room ventilation, so that the living comfort all year round is given. Let yourself be inspired by the beautiful Eifel and the border region! We gave everything, so that our villa stays a part of your memories of the great holiday. We look forward to welcoming you!
The accommodation in Villa Apfelgarten is wonderful. We had a relaxing, quiet and nice holiday. Anna and Carsten are very nice and were responding very quick when we had some questions during our stay. It is a place where different people can be together, but with enough privacy. During the day the houd is central located for visits in the area. In the evening we did enjoy the jacuzzi and sauna in the snow, it was great!!!
Katrien
2017-01-07T00:00:00Z
Eine unfassbar schöne Villa mit toller Außeneinlage und perfekt und geschmackvoll eingerichtet! Den Gastgebern ist hier wirklich etwas besonders gelungen: 6 Schlafzimmer mit eigenem Bad, Betten und Bettdecken allesamt sehr bequem, jedes Bad mit eigener Dusche und sehr sauber. Ein offenes großes Wohnzimmer mit großer Couch + TV und einem atemberaubenden Ausblick den Berg hinunter. Offene Küche mit jeder Menge Gerätschaften und Utensilien, reicht problemlos aus um für eine große Gruppe zu kochen und im Anschluss an der schönen langen Tafel gemeinsam zu essen. Das Highlight ist sicher der Wellness-Bereich mit einer tollen Sauna + Whirlpool, dazu gibt es unten noch einen extra "Spiele-Raum" mit weiterer Couch. Ebenfalls der hammer ist der außen liegende Whirlpool der schnell und einfach beheizt werden kann. Gartenanlage, Einfahrt, usw. alles top - wir sind gespannt im Sommer wieder zu kommen! Anna und Carsten sind sehr freundliche und zuvorkommende Gastgeber, haben uns im Vorhinein sehr gut auf unseren Aufenthalt vorbereitet und waren jederzeit für Fragen zu erreichen! Vielen Dank Euch!
Steffen
2016-01-03T00:00:00Z
Anna (Gastgeber) hat auf uns gewartet und hat uns alles in aller Ruhe erklärt...top!
Tonio
2016-05-18T00:00:00Z
Room Type
Entire home/apt
---
Property Type
Villa
---
Accommodates
15
---
Bedrooms
Bollendorf, Rheinland-Pfalz, Germany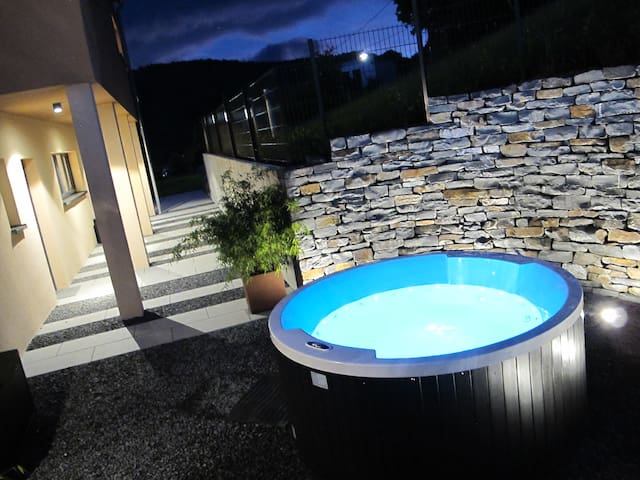 Auf 105 Quadratmeter erstreckt sich unsere größte und neueste Wohnung mit atemberaubender Weitsicht über die Eifel. Mit Platz für 6 Personen, zwei Bädern und einer riesigen maßgeschneiderten massiven Einbauküche lässt sie keine wünschen offen. Modernster Wohnkomfort kombiniert mit antiken Schmuckstücken bilden den Rahmen für einen erholsamen Urlaub!
We spend 2 days at Nasingen, and I and my family could not have chosen a better home to get close to nature. The scenery is beautiful - amidst the corn plantations with apples and plums in full bloom. The house is gorgeous and gives you a sense of how it would be to live in the countryside. My kids loved playing in the sandpit or just running amok. Karin and Hanna are generous hosts. They answered all our questions with care and made sure we settled in. The location is perfect if you want to go camping nearby, explore the Ardennes or visit Luxembourg. Everything is within an hour's drive. And if you just want to lounge, there is Elli, the dog, who loves to make friends.
Himanshu
2015-08-24T00:00:00Z
Room Type
Entire home/apt
---
Property Type
Villa
---
Accommodates
6
---
Bedrooms
Nasingen, RP, Germany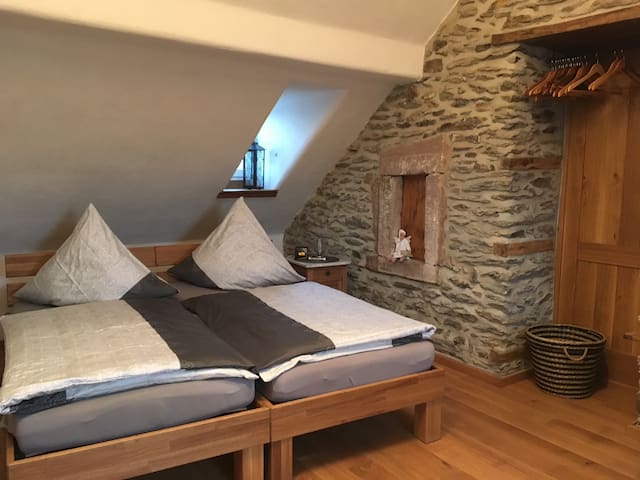 We live in an 100 year old villa with conservatory, living room with fireplace and an nice plant garden with terraces. The hosted part is in our newly renovated second floor consisting of a big social space with 140cm bed and separate bathroom. * In addition to coffee and tea making facilities in the room we would be happy to offer free breakfast to our new guests *
In our romantic big old house, where great effort has been put into interior details, you will find a new-renovated 60 m2 private floor which includes a bathroom and additional spacious room / lounge for relaxation.
Clean, quiet villa quarter with good transport possibilities to Luxembourg City. Within 15 minutes walk, the big local shopping mall is situated. 10 minutes away is the Mersch park with lakes, playgrounds, and drinking possibilities in summertime. Mersch is offering various recommendable restaurants
Petra and Adrien gave us a very warm welcome. They showed us the parking which was right at their house and had the choice of using the garage. Our hosts provided us with a welcome drink in their wonderful all glass conservatory and told us about Mersch and Luxembourg in general. When asked, they were happy to help us plan our 5 days trip. They gave us a tour around their magnificent house and garden. We found Petra and Adrien to be the perfect hosts: kind, flexible, respectful and very helpful.... good company too. The listing was indeed accurately described. The neighbourhood was safe, clean and pleasant to walk around. There were restaurants, a few small bars, a tourist office, a castle and other points of interest. Public transport was close by and is only 4€ for a ticket for the whole day on trains and buses.
Carol
2016-07-19T00:00:00Z
Staying with Petra & Adrien was like being at home since day one. From the very beginning they were amazing hosts, very welcoming, incredible conversation, and above all, great people. I came from Mexico to Luxembourg for a new job but had no place to stay when I arrived...Petra & Adrien made me feel as if I had never left Mexico. They were very supportive and understanding about my doubts regarding this new country and always had a word of support for me. I have to say Luxembourg presented me the very best of itself by giving me the opportunity to stay with Petra & Adrien while I got my things sorted out. Everything about my stay was amazing, the room is very comfortable, clean and private. The surroundings are really nice too!
Cynthia
2016-10-15T00:00:00Z
Petra & Adrien are such lovely and warm people. They welcomed us with delicious homemade snacks and wine like we were family or good friends of them. The next morning they treated us with a real English breakfast. Their house looks amazing and the bed- and bathroom were very nice and clean. We would highly recommend this place. Thank you so much for this wonderfull experience!
Ginger
2016-09-20T00:00:00Z
Great House, quiet garden is particularly beautiful, convenient, quiet and comfortable, in Luxembourg first recommended this place, parking is easier too, I will visit again, thanks
Wei
2016-07-07T00:00:00Z
Petra and Adrien are doing much more than Airbnb - they are making friends! We like every corner of the house and enjoyed every moment with them. Actually they provided more than they guaranteed. They shared wine, food and their interesting stories with us. Even though the house is not in Luxembourg city, but the trafic is convinient and stay with Petra and Adrien, you will know more about luxembourgish and even the world which is more than just visit the city for famous places. Thank you Petra and Adrien:)
Shiyuewei
2016-09-13T00:00:00Z
Staying at Petra and Adrien's house was absolutely amazing experience! They are so kind, caring and lovely people and I almost felt like I was staying at my "Luxembourgish" aunt and uncle's place :) They prepared me delicious breakfasts and dinners, they invited me to have a glass of wine with them and they even took me to the airport, which was realy nice of them! The house is beautiful, just like from the fairytale. The floor where I stayed is very cosy, clean, peaceful and quiet. There is a nice view to the forests and meadows around Mersch. I liked every single detail and decoration in the room and the whole atmosphere was very relaxed... just what you need after the whole day at the bussiness conference. Petra and Adrien, Thank you again for everything!
Katarina
2016-09-10T00:00:00Z
Very nice stay in a splendid home with very nice people.
Francis
2017-02-03T00:00:00Z
We had the most amazing time staying with Petra and Adrien. They were wonderful hosts who out did themselves on our expectation for hospitality. Their home is amazing, quaint, and truly a piece of art. It was a pleasure staying there. Very convenient for going into the city or touring around the country. They gave wonderful recommendations for places to eat, stay and things to do all over as well as being knowledgeable on so many subjects and interests to us. I have already recommended them to several friends and expats living and traveling in the area. They're truly such a gem.
Erin
2017-01-22T00:00:00Z
Room Type
Private room
---
Property Type
Villa
---
Accommodates
2
---
Bedrooms
Mersch, Luxembourg, Luxembourg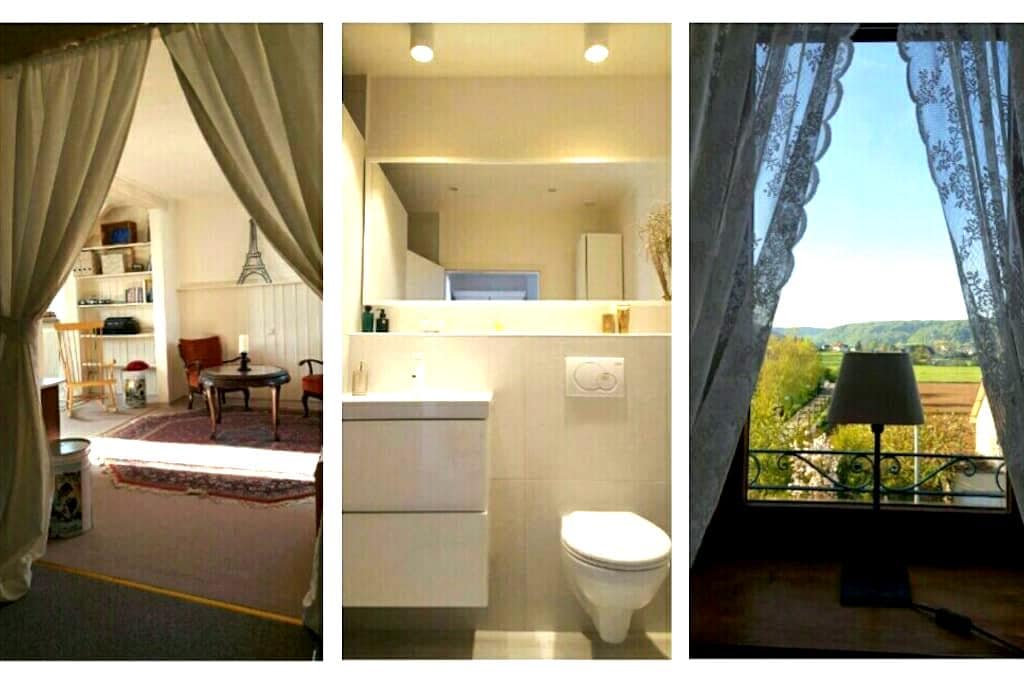 A pleasant chalet in the Niederwampach countryside, a small village on the fringe of the Ardennes, on the Luxembourg side. Quiet and the natural environment on the menu. A superb view from the terrace/balcony.
Raphael has a great place for a good price and he's a very friendly host. I would recommend if you are looking for a retreat on a nice, peaceful spot on the Luxembourg countryside!
Wouter
2015-05-06T00:00:00Z
We loved staying in the little chalet. The photos are very accurate and the home is in a quiet little village. It was a great location to explore Luxembourg. We were pleasantly surprised to be so close to Bastogne. There was shopping close by so we were able to get food and have nice family dinners. We were even able to get ice to fill our coolers for our drives around Luxembourg. Staying here really makes you feel at home. Our host was easy to communicate with and he was helpful. The children loved playing in the yard and we enjoyed seeing all the wonderful pets in the neighborhood. Evenings were quiet and restful.
Karen
2015-07-05T00:00:00Z
Very nice place to stay! I enjoyed the house, good heating and everything you need.
Zsuzsanna
2013-01-20T00:00:00Z
The chalet has an older bed and a bunk bed. We had a good time with two adults and three children aged five, seven and nine years. The chalet is in a beautiful setting. We enjoyed ourselves well.
Nico
2015-07-31T00:00:00Z
We really enjoyed our stay at Raphael's chalet. His kind welcome and tour of the house made us feel at home right away. The house is well equipped (with WIFI) and was very clean. Niederwampach is a quiet and rural town. From the balcony the view on the forrest on the other side of the road is great, especially when enjoying our morning coffee. We will certainly recommend this cosy chalet to our friends and will return as soon as we will be staying in the Bastogne/West-Luxemburg region.
Ruud
2012-10-22T00:00:00Z
The Little Chalet is a beautiful place to relax for a few days in Lux. Close to the border of Belgium, and only an hour or so by car from Lux city, making it easy to explore the whole country and others around it. Settled in a little village of less than 200 people, it gives you a great look at the quiet lives of the farmers around the country. Along with the great views from the deck, we enjoyed peaceful walks along the rolling hills at sunset.
Elizabeth
2015-06-17T00:00:00Z
Penoit is an excellent host making the checkin hassle free. He responds very fast to our queries. It's a beautiful and comfortable cottage for 4 people with enough kitchen amenities, comfortable beds, very relaxing lounge chair and garden chairs. It has fast internet connection. Pinoet provides enough linens for your need and if you stay long enough like us there are laundrettes in Bastogne. It's is located in a farming village which is pretty and quiet. Approx 10mins drive from Bastogne for your shopping needs and restaurants and where the museums are located. The chalet is surrounded by villages that were involved in the Battle of the Ardennes. Highly recommended.
Mohd Razif
2016-06-05T00:00:00Z
Le petit Chalet is a cosy, comfortable small wooden house with a warm ambiance. The house has two bedrooms; one with a large-size, comfortable double bed with excellent mattres, the other with a wooden bunkbed. The kitchen has all necessary equipment, including an electric stove and a large varity of utensils. The bathroom is comfortable to, with a shower with sufficient capacity and pressure. Fast WiFi is available. Heating is adequate with a large electric radiator, with additional mobile electric stoves The house is within a small village, and well suited for all sorts of trips; walking, biking or by car in the viscinity. The landlord is fast in responding to questions, and was a available for a brief tour around the house. All in all, a very good basis for an enjoyable stay in the Ardennes. Ideally, for two persons, but I guess with one or two small kids it would be a pleasure too.
Maarten
2014-01-04T00:00:00Z
Room Type
Entire home/apt
---
Property Type
Villa
---
Accommodates
4
---
Bedrooms
Niederwampach, Diekirch, Luxembourg
Bettingen - Airbnb
:
Average

4.45

out of

5

stars from

38

guest reviews
Enter dates to see the total trip price including additional fees (but excluding any taxes).