Enter your check in date in the format dd-mm-yyyy
Enter your check out date in the format dd-mm-yyyy
Listings you can book without waiting for host approval.
Enter dates to see the total trip price including additional fees (but excluding any taxes).
This July and August, you can try one of these 100 highly-rated homes, at all price points, and experience a local's view of Sonoma. 24-hour check-in, Instant Book, and local wine and snacks let you just sit back and enjoy your trip.
You will find this recently remodeled property perfect for your stay in West Point. It has an overlooking view of main street with bay windows. It is conveniently located in the center of downtown. The Nielsen Center (convention/wedding venue) is 4 blocks away. My place is good for couples, solo adventurers, business travelers, and families (with kids). There is a breakfast and lunch place three doors down (Bud's). There is a bar one block away (Mayberry's).
Room type
Entire home/apt
---
Property type
---
Accommodates
4
---
Bedrooms
1
West Point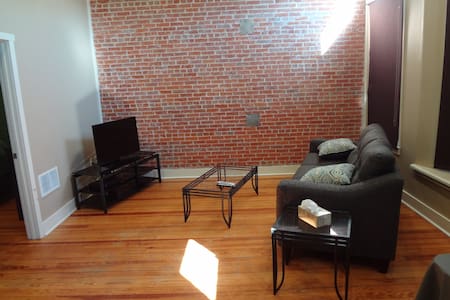 Stay in a private home with 2 car garage 1 hour from Omaha, Sioux City, and Columbus. 15 minutes from hunting and fishing. Walking distance to the Swedish Capital of Nebraska. Not a shared space, you will have the home to yourself.
This rental is for the entire home and we don't live there. You'll have complete privacy, yet we're only a phone call away if you need anything. As a guest in this home, you have access to the entire home, which consists of the main floor, upstairs, and basement, front and back yard, and two car detached garage. Laundry room is located on the main floor just off the kitchen. We are as involved or as removed as you are comfortable with. We own a book store in town and are there to help you six days a week, and a mere phone call away when we're not at the store.
There is no public transportation service in Oakland. The house has a private driveway and two car garage, and parking is free anywhere you go in town. The only exception is that there is no parking on Main street (Oakland Ave.) overnight from November to April. Highway 77 goes through town, and we are close to Highway 32, which will take you to Highway 75 east of town, and Highway 275 west of town.
As traveling contractors we stay in a lot of Diff cities all over U.S. and wanted to let all our fellow contractors and traveling business people that we had a Wonderful experience ! Adam and Sonia are amazing folks ! Small town but quiet and peaceful we love it ! Staying long term working at CF in Sioux City approx 55 miles away
Jason
January 2016
My experience has been wonderful house was very clean and newly remodeled 100 year old home very nice cozy and warm ! Loving the small town it's located in ! The Host are amazing people very friendly and super nice and hands free once we moved in for our long term stay ! Would def stay again and again !
Jason
December 2015
Awesome place to stay good people very clean and quiet we loved it
Jason
January 2016
This was our second air bnb experience and it was great. Adam and his whole family are easy to talk to and very helpful when you arrive. When I asked about coffee, they even made sure I had their personal keurig to use, since our reserved house was unavailable and the gorgeous substitute didn't have one yet. Before our arrival, when our reserved house became unavailable, I was contacted by Adam and he put us in a much larger accomodation. I absolutely loved the house we stayed in and it had everything we needed. My kids were excited as well, for they had separate rooms. Overall, if traveling through again, I would definitely stay here.
Linda
July 2016
Schöne Unterkunft, sehr nette Gastgeber. Hat uns sehr gut gefallen.
Dirk
July 2016
Room type
Entire home/apt
---
Property type
---
Accommodates
4
---
Bedrooms
2
Oakland
2-story house with ample space, semi open concept main floor. Front and back yard (partially fenced), quiet neighborhood. Multi-car driveway. Town has everything from restaurants to shops and grocery stores.
The main floor includes a large semi-open concept living area with a gas fireplace (not currently in use), piano, and picture window. The kitchen flows into the dining area and has an island. There is a bedroom on the main floor that could be turned into an office. Upstairs there are three bedrooms, each with a walk-in closet. Two full baths, one on each floor. Laundry (washer and dryer) is in the back porch/entry way. Multiple closets that are somewhat stocked for your use. Guests can access yard, including fenced in portion, but not the garage. The entire house is yours to use, except the basement. One of us (most likely Laura, Randy, or Trina) will welcome you to the house upon your arrival. We live less than 15 minutes away and are readily available by phone call or text.
The neighborhood is quiet, a mix of families and retired couples. An alley, not often used, is at the back of the property. There is no public transport in West Point, it's a great small-town that has everything you need within a five-minute drive.
Great! Really nice house. Quiet neighborhood in a sweet small town. Home is fully furnished with plenty of space.
Austin
March 2016
Great stay! Randy was more than accommodating and we really enjoyed our time in West Pointe!
Erin
March 2016
It's always a great stay definitely will keep using it when we go back for visits!
Laura
August 2016
Randy was very helpful and accessible during my stay. I had a couple concerns which he addressed promptly and cheerfully. Great host!
Jackie
July 2016
Great experience. Good communication. Very nice hosts. Easy to work with. What more can I say? If you need a place to stay in West Point, this is the place. More economical than a hotel, comfortable, and great neighbors. I really enjoyed my stay. Thank you Randy (to your family too). Next time I'm in the area, I'll definitely stay here..
Dave
May 2016
I didn't actually meet Randy, but we communicated through text. His home is very nice and welcoming.
Lori
September 2016
Great stay! My daughter loved the swing set! It was just what we were looking for.
Laura
April 2016
Randy was incredibly prompt and responsive. Our housing fell through last minute and Randy saved the day by getting back to us so quickly. I am grateful for his willingness to be creative on such short notice. The place is super cute, comfortable and peaceful. We would highly recommend it.
Jennifer, Jon & Tove
June 2016
Room type
Entire home/apt
---
Property type
---
Accommodates
8
---
Bedrooms
4
West Point
Cozy luxury apartment with hot tub. King size bed, two twin beds, satellite tv, Wi-Fi, in downtown Oakland.
Room type
Entire home/apt
---
Property type
---
Accommodates
4
---
Bedrooms
0
Oakland
Apartment is located in the heart of downtown Oakland. Wi Fi, HBO, private laundry, dishwasher, microwave, coffeemaker, handicapped accessible bathroom. Private entrance and parking, NO smoking NO pets. Space is not shared with host.
One bedroom apartment is comfortable and secure. The apartment is located behind a bookstore in a commercial district, so it's very quiet except for the occasional train. The apartment is not our primary residence, so guests have the entire space with privacy. We own the bookstore in the front of the building, and are there nine hours a day six days a week, and are only a phone call away if anything comes up.
There is no public transportation in Oakland. However, we are close to Highway 77 and Highway 32. This location is on Oakland's main street, walking distance to groceries, cafe, bars, library, resale store, hardware store, and there's an Anytime Fitness franchise across the street. A little further walk and there's a Dollar General on Highway 77. Oakland's public park includes tennis courts, basketball courts, a frisbee golf course, and a playground for the kids. In summer, there's a public pool.
The host canceled this reservation 34 days before arrival. This is an automated posting.
Ruth
The host canceled this reservation 55 days before arrival. This is an automated posting.
Ruth
Very nice place to stay, room for friends, visiting, and cooking. Close to groceries and downtown Oakland
Steve
November 2016
Room type
Entire home/apt
---
Property type
---
Accommodates
5
---
Bedrooms
1
Oakland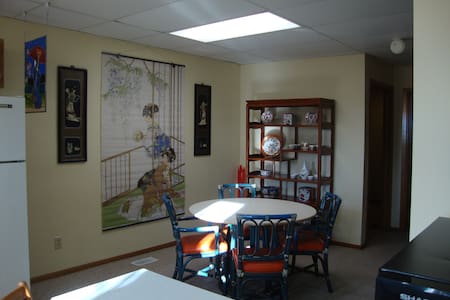 Secluded, quiet, second story bedroom in a Prairie Style 4 by 4 house. On acreage surrounded on two sides by fields. Downstairs bathroom. Breakfast typically provided and other meals may be purchased. Guest may use kitchen to fix their own food.
New double mattress in antique metal frame make for a comfortable night's sleep in bedroom with quirky decorations. Enjoy our living room, dining room and kitchen. Guests can have as little or as much interaction with the hosts as they wish.
We live in a quiet, rural setting. Free parking. We have Wi-fi with a fiber optic connection.
The host canceled this reservation 7 days before arrival. This is an automated posting.
Joy
Susan and her husband were wonderful hosts! I stayed with them for the night while I was traveling. They had a fantastic homemade soup on the stove when I got there, and prepared an early farm-fresh breakfast for me so that I could get back on the road in the morning (even made sure my thermos was full of coffee!) They also helped me to plan my route for the morning. I would definitely stay with Susan and her husband again.
Jennifer
May 2016
Susan and Jim were amazing hosts! They made me feel as though I were a part of their family from the first minute and I had such a great time getting to know them. Jim even made homemade soup from ingredients that he and Susan had harvested from their garden - wonderful! The bedroom I stayed in was delightful as well and I was sound asleep the second my head hit the pillow. The drive was a little bit to get to the house but for me personally, everything was exactly what I was wanting and even needing. If they would have me, I return to stay or even just say "hello" in a heartbeat. An overall excellent experience!
Therese
June 2016
Susan and Jim were wonderful hosts and went out of their way to make me feel at home and cared for. I left feeling like one of the family.
Linsey
August 2016
Susan and Jim were welcoming from the moment we arrived. They provided us with good hospitality and good company. Their home was cozy and they were generous with their time and information. We had great conversations and they served us a wonderful breakfast. The bed was comfortable and we slept well. We felt like part of the family and enjoyed sitting around the counter in the kitchen discussing many diverse topics and sharing knowledge.
Lis
August 2016
It was such a pleasure to stay with the Skinners in their home. They welcomed me like extended family, and were such a pleasure to talk with. It was the perfect rural retreat on a route that bypassed the traffic in town, and the drive to Craig, NB from the interstate is beautiful. Breakfast is a delicious production with everything grown or made within walking distance. I was sent off in the morning with a few fresh cherry tomatoes from the garden. It was such a pleasure, and their place is the best way to get a taste of living well in Nebraska.
Jamie
August 2015
The Skinners definitely delivered! The unpaved roads in Craig were difficult for me (and my car), but that was the only downside. Susan and her husband are incredibly kind and definitely made me feel at home. I came to get away from my stressful life and staying with the Skinners definitely helped. The majority of the food I was served was either from Susan's garden or locally harvested, which was impressive and delicious. If you're in the area, this is a great place to stay!
Rachel
October 2015
I was traveling for business, so I spent some extended time at Susan's. I was greeted warmly, welcomed with food and conversation, and made to feel right at home. It is a quiet community surrounded by open fields. And the birds and squirrels are the mornings entertainment! While you are away from urban activities, if you want a quiet, unique getaway, this is your place! Loved it!
Carla
March 2016
Room type
Entire home/apt
---
Property type
---
Accommodates
2
---
Bedrooms
1
Craig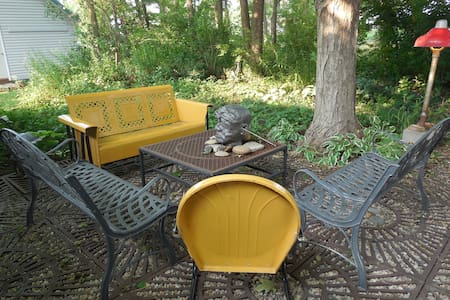 This house is a new build within 10 years. It is fairly open design with a large kitchen - living room combination. Two nice rooms with queen beds. Easily sleeps 4 with room for air mattresses for more. A crib is also available if needed.
Ken was a great host. This was the first time we used AirBnB and it was perfect. We were a bit later than we expected but he saw us coming down the road and greeted us at the door. We felt very much at home. I would highly recommend Ken's listing to anyone needing a place to stay in Norfolk.
Aimee
August 2016
Ken was there and ready with all smiles when the dogs and I arrived for our stay - was super friendly and available if I needed anything. Felt like an old friend from the start :)
Sarah
October 2016
Big and great house
Liu
August 2016
The host was good. The house was not in the best shape but it was ok. Fewer personal things would make the house more comfortable for the guests. The neighborhood was safe, nothing ver happened to me but it wasn't a very nice neighborhood. It was ok and got the job done.
Mahsa
September 2016
The house was great. Ken was great had the house ready for our arrive, he worked around our schedule.
Esther
September 2016
We enjoyed our visit to Ken's home and appreciated the several personal amenities that he provided. The neighborhood was as he described and we felt very safe and "at home."
Don
October 2016
Room type
Entire home/apt
---
Property type
---
Accommodates
4
---
Bedrooms
2
Norfolk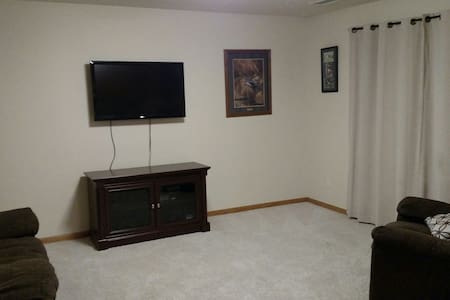 Private room in a modern home. Shared bathroom. Access to whole house including living room, kitchen, and laundry. I want you to feel at home here. Norfolk is great community with everything you need.
The room is great for two people. Queen bed. Television with DirecTV in your room. Guests will have access to the whole house. Full use of kitchen and living area. Feel free to use the laundry. Bathroom is a shared bathroom. Interaction with guests will be as much or as little as you are comfortable. I am gone a lot so may not be at the house while you are there. I am a school teacher so during the school year I am many times tired up until 4pm.
My neighborhood is on two quiet streets with great people. Very low traffic. Great area if you like to walk or run. There is a taxi service in Norfolk. I am also an Uber driver and would be willing to drive you if needed. I have a crib available if needed. I have dogs on the property but not inside.
It was my 1st time to us Airbnb for renting a room. I had a great experience. Ken is really welcoming host. Everything was prepared and room was nice and clean. Would stay there again :)
Liisi
July 2016
Room type
Private room
---
Property type
---
Accommodates
2
---
Bedrooms
1
Norfolk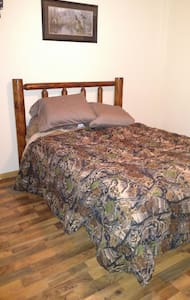 Older home, main roads, rural . Quiet An hour from Omaha , or an hour from Lincoln. QUiet time prevails at this home.
Interesting old home and lovely gardens with friendly old dog. very hospitable people.
Kay
June 2012
Mike and Donna are great hosts with a ton of local knowledge to share. My husband enjoyed a field trip with Mike to the mobile co-op and was introduced to some of the guys that run the local mill. Everyone is very friendly and my husband and I can't wait to finally move here! It was relaxing to sit on the porch and enjoy a conversation for a change! Hoping to turn this connection into a lasting friendship
Nichole
August 2016
Room type
Private room
---
Property type
---
Accommodates
2
---
Bedrooms
1
North Bend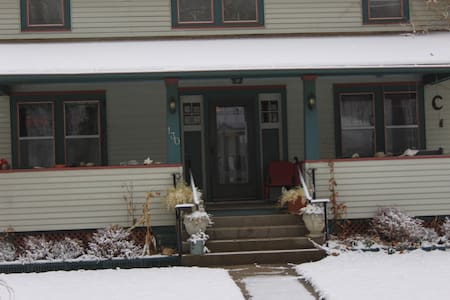 Large room with new queen bed frame and mattress.
The house was build within the last 10 years. Located on the corner of two quiet streets. Guests have full access of the house with the exception of the other bedroom. I am gone often but will interact as much or as little as you like.
I have excellent neighbors in a quiet neighborhood. At this time the other room in the house is occupied by a traveling nurse. This room would be great for another nurse needing an extended stay.
Room type
Private room
---
Property type
---
Accommodates
2
---
Bedrooms
1
Norfolk
You'll enjoy staying in the detached garage-apartment of our 110 year old home. It's a modern space with a separate entrance right off the courtyard. We offer a full kitchen & living area with sectional sofa and 52" smart flat-screen TV. Both bedrooms are uniquely decorated. There is a common area with a futon and another 36" flat screen. Complimentary snacks and bottled water. Access the hot tub and backyard fire pit upon request. Cats and dogs live in main house but do not access apt.
Let us know what time you plan to arrive and we will be ready to greet you. If we are unavailable, we will text you the code to the door lock and you can make yourselves at home. Guests may use the entire two-floor space, accessed through a separate entrance from the garage area. Let us know if there is anything you need. We're here to make your stay as pleasant as possible.
Just two blocks from our home you'll enjoy a walk down Nye Avenue where you will find beautiful historical homes. We're located two blocks from the library and within walking distance of historic downtown Fremont with unique shops and great coffee. 3 forms of ID verification (or at least two positive reviews) through Airbnb is required to reserve our space.
Thanks Nancy and Glen for another great experience! Really enjoyed the stay!
Jessica
May 2016
This spacious apartment is exactly as advertised. Nancy has provided everything you will need and probably much more. Very quiet and beautiful neighborhood that is convenient to downtown Fremont.
Jim
July 2016
We were traveling through Omaha and had to stay at Nancy's place again since our first experience was so awesome! This is officially our go-to place when we are in the area. As described, it's definitely cozy with a wonderful, quiet neighborhood. Two thumbs up!! :)
Bryan
November 2015
Perfect house!Wonderful decoration!The owner provide us delicious foods.
Shouxu
August 2016
The Cozy Garage Apartment was a lifesaver for my family of three. We moved out of our house in Papillion in anticipation of relocating to North Bend. Unfortunately, the closing on our house was delayed so we were in a tight spot when our son was scheduled to start school in North Bend. I chatted with Nancy about our predicament and she was very accommodating! We stayed for 10 days and would have loved to stay longer but Nancy's little apartment in Fremont is a hot commodity! The space has 2 separate bedrooms along with two living areas, which was perfect considering I was able to watch scary movies downstairs while my son played his PlayStation upstairs. The Internet was also fast enough to keep up with streaming live Cubs games (I watch all of them), playing movies on Amazon, Netflix, or Hulu, and PlayStation Plus on the TVs, and Wifi for multiple devices, i.e., iPads, iPhones, etc. The snacks and drinks were a nice touch too! Overall, it was a very pleasant stay and deserves a highly recommended rating in my book. The House Rules list displayed in the kitchen is hilarious so make sure you take the time to read it!
Nichole
September 2016
We have stayed at this airbnb place a few times and it is always wonderful! Very comfortable and spacious, on a beautiful, quiet street. We love it!
Sarah
December 2016
The reviews don't lie, this place was amazing! My wife and I recently had a week long stay and we were so impressed with everything. It really does feel like a home away from home. Clean, comfortable and the AC works great, it was very hot in Fremont during our visit. Nancy is a great host and we can't wait to stay here again on our next trip!
Ron
August 2016
Always a great experience! Thank you!
Jessica
June 2016
Room type
Entire home/apt
---
Property type
---
Accommodates
4
---
Bedrooms
2
Fremont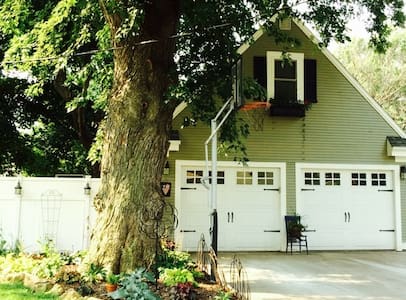 you will share a bathroom a fully fitted kitchen and a huge leaving room with TV you will have the possibility to use the washing machine and dryer for free The room is private with key, We provide milk, cereals, coffe, tea and fresh fruits
Room type
Entire home/apt
---
Property type
---
Accommodates
4
---
Bedrooms
2
Fremont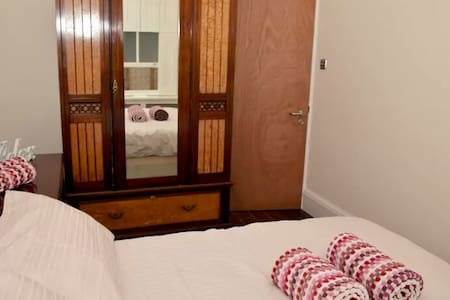 Partitioned in the Powerhouse apartments, across the street from Fremont's Historic Downtown. This is a splendid spot for Midland visitors, out-of-town friends+family, & the occasional rambler.
has recently been lovingly altered to accommodate. Enjoy the freshness of the new, minimalist inspired space. Soak in the history of the city's former power plant. - **space may be altered to accommodate 4 guests (comfortably) upon request. - Guests may access the secure building. 1 key set will be provided. - Large community room available in lobby for small gatherings (popular for family+friend visits) - Coined laundry rooms are available. Small loads can be done in personal washer/dryer (inside guest space!). - Single shared bathroom for all guests. - 1 parking garage pass available. I personally prefer occasional interaction with my guests. I respect the need for peace & quiet. I too am a quieter individual. For more exploratory guests, I have a good pulse on the city, & can be talked into leading a guided tour or facilitating a night out…or in!
Located right next to the heart of the city, Historic Downtown Fremont. - 26 food + coffee locations - 5 nightlife locations - Antiques - Retail - Fremont Park across the street - 2 blocks from Midland University "Safest stay in town, right across from police station!" City Cab is most popular public transit in town. Give Über or Lyft at shot, especially when going to/from Omaha. Parking on site: street nearest building. Occasional spots in 2 outside parking areas. (Smoker sites are at front/back doorways of building)
Room type
Private room
---
Property type
---
Accommodates
4
---
Bedrooms
1
Fremont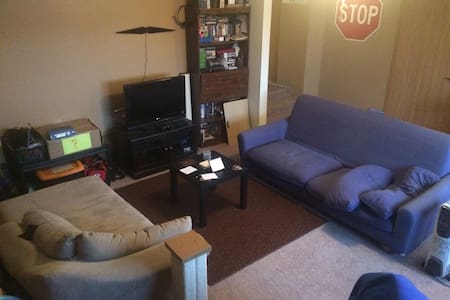 Coming in to the North Bend area or looking for a quiet escape? This is the perfect place for a family or group of friends to get away while still being close to Omaha, Fremont, Columbus and Lincoln. Our dates can be flexible, just send a message.
Lovely, fully stocked home on a lake, great for a family or group of friends. Conveniently located less than an hour from Omaha, near 18 hole golf course, walking/running trails, and restaurants. All kitchen utensils, charcoal grill, washer and dryer (+ detergents), sheets, towels, pillows, beach games, and outdoor furniture. The place is yours but we're only 45min away if you need us.
The house is in a private, quiet lake community and makes for a great getaway just minutes from the city. You'll need your own vehicle to get here but there's room in the garage for one vehicle and lots of driveway space. 3 bedrooms -Master with on-suite -Room with queen bed -Room with full size bed, twin bed, and bunk bed above the full -Additional king sized bed in the unfinished basement. 1/2 acre sand beach, near walking/running trails, your own sand volleyball court, directly across the road from 18 hole golf course (club house is 100yards away from our front door), fire pit (some wood available), lawn games (horse shoes, croquette), fully enclosed back porch with 6 person dining table, swing, and chairs/love seat/coffee table. Additional picnic table outside of enclosed porch.
Very relaxing and well equipped house on a small lake. We couldn't have asked for anything better for our visit with our daughter who lives a few miles away. Host communicated very well and left us lots of staple items to make our stay quite pleasant. The screened in porch was the perfect place to relax with our dogs.
Kim
May 2015
The house was great! In a small little town, but the gated community was gorgeous. They kept the house very clean and well organized. Kitchen utensils were very easy to find! Bedrooms were made up well, and we had plenty of space for 4 couple to each have their own room. The basement is unfinished, but they did a great job of making the bedroom area down there as nice as possible. We would LOVE to come back next year, and make out college reunion a yearly thing!
Lauren
May 2016
Room type
Entire home/apt
---
Property type
---
Accommodates
9
---
Bedrooms
3
North Bend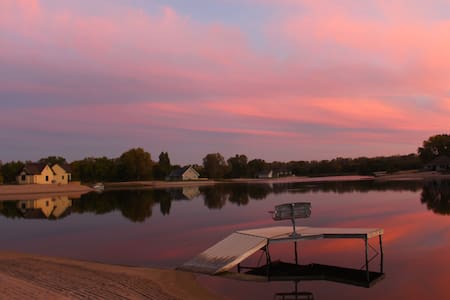 Older home, main roads, rural . Quiet . Laid back hosts, multiple internationals friends have stayed over the years.
Room type
Private room
---
Property type
---
Accommodates
2
---
Bedrooms
1
North Bend