Steps from Main St, tucked cosily in the back our home, is our bright and sunny room. It has a private entrance, private bathroom, and windows facing our garden and Mt. Beacon.
Our place is a block from Main Street but very quiet here. You can hear crickets at night and see the stars from the large back window, deck, and yard. The room was recently renovated and is situated on the first floor in the back of our home (it is attached). It has its own private entrance and bathroom with a deep-soaking jetted tub. The giant window in back affords plenty of light and you will wake up to the sun rising over Mount Beacon. The room has a mini fridge and though there's no kitchen, or tv, there are many restaurants nearby.
Our place is in the middle of everything: steps from Main Street where there are coffee shops, farm-to-table restaurants, craft beer pubs, and vintage stores. It's a 20-minute walk to the Metro North station with trains leaving nearly every hour for Grand Central Terminal (the trip takes about 90 minutes). Other places of note: 5-minute drive or 30-minute walk to Dia:Beacon museum, Mt Beacon, and the trails along the river. 10-minute drive to Breakneck Ridge. 25-minute drive to Storm King across the Hudson river.
I had a wonderful stay at Larysa's place. I was there on something like a writing retreat and couldn't have picked a better place. The room is cozy, clean, and bright - it's sunlit through most of the day. The jacuzzi is definitely a luxury and the back porch is a perfect little space to sit outside when the weather's agreeable. Beacon itself is a calm & lovely town, a great place to collect your thoughts and enjoy the landscape. And Larysa was such a thoughtful host throughout my stay. I hope to return at some point, and absolutely encourage anyone thinking about visiting Beacon to stay here!
Lindsey
2016-11-11T00:00:00Z
Larysa was amazing! Very accommodating, quick communication, and the place was clean and quiet. Also the location was perfect. Only 1 block from Main Street where we found plenty of delicious food and little shops to explore.
Brian
2016-09-29T00:00:00Z
Larysa and Bill were lovely hosts. Their house is in a very cute neighborhood just a minutes walk from Main Street in downtown beacon, but it feels like a suburb. We were their first guests, but it didn't show. The room was very clean, had a separate keyed entrance as promised, and an amazing bathroom with a VERY luxurious spa/bath. Bonus points for that. The room has its own deck overlooking their backyard and garden. They even clipped fresh sunflowers for the room and the deck. Very responsive, kind and thoughtful hosts; my fiance and I will definitely look to stay with them again next time we need to escape Brooklyn.
Ben
2016-09-25T00:00:00Z
Larysa is an excellent host! She was so generous in offering to drive us to the start of our hike which would've taken us 40 minutes walking uphill otherwise. She also let us check in early when initially we were just going to drop off our bags. The room is as advertised and was clean, welcoming and had a beautiful view of mountains. The room does adjoin the kitchen and the rest of the house via a locked door, so there isn't a lot of sound privacy.
Chandler
2017-02-03T00:00:00Z
We had a wonderful weekend in Beacon. The house is right near Main Street and close to everything, but the neighborhood itself is quiet and residential. The apartment is cute, clean, and designed with care, and Larysa was so helpful in giving us tips about hiking, eating, and exploring. It's really the best of both worlds: a friendly, helpful host and a room that feels like a private apartment. This was definitely one of my very best Airbnb experiences.
Martha
2016-12-11T00:00:00Z
Magical!
Nadia
2017-01-13T00:00:00Z
Larysa was a great host! The room was super clean and comfortable. Getting around without a car was easy, and Larysa offered to drive us places. Overall a great trip! :)
Juliet
2017-01-29T00:00:00Z
The house was super cute and Larysa was very responsive on any necessary communication. The furniture in the room were all so chic and nice too. The unit has this very peaceful calming vibe.
maika
2017-02-25T00:00:00Z
Room Type
Entire home/apt
---
Property Type
Apartment
---
Accommodates
2
---
Bedrooms
Beacon, NY, United States
1 bedroom 2nd floor apartment with view of Mt. Beacon just one short block from Main St. Accessible to all that Beacon has to offer. Comfy double bed. Full bath with tub/shower. Kitchenette equipped with hot plate, toster oven, coffee maker, microwave and apartment size refrigerator. Coffee and a assortment of teas are offered.
Cozy is a private 2nd floor sun filled apartment with a front door entrance and comfy rocking chairs on the porch! The apartment is decorated with DIY projects, personal collectibles and hand me downs. The decor reflects the style of my 117 year old house!
My house is located in a family friendly neighborhood with neighbors taking care of each other.
A lovely apartment in a nice, quiet neighborhood. The space was spotless, private, and truly comfortable. Lynn was friendly and easygoing, even loaned me a pot from her own kitchen so I'd have the perfect weight for heating stew on the hotplate.
Abigail
2014-11-11T00:00:00Z
Lynn was a wonderful host! She greeted us with a friendly and warm welcome and showed us around the apartment. The space was very clean, quiet and private. It was perfect for our one night stay in Beacon while there for a wedding. Highly recommend it!
Chelcey
2014-12-14T00:00:00Z
We had a great time with Lynn. The place was exactly as described, super cleans and just a few short blocks to Main Street. Lynn was an amazing hostess, met us upon arrival, and was there to answer any questions we had. We loved her place and would highly recommend it to anyone visiting the beautiful town of Beacon!!
Nils
2015-12-07T00:00:00Z
Lynn's place was fantastic. Quiet, clean, and well-maintained. It's also very well located. Close to Beacon's main drag in a handsome neighborhood. It served as a wonderful home base for a brief escape from the city.
Dan
2015-03-05T00:00:00Z
Lynn's apartment was a really nice, clean and cozy place to stay during our overnight trip to Beacon. Great proximity to Main St. attractions and not a bad walk to the train station or Dia Beacon, either. It was the perfect sized place for the two of us and Lynn was very accommodating—she even let us drop by and leave our things at her place as we arrived before check-in time. Would definitely stay again, thanks Lynn!
Lauren
2014-11-23T00:00:00Z
Lynn's home was very clean and pleasant! My girlfriend and I stayed the weekend for dia: beacon, we highly recommend staying at Lynn's place if you're looking to visit. It's close to Beacon's Main Street as well.
Brandon
2016-01-03T00:00:00Z
Lynn was very friendly and helpful and the apartment was charming.
Isla
2015-06-18T00:00:00Z
We loved staying with Lynn, at the Cozy 2nd floor apartment, everything was just perfect for one night stay in center of Beacon. Walking distance to the main street, with all the shops and restaurants close by. Supermarket around the corner. Trouble free. Plentiful parking on the street. We would definitely stay again.
Lidija
2015-06-01T00:00:00Z
Room Type
Entire home/apt
---
Property Type
Apartment
---
Accommodates
4
---
Bedrooms
Beacon, NY, United States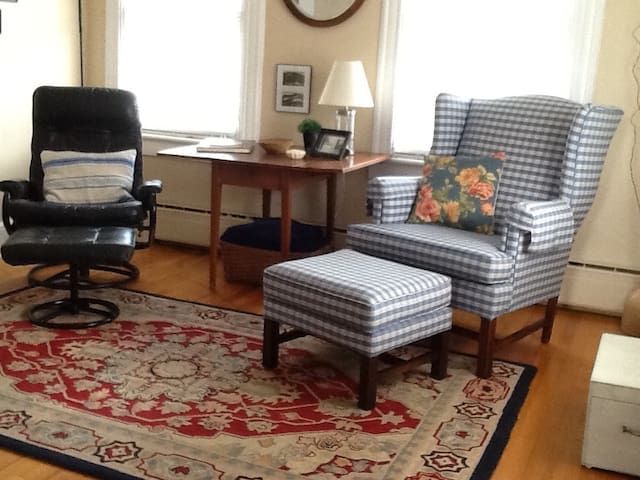 Street-level private entrance to a mini apartment just off Main St. in Beacon's west end. Pristine interior and a 15 minute walk from Metro North or plenty of street parking available. We live upstairs.
Private one bedroom mini apartment with queen size bed, TV, white noise machine and kitchen with table and chairs and bathroom with shower. The kitchen has a microwave but no oven. There is also no range hood so guests must limit the cooking to boiling and steaming and refrain from frying or sauteing. Although there is a washer and dryer in the bathroom they are not for use by guests.
Usually quiet residential neighborhood just off Main Street close to galleries, coffee shops and shopping. In addition to an active visual art scene, Beacon now has an equally vibrant music scene with all kinds of music available on any given night at numerous venues in town including The Towne Crier, Quinn's, Dogwood, Chill Wine Bar and others.
This place is the perfect weekend getaway. David and Eleni were wonderful hosts. It is just off Main Street, short walk to all the restaurant, shops and galleries. The apartment itself was better than expected. We would definitely stay here again and recommend it to others.
Luke
2016-02-09T00:00:00Z
Great place to stay in every respect. We can't wait to stay with Eleni and David again!
brian
2016-04-06T00:00:00Z
The apartment is very clean (spotless actually) and comfortable! Eleni and David have clearly taken that extra step to pay attention to the details that make the difference between good and great (fast, reliable wifi; premium towels, etc.) They were very attentive to our needs, without being intrusive. Highly recommend!
Jason
2016-06-19T00:00:00Z
David was super nice to us, brought us excellent coffee upon arrival. The apartment was great: clean and fully equipped. Much better than it looks in the pictures! The location could not be better: less than a minute from the main street. Internet worked perfectly. We really wished we had booked for more days. We were super at home. If we come back to Beacon, will not hesitate to repeat.
Bonjo
2015-08-14T00:00:00Z
Eleni and David were very welcoming, communicative, and accommodating, and the apartment was lovely and convenient to the train, museum, and main street. We had a great time and would definitely stay there again!
Charlie
2015-07-05T00:00:00Z
It was such a perfect little apartment for a nice relaxing getaway. Very clean, quiet and everything we needed. Equipped with towels, shower stuff, comfortable bed, felt very safe! Perfect location right off of main street, easily walkable to the train station, all restaurants and shops, and the amazing hike on mount beacon. Very hospitable and just what we were looking for!
Rachel
2016-07-18T00:00:00Z
The apartment is lovely. Fresh ground coffee in the morning was also very much appreciated. Would love to stay here again!
Lester
2016-01-18T00:00:00Z
Elena was very welcoming, showed me the apartment, and offered to help in any way. The space was brand new and pristine and comfortable. Since I am a light sleeper, I was disturbed by the noise over the bedroom at night and early in the morning.
Deborah
2015-08-27T00:00:00Z
Room Type
Entire home/apt
---
Property Type
Apartment
---
Accommodates
2
---
Bedrooms
Beacon, NY, United States
The Beacon Nest is a cozy bedroom and bath with private entrance above The Beacon Bungalow. Minutes from Main Street, plenty of towels, fresh sheets, coffee and tea. You have your own fridge for snacks and beverages.
The Beacon Nest is a bedroom and bathroom above a 100 year old home. The bathroom is newly renovated with a tub/shower. Plenty of towels and fresh sheets will be provided. There is radiant heat under the bathroom floors. There is closet space, a desk area and a very comfortable reading chair. Coffee and tea are provided as well as a fridge. There are no cooking facilities, but if our kitchen downstairs is available we would be happy to share. We have bikes ready to cruise Beacon, just let us know if you want to use them during your stay. There is a fenced in backyard space with a dining set as well as lounge chairs. The Nest is private and snug, warm and cozy. Unless it's summer, when the AC is on! Then it's cool as a mountain breeze high on top of the trees on Mt. Beacon.
We are close to Main Street as well as a forest path.
Kristina's space is lovely! Cozy and charming. We had a great time in Beacon.
William
2017-03-30T00:00:00Z
Staying at Remi and Kristina's upstairs apartment was just what I needed! It's a great space for someone who is looking to get away from the city and get some writing done. The neighborhood is very nice and just a five minute walk from a bunch of restaurants. Being my first time in Beacon,Remi and Kristina were also very helpful in recommending restaurants to try out and things to do while in town. A pleasant stay, warm hosts, and a great escape from the congestion and noise of the city.
Michael
2017-03-17T00:00:00Z
Kristina and Remi were lovely hosts. The place was neat and comfortable - all you need to make your stay in beacon special. They gave us free tea and coffee. Their place is a 10 minute walk to Main Street or 4 minute car ride. We'd book again!
Matthew
2017-01-22T00:00:00Z
Beacons nest was the cutest place for a quick over night stay. Kristina is an amazing and attentive host who always kept checking up on us. It's so cozy and romantic perfect for a getaway from the city!
Jessica
2017-03-26T00:00:00Z
This is a cozy attic apartment that's close to Main Street and within walking distance from the train station. The hosts were very kind about letting us use their kitchen when they weren't home. We had a very comfortable stay.
Nicole
2017-02-20T00:00:00Z
My stay was absolutely perfect. I needed a quiet location to write, near neighborhood amenities (tasty restaurants, great coffee shop, grocery store). This was exactly my experience at the Beacon Bungalow. Thanks to my host Kristina and her family for making it a comfortable and productive week!
Eric
2017-02-01T00:00:00Z
Was great staying at Kristina's place. The apartment is right off Main Street and close to the metro train station. The room is lovely with beautiful art on the walls and lots of comfortable seating. Quiet and newly renovated I will definitely be stay again. Thanks Kristina!
Erik
2017-04-08T00:00:00Z
great host!
Aaron
2017-02-21T00:00:00Z
Room Type
Entire home/apt
---
Property Type
Apartment
---
Accommodates
2
---
Bedrooms
Beacon, NY, United States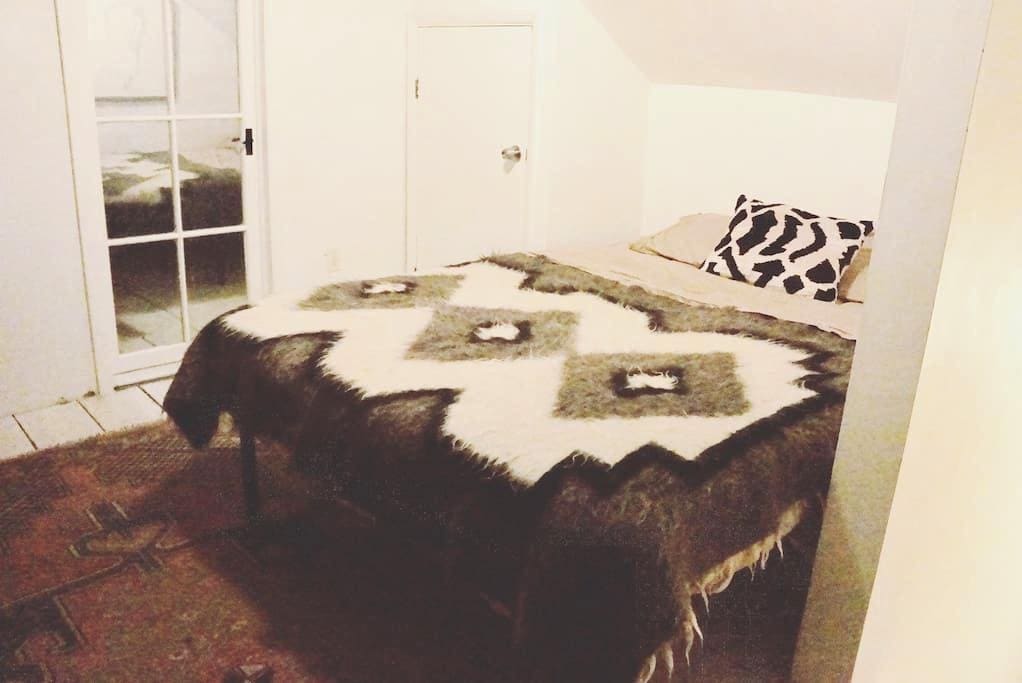 Penthouse studio apt with private rooftop deck, right on Main Street in the city of Beacon! This clean, quiet studio apartment features marble tiled bathroom and kitchen, and a comfy queen-sized bed. Tremendous natural light all day. Wake up to the sunrise coming over the mountains, then catch the sunset in the south-west windows in the late-afternoon. Located right on Main Street, you can walk to great restaurants and bars - or stay home and cook. Perfect spot for couples.
-Access to full kitchen and cooking equipment -Clean linen & towels provided -Grocery store & laundromat located one block away -Private rooftop deck is tallest point in the city of Beacon = great views! -Extremely quiet -Additional inflatable full-sized mattress available (bed #2)
Beacon is a beautiful city in the Hudson Valley, filled with artists, musicians, and chefs. This apartment is right on Main St, and you are right in the center of it all. Great restaurants, bars, and music venues are all within a few blocks. For skiers and snowboarders, you can get to a number of great mountains in under an hour.
Amazing place. Weekend getaway was way better than expected due to the Josh's apartment.
John
2017-01-15T00:00:00Z
Josh's apartment is clean, cosy and in an unbeatable location in the heart of Beacon. It is perfect for a weekend getaway - would definitely stay there again. Fantastic restaurants, galleries, and boutiques nearby (and the most amazing gluten free bakery!!) Just a note to those who are sensitive to light - there are no blinds or curtains in Josh's place, so you may want to bring a sleep mask.
Lauren
2017-03-05T00:00:00Z
Very sweet and lovely apartment with an awesome rooftop deck that overlooks downtown Beacon. It has everything one needs for a comfortable stay - I loved the very clean, light, airy, and minimalist aesthetic. It's a fabulous location in downtown Beacon and walkable to everything. Josh et al were really great--easy to work with and were excellent and responsive hosts. I'd definitely stay here again and would highly recommend it.
Yong Chan
2016-12-29T00:00:00Z
This is a beautiful apartment with an awesome rooftop deck and fantastic views. It was clean and comfortable and Josh was an excellent host!
Alyse
2017-02-26T00:00:00Z
We enjoyed our stay at Beacon, and Josh's place made the experience all the more cozy and memorable. The apartment is beautiful, with great natural light, and location is spot on.
Natalie
2017-03-12T00:00:00Z
This place is perfect for a couple's quick getaway. It overlooks Main Street, is one block from Quinn's (we love Quinn's) and has the ideal little rooftop patio. Thanks again Josh
Ploymanee
2016-12-26T00:00:00Z
Josh was an outstanding host! The apartment was located in a perfect location, and was clean, comfortable, private and all-around awesome. I would highly recommend his place to anyone!
Shahed
2017-02-20T00:00:00Z
Just as advertised. Great location, very clean, and Josh is a great host. Additionally, there is a specialty donut shop located beneath the apartment that was the most delicious thing I've ever consumed. Overall a great place to spend a weekend.
Lexi
2017-02-05T00:00:00Z
Room Type
Entire home/apt
---
Property Type
Apartment
---
Accommodates
2
---
Bedrooms
Beacon, NY, United States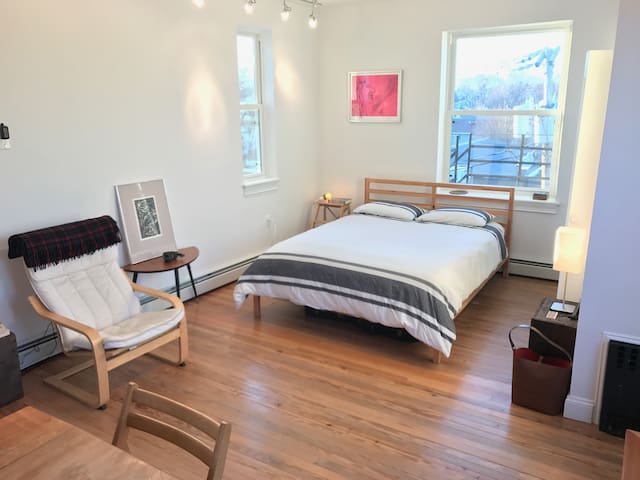 This home has a breathtaking view of the River Hudson & the cascading hills/mountains. A short walk to Main St. & to the train station; Exlusive parking available; Full Kitchen; Dining; Full bath/tub; Compl. Wifi; Qn size bed.
• A cozy, quiet home with breathtaking river & mountain views located on the 2nd flr of a 2-storey condo bldg. • Exclusive parking spot just across the unit. • Kitchen equipped with appliances, pots for cooking; utensils provided • Aerobed for extra guest • Microwave, Coffeemaker available • Complimentary Wifi available
Main St., with Mt Beacon as the epic backdrop, is an artsy, quaint place which is walkable from end to end. Other than the DIA Contemporary Art Museaum, there are many art galleries, restaurants, cafes and different events in the main town.
My husband and I loved staying here over a long weekend! The location is quiet and convenient, a quick, easy walk to everything on Main St. Checking in and out was an absolute breeze. Maylene was super communicative and gave us all the direction we needed. The home itself was spacious, clean, and very comfortable. Would absolutely recommend booking with Maylene.
Valerie
2016-09-06T00:00:00Z
I wanted to thank Maylene for an incredible weekend at her home. The apartment was lovely! Everything was clean, and she was an incredibly easy host to get in contact with. I would definitely stay again in the future!!
Daniel
2016-09-13T00:00:00Z
We had a really fantastic stay in Beacon!
Kira
2016-12-31T00:00:00Z
Quiet, clean, and comfortable apartment. My wife and I were able to cook dinner one night in her kitchen. Quick walk into town. Maylene is super responsive when it comes to questions. Five stars. Would stay there again.
Anthony
2017-02-20T00:00:00Z
I looked at a lot of different AirBnBs, hotel options, and professional bed and breakfasts in Beacon. I'm confident Maylene's place was the right choice! The location is fantastic: it was very easy to get to the train, Main St, and DIA. The apartment itself was cute, very clean, and super cozy. Maylene was a very communicative host. The stay was wonderful and I highly, highly recommend this AirBnB.
Ciera
2017-02-13T00:00:00Z
Maylene was lovely and did make us feel welcome. The space was fine - very clean, quiet, well-equipped and comfortable. It was very walkable from Main Street. However, I did not realize that it was located in a garden apartment complex and overlooked a parking lot.
Ellen
2016-07-11T00:00:00Z
The whole experience of Maylene's Beacon home was great one. Such a great location and easy access to the apartment and amenities of Beacon. Hope to come back again!
William
2015-05-08T00:00:00Z
Clean and comfortable apartment! We had a great time in Maylene's place as well as Beacon. The location is great - Main St, train station, etc are all walking distance. Maylene was responsive and helpful. Would recommend!
Rajarshi
2017-03-12T00:00:00Z
Room Type
Entire home/apt
---
Property Type
Apartment
---
Accommodates
3
---
Bedrooms
Beacon, NY, United States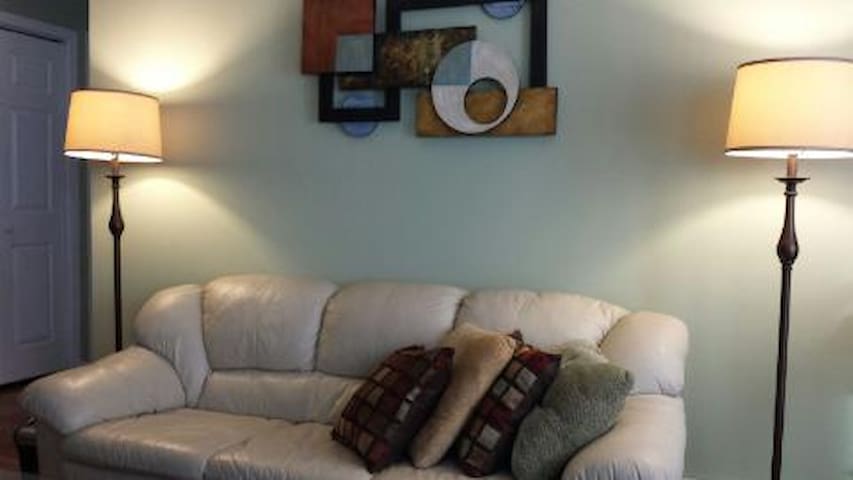 Immaculate, cozy and quiet! Come check out all that beautiful Beacon has to offer! Nestled in the heart of the Hudson Valley, this sunny space is located a short .7 miles from the base of Mt. Beacon and a quarter mile from Main Street. Main Street has a multitude of craft beer/wine bars, restaurants, shops and art galleries. The Metro-North Train station is 3.8 miles away. Check out The Dia Art Gallery and The Two Way Brewery on your way to your Air B-N-B space from the train station.
This is a two family home. We live upstairs and the Air B-N-B space is located in a separate space downstairs. We go out of our to make sure we are extra quiet when we have guests in the house.
GREAT place to stay. Lisa was very communicative and very helpful. The place was incredibly clean and we loved staying there. Hope we get to stay again soon!
Peter
2016-11-19T00:00:00Z
Lisa and Mark were fantastic hosts for our stay in Beacon. We had no problems getting into the place when we arrived. Having them nearby should anything go awry (although nothing did) put our minds at ease. Their adorable apartment was exactly as shown in the listing, with many thoughtful touches, like coffee and travel toothpaste. We were continually surprised by the little things we found around the apartment to make us feel at home while we got settled. The place was cozy and perfect for our needs. The bed and couch were comfy, everything was clean and fresh and felt new. My husband and I were in Beacon from NYC to celebrate his birthday and Lisa gave me great restaurant recommendations for both dinner and lunch. We took her up on her recommendation for Cafe Amarco for his birthday dinner and it was perfect. Lisa also reached out to us when they saw us walking to give us better directions to where we were going. They truly looked out for us all weekend while still allowing the entire experience to feel private and our own. We would definitely stay at their wonderful apartment again, and happily refer our friends. Thanks for everything guys!!
Megan
2016-09-18T00:00:00Z
We loved staying at Lisa and Frank's place. They were super communicative and helpful and had great recommendations. The place is cozy and the bed was like sleeping on a cloud.
Carlos
2016-12-04T00:00:00Z
Lisa and Mark's place was great! So cute and cozy. And very clean!! Bed was too comfortable :) didn't want to get out in the morning. There was also some pumpkin beer left over in the fridge and some Halloween candy for us. Great location for going into town on Main Street. We were able to walk to Dogwood Bar on a Friday night, good food, sometimes has live music. Just a 10 minute walk from the apartment. Very happy with the apartment and the price. Would highly recommend to anyone stopping in Beacon for a night or two.
Faith
2016-10-15T00:00:00Z
Lisa & Mark were fantastic hosts who were very friendly and accommodating. They made sure I had everything I needed as soon as I checked in and were friendly to chat with whenever we saw one another. Would definitely recommend their place!
Colby
2016-09-28T00:00:00Z
This was a great place for a weekend getaway!
Megan
2016-11-20T00:00:00Z
This apartment was the perfect solution for our quick getaway in Beacon. We were in town visiting family nearby and we wanted to take the opportunity to explore the town since we'd never spent time there before. Just a quick drive from downtown (or probably even a walk if we were feeling a little more leisurely), this apartment was a great cozy place to hole up for the night. (And while we didn't get to meet our gracious hosts, they left us a bottle of cider in the fridge which made a great night even better.)
Michelle
2016-11-26T00:00:00Z
Fabulous communication. This little apartment has everything you need. Thanks, Lisa!
Kelli
2016-10-19T00:00:00Z
Room Type
Entire home/apt
---
Property Type
Apartment
---
Accommodates
2
---
Bedrooms
Beacon, NY, United States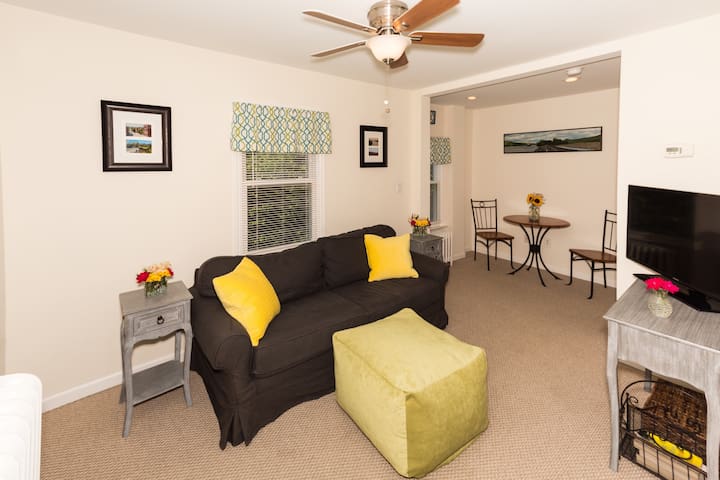 If you are looking for rest and inspiration while being able to walk out the front door to go on a hike, a kayak, a museum, a bar, a cafe, to buy a book, you have come to the right place. Beacon!
This little loft apartment is simple and absolutely clean. Airy and sunny with a hint of past times, we hope you can unwind and allow your imagination to roam. Furnished with a mix of inherited gems and gathered treasures; a silky indian rug for your toes in the living area, a curated selection of books and original art works thoughtfully displayed, healthy plants to keep you company, a secretary desk by the window where you too, can write a letter or a novel, soft white towels and linens, a kitchen with beautiful china and everything you need to make tea, or coffee or a meal. ..Also plenty of space left for you to make it your own.
Beacon is a strange little city with healing properties, I swear. You are located smack in the middle, and don't need a car to enjoy everything it has to offer, from a kayak on the Hudson, to bird watching at Denning's point, to a hike up the Hudson Highlands park starting with Mount Beacon. You are a stone throws away from coffee shops, the natural market, a swim at Beacon's public pool or the river pool or any of our water falls, live music venues and shops.
Great apartment on Main Street, above a cute bookstore. Can be a little noisy, but host thoughtfully provided a sound machine so we slept very well.
Kelli
2016-11-11T00:00:00Z
Paola is an incredible host, and her place is perfect for R&R! Her home is clean, beautiful, and full of great energy :) She left amazing little treats that I was delighted to find upon arrival, and was very responsive and accommodating to all questions I had along the way. Cannot recommend her place highly enough! Exactly what I envisioned and so much more.
Jenny
2016-10-28T00:00:00Z
That was a PERFECT stay! Thank you Paola so much! The place is so nice! Clean with a great sense of style. We didn't want to leave! And it's walking distance to everything. Breakfast in Beacon bread company. Day in Dia Beacon and dinner with life Jazz in Quinn's. Could it be even better?!
Alexandra
2016-10-21T00:00:00Z
This was a perfect apartment for our stay in Beacon, located on Main St in easy walking distance of the rest of the town. Paola was friendly and communicative - making this a very relaxed trip.
Sarah
2016-09-06T00:00:00Z
Beautiful, super clean apartment right in the middle of town. Private, lovely, perfect for a couple. Paola was very responsive to my messages. Getting in and out was very easy, bookstore downstairs is great too. 20 min walk from the train station. Nothing but good things to say!
Graham
2016-10-04T00:00:00Z
Thurber's Rest is fantastic and Paola is an incredible host. The place is crisp clean and has a lot of character between plants, artwork, furniture and the unique GE Radio Alarm clock from the 70s. The book collection is spot on and is very much in the spirit of Beacon. I would highly recommend Thurber's Rest to anyone who wants to fully immerse themselves into the life of Beacon.
Artyom
2016-09-16T00:00:00Z
Paola's place was clean and comfortable, and within easy walking distance of shops and restaurants on Main Street. She left snacks and coffee for us which was perfect and much appreciated during our stay. Would definitely consider a stay here again!
Jennifer
2016-11-13T00:00:00Z
Paola's place is absolutely lovely and well located. Perfect for a weekend getaway to Beacon. Would absolutely stay here again!
Elise
2016-12-30T00:00:00Z
Room Type
Entire home/apt
---
Property Type
Apartment
---
Accommodates
2
---
Bedrooms
Beacon, NY, United States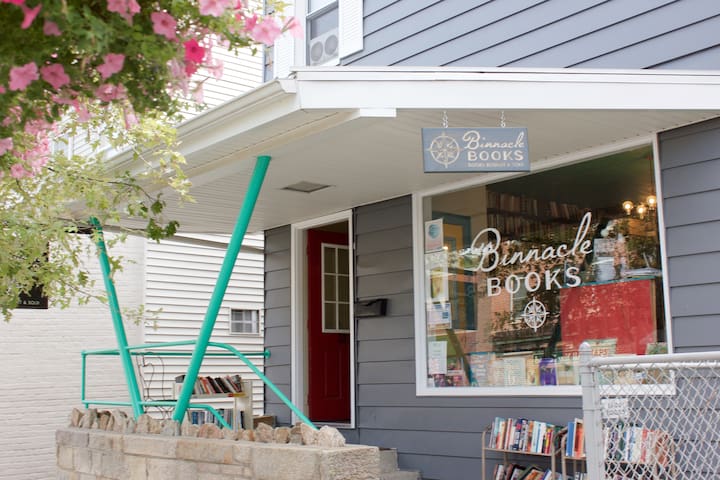 Charming and cozy mini basement apartment with a private entrance, west end of Beacon. Steps from historic Main Street, shopping and Metro North train station. My place is good for couples, solo adventurers, and business travelers.
Private one bedroom mini basement apartment with Full size bed, kitchenette and bathroom with shower. The wet bar has a microwave but no oven. The wet bar has a portable sink design with bleach added for sanitizing, which is only to be used to wash dishes and discard liquid. However all other running water is drinkable. There is also hot plate, there is no hood so guests must limit the cooking to boiling and steaming and refrain from frying or sauteing.
Quiet residential neighborhood just off Main Street close to galleries, coffee shops and shopping. In addition to an active visual art scene, Beacon now has an equally vibrant music scene with all kinds of music available. Not suitable for parties. Only quiet guests who would like to take advantage of the fabulous dining, arts, hiking and shopping that Beacon has to offer. -- You can walk everywhere--
Centrally located cozy 1 bedroom. Very clean!!! It is a basement apt but since we were out all day it didn't matter if we had a view or not. The fireplace was tricky to start, but once on it was not only functional but added to the romantic atmosphere. The decor is homely and hotel-esque, which I appreciated. Mirtek was available to answer any questions we had. Overall experience was quite good! Would definitely recommend for anyone wanting a weekend getaway in Beacon and surrounding areas particularly if you're out all day hiking or experiencing the local highlights.
Anna
2016-11-06T00:00:00Z
We enjoyed our stay in Beacon this weekend. The place was equipped with everything we needed and the gas fireplace kept us warm when the cold/snow arrived. Location is very central in Beacon and within walking distance to everything.
Jayne
2016-11-21T00:00:00Z
Great spot! Clean, comfortable, really cute. Thanks for letting us stay!
Marci
2016-10-30T00:00:00Z
Pros: Beacon itself is adorable. The apartment (basement) is walking distance (~1mile) from the train station, (~1mile) Dia:Beacon, and just a few steps from a whole stretch of shops/restaurants. Cons: The apartment smelled strongly of gas. The running water was non-potable. The door to the sliding bathroom door so loud, heavy, and jammed, it was effectively un-usable. Hair in the bathroom.
Alaina
2017-01-02T00:00:00Z
We were Mirtek's second guests. He was very responsive to our questions although we did not have the pleasure of meeting him. This is a great location and comfortable. We loved the proseco and the toiletries! He's on his way to being a great host.
Robin and Victoria
2016-10-12T00:00:00Z
It was seconds from Main Street, easy to check in and all around a great experience.
Anders
2017-04-02T00:00:00Z
I've been coming to this city every Thanksgiving for the past 20 years and it's changed a lot over this time. Main Street is a very welcoming and unique place which this apartment gives prime access to. While most times I have stayed with my grandmother, this was the first time I stayed in Beacon near Main Street. Mirtek's basement was great. The check-in is easy and the location is right near a coffee shop hangout. If you want to come and bunker in, the internet works well and it's very warm inside. Other than that, parking is right there and the bed is comfortable. We enjoyed our stay.
Frederik
2016-11-26T00:00:00Z
This awesome space was clean, cozy and only down the street from Main Street!
Sarah
2016-12-20T00:00:00Z
Room Type
Entire home/apt
---
Property Type
Apartment
---
Accommodates
3
---
Bedrooms
Beacon, NY, United States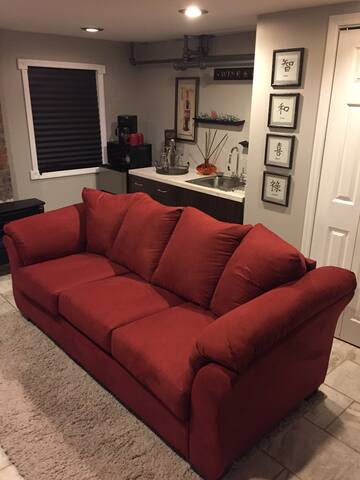 My place is close to Main Street which is full of great shops and awesome restaurants. Also in 20 minutes walking distance to the train station and to Beacon's many beautiful nature hikes! You'll love my place because of its cozy and warm home feeling, and is set in a quiet neighborhood. I love hosting and will be very attentive to your needs! My place is good for couples, solo adventurers, business travelers, families (with kids), and big groups.
The entrance is on the right side of the house and is completely separate. The apartment faces the beautiful ,spacious and completely fenced-in backyard.
Here are a few cool places to check out a walking distance away: Awesome breakfast and brunch- Beacon Bread Home feeling like food- Home Spun Wonderful coffee- Bank Square Cafe Great Japanese food- Isamu Amazing toy store- Play Beautiful glass making Place- Hudson Beach Glass
Lovely stay at Guy's - very good host and great communicator. Great location short walk to Main st but far enough out to wake to the sound of birdsong. Very clean and tidy with welcoming snacks. Will be back!
Mark
2017-04-02T00:00:00Z
The place was amazingly clean and check in and the stay was unbelievable. Guy makes you feel right at home and the small snacks he offers were a great plus. The place was unbelievably clean, accurate and cozy. Highly recommend a stay here!
Brian
2017-03-26T00:00:00Z
Room Type
Entire home/apt
---
Property Type
Apartment
---
Accommodates
4
---
Bedrooms
Beacon, NY, United States
A few blocks from Main St, within easy walking distance of train, and stunning river trails. Our spacious semi-basement apartment is a perfect weekend retreat for up to 4 people. Enjoy Beacon, and feel free to borrow our two bikes for a ride along the river. Private, nestled on a beautiful tree-lined street, pets allowed upon request.
The Space Only a few blocks from Main Street and within easy walking distance to Metronorth, our cozy and spacious semi-basement apartment makes for a perfect weekend or longer vacation in Beacon, NY. The apartment has a separate entrance in the side of the house, accessible from a paved sidewalk, with its own outdoor patio set. The temperature of the apartment is naturally cool (like a cellar) during the Summer, and in the winter months it can be very warm, you set the thermostat the way you like it. The apartment has: •Full bathroom with bathtub, complimentary toiletries, and clean towels are provided with the rental. •Kitchen with utensils, fridge with water and ice dispenser, microwave, full size oven-range, sink, dishwasher, Keurig coffee maker and toaster. Complimentary fruit, coffee / tea and juice with bakery items to help you wake up in the morning before enjoying the fantastic brunch options that Beacon has to offer. •Private bedroom with double bed, ceiling fan, extra pillows, and blackout curtain. •Large living room space with a full size sofa bed, easy chair, foosball table, Smart TV connected to WIFI, and cabinet with board games, plus a separate nook to keep suitcases out of sight. The space is best for a couple, but it could fit 2 couples considering the sofa bed. We also have a crib mattress for a small child to sleep on the floor if required. Pets are allowed depending on the size of the dog and as long as they don't sleep on the bed please. The apartment is fully heated, and can be rented year-round.
Beacon is only an hour and a quarter drive north of New York City, and an easy 80 minute ride on Metronorth's Hudson Line. Beacon is a fabulous little town with excellent shopping, museums (DIA Beacon), great restaurants and coffee shops, and even our own music venues! There is also incredible hiking in the area, including Mount Beacon & Breakneck Ridge. We are also only 20 minutes from Storm King Arts Center. The train, Main street, and DIA Beacon are only a few minutes walk from our house, making our apartment a perfect retreat for a car-less NYC getaway. For those with cars, there is ample on-street parking.
Tania was incredibly warm and welcoming during our stay. Since she lives right upstairs, she was easily reachable. She showed us around when we checked in and gave us great tips on visiting Dia. The house is less than a mile from downtown Main Street, so an easy walk. Nice base camp for hiking, dining and everything else.
Sandip
2016-03-21T00:00:00Z
We had a great stay in this apartment. Sacha was easy to communicate with and even picked us up from the train because it was raining. They had coffee and some bagels for us when we arrived, which was such a nice added touch. We are 4 close friends and we put 2 of us on the real bed and 2 on the surprisingly comfortable sofa bed (not like the Ritz Carlton, but you know, it's a pull out bed). The apartment is in the basement so it doesn't get a lot of light but who cares - you're in Beacon to hike and go to the glass factory, not to sit around in your Airbnb! The kitchen was well stocked with what we needed to do some basic cooking and the bathroom was stocked too. The towels were really nice. Also the apartment is definitely walking distance from the train and from Main Street and there are hikes nearby (also within walking distance, depending on how you define walking distance). It's about 2 miles to the trailhead of Beacon Mountain, for instance. Anyway, highly recommended. I would return (I actually might!)
Rachel
2016-07-05T00:00:00Z
Great location, comfortable and pet friendly
Holly
2016-11-26T00:00:00Z
Great, cozy little apartment! Easy walk to the center of town. Sacha and Tania were very sweet and welcoming. Would easily recommend this option to others looking to spend time in Beacon.
Hank
2016-10-30T00:00:00Z
I loved staying at Sacha's place in Beacon! We were about an 8 minute walk to Main Street, which was very convenient. The house was very clean, though I didn't fully realize it was a basement apartment while skimming the description (though I look at it again and it definitely says so). It was newly remodeled and very comfortable, new bathroom and nice kitchen with a dishwasher. It's a great spot to get away from the city- only a 5 minute drive to Mt. Beacon for a hike or to the farmer's market on Sunday.
Lindsey
2016-07-17T00:00:00Z
The host is warm and welcoming. They respond within minutes of an inquiry and showed us around the apartment upon arrival. There was even bagels, danishes, OJ and coffee for us as well. We mentioned we were in town for a wedding and they even brought down a steamer for us to use. Neighborhood is nice and quiet and super close to the small town of Beacon.
Heather
2016-08-28T00:00:00Z
Wonderful place to stay! This was my second time in Beacon, so I'm already in love with the town. The apartment is located a few blocks from Main St. - easily walkable although we drove into town due to the cold weather. The apartment is in their basement with a private entrance on the side of the house. It's newly renovated, has a lot of living space, and has a beautiful kitchen with coffee maker. We traveled with a total of three people - my boyfriend, best friend, and myself. Our friend slept on the pull out couch (which they had set up for us when we got there) and we had more than enough room for all three of us. Sacha and Tania were both lovely hosts. They were flexible with our arrival/departure times and were great with communication and responding to any questions we had. Gave us a quick tour of the place, showed us where everything was, and ensured we had everything we needed. Would definitely come back again!
Marissa
2016-03-09T00:00:00Z
The host canceled this reservation 34 days before arrival. This is an automated posting.
Lupita
2016-04-16T00:00:00Z
Room Type
Entire home/apt
---
Property Type
Apartment
---
Accommodates
4
---
Bedrooms
Beacon, NY, United States
No better location in Beacon. Middle of Main Street above the best restaurant in the city. Off street parking and only a 15 minute walk to the train station. No need to drive anywhere when you get here - everything is less than a mile from your door!
Marko is a great host. We had a lovely stay in this comfortable private apartment. It was spacious, clean and the location was very convenient! Marko was very helpful and communicative.
Jorge
2016-07-07T00:00:00Z
Marko's place was awesome--super central (within walking distance of everything, including the train station), clean, and quiet. He was extremely helpful ahead of our arrival, even offering to stash our bags of we wanted to stay past check-out. Will definitely be back.
Paula
2016-07-03T00:00:00Z
Very conveniently located, but be aware that you are on the main drag and it can get noisy. Didn't bother me. The bed is extremely soft. Privacy is good. Marko was super cool, communicative and easy going.
Glenn
2017-01-19T00:00:00Z
Marko's place was clean and close to everything. He was also quick to respond!
Deborah
2017-02-22T00:00:00Z
Marko was a great last minute host. He was responsive as soon as the reservation came through and made sure we were able to get the of the land and how to get in. The space itself is a solid apt above a pretty nice restaurant and parking is right in the lot next to it, which is very convenient. Beacon is a lovely town with lots available nearby within walking distance and a short drive. Would highly recommend booking with Marko as I couldn't ask for better.
Kenneth
2016-07-24T00:00:00Z
A great, convenient place to stay right in the middle of downtown Beacon. Great host who is very communicative and helpful.
Maura
2016-11-06T00:00:00Z
Marko greeted us upon arrival, provided tons of great suggestions for things to do in Beacon, and was very flexible about our checkout time. The space was great-lovely sized apartment, well decorated and private; in an AMAZING location-central to everything-bars, restaurants, hikes, shopping. Will definitely be back to Beacon and will be staying here!
Joey
2016-08-06T00:00:00Z
Nice, comfortable stay in Beacon. Great location on Main St. right in the middle between the train station to the far east and hiking/mountains to the far west, both about a 15 minute walk in each direction. Lots of food, shops and stores right downstairs. Marko left a great list of suggested places to visit.
Haley
2017-01-02T00:00:00Z
Room Type
Entire home/apt
---
Property Type
Apartment
---
Accommodates
3
---
Bedrooms
Beacon, NY, United States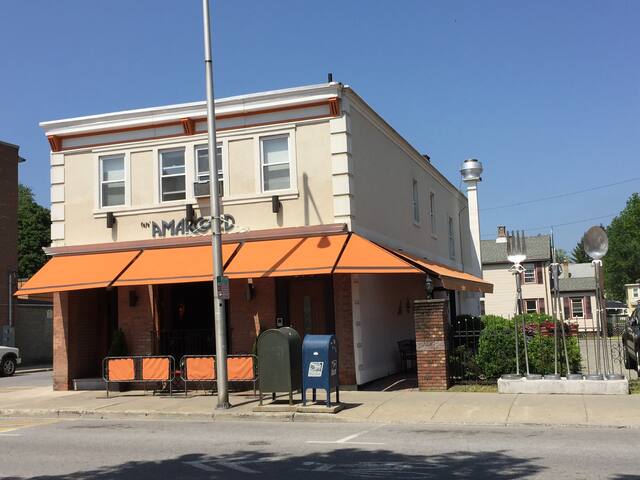 An apartment on the coolest block of the uber-hip town of Beacon, 75 minutes by direct train from NYC. Ideal base for hiking, biking, boating, and climbing, with thriving art, antiques, restaurant, and music scene within easy walking distance.
Now is the absolute best time to be in up-and-coming Beacon. With an inimitable hipness as well as a genuine mix of populations, this vibrant Hudson River town is the place to be for art, antiques, restaurant, bar, and music scenes, as well as a perfect base for outdoor activities, especially those providing breathtaking views of the Hudson Highlands, Breakneck Ridge, Storm King, and Bear Mountain. Metro North trains from Grand Central serve Beacon at least once an hour, with taxi service available at the station, so you can easily visit without a car. The apartment is furnished with antique furniture and art. It has wood floors with rugs in the living room and bedrooms. Air conditioning and central heating keep it comfortable at all times of year. Unlimited hot water is available for showers, kitchen, and washing. Sleeping arrangements are a queen size double bed in the bedroom, and a queen size sofa bed in the living room. Also available are a queen size futon on the floor in the study/guestroom, plus the possibility of a single airbed to go wherever you wish, for a total capacity of seven guests. All bed and bath linens are provided. Parking is on the street. There is a flat screen TV but no cable service. But then, you didn't come to Beacon to watch TV. Please have a completed profile and at least a couple of positive AirBnB reviews before reserving the apartment.
A short walk to The Hop, The Roundhouse, Towne Crier Cafe, Quinn's, Dogwood, Draught, Ella's Bellas, Yankee Clipper Diner, Beacon Falls Cafe, and countless other venues for excellent food, craft brews, and music. 1 mile to Mount Beacon trailhead, 4 miles Breakneck Ridge, 15 miles Bear Mountain.
It was a pleasure to stay at Ardal's apartment. The location is absolutely fantastic - walking distance to restaurants, shops, hiking, and even the train station if you're up for a longer walk. The apartment is a lovely space and was super comfortable for myself, my husband, and our new baby. Ardal himself was a very welcoming host, giving us a ride from the station when we arrived and thoughtfully leaving us orange juice and fresh bread for the morning. I recommend with no hesitations.
Shabnam
2015-10-13T00:00:00Z
We enjoyed our stay in Beacon and our stay in this apartment made it all possible. We took Metro North up, which was super easy, and didn't bother with a car. Ardal picked us up at the station and drove us right up Main St, pointing out good places to go. We walked up and down Main St, which has so many fun places - coffee houses, restaurants, wine bars, live music. The bottom of Main St is a good 20-25 minute walk, but in nice weather, it is a really fun walk and one of the great things to do in Beacon. And being at the very top of Main St meant that we were also walking distance to the trail up Mt. Beacon. Other than location, you have a TON of space in this apartment. The bedroom was a little stuffy but totally fine with the door open. The furniture and art is all very fun and fitting for Beacon - lots of history but hip.
Peter
2016-10-30T00:00:00Z
Ardal met us and helped with the luggage up the stairs. He was most welcoming and friendly and provided a loaf of fresh bread and advice on local restaurants. The apartment was clean, the beds comfortable and the shower hot. We had two busy days visiting galleries and gardens and enjoyed Storm King, Boscobel House and FDR house and library.
Anthony
2015-09-21T00:00:00Z
Ardal's place was super-great and he did everything to make the trip a memorable one. Along with the wonderful things about the apartment itself (a perfect location, great view of the mountains, comfy bed, spacious kitchen), Ardal made some excellent dinner recommendations and even supplied a fresh loaf of local bread for breakfast. Highly recommended.
Bo
2015-05-25T00:00:00Z
This is a roomy yet cozy space. There is plenty of room to relax and enjoy the stay. The location is perfect for a visit to Beacon. There are great shops and restaurants within a few blocks. It is very easy to get to and enjoy the area. We definitely recommend Ella's Bella's to get your day started.
William
2016-10-09T00:00:00Z
Ardal and his apartment were great. Ardal went the extra mile by picking my girlfriend and I up from the train station when we arrived, then he pointed out where to go while he drove to the apartment. The apartment is at the eastern end of Main St; it's spacious, cozy and comfortable - cool place. And very convenient to everything. We easily walked up and down Main St from the apartment. Good bars and restaurants are just steps away. Ardal is a cool guy, and the apartment is a great spot to stay at when cruising around Beacon.
Keith
2016-02-15T00:00:00Z
Ardal's apartment was beautiful - spacious and clean, and perfect location in Beacon. Thanks Ardal!
Josh
2016-09-05T00:00:00Z
Ardal's place was perfect for a weekend getaway in Beacon. Really is located a fantastic spot. Ardal was very communicative prior to us arriving and accommodated our rather late arrival! We had a great time.
Alex
2016-07-18T00:00:00Z
Room Type
Entire home/apt
---
Property Type
Apartment
---
Accommodates
4
---
Bedrooms
Beacon, NY, United States
My spacious Beacon NY apartment is quiet, clean, and close to all: great hiking, arts and dining. I have a fully stocked kitchen, spacious living room and bedroom, and a balcony that backs up to a creek. Its a wonderful place get away and unwind. This space is for 2 adults maximum. It is not suitable to children or pets.
Absolutely loved my stay here! It was absolutely clean, quiet and the description does not do justice. So glad I stayed here, especially loved the balcony. Everything is so close by, getting around was so convenient with a car. Would definitely come back when I need another getaway from the city!
Angela
2016-06-06T00:00:00Z
Loulou was a perfect host! We had everything we needed, and she was very easy to contact. Our check in and check out times were flexible, and her suggestions about the area were very helpful. We had a great time, HIGHLY recommend staying with Loulou.
Willy
2016-01-19T00:00:00Z
Loulou was super flexible and attentive when my husband and I stayed at her place for a week when we got married nearby. We appreciated having such a serene place to go back to after the craziness of our preparation and wedding. The place was super relaxing and had a great zen vibe to it. Thanks Loulou!
Kristina
2016-09-08T00:00:00Z
At the end of a quiet, tree-lined development, Mary Louise's apartment is a peaceful nest combining surfing artifacts and zen-inspired souvenirs from exotic journeys. Have a cup of coffee on the balcony, sit back in the shade, and enjoy a lovely a getaway weekend!
Clément
2016-08-29T00:00:00Z
This apartment was so perfect for my husband and I . Perfect size , cute and cozy, clean. I thought the bed on the floor would bother me but I actually slept perfect. My favorite thing was coffee in the morning and wine in the evening on the patio. Will be coming back for sure .
Josette
2016-06-27T00:00:00Z
I had the most wonderful stay at Mary Louise's place! The pictures do no justice to the size and lovely decor. It was very clean and spacious. The bed was very comfortable. She was a wonderful host leaving me everything I would need and even offering what ever was in the fridge or cabinets. I would highly recommend staying here and I hope to be back again. So close to all that Beacon and surrounding towns have to offer. A++
Jaclyn
2016-06-13T00:00:00Z
Everything was great at the apartment! Loulou was incredibly helpful and answered all of my questions promptly. The full kitchen stocked with coffee was wonderful as we enjoyed having our morning coffee on the patio! We are big walkers, but we were very happy we brought a car. Not only was it easy to get to Storm King but also going back and forth from Main Street was much easier driving. I would not walk or bike to/from Main Street as there is a small section of the road that has no sidewalk and is very narrow. Again, we had a car and found it easy to park everywhere!
Tara
2016-07-31T00:00:00Z
Communication with Lou Lou was easy and smooth via text. Although, we didn't get a chance to meet her personally, everything was set up for our stay and we were able to check in when we arrived. The apartment was very comfortable with lots of light, plenty of soft pillows, blankets and towels. The stocked fridge was a particularly unexpected and generous touch. Although, it isn't within walking distance from Beacon, the town (URL HIDDEN) easily accessible by car, so that wasn't a problem for us. We would definitely recommend Lou Lou's apartment to any of our family members visiting the area.
Dena
2016-04-18T00:00:00Z
Room Type
Entire home/apt
---
Property Type
Apartment
---
Accommodates
2
---
Bedrooms
Beacon, NY, United States
Lambs Hill is a private equestrian estate with 180 degree views overlooking Hudson River & Beacon like non other. Icelandic horses & donkeys, outdoor hot tub, beautifully designed luxury suite . 1 mile to Beacon's Main St. & 2 miles to train & DIA.
Only one mile from Beacon's thriving Main St., yet completely secluded and away from any neighbors, this is a gorgeous guest suite on private equestrian estate overlooks Beacon, the Hudson River and surrounding valley. The evenings are spectacular with beautiful sunsets and sparkling lights from the cities below. This luxurious suite has: 1 bedroom (California king bed), spacious living room/kitchen area, loft (Queen bed), and full bathroom. Wrap around balcony and north and south deck boasts: outdoor 7 person hot tub, grill and seating for the exclusive use of the suite guests. The romantic bridal like bedroom has a king bed and glass sliders to covered balcony with river views. The side window has mountain and horse ring views. Vintage reclaimed barn wood adorn the vaulted ceilings and the seating area is a great place to relax or watch tv. There is a window that peeks into the charming center aisle complete with views into the horse and donkey stalls. The living room/kitchen area has seating area for hanging out and watching Direct TV (including Sunday Ticket) or movies on DVD player. We have a selection of games and movies for the guests. Sliders in the living room lead to the south deck with Weber grill, outdoor table and seating. Sliders in the front open to the covered balcony which lead you around to the north deck with the hot tub. Enjoy a glass of wine soaking in the private hot tub while watching the sun go down and the lights below begin to twinkle. The spacious bathroom has a double sink and walk in shower lined with handmade subway tiles. In the kitchen, amenities include; microwave, crock pot, griddle, toaster and Keurig coffee maker (no oven). We provide complementary coffees and teas, fresh eggs from our chickens, as well as pantry items such as microwave popcorn, smores kit, granola bars and pancake mix. This mountain side setting backs up to 4,000 acres of protected forest land with hiking trails right from the door step. Hike up to the Beacon Reservoir, the Fire Tower with Manhattan views and/or the top of Mount Beacon. For exploring the city, Beacon is full of shops, galleries and restaurants including the Roundhouse, Dogwood, Towne Crier and the Hop. Easy access from NYC with the Beacon train station stop only 2 miles from this estate. Excellent place to stay for a romantic getaway, special occasion, engagements (we can help you set up) and photo shoots. Please ask us for more details regarding hosting a wedding, photo shoot or other event at Lambs Hill as we have separate pricing for events. Due to the animals that live on our property, we have a strict no pets policy.
We are very secluded and private yet only minutes to Main St. with restuarants, shops and cafes. Our property is located up a mountain with a half mile private gravel drive to the residence. There are 6 snake turns along the way. One of our vehicles is a BMW M3 Roadster so cars will make it. If you are booking in the winter and we get bad weather and you don't have 4 wheel drive, we can make arrangements to pick you up at the bottom of the hill or in town. We find our mountain road part of the charm of this getaway. Despite feeling as remote and private as we are, you are still only located one mile from Beacon's thriving Main St.
This is the perfect weekend getaway from Manhattan via Metro North. The suite is atmospherically decorated while still maintaining rainy-day comforts like stashed-away games and movies. In addition to breathtaking views and fresh air, the suite is on Lambs Hill, which offers a hiking short-cut to Mount Beacon Park. We hiked all the way to the top for spectacular views of Beacon and the Hudson Valley, then down the Casino Trail for the historic railway wheelhouse and foundations of the Beaconcrest Hotel and Casino. Nights we enjoyed on Beacon's Main Street, which has ever better food and drink (our faves were the Korean Kitchen and beers at The Hop). We didn't have a car so used local cabs to and from town. However, several cab companies were dishonest and unreliable: Economy ditched our visiting friends at the bottom of the mountain, 1 mile from their destination, and VIP tried to charge us 3x the normal price for pickup from the suite. We'd recommend Beacon Express – (PHONE NUMBER HIDDEN) – who gave us a fair price, very friendly service and no runaround. Charlotte was a wonderful host, accepting delivery of our online orders for wine/groceries and placing them in the suite while answering my infinite questions on the available amenities. (We are coffee snobs so took our own moka pot!) Even though Charlotte had to leave town for the weekend she picked us up from the train station and ensured that someone was on the property and contactable. Ultimately there was something very special about living above a barn with donkeys and horses whom we greeted and played with throughout our stay.
John
2014-03-31T00:00:00Z
I booked the house for my family. Overall ,the place was top notch from decorations to amenities.They only had a bit of bad-smelling from the animals otherwise great house and nice host .The house is quiet and has a very beautiful mountain view.
nasser
2015-08-04T00:00:00Z
We would like to thank you so much for making our first ABnB experience an incredible one. The place was impeccable with spectacular views that will keep us coming back. We really appreciate your non invasive yet resourceful contribution to our stay. We would gladly recommend your place to anyone with a maximum amount of stars. Thank you very much!
Wret
2014-07-13T00:00:00Z
Wonderful stay. The horses and donkeys welcomed our venue. We've enjoyed the relaxing bathtub and the surrounding woods for some amazing horseback riding in a ranch close by.
Morgan
2016-05-02T00:00:00Z
Our overall experience was exactly like every other review I read before booking. Charlotte was very responsive with questions before arrival and her place is gorgeous, the pics do not lie. View and sunsets were magical. We grilled out on patio both nights after long days of hiking and exploring. The place is a one of a kind experience. Highly recommend!
Shelleys
2015-08-10T00:00:00Z
Great place to stay. Absolutely beautiful view.
Brian
2016-08-23T00:00:00Z
The equestrian suite exceeded all expectations! It's professionally designed and well appointed, in fact the most well appointed of any airbnb or (SENSITIVE CONTENTS HIDDEN) rental I've ever stayed. We were blown away by all the little details and touches. There are two horses and two donkeys below in stalls. I was a bit worried about the noise and possibly barn smell. No worries! It was clean, quiet, and smelled great. The animals are cute and very friendly! It's also incredibly romantic and inviting :) The view is amazing! There are lots of great hiking too. We walked all the way up to the reservoir on top of Mt Beacon and the hike was well worth it! The equestrian suite is a great place for a relaxing romantic weekend getaway from NYC. It's warm, cozy, and inviting. There are plenty of great restaurants and other attractions nearby. Kudos to Charlotte for being easy to work with and doing such a great job!
Eric
2014-11-03T00:00:00Z
All I can say is wow...this place is stunning! The views are breathtaking and Charlotte took care of everything. This place is by far the nicest airbnb I've ever seen. The animals are so sweet and such a pleasure to be around. When we arrived there were fresh eggs from their chickens in the fridge which was such a treat. We had such a wonderful time and can't wait to come back. This place is HEAVEN if you are looking for a quick getaway from they city.
Alexis
2016-05-12T00:00:00Z
Room Type
Entire home/apt
---
Property Type
Apartment
---
Accommodates
2
---
Bedrooms
Beacon, NY, United States
My apartment is across the street from Round House and is conveniently situated on Main St. in Beacon. You'll love my place because of the location and also because it's clean and comfortable. The kitchen is fully stocked with appliances, utensils, pots, pans, basic cooking supplies, and much more. It is a large, spacious apartment with very high ceilings in all the rooms. The apartment is good for couples, solo adventurers, business travelers, and furry friends (pets).
Claudia Was extremely kind and fun To meet her place is excellent Private and comfortable. Location is amazing!
Victoria
2016-09-25T00:00:00Z
Great room, great location, and Claudia couldn't have been more hospitable. Beacon is fun and will be back for sure.
Ben
2016-09-18T00:00:00Z
Claudia was very accommodating and a great host overall. Location was great. Perfect for a weekend in Beacon.
Genny
2016-11-20T00:00:00Z
She was a very attentive and nice host. I highly recommend her.
Irina
2016-11-27T00:00:00Z
Our stay at Claudia's was perfect. We loved her spacious apartment (good for a stay for two people). She was very welcoming and gave us tons of recommendations as to where to eat and enjoy the town. Communication was hassle free. Would definitely recommend!
Jeremy
2016-10-10T00:00:00Z
Claudia was an excellent host and made us feel right at home. The apartment was very clean and the location was excellent. We had a wedding at The Round House and had a 2 minute walk back to the apartment which was very convenient. When we woke up we explored Beacon and all of the small businesses in the area (also within walking distance). This place was just way too convenient to pass up and I would recommend it to absolutely everybody. 10/10 ! Thank you Claudia !
Brendan
2016-11-05T00:00:00Z
I had a lovely (albeit brief) stay at Claudia's. She was a responsive, flexible and very friendly host. The apartment and room were great and the location was perfect for exploring Beacon. Don't hesitate to book!
Ned
2016-10-17T00:00:00Z
Our stay with Claudia was lovely in every way. Full access to amenities in the apartment, and easy walking distance (essentially just around the corner) to Beacon's Main St. and all it has to offer. Most of all, though, we would stress the hospitality of Claudia herself. Our little escape from the city felt like a stay with a really chill friend. We did a great job of making us feel totally at home. We would absolutely recommend this place, and this host, to anyone :)
Tara
2016-10-09T00:00:00Z
Room Type
Private room
---
Property Type
Apartment
---
Accommodates
2
---
Bedrooms
Beacon, NY, United States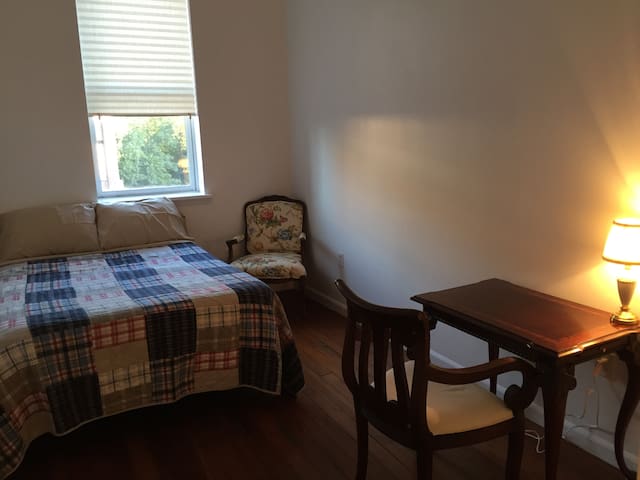 Classic turn of the century Victorian house, second floor apartment with a wonderful screened in porch, fabulous natural light and lots of space. Very close to shops and restaurants on Main St and hiking trails at Mt Beacon Park.
Overall great experience and high marks for Jinni and her accommodations. Rental met our expected and selected criteria. Jinni was very helpful with local info and was present only when necessary, which we very much appreciated. Short walk to main street or trails. The apartment had a homey, comfy, sleepy feel. Great for quiet and relaxation. Nice Slice of Beacon life.
Rafael
2015-07-19T00:00:00Z
We had a great stay in Jinni's room. The room is in her lovely home, which is very nicely decorated and comfortable. Jinni was also a very friendly and helpful host. Very much recommended!
Wolfgang
2015-07-10T00:00:00Z
It was great! Clean, great location, everything we needed for a quick overnight to visit Dia
Devora
2016-11-12T00:00:00Z
Jenni was an excellent host. We arrived late at her place almost by an hour, she waited for us and cordially received us. Jenni has decorated the place quite well. It was very tidy and what impressed us most was how she arranged small everyday objects to create beautiful place . The view near place especially in the morning was extraordinary. The clouds over the hill near by was just image you take away from this wonderful place. We have almost 30 pics taken just near jenni's place ....perfectly photogenic !! The place is at walk able distance to the main street, as we didn't have a car that was quite important for us. We hired bikes to go around the city it was wonderful. Overall we had wonderful memories both at her place and in the beacon itself...
Dinesh
2014-07-28T00:00:00Z
Great location, very quiet, close to trails and Main Street, artfully decorated. Jinny is the greatest host, warm, flexible, attentive, gave us useful tips to make the most of our trip.
Antonio
2015-04-12T00:00:00Z
Jinni is a great host! She's super friendly and gave us good restaurant recommendations in Beacon. The guest room was clean and comfortable, and the neighborhood was quiet all day and into the evening. We enjoyed relaxing and reading in Jinni's cozy living room. Overall, a perfect place to stay for a weekend getaway from the city! Jinni's home is five minutes from Main Street, but the walk involves a pretty steep hill. I'm not sure if there is another route to Main Street that circumvents it. We didn't mind the hill--just something to be aware of in case this might be a challenge for anyone.
Anna
2015-07-26T00:00:00Z
Wonderful space with nice decor; good location and reasonably priced. Would definitely stay there again.
Sam
2014-06-22T00:00:00Z
Jinni was warm and made herself available but also respected our privacy. Her home is beautiful! We enjoyed our stay and hope to back in beacon soon.
Aarati
2015-04-19T00:00:00Z
Room Type
Private room
---
Property Type
Apartment
---
Accommodates
4
---
Bedrooms
Beacon, NY, United States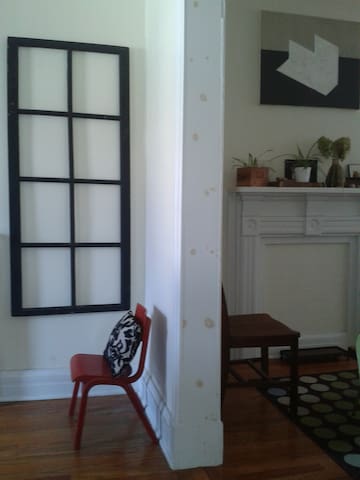 This cozy & warm 2 bedroom open spaced apartment is located in Beacon, NY. We are less than one mile from Main Street & walking distance to nature preserve trails. Enjoy all the comforts of home during your stay, truly your home away from home!
This space if warm and comfortable. You will have access to a full kitchen, living room, 2 bedrooms and private bath. The kitchen will be filled with teas, coffee and basic breakfast items for your use, as well as cooking supplies if needed. We have a little one in the home, so if you are traveling with family and have little ones we are equipped with toys, accessible bathroom items and outside have plenty to plenty to play with including a small sand box and trampoline. WiFi is available and we have a TV, you will just need to bring an HDMI to connect your portable device for use!
Have you been to Beacon yet?! We are located less than a mile from Main Street and there you will find a plethora of restaurants, cafes, art galleries, boutiques and something for the entire family to enjoy. The DIA (URL HIDDEN) is minutes away - a half hour walk or minutes by car. Many hiking trails and nature preserves are moments, some by foot right outside our front door!
Room Type
Entire home/apt
---
Property Type
Apartment
---
Accommodates
5
---
Bedrooms
Beacon, NY, United States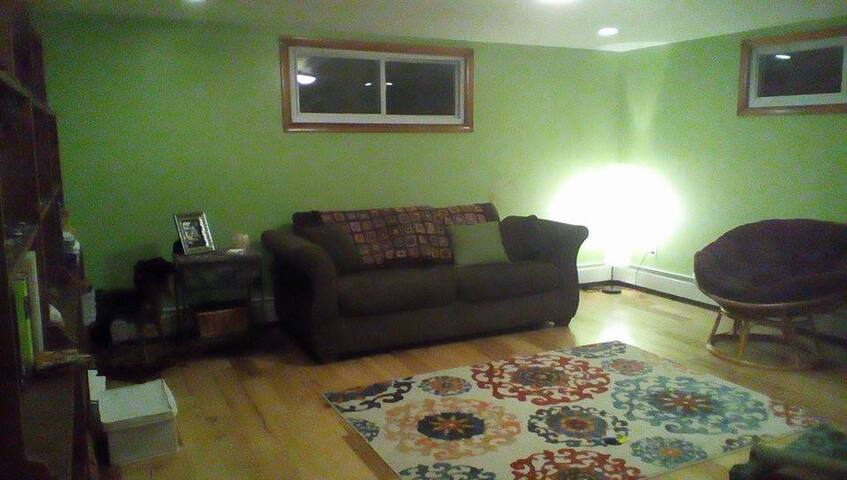 Beacon - Airbnb
:
Average

4.91

out of

5

stars from

817

guest reviews
1

–

18

of

47 Apartment Rentals
Enter dates to see the total trip price including additional fees (but excluding any taxes).