Recently renovated house in the center of the village of Bédar for 2-4 people nicely decorated with traditional andalusian elements. It has a bright and spacious living room +2 double bedrooms + terrace with spectacular views + private garage.
We have renovated and decorated with great enthusiasm and love a house that belonged to my family for over 4 generations. We live far, in Barcelona, so we can not go frequently and enjoy it as we would like. So we decided to renovate it and let other families enjoy it and give it the warmth that the house deserves. It has a spacious and bright living room with sofa, TV and dining table; with access to the terrace with a unique view: Do not miss the sunrise or sunset, you see landscapes till the sea and all the white villages such as Los Gallardos, Turre and Mojacar. A small but comfortable and functional kitchen with induction, refrigerator, toaster, kettle, blender, juicer, cookware and cutlery. Two bedrooms with large closets: one double bed and one with 2 single beds. Both with bedside table and wardrove. A full bath with shower, includes set of towels for each guest, toilet paper and amenities as soaps and hair dryer. In the bathroom there is also the washing machine. On the ground floor is the private parking. Ultimately it is small and magical spot to disappear and have some days of calm, silence, nature and sunshine. Bédar is magical, believe me!
Its history dates back to the Middle Ages, when the Land of Vera was Muslim. The Muslim past is present in Bedar: with its twisted and winding lanes, the terraced crops around fountains and ponds. Its people still speak treasure and legends of the Moors, as the so-called "Castillico of the Moors" in Balsa Alta. Mine holdings date back to the Arab period from 1525, its greatest support starts in 1888, being already in Christian hands. After several parentheses, coinciding with the World Wars, definitely closed in 1970, leaving a major industrial archaeological heritage. Bedar is genuinely pleasant, this town has one of the best views of the coast and the mountains of the region from the viewpoint of the Plaza de San Gregorio, also known as "El Balcon del Levante", where it is currently Memorial tribute the miner. Endearing and open to the world, Bedar held in the native air environment gives his Muslim origin, wandering the slopes and narrow streets adorned with white houses and the colorful geraniums, the name of its streets as Mar, Moon, Source, among other proven so. From the streets of her top and from the viewpoint can see the blue Mediterranean and surrounding mountains and villages of the plain form a unique landscape. Bedar currently has approximately 1,000 inhabitants, of whom about 50% are from other nationalities, with the British which is in the lead followed by Germany. It is said that the first inhabitants of Bedar, chose this quiet place for settlement and avoid being seen by the pirates from the sea. The union of its beautiful landscape with its tranquility have helped in recent years Bedar is a sought after residential area. Although it was in the nineteenth century when Bedar lived mining, currently their main activities are agriculture and tourism, in fact, is making an effort by the City to convert Bedar in "villa ecotourism", being the Tourism engine future of the municipality, given the historic, scenic and environmental value it has, inviting the visitor to enjoy fantastic hiking trails and a cultural visit to the town. Also you can meet and enjoy two walking routes: Route of Water and Mining Road Bedar. The days between 22 and 24 September are the festivals in honor of the Virgen de la Cabeza. During this celebration take place struggles between Moors and Christians. In May the holidays are also celebrated in honor of its patron San Gregorio, popularly known as "the party of donuts". And in early spring take place the processions of Holy Week with its wonderful "images" and arrows.
We had a wonderful stay at Olga's place in Bedar. It was bright and cosy and perfectly situated for visits to the village pool and the beautiful surrounding beaches. The beds were comfortable and the kitchen reasonably equipped for basic dining. (Simple electric hob, no oven). The roof terrace has spectacular views towards the sea which we enjoyed for breakfast each morning.
LAURA
2016-08-28T00:00:00Z
Olga was very helpful and a great host. I really enjoyed my stay in Bedar
Edward
2016-03-10T00:00:00Z
It was very nice in this beautiful nice little village. The house is very comfortable. Everything was neat and clean. We missed a little bit a wifi connection.
Jort
2015-10-14T00:00:00Z
This is an amazing, cute property. We felt very at home. Olga obviously has a great eye for design as the house looks great, bright and full of character. The view from the terrace is stunning and we enjoyed a few glasses of wine whilst taking in the view. Having the private garage underneath the house was a great bonus. Olga replies to any messages very quickly and is very helpful. Bedar is also a great village. It has several bar/retaurants with good atmospheres but it is also a very lovely, quaint traditional looking village. One thing to note is that there is no wifi access within the property. As Olga mentions in the property description, you can connect to the town hall but you do have to leave the house and walk to end of the street before it will connect. Overall we had a great week in this lovely place.
Fiona
2015-09-08T00:00:00Z
Fantastic apartment highly recommend, Olga was lovely and helpful and the apartment is beautiful with lovely artistic touches .
cathy
2017-02-27T00:00:00Z
Nice place , roof terrass with vieuw to the far away sea. Garage disponible, but other parking also in the vicinity. The village is on a hill. Good shop convin,( normal priced), and bakery with great bread near the house.
Didier
2016-05-29T00:00:00Z
Olga es una persona muy atenta y cordial. Es una experiencia sin duda para repetir algún día.
Pedro Miguel
2016-08-07T00:00:00Z
Todo era tal cual lo prometido y visto en las fotos. La casa es una joya, pero más aún el buen gusto de la decoración. Además nada falta y todo está en su lugar. El pueblo es tranquilo y silencioso, ideal para descansar. Es una casa con mucha magia preparada con cariño, una especie de hotel personal. En su conjunto (casa y pueblo) me parece un sitio ideal para cualquier momento del año.
santiago
2015-07-20T00:00:00Z
Room Type
Entire home/apt
---
Property Type
House
---
Accommodates
4
---
Bedrooms
Bédar, Andalucía, Spain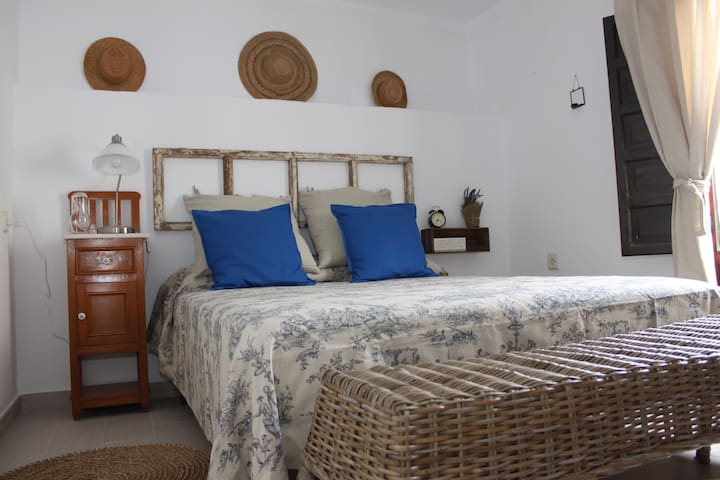 Set in the beautiful hills of Bedar just outside Mojacar. With commanding sea and mountain views Finca Alea is the perfect base for your holiday in Spain! Our estate comprises of three villas (one sleeps 8 and two sleep 4 in each) The estate is set in 5 acres of grounds from which stunning sea and mountain views can be witnessed. The property is without a doubt the best that Bedar has to offer and the only property of it's size which allows big groups or multiple families to holiday together
Here at Finca Alea we offer holiday villas to rent in Spain set in the beautiful hills of the Spanish countryside surrounded by wildlife and sea views that will take your breath away! Our small estate of holiday villas in Spain are located in the picturesque village of Bedar, Almeria. We are located very close to the beaches of Mojacar and get many many hours of sunshine and warm evenings. So if you are looking for holiday villas in Spain you have come to the right place! If you have a group of family and friends we can hire the entire estate to sleep up to 16 people. Or perhaps you are just one family and in which case we can hire out only the main 4 bedroom villa sleeping 8 people total. Many people are now chosing villa holidays in Spain because of the amazing climate we have to offer here and the fantastic value for money villa holidays in Spain can provide. The increase in popularity of villa holidays in Spain has led us to refurbish Finca Alea to a high standard to offer family villa holidays all year round! So look no further than Finca Alea estate if you want villas for rent in Spain anytime of the year at fantastic prices. Located in a prime position with unrivaled views our holiday villas to rent in Spain cannot be beaten! Any questions you might have about our property we are always here to help via phone or email. Just get in touch and we will reply as quickly as possible. We look forward to welcoming you on your villa holiday in Spain soon.
Are you looking to book private villas in spain? Then why not consider Finca Alea as the destination for your trip to the Mojacar area this year! We have some of the most special villas in Mojacar, well if we are honest we have the most special villas in Almeria not just Mojacar! Our villas to rent in Bedar are only a short drive from the wonderful beaches of Mojacar. All too often in Almeria the villas on offer are very old and tired, here at Finca Alea we offer villas in Mojacar that have been newly renovated to a high standard to ensure your friends and/or family holiday in comfort. We have a wonderful heated pool and we are located in some of the most special countryside available in the Mojacar area. There are not many villas in Almeria that come close to what we can offer here at Finca Alea. These private villas in Spain are also located close to some spectacular activity venues such as where many Western Films have been made and also where "Game Of Thones" was recently filmed in the nearby desert! Mojacar is a wonderful town full of bars and restaurants that provide local tapas and delicacies. The incredible fiestas they have are unrivalled, we really know how to party here in Mojacar! The beaches and shops are located a short drive away. There is a small supermarket in Bedar itself but more extensive shopping is available in the main beach town of Mojacar along with some of the best sea food around! The port of Garucha is not far and again has some wonderful fish restaurants BEDAR Bedar is a wonderful authentic Spanish village, situated in the foothills of the Cabrera Mountains in the Sierra de Bedar, approximately 15 kilometres from the coast and the resorts of Mojacar and Garrucha. The Andalusian village affords panoramic views to the surrounding landscape and mountain range, and wonderful examples of early rural architecture, which dates back to the Moorish occupation of the region.. Bedar is an excellent destination for those looking for a rural holiday, but still within easy reach of the coast and all its amenities.. About the town The village of Bedar is equipped with good amenities and facilities, including a supermarket, shops, bars, restaurants, a post office, chemist and medical surgery. The village is extremely picturesque; set on a steep hill, with narrow, cobbled streets and alleys, many of the village's original cottages are still lived in. The town is especially popular with artists and visitors who want to experience a taste of real Spain. The town's way of life is very laid back and the locals are charming.
The host canceled this reservation 143 days before arrival. This is an automated posting.
jose
2017-03-31T00:00:00Z
Room Type
Entire home/apt
---
Property Type
House
---
Accommodates
16
---
Bedrooms
Bédar, Andalucía, Spain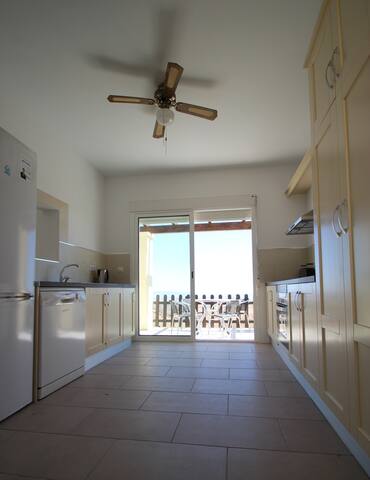 This is a very attractive and quaint village house situated in a pretty location set in the village of Bedar, Almeria, Spain. Close to shops, bars and cafes. Local bakery 50 metres away.
This is a very attractive and quaint village house situated in a pretty location set in the village of Bedar. The property has a good sized living room/kitchen with a "snug" at one end with an open fireplace. The property has one large room upstairs with a double bed and a double sofa bed and a good sized bathroom. The property is in an excellent location being walking distance of all amenities and is close to the large parking area making access very easy. The property is over 100 years old and has a lot of character, there is a small area for table and chairs outside.The property has been totally refurbished with new kitchen, bathroom and all new furniture. The village communal pool is (80 mtrs) just minutes away which opens during the months of July & August.
Small whitewashed village in the mountains. Access to beach 25 mins by car. Friendly local Spanish folk. You can walk to everything in 10 mins or less - bakery, bars, cafe, pool, gym and shop. Good in winter or summer.
The host canceled this reservation 3 days before arrival. This is an automated posting.
Gerardo
2016-07-20T00:00:00Z
Room Type
Entire home/apt
---
Property Type
House
---
Accommodates
4
---
Bedrooms
Bédar, Andalucía, Spain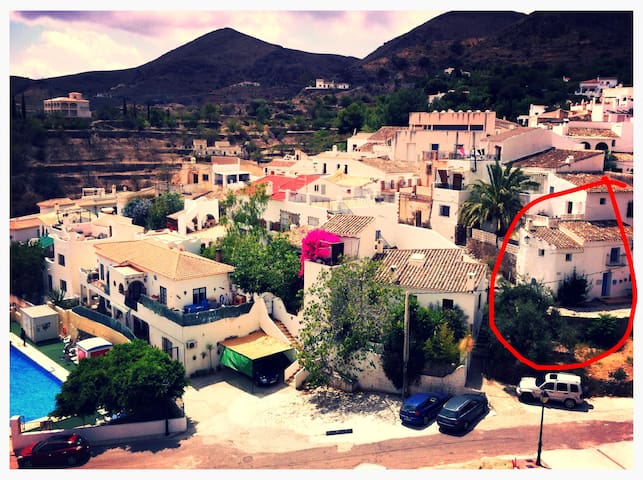 This pretty finca (farmhouse) in its pueblo like Spanish style gives you a lovely feeling of holiday. It is suitable for two/four adults or a family. Pool without chlorine! Windows are equipped with fly screens and beds with mosquito nets.
There is a magnificent views to the see and the village Bedar. Local bars, restaurants, shops in walking distance. 17 mins drive to beaches, golf courses, holiday resort of Mojacar (for many different sports), fishing port of Garrucha, outings etc. The garden has olive, almonds and an orange tree and lots of herbs and wild plants. In front of the house there is a private saltwater pool, so you can jump in, from out of your bed, in the morning. The pool is protected from view (swimming naked possible).The water contains only 0,4% salt. This is nearly not remarkable but has a healthy effect on the skin, especially for skin deseases like psoriasis and neurodermitis (eczema). After swimming the skin feels marvellous and the eyes don't get red and irritated. At the backward terrasse with a pergola and beautiful sea view, you can enjoy every morning a magnificant sunrise and at night you see the Milky Way just above the house. Bedar, the very next village, is reached within 20 minutes walk, or 5 mins. drive, it's a very authentic and picturesque Spanish village, which exists since the time of the Moors and is huddled against the hillside of the Filabres Mountains. It lies about 15km from the coastal resorts of Mojacar Playa and Garrucha. Bedar has an English community, a few Germans and Dutch people, an Austrian and of course a friendly Spanish population. Our house is a very good starting point for many shorter or longer trips like: Mojacar Pueblo (30 mins. drive) moorish village with alleyways and many shops. Garrucha's nearby marina and go-karting (30 mins. drive). Vera (35 mins. drive) with naturist beach and Water (Aqua) Park. Sorbas (40 mins. drive) with Caves, Cuevas de Sorbas. Tabernas (50 mins. drive) with Mini- Hollywood Western Theme Park and Zoo,(where Lawrence of Arabia and many spaghetti westerns were filmed) and with a famous olive oil centre. Nijar (45 mins. drive) with Spanish folk potteries. Natural park Gabo de Gata (45 mins. drive) with forests, cliffs and beaches. Granada and the Alhambra palaces (2 hours away via motorway). Exploring old mines in the area is also possible, but only recomended with a guide and it is too dangorous for children. And many possibilities more............ The region has over 300 days of sunshine each year and during summer a very dry climate. This house has the benefit of being a quiet place for relaxation and at the same time it is so near to so many bars, beaches and activities that you can daily choose between the two.
Room Type
Entire home/apt
---
Property Type
House
---
Accommodates
6
---
Bedrooms
Bédar, Andalucía, Spain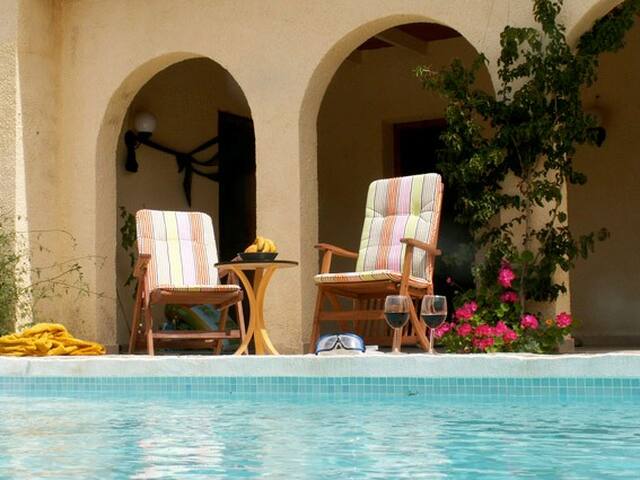 You'll love my place because of the neighbourhood. My place is good for couples, solo adventurers, and families (with kids).
Room Type
Entire home/apt
---
Property Type
House
---
Accommodates
3
---
Bedrooms
Bédar, Andalucía, Spain
Wonderful house in the town of Los Gallardos. It is a fenced property, consists of two bedrooms, one with double bed; the other, are two twin beds and two bunk beds. It has a spacious living room, kitchen and bathroom. Outside the house there is barbecue area with a kitchen and a small bathroom and a huge private pool and terrace with furniture where you can enjoy the views from the environment.
Wonderful house in the town of Los Gallardos, 10 minutes of Mojacar, quiet and little traffic. It is a fenced property, consists of two bedrooms, one with double bed; the other, are two twin beds and two bunk beds. It has a spacious living room, kitchen and bathroom. In the living room also it has a cabinet with a folding bed for one person. On the outside of the house there is barbecue area with a kitchen and a small bathroom and a huge private pool and terrace with furniture where you can enjoy the views from the environment. It is a home to enjoy a dream vacation with family or friends in a privileged area.
Room Type
Entire home/apt
---
Property Type
House
---
Accommodates
7
---
Bedrooms
Los Gallardos, Andalucía, Spain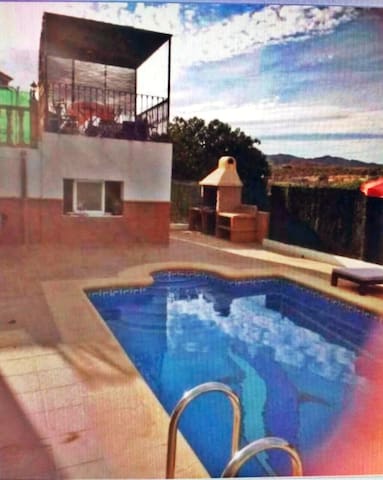 2 habitaciones dobles de 6m2 1 salón con cocina de 15m2 cuarto de baño pequeño de 6m2 una piscina grande Terraza grande y soleada, tumbonas, mesas y barbacoa
Ous is a very friendly and helpful host. The Hut in the canyon is even nicer than on the photos and the atmosphere in the valley is unbeatable . Whenever we come back to Valencia, we definitely want to stay here again.
Michael
2016-03-31T00:00:00Z
We had a very relaxing and pleasant stay at the "El Molino" hut. The place is cosy and well equipped. Ous was very kind, showed us around the whole amazing place (a lovely restored former windmill) and made us feel very comfortable. The place is definitely recommendable as a starting point for excursions in the region as well as for a day hanging out at the pool.
Conny
2016-08-30T00:00:00Z
¿como es alguien que te hace sentir como en casa? Sencillo y abierto, Ous va a estar siempre atento a lo que necesites, te va a dar los mejores consejos sobre la zona y te va a dejar tu espacio si es lo que necesitas. Si buscas un alojamiento sencillo en un lugar tranquilo y en el que disfrutar de la naturaleza teniendo también lugares turísticos a diez minutos, es una de las mejores opciones.
Paco
2016-08-10T00:00:00Z
Ous fue un anfitrión muy agradable y atento. Cada día nos preguntaba si todo estaba bien o si necesitábamos cualquier cosa. Nos enseñó la zona y explicó como llegar a cada lugar. La casa estaba genial, en buen estado. La zona era preciosa y la piscina, pese a estar un poco alejada de la casa era una maravilla. En general, muy recomendable.
Yaiza
2016-08-25T00:00:00Z
Room Type
Entire home/apt
---
Property Type
House
---
Accommodates
5
---
Bedrooms
mojacar, Andalucía, Spain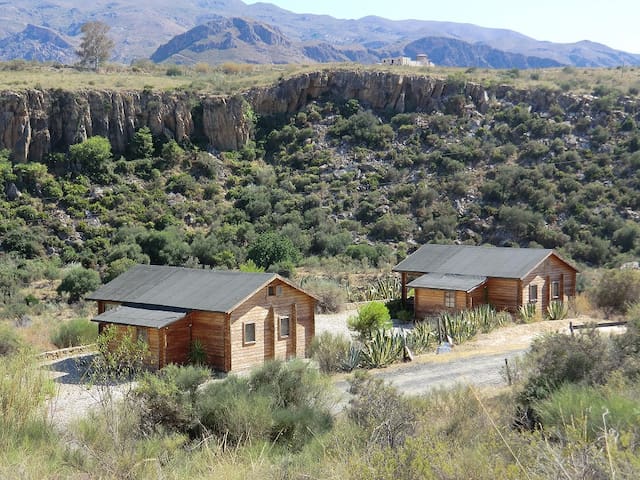 La maison est au calme mais près de tout. . Vous apprécierez mon logement pour son calme, sa beauté et son soleil. Situé a 15 minutes des plages cette maison profite d'un lieu autentique avec vues sur les montagnes. La maison est originale, meublé avec gout, tout confort, dans un environement (URL HIDDEN) y a une autre chambre double a l'exterieur pour un couple avec suplement
Cette maison est unique, fabriqué dans le style Africain, elle est couverte de chaume .Detendez vous dans le jardin pour écouter les oiseaux, entouré de plantes, et regarder les montagnes . Dans la maison spacieuse, ouverte et lumineuse, vous avez un coin cuisine avec un grand table, le salon et puis un coin pour être tranquille ou 2 personnes peuvent dormir . la salle de bain moderne est au rez de chaussée. A l'étage , la grande chambre tout en bois, a une vue manifique sur les montagnes.
La maison est dans un endroit calme, sans etre isolé, il y très peu de trafique , une jolie route de campagne vous emmene au village de Turre, ou vous trouverez toutes les commerces, et de restaurants autentiques. Le village de Mojacar est très aprecie, et vers les plages vous trouverez des boutique et des restaurants de tous sortes notament de poissons , et aussi des" chiringitos" sur la plage
We never met Joanna, but her nephew Francisco met us at the house and was very welcoming and remained available via (SENSITIVE CONTENTS HIDDEN). If you are looking for tranquility, comfort, and clean air this is an ideal location. We loved it. The house is very comfortable and tastefully decorated. The garden and hammocks were perfect for relaxing. We started each day with a dip in the sea, about a 15-20 minute drive. And we slept deeply, lovely quiet nights. Things to be aware of: the kitchen is very basic and if you are depending on certain kitchen equipment I´d recommend checking in about it prior to arriving. Wifi not the most stable, and there wasn´t a washing machine on the premises, but perhaps one was available in a neighbouring house, as it is listed under the amenities for this rental. All this said, we would definitely rebook.
Rebecca
2016-07-30T00:00:00Z
Casa de madera muy acogedora, decorada con mucho gusto, no le falta detalle! La cocina tiene pocos utensilios para cocinar. Jardines muy cuidados y con detalles creativos. El entorno tranquilo. Se respira paz y tranquilidad Agradable acogida por parte de la anfitriona Recomendable alojamiento!!!
Anouk
2016-08-07T00:00:00Z
La casa es muy agradable y confortable. Está muy bien cuidada, y muy bien ambientada. Es un lugar bonito para descansar y desconectar de la ciudad. El trato de los dueños es muy bueno, y flexible para las horas de entrada y salida.
Cristina
2016-07-10T00:00:00Z
La casa tiene una decoración notablemente cuidada, tanto las estancias del salón como el baño y el dormitorio te hacen sentir cerca de Tailandia :-) si a eso le añades todos los placeres de la zona no necesitas ir más lejos para disfrutar de una buenas vacaciones! Advertencia: Cuidado con los mosquitos devoradores de personas...
Miguel
2016-08-12T00:00:00Z
Todo genial. El anfitrión muy amable y atento. Alojamiento muy recomendable. Sólo le faltaría una piscina para ser todo perfecto. Volveremos.
Pedro
2016-08-19T00:00:00Z
Room Type
Entire home/apt
---
Property Type
House
---
Accommodates
4
---
Bedrooms
Turre, Andalusia, Spain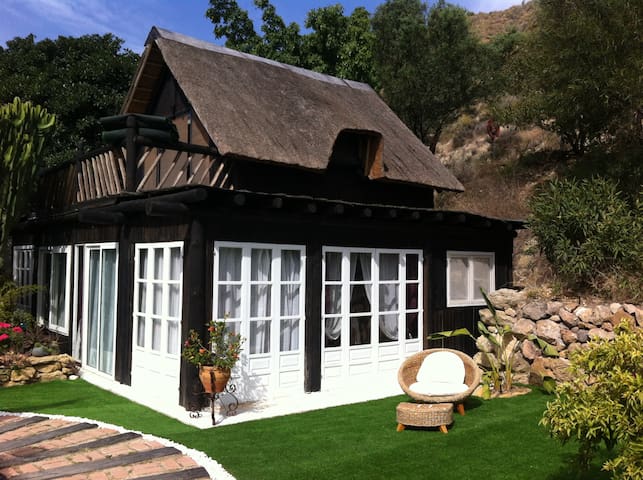 Comfortable and peaceful rural retreat with beautiful mountain views, close to lovely Spanish village and 30 minutes to the coast.
2 bedroom cottage in the foothills of the Sierra-Filabres mountains. It is within easy walking distance of the pretty village of Lubrin with shops, bars, restaurants, banks and a lovely outdoor swimming pool, open in the summer. The area is perfect for walking or you can relax in the sunshine in your private garden and enjoy the fabulous views of the surrounding countryside. It is a 30 mins drive to the many beautiful beaches and seaside resorts on the Almeria coast.
La casa es tal cual aparece en las fotos. Nos encantó estar allí, sobretodo los desayunos y cenas en la terraza. Totalmente aconsejable si se quiere desconectar 100% de trabajo, ciudad, etc. única pega que el ir a la costa nos costó más de lo esperado por el tipo de carreteras y caminos que había que hacer siempre necesariamente hasta llegar a agua amarga, carboneras, etc. Pero bueno, queríamos dormir en el interior y no en la costa así que sin problema. Los anfitriones muy majos pero ni idea de español, así que nada, nos comunicamos siempre en inglés y listo!
emiy neus
2016-08-15T00:00:00Z
Los anfitriones fueron muy amables y estuvieron pendientes de que estuviéramos agusto en todo momento y de que no nos faltara de nada. Son una pareja muy amable. La casa estupenda y el pueblo precioso. Muy buena estancia y altamente recomendable, repetiremos seguro. Muchas gracias por todo.
MARIA MORCILO MARTIN
2014-08-12T00:00:00Z
Room Type
Entire home/apt
---
Property Type
House
---
Accommodates
4
---
Bedrooms
Lubrín, Andalusia, Spain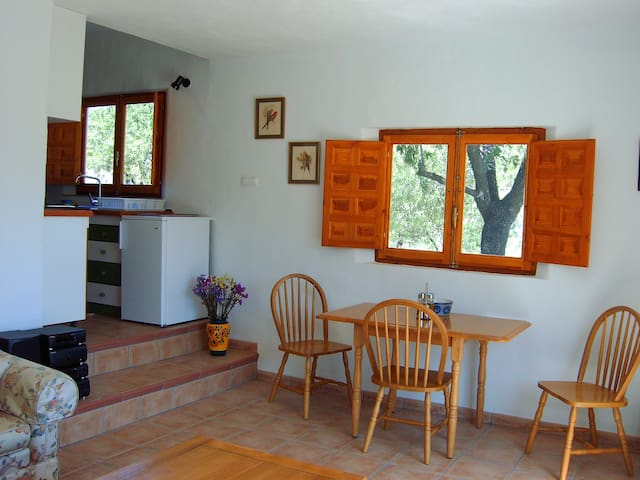 El Molino de aguas, restaurado con mucho cariño y con más de 600 años de antigüedad se encuentra en el romántico y salvaje Valle del Río de Aguas. La casa está a 15 minutos de las magníficas playas de mojacar ,a 30 minutos de agua amarga,carboneras
Such an incredible environment. House was as expected and Ous is the best host ever. Really involved in making guests comfortable. Nature is wild and the river walk is a must. Swimming pool was the best part of all, as of big, clean and crystal clear. Very recommendable for short and long stays. Wifi should work better. Would recommend this place to all my friends.
Mario
2015-08-08T00:00:00Z
My family and i had a great, relaxing two weeks at Los Mollinos. We loved the place we stayed in and become very fond of the area which is full of character and charm. Ous made a great host making sure that everything is working as it should be and we don't need anything. We were particularly happy with the pool which was kept really well. We are thinking of going back there in the future and would strongly recommend the place to anyone who is considering this location for their holidays.
Monika
2016-09-09T00:00:00Z
Ous a été une des meilleurs hotes qu'il m'ait été donné de rencontrer sur mes différentes locations ! Toujours disponible, il nous a conseillé les plages abritées quand il y avait du vent, nous a emmené visiter des coins magnifiques. il a été gentil et convivial, bref , il a été parfait ! La maison est magnifique et confortable, perdue dans ce petit canion, c'est un havre de paix ! nous y retournerons avec plaisir!
David
2016-08-14T00:00:00Z
Ous è stato fantastico e la sua casa affascinante e da subito familiare, insieme ci hanno offerto una vacanza non solo per il corpo ma per l'anima. Come il vento passa morbido e profumato per le stanze della casa, un vecchio mulino su due piani con una terrazza magica, così per i suoi appartamenti passano ospiti ricchi di vita, musicisti artisti manager e filosofi. Sono pochi i posti nel mondo dove in soli pochi giorni entri in sintonia con tutto quello che ti circonda e quando ti ci allontani senti che qualcosa di te vi è rimasta attaccata. Questo è uno di quelli.
Donato
2016-08-17T00:00:00Z
Notre sejour a vraiment ete très agréable. Le site est magique et la maison tres agréable a vivre. Ous a tout fait pour rendre notre arrivée et notre sejour très confortable. Je recommande cet havre de paix a deux pas de la cote du cabo de gata.
marie céline
2015-08-15T00:00:00Z
Ous es un fantástico anfitrión, amable, cariñoso y dispuesto a ayudar en todo lo que hiciera falta. Ha sido un estupendo guía de la zona. Superó con creces todas nuestras expectativas. Absolutamente recomendable tanto por la casa como por el anfitrión.
Maria Antonia
2016-07-24T00:00:00Z
Room Type
Entire home/apt
---
Property Type
House
---
Accommodates
6
---
Bedrooms
mojacar , Andalucía, Spain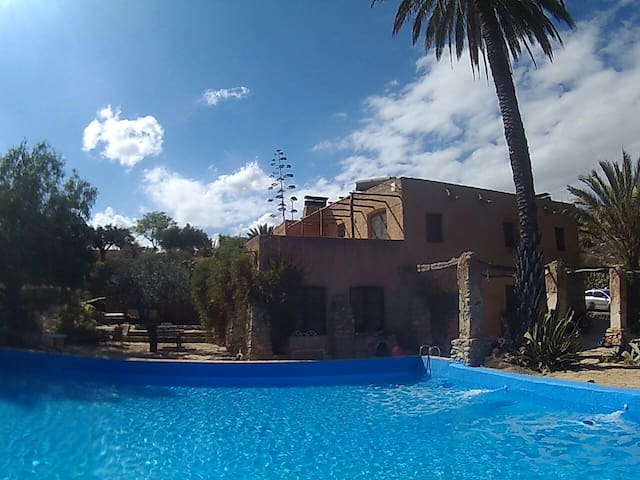 A beautiful romantic retreat set in the hillside above the village of Los Castanos, near Los Gallardos, 20 minutes far from Mojacar and the playa. This is a unique property inside a true spanish cortijo. It has been lovingly restored by its owners.
It has been lovingly restored by its owners and has much character and cosy ambience. The main large living room leads onto a private terrace giving spectacular views down to the country, a great place for bird watching, the flight of swallows and just relaxing, surrounded by lovingly plants. There are a large bedroom and a second place above the lounge area. All rooms are equipped with quality furniture and the kitchen is fully equipped (dishwasher, fridge, ceramic hob, washing machine). The entrance is private. There are radio and television soon with British channels. An Internet connection is possible. Cortijo Chico is equipped with a remote monitoring system and security. During the hot summer months there is the use of the owners beautiful pool, which has stunning views to the surrounding countryside. A new barbecue in on place
Beaucoup de calme dans la maison et à 20 minutes des plages touristiques de Mojacar et à 40 minutes de Cabo de Gata
The house is exactly as it appears in the ad: wonderful! Perfect to relax. In a very calm and peaceful area, but at a 20 minutes ride from everything you can possibly need (beach, supermarket, night life). Very nice and discrete hosts. We recommend it!
martina
2016-08-16T00:00:00Z
The host canceled this reservation 5 days before arrival. This is an automated posting.
Artur & Familia
2015-08-14T00:00:00Z
Una casa fabulosa y una estancia muy agradable! Y un 10 para Georges y Gloria!
Pablo
2016-08-19T00:00:00Z
La casa es comodísima, luminosa y grande, enmarcada en el entorno único de Sorbas, sus pájaros, su silencio. Imprescindible el coche para moverse por la zona, aunque seguramente con la cuidada decoración y la atención de sus dueños no queráis moveos de casa.
Beatriz
2014-08-06T00:00:00Z
Muchas gracias a Georges y Gloria por su atención durante los días que hemos estado en su cortijo. Se trata de un magnífico cortijo con todas las comodidades y cercano a zona de playa. Imprescindible coche para moverse.
rosana
2015-08-11T00:00:00Z
Séjour très agréable dans un cadre magnifique. Le logement correspond exactement à la description. Les hôtes sont disponibles et discrets à la fois. Dépaysement garanti!
Pierre
2014-08-16T00:00:00Z
Gloria y George estuvieron atentos a cualquier cosa que necesitamos : nos informaron de cómo llegar a las mejores calas y a la vez disfrutamos de una total privacidad. Son dos personas que aman el lugar y esto se nota en todos los detalles .El cortijo es maravilloso y el espacio donde nos alojamos es totalmente privado con una terraza inmensa desde donde ves las montañas, el jardín que rodea al cortijo lleno de flores y verde y por la noche puedes ver las estrellas. La casa es cómodísima y muy silenciosa por la noche. La cocina súper equipada. La naturaleza que rodea el cortijo , las playas y calas de la zona son increíbles. Un sitio perfecto para ir con niños , en pareja o con amigos. Lo mejor la piscina de agua salada, sin cloro , con tumbonas cómodas y sombra, estuvimos siempre solos en ella y también la utilizamos por la noche . Volveremos el año que viene sin duda!!!! Gracias Gloria y George por estos días y por compartir con nosotros vuestro precioso cortijo. Un abrazo!!
sonia y Lucas
2016-08-12T00:00:00Z
Room Type
Entire home/apt
---
Property Type
House
---
Accommodates
2
---
Bedrooms
Sorbas, Andalucia, province Almeria, Spain
El Molino de aguas, restaurado con mucho cariño y con más de 600 años de antigüedad se encuentra en el romántico y salvaje Valle del Río de Aguas. En el extenso terreno de la finca encontramos almendros, olivos e higueros.
The Old Mill is a wonderful place. You can take a stroll down or up the dry riverbed or plunge into the pool which was in former times the old mill's water basin. The leaves of the bougainvillea dance with the breeze coming from the canyon. The beaches are reachable within 15 minutes (go there for a picnic at sunrise!) by car and you get beautiful and stunning sights if you take the road through Sierra Cabrera. The houses are clean and equipped with all necessary things. At the mill you find bathrooms at the sanitary building behind the main house, which are just a few meters to go. On the grounds there is space for everyone to relax, whether it is at the pool, on the terrace or down at the canyon. That is what we want - silence and nature, isn't it? Ous is a very helpful, friendly and sympathetic host (always with a smile on his face) and does everything and his best to make this place nicer and your stay more comfortable. We have had a great time and met lovely people around. And we definitely will come back
Kai
2016-07-31T00:00:00Z
Room Type
Entire home/apt
---
Property Type
House
---
Accommodates
6
---
Bedrooms
Mojácar, Andalucía, Spain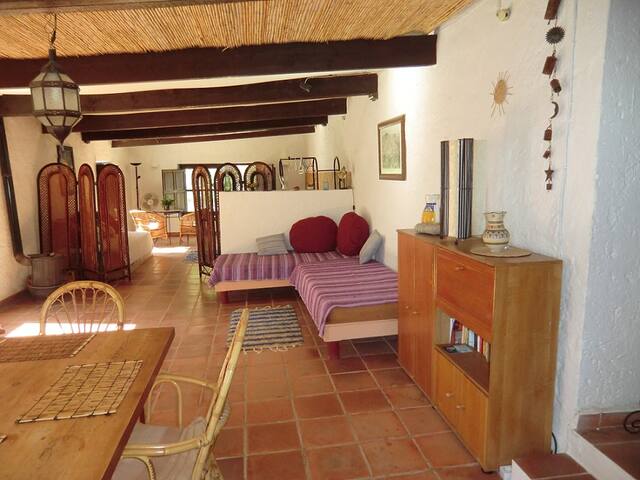 Cortijillo recién reformado, precioso, y decorado con mucho capricho, dentro de una finca ajardinada independiente de diez mil metros y vallada con piscina semiolimpica y pista de tenis. A 500 metros del pueblo de Antas con principales servicios.
This region is sunny throghout the year. Keep your tan all the year round. It is a peaceful area in the midlle of the nature, Help yourself whith lemons and oranges from the the orchard (subjet to season). Enjoy huge private swimmingpool and standard private tennis court. You can relax in beautiful farmhouse located close to a tranquile traditional village, 12 min by car from the beach. It is like an oasis in the middle of a mediteranian landscape.. You can do tracking, cycling, play golf and walk along pictoresc routes and beaches. It is close to the natural conservation park Cabo de Gata, where you can find the best dune beaches in Andalusia. However, it is walking distance to small food shops, drugstore, pharmacist, doctor, coffeshops, local typical restaurants and even clothe shops and markets. At driving distance you can find water parks, golf resorts and all sort of amenities (restaurants, pubs,disco...) In this area, you can choose whether to enjoy the excitement of a busy disco-dancing night or just relax enjoying a lovely dinner under the shade of the ficus tree by the pool or at a fresh fish restaurant in Mojacar or Garrucha by the beach. Once you reach this area you deep into a vacational mood, where you can do anything you wish and practise a variaty of sports (tennis, swimming,running, tracking and cycling) If you fancy street markets you can find a big one on Saturday and Sunday mornings, where you will find pottery , andalusian ceramics and tiles, jewelry and food. There are lots of English people who have chosen this area as their permanent home and there might be a reason for it. It is not crowdy, the weather is excellent and it is not costly.
Hemos estado en agosto nueve días con nuestra hija de 14 meses. Él cortijillo es precioso, más bonito que muestran las fotos! El pequeño cortijo tiene una terraza privada, amplia y rodeada de frutales, plantas trepadoras y abundantes flores. Sobre todo por la noche se levanta el olor a jazmín y madreselva. A cinco pasos de la casa se encuentra una enorme piscina donde aparte de refrescarse se puede realmente nadar. Y desde allí según el tiempo que haga se puede ver hasta el mar. Se llega a la playa en 15 o 20 minutos en coche. El interior de la casa está decorado con mucho gusto y no falta de nada. Todo estaba nuevo! Nos recibieron con unos refrescos, una botella de champán y sandía el día de nuestra llegada. El trato con Ángela y Valentin a sido muy amable y siempre se han mostrado muy interesados por nuestro bienestar y descanso. En total una experiencia muy positiva y bonita.
Johanna
2016-08-09T00:00:00Z
Room Type
Entire home/apt
---
Property Type
House
---
Accommodates
2
---
Bedrooms
Antas,Almería, Andalusia, Spain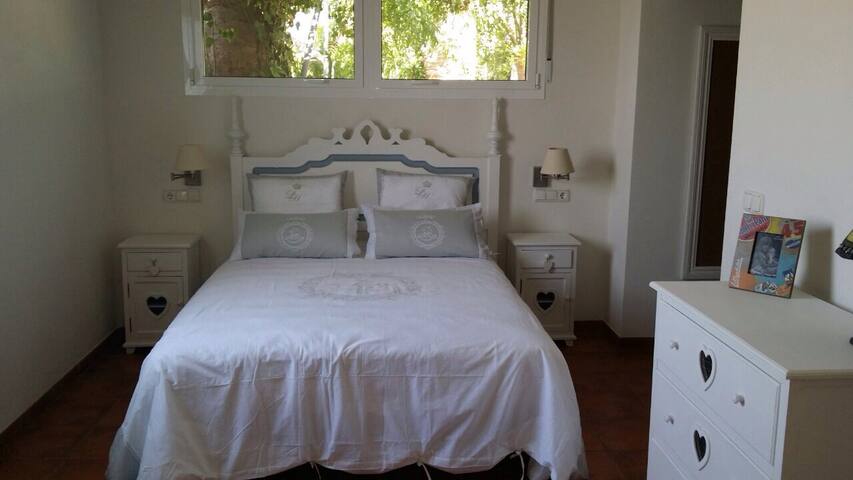 Outside the village of Aljariz near Antas. Our Rustic Cortijo sits on the side of a ramba amongst the beautiful hills. It would suit anyone wishing to get away for peace and quiet, also cyclists and hikers. 20 mins drive to Beach and 10 mins to Antas and Vera.
There is much space throughout our home with different areas outside that spread across the front of the cortijo from the covered veranda, yoga platform, small pool (used in summer months), grassed area, patio area, roof top and terraces situated on the hill behind cortijo. The bedrooms are bright and rustic with little artistic touches throughout.
I love the tranquility here, no noisy neighbours or cars! Just the sound of the church bell on the hour, which l love as its a distant sound and not in my face! Just a ten minute walk along the rambla to the village shop, to an all day walk along the rambla to the surrounding beautiful hills.
Very beautiful and quiet place // Maxine is a wonderful and helpful person // our stay in her house was a pleasure
Susann
2016-08-10T00:00:00Z
It was a pleasant experience from the point of arrival on.
David
2016-08-26T00:00:00Z
Maxine have been excellent host friendly. Tell House have been excellent.
Reda
2016-06-15T00:00:00Z
Maxine's place is a little out of the way but absolutely worth it! We felt at home immediately and really appreciated the little oasis she has created.
Aliza
2016-11-03T00:00:00Z
We only stayed one night, but we really enjoyed our time there. Maxine is a great host, very welcoming, caring and a pleasure to chat to. Her home is really beautiful, it's in a splendid location and looks stunning, very tasteful and quirky. The village is only a short walk away and the motorway only a 10 minutes drive... if you look for tranquillity and a relaxing break this is definitely a great place to do it.
Ana
2016-08-31T00:00:00Z
I've just returned after a short stay at Maxine's place. I wish I could have stayed longer but I was only there on a flying visit to the area. Maxine and members of her family and a friend, who just happened to be visiting, made me very welcome and comfortable indeed. They couldn't have been more accommodating. The place itself is an absolute delight, full of rustic charm with plenty of artistic input from Maxine herself. I couldn't enthuse about my stay or recommend this place enough and I'll definitely be returning, hopefully soon.
Edward
2017-02-09T00:00:00Z
Our stay with Maxine was an absolute bliss, exactly what we needed! The house is located outside of Aljariz village what makes the place really quite and connected with nature. It is an ideal place to sort out you thoughts, relax, catch up with the reading of the books or watch the shooting stars during the night. The house is spacious, build in the traditional Spanish style with lovely blend of holistic features. There is a swimming pool where you can cool yourself down during the hot daytime temperatures or you can spend the time in the shade of the terrace. It takes 20 mins to drive to the beach and short walk to the village shop. Maxine is a lovely and easy going person who made us feel like at home. She offers breakfast, what we found very convenient and let us to use the washing machine, what was really helpful. She has two friendly dogs which are roaming around and as the house is in the nature, you should be aware that you may encounter various insects. We will definitely come back if we are visiting this area of Spain again. Wish you all the best Maxine with the retreat and hope that all the renovations will go smoothly! Greetings to Pam as well, take care ladies! zuzana and blazej Nuestra estancia con Maxine era una felicidad absoluta, exactamente lo que necesitábamos! La casa está situada fuera del pueblo Aljariz lo que hace que el lugar muy tranquilo y conectado con la naturaleza. Es un lugar ideal para solucionar le pensamientos, relajarse, ponerse al día con la lectura de los libros o ver las estrellas fugaces durante la noche. La casa es espaciosa, construida en el estilo tradicional español con hermosa mezcla de características holísticas. Hay una piscina donde podrá refrescarse durante las temperaturas diurnas calientes o se puede pasar el tiempo en la sombra de la terraza. Se tarda 20 minutos en coche a la playa y el paseo a la tienda del pueblo. Maxine es una persona que va preciosa y fácil que nos hizo sentir como en casa. Ella ofrece el desayuno, lo que nos pareció muy práctico y dejamos que nos permite utilizar la lavadora, lo que fue muy útil. Ella tiene dos perros amistosos que están deambulando por allí y ya que la casa se encuentra en la naturaleza, que debe ser consciente de que puede encontrar varios insectos. Definitivamente vamos a volver si estamos de visita en esta parte de España.
Zuzana
2016-08-26T00:00:00Z
¿ Que puedo anadir? Como siempre Maxine y su familia han sido anfitriones acogedores y atentos en todo lo que podriamos necesitar. Esperamos revolver muy pronto.
Ivana
2016-08-18T00:00:00Z
Room Type
Private room
---
Property Type
House
---
Accommodates
2
---
Bedrooms
Aljariz, Andalucía, Spain
A lovely 2 bedroom, 3 bathroom duplex located on the 12th tee of the prestigious Valle del Este golf resort. One of only 14 houses on the private Los Alamos development. The house is furnished to the highest standards with luxury fixtures and fittings. Beautiful views over the 12th hole to one side and views across the campo from the other. Master bedroom with fitted wardrobes and ensuite shower room. Second twin bedroom also with fitted wardrobes and ensuite shower room.
Tasteful modern decor with high quality stylish furnishings. Air conditioning in the lounge and both bedrooms.
Quiet and picturesque overlooking the 12th tee and green. Located on Valle del Este Golf Resort. The property overlooks the 12th tee and green. Valle del Este is a 4 star golf resort with hotel and a small commercial centre. The resort is located around 5km from Vera town and is around a 15 minute drive from the coast at Vera and also Mojacar Playa. The picturesque Mojacar Pueblo is also around 15 minute drive away.
Room Type
Entire home/apt
---
Property Type
House
---
Accommodates
4
---
Bedrooms
Vera, Andalucía, Spain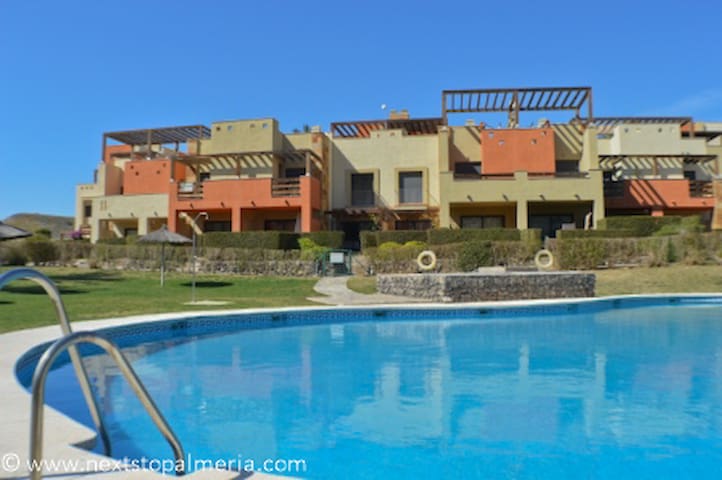 Encantador cortijo a dos minutos del pueblo de Antas ( Almería) y quince minutos de Vera y sus playas. Perfecto para recorrer Aguilas, mojacar y cabo de gata. Con todas las comodidades. Capacidad para cuatro personas. Dentro de complejo de tres alojamientos con piscina y pista de tenis.
Estupenda experiencia. Una maravilla el cortijo, rodeado de árboles frutales, palmeras y intenso olor a jazmín para pasar una genial velada y sus terrazas o debajo de la estupenda parra. Una maravilla de piscina de 25m, donde relajarte en las tumbonas debajo del impresionante ficus. También nos encantó el buen gusto en la decoración de la casa, en los detalles. De verdad que te sientes como en casa ,si tienes la suerte de tener una casa así. Algún pero ? La cama algo pequeña para mi marido de 1,90. Merece la pena de verdad. Se nota que Angela y Vicente cuidan la casa con cariño y hacen lo posible para que no tengas necesidad ni de ir a la playa. .
RUTH
2016-08-08T00:00:00Z
Room Type
Entire home/apt
---
Property Type
House
---
Accommodates
4
---
Bedrooms
Antas, AL, Spain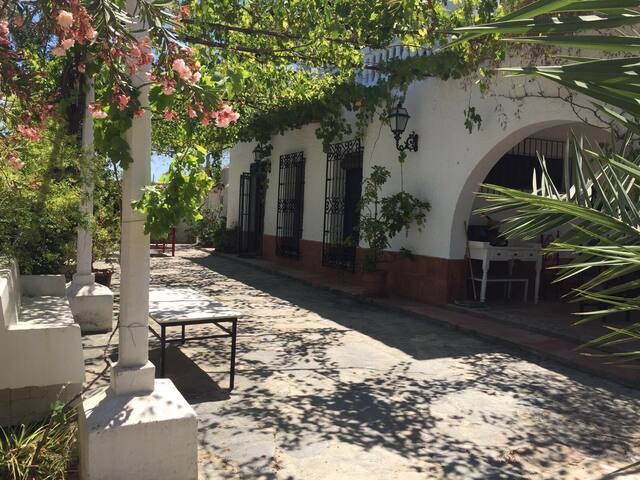 The "Casilla" is an ideal place to stay in Lubrin with a roof over your head. It has the basics and for the price you can't beat it! We have repainted the whole inside but this will give you a feel for the place. (URL HIDDEN) You will receive great hospitality during your stay. Ideal for bikers or anyone who wants to live the Spanish life in Lubrin.
Room Type
Entire home/apt
---
Property Type
House
---
Accommodates
4
---
Bedrooms
Lubrín, Andalucía, Spain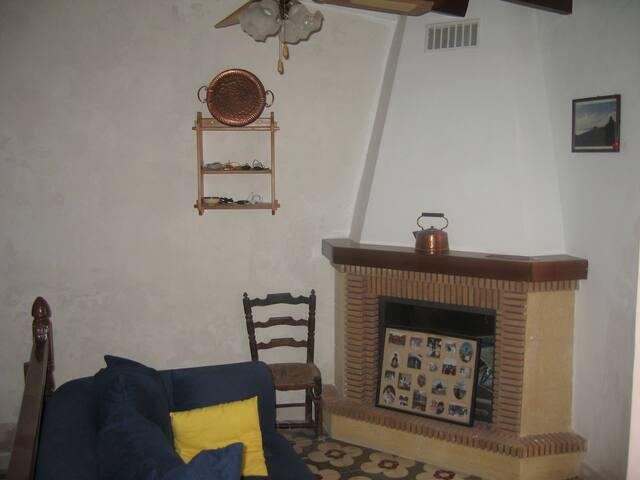 Located in the picturesque village of El Pocico among the hills of the Sierra Filabres this traditional house is an ideal place to relax and explore the real Spain. The town of Lubrin (2km) has numerous traditional bars and restaurants to enjoy.
Our charming traditional Spanish home has 1 Double, 1 Twin and 1 Single bedrooms. There is also an airbed and the sofa can be used for extra guests. Kitchen is fully equipped with washing machine, gas hob and oven, microwave, toaster, kettle and all cutlery and crockery. Portable BBQ for outside use. Shower Room with W.C Log burning fire and 2 electric radiators for cooler winter nights. Lounge area seating for 5. Small TV and DVD player with assortment of DVDs. We have a large patio area with table and chairs perfect for dining and enjoying the fantastic views.
El Pocico is a small village of aprox 100 residents ,mainly Spanish locals with a few British residents. There are bread deliveries daily and fish weekly. The village has a annual fiesta in the first week of August where the residence make merry for three days and nights. As you stroll around the village on your evening paseo (walk) you will be delighted by the true atmosphere of rural Spain taking in the fragrance from the orange trees and the sound of bells from the local goats as they are being herded in for the night. In nearby Lubrin there are supermarkets, banks and a local produce market weekly. Also here you will find restaurants and bars typical of a small Spanish town, and of course throughout the year many fiestas. There is also a internet cafe, gym and swimming pool (summer months) Take advantage of the 2 bicycles at the house as the area is ideal for mountain biking through the Ramblas (dry riverbeds)
La casa de Dave es auténtica. Localizada en un pueblo perdido de Almería, cuenta con todo lo necesario para estar cómodo. En el piso de abajo está la cocina, el salón y el baño. La parte de arriba tiene 3 habitaciones (dos de dos personas y una de una). La casa tiene muchísimo encanto y personalidad. Hay que tener en cuenta, que El Pocico se encuentra en la carretera de Lubrín. Esta carretera no tiene demasiado tráfico, pero sí tiene bastantes curvas. En mi caso, iba diariamente a Vera playa, que son unos 40 minutos y se hacía algo pesado. Sin embargo, la impresión que tengo de la casa es excelente. El trato con Dave siempre ha sido muy fluido. Si quieres tranquilidad, esta casa es la ideal.
Orlando
2015-08-15T00:00:00Z
Room Type
Entire home/apt
---
Property Type
House
---
Accommodates
5
---
Bedrooms
El Pocico, Andalusia, Spain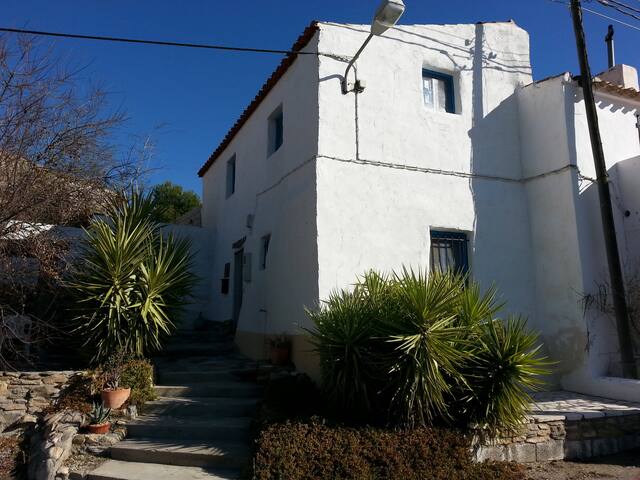 Bédar - Airbnb
:
Average

4.19

out of

5

stars from

55

guest reviews