Our family lives in a private Edwardian farmhouse with loads of character. The house is bright and airy with lots of space to enjoy. We welcome animals and children. Our family enjoys the country life and wish to help you do the same!
Are you looking for a peaceful and relaxing time but want to have fun? Come to the country and experience life as it should be. Stay in our stately home and enjoy the crickets instead of the traffic! Our home is located on a paved road approximately 10 minutes from Hwy 401 with approximately half way between Toronto/Niagara Falls and Michigan close access to London, St. Thomas, Ingersoll, Woodstock, Aylmer, and Tillsonburg. We offer fresh linens with clean towels for each guest. If you have any special requests please let us know. We have plenty of parking and can accommodate truck and trailers as well!
In the middle of no where but in the middle of everything. Belmont offers a small grocery store and banking services. There is a conservation area down the road and several golf courses with in minutes drive. The beach is only a 30 minute drive!
Mike, Emma and Mike Jr are lovely! Really enjoyed staying here! Loved the dogs, the cat and the bunnies! Would definitely stay again!!!
Rebecca
2015-09-03T00:00:00Z
The house is beautiful and full of charm in quiet, rural farm country. Mike and Emma are very warm and welcoming, and made our stay awesome. We were very comfortable making ourselves at home in the house. The dogs are quite the characters and were great to have around.
Dylan
2016-09-07T00:00:00Z
My stay with Mike, Emma and their son was the exact break I needed from my hectic day-to-day. Their beautiful farmhouse is perfectly located near the 401, the beach, adorable towns to explore yet far enough away so you sleep with the sounds crickets or kick back on one of their several porches enjoying the various views of the farm and its surroundings. They have 3 wonderful dogs who will welcome you cheerfully along with adorable bunnies and chickens galore. I was lucky in that I got to spend time with part of their extended family who, like me love boardgames and that solidified their wonderful hospitality and my feeling like a part of their family for the weekend! This Airbnb is on my to be revisited list.
Claudia
2015-08-25T00:00:00Z
Big gorgeous house in a great location. Dennis' kind hospitality made us feel super welcome.
James
2016-07-16T00:00:00Z
Hosts were amazing. Made me feel very welcome. Dogs are friendly. I slept very well.
Leeyel
2015-10-22T00:00:00Z
If you are into beautiful scenery, houses with character and exceedingly helpful hosts, then you will appreciate this place. They made everything so easy and were very thoughtful. Thanks so much Mike & Emma!
Kristin
2016-08-07T00:00:00Z
Nice, relaxing stay. Mike and Emma were great hosts, they made sure I had everything I needed. Their dogs are very friendly and made the stay extra enjoyable. Very pleasant experience, would definitely stay again.
Mark
2017-01-19T00:00:00Z
Mike and Emma seem like good people however I would never stay here again nor recommend to anyone I associate with.
Andrew
2017-03-12T00:00:00Z
Room Type
Private room
---
Property Type
House
---
Accommodates
2
---
Bedrooms
Belmont, ON, Canada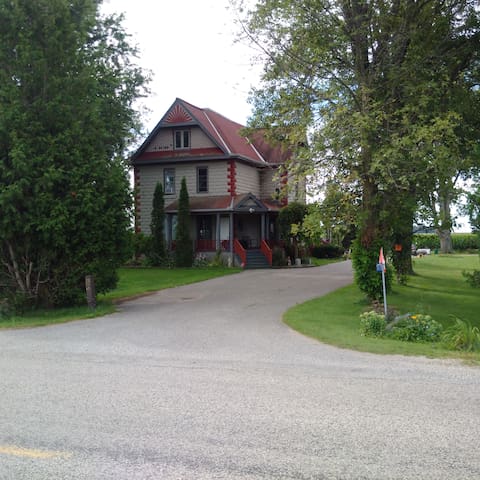 My place is close to the city centre and parks.
Fabiana & Adrian have a lovely home and are very friendly. The room was so nice, clean and comfortable. If I came back to St. Thomas I would definitely stay here again.
Riobeard
2017-02-23T00:00:00Z
Great place and very friendly homeowners!
Viktoria
2016-12-11T00:00:00Z
I had a great stay at Fabiana's place. The room was nice, and the bed was comfortable. I would recommend this listing.
Christine
2017-02-05T00:00:00Z
Room Type
Private room
---
Property Type
House
---
Accommodates
2
---
Bedrooms
Saint Thomas, ON, Canada
Come enjoy my home, what's mine is yours. Large, bright corner home in St. Thomas on quiet cul-de-sac, (10 minutes from London and/or Port Stanley. Share with single owner. Bright spacious 4 bedrooms/2 bath, pool and hot tub. (Currently doing some small repairs around the home, but still remains ridiculously clean). 2 bedrooms available with queen beds, shared 2 bathroom. Wifi available.
Room Type
Private room
---
Property Type
House
---
Accommodates
4
---
Bedrooms
Saint Thomas, ON, Canada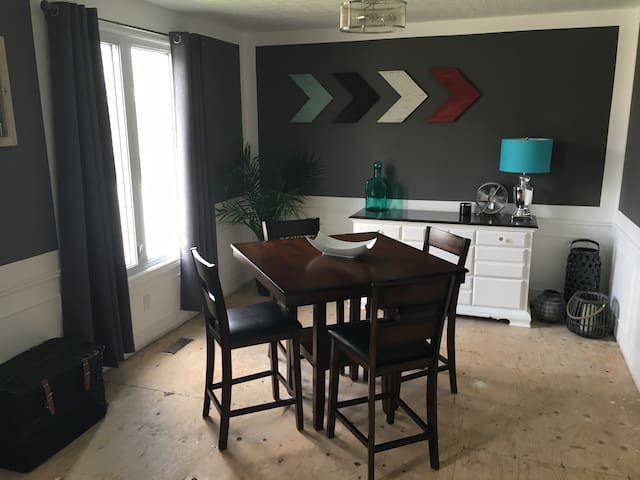 This is comfortable cottage in a small beach town. Located a short walk from the beach, this house is the perfect escape.
The house has a full kitchen and bathroom, is equipped with dishes, pots and pans, a BBQ, bath towels and linens, and a deck with a stunning view. There is a large yard and bonfire pit, and a large dining room table which is perfect for board games on rainy days.
The house is located a short walk (0.3 km) from the beach. Port Bruce has several small beach-front restaurants, a pier for fishing, marinas to launch a boat, a provincial park with basketball courts, play equipment, and a stunning, quiet beach. The nearby town of St.Thomas has a farmer's market every Saturday from 8am-noon; also in town is Le Cafe Siam, a must-visit for lovers of Thai food. Even closer are the historic villages of Sparta and Port Stanley, both of which have heritage attractions and quaint boutiques. There are several beautiful conservation areas not far away, the perfect place for a walk through beautiful Carolinian forests.
Really lovely place. And Lake Erie is beautiful, even in the winter.
Maria
2015-12-30T00:00:00Z
The host canceled this reservation 21 days before arrival. This is an automated posting.
Katie
2015-08-13T00:00:00Z
Our host was great! She was very welcoming, met us on site and showed us around. She provided insight on closest beer stores, and where the beach was at- as we are travelling from 2 hours away. There were fresh linens and towels and a full supply should you run out- the house was fully equipt with pots and pans and kitchen utensils.. As well as a fridge and freezer. The washroom was wonderfully clean as we arrived and nothing was dirty or gross. The neighbourhood was very quite and private, the beach was a short walk away! Perfect for a couples getaway! Overall we loved it and will definitely be returning. Thank you so much Emily!
Emily
2015-06-20T00:00:00Z
Lovely place! I feel like the photos even undersell it. It's a beautiful spacious cottage. Emily made us feel very welcome (even lighting the wood stove for our arrival!)
Janet
2016-01-03T00:00:00Z
Beautiful clean cottage! Enjoyed the privacy and cozy home feeling which came along with it. A lot was provided by the cottage owners which made packing and preparing much easier. Would definitely recommend!
Danny
2015-08-26T00:00:00Z
We had a great stay at the Port Bruce Cottage. It was the down time we needed. And the perfect spot for it. The beach is less than 5 mins away. And it was beautiful ! Great for family fun. The cottage was perfect. Cozy and comfy. Thanks again. We will be back !
Amber
2015-09-03T00:00:00Z
Easy communication on our way in and out. Great for an escape from the city - close to the beach and many interesting towns in Southwestern Ontario.
Marty
2015-07-19T00:00:00Z
We were welcomed by the open, airy homey feel of the cottage and grounds. The windows and deck allowed a beautiful serene view. There were flowers and gardens and the file pit and wood was neatly kept. There were games, puzzles and books for a rainy day. there were pamphlets of the nearby sites and dinning places.
elaine
2015-08-10T00:00:00Z
Room Type
Entire home/apt
---
Property Type
House
---
Accommodates
6
---
Bedrooms
Aylmer, ON, Canada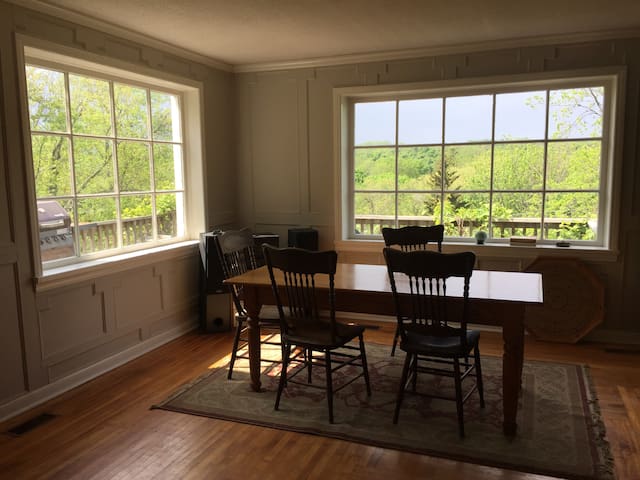 Double bed available in a large, beautiful, clean, and well-maintained 150+ y/o country house. Hardwood floors throughout, large yard, on-site laundry, and ample parking. 10 minutes from Tillsonburg (all neccesities) and 30 minutes from London, ON.
Great place, great host!
Arthur
2016-06-01T00:00:00Z
Room Type
Private room
---
Property Type
House
---
Accommodates
2
---
Bedrooms
Brownsville, ON, Canada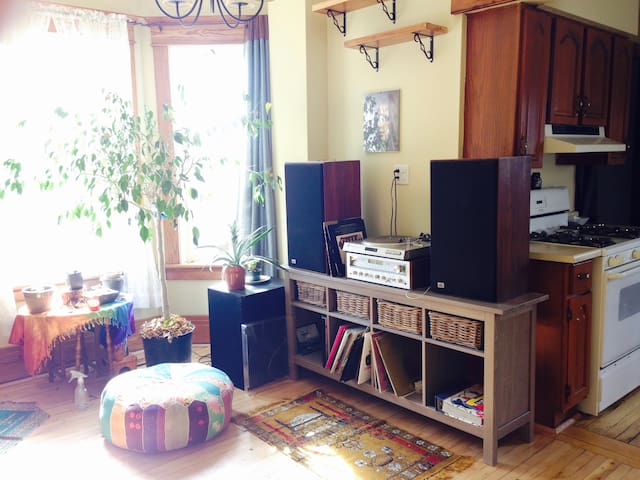 Hello fellow travellers! We are a newly engaged couple with an extra room that we would love to share with you! Our house is lovely and has walking trails nearby. Other highlights include a private bathroom, outdoor pool, indoor gym and theater.
We have a very cool house, we offer a little something for everyone. Need to get some work done while you are away? We have an office with your name on it! Worried about not getting your pump on while travelling? We have a home gym which includes a universal machine, free weights, spin bike and pool to swim in! Want to chill? Backyard pool with tiki bar & mini fridge (BYOB policy), comfy patio furniture, deck with patio table and chairs, BBQ. Wanna get your Netflix or game on? Theatre room with 55 inch TV, HDMI for laptop streaming and PS4, Xbox 360, PS2 and a ton of DVDs. Wanna practice for your band while you are away? We have a drum kit, acoustic guitar, bass guitar and mandolin. Only my fiance plays them when no one else is in the house! And finally to go along with your private room, a very nice private bathroom.
Lake Margaret is steps away, very b-e-a-utiful to walk around in all seasons!
Felt like a home away from home. Great neighborhood, beautiful home and the kindest hosts. I was welcome to anything and everything that they had, and I never felt like anything was lacking in the 2.5 weeks I stayed there. And Boots (their dog) is a cutie!
Naureen
2017-03-01T00:00:00Z
great hosts! Would recommend if staying in the area.
Catharine
2016-11-05T00:00:00Z
The hosts were very warm-hearted and super nice. I had a great time here and would not hesitate to come back. The lake was also very convenient and a nice place to go and relax.
Daniel
2016-09-18T00:00:00Z
I plan to stay with Meg over the next month, while I am transitioning to a new job and waiting for our house to be complete. I would change nothing from my last review. Meg and her family are lovely people, who are down to earth and easy going. I think Boots (the dog) missed me :-)
Pauline
2016-06-11T00:00:00Z
From the moment you arrive, you will feel like your staying with Friends. Meg is a charming host, who is genuinely concerned that you have what you need. Their house is exactly as pictured, in a lovely quiet neighbourhood. There is a shared bathroom on the second floor, but their is a full bathroom in the basement just for you. That was perfect for me, as I was saying for work and could easily get ready privately. Boots (the dog) was always happy to visit and is a very friendly well behaved house companion. I found the large bed very comfortable, the bedroom gets the morning sun, however there are window shutters if you would like a more gradual morning. The pool in the backyard is beautiful and is a welcoming area to sit and read or hangout and enjoy the weather. I will be staying again.
Pauline
2016-06-16T00:00:00Z
My host Meg and her husband were wonderfully welcoming! They went above and beyond in trying to make my stay as comfortable and as sociable as possible in the two weeks I was staying there. They were very laid back and generously provided me with everything I needed including lending me their bicycle and a table, which was much appreciated. Even their dog was friendly and welcoming :) I would definitely stay again if I'm ever in the area!
Andrea
2016-10-02T00:00:00Z
Room Type
Private room
---
Property Type
House
---
Accommodates
2
---
Bedrooms
Saint Thomas, ON, Canada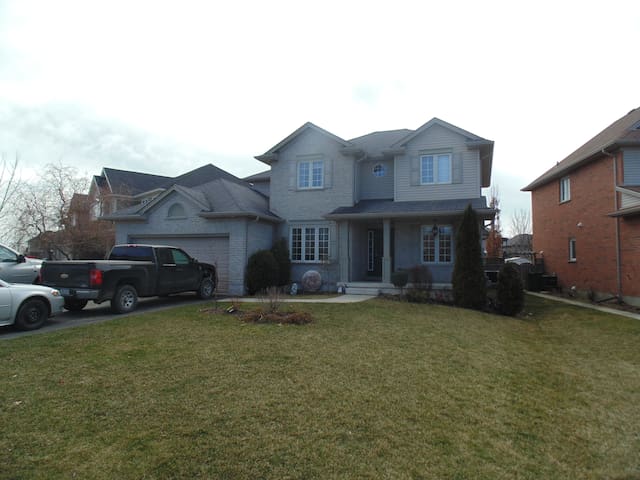 My place is close to the city centre and restaurants and dining. You'll love my place because of The uniqueness of this heritage house, and the huge loft bedroom and ensuite, as well as the kitchen.. My place is good for couples and business travellers.
Room Type
Entire home/apt
---
Property Type
House
---
Accommodates
4
---
Bedrooms
Saint Thomas, ON, Canada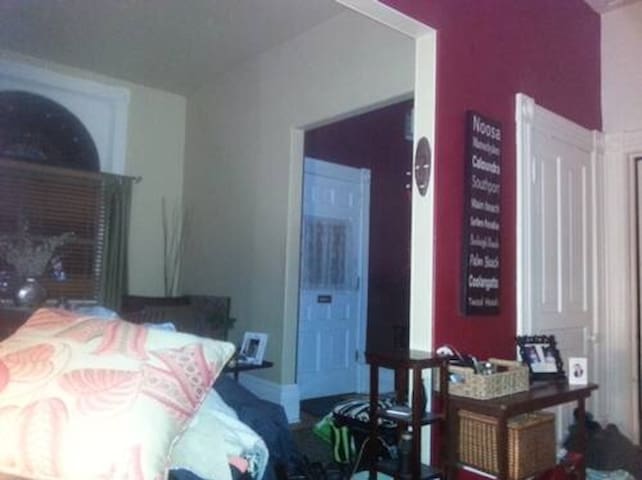 We are two young professional women who live in the historic neighbourhood of St Thomas Ontario. Our house, built in 1892, has 1.5 washrooms and 4 bedrooms. We have two spare rooms that we can rent out for short or long term stays.
The main room has a queen bed and is completely furnished.
Located in the courthouse neighbourhood of St Thomas. Short walk from downtown. Close to Fanshaw College St Thomas (5 min drive)
Catharine and her sister were lovely hosts, accommodating my early arrival and made arrangements for me to get the key. They made me feel very welcomed!! The house and my bedroom were very enchanting. I loved their good vibes and the stay. Even if I didn't stay long, it felt like I've had a long long week-end of peace and good energy :-) Anyperson would be lucky to have the chance to stay with them!
Dahbia
2016-07-09T00:00:00Z
Everything was perfect, will be staying there regularly on business. Glad to have found them.
Marcia
2016-08-13T00:00:00Z
Great stay and mint Oreo ice cream!
Arthur
2016-06-04T00:00:00Z
Nice and cosy! Close to main street and 15min car drive from the beach. About an hour from London.
Guillaume
2016-08-04T00:00:00Z
Wow, I don't think I can say enough great things about my stay! I stayed for two weeks for work, and can honestly say that I felt as welcome as family here. The home was beautiful and just as described, and a short drive or walk anywhere in town. If anyone is thinking of visiting nearby towns (even London) consider staying here! Catharine, friends and family welcomed me into every day activities, were respectful of my privacy, and were always happy to chat. I honestly cannot stop talking about how wonderful of a time I had to everyone I know. You'd be lucky to have the chance to stay here!!
Melissa
2016-03-19T00:00:00Z
I was made to feel very welcome by Catherine and Amy. Their home is beautifully kept with a nice Victorian feel and close to the centre of St Thomas. Everything is as described: this BnB is highly recommended.
Dave
2016-05-21T00:00:00Z
Catharine was extremely accommodating and communicative after we had experienced a hectic day of traffic and scheduling troubles. The room and bathroom was super neat and clean. Thanks for everything, really appreciate it.
Maria
2016-05-07T00:00:00Z
Catharine and her sister were lovely hosts, accommodating our late arrival and plying us with water and delicious strawberries. Highly recommend!
Danny
2016-06-10T00:00:00Z
Room Type
Private room
---
Property Type
House
---
Accommodates
2
---
Bedrooms
Saint Thomas, ON, Canada
Room with double bad, 2 dressers, bar fridge and microwave. Shared bathroom and kitchen in the house. Nice backyard, great during summer time! Ideal place for students or occasional workers coming to town!
Experienced global travel hosts! Best
Thomas
2016-11-14T00:00:00Z
Room Type
Private room
---
Property Type
House
---
Accommodates
2
---
Bedrooms
St. Thomas, ON, Canada
Newly renovated, clean, spacious cottage. New orthopedic mattresses and linens. Has all modern amenities. Provides a private hillside location walking distance to little beach and the heart of Port Stanley. Fire pit, BBQ. Perfect for families.
Walking distance to the safest beach on Lake Erie (Little Beach), and the heart of Port Stanley. The neighbourhood is quiet and sought after. Lots of wildlife (birds, deer, owls, ect)
We are situated in a mature neighbourhood with lots of free parking, and close proximity to the beach, shopping, restaurants, grocery, and LCBO. We have a private backyard with both sun and shade throughout the day. Very friendly neighbourhood.
The host canceled this reservation 16 days before arrival. This is an automated posting.
Sarah
2016-10-04T00:00:00Z
Great first time experience with AirBnB thanks to Tracey and John. They were helpful, accommodating, and have an amazing property. Would suggest it to anyone looking to spend sometime in Port Stanley.
Diego
2016-07-11T00:00:00Z
Tracey and John made us feel welcome and were very accommodating. The neighbourhood is a safe, quiet and mature with beautiful landscaping. This area is perfect for families with young children as there is a beautiful shallow beach about a 5 min walk down the street. The property was very clean and had a cute beachy feel to it. The owners were quick to respond to text and were very knowledgable about the town. Thank you again Tracey and John!
Mary
2016-08-08T00:00:00Z
Thank you Tracey for everything!
sarah
2016-09-11T00:00:00Z
Tracey and John were both very friendly and helpful. This was my first experience with Airbnb and I was very impressed. Everything was exactly as described. Their cottage was very comfortable, had everything we needed and was in a great location. They offered suggestions for dining out that were perfect for our family. They were very quick to respond to messages and wanted to ensure our enjoyment of the cottage. I would definitely recommend their cottage to anyone. There is small, quiet beach within a 5 minute walk and the public beach is less than a 5 minute drive. Thanks Tracey and John for hosting us for a super relaxing weekend :)
Kathleen
2016-06-27T00:00:00Z
Tracey and John were amazing, very accommodating to any requests we had. The cottage was adorable and clean, we will definitely be coming back! No complaints!
Ashley
2016-09-19T00:00:00Z
Our host was up-to-the-minute responsive. The neighbourhood is the best in the area.
Jay
2016-08-02T00:00:00Z
Excellent stay!! Very friendly and accommodation host. Clean and comfortable, looking forward to my next stay there.
Scott
2016-07-05T00:00:00Z
Room Type
Entire home/apt
---
Property Type
House
---
Accommodates
6
---
Bedrooms
Port Stanley, ON, Canada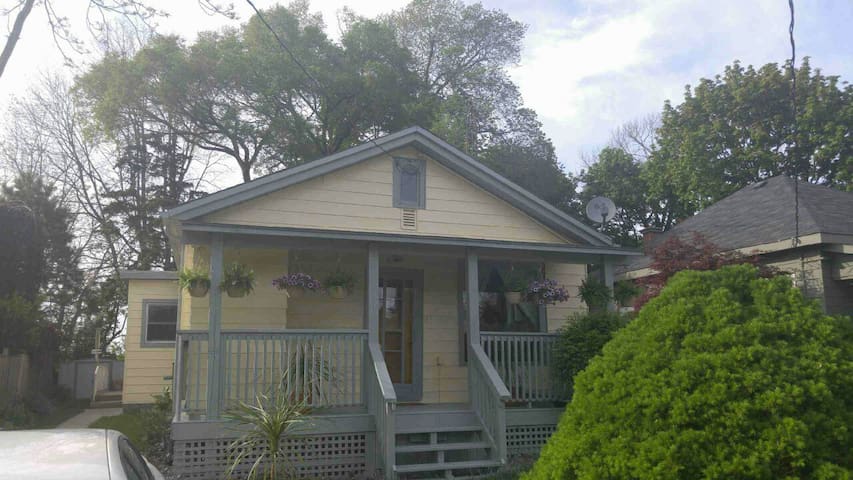 My place is close to the city centre and parks.
Room Type
Private room
---
Property Type
House
---
Accommodates
2
---
Bedrooms
Saint Thomas, ON, Canada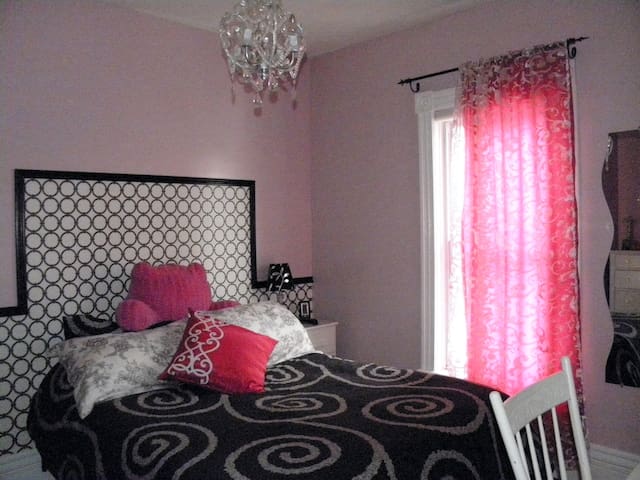 This beautiful old home is ideal for those staying in the London or St. Thomas area that need lots of space in a quiet neighbourhood. Three queen sized bedrooms, one with a single bed, wifi, close to downtown, 15 min drive to London, free parking.
Quiet neighbourhood around the court house. You can walk to Talbot St and see our historic downtown. The closest Grocery store is the IGA.
Clean place, nice location. Enjoyed the stay!
Arie
2016-06-28T00:00:00Z
This was a beautiful Victorian home that exceeded our expectations. It was even more spacious than the photos suggest. We had a group of 6 staying there and we still had tonnes of room. Catherine was very helpful and very quick to respond if we had any questions or concerns. If we were to ever return to the St. Thomas area we would gladly stay here once more!
Travis
2016-07-04T00:00:00Z
Great stay in a great location. This is a beautiful old home with plenty of room for 6-8 people. Everything worked well, beds were very comfortable and A/C kept the place comfortable during a hot, sticky day. Nice backyard patio for evening lounging. About a fifteen minute walk to St. Lawrence Market. Nice size grocery store 2 blocks away. Host was very responsive to questions.
Debbie
2016-07-19T00:00:00Z
Catherine's place was great for the long weekend, spacious, nice garden and charming property. The old victorian style had its creeks and quirks. Catherine was amazing and kindly returned an item we left in the property to us which was a great help, many thanks!
Jack
2016-05-24T00:00:00Z
Catharine was so accommodating. We requested a very last minute (day of) stay and she was able to make it happen for us. Her home is beautiful and comfortable. The perfect place to unwind.
Amy
2016-08-26T00:00:00Z
Catherine had everything ready for us, stayed in contact with us and even asked if everything was alright after a thunderstorm went through that left some people without power.
Jim
2016-07-28T00:00:00Z
Room Type
Entire home/apt
---
Property Type
House
---
Accommodates
7
---
Bedrooms
Saint Thomas, ON, Canada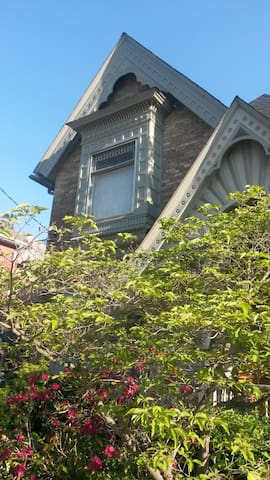 private cottage suite w vistas of water & sky. Easy access to Little Beach makes for easy casual lakeside living with the comforts of home. Furnished sundeck,water garden & covered patio for your exclusive use. Walk to village shops, restos, theatre, spa, studios.
Room Type
Entire home/apt
---
Property Type
House
---
Accommodates
2
---
Bedrooms
Port Stanley, ON, Canada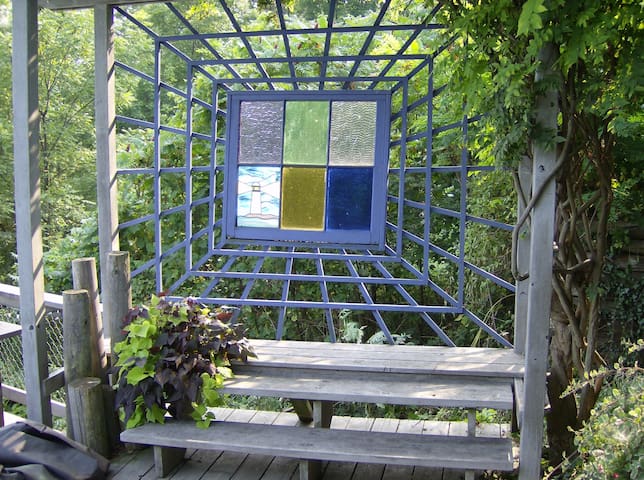 Beautiful Red brick house sitting on the banks of an Marina ...
Open concept with plenty of room to hang out and to entertain guest .
Love my neighbour everyone is friendly.
My family and I had a great time at Nina's rental. The place was beautiful and very well decorated. She had everything laid out for us to enjoy our stay. We were only a ten minute walk to the main beach in Port Stanley and a short drive to the grocery store. I would highly recommend this place.
Nicole
2016-09-11T00:00:00Z
Nina's house is beautiful and perfectly situated in Port Stanley. It's just steps from local shops and restaurant, and a short walk to the beach. Nina met us on arrival and showed us where everything was. Her place felt like a high end hotel with really comfortable beds, clean towels, and even bathrobes. I've stayed at many Airbnbs and this was definitely the best.
Ryan
2016-05-17T00:00:00Z
We had a 2 wonderful nights at Nina's home on the river in Port Stanley over the long weekend. Nina's communication pre- arrival and during our stay was excellent. The home is just like the photos and more. Stately sized rooms retaining it's original SW Ontario historic home ambiance blended into modern and new. The beds were super comfy and overall the house was peppered with spa-like amenities. Great kitchen - all the bells and whistles - just waiting for the big dining room table which we will enjoy when we return at some point. Thank you for sharing your wonderful home.
Toby
2014-09-02T00:00:00Z
Nina was a lovely host and made us feel very welcome upon arrival. She was flexible with our arrival time, gave us a fantastic tour, and answered all of the questions that we had. The home was perfect for what were looking for; clean, great location and a beautiful backyard oasis! I would definitely go back again. Highly recommended!
Mary
2016-05-30T00:00:00Z
This house is incredible. Really well renovated and will not disappoint. The location is absolutely perfect for the port and surrounding amenities. Our host was really great and came to visit to make sure we were comfortable. Highly recommended!
Keith
2015-09-03T00:00:00Z
Absolutely charming home! The location is great, and the view of the river and marina from the large back deck is a fun place to enjoy a glass of wine. The beds were super comfy, and everything immaculate! Thank you Nina!!!!!
Cynthia
2016-08-29T00:00:00Z
Nina welcomed us at the house and showed us around and pointed out items we may need, how things worked, etc. She gave us an overview of Port Stanley and what we could do, where to eat. Her house was amazing!! It was clean, comfortable and had evertyhing we needed for our stay. It was only one block from downtown Port Stanley where all the unique shops and restaurants were as well as the Port Stanley Theatre. The back deck looked out onto the River which housed all of the boats so there was always something to watch. It was only a 3 minute walk to one of the piers and perhaps a 10-minute walk to the beach. I would recommend the House on the River to anyone, and we hope to be able to visit Nina again.
Brenda
2016-07-18T00:00:00Z
Everything was so beautiful and Nina was so kind. She was very flexible on check in time for us.
Nicole
2015-09-21T00:00:00Z
Room Type
Entire home/apt
---
Property Type
House
---
Accommodates
6
---
Bedrooms
Port Stanley, ON, Canada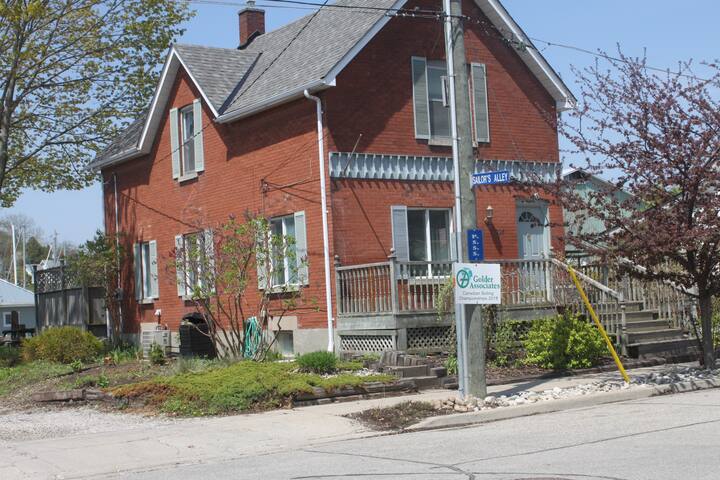 The cottage is right on Lake Erie and a sandy beach just a short walk away. There are two separate floors which makes it a perfect spot for 2 couples or a large family. The property is right on Lake Erie and has all the modern conveniences.
Room Type
Entire home/apt
---
Property Type
House
---
Accommodates
6
---
Bedrooms
Port Stanley, ON, Canada
Our rustic- but cozy beach house is perfect for families looking to visit the charming village of Port Stanley. Just 1.5 blocks from the beach & located on large double lot- perfect for campfires, lawn games & relaxation. Come see why the best memories are made in flip flops!
Currently booking for 2017 Spring/Summer Season! Inquire to save spot before the ship has sailed! Location: Our large lot in town- provides privacy & room for family fun! Great for families or guests with a large dog- however it is not fenced Outdoor fire pit, large 8 person picnic table & four person patio set makes dining outdoors easy. BBQ is hooked up to gas, so no need to worry about running to buy propane We are located just 1.5 blocks from Port Stanley's Public Beach- located on the beautiful shores of Lake Erie Just a short walk from the quaint shops & delicious restaurants in the village Port Stanley is located on beautiful shores of Lake Erie. Ride the antique train with your kids, rent a seadoo or stand up paddle board, walk & shop the village- there's plenty to see & do! The House: Master bedroom- Large king size bed 2nd bedroom- Double Bed 3rd bedroom- Single Bed & Crib Guests are responsible for bringing own towels & linens Maximum 6 people- no exceptions Large dining room & open concept living room. Flat screen television with satellite TV & wifi- you're also welcome to our large movie collection & board games Clean kitchen with all appliances Guests can use dryer & washing machine as well Again, this is family friendly- so there is use of playpen & high chair- no need to bring your own Come see why the best memories are made in flip flops, here in Port Stanley!
Cayley was awesome! From the day of the booking until the end of our trip she was very helpful and great ! The house was amazing and very centrally located. Walking distance to the beach and the beautiful town of Port Stanley. The pictures doesn't even justify the look of the house inside. We definitely fell in love and will go back very soon. Thanks Cayley& her beautiful family for making our stay a great experience!
Pinar
2016-07-31T00:00:00Z
This adorable cottage right n the heart of Port Stanley is perfect for couples and families. Carley, your hostess, has her home set up so you literally just walk in and stay. Very nice. The beach is close enough to walk and so are so yummy restaurants . Lovely coffee houses and shopping downtown. Check out the Peppermill Spice Company for ideas and even cooking lessons. We also visited Jackson's Fish and were able to cook at the cottage. Great if you have a crowd to feed. We will definitely be back next summer! Thank you so much Carley!
Ingrid
2016-08-07T00:00:00Z
We chose Cayley's Cottage because it is pet friendly and we like to travel with our four legged family members. We were welcomed by a bottle of wine and a card with tips on the hot spots in the neighbourhood. The cottage is conveniently located close to the beach, restaurants and shops. Homey and well decorated the cottage met all of our needs for a weekend stay. A great host and a great space!
Melissa
2016-11-06T00:00:00Z
The cottage was very close to all the local stores and restaurants and also the Beach. It was very accurate to the pictures and a family friendly environment. Cayley was a great host always reachable and provided great suggestions. We would highly recommend this cottage to anyone looking for a fun relaxing place.
Deb
2016-08-17T00:00:00Z
This was my first experience with Airbnb and it could not have been better. Cayley was so accommodating and kind. She made sure we had everything we needed and always responded quickly. Her home is stunning and has everything you need for a perfect cottage getaway!
EMILY
2016-08-28T00:00:00Z
Lovely welcome note with great recommendations for things to do and places to eat! Also a pumpkin to carve for the kids as it was fall.. (we didn't have time but it was sweet!) Very charming home.
Tasha
2016-10-10T00:00:00Z
Room Type
Entire home/apt
---
Property Type
House
---
Accommodates
6
---
Bedrooms
Port Stanley, ON, Canada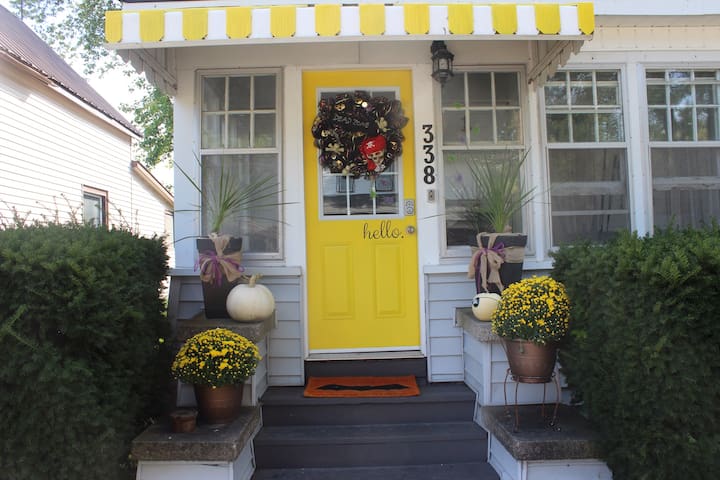 My place is good for couples, solo adventurers, business travellers, families (with kids), big groups, and furry friends (pets).
Room Type
Private room
---
Property Type
House
---
Accommodates
6
---
Bedrooms
Dorchester, ON, Canada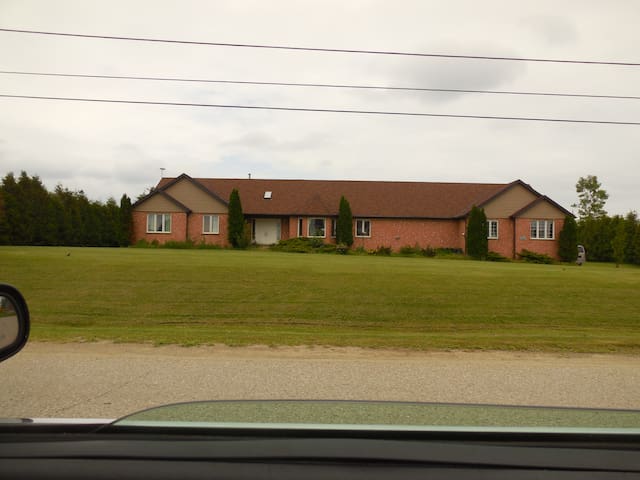 Edkinton House is a beautiful, traditional century house in the sought after beach town of Port Stanley. Only 3 blocks from main beach, marina, restaurants and all shops. Perfect for week or weekend breaks and family relaxing get aways. All modern amenities included.
Edkinton House is the perfect space for those beach lovers who want to find a retreat that is both close to all the action yet provide a tranquil space to relax and unwind. Rated 5stars from our guests, who have commented that "the photos don't do the house justice, the space in the house and the welcoming feeling really makes it a home from home."
Port Stanley is a hidden gem. A wonderful beach with a bustling scene, golf , fishing, great boutiques. Restaurants and bars with live music. Great walks, boating. all on picturesque Lake Erie.
Amazing location!! So close to the beach and great restaurants! The house was spacious and well appointed with everything we needed and more. We would definitely consider a return visit.
Susan
2014-08-23T00:00:00Z
The host canceled this reservation 127 days before arrival. This is an automated posting.
Lawrence
2017-04-07T00:00:00Z
This was the first time I used Airbnb and Madeleine helped make that experience great. When I communicated with her she was very good at responding in a timely fashion. The Edkinton house was everything that was advertised and my family and I had a wonderful time. After this experience I know I will use Airbnb again. Thank you Madeleine
Catherine
2016-08-15T00:00:00Z
The host canceled this reservation 96 days before arrival. This is an automated posting.
jovanna
2015-05-29T00:00:00Z
Edkinton House was the perfect venue for our high school group's reunion! 9 guys from high school, some staying here and some staying at our place in PS. However the backyard was the perfect place for our group to hang out for the day and evening, swapping stories and getting acquainted again after 40 years. The kitchen, dining and living areas provided a great space again and he used it fully.
Dwayne
2015-09-27T00:00:00Z
We had rented the house for a girls Bachelorette weekend and we absolutely loved it!!! The house is absolutely stunning. It was so spacious yet so cozy. The back yard alone is enough for me to go back! We had experienced some rain so the sheltered back deck was perfect. The location of the house was primo. So close to the beach and a stones throw to anywhere we needed to be! We are already talking about renting it again next summer! 5 stars!
Larissa
2016-07-11T00:00:00Z
Room Type
Entire home/apt
---
Property Type
House
---
Accommodates
6
---
Bedrooms
Port Stanley, ON, Canada