It consists of 1 bedroom, living - room, bathroom, kitchen and terrace, private parking. All accommodation is private, has no neighbors. Total 30m2. You can use all club facilities, pool, tennis, paddle, Basket, Footbal ... Above the beach Canabal It is 1 km from the town of Mera It is 14 km from the center of La Coruna
The views
Room Type
Entire home/apt
---
Property Type
House
---
Accommodates
2
---
Bedrooms
Oleiros, GA, Spain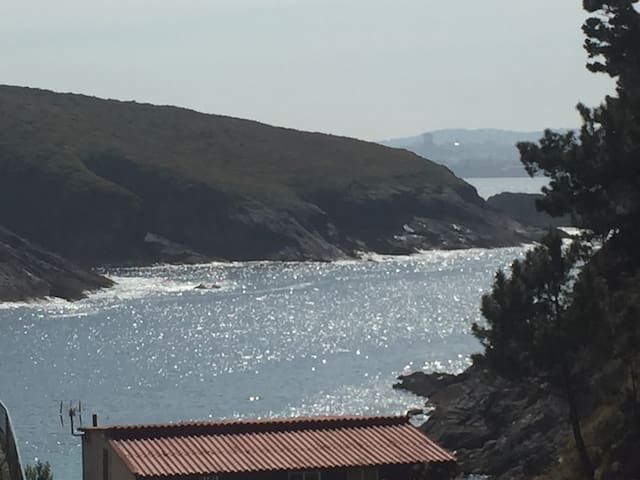 Rustic stone house, newly renovated room. Six kilometers from the beaches of Gandarío and Santa Cruz. It has its own garden, granary, barbecue and parking area. The house is attached to another detached house with totally independent gardens.
Room Type
Entire home/apt
---
Property Type
House
---
Accommodates
3
---
Bedrooms
Sada, GA, Spain
Spacious room with trundle bed, desk, wardrobe and private bathroom. The neighborhood is quiet, it has all the basic services around (supermarket, bus stop, taxi, health center, post office, banks, etc.). There is a beach about 15 minutes walk, half of them for a walk. There are also parks near the house, and area with "pichos" and "tapas" within a 10-minute walk.
The neighborhood of Los Castros is very well connected by bus with the center and the historical center of A Coruña. It is very quiet at night, andit has many nearby areas to enjoy walking. There is also a pedestrian zone of pinchos and tapas very close.
Room Type
Private room
---
Property Type
House
---
Accommodates
2
---
Bedrooms
A Coruña, Galicia, Spain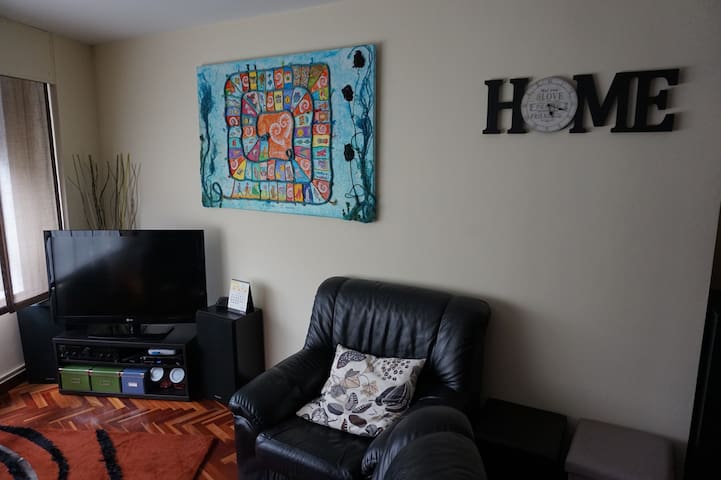 Located in the natural space of Baldaio. All services. 3´ walking to the beach, swimming, water-sports and fishing areas. Great to see birds. 3600 m2 garden with barbacoe. 30 kms to Coruña, 60 to Santiago and at beginning of the Costa da Morte.
Situada dentro del espacio natural de la Laguna de Baldaio, integrado en la Red Natura, un lugar precioso con vistas a la laguna. Está a 30 kms de Coruña, a 60 de Santiago de C. y al inicio de la Costa da Morte. Es una casa con fachada de piedra pero construcción moderna y con un jardín de 3600 m2. Tiene una sala, 4 dormitorios dobles, cocina completa y baño completo. En el jardín hay otra cocina, aseo y ducha, barbacoa y horno de leña, además de espacios y mesas para comer y estar. En la zona hay gran cantidad de recursos para realizar actividades: A menos de 5´andando tienes espacios para bañarte, para pescar, ver pájaros, hacer surf… y tres bares-restaurante para tomarte una caña. A 15´en coche cuentas con 2 escuelas de surf, un campo de golf, puedes montar a caballo… Ideal para unos tranquilos días de vacaciones con la familia conociendo una de las zonas más bellas del mundo. Y si te gusta la jardinería… ¡se aceptan voluntarios! Oferta especial para estancias de más de 28 noches.
I would highly recommend Juan's house in Carballo. We had a fantastic holiday there with our 3 young children aged 2,4 and 5. The house is beautifully decorated with traditional furniture but also modern conveniences, with everything you could need in the kitchen. Best of all, it is right beside the beach which is perfect for the kids or if you are into surfing, walking, birdwatching etc. There are lots of beds and the house is really well stocked with everything a family needs for a beach holiday, umbrellas and kids toys for the beach. The garden is very safe for children and has a great barbecue. Juan and Anna are great hosts and had a lovely welcome for us. Thanks again
Stephen
2016-07-18T00:00:00Z
This house and location is amazing. The house is situated in a large, private, beautiful garden with outdoor oven, barbecue and shower! The location could not be better for access to the beach and local walks. The house itself is really interesting, filled with artefacts and is extremely comfortable and clean. Everything you need is provided. Juan is a fantastic host who is generous with his time and advise. This is a really remarkable place and one we highly recommend for a family or friends holiday.
Darragh
2016-08-14T00:00:00Z
Had a fantastic time. Great location if you want peace and quiet in a lovely location. Would definitely stay there again.
Jason
2015-09-01T00:00:00Z
I couldn't be more pleased about the two week vacation we spent in Juan and Anna's beautiful little house. Communication beforehand with Juan was good and uncomplicated. Anna welcomed us warmly and showed us around the house. They even organized a baby cot extra for us. Anna came again in the End. Everything was abolutely hazzlefree and wonderful. A cool special was the stone-oven and bbq-grill in the garden. We spent some good evenings there. Thank you
Stefan
2015-07-24T00:00:00Z
La casa esta muy bien ubicada, en frente de la laguna y a pocos pasos del océano. Es encantadora, con su gran jardin cerrado, su numerosos dormitorios.
Florent
2016-08-08T00:00:00Z
La casa de Juan y su mujer es sin duda la más bonita de toda la zona. Es cómoda, está muy bien equipada, limpia y tiene un jardín enorme en el que si hace sol (nosotros hemos tenido suerte y ha hecho buen tiempo toda la semana) se puede hacer vida allí y disfrutar de una estupenda barbacoa mientras se escucha las olas del mar de fondo. La zona es muy tranquila así que si quieres descansar y desconectar del bullicio de la ciudad...este sitio es perfecto. Recomendable 100%!!
Alberto
2015-08-24T00:00:00Z
Un véritable petit paradis. Jardin très beau, tres jolie vue. La lagune est très bien pour jouer avec les enfants. Juan est accueillant et serviable. Nous y retournerons.
Nora
2014-08-01T00:00:00Z
Très agréable séjour dans cette maison spacieuse, bien équipée, calme et proche de la mer. Le jardin et la vue sont magnifiques. Nous avons été reçu très chaleureusement et avec beaucoup d'attention.
Jocelyne
2014-08-12T00:00:00Z
Room Type
Entire home/apt
---
Property Type
House
---
Accommodates
12
---
Bedrooms
Carballo, A Coruña, Spain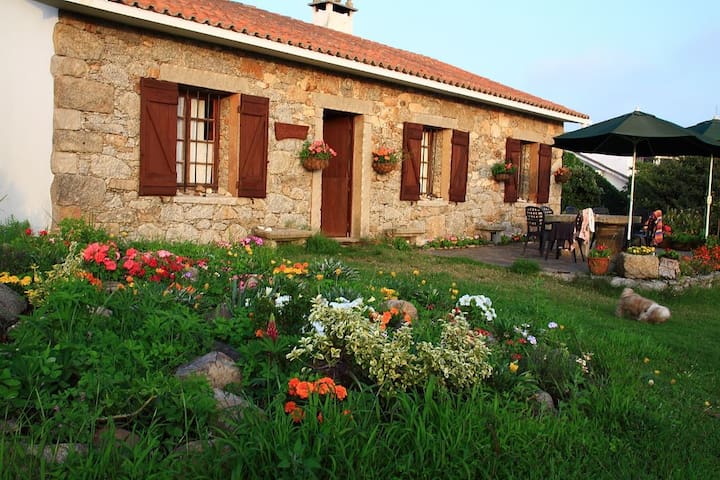 Townhouse 5 minutes from downtown Santiago and 20 minutes from beaches such as Sanxenxo, all mod cons and two swimming pools and paddle court in the urbanization.
Room Type
Entire home/apt
---
Property Type
House
---
Accommodates
5
---
Bedrooms
Santiago de compostela, A coruña, Spain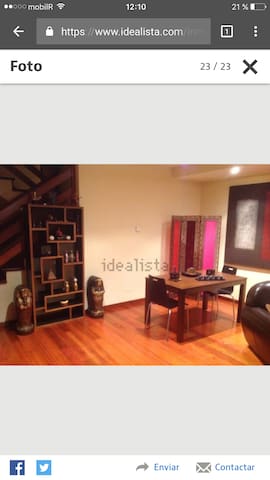 Gran chalet de 500 m2, 5 habitaciones, 5bañosjacuzzi, 3 terrazas, gimnasio, cine, videoteca, bodega, garaje para 3 coches, biblioteca, lavandería, bar, sala de juegos para niños, futbolín, dos cadenas Hi-Fi B&W y JBL, PS2 y 3, barbacoa, cerca playas, excelentes vistas, opción de canguro, chófer y/o barco.
Excelente chalet individual para 10 personas en zona tranquila, con excelentes vistas al valle y las montañas, a 10 minutos del centro de la ciudad de La Coruña, a 15 minutos de las mejores playas de Galicia y a 30 minutos de Santiago de Compostela, ideal para dos o tres familias. A cinco minutos del aeropuerto de La Coruña (servicio opcional de recogida en coche con chófer). ENGLISH: Great Villa of 500 m2, 10 people, 6 bedrooms, 9 beds, 5 bathrooms, 5 TV, alarm, security, jacuzzi, 3 terraces, gym, cinema, library, wine cellar, gardener, garage for 3 Cars, laundry, bar, games room for children, football, two Hi-Fi B&W and JBL, PS2 and 3, BBQ, close to beaches, excellent views, option of babysitting, chauffeur, VIP car and ship for 10 people.
La casa se encuentra en una zona tranquila y a la vez muy bien comunicada con las principales vías de acceso a la cuidad de La Coruña, muy cerca del nudo de acceso a la autovía A6, autopista AP 9 y tercera ronda de acceso a la cuidad. A cinco minutos del aeropuerto de La Coruña, con posibilidad de recogida en el mismo a los huéspedes con vehículo con chófer.
Room Type
Entire home/apt
---
Property Type
House
---
Accommodates
12
---
Bedrooms
Cambre, Galicia, Spain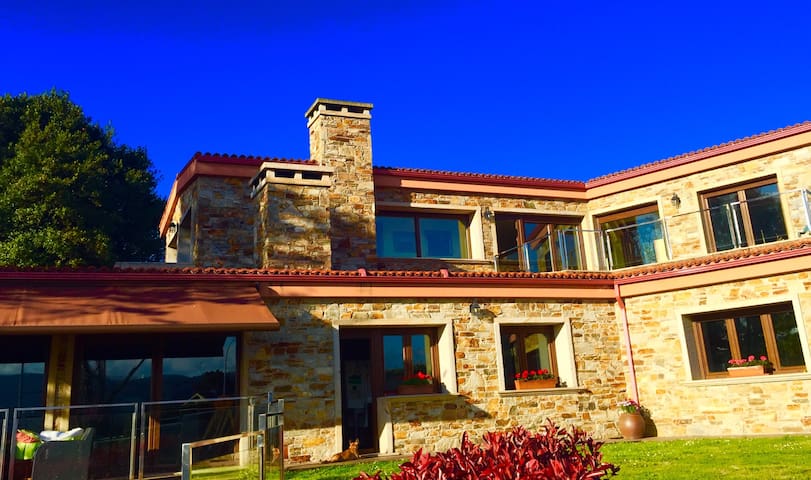 Our incredible house is on the beach and has two floors. The ground floor is open with a comfortable and fully equipped kitchen that is connected with a great living room with sofa bed. On the second floor there are 2 rooms. A double bed and one with bunk beds. There is also another bathroom on that floor. This house is ideal to enjoy and relax. The sea is part of it. The beach is attached and it is a very safe and pleasant people.
Is located in a tourist spot as the Costa da Morte, near Malpica, Laxe, Muxía Finisterre, Camariñas etc. The house is next to the town square with the beach right there.
It is a quiet seaside village typical of Galicia that mixes fishing traditions with modernity. It is full of bars and good places to eat. Its beaches are wonderful especially for lxs surferxs you see here their paradise.
La casa tiene todos los detalles, muy acogedora y practica. Un pueblo precioso y a pie de playa, la dueña encantandora, quedamos encantados, muchas gracias
Maria dolores
2016-11-21T00:00:00Z
Está bien, mejoraría si tuviera wifi. Hoy todos tenemos que comunicarnos con alguien por algún motivo o mantenernos informados
Maria
2017-04-10T00:00:00Z
Room Type
Entire home/apt
---
Property Type
House
---
Accommodates
6
---
Bedrooms
A Laracha, Galicia, Spain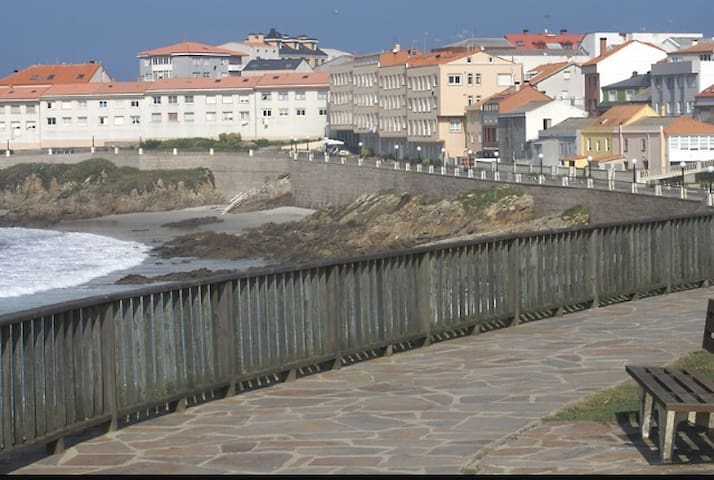 This house ( 100 m²) is great to find calm close to the sea and only 6 km to center town. There is an amazing view out the garden. Enjoy the fireplace and listening a original LP. Discover the fisherman live in the small harbour and two wilds beach.
This house ( 100 m²) is great to find calm close to the sea and only 6 km to center town. There is an amazing view out the garden. Enjoy the fireplace and listening a original LP. Discover the fisherman live in the small harbour and two wilds beach. Big calm close to Coruña, enjoy the fire place lisening a LP. Visiting a small sea port en tall with the fishermans, run, swing, or fish... enjoy the wild nature. U must arrive by car, there is not public transport The next house is 100 m ago It,s close to a new industrial area New Port Installations at Punta Langosteira,.
The next house is 100 m ago
Lovely house and a lovely host. You need a car to visit most of the sights but you can walk to a nearby beach in 5 minutes. Not clear from the pictures is that the house is detached and the nearest neighbours are a long way away, excellent for peace and quiet! Ismael took the time to show us all the best places to visit in the area and made us feel at home. You will have to drive past a smelly pet food factory on the way to the house, but don't worry, you can't smell this from the house! Hermosa casa y hermoso huésped. Se necesita un coche para visitar lugares en el region pero se puede caminar a una playa muy cerca en 5 minutos. No es claro de los fotos es que esta casa es separado y los vecinos más cercas son fueras, excelente para una estancia paz y tranquila. Ismael nos mostró los lugares mejores a visitar en el region y nos hizo sentir a casa. Tendrás que pasar en coche una fabrica maloliente de comida para animales, pero no te preocupes, no se puede olerlo de la casa.
Joe
2014-07-08T00:00:00Z
The place was the perfect retreat for a few days. Late check-in was no problem at all and Rocío was very helpful indicating us how to get to interesting locations nearby. The house provides everything you need and more; we particularly enjoyed cosy evenings by the fireplace. I highly recommend it, also for groups, since there is more than enough space in the two stories. Thanks so much!
Jan
2013-08-08T00:00:00Z
We spent 2 days in Ismaels house... it was a great time. We had the pleasure to meet the hole family which was really sweet and generous. Thanks a lot for everything!
Christiane
2013-09-06T00:00:00Z
Place was GREAT!!! Ismael is super kind and always available, his father is the sweetest guy Surroundings are great, FOOD, BEACH, STORES, High Ways to travel throughout Galicia... our best holidays in a while
Gustavo
2016-09-03T00:00:00Z
Ismael could not have been kinder or more hospitable,arriving in mid -December for a wonderfully stormy week at his house by the sea. His brother in law stocked me up with logs and vegetables from his garden and one of his kittens came to stay for a few days. Ismael filled me in on a variety of Celtic/ pagan sites and was even kind enough to let me stay in his flat in Santiago de Compostela when he went to Egypt for Xmas- fantastic guy, felt very at home and most welcome.
Tim
2014-12-22T00:00:00Z
A great place. Everything is detail and the garden is great. Could see the ocean directly. We are so happy in this house and wish to stay more days!
Charlize
2014-08-14T00:00:00Z
Ismael's house is very nice and comfy, provided of everything you need. The place is calm and you can enjoy the ocean view just seated in the little garden. The position is strategic, just 15min from A Coruna and perfect to reach the many beautiful beaches nearby. Ismael was not available so we welcomed by his sister, friendly and helpful, but Ismael was ever available every time we wrote. We loved very much those days in this place.
sara
2016-08-21T00:00:00Z
We were concerned driving through an area of heavy industry, however the house is virtually unaffected by the prevailing winds and location. We really enjoyed our stay at Ishmael's home. We did not meet Ishmael but were greeted by his sister Isabel and her husband Fernando, they were very kind, helpful and generous. The house was clean, very well equipped kitchen and the bed was comfortable. We enjoyed sitting outside with the view of the bay. Location provided easy access to the northwest coast and we explored the beautiful beaches and villages.
verlie
2013-07-06T00:00:00Z
Room Type
Entire home/apt
---
Property Type
House
---
Accommodates
2
---
Bedrooms
Suevos, Galicia, Spain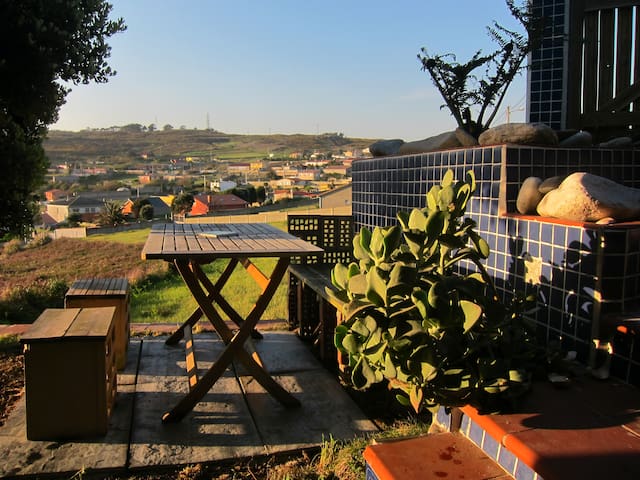 Villa 7min center with pool, barbecue, table football, ping-pong, darts, board games, TV with play 3 sound bar area to be seated at outdoors or indoors in the living room with fireplace, large table dining, bathroom, beds, not overlooked.
A quiet place where you can celebrate an event, birthdays, or just come with family or friends to spend a few days to unwind and enjoy the tranquility and fun group games with multiple leisure offer.
Room Type
Entire home/apt
---
Property Type
House
---
Accommodates
16
---
Bedrooms
Urbanización Breogán, Galicia, Spain
Charming room very light and special center. The apartment has two rooms, the room is big, we are a young couple, we're not home much but we love to share our space with traveling people who want to come to Galicia both for work and leisure. It is located in the center, in an area of bars, night there is some noise on weekends but can sleep. The beach and harbor are also nearby, two minutes walk.
The neighborhood is an area of tapas bars, ideal to tapear close to home. It is also close to the beach, the Plaza de María Pita and the port of the city, from here you can visit Coruna walk without having to take the car or public transport, it is ideal for travelers who come without a car.
Room Type
Private room
---
Property Type
House
---
Accommodates
2
---
Bedrooms
A Coruña, Galicia, Spain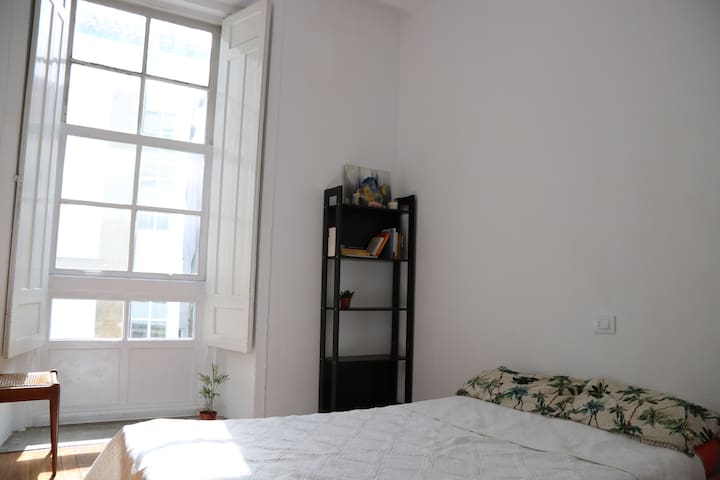 Cozy house recently renovated. It has kitchen - living room, three bedrooms with wardrobes and a bathroom. Entrance porch and south. Distance to beach 1.2km Mera. Land with garden and trees cuadratos 1200 meters. Children's playground next door.
Room Type
Entire home/apt
---
Property Type
House
---
Accommodates
4
---
Bedrooms
Oleiros, Galicia, Spain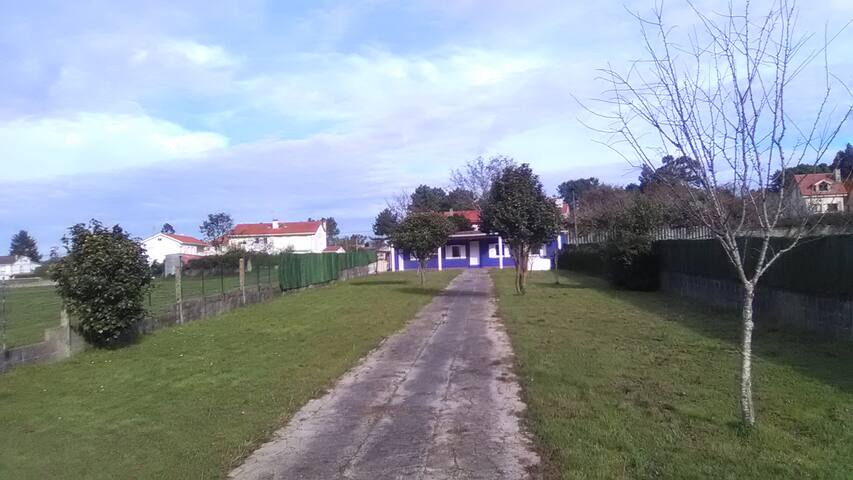 90m2 floor. in the center of CORUNA completely renovated with excellent views, all exterior except the bathrooms. Suitable for sleeping 5 people. central heating, wifi, two bathrooms (one with shower and one with bath). 3 lifts, adapted for the disabled. Concierge service all morning and all afternoon, including PICK UP garbage and very good helper to solve any problems that may arise.
The time of arrival and departure can be negotiated. Apartment fully equipped with all kinds of large and small appliances, blender, toaster, iron ... cot is provided for kids in the house.
The area is one of the best of Coruña. Good public transport. It's a neighborhood with good restaurants for lovers of good food. It has playground for children, the Plaza de Vigo.
What a lovely flat with amazing views of A Coruña! Lovely host and comfortable accommodations. Thank you / Gracias Victoria for all your additional help with booking my taxi!
Andrew
2017-01-26T00:00:00Z
I stayed two days here in Victoria's apartment. The place is so nice and also with a good view.
Ka Shing
2016-10-20T00:00:00Z
Victoria was a great host and very accommodating., and the location was only a 3 minute walk form my work. It was so well situated to restaurants, shopping and even the ocean...about a 10 minute walk. The best part was the view...there is such a wonderful view!!! I felt very comfortable in every sense and highly recommend the apartment. Me encantó la experiencia. Victoria es muy acogedora y me ayudó mucho a orientarme. EL apartamento es cómod, tranquilo, y está muy bien localizado cera de buenos restaurantes, la zona de tiendas, e incluso al mar...que está a solo unos 10 minutos. Mi cama era cómoda, el wifi fiable y la cocina bien equipada, pero lo más (URL HIDDEN) vista! ¡Qué gozo ver a la ciudad, al mar, a los gaviotas volando por debajo de uno! Gracias Victoria, fue una experiencia preciosa.
Peter
2016-06-23T00:00:00Z
The flat is very comfortable and has beauty view on town and port ! All things are full equiped !! This flat is close to main street and bus connection stops ! Thanks Victory you have a sweet and relax flat ! I was happy there!!!
Alex
2016-05-07T00:00:00Z
Victoria was awesome. I already miss A Coruna. The apartment is better than advertised and the neighborhood feels very safe. Within a few blocks, there are supermarkets, a fruit store, several restaurants, bars and cafes. It's a leisurely 10-15 minute walk to the beach, parks or to old town. i loved every moment of my stay. It was perfect in every way.
Lee
2016-07-26T00:00:00Z
This apartment is everything one needs if they visit La Coruña. The views are stunning, and the location is within 10 mins of everything you may need to visit! Victoria was brilliant and accommodating regarding arriving times and the place is clean and feels like home away from home... Can't wait to visit la Coruña again now!!
Billy
2016-09-04T00:00:00Z
It was a good place to stay , also Victoria is very nice .
Ka Shing
2016-10-19T00:00:00Z
Victoria è stata molto gentile e la sua casa è fantastica. Gli spazi sono accoglienti e la posizione centrale, ma il pezzo forte sono sicuramente le vetrate che circondano le stanze e e vi permettono di godere della migliore vista di La Coruna che possiate desiderare!
Cora
2016-08-17T00:00:00Z
Room Type
Entire home/apt
---
Property Type
House
---
Accommodates
5
---
Bedrooms
A Coruña, Galicia, Spain
Mein Haus ist ein Aussichtspunkt über das Meer, über den Atlantik, auf einer kleinen Halbinsel, die bis vor kurzem nichts Sardinenfischerei und jurelo lebte, konnte die Nacht lebendige Bewegung von elektrischen Entladungen in den Bars am Wasser verbringen ....
sein Licht, seine Ansichten, Ihren Raum, Ihre Küche, Wohnzimmer, Schlafzimmer haben ihre große Fenster auf das Meer ausgerichtet ... Ich habe mehr Platz für 2 Personen, wenn ihr kommt, begleitet sollte.
Es ist eine kleine Halbinsel, früher ein Walfanghafen, jetzt mehr gewidmet Erholung. Klippen und Strände mit feinem Sand rund um die Enklave; ein wildes Meer erfüllt die Erwartungen, die sie ihren Namen Costa da Morte gab. wie Sie immer omare Fischereihafen Loitering, werden Sie den Platz Pazo de Graxal überqueren den sechzehnten Jahrhundert und Covento Agustino das gleiche Jahrhundert Stühle. Sie können auch die Kapelle der Wunder Caión, Hunderte von Pilgern für Schritt gebunden besuchen, von dem aus man einen spektakulären Blick über die Sisargas Inseln genießen können.
The perfect place for a writer, poet or artist. Lola gave me not only a few hours of wonderful conversation, but also unforgettable excursion by car along the coast. I am delighted with my visit in Caion.
Petro
2016-08-31T00:00:00Z
We have been few days in Lola's home. She has the most beautiful house in Caion, very close to the sea and it s perfect to relax. Lola is very kind , open mind and use to share everything she has.
Simone
2016-08-28T00:00:00Z
Hemos pasado 10 días en casa de Lola. Desde el primer momento nos ha hecho sentir como en casa y se ha preocupado porque estuvieramos bien. Tangito y Lola son unos magníficos anfitriones. Y la casa, ¡vaya vistas! ¡Es una maravilla levantarse y ver el mar!
Olite
2016-07-27T00:00:00Z
Nuestra estancia en Caión fue inmejorable. Lola nos recibió con los brazos abiertos y nos hizo sentir como en casa. Nos ofreció toallas, secador de pelo, todo lo que pudiésemos necesitar. Nos dió un espacio en la nevera y nos dejó usar la cocina y el resto de la casa siempre que quisiéramos. La habitación tiene unas vistas impresionantes y está decorada con mucho encanto. (Hay mucho sitio para dejar ropa y maletas). La casa es preciosa, un mirador, por lo que se ve y se oye el mar estés donde estés, un lujo. La playa está a pocos minutos andando y el paseo es muy bonito. Los atardeceres son de película! El acceso a Caión desde A Coruña fue muy fácil, hay un bus que te deja en la puerta de la casa de Lola, o sea que es muy cómodo. Además de todo, Lola es una persona encantadora. Disfrutamos mucho hablando sobre el arte y la música juntos. Y Tango, nuestro querido Tango! Un amor de perro. Lo echaremos de menos. Definitivamente vamos a volver muy pronto.
Katalin
2016-08-24T00:00:00Z
Lola y Tango nos abrieron las puertas de su casa, y nos hicieron sentir como en la nuestra. Nos han mimado mucho, y no nos ha faltado de nada. Pero, sin lugar a dudas ha sido una experiencia irrepetible, de esas que dejan huella. Cada comida cada aterdecer las noches de charlas son momentos unicos que recordaremos para siempre en su bonita casa. Gran anfitriona, mejor persona. 100% recomendable.
INMA
2016-09-08T00:00:00Z
Precioso lugar donde pasar unos días de relax. Lola es muy buena anfitrión. Genial!
Maria
2017-03-16T00:00:00Z
Estuvimos una semana súper bien , Lola nos dejó la casa totalmente libre , unas vistas magníficas , comodidad , limpieza , buen trato , súper acogedora , muy recomendable , esperamos volver
Jose Alberto
2016-08-10T00:00:00Z
Lola y Tango son muy simpatico, y la sugerentias de Lola sobre la Costa da Muerte y donde comer fueron preziosa! La casa sobre Caion e con vista mar es incredibile! Me gusto mucho estar alli!
Erika
2016-08-13T00:00:00Z
Room Type
Private room
---
Property Type
House
---
Accommodates
2
---
Bedrooms
A Laracha, Galicia, Spain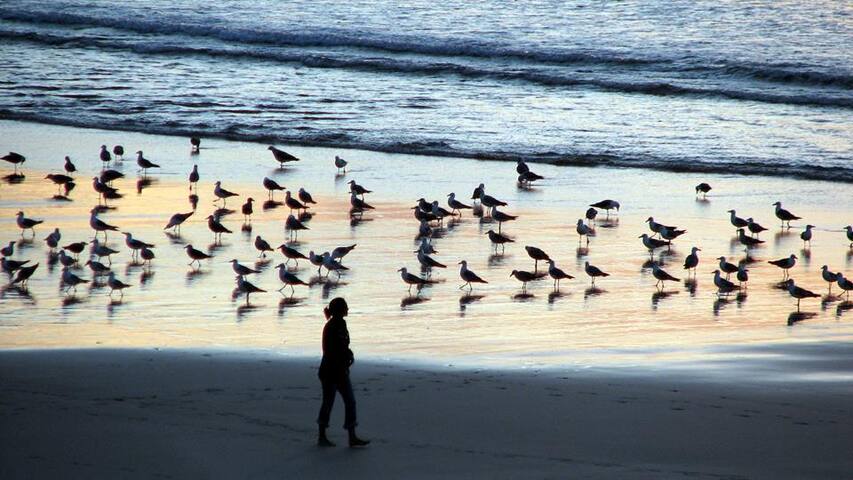 Attractions: COAST OF DEATH. Caión PICTURESQUE VILLAGE. You'll love my space Outside room: Kitchen, lareira, table for 12 people and sofa with TV. My accommodation is good for families with children, large groups, and pets.
We have 4 bedrooms, 2 with separate bathroom. The house has sea views, is to enjoy inside. ... VIEWS better got off PEOPLE A TAPAS AND SEE THE SEA.
Near the village and the beach, walking 5 minutes.
TRATO INMEJORABLE Y LO MEJOR LA BODEGA CON COMEDOR Y LAREIRA
ANA
2017-01-29T00:00:00Z
Room Type
Entire home/apt
---
Property Type
House
---
Accommodates
8
---
Bedrooms
A Laracha, Galicia, Spain
I am Maria and I live in Caion, an amazing place in the north of Spain. We are close by the cities of A Coruna and Arteixo, well known as fashion giant Inditex hometown (zara, bershka, massimo dutti...)
I am renting my appartment near the sea, if you want to relax and have a nice time going to the beach, walking near the sea, this is your place. Is in the center of the village and has 3 rooms, a big terrace with really nice view.
It is in the center of the village close by the town square. Shops and bar's are around and the beach is 3 minutes walking.
Maria was fantastic. She responded very quickly to all of our questions and gave us recommendations for restaurants nearby. When we needed help in the apartment, she stopped by. The flat was very safe, secure, clean, and had everything that we needed for our stay. Plus, it has a wonderful view! There are a few nice restaurants in town (within walking distance), but the location is within 30-40 minutes of a lot of great places to eat and other attractions. Would stay again!
Kim
2016-09-19T00:00:00Z
Room Type
Entire home/apt
---
Property Type
House
---
Accommodates
6
---
Bedrooms
Caion, Laracha, Galicia, Spain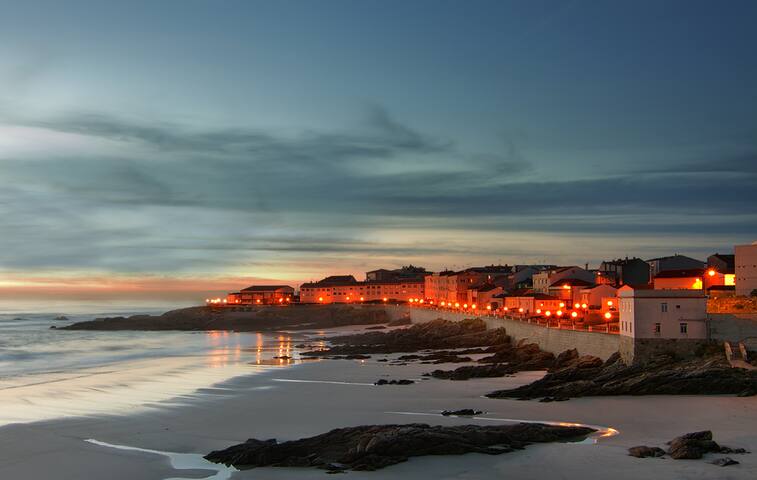 Piso de 3 habitaciones con salón y cocina muy amplios. Muy luminoso. A 15 minutos de A Coruña y con todos los servicios básicos cerca: farmacias, supermercados,... La playa de Barrañan está cerca.
Una estancia muy agradable, cómoda y tranquila, cerca de la calle principal llena de bares y tiendas. Las playas estupendas, muy bonitas y amplias.
Peter
2016-08-26T00:00:00Z
La experiencia ha sido maravillosa. La casa grande y muy cómoda y bien ubicada para visitar todos los alrededores estupendos. Alsira, es un encanto de persona, en todo momento lo hizo todo fácil y confortable. Muchas gracias
Ana
2016-07-25T00:00:00Z
El piso es tal cual en las fotos, muy limpio y grande.
Santi
2016-08-20T00:00:00Z
El alojamiento está situado cerca de La Coruña y de servicios básicos para comprar o tomar algo. Hay facilidad de aparcamiento y el piso está bien... aunque es un tercero sin ascensor, pero bueno... Estuvimos bien!
Cristina Maider
2016-08-08T00:00:00Z
Room Type
Entire home/apt
---
Property Type
House
---
Accommodates
5
---
Bedrooms
Arteixo, Galicia, Spain
Iria was "un sol". The house is even more amazing than it looks in the pictures. It has "encanto" even on rainy days. I was able to walk to the nearby pueblos with Rocco, the lovely dog that resides as well in the house to buy a few groceries and necesities. And Lucas the donkey adds to the charm as well. All in all an amazing experience. I hope to return!
Andi
2015-08-14T00:00:00Z
Iria's house make me feel a bit jealous because it was too beautiful :) We have a problem in finding the place and Iria came to pick us up with her car. The house is a truly piece of art with a truly Galician atmosphere. Iria was really kind and friendly, taking breakfast with us and spending a lot of time talking about everything. The best place to stay and resting during your trip in Galizia! Highly recommended.
Lisa
2016-08-21T00:00:00Z
Iria is a perfect host, who immediately made us feel like friends! Her home is a hidden piece of paradise in the beautiful galician forest. The room is quiet, clean, spacious and tastefully decorated. We enjoyed a quiet and delicious breakfast with Iria, she is an inspiring artist. We will repeat the experience soon. We promise. Thanks Iria.
Belén
2015-08-25T00:00:00Z
Iria's house is a dream, it looks like coming out of a fairy tales book. The room is very big, clean and comfortable and so is the bathroom. The common spaces are simply amazing, the small back garden in particular is lovely. We enjoyed the company of the cats, the dog Rocco and the donkey Lucas. Iris was a lovely host, we had long chats and we felt like friends in the end. We couldn't hope for a better experience. Strongly recommended to countryside lovers.
alessio
2016-08-16T00:00:00Z
Stay at Iria's house is like to be in a magic world...everything tells a story like her wonderful art. She is an amazing woman and she created a place where you feel home...Adorable are also Rocco, Lukas and the cats family!
Alma
2015-08-18T00:00:00Z
Nuestra estancia en esta casa tipica gallega ha sido un placer. Iria nos hizo sentir como en nuestra casa tan pronto como llegamos. Es un sitio con mucho encanto y tranquilo. La habitación es muy amplia y comoda. Iria nos dejó todo lo necesario para el desayuno y el aseo y la comunicación con ella fue muy fluida y buena en todo momento. Los habitantes peluditos de la casa son también encantadores, especialmente Roco, que se llevó estupendamente con nuestra perrita Ayla. Sin duda, un lugar muy recomendable.
Ruth
2016-08-09T00:00:00Z
Room Type
Private room
---
Property Type
House
---
Accommodates
2
---
Bedrooms
A Coruña, Galicia, Spain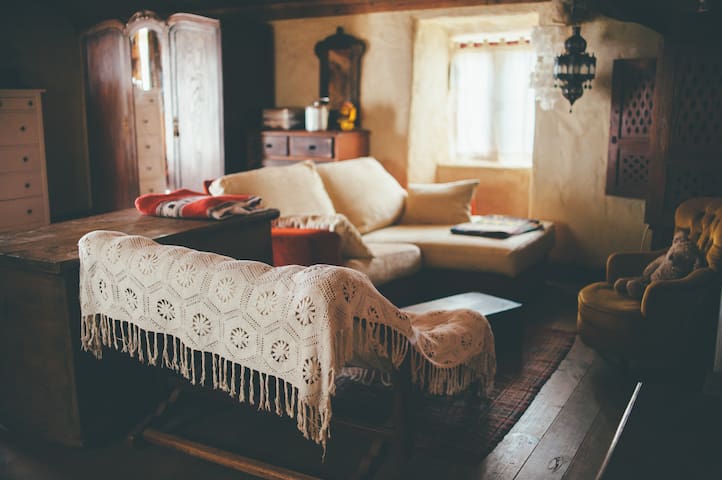 Casa muy luminosa con amplio jardín con vistas al puerto y playas de la coruña, garage para 2-3 coches, en zona tranquila entre dos playas Santa Cristina y Bastiagueiro en Oleiros, Galicia. A 5 Km de La Coruña. Tiene 2 habitaciones dobles y una con tres camas individuales. También dispone de una cama en el salón que es independiente del comedor. Existe una zona de lavanderia contigua al garage con entrada desde este.
Oleiros es un ayuntamiento con amplias zonas verdes y múltiples playas con bandera verde, servicios y deportes de playa. La casa está en un sitio muy tranquilo pero en un radio de menos de 500m cuenta con todo tipo de servicios: Mercados, Correos, Piscina y zona deportiva, bibliotecas, parques, skatepark, cafeterías y restaurantes....
La casa está en un sitio muy tranquilo pero en un radio de menos de 500m cuenta con todo tipo de servicios: Mercados, Correos, Piscina y zona deportiva, bibliotecas, parques, skatepark, cafeterías y restaurantes....
Room Type
Entire home/apt
---
Property Type
House
---
Accommodates
7
---
Bedrooms
Perillo, Galicia, Spain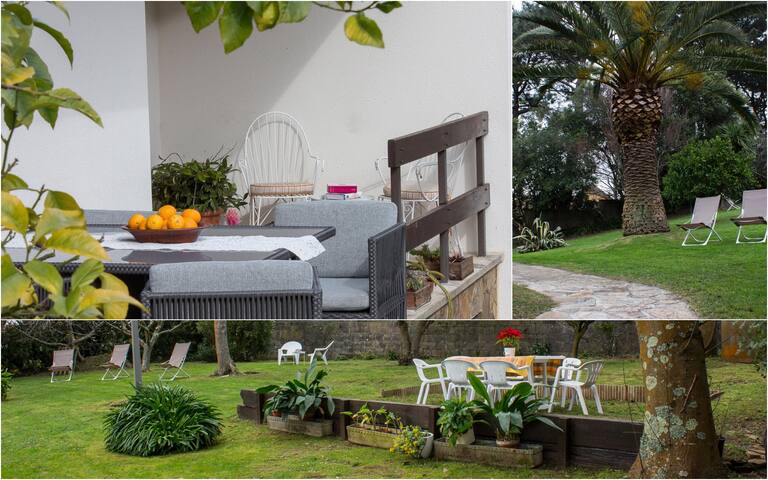 A Coruña - Airbnb
:
Average

4.47

out of

5

stars from

116

guest reviews