Panoramic sea-mountain view, big private pool, 3 floors , big windows, 2 car parking , all techics Bosch, 2 terraces, 2 km from beach, home alarm. Big leaving room ( 50 sq.m ) with big glass doors, Samsung TV and Soundbar, air condition, barbeque
Small quiet city, almost without hotels in 30 km from Barcelona. Wide sendy beach has just a few people during working days. A lot of shops and Restorans are located in the 5 minutes driving distance
Beautiful & very modern house in a quiet area. We had a very nice moment in family in the house! The view by the pool is amazing & the main bathroom on the top floor is TOP! Dimitri (even if he is not close) is very responsive and quite helpfull if you have any question.
brice
2016-05-16T00:00:00Z
The house was as wonderful as decribed. Even though it was already October we were able to enjoy some time at an in the pool. Sant Andreu is a nice little town, with very friendly people. Dmitry was very fast to reply and make sure everything was in order. We had a really great time.
Sabine
2016-10-22T00:00:00Z
Wonderful house in the hills with sea view. All was nice and house is fully equipped. Will visit again!
Arjan
2016-07-03T00:00:00Z
Everything very well organized in this beautiful home. Dmitry answered promptly to all of our questions, and check-in, check-out was completed perfectly on time. Highly recommend!
Andrew
2016-02-26T00:00:00Z
I have no words to describe how fabulous it was to stay in this house. Comfortable, elegant and peaceful. And the excellent attention of Dmitry, always ready to meet any eventuality arise, have made my stay one of the best I've had.
Jacobo
2016-04-17T00:00:00Z
The house were we stayed was very good in any way:comfortable ,nice view, quiet , all the comfort we need.We really felt it a perfect place for a holiday in cataluna.
Rudi
2016-01-25T00:00:00Z
Excellent fantastic awesome beautiful house
Joe
2015-10-18T00:00:00Z
We had an amazing stay. Dmitry was super helpful and was available to answer any questions we had. The house is incredibly spacious and luxurious. It is situated close to town with views of the sea. Will definitely stay there again!
nancy
2015-09-04T00:00:00Z
Room Type
Entire home/apt
---
Property Type
House
---
Accommodates
8
---
Bedrooms
Барселона, CT, Spain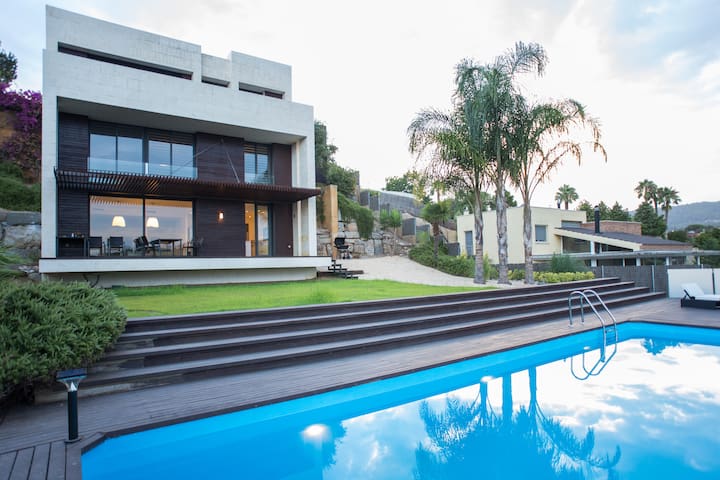 Piso muy luminoso con hermosas vistas del pueblo, las montañas y de fondo el mediterraneo. Areas comunes con piscina, barbacoa, fronton.Acogedor y muy bien comunicado con posibilidad de aparcar libremente.
It was great to stay in Iris' apartment. The place is quiet, beautiful and charming. It was wonderful to stay in Iris' apartment for an entire month. The communication with Iris was perfect. I can highly recommend her flat.
Inga
2016-06-21T00:00:00Z
Iris is a great host! Always reacted promptly to our messages and was ready to help. Provided all needed information and gave us a local SIM card to use during our stay. The apartment has an excellent view from the window. It is not so big but very cosy, has 4 rooms with 3 bedrooms. We had everything we needed for a nice holiday and comfortable stay. What can be a bit improved is cleaning, but I'm sure Iris will take care of that. Can be recommended for all kind of travelers, especially families. Nice location with fresh air and close to the sea. Very calm area. The only thing you would need is a car to make your stay more comfortable. Also mind that there is no elevator, the apartment is on the 3 floor. We had a great time, thank you, Iris!
Maria
2016-09-22T00:00:00Z
Iris was very helpful, and the apartment was cosy and with plenty of space for us. Central in the city - which is a very nice town and perfect for trips to Barcelona, Costa Brava coast but also for walks in the Nature around the city. We love it there and hope to be back.
Charlotte
2017-02-20T00:00:00Z
The absolute best host I've had on Airbnb. Iris was so kind and helpful. We were picked up from the train station and brought to her place. The place was very clean and fit the pictures exactly. Beautiful views. She was so welcoming and we had the best time in this cute little pueblo! Would DEFINITELY recommend this place for anyone! Thanks so much Iris!
Jeremy
2016-06-26T00:00:00Z
L'appartement est bien situé à l'écart de Barcelone. On rejoint très facilement le centre en train pour 4.10€. L'appartement est grand, la terrasse agréable et les voisins sympathiques. Le centre ville est tout petit mais charmant. Idéal comme point de chute pour découvrir la région. Par contre, pour une plage sympathique, prévoir de prendre la voiture et de remonter un peu le long de la côte. La communication avec Iris était très facile ! à recommander.
Thomas
2016-10-30T00:00:00Z
Iris nous a accueilli très chaleureusement dans son appartement. Il est conforme à la description et aux photos: c'est un petit appartement bien conçu, fonctionnel, avec un balcon suffisamment grand pour pouvoir manger dehors et se relaxer avec une belle vue dégagée sur Sant Andreu de Llavaneres. Cette petite ville est bien située, à une trentaine de kilomètres de Barcelone, très bien desservie en voiture et également avec le train qui longe la côte (compter environ 50 min en train). La plage de Sant Andreu est très agréable et grande et la piscine de l'appartement permettent de bien occuper ses journées. Très pratique avec des enfants. L'ambiance autour de l'appartement (en été tout au moins) nous immerge bien dans l'Espagne, où les gens vivent dehors, les enfants jouent et profitent des longues soirées d'été. En bref, un endroit sympa pour visiter Barcelone en famille, à l'écart des tumultes de la ville. Merci Iris!
Stephanie
2016-08-29T00:00:00Z
Le logement correspondait tout à fait à la description. Il est situé dans un quartier calme.
CEDRIC
2016-07-26T00:00:00Z
J'ai passé un très agréable séjour à sant andre de lavarenes. Un village proche des plages, proche de Barcelone, proche des gares etc. Ma famille et moi avons passé presque deux semaines inoubliables. Entre piscine et plages, le choix etait difficile. Le petit déjeuner en terrasse était mon moment préféré. Les voisin sont très gentils et courtois.
lamdarsi
2016-08-19T00:00:00Z
Room Type
Entire home/apt
---
Property Type
Apartment
---
Accommodates
4
---
Bedrooms
Sant Andreu de Llavaneres, CT, Spain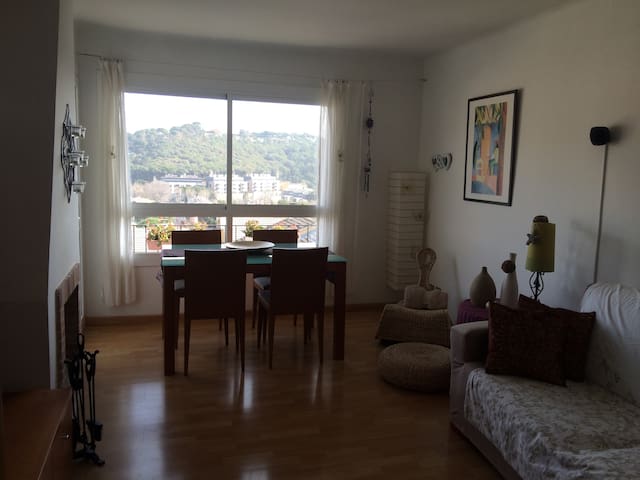 La casa esta dividida en dos estancias completamente separadas para que tengáis total privacidad de nosotros durante vuestro hospedaje, todas las estancias están totalmente equipadas, disfrutar de una sesión de cine en nuestra pantalla de 50 pulgadas
Una sesión de cine en nuestra pantalla plana de 50", un baño en el bañera hidronasaje, disfrutar de un ambiente cálido gracias a las luces regulables en intensidad, y un aroma fresco y ambientado en bambú y jazmín de media noche al entrar por la puerta de nuestro espacio privado de 70 metros a vuestra disposición.
El piso se encuentra en zona con todos los servicios a su alrededor. Tiene un supermercado delante de casa y varios comercios de barrio, ropa, estanco, pastelería, farmacia, frutería, pescadería, carnicería, bares, restaurantes y bancos, también un gimnasio a 150mts que permite entradas puntuales. También dispone de algunos comercios multiculturales. Gimnasio EUROFITNES SORRALL.
When we arrived in Barcelona, me and my wife were a little weary about the distance of Mataro to Barcelona but as soon as we arrived to Alberto and Esthers place, we couldn't believe how amazing their place was - made us forget about the distance. Alberto also cleared up that there is an express bus that takes you to the center which will take about 20-30 mins to get to. Me and my wife really felt at home. Some days we just wanted to stay in because we were too comfy. There's a supermarket a few minutes away by walking so we were able to save a little money by cooking our own food. The air conditioning was great, the two balconies were wonderful, the clothes dryer was a time saver, the whole look and feel of their place made us feel like we were in some kind of penthouse. Alberto and Esther was very accommodating from the very start and offered us any help at any time. Overall, if you can't find a place in Barcelona, Alberto and Esther's place is a must-stay. Thank you Alberto and Esther for your great hospitality.
Randal
2016-09-26T00:00:00Z
Very clean and nice smell, like luxury hotel :-) We spent time very comfortable and relax :-) There are many cafebar , nice park , and market, that is convinience:-) About pay is hand , I think payment in hand is 100% reliable:-) If I visit spain again , when I stay request again this house :-) Thank you so much !!!
TORI
2016-09-06T00:00:00Z
Alberto And Esther are great host..! They send me lot of messages to be sure everything is fine.. The apartment was great, modern and super clean.. Also very well equipped. Drove to Barcelona is approx 30min. We was drive to Barcelona every day.. There is a lot of shops, restaurants etc. around (be careful , most of shops are closed for lunch time!) Nearby is beach and port.. We really enjoy the time we was there..! Thank you Alberto and Esther for your hospitality..! We wish to come back!
Capel street
2016-04-15T00:00:00Z
the appartment is very beautiful comfortable and very well decorated and small things available and taken care very nicely keeping in mind comfort and convenience...the host is very very helpful .. thanks for a nice stay .. only one issue we faced it's very far from the main city central..
Ankita
2016-10-16T00:00:00Z
Great place to stay and beautiful.
Renato
2016-06-01T00:00:00Z
Alberto and Esther are wonderful hosts and the flat is pretty much exactly as described. Very modern, yet comfortable (great sofa !). The two outdoor areas are much appreciated as well as a clothes dryer ! The neighbourhood is fine.... A bit out of the way to get to the center of Mataro by foot (but you can drive or take a bus easily). The best "free" parking in the center was on the seafront (10 minute walk to the center). You will find everything you need in the neighbourhood, such as supermarkets, bakeries and even fish shops. We would recommend the restaurant VillaNueva just a few minutes walk away for a local meal for a really reasonable price. The comfort of the flat and the QUIET nights made this worth being a bit far from Barcelona... Thank you again to Alberto Y Esther & Besos to Baby Max :)
Leanne
2016-10-29T00:00:00Z
Alberto is very nice person. We definitely enjoyed the nice bathroom. I recommended to people who miss taking the bath.
Shohei
2016-12-26T00:00:00Z
Alberto's and Esther's apartment is about 26mins drive to Barcelona Nord, where we left to park our car, and take the metro to explore the city. Its location is at the center where you can find groceries, markets, and restaurants, and a minute drive to the beach if you'd like to explore Mataro. Alberto, was there to meet us to drop our bags, and was of nice of him to bring them up to the apartment. When we got there, the apartment was beyond our expectation. It was clean, and relaxing, pretty much where you'd want to be, after a tiring day in the city. We stayed for four nights, very satisfied, and if ever we'd come back, I would definitely stay there again. It's worth all the travel and toll fees to and fro Mataro to Barcelona ☺️ ... Muchas Gracias, Alberto, we are now back in Belgium safe and sound xx
Mavreen
2017-01-02T00:00:00Z
Room Type
Entire home/apt
---
Property Type
Apartment
---
Accommodates
4
---
Bedrooms
Mataró, Cataluña, Spain
We offer a room with double bed, access throughout the house and an amazing view, it can be for students or for those who want to rest and relax. With natural park Montnegre i Corredor to go for walks or rides. We recommend reading all the information provided on this page, thank you and welcome !!!!
Ofresco double bedroom overlooking a beautiful landscape, the guest is entitled to most of the house, I have a very nice dog, my neighborhood is very quiet, not shopping, if some business necessities, next to a natural park for you like the woods and walk and is very special for the tranquility. Mataro Barcelona is at 15Km and about 40 km away, Lloret de Mar about 60 km, and if you want to shop, La Roca Village shopping center, just a few km, The price does not include breakfast, otherwise, welcome to our home.
The area is very quiet and as a suggestion, go for a walk through the natural park and explore their ways.
Cristian and his wife were two wonderful hosts. They tried to make our stay as comfortable as possible and they did their very best to communicate with us since we don't speak a lot of spanish ;) They also were very helpful. The room was very nice and cozy and the house has a great view over the Valley. Also their little puppy dog was very cute! :) we had a great stay. ¡Muchas Gracias Cristian y S!
Thibault
2015-09-11T00:00:00Z
Darkness and fog! Our car-navigator and a neighbor of Christian and Sandra helped us to find their casa. Our acquaintance with Christian and Sandra was very nice. We understood eachother with a few Spanish words and English. Sandra arranged a potato-eathouse in the valley of the village. After a very good nightsleep Sandra served the beakfast. A big surprise! Totally we are very content to be the guests of Christian and Sandra.
Jan
2016-12-20T00:00:00Z
Cristian and Sandra were very kind and accomidating, attending to all our needs, even taking us out to mataro for sightseeing. House was spotless. View from balcony is absolutely unforgettable. We enjoyed our time in Dosrius more than the very expensive time we spent in Barcelona. Highly recommend this host. Also will miss dog Felipe, very sweet.
Ali & Saeideh
2015-10-25T00:00:00Z
We loved our stay with Christian and Sandra. They were so accommodating with our last-minute plan, and then with our last-minute change in it. When we arrived--near midnight!--they received us with a lovely fire in the fireplace and we stayed up talking like old friends. Great room. AMAZING VIEW!
Teresa
2016-03-27T00:00:00Z
Nuestra estancia con Cristian, Sandra y Filippo ha sido estupendísima. Son muy abiertos, atentos, amables y te hacen sentir como en tu casa. Son los anfitriones ideales! Su perro Filippo es como sus dueños. Se hace querer. El lugar queda apartado del núcleo urbano pero tiene unas bonitas vistas, es espacioso y está todo limpio y bien cuidado. No se puede pedir más.
Francina
2016-09-11T00:00:00Z
La casa es tal y como se describe. Tal vez aún mejor de lo que se describe. Tiene unas vistas espectaculares y una tranquilidad total. Cristian es muy buen anfitrión. Destacaría todo de la casa y en especial la limpieza. Hemos estado encantados. Lugar para repetir y recomendar.
sheila
2016-09-17T00:00:00Z
Super amables, atentos, hemos estado muy bien acojidos como si estuvieramos en nuestra propia casa. La casa tiene bonita vista, y teniendo coche no es díficil encontrar. Está situado encima del cerro entre la costa y la valle que lleva al Montseny, así que en un fin de semana hemos podido meternos en el mar y ir subir al Montseny. Hemos estado muy felices en esta bonita casa.
Philippe
2016-06-13T00:00:00Z
Première expérience chez l'habitant...INOUBLIABLE !!!! Cristian et Sandra (sans oublier Rufo ;) ) on été des hôtes super accueillants, une expérience fantastique !! Ils ont su nous mettre à l'aise dès notre arrivée, ont consacré leur dernière journée à nous accompagner à Barcelone, en prime, une visite personnalisée :D Tout a été parfait !!! Si vous souhaitez un endroit calme chez des gens agréables et sympathiques tout en profitant de l'effervescence de Barcelone,n'hésitez pas !!! Muchas gracias pour todo !!!
Adeline
2015-08-20T00:00:00Z
Room Type
Private room
---
Property Type
House
---
Accommodates
2
---
Bedrooms
Dosrius, Catalonia, Spain
New house. Enjoy the relaxation offered by this cozy house with garden and pool, located in a unique natural setting, between sea and mountains. Exquisitely decorated and fully equipped. 20km from Barcelona and 30km from the Costa Brava.
Ideal for couples. Comfortable and exclusive.
Argentona has an important architectural and cultural heritage and natural surroundings where you can enjoy a wide range of proposals and entertainment activities. Visit the Museum del Càntir and other parts of the town, as the iconic Church Square, the Plaza Nueva, Puig i Cadafalch House, walk and enjoy the stores in the Carrer Gran (High Street). Visit de Font Picant (Spicy Fountain) to disconnect, or encourages to do any of the different nature trails that offers you the town. Always is a good time to come Argentona. It has all services and is well connected. Located 5 minutes from the beach. Located 10 minutes from Barcelona-Catalunya Circuit of the Grand Prix Formula 1 and Moto GP. Immediate access to the A7 motorway to France and C32 to Barcelona and the coast.
Wonderful stay! More like staying in a suite at a top-rated boutique hotel! This place is a separate guest house located on a fenced property adjacent to Olga & Toni's home. The whole exterior of the property is beautifully decorated in a rustic Mediterranean style, with a lovely deck and pool (it was not swimming weather during my visit, but it was beautiful!). Olga speaks great English, and we had excellent communication. They even picked me up from the train station in Mataró to save me a bus ride! The little house itself is ultra-clean, decorated in a modern style (everything is very new), and is generously stocked with all the amenities you could ask for (and some you wouldn't think to ask for!) It's only 5 blocks from the Central Plaza of the town of Argentona, so restaurants, bus stops, and such are an easy walk. If your travels are bringing you this way, this place is highly recommended.
Althea
2017-01-19T00:00:00Z
Fantastic accommodation. Toni this amazing hosts revived us with open arms. We arrived in the middle of the night and were pleasantly surprised when we saw that the fridge was filled with goodies. Everything is very well planned and carefully built. Everything you could want is available. Thanks also for the travel advice we got from Toni and Olga. Sincerely Karin & Harry
Karin
2016-07-24T00:00:00Z
Our hosts - Toni and Olga were very kind. Although Toni couldn't speak fluent English, he made us comfortable when we arrived by taking us around the property and explaining everything over (SENSITIVE CONTENTS HIDDEN) Translate. Toni's wife Olga speaks good English and was always available on phone. The hosts were kind to fill up the refrigerator and house with some drinks and food, amongst other things. They also gave some lovely suggestions of what we could do in and around Barcelona. The property is as you see in pictures. Argentona is a small town 30 minutes away from Barcelona. It would be most convenient to rent a car if you want to stay here. Free parking available right outside the house.
Sahil
2016-10-07T00:00:00Z
Words cannot describe how utterly amazing this place is!! I can't recommend our stay enough...! The villa was immaculate, stunning tropical gardens, an air of tranquility, the pool was absolutely beautiful, as bbq and terrace area. Tony & Olga made us feel so very welcome...they're just the nicest of couples and nothing is too much trouble for them!..from local eating spots, best beaches, entertainment and car hire....they went out of their way to make sure we had every we could possibly want. The beaches were 10mins drive away and stunning and the village itself has everything you need & everyone is so friendly. We felt totally relaxed and can't wait to book again! Thank-you so much Tony & Olga for making our holiday so special xx
L.Travers
2016-08-03T00:00:00Z
Toni and Olga are great hosts. It was a pleasure to stay at their house. Everything is as on photos: white, stylish, accurate and comfortable. We arrived almost at midnight but guys were waiting for us and met us even it was so late. They've provided everything you may need at once. It was great to see that they put even food so we were able to have late tea and tasty breakfast without going to shop. We rented the car. It was about 30 minutes to Barcelona, it was fast enough. There is a lot of free parking near the house. We arrived late night and there were no parking before the house, and we were tired because of long trip, but Toni and Olga allowed us to park the car in their yard. For other days it was easy enough to find the parking. We are highly recommend this house. Thank you Toni and Olga for our great stay at your house!
Karina
2017-03-03T00:00:00Z
Toni and Olga's home is beautiful and superbly decorated and equipped. We didn't have great weather so unfortunately didn't get an opportunity to enjoy the fabulous pool and garden. They are fantastic hosts - very helpful and informative. They were also very generous in stocking the fridge with drinks and nibbles prior to our arrival. The drive to Barcelona from Argentona was quick and easy with motorway all the way. We highly recommend this as a place to stay!
Steve
2016-10-11T00:00:00Z
Our hosts were so kind and had such lovely manners. We sat by the pool with Toni and had a glass of wine upon our arrival. Communication was very easy and we received prompt attention on anything we needed. This is the best Airbnb I've stayed in to date, out of 7. Honestly, I think it's too good to be an Airbnb. It was so beautiful, artful, and incredibly well designed and absolutely spotless. The bathroom, kitchen, and fridge were stocked. Bed was very comfy. The pool area was beautiful. The landscaping and creativity displayed throughout the property were a wonder and an inspiration.
Susan
2016-06-16T00:00:00Z
Olga and Toni are the most friendly hosts and their place is as beautiful as the pictures suggest. Communication was quick and easy during the booking process and they welcomed us warmly upon our arrival. We arrived to a comfortable and clean vacation hideaway, which was nicely stocked with everything our hearts could possibly desire: from typical Spanish jambon to artisan sweets and pastries. During our stay we had all the privacy while Olga and Toni were always available for questions and recommendations via (SENSITIVE CONTENTS HIDDEN). We very much enjoyed exploring the area with the electric bikes, Olga and Toni let us borrow from them. Barcelona is only a quick 20 minutes-drive away by car. All in all we had a magnificent time!
Sarah
2016-10-23T00:00:00Z
Room Type
Entire home/apt
---
Property Type
House
---
Accommodates
2
---
Bedrooms
Argentona, Catalunya, Spain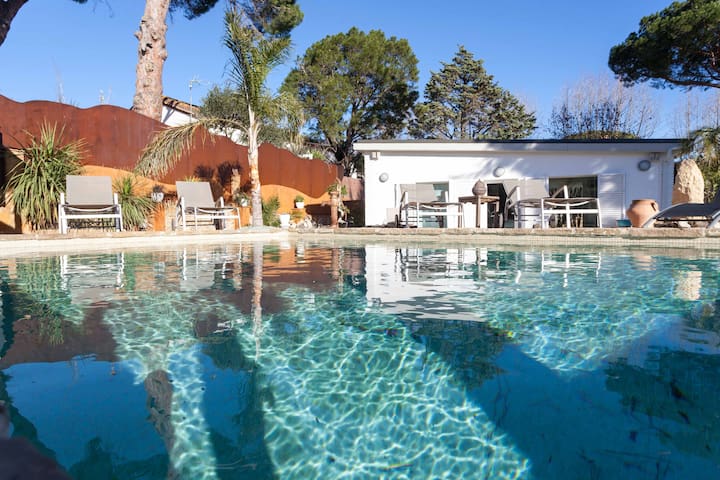 Bonita habitación doble con Tv, calefacción y preciosas vistas. Baño privado. Piscina y zona ajardinada. Acabados de calidad. Tranquilo. Rodeado de bosques con caminos para pasear. Restaurantes y actividades diversas de ocio, playa y naturaleza.
Muy bien comunicado: Acceso rápido (1min) a autovía C60. A 5min de Mataró y del mar, Costa Maresme. A 25min de Barcelona(29km C31). A 40min de la Costa Brava. A 3 min de la población de Argentona, hermosa villa de la Font Picant y punto de partida de las rutas de fuentes naturales y del Castillo Buriach.
Room Type
Private room
---
Property Type
Casa particular
---
Accommodates
2
---
Bedrooms
Argentona, Catalunya, Spain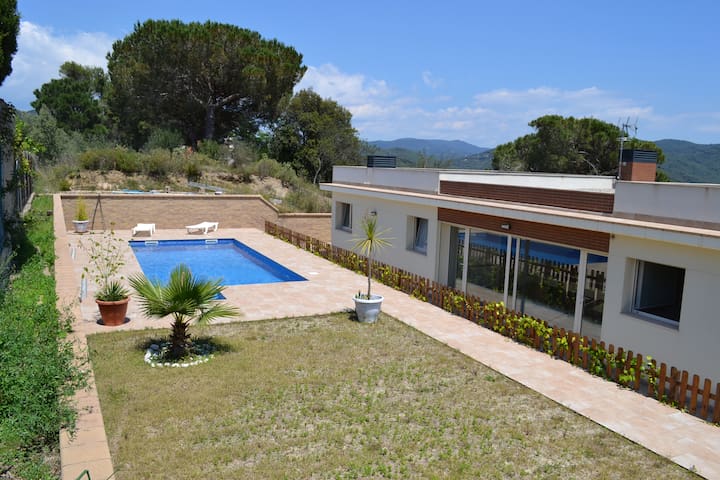 We are one sister and brother and we love meeting new people from around the world. Both we have been leaving abroad and we speak many languages. About the apartment: Cozy and shiny apartment in Mataro city centre. 10 Min walking from the beach, 15 min from town and 20 min from the mall Mataró Park. Moreover, with good transport public connections to Barcelona city. We have 4 rooms and we can share two of these. But also we can offer you the whole apartment depending on the dates
En el caso de familias o grupos grandes, podría haber la posibilidad de que dispongan del apartamento completo. Para ello se debería acordar previamente.
I wanted a room at very short notice and for just one night, so thougth I would have to check into a hotel at a HUGE premium, BUT NO! Team Miriam came to the rescue, taking my booking on the same day and only for one night! I slept like a baby having travelled all day to get to Mataro. I was welcomed and looked after and nothing was too much trouble. thanks Team Miriam for all your help, regards and best wishes , Simon
Simon
2017-03-10T00:00:00Z
Room Type
Private room
---
Property Type
Bed & Breakfast
---
Accommodates
1
---
Bedrooms
Mataró, Catalunya, Spain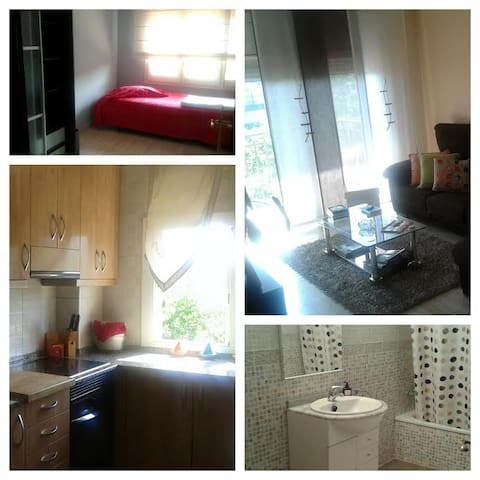 Beautiful bright house with vintage interior, set in a pine forest, with stunning views. 5 mins to the sea & 30 mins to central Barcelona. Shaded outdoor dining area, loungers, hammocks, BBQ and trampoline. Perfect place for families to relax!
When people come to stay they don't want to leave! Our home is a haven of peace and tranquility. In the summer, our friends from Barcelona are always eager to stay with us to escape the heat and noise of the city. The house is bright and spacious, with large sliding doors to the terrace and garden. The house is full of character: high arched tiled ceilings, exposed brick walls, retro tiles in the kitchen and a large open fireplace. The house is lovingly and uniquely furnished in a rustic - vintage style. The house stays pleasantly cool in the summer and there's always a gentle breeze in the evening. The main bedroom has a bed of 200x180. The childrens' bedroom has a bunk-bed of 200x90. The single bedroom has a bed of 200x90. The upstairs suite has 2 beds of 200x90. We also have a large travel cot, high chair and baby hammock available on request. Relax under the pine trees enjoying the views of the sea and listening to the sound of cicadas and birdsong. There are various areas to relax and enjoy the stunning views of the sea: hammocks, sun loungers, iron tables and chairs dotted around the garden, the sunny upstairs terrace with tree-top views, or on the large shady terrace which runs the length of the house, where there is a sofa, armchairs and a large wooden dining table. Help yourselves to fresh herbs form the herb garden outside the kitchen and to tomatoes and salad from our organic vegetable patch. The house is surrounded by woods of pine trees, cacti, lavender, thyme, fennel and rosemary (ready for the BBQ!) Our house is in the foothills of the National Park, la Serra Litoral. The whole house is available for your enjoyment. We have detailed house notes and recommendations for the local area and the old town in Barcelona, where we used to live. We have local guide books, cookbooks and a very well equipped kitchen, as we love cooking. All the usual electro-domestics: Washer-dryer, dishwasher, microwave, oven, fridge-freezer, toaster and kettle. Children's books and toys. Internet and wifi. Hair-dryer, picnic blankets, coolbags for the beach. BBQ. Hammocks and loungers. Lots of outdoor toys including: a 4m trampoleen, tabletennis, pulley, tyre swing, swingball, badminton, petanque, kid's scooters & bikes. We are very happy to provide any advice or help you might need. We are seasoned house-swappers, so we know exactly what our guests appreciate. Our house is at the end of a small cul-de-sac, without through-traffic, so it's safe for kids to play at the end of the road on their scooters and bikes. We are in the foothills of the Serralada Litoral National Park, which follows the Maresme coastline. There's lots of wildlife in the large garden including: red squirrels, hoopoes, woodpeckers and jays. The house is located just outside of the village of Cabrera de Mar (a 10 minute walk away). It's a picturesque village, with a lovely old church and town square. The village has everything you need: supermarket, delicatessen, bakers, butchers, an excellent fish shop, pharmacy, doctor's, library, post office, a 50 metre open air swimming pool and a nautical club. Vilassar de Mar is a small town on the coast (10 minute drive) and has a larger range of shops and nightlife. It has a daily food market and a street market once a week. There are lots of authentic, local restaurants and bars nearby. 10 minute drive away: Carrefour, Lidl and Aldi. The Maresme area has some of the best beaches in Catalunya. The closest beach of Cabrera de Mar is a large relaxed family beach. Just a short drive up the coast are plenty of other lovely beaches, such as Arenys de Mar, Sant Pol and Platja d'Aro. There is lots to do in the area: such as hiking in the National Park, visiting the local castle; natural mudbaths; hire water-sports equipment form The Cabrera Nautical Club; a water slide park; skate/scooter park; tree-top adventure park; the Dali museum in Figueras and much more. It's a 3 minute drive to Cabrera de Mar. The train station and the beach are a 6 minute drive away and parking is easy and free. We are only 30 km from the centre of Barcelona (30 minutes by car or train). So enjoying the culture and life of the city is easy. Trains to Barcelona run every 6-9 minutes and take 30 minutes. All trains go direct to Arco de Triunfo (for visiting the hip Born neighbourhood in the Old Town) and Plaza Catalunya (for the central shopping area). The house is a 45 minute drive from Barcelona airport. A train link is also available. Cancellation Fee: Strict
Our house is at the end of a small cul-de-sac, without through-traffic, so it's safe for kids to play at the end of the road on their scooters and bikes. We are in the foothills of the Serralada Litoral National Park, which follows the Maresme coastline. There's lots of wildlife in the large garden including: red squirrels, hoopoes, woodpeckers and jays. The house is located just outside of the village of Cabrera de Mar (a 10 minute walk away). It's a picturesque village, with a lovely old church and town square. The village has everything you need: supermarket, delicatessen, bakers, butchers, an excellent fish shop, pharmacy, doctor's, library, post office, a 50 metre open air swimming pool and a nautical club. Vilassar de Mar is a small town on the coast (10 minute drive) and has a larger range of shops and nightlife. It has a daily food market and a street market once a week. There are lots of authentic, local restaurants and bars nearby. 10 minute drive away: Carrefour, Lidl and Aldi. The Maresme area has some of the best beaches in Catalunya. The closest beach of Cabrera de Mar is a large relaxed family beach. Just a short drive up the coast are plenty of other lovely beaches, such as Arenys de Mar, Sant Pol and Platja d'Aro. There is lots to do in the area: such as hiking in the National Park, visiting the local castle; natural mudbaths; hire water-sports equipment form The Cabrera Nautical Club; a water slide park; skate/scooter park; tree-top adventure park; the Dali museum in Figueras and much more.
Really cool house with everything you need for kids. Lovely view of the sea and many happy evenings spent watching the sunset. Ideal location with a cool breeze while the coast is baking. Very well stocked kitchen if you wish to cook. Excellent, flexible and responsive host.
nicole
2016-07-24T00:00:00Z
We came as a familiy actually to visit barcelona - The plan failed to put it simply because of the peace, the beauty and the tranquility in this incredible enchanting place. Even the ants did'nt seem to be in rush - and everything was apparently adjusted to the invisible pace maker within this Garden of Eden. There were no forbidden fruits at all where we just had to be. We eat, slept and sometimes we went swimming in the sea nearby. Absolutely Perfect ! Also the communication and the organisation with Tania and her family was completely nice, helpfull and easy - absolutely perfect as well ! Thanks a lot for these lovely stay - It cold'nt be better !!!! Andreas, Chaya, Bela and Mia
Andreas
2014-08-14T00:00:00Z
We had a fantastic holiday and a very restful stay in Tania's beautiful home . The setting was peaceful and tranquil, the house was very comfortable and the amenities were excellent and as described . The perfect get away after 4 days sightseeing in Barcelona
Andrea
2015-08-17T00:00:00Z
If you want to spend your holiday in a magical place, look no further. The house is perfect to share and great for kids. Tania is the best host and conversation was quick and easy. We would come back any day!
Linda
2015-07-19T00:00:00Z
Fantastic, amazing, perfect... it's hard to find adjectives that have not already been said. Children loved to play in garden, beach is close, train go directly in center of Barcelona. And view on the sea is a perfect accompaniment for "apéro". Highly recommended
Guillaume
2015-08-23T00:00:00Z
We loved our stay at Tania's charming country house. The design and decoration of the house are full of character and of great taste. The view of the sea from the porch was stunning. The neighbourhood of the house is quiet and the location of the house private. Our contact with Tania was great. We highly recommend Tania's country house and hope to be back one day!
Veronique
2014-07-27T00:00:00Z
We did not expect the house to be at such a nice location. It looked like a dream. The neighbourhood was very quiet en beautiful. The house itself was very clean and everything was available. We were in direct contact with Tania before and she sent us tips and recommendations about the house and the surroundings. of course our children were very happy with all the toys on the inside, but especially on the outside. It looked almost like a playground and Tania even bought a padding pool. We loved the view. Every morning we openen the big windows to the terrace. Breakfast and dinner with a view at sea. Amazing!
Marleen
2015-08-02T00:00:00Z
We (2 adults + 2 children) had a lovely time in Tania's house. The location is perfect; close to the beach, Barcelona and some lovely collages in the surrounding. The house is cosy and comfortabel. Our children enjoyed all the nice toys and the trampoline. Tania provided us with a lot of information about the area and made us feel very welcome. I can really recommend this place and hope to go back in the near future!
Jacquelien
2014-08-09T00:00:00Z
Room Type
Entire home/apt
---
Property Type
House
---
Accommodates
5
---
Bedrooms
Barcelona, Barcelona, Spain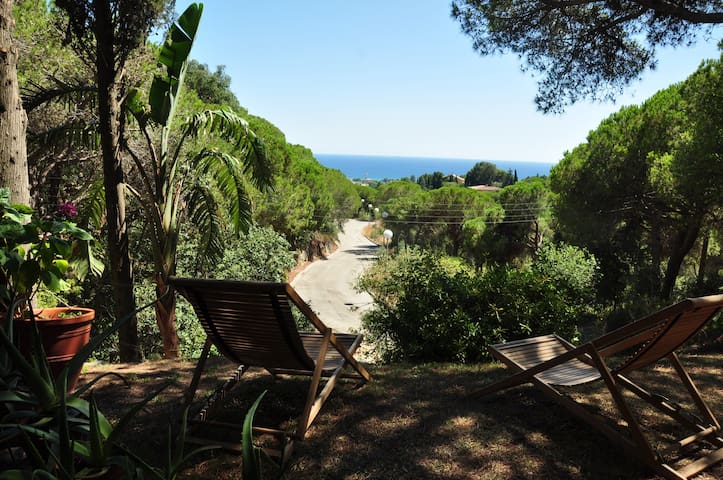 Can Gregori is a property of de 10.000 m2 can accommodate 14 people in two houses in a privileged area of Maresme just 24 Km. from Barcelona and enjoy a natural setting with a magnificent panoramic view of the Mediterranean Sea.
In coastal town of Cabrera de Mar, can we find Can Gregori, surrounded by a peaceful, natural environment. A place to enjoy the beach and nature, or simultaneously. Can Gregori is a beautiful property that offers great privacy and tranquility, has a vast expanse of land overlooking the sea. It is divided between the main lodge at the guest house with a fenced garden of a hectare a flower garden with swimming pool. In the main house there are several common rooms and a large kitchen with all necessary equipment. The dining room with fireplace and charming view. Upstairs, three bedrooms all with private bathroom, one overlooking the sea. The guest house has four bedrooms with bathroom and a common room with fireplace. Outside is a dream for all the family, a large tract of land with landscaped Mediterranean Sea in the background. It also has a very cool porch with barbecue to enjoy meals while the children play in the garden. The pool is fenced for the safety of children and garden furniture for comfort. Also in the area there ha parking for four cars. An ideal villa for families with children who want to vacation or for business thanks to its proximity to the great city of Barcelona.
The approximately Cabrera de Mar is a town in the Maresme located in a small valley on the open coast, between the towns of Vilassar de Mar and Mataro. It combines mountain and sea rich in archaeological Iberian at the foot of Castle Burriac and several Roman sites of the city. Located about 28 km from Barcelona and 104 meters above sea level, the center is 2.5 km from the sea, in a small valley between two mountains, and Burriac Montcabrer. The coastline consists of fine golden beach of 1200 meters long sand with a width varying between 10 and 40 meters. For its part, the interior has a rugged terrain in the presence of the 'Serra San Mateo', part of the Coast Range. The climate of Cabrera de Mar is typical Mediterranean climate. Its main feature is the clear and serene days. In the fall, we can find days of heavy rain, while winters are mild. The hot, dry summers invite us to enjoy the beaches and terraces abound along the coast. In the mountainous areas of the term he hi ha several extensions dominated by pine forests. Since the 1960s, the fields (which are still mainly vegetable crops and ornamental plants and flowers, mostly carnations) decreased for the benefit of industry and tourism.
We had an absolutely amazing weekend. It started with Marina coming to get us when our GPS got us lost in the mountains (please do print out their instructions). Both Marina and Marti are lovely hosts. The property couldn't be more perfect, it's beautiful with an authentic style and there are views of the sea! The two houses are great for when there are loads of people and everything is so spacious that you don't feel on top of each other. There's a sort of indoor/outdoor patio which was perfect for meals and the garden is great for kids (and adults) to explore. Everyone loved their stay and we will definitely be returning. The price of the house is also very good for what you get. Thank you! Melanie
Melanie
2016-05-02T00:00:00Z
We spent a long weekend at Can Gregori and couldn't have picked a better place. The property is well maintained, the landscape surrounding it and the pool is stunning. The house layout means that 14 ppl can easily share the house without it ever feeling busy and there are plenty of communal areas to cater for all types of weather. We didn't get a chance to meet the owners, but picking up and dropping off the keys was easy - and communicating with them before our stay was easy. Marti would normally respond to any requests within an hour. Highly recommended for anyone that wants to escape the hustle and bustle of Barcelona, yet being close enough to it to easily do day trips into the city. I certainly hope that this wasn't my last visit to Can Gregori. Povel
Povel
2016-06-22T00:00:00Z
Can Gregori, what a lovely place to relax and enjoy the Catalonian spring time! We stayed at Can Gregori for 6 nights with group of 15. When we arrived, Martí and Marina were waiting for us in the yard and they welcomed us with open arms. Martí showed us the houses and the yard and was very helpful. The main house was big, it had many bedrooms and bathrooms, a livingroom, a dining room, a library and a compact kitchen with good cooking possibilities. The guest house had also many bedrooms and few bathrooms. If you felt cold, you could turn on the radiators or light one of the fireplaces. There was plenty of room for group of 15 and the yard was very nice especially for the kids. During daytime the sun shone hot on the yard all day long and the view from the yard to the coast was fabulous. The neighbourhood was very lovely and calm, there were nice restaurants nearby and relatively short distance to beach, shops and cities. The best way to get to Can Greogori is by car, and if you want to visit Barcelona city, I recommend taking a train from Mataro. To summarize our experience, Can Gregori is wonderful, clean and relaxing place, even for bigger groups and families. Enjoyed our stay there!
Kristian
2016-04-18T00:00:00Z
This place is awesome. So awesome I would almost not right it down, to keep it for ourselves ;). Hosts are lovely, and with a helping hand. We had the most pleasant time, our two boys loved the garden and pool. And will for sure com back. Thanks, Renée
Renee
2016-05-25T00:00:00Z
Myself and 5 other guests stayed at this beautiful villa, the main villa has been kept in the traditional Spanish style of the early 19th century. The grounds are stunning with a view of the sea in the distance. As we were in Barcelona for the 2016 Spanish Grand Prix we didn't spend as much time at the villa as we would have liked. The beds were a bit too firm for our taste but that's only our opinions. Marina and Martí were the perfect hosts, make sure you printout Martí's directions as satnavs will take you the wrong route. I look forward to visiting again possibly with my wife and grandchildren.
Malcolm
2016-05-17T00:00:00Z
Old big house, good for summer, wifi was not working, light of the garden was not working at all, host must take care about the details of the house, late Checkin, early checkout, great stay at all.
albert
2016-10-31T00:00:00Z
The Can Gregori place is absolutely beautiful and perfect in every way. We enjoyed a lot our stay and would go back for sure ! Marina and Marti were very accommodating and communicative. Highly recommended !!
Jeremie
2016-06-16T00:00:00Z
The house and grounds are beautiful and really easy to get to from Barcelona. We were a large group with several small children and the house was ideal for us. It was only a short drive to a nearby lovely beach and also the station of you wanted to go into Barcelona. There are shops and restaurants nearby but you definitely need a car. Getting the keys was really easy and the garden and pool were well looked after by the gardener during the week. A wonderful holiday!
Jennifer
2016-07-24T00:00:00Z
Room Type
Entire home/apt
---
Property Type
Villa
---
Accommodates
14
---
Bedrooms
Cabrera de Mar, Catalunya, Spain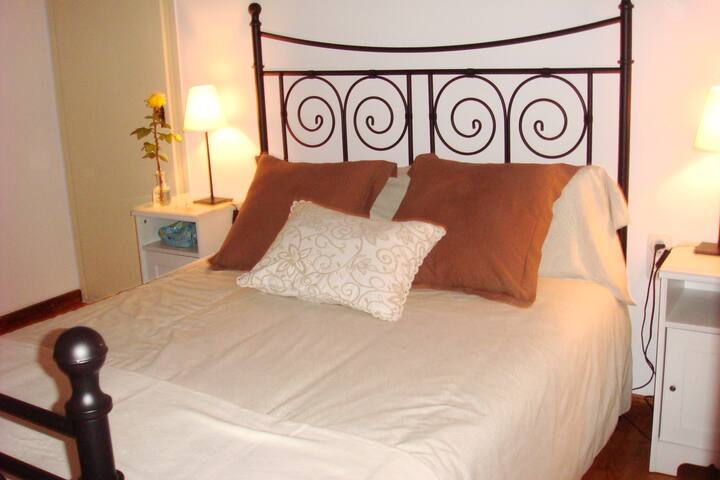 Nice ground floor level home, with beautiful views over the Mediterranean Sea. Has a gorgeous garden, with a private swiming-pool, charcoal BBQ, and parking. 5 minutes driving far from the C-32 highway and Mataro Park shooping center also 10 minutes drive to down town Mataro and beaches. A 30 minutes car drive to down town Barcelona. Good for hiking, mountanbike and outside activities at the Natural Park "El Corredor" is really close only 5 minutes walk.
Zona alta y tranquila de Mataró completamente rodeada de naturaleza y con grandes vistas al Mediterráneo y la ciudad de Mataró. La casa está orientada al sureste y goza de muchas horas de sol así como un entorno tranquilo y relajado. Te animamos a desayunar en la terraza y gozar de los sonidos de los pájaros por la mañana.
Room Type
Private room
---
Property Type
Casa particular
---
Accommodates
4
---
Bedrooms
Mataró, Catalunya, Spain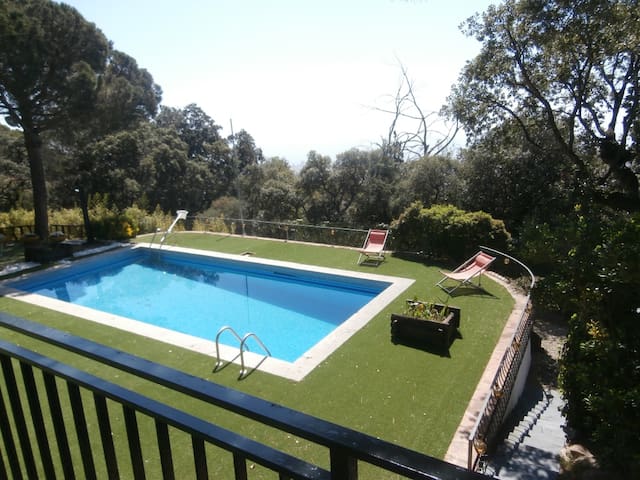 Our house is big, three floors and attic, the ground floor with the kitchen and lounge and a big garden with plenty of space to relax or have a chat. On the first floor we have the rooms. A private bathroom for our guests and two possible rooms a double bed or two single beds with a lovely terrace. Besides the beautiful garden you can also enjoy our underground floor, with babyfoot, TV, DVD, satelite, and a library with novels in different languages... and of course you have wifi in the house.
Our place is very useful to visit any part of Catalunya, you can have an outing for the day or just take the train to Barcelona to know the big city. A comfortable quiet place but in a few minutes you can be in a busy mall, sightseeing a city center or walking along beautiful beaches. Girona is also a nice visit if you have a car and then you can visit any of the beautiful villages of Costa Brava... and come back home for a relaxed evening.
Well I hope this give you an idea of the place, we are in a private area with a couple of playgrounds outside and no roads, but the best is that behind us we have the forest and in 5 minutes we can be on the beach... Mataro is a shopping center and Barcelona with all the possibilities is very near by car or train. It is useful to have a car to enjoy all the possibilities.
Room Type
Private room
---
Property Type
House
---
Accommodates
4
---
Bedrooms
Argentona, Catalunya, Spain
Incredible Masia "Can Saborit", typical Catalan house in a very quiet area in Argentona.
It is a great house to organize events and celebrations for its large pool, tables and dining rooms that can accommodate a large group of people. Both the exterior and interior decoration is typical of a country house, with ceramic dishes, vases, antique furniture, etc., a very interesting experience.
In this environment you can enjoy a great gastronomic offer and a great beaches. During the summer, all the villages in the area celebrate the typical fiestas so there are many activities to participate in, a lively atmosphere, fireworks, gastronomy, etc.
Room Type
Entire home/apt
---
Property Type
House
---
Accommodates
7
---
Bedrooms
Argentona, Cataluña, Spain
'Casa X' offers the best of two worlds; as well as offering the peace and tranquillity of the mountains, the city of Barcelona is only half an hour away and is easily accessible by car, bus or train.
X-House sits on top of a steep hill just outside Barcelona, with stunning views of the valley and the Mediterranean sea. The house, built in the shape of an 'X', was designed by the architects at Cadaval & Sola-Morales who are known for their bold and powerful designs. The structure sits slightly below street level which provides more privacy for its residents while maintaining its spectacular views. The large glass, angled frontage enables an abundance of natural light to flow through the house . The inside offers an open plan living space with clean lines and tall windows which give depth and volume to the vast interior. The top floor is a private suite which includes a bedroom, bathroom and private living room. On the roof is a beautiful terrace that covers the whole structure - instead of handrails, the architects installed a glass structure going around terrace for non-obstructive safety purposes. The villa is located in a quiet residential area just 25 minutes from Barcelona and 5 minutes by car from the beach. In the garden you can enjoy a private pool, hot tub and sauna. X House offers the best of two worlds; as well as offering the peace and tranquillity of the mountains, the city of Barcelona is only half an hour away and is easily accessible by car, bus or train. Barcelona is an ideal place for an urban stroll; art is present all around and the seemingly endless variety of restaurants offer food from all over the world. The area is surrounded by trails, ideal for walkers or for bike rides with the family. You have a Tennis Club just 500m away. The kitchen has all modern equipment including an induction oven and "tataki" grill. The grand room takes pride of place with spectacular views of the mountains and sea. From here it is possible to see the lights of the nearest town and watch the boats out at sea and the seven–meter fine marble table is an ideal place to dine. Private parking for 2 cars.
The house is absolutely beautiful from the outside. Very nice and quiet neighbourhood in Cabrils. The hosts were always extremely prompt and polite to assist us in anything we needed! The house on the inside though is a bit cramped for 10 people (4 couples and 2 kids). There is 1 master bedroom with a full bathroom that is great, 1 room downstairs which is also good in size and has a half bathroom (no shower) but the other 2 rooms are very small. Could barely fit any luggage and they share 2 half baths (1 with shower and 1 with toilet). So all in all 6 people and 2 kids had to share 1 shower which is not nice. The kitchen is great with a beautiful view of the mountains. The jacuzzi and sauna also very good but quite a long way down and there is no toilet next to them. The pool has no heating and was very cold so we never got around to using it. Lastly since the house is surrounded by trees and grass, unfortunately we found 3 snakes around the house which left us concerned since we had kids. Fortunately all was well. Thank you hosts for the excellent reception!
Alexandre
2016-07-06T00:00:00Z
The house is fantastic. It sits on a hill and the multi-layers layout gives a lot of space and privacy. We were a group of nine and this was the ideal house to relax and spend a good time. The host is very responsive and explained everything perfectly at our arrival so we felt like home. We'd love to come back at Casa X!
Stéphane
2016-11-02T00:00:00Z
Amazing house, great stay.
Rob
2017-03-08T00:00:00Z
Everything was exactly the same as on the photos! Very nice house with a stunning view and a great pool. Abolutely perfect! Kate was flexibel and helpful!
Vasco
2016-08-13T00:00:00Z
Nice place nice people. Room too simply. Recommended
Maxence
2017-01-02T00:00:00Z
We had a great stay at Casa X - despite a rainy weather , we enjoyed fully the house - just 30 min away from Barcelona center. Everything as per the pictures - thank you to Davor and Lucila and Leandra for their warmth.
maximiliano
2014-08-24T00:00:00Z
Everything was just perfect, fast communication. Great experience! Would recommend to everyone who is travelling to Barcelona
Hasans
2016-05-12T00:00:00Z
La piscine n était pas en service ..... et le jaccuzzi à l abandon ..... dommage ....pour une maison de ce standing .... le nb de places est surévalué pour dormir .... ce n est pas censé être du camping ...personne pour régler les (URL HIDDEN) mauvaise foi du loueur ....vraiment dommage ...
Jean-Jacques
2016-10-21T00:00:00Z
Room Type
Entire home/apt
---
Property Type
Villa
---
Accommodates
11
---
Bedrooms
Cabrils, Catalonia, Spain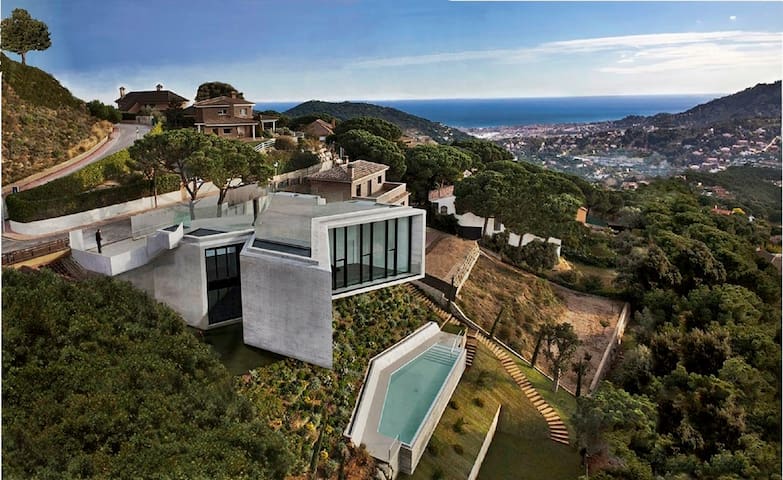 A splendid loft of around 120 square meters (80 indoor and 40 terrace). It includes a kitchen with dishwasher, a bathroom and 2 double beds and 1 single bed accomodating a maximum of 5 people in an open space without walls. The villa has a private swimming pool (5x10 mts) and a very pleasant garden of around 1.000 m2 (these facilities are available to our guests). The environment has very beautiful views. Quietness and relaxation are guaranteed. Ideal for families visiting Barcelona or Costa Brava areas but willing to stay in a quiet place with a private garden and swimming pool to rest and enjoy holidays. The distance between the house and Barcelona is 25 km. By car it takes 20 minutes to get to downtown and by train 35 minutes. It is also very close to cities like Vilassar de Mar, Argentona or Mataro with plenty of shops, restaurants, beaches and large outlet shopping centers. For more details about the surroundings please search in the web typing: Costa de Barcelona-Maresme Sheets, pillows, blankets, bath & beach towels are included. Free private parking in the house.
We had a great time and truly enjoyed the outdoor space and delicious pool! The hosts make you feel very welcome and comfortable. They know the region well and are keen to help with great tips if you fancy exploring Cataluña. Kids had a blast also playing table tennis and table football besides the pool. All of this combined with a gorgeous view and the sweetest and politest dog you will ever meet, (sir) Nelson is a true gentleman! We not only recommend it as we will consider going back!
andreas
2015-07-19T00:00:00Z
Last summer spend a week in Maria's and Paco's house. Spacious appartement with high ceiling in the souterain. Loved the pool and the view. The owners are very kind and helpfull. If you love dog's, their dog Nelson is one of the sweetest, especially with children.
Bernadette
2014-08-03T00:00:00Z
We visited the place with our 3 boys and we all loved it ! It is a perfect starting point for both trips to Barcelona and walks in the mountain, For the kids there was a pool, table tennis, football game and the adorabele dog Nelson. The view from the house at the mountains and castle is breathtaking. Both Paco and Maria Luisa are the best hosts, warm and sympathetic. Would recommend it any time!
Nathalie
2014-10-18T00:00:00Z
We had a wonderful stay in the loft of Maria Luisa and Paco. The loft is spacious and on the nice couches outside you can relax and enjoy the view. The large and clean swimmingpool is situated in a beautiful garden. Paco and Maria Luisa are really amazing warm people who make you feel like home right away. They even went to the trouble of making sure, water, drinks and fruit was available for us when we arrived. And we all loved their dog Nelson, he is a sweetheart. Great time!
Petra
2014-08-13T00:00:00Z
The Children have really enjoyed. It was a beautyful holiday. In the loft is a lot to do. Foosball table tennis and a beautyful swimming pool. The owners are very Nice end lovely people. You can ask anything about the area. End the dog Nelson is very Nice. Everything togehter was it a very Nice holiday. Greets Patrick & Johanna
Patrick
2015-08-30T00:00:00Z
We had a great time in Cabrera de Mar! Paco and Maria Luisa are very nice people and made us feel absolutely welcome. The first evening we had a very cosy meeting with a nice glas of wine. They told us where to go and what was the best way, gave good advices when we asked for. Their dog Nelson was very funny and took care of us when we were in the pool. The house was exactly as the pictures showed, was well equipped and gave a real holiday sensation. We really want to go back to Maria Luisa and Paco and recommand everyone to go there!
Marjolein
2016-08-07T00:00:00Z
Our host, Paco, was absolutely lovely (Maria Luisa was away while we were there). He was helpful, friendly, generous and great company. We had a final evening where we discovered they had a guitar and we had a bit of a sing song! Our other host was Nelson, Paco's dog, who was very funny and made sure we were safe in the pool!!
Kath
2016-07-03T00:00:00Z
Quite and relaxing place at only 20 minutes by car from Barcelone. Beautiful view from the garden and nice swimming pool. Comfort of the loft is a bit basic but overall impression is still good. Maria and Paco are very nice and welcoming. We really appreciate the time they spent to give us advices for our visit of Barcelona and other areas near by. We also appreciate the fruits and drinks they placed in the loft before our arrival. Their dog Nelson is fun and very kind.
David
2015-08-15T00:00:00Z
Room Type
Entire home/apt
---
Property Type
Villa
---
Accommodates
5
---
Bedrooms
Cabrera de Mar, Catalonia, Spain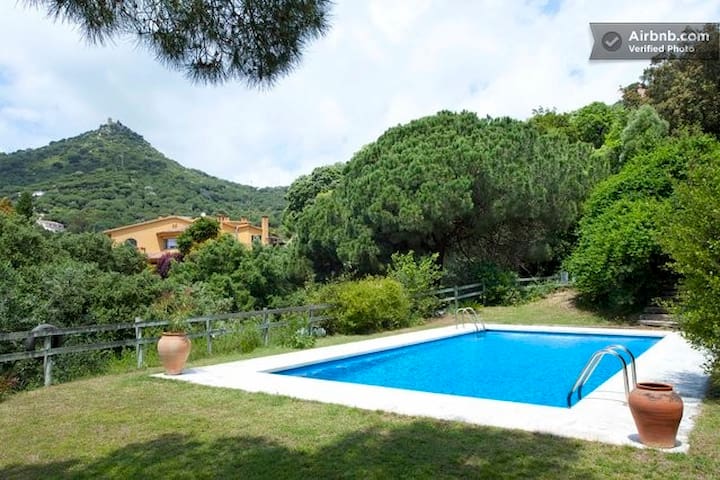 The apartment is located in a house close to the idyllic village of Cabrils, 30 minutes by car from Barcelona. It has a large wooden terrace with direct access to a nice garden with a 10m x 5m swimming pool and a spectacular view of the Mediterranean Sea. We recommend you take a look at the photos we have uploaded on this site, as they will give you a complete impression. Lola is a Naturopath and a well known health therapist and often organises meditation sessions and other activities at home.
The apartment is located in one part of the large property, which is sea-facing and also offers a wide and picturesque view of the valley, the surrounding mountains with the city of Barcelona clearly visible in the distance. The one bedroom apartment accommodates comfortabley two persons and it also has a sofa-bed in the living room for two children/adults. An additional adjoining single bedroom is available, but subject to request and availability. The additional price for this bedroom is 30 Euro per day.
Quiet neighburhood surrounded by forrest and mountains with magnificent views of the Mediterranean sea and Barcelona in the distance. In fact the whole area is a national park, "Parque de la Serralada Litoral" with an infinity of beautiful trecking options. It is the ideal place to rest and relax quietly and make long walks in the beautiful region of El Maresme. The beach is just 10 minutes away by car and you can park the car right on the beach. It is a wonderful place for nature lovers who also want to be close to Barcelona.
Where do I start? This is the pinnacle of my Air B&B experiences, and I would liken it more to a five star hotel that would probably run $300-400 a night, not kidding. Peter and Lola are the absolute sweetest and most helpful people in the world. And, as sexy as the pictures are on Air B&B, the view is actually better than what is shown. It's stunning. The apartment, which is more like a cabin, is immaculate. There were tears running down my face when I had to leave. Absolutely unforgettable .
Brian
2017-04-12T00:00:00Z
We had a really wonderful stay in this beautiful, calm and tranquil apartment in Cabrils. What a spectacular view! The apartment is clean, well-equipped, and homely. Truly everything we needed! This place makes a wonderful refuge from the bustle of Barcelona, but easy to get in town very quickly. Peter and Lola were easy to communicate with and ensured we had everything we needed although they were away during our stay. Highly recommended!
Anna
2016-05-17T00:00:00Z
It was an excellent experience, the house was comfortable and also there is a good view. Peter and Lola are very nice. Looking forward to meet them next time!
诠 Aimé
2016-02-27T00:00:00Z
We had a very good experience at Peter and Lola's home. The apartment is warm and efficent; from the house there is a wanderful vieuw . Lola and Peter are perfect guest.
Paolo
2016-02-10T00:00:00Z
Peter and Lola were delightful and accommodating hosts, going out of their way to check that we were enjoying our stay. The apartment is a good size for a couple and has a very relaxing feel to it. We especially enjoyed watching the glorious sunsets from the deck.
Shona
2016-09-06T00:00:00Z
Lola and Peter were fantastic. Their place was beautiful and the view was spectacular. We wanted a place where we could travel from easily and this was perfect for the 3 night we stayed. We were sad to leave and will definitely stay there again if we return that way.
Elizabeth
2016-04-24T00:00:00Z
The property was even more beautiful than the photos . We were welcomed graciously by oscar and family even with our late arrival. Everyone was very helpful whether it was giving us directions to the market, the best attractions or recommending restaurants. The apartment was charming spacious and very clean. Outdoor space extremely private and pool glorious
Melanie
2016-06-16T00:00:00Z
Peter and Lola were excellent host's.The accommodation was clean ,comfortable and had all modern appliances.The location is spectacular, with stunning views of the Mediterranean and Barcelona at night.The local community were friendly and helpful and the area is quiet.Car with GPS is highly recommended.
Marie
2016-06-23T00:00:00Z
Room Type
Entire home/apt
---
Property Type
Apartment
---
Accommodates
4
---
Bedrooms
Cabrils, Catalunya, Spain
Duplex apartment type. Second floor, 3 bedrooms. 1 bedroom -> with double bed. 1 bedroom -> with single bed 1 bedroom -> with single bed 1 bathroom -> big bathroom 1 terrace
Joan y sus padres eran muy atentos y simpáticos conmigo. La habitación fue muy cómoda, perfecta para mi estancia. Gracias a ellos.
Cynthia
2016-07-26T00:00:00Z
Room Type
Private room
---
Property Type
House
---
Accommodates
4
---
Bedrooms
Argentona, CT, Spain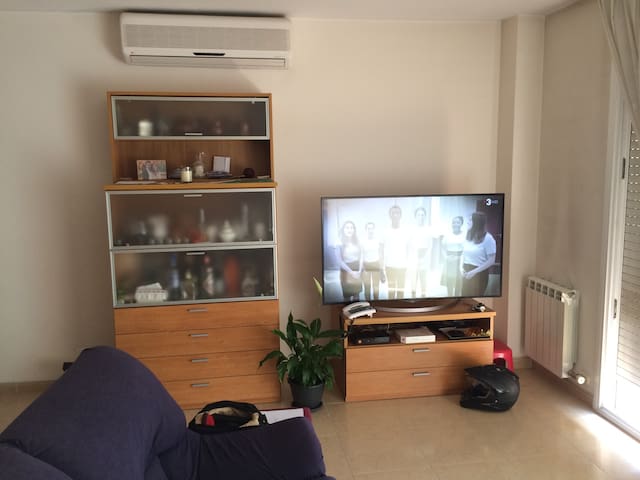 Mi alojamiento es bueno para viajeros de negocios.
The host canceled this reservation 157 days before arrival. This is an automated posting.
Mika
2017-01-03T00:00:00Z
Xavier was very helpful before and on arrival. He was always easy to get in touch with and responded quickly. He offered to show me around the area when I arrived and was even kind enough to give me a lift to the station when I left. The flat is about half an hour's walk from the train station but during the week there is an express bus to Barcelona nearby that takes about half an hour and drops you right in Placa Catalunya. There is a supermarket just around the corner and Mataró has a good shopping centre. The flat has most things you need and is as it shown in the photos.
Naomi
2016-12-18T00:00:00Z
Room Type
Entire home/apt
---
Property Type
Apartment
---
Accommodates
3
---
Bedrooms
Mataró, Catalunya, Spain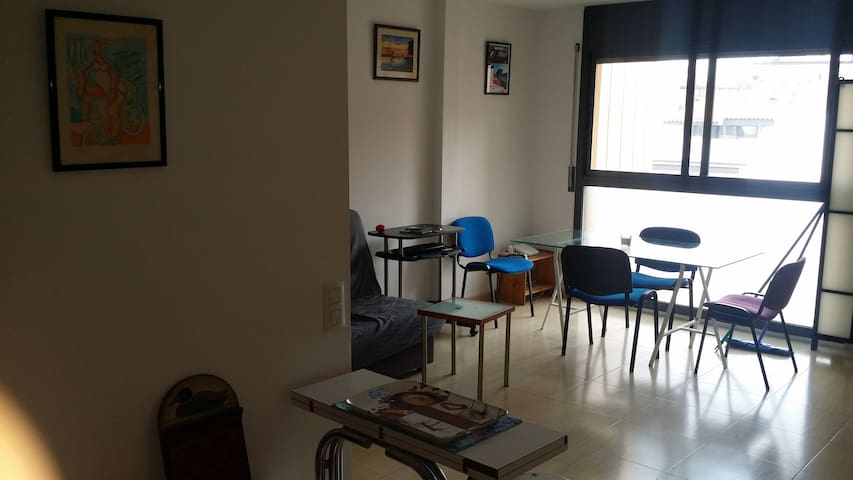 Habitació gran. Pati. S'accepten animals.
Please, read comment on previous page
Jessica
2016-09-26T00:00:00Z
Vous êtes chez vous quand vous arrivez chez Lidia. La chambre est bien grande et le lit confortable. Pour quelques jours c'est impeccable. Vous êtes en plein coeur d'un petit village très agréable et typique. Pas besoin d'un véhicule pour manger, se promener ou faire les boutiques.
Dany
2016-06-06T00:00:00Z
Lidia es una persona muy amable dispuest en todo momento a facilitar la estancia,su apartamento está muy bien situado
Ana
2017-02-04T00:00:00Z
Room Type
Private room
---
Property Type
Bed & Breakfast
---
Accommodates
2
---
Bedrooms
Argentona, Catalunya, Spain