Brewell's barn is a tiny stone barn that sleeps 2 guests, set on its own in a private woodland, plenty of parking and we welcome pets. There is a local pub that serves food and a butchers just along the road for all your fresh needs. We are a 10 mins drive from Matlock town centre, 5 mins from Matlock bath and 15mins from Bakewell.The little barn is local to Crich village where you will find shops and pubs which serve fine foods and Holloway has a tearoom, post office & shop.
On entrance to the barn you will find a small kitchen with a leather sofa, 2 farmhouse chairs, a table and 4 chairs, plate rack on the wall , sink, microwave, oven & grill combined, toaster small fridge, 2 ringed electric hob, shelf and with all the pans, slow cooker and sandwich maker.
The barn is in a little village on the edge of Matlock, close to Cromford, cromford meadows, Matlock Bath, Bakewell and so much more.. In the village you will find the famous John Smedley's knitwear factory with a factory shop.
Small but perfect for a cozy get away. Great outside space and just down the road from Matlock. The barn is secluded and private with a local store a stroll away.
Colett
2017-02-12T00:00:00Z
Room Type
Entire home/apt
---
Property Type
House
---
Accommodates
2
---
Bedrooms
Holloway, England, United Kingdom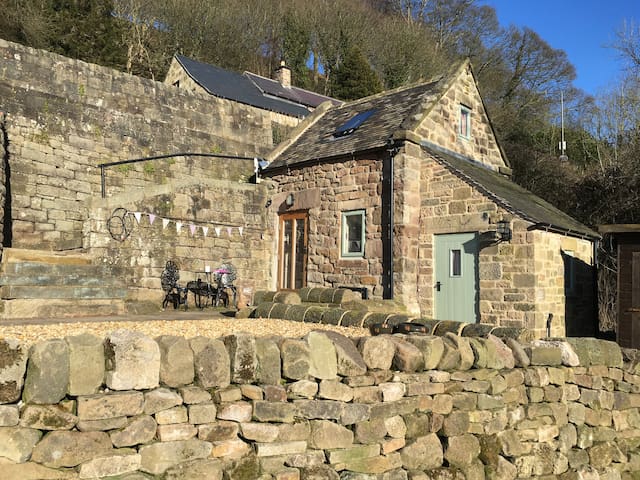 CH Coach House is a beautiful 18thcottage, within the 100 acre private gated estate of Carnfield Hall. Ideally suited for Couples, Families and commuters. A fabulous getaway for those looking for a quiet retreat or who want to become involved on the farm, and enjoy the private woodland walks. Dogs welcome, although not upstairs, Pet hydrotherapy centre on site
Carnfield Hall Cottage is ideal for country lovers, with a downstairs wet room, to hose down after a long and muddy walk! There's 60 acres of farm land, (inhabited by Llamas, highland cattle, peacocks and a naughty sheep) and 40 acres of woodland, which are particularly spectacular when the blue bells are out!
There are 5 completed properties in the Carnfield estate - 4 rented, 1 on airbandb- we therefore have the luxury of choosing our neighbours, and they are all totally lovely, like minded people!
Wow - we had an amazing time and can't believe it was just 1 night. The Coach House was clean and very cosy / comfortable. Heidi and her family were amazing - accommodating and helpful. We got a tour of the house, fed the llamas and the kids got to steer the fire engine round the fields (yes, that's right - a fire engine). Loads of walking, friendly neighbours, but privacy and relaxation. We will be going back for sure.
kate
2016-12-04T00:00:00Z
The house is a beautiful old coach house with lots of character. Heidi was a brilliant host.
Elle
2017-03-20T00:00:00Z
Fab stay at a lovely little place - excellent communication and made everything really easy. very welcoming team -thank you
Hollie
2017-02-19T00:00:00Z
A really magic stay for our family which included young kids and the in-laws. Comfy house, well stocked (flowers, milk, crumpets, jam etc) and full of charm. My son called the downstairs bathroom 'the paradise shower'. Both Heidi and Graham couldn't have been more helpful and we really enjoyed our private tour of the house. Kids loved the fire engine and feeding the lamas, and borrowing the dog for an hour or so. We'll be back!
Athena
2017-02-13T00:00:00Z
Such a fantastic stay, we can't recommend it highly enough. It's a fabulous amazing place with so much to offer, made perfect by Carnfields awesome hosts Heidi & Graham. A must-stay place. Thanks for everything we couldbt have found better if we tried! Truly family & dog friendly!
Sarah
2017-02-06T00:00:00Z
This is a wonderful place for an adventure! The Coach House is beautiful and the Hall and its surroundings are delightful. The hosts are welcoming and friendly and it is a pleasure to see and hear about the ongoing Hall restoration. An added bonus was a visit to the llamas!
Peter
2017-02-26T00:00:00Z
We came to Carnfield Hall to celebrate Thanksgiving and had an amazing time. The coach was beautifully furnished and had everything we needed to make our dinner. The Heidi and her family were incredibly gracious and welcoming. They offered us Wellies to go on a walk through the property, introduced us to their adorable llamas and gave us tour of the hall. The history of the hall and the property was fascinating, and we were very grateful they took time to share it with us!
Ashley
2016-11-27T00:00:00Z
I stayed at the coach house with 2 friends for a weekend away and we thoroughly enjoyed having the opportunity to walk around the wood, chat to the Lammas and have a tour with Heidi of their home, which has a fascinating history. Chatworth House is nearby and the surrounding countryside is beautiful. I would definitely recommend Carnfield for a relaxing get away with friends or family.
sarah
2017-03-05T00:00:00Z
Room Type
Entire home/apt
---
Property Type
House
---
Accommodates
6
---
Bedrooms
South Normanton, England, United Kingdom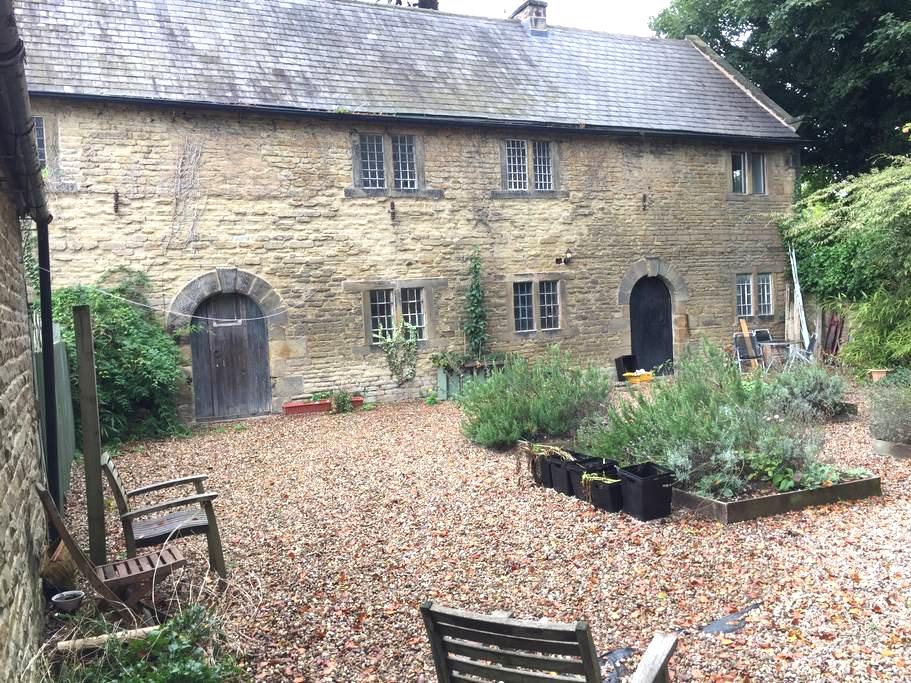 Large country house in Woolley Moor, Ashover, Peak District, Derbyshire Dales, England - Peaceful Location Overlooking Ogston Reservoir & Within 5 Minutes Drive of Derbyshire Peak District
Lovely house in a beautiful location, well equipped for a family gathering.
Andrea
2017-04-09T00:00:00Z
Room Type
Entire home/apt
---
Property Type
House
---
Accommodates
13
---
Bedrooms
Woolley Moor, England, United Kingdom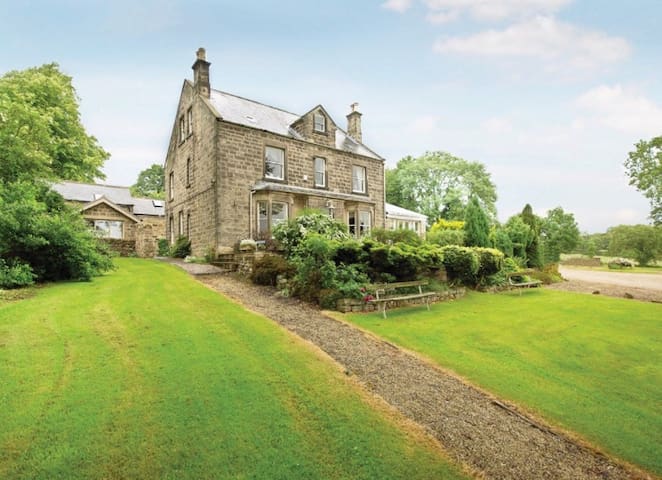 Our beautiful home with lots of original features is perfectly placed to explore the surrounding countryside or major shopping centres in the Midlands. Only 15 mins from the Peak District. 40 mins from Sherwood Forest. 20 mins from Nottingham and Sheffield. 15 mins from the centre of Derby.
If you are looking for an idyllic rural village location..... this isn't it! BUT, if you need a spacious home and garden that has great communication links to all the main attractions in Derbyshire, Nottingham and Yorkshire then you've found the right place. Our home will sleep up to 8 people - 2 in the master bedroom - 2 in the 2nd bedroom (one standard single bed and a shorter single bed) - 2 in the third bedroom are bunk beds - 2 in the lounge on a double sofa bed. There is also a downstairs toilet. Well behaved non shedding dogs are allowed.
Our lane is the best kept secret in Somercotes. It's semi rural with farmers fields at the end, has no through traffic which keeps it nice and quiet and I have the best neighbours for miles around. We have all lived here for years as it's very safe for our children to explore and play. The best local pubs are not really local and require a car but here they are:- The Steampacket, Derby Rd, Swanwick, DE55 1AB, (PHONE NUMBER HIDDEN) miles away. Good real ales. The Dog, Main Rd, Pentrich DE5 3RE , (PHONE NUMBER HIDDEN) miles away. Country pub set in the lovely village of Pentrich. Food better than standard pub grub and nicely decorated. Waggon and Horses, 9 King St, Alfreton, DE(PHONE NUMBER HIDDEN) is the nearest Weatherspoons. There are 3 pubs within walking distance (15mins) of my house and are real working men's pubs. I've only been to one called The Moulders Arms, 53 Church St, Riddings. Known locally as the Thack its a bit old fashioned in decor but has a good selection of beer. They do pipe local radio on the speakers though which we find a bit strange!
A comfortable and tidy family home, with a wonderfully stocked kitchen! We had a very relaxing stay.
Ashley
2015-08-01T00:00:00Z
My whole family really enjoyed our time at Claudia's home. We did not meet in person, but had very good communication and it was straight forward and relaxed. Somercotes village is not too impressive in itself, but a good base just off the M1 and close to the Peaks as well as Nottingham- and Lincolnshire.
Shinta
2015-05-29T00:00:00Z
We had a fantastic time at Claudia's house. It was exactly as described and had a well equipped kitchen for home catering. The large garden with outdoor seating area is also great. As described, not in the rolling countryside but in a local village; however there are lots of attractions and things to do a short drive away. Claudia responded to all my queries swiftly and with helpful information. Thanks for having us!
Grace
2016-09-05T00:00:00Z
The house of Claudia was lovely, clean and as described in the AirBnB page. The location was nearby many fun places, such as Robin Hood festival, Matlock (Bath), tramway village. Really, I recommend to rent the place!
Benoit
2015-08-05T00:00:00Z
The location of the house was perfect for getting around the area. It was clean and comfortable with lovely views. Excellent value a we were a fairly large group of 7 people. the host made sure we had all the information we required and it was very good to have the flexibility of self catering and coming and going when we wished.
Zoe
2016-11-14T00:00:00Z
Thanks to Claudia and family for having us in their home away from home for 4 days, it was the perfect spot for us to relax, play and travel to visit family in the local area. Claudia had absolutely everything available that you would need to successfully enjoy a bnb stay. The kids loved the outdoor garden space, trampoline and the toys that her boys owned. Would happily come back again. :)
Debbie
2015-09-05T00:00:00Z
Our stay at Claudia's was great! There were issues with hot water and a fuse being blown, but Claudia was amazing with communicating with us what was happening and how to fix the fuse. I would definitely recommend the place and stay again if the opportunity came about.
Tessa
2016-11-27T00:00:00Z
For family with 4 kids it was grate
Ayelet
2016-08-15T00:00:00Z
Room Type
Entire home/apt
---
Property Type
House
---
Accommodates
8
---
Bedrooms
Somercotes, United Kingdom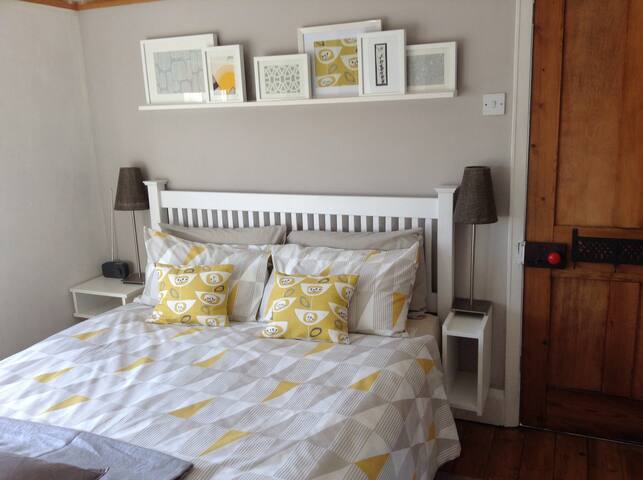 Set in the beautiful Derbyshire countryside in the village of Crich, this cosy 200 year old cottage, with its 2 up 2 down design, is an ideal base for walking, climbing, cycling, exploring and sightseeing, or simply getting away from it all.
The cottage is around 200 years old and is adjacent to the owners' own cottage. The cosy cottage, a 2 up 2 down designed for 1 or 2 persons has been modernised to a high standard and is centrally heated throughout. It is in a very quiet location but only 50 yards from the village market place with many local amenities including pubs serving food, a post office, and our own unique artisan bakery, cafe and deli, called 'the loaf'. It's quirky in that the living room and kitchen are upstairs whilst the bedroom and shower room are on the ground floor. This is to make the best of the view towards the nearby village of Fritchley. The living room is furnished with a sofa, a table and chairs, a TV/DVD, a Radio/CD player and has a feature fireplace. There is a selection of games, books, DVDs and tourist literature provided. The kitchen has a gas cooker and fridge with freezer compartment. There is a queen size double bed with storage drawers, wardrobe and chest of drawers. The bathroom has a self contained shower, sink and loo.
With easy access to the Derbyshire Dales and the Peak District it is the perfect base for a holiday. The village itself is home to the famous Crich Tramway Village and was used as the location for the TV series "Peak Practice".
Both Andrew and Roger were very considerate and welcoming too. The cottage was beautifully set up and a comprehensive pack of written information available. I was also told when I had left my lights on and asked to book in for their once a week pizza night at the bakery they own. They were attentive but not intrusive.
sarah
2016-03-17T00:00:00Z
Our stay with roger was excellent. Halcyon Cottage provided us with everything we needed and was easily walkable into Crich. Roger was very welcoming and ensured we had everything we needed. Also his baked gifts were excellent! 10/10 stay!
Emily
2016-09-11T00:00:00Z
Roger and Andrew made were most welcoming and helpful. We had a wonderful stay in Halcyon cottage and Crich which is a gem of a place.
Helen
2016-11-06T00:00:00Z
The cottage was just as described - small but lovely and a great place spend a few days. It was clean and cosy and in a great location in the centre of Crich. When we arrived the heating had already been switched on which was very much welcomed. Roger was a great host and we appreciated the extra gifts. The Loaf, which Roger owns, was an extra bonus, just being around the corner, providing us with lovely fresh baking everyday - pizza night on Wednesday is highly recommended!
Katrina
2016-03-16T00:00:00Z
We had a great time in Crich. We had our 5 month old son with us and Roger was very helpful in making sure we had everything we needed. The cottage was really nice - clean, tidy and enough room for our cot-bed at the end of the bed. We always enjoy our time in Derbyshire and the locals in both of the pubs that we visited in Crich were very welcoming - nice homemade food in the Cliff too. We had brunch in the loaf which is the bakery that Andrew and Roger run and was lovely. We also sourced our dinner from the deli there (wife couldn't resist). Overall we had a really nice time and very pleased with our choice - both the cottage itself and the location.
Simon
2016-05-31T00:00:00Z
We very much enjoyed our stay at Halcyon Cottage. The cottage was cute and cosy inside and came equipped with everything Roger had said it would, including a couple of extra touches which were a nice surprise. The village of Crich is a good base for exploring the Peak District and we went on some lovely walks around the area, as well as visiting a nice pub and Indian restaurant in the village. The area around the cottage is nice and quiet so ideal for a relaxing weekend. We had a great stay and would like to thank Roger for hosting us!
Alicia
2016-02-21T00:00:00Z
We had a lovely stay in Halcyon Cottage. The cottage itself was beautiful and close to the market place. Roger was very welcoming and helpful and even had some lovely freshly baked gifts waiting for us. Definitely recommend this cottage!
Rhea
2016-10-21T00:00:00Z
Our first time visiting Derbyshire. We stayed in Halcyon Cottage for just a weekend in order to see our son in cycling hill climb championship in nearby Matlock. Roger showed us round the cottage and explained how the heating worked etc. The heating is very efficient and I think this would make a great place to stay for a winter break. The kitchen is tiny but has everything you need to cook meals, with a full size gas cooker (though no microwave, but not missed as we don't have one at home). The bread and scones left for us were very tasty, and it was jolly useful to have salt/pepper/teabags and a pint of milk provided. Just up the lane is a pub, a good fish and chip shop, and of course The Loaf deli, where we bought very tasty quiche and artisan bread. The information about the area provided was very useful, and we did a 5 mile walk using instructions provided and found the area to be very beautiful and well worth exploring. Our only regret is that we were only there for 3 nights. This cottage really is a little gem and I fully recommend it.
Karen
2016-10-31T00:00:00Z
Room Type
Entire home/apt
---
Property Type
House
---
Accommodates
2
---
Bedrooms
Crich, United Kingdom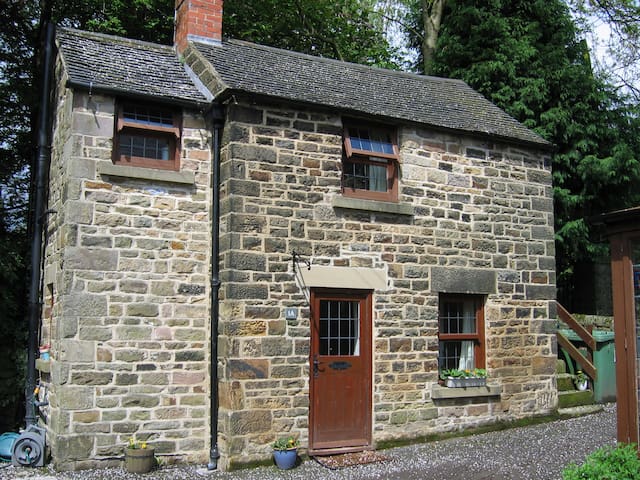 Sunny and airy house, new bed linen cosy and friendly. Warm welcome with local sourced bread honey jams and home made cakes. Our house is next to the Moor with horses as our closest neighbours. Great for visiting the peak District and Nottingham being 30 minutes from both. D H Lawrence country with many sites of interest beautiful walks, country houses,steeped in history and charm. We can also provide art lessons and intensive driving course on request at booking. No smokers please.
On the edge of the village close to the moor.The area has lovely walks through D H Lawrence countryside. Convenient for visiting Nottingham or the Peak District National park.Local attractions include Sherwood forest ,Southwell minster Bakewell ,Chatsworth house,Matlock,and many more. Eastwood Hall,Durban house both offer spa and superb facilities only a few minutes away. Breakfast by prior arrangement. Our house is quiet and calm and friendly.
Quiet and friendly area.
Liz was very helpful . I stayed in a lovely room with super comfy bed . I was looking for an accommodation near Sherwood Business park and it's only 10 mins drive . Everything was just prefect for me.
Subhakanta
2017-03-30T00:00:00Z
Room Type
Private room
---
Property Type
House
---
Accommodates
2
---
Bedrooms
Brinsley, England, United Kingdom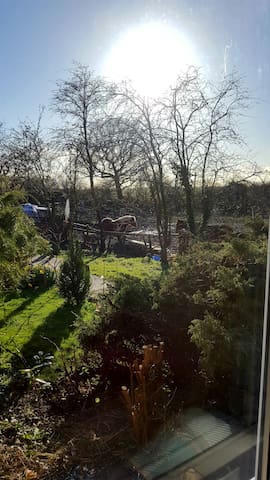 Tibshelf is a lovely, quiet village that offers quick and convenient access to the most popular attractions in the area. You will have the comfort and privacy of the whole house and garden to yourselves. The house has three spacious bedrooms to accommodate 5 people and a living room with sofa bed. Kitchen is fully equiped, including microwave and washing machine.
Tibshelf is a nice, quiet village that offers quick and convenient access to the most popular attractions in the area. If you are looking for an idyllic rural village location.... this isn't exactly it! BUT, if you need a spacious home and garden in the safe, quiet neighbourhood that has great communication links to all the main attractions in Derbyshire and Nottingham then you've found the right place. The house has three bedrooms, large living room, kitchen, bathroom and separate toilet.
Tibshelf is a quite village that offers quick and convenient access to the most popular attractions in the area. Visit Chatsworth and tour the lavish house of the Duke of Devonshire, then step outside to stroll through the 105-acre garden. Take a tour of Bolsover Castle and travel back in time as you walk through the luxuriously appointed rooms. Continue your tour of beautiful homes at Hardwick Hall, which features stunning architecture. If you love to shop, grab your bags and head to McArthurGlen Designer Outlets, where you can find great deals on your favourite brands. Derby City Centre is 25 minutes from Tibshelf and features shopping, cultural entertainment and, as the most haunted city in the United Kingdom, several Ghost Walks through its historic streets. Also Peak District is on your doorstep, close to Chatsworth, Matlock, Ashbourne, Bakewell and Castleton where the famous Blue John Caves are . It's also a good base if you are visiting Alton Towers.
Lovely house situated in a peaceful area, with ample space for a family. The house description was accurate, the rooms were well maintained, clean and cozy. The host was lovely, responsive and very accommodating.
Adit
2016-07-24T00:00:00Z
Nice, clean and spacious house in a calm environment. It had everything we needed for the one night we stayed here.
Alexander
2016-08-05T00:00:00Z
Nice clean place - ideal for our small family: garden, good sized kitchen diner and comfy bedrooms.
Jonathan
2016-08-28T00:00:00Z
For me Lathkill House was a great alternative to staying in hotel. The house is very comfortable, nicely decorated, spacious and fresh. It has convenient location close to M1 with easy access to surrounding towns and Peak District. I enjoyed my stay and would recommend this place.
Anna
2016-08-02T00:00:00Z
Joanna's place is very clean and comfortable and close to lots of interesting places. we only stopped over one night though!
Linda
2017-01-30T00:00:00Z
Lathkill House was very clean when we arrived. All the beds were made in a lovely way and biscuits were provided. We made use of all the beds including the sofa bed during our stay and Joanna made us aware of where to find spare duvets and pillows. The surround area has loads of lovely walks and pubs which we made use of!
David
2017-01-02T00:00:00Z
Very clean, tidy house with plenty of room and equipment. So much better than staying in a hotel room. Tibshelf is a lovely village with plenty of amenities and a good location to explore the area. Joanna was very responsive and did everything she could to make our stay enjoyable, relaxed and hassle free.
Lynne
2016-08-11T00:00:00Z
Contact with Joanna was perfect, she i very kind and helpful. Our guests really enjoy staying and Joanna's place
Agnieszka
2016-10-20T00:00:00Z
Room Type
Entire home/apt
---
Property Type
House
---
Accommodates
7
---
Bedrooms
Tibshelf, United Kingdom
Our cottage is situated directly on the Five Pits Trail, which provides miles of trails for walkers, bike and horse riders, there are also fishing ponds 500m along the trail. It's a beautiful character cottage newly renovated to a high standard. It is ideally situated, with Hardwick Hall 5 minutes drive away and the Peak District on our doorstep. Matlock, Crich Tramway Village, Chatsworth House and Haddon Hall within half an hour. We also have a hottub for you to relax in at the end of your day.
We are also close to the Nottinghamshire border and all the attractions associated with Robin Hood. Newstead Abbey, Wollaton Hall and Nottingham Castle are only half an hour away in the opposite direction to the Peak District.
The cottage is ideally situated in the centre of the village with shops,pubs and a post office all within easy walking distance.There are also fishing ponds and a park 500 metres from the cottage There are several good restaurants all within a 10 minute drive.
Immaculate cottage which has been done out really nice, a pleasure to stay there for the weekend, very clean throughout. Lovely friendly host Jennie who met us to check in. We probably didn't do our research enough on things to do in the area before staying but that's our own fault, can't fault the house itself though, hot tub was great, everything brand new which was a real luxury, we would definitely stay again! :)
Ioana
2017-03-06T00:00:00Z
Great and clean place, good value for money, very helpful host
Bartosz
2017-03-24T00:00:00Z
house is stunning hosts are excellent would definitely stay again would recommend it to anyone if staying in that area
Simon
2017-04-06T00:00:00Z
Room Type
Entire home/apt
---
Property Type
House
---
Accommodates
4
---
Bedrooms
Tibshelf, England, United Kingdom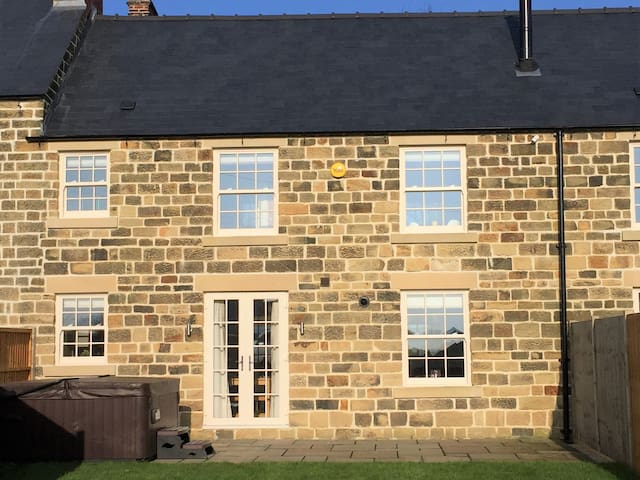 This beautiful Grade 2 listed traditional stone built 2 bedroom cottage is set in the grounds of Amber Mill Farm Holiday Village. Having been recently sympathetically renovated and tastefully furnished to a very high standard.
This beautiful Grade 2 listed traditional stone built 2 bedroom cottage is set in the grounds of Amber Mill Farm. Having been recently sympathetically renovated and tastefully furnished to a very high standard, The Dairy is fully equipped and offers all the comforts of modern living whilst retaining its original charm and character and is an ideal holiday home for couples and families alike. The Cottage features granite Worktops, fully integrated appliances, wet room, underfloor heating throughout, ample parking, it's own secure garden and BBQ area and an additional fully fenced off play park with further BBQ area with swings, slide and playhouse . Guests are welcome to visit the orchard and see the farms Sheep, Ducks, Rare Breed Chickens, Geese, Guinea Fowl, Quails, peacocks and collect their newly laid eggs. The Cottage is ideally situated for walking, sight-seeing and exploring the picturesque Derbyshire countryside and scenic Peak District National Park.
All the following attractions are within the local area. Theme parks and children's activities: Alton Towers, Gullivers Kingdom, Cable cars and amusements at Matlock Bath. National buildings and monuments: Crich Stand, Wingfield Manor, Chatsworth House, Riber Castle, Haddon Hall. For walking and cycling enthusiasts: High Peak Trail, Carsington Water, Derbyshire Dales. Other local attractions include: Crich tramway museum and the famous towns of Bakewell, Buxton and Matlock
Very comfortable and cosy cottage. Warm, with lovely underfloor heating. Great kitchen. Vic was very flexible in arranging last minute late arrival and departure times. Many thanks.
Daniel
2017-02-19T00:00:00Z
We had a fantastic time at the Dairy. The house is set in a fantastic setting and has been lovingly renovated so that the house has modern amenities but retains its old charm. We were six people staying in three generations, and all had a great stay.
Daniel
2016-07-19T00:00:00Z
Our family had a wonderful time at The Dairy. Such a cozy place! The surroundings are just amazing! The farm, the greenery, and the small park make The Dairy a great place for the whole family. Not to mention that the place was 5-star-hotel clean when we got there, and the kitchen is fully equipped. All in all, great destination for a relaxing holiday.
Al
2016-08-26T00:00:00Z
On our first visit to the Peak District area we really wanted something that was postcard picture (and feel!) perfect....The Dairy wasnt just perfect it was a masterpiece! The fully fitted and equipped kitchen meant meals were easy to prepare, beautiful stone walls and staircase wonderfully captured the country cottage feel and the farm yard outside made this an unforgettable experience. We spent most of the day 10am till about 6/7pm outdoors, towards the end of a tiring day knowing we were going back to the cosy Dairy for the night made for a wonderful end to our day. The cottage was immaculately clean throughout and is about 10mins drive away for major shops (essential imho for city families like us to be near) . Rachel was a wonderful and pleasant host. We were two adults and 2 children (aged 7 and 13).
musa
2016-08-19T00:00:00Z
Very quiet and clean. Beautiful
Zhu
2017-02-26T00:00:00Z
We had a lovely stay at the dairy. Vic was an excellent host. The cottage was peaceful (despite being near a train line) and pretty countryside. It was near enough to the peaks so there was plenty to do. The play area for children was really good and the farm was great. Vic (who provided us with fresh eggs for our first morning) took the girls round to feed all the animals and collect guinea fowl , chicken and quail eggs. They fed the sheep and stroked the sheep and chickens. They couldn't wait for 530 the next evening to go it again. The cottage itself was well equipped. It sleeps 6 though isn't huge but had a lovely cosy feel. It had full sky package and wifi also. We certainly had a great stay. The girls didn't want to leave! and hope we get to return sometime in the future.
Elizabeth
2015-08-31T00:00:00Z
We had a great stay on Vic's farm. I've written a list of things that we liked as a family of four... The cottage was clean, well presented and well equipped. There were helpful files detailing supermarkets, taxis, wifi password etc and another file with local tourist attractions. Vic was always responsive and accommodating. He provided us with a cot and highchair. He was flexible with our check out time too. There was space on the farm for picnics. The kids loved the climbing frame and animals. We were given fresh eggs for breakfast one morning! It was a great location for exploring. There was plenty to do nearby. We'd definitely go back there and recommend The Dairy to friends(URL HIDDEN)
Giselle
2015-09-29T00:00:00Z
High quality accommodation with excellent country feel. Taller people might find the low ceilings upstairs take a bit of getting use to, but it adds to the farm cottage feel. The house had a nice festive feel with christmas decorations etc.
Jon
2015-12-30T00:00:00Z
Room Type
Entire home/apt
---
Property Type
House
---
Accommodates
6
---
Bedrooms
Oakerthorpe, England, United Kingdom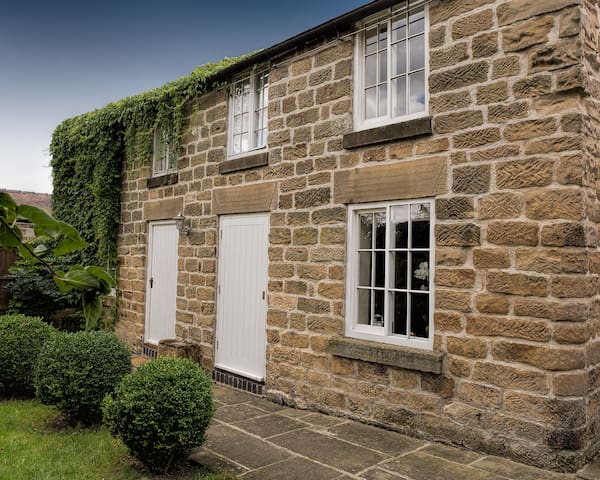 Good for couples, families, solos and business travellers and well behaved dogs too. Double bedroom, with en-suite bathroom, on the ground floor, with patio doors opening onto decking and rear garden, within a large, modern house with light, spacious rooms and large garden, located in a nice area. Optional breakfast, lunch (or packed lunches) and evening meal available. Use of garden, patio furniture and barbeque. Easy access to A38 & M1
Large modern house with nice gardens. Located within a nice, quiet residential area, within easy walking distance to the towns market, shops, restaurants, bars and leisure centre. Easy access to the A38 (2 mins) and M1 Junction 28 (5 mins). The Peak District, Matlock Bath, Derby and Nottinghamshire are all within 20 mins drive from Amber House.
Very quiet residential area, but within easy walking distance of the town centre shops, restaurants, bars, two nightclubs, weekly market, park and the leisure centre. Also, close to the public footpath network into the surrounding countryside.
Made to feel very welcome
Jeffrey
2016-11-20T00:00:00Z
Comfy bed with en suite in quiet area, good value overall. Very helpful hosts
Andrew
2016-11-26T00:00:00Z
John was not there when I arrived, however I did receive a warm welcome and was shown round the house and amenities.
Philip
2016-12-14T00:00:00Z
A great place to stay; John goes out of his way to make your stay a comfortable one.
Helga
2017-03-31T00:00:00Z
Great stay in Ripley. The guys in the house were so welcoming and friendly. The room was clean and had everything you needed. I would stay again :)
Alice
2017-01-07T00:00:00Z
Nice room and bathroom it quiet location.
Michael
2016-12-23T00:00:00Z
John gave us a good welcoming on christmas eve, very nice guy and helpful during the stay. For anyone who don't know much about Ripley, it is quite convenient and easy to reach from M1 and not far from peak district.
Tianchi
2016-12-25T00:00:00Z
all fine, like described
Dmitri
2016-12-11T00:00:00Z
Room Type
Private room
---
Property Type
House
---
Accommodates
4
---
Bedrooms
Ripley, England, United Kingdom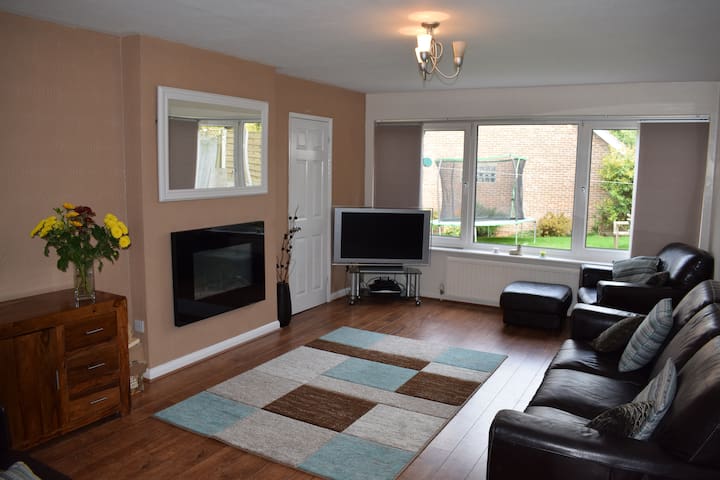 Our 1930's home is located in a stunning hilltop position with breathtaking views over the Derwent Valley. Situated in the middle of the Derwent Valley Mills World Heritage Site, 5 mins by car to Belper, an historic market town and 10 mins to Cromford, birthplace of the industrial revolution. Great area for walking and cycling. Our top floor loft conversion offers a double guest bedroom, private shower room and lounge with hot drink making facilities. Continental or cooked breakfast included.
Our loft conversion, offering all three rooms for your private use, is flooded with natural light and has spectacular views from all windows. Comfortable bedroom, shower room and small lounge with television and hot drink making facilities. Breakfast will be served in our kitchen diner or outside on the patio, weather permitting! You're welcome to use our kitchen to make your own snacks and drinks. Relax in our garden set on three levels, with a patio, lawn, and top seating area where you can enjoy watching the sun set over the rooftop of the house.
Our house is situated on a cul de sac of only 5 houses so it is very quiet and peaceful with no traffic noise. We are next to a wood, with fields at the back of the house and great views over the valley at the front. Ambergate is a hilly village with great walks, interesting woodland to explore, a river, Cromford canal, pub, train station, fish & chip shop, Chinese restaurant and petrol station with mini-market. Belper, an historic mill town with a great choice of shops, pubs and restaurants, is 2 miles away. We are in the middle of the Derwent Valley World Heritage Site, famous for its recognition as the birthplace of the industrial revolution, which stretches from Derby, 11 miles to the South and Matlock Bath, 7 miles to the North. We're well placed for access to the many attractions of Derbyshire, including the Peak District, Chatsworth House, Kedleston Hall and Arkwright's Mill at Cromford.
Room Type
Private room
---
Property Type
House
---
Accommodates
2
---
Bedrooms
Ambergate, England, United Kingdom
Welcome to my house in the peaceful village of Morton - geographical centre of England. A modern house with vintage touches. Nearby; Chesterfield - historic market, Crooked Spire Derby, Nottingham, Sheffield Peak District National Park Hardwick Hall, Chatsworth House Co-op 5 minute drive, two village pubs Always on hand to help!
Very bright, clean and homely. Your private bathroom is next to the bedroom and has a bath and shower. The shared dressing room is across the landing and includes hair dryer and straighteners etc Downstairs is the living room, brand new kitchen-dining and conservatory - all of which you are welcome to use at your own leisure. Also washing and ironing facilities Make the most of the garden and many walking routes. The gate at the top of the garden leads into the woodland
Very small village with occupants who respect one another and surroundings
Very clean and beautifully decorated room in a small village setting. Warm and friendly hosts, really nice pub a stones throw away.
will
2016-11-07T00:00:00Z
Morgan and his family were very welcoming and accommodating. Everything was very clean and the room was perfect. The bed was comfortable as well. Thanks for having us.
emily
2016-11-13T00:00:00Z
To begin with, I would first like to thank Morgan for making our stay as convenient & delightful as possible.He is one of the perfect hosts one could meet. The house is very clean & definitely much beautiful than it looks in the pictures. Best part is the location of the house. Easy access to the major stores and restaurants. The garden exit leads in to the forest & one could enjoy those enchanting routes. Morgan is very humble,polite & a stupendous pianist. He couldn't be more helpful.His parents are very friendly & pleasant.Cheers to Morgan. Good luck, we had a great time & we will be back there soon. I definitely recommend Morgan's place if one wants to feel a serene and peaceful environment.
P R
2016-10-28T00:00:00Z
Excellent stay, lovely room. Very peaceful. Morgan could not be more helpful.
Nigel
2016-10-09T00:00:00Z
Room Type
Private room
---
Property Type
House
---
Accommodates
2
---
Bedrooms
Morton, England, United Kingdom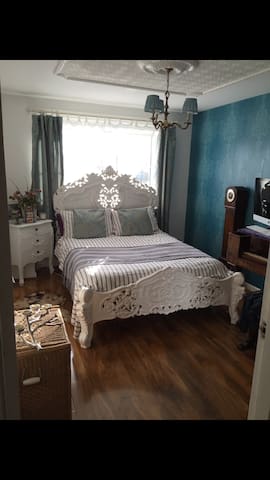 Top floor loft conversion, very spacious with private shower room ensuite, Freeview television with DVD, double bed, tea & coffee, Views over the Derbyshire countryside, local walks and an excellent location only a few miles out of the Peak District (close to Cromford, Crich, Matlock, Belper, Duffield, Ambergate and surrounding areas)
Light & airy top floor of the house
A change of plans meant I could stay on with Becky, extending my relaxing stay :) Becky is very accommodating and friendly, just the environment I needed after long days. Thank you for your hospitality - I will hopefully be back again x
Alison
2016-09-16T00:00:00Z
Becky and her husband are lovely people, very welcoming and yet giving space to relax in a really nice modern house in our quiet village street. The room in the top of the house is very large and super comfortable. A great bed, fantastic shower great wifi and lovely views. We slept very well and were given breakfast in the kitchen which Becky didn't charge for. So nice to be treated to that. Thanks guys for a great stay
Michael
2016-08-29T00:00:00Z
Me and my husband stayed at Becky's loft room for one night. We wish we stayed longer! It was a lovely room, very clean and cosy. Very warm and welcoming family. Becky was a great host. We were overwhelmed her beautifully arranged tray of breakfast that she brought up to us. One will enjoy their stay here!
Nikitha
2016-09-25T00:00:00Z
We had a wonderful weekend. Becky and Ed made us very welcome and were very thoughtful hosts, the pot of tea was very willingly brewed. The large airy loft room is really lovely and comfortable with countryside views and the spacious en suite a real bonus. The property is in a really convenient position for visiting the many local Derbyshire attractions but is also within easy reach of Derby and Nottingham areas. Thank you for a perfect stay, we will definately return if visiting the area again
sarah
2016-07-18T00:00:00Z
This was my second stay. A very comfy and clean room, with a couple of good pubs nearby for eating.
Danial
2016-12-21T00:00:00Z
The room at Becky's house was spacious, airy and beautifully decorated with lovely little extra touches. The bed was extremely comfortable and the house was lovely and warm. Opening the black out blinds to let in the Easter morning sunshine and admiring the views was a great way to wake up - plus the superb power shower in our en suite. We were made to feel very welcome by the whole family - Becky and Ed, very cute baby Grace, and their adorable little pug - Ellie. We are in Derbyshire to see family regularly and look forward to staying at Becky's again and again in the future.
Elise
2016-03-28T00:00:00Z
Had another comfortable stay at Becky's.
Danial
2017-02-07T00:00:00Z
Becky is a superb mix of being very welcoming and friendly, whilst giving privacy and space. The spacious room truly becomes your sanctuary for your stay which I found very welcoming: the comfy bed, TV and en suite are ideal - and I slept well which cannot be said for all the places I've stayed! I would love to stay with Becky again.
Alison
2016-09-14T00:00:00Z
Room Type
Private room
---
Property Type
House
---
Accommodates
2
---
Bedrooms
Belper, England, United Kingdom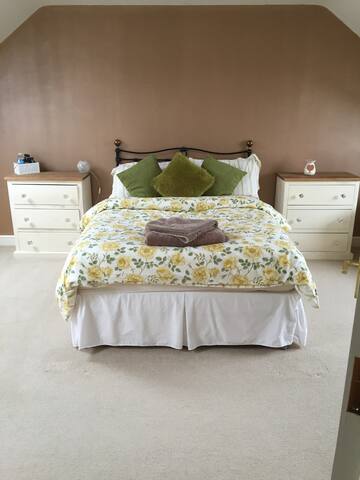 This comfortable home is good for couples, solo adventurers, business travelers, families (with kids), and groups of up to 3 people. It is particularly well placed for those who wish to explore the Peak district. For your convenience there is a guest lounge, conservatory and and guest bathroom. Great base to explore the peak district. There are several places to eat locally within walking distance, also a country pub at the end of the street for a real ale or two!
We want you to feel this is your home from home and will do our best to help you to enjoy your stay with us. This is light and airy house with lots of space to relax in. There is a guest lounge and conservatory, leading onto the garden...why not bring a nice bottle of wine and sit outside on a sunny evening in the Gazebo and relax. We have walking maps and books for those who want to explore the Peak District. Historic Hardwick hall and Bolsover Castle is close by. Matlock bath, Crich tramway museum and the famous Chatsworth house are all great days out! The buzzing cities of Nottingham, Derby and Sheffield are easily reached by bus or train. There is Complimentary Tea and coffee and a self-service breakfast of Juice, cereals and toast. Plus, for a small charge, a full Derbyshire breakfast with local ingredients from the village farm shop is available with notice. You are welcome to use the kitchen and any of the equipment if wanting to make a light lunch/pack up (happy to Ioan you a cool bag). For dinner, there are several nice restaurants to fit all pockets, nearby and you are welcome to order a takeaway meal and use the plates etc. A shelf in the fridge is yours and you are welcome to use the microwave oven. It is important to us that you enjoy your stay, so please ask if you have any questions or special requests.
Shirland is a charming old village, the village church of St. Leonards dates back to 1220 and is set in beautiful countryside. Quiet and peaceful, with some fabulous walks, cycle paths and drives nearby. Monday evenings the church bells ring out for practice sessions and on Sunday's 10am they peal... calling all to church....a really lovely sound, that sadly you don't hear much these days!
A lovely, attentive hostess, who goes above and beyond to welcome the guest and ensure a comfortable stay immediately upon arrival. The standard of accommodation is impeccable - spacious, homely and pristinely clean. The highest standard is maintained throughout the stay. The atmosphere is quiet and serene, so it is easy to feel calm and content; privacy is ensured. Overall, extremely impressive stay, recommended to anybody searching for residence in the area.
Robertas
2017-03-24T00:00:00Z
Room Type
Private room
---
Property Type
House
---
Accommodates
3
---
Bedrooms
Shirland, England, United Kingdom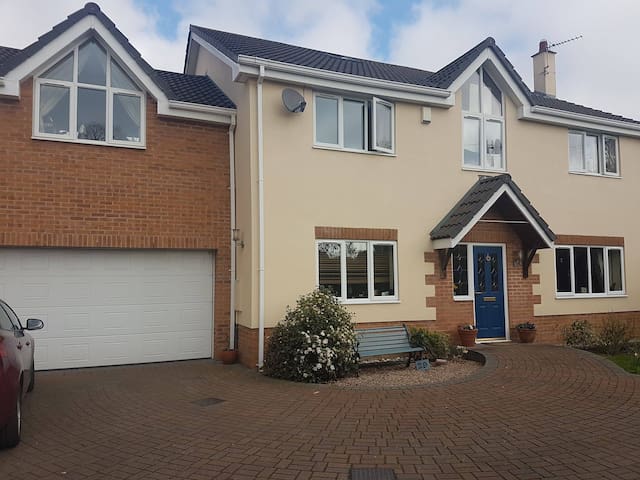 My place is good for couples, solo adventurers, and business travellers. Situated 5 mins off juc 28 M1 midway between Derby ,Nottingham Chesterfield all within 30 mins drive Local attractions inc Midland Railway center East Midlands Designer Outlet National tramway Museum Newstead Abbey Hardwick hall Derwent valley mills world Heritage site Matlock Bath spa town ( Know as Englands in land seaside )11 miles Haddon Hall 14 miles Chatsworth House Backwell and peak district 17 -20 miles
beautiful, cozy, clean room and a very comfortable bed. very clean bathroom. James is a very friendly, helpful and pleasant man, it was our first time and made us feel at home, breakfast was amazing, I give it 5 stars. thanks for all James
Lorena
2016-06-14T00:00:00Z
James was very accomadating excellent home definitely in the 5 star amongst Airbnb. Highly recommended.
Tony
2016-06-30T00:00:00Z
Room Type
Private room
---
Property Type
House
---
Accommodates
2
---
Bedrooms
Somercotes, United Kingdom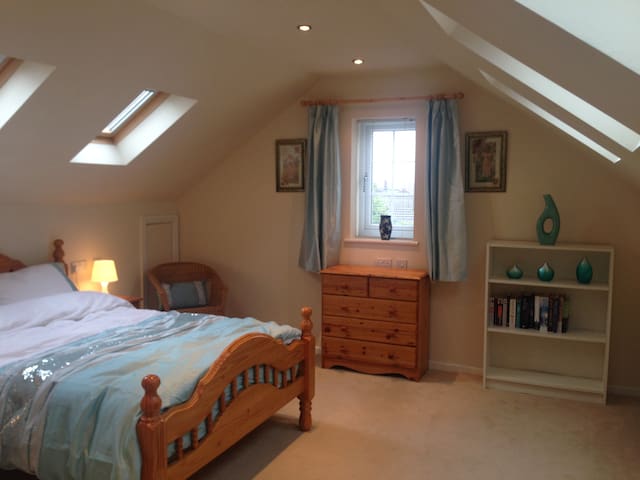 The Farmhouse South Wing & Basement is part of the main Farmhouse known as Amber Mill Farm. The property was built circa 1790 and is grade 2 listed.
Amazing place for a group of four families. Lots of amenities and entertainment for little ones. Beautiful house and immaculately clean. Vic was very easy to get hold of and on hand to help with all our queries. The animals on site were a lovely extra and our kids loved meeting them.
Hazel
2016-08-23T00:00:00Z
Room Type
Entire home/apt
---
Property Type
House
---
Accommodates
16
---
Bedrooms
Oakerthorpe, United Kingdom
Spacious light furnished room, kingfish bed, build in wardrobes, chest of drawers. Separate wc / shower room Good size kitchen, large fridge / freezer Use of the dining room Plenty of parking space on a quiet road Free wifi For one or two people NON SMOKING ONLY
Room Type
Private room
---
Property Type
House
---
Accommodates
2
---
Bedrooms
Kirkby in Ashfield, England, United Kingdom
Arrive around 3 pm to have your afternoon tea of home cooked cake or tart waiting for you. Dinner is around 7 pm and consists of 3 courses served dinner party style cooked as you like - Coeliacs, vegetarians and vegans are catered for - the menu is agreed in advance. The perfect arrangement for a reunion, entertaining family and friends or a very special birthday celebration.
Catered Cottage is traditional stone cottage, has wonderful views, sits among farms, up to 6 adults + full size cot for baby - breakfast, and 3-course dinner party style evening meal for 4 guests is inc in the price of £280 per night (minimum 2 nights)(URL HIDDEN) This is home without the hassle - no cooking, no shopping and no washing up - Susan your Chef is there to do that for you. The traditional stone cottage is comfortable and welcoming and has a country feel you will never forget! Guests have the whole of the cottage - during their stay - the chef uses the kitchen so you don't have to. There is garden with picnic table and wonderful view. Susan, your Chef cooks your breakfast, makes afternoon tea and prepares 3-course dinner party style evening meal - she has local knowledge and can direct you to most places. Catered Cottage sits on a quiet country lane, half way up a hill, surrounded by open fields and farms. Approx 20 minutes from the famous Chatsworth House, Haddon Hall, Bakewell and other famous landmarks. A car is really needed to get around immediate and surrounding countryside. The Cottage is 35 mins from East Midlands Airport.
The cottage was a perfect venue for 3 joint 'big' birthday celebrations. The house is situated in the quiet of Derbyshire with great views on each side and is conveniently situated for Chatsworth, Matlock and Bakewell. On our visit the weather was wild and windy so having drinks in front of the log fire and the evening meal laid on with no need to venture out was perfect. Susan made us feel extremely welcome and was a 'like-minded' soul, to such an extent that we included her in our evening drinks and chat. The food was all home made and used good quality local ingredients from Chatsworth farm shop. Venison sausages, home cooked gammon and duck cassoulet were all fantastic. Don't plan on too big a lunch! Nothing was too much trouble- from catering to specific dietary needs, to chilling the copious amounts of wine and prosecco we took. We would definitely recommend the property and hope to go again.
Rebecca
2015-12-06T00:00:00Z
Susan was great. We arrived very late to find home made soup/bread waiting for us. She was friendly and accommodating. Beds slept really well and the fireplace made the evenings warm and cozy. Looking forward to coming back soon!
Deborah
2016-11-06T00:00:00Z
The cottage is even more beautiful than in the pictures. It's down a quaint country lane with cows in the field behind the house, whilst being a walkable distance to a local pub and a drivable distance to sites like bakewell and chatsworth. Susan was a very friendly host, readily offering us advice on the local area and replying promptly to questions before arrival. We had a few dietary requirements in the group and she was very happy to create a bespoke food menu to meet our different needs, which exceeded our expectations and was utterly delicious. There are a few standard house rules you need to abide by, but these are clearly marked on the site. But I would recommend you remind yourself of them before visiting, as for us there was a large amount of time between booking and when we arrived, that they weren't top of mind (but we quickly adapted without problems, and it's things like taking your shoes off before entering the house).
Danielle
2016-07-04T00:00:00Z
The house was lovely and in a great location with nice views. We had come here to relax - and actually get some work done- our house is having work done on it. We chose the venue because of the breakfast and dinner. In reality there were too many rules for us and a lack of flexibility. The food preparation takes much more than half an hour meaning that the kitchen is out of bounds for about three hours in the evening ( 6.00 - to about 9.00) and in the morning for two hours - 9.00 - 11.0. We had not realised that this would mean that Susan was around for this time ( she had to be as she was cooking the food) but meant there was little privacy - had not expected all the food to be cooked in the kitchen. This was difficult because the kitchen leads to the downstairs bathroom and door outside . There is also no access to a washing machine - my fault as I should have checked - but it is usually standard in a country cottage. The food was fine, but would argue not dinner party - but decent cooking. Not always to our taste - but that may be us - and portions large. Our final breakfast was not good - but it is quite difficult to say anything. All in all a disappointment for what promised to be a lovely cottage stay with added meals.
Jane
2016-02-21T00:00:00Z
Susan was the perfect hostess. Her place was charming and extremely clean. Eating there was like eating at a Michelin Restaurant. We will definitely come back.
Dawn
2016-09-18T00:00:00Z
What a fantastic time we all had. Susan is a perfect host, the food was great - it is so nice to go away and not have to cook! The setting is stunning and the surrounding area has so much to do - sightseeing, museums, cycling and generally spending time together as a family. Coming home at the end of a busy day to a freshly baked cake followed by a delicious 3 course dinner was pure heaven. The cottage is comfortable, relaxed and has everything you need and Susan is at hand for suggestions, guidance and general tips. If you enjoy catered chalets when skiing then this is for you.
Andrew
2015-04-06T00:00:00Z
Room Type
Entire home/apt
---
Property Type
House
---
Accommodates
6
---
Bedrooms
Matlock, Derbyshire, United Kingdom
Alfreton - Airbnb
:
Average

4.58

out of

5

stars from

178

guest reviews
1

–

18

of

28 Home Rentals
Enter dates to see the total trip price including additional fees (but excluding any taxes).