Enter dates to see the total trip price including additional fees (but excluding any taxes).
Take a deep breath,...and welcome to your Tropical Paradise! The House of Queira Deus is located in the rainforest region of Recife. An oasis, only 30 min away from the center of city, integrated in a breathtaking natural scenary.
The House of Queira Deus brings together the tropical untouched environment, with the unique atmosphere of a traditional sugar mill property, very well preserved. The precious vestiges of the antique buildings were maintained and innovatively adapted with an exclusive architectural and design award-winning intervention. You will have an unique time traveling experience, along with a sight into modernity! Our property offers the opportunity of horse riding, trekking through the Rainforest and also the access to an immense lake on the river that runs through the farm. Just outside your door, you can admire the breath taking scenery that surrounds the Engenho, from the Rainforest and the sugar cane fields to the water view of the barrage lake. The House is part of a beautiful colonial sugar mill. It is among three historical sugar properties that played a big part in the cane harvesting and sugar production during the XIXth century. The first known reference of this area dates back to 1655 and it belongs to a luzo-Brazilian family since the beginning of the XVIIth century. This house has also architecturally significance: it was restored in 2007 and earned an award in the Young Brazilian Architects contest. You will have access to the 2 houses (House 1 can take up to 4 people in one single room, and House 2 can also take up to 4 people divided in two double rooms), and by request you can have a daily breakfast, with regional specialties (macaxeira, dry meat, tapioca, butter-cheese, cold cuts, bread, local fruits, juice, milk, coffee, tea) You can request touristic guidance services, or car rental for special prices. You will have avaiable guides for horse riding, Rainforest trekking, visits to the barrage lake and visits to the historical facilities of the House of Queira Deus. We will be very pleased to share this experience with you, and make it as nice as possible. We are fully available to help you in anything you need, before, during and after your experience at the House of Queira Deus.
If requested, we will be very pleased to offer you the transfer service from the Airport to the House of Queira Deus and back at the end of your visit. Additional transfer services will be available 24 hours in the House of Queira Deus.
Leonor and her father, Paulo, made our stay in Recife a truly incredible experience. I went to Recife to see the World Cup with three other friends but the best experience of the trip was sight-seeing with Leonor and Paulo as well as exploring their incredible home. We went horseback riding, ate amazing food, and learned so much about the history of Recife as well as Brazil. I would strongly recommend everyone to stay here. I will never forget my stay there and I hope everyone can share that amazing experience.
Brandon
July 2014
Room type
Entire home/apt
---
Property Type
Villa
---
Accommodates
8
---
Bedrooms
3
São Lourenço da Mata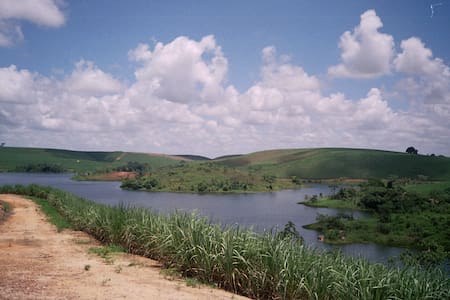 A casa e cercada de um terreno de 5000m2 com fruteiras, arvores da mata atlântica. Assim você pode disfrutar a vida selvagem com muitas espécies de pássaros(beija-flor, pica-pau, coruja, falcão,Bem-Te-Vi, sabiá ... ) Pode acolher até 8 pessoas
O imóvel tem um tamanho de 140m2. Ele e composto de uma cozinha, área de serviço, sala comum, sala de estar e de jantar, 4quartos, 2banheiros e de um terraço social onde você pode relaxar no balanço da rede.A cozinha e equipada com fogão e geladeira. Os quartos possuem colchão de Ar A cozinha, Banheiro sala de jantar de estar ,quarto, área de serviço e jardim a casa será compartilhada com o proprietário, onde estarei presente para conversar e orientar caso seja necessário
A vizinhança é calma e discréta sim! O acesso de carro e rápido(mais ou menos 45minutos ) Metrô vindo do aeroporto tem que ir até a estação Recife em seguida Outro para o Centro de Camaragibe nessa estação pegar Ônibus de integração até Aldeia no Km 9,5 desce .a chácara fica a mais ou menos 1km da avenida principal. Estamos localizados a 7kms da arena Pernambuco. O acesso de carro e rápido(mais ou menos 15 minutos. Si for de ônibus, tem que pegar 2 ônibus, o primeiro para o centro de Camaragibe e o segundo para a arena Pernambuco. Caso queiram tirar alguma duvida entre em contato comigo por e-mail.
Room type
Entire home/apt
---
Property Type
Villa
---
Accommodates
8
---
Bedrooms
4
Camaragibe
Casarão no coração do Sítio Histórico, onde vivemos (no momento somos 4 adultos e 2 crianças), trabalhamos (principalmente com arte, literatura, música e teatro) e recebemos artistas do mundo inteiro. A suíte fica no jardim, tem banheiro e entrada própria.
Um oásis de verde e de tranquilidade, livre de TV, carros e Wi-Fi. Os hospedes têm acesso a área comum: o jardim, a piscina e o deck. Dependendo da proposta, o atelier poderá ser usado para organizar alguma oficina/evento/trabalho. (Importante: No momento, não disponibilizamos de cozinha para nossos hospedes.) Trabalhamos com teatro, música, literatura infantojuvenil, desenho, pintura, etc... Adoramos realizar intercâmbios com outros artistas, e estamos super abertos para trocas. Somos apaixonados pela cultura popular, sempre viajando atrás de festas e sambadas no litoral e no interior do estado. Maracatu, cavalo marinho, ciranda, coco, etc... Muitos músicos e pesquisadores já passaram por aqui, e é sempre com muito prazer que os ajudamos a encontrar o que estão buscando. Preferência dada a músicos, artistas e pessoas que poderiam nos ajudar a crescer e usufrutuar o casarão de forma criativa e proveitosa para nos e nossa vizinhança.
Localização super-central, 100 m da Praça do Carmo, do centro de informções turísticas e da biblioteca municipal (ambos com wi-fi gratuito) e um bocado de restaurantes/lanchonettes/bares, 200 m do delicioso Parque da Preguiça (o nome já fala tudo!), 300 m da praia! Parada de onibus para Recife e o litoral norte na Praça do Carmo, a 100m da casa! Ponto de taxi 24hrs também na praça. Recebemos pessoas de todas as nacionalidades com o maior carinho porém pedimos por gentileza que todos, independente da origem, se esforçam para falar em português pelo menos quando estão nas áreas comuns do casarão. Como qualquer lugar com muito verde, tem bastante mosquitos em casa, especialmente na época de chuva. Por isso a suíte está equipada com mosquiteiro e ventilador. Usualmente isto é mais que suficiente para dormir tranquilo, mas se você é muito sensível e/ou alergico a picadas, talvez melhor pesquisar outras opções...
Lovely colonial house in central Olinda very well located for carnival. Not in the very centre of all the parades which is great as carnival goes on as it feels like a bit of an oasis and doesn't stink as much as some of the other streets! The room is not in the main house and has its own door in the patio/garden of the house. It's basic but clean and nicely decorated and has a mosquito net for the bed. No door on the en-suite bathroom so probably better for couples than friends sharing. No breakfast and few options nearby during carnaval. Small pool in lovely garden. Very flexible and friendly hosts and you can come and go as you like as you have your own key which is great for carnival. Thank you - we hope to come again!
Nuria
February 2015
I felt very welcomed by the lovely Zahra family. The room was cozy, well decorated with beautiful paintings by host Valeria, with a comfortable bed and bathroom appropriate for the price. The reason I gave this place 4 stars rather than 5 is largely due to my error of staying in Olinda in June/July, rainy/mosquito season. Despite the mosquito net over the bed, my freckled skin became even more spotted by the end of my time in Olinda. But I would highly recommend staying here the other 10 months of the year!
J. Azucena
July 2015
Our stay in Olinda could not have been more relaxed! Due to the great location it was possible to do a little sightseeing, come back and relax and go out again later! Very close to everything worth seeing in Olinda. Valeria and Habib were very friendly and super helpful!! If they didn't know something we wanted to know, they would try to get that information for us. The room was very cozy and clean and the bed was comfortable. It is also separate from the main house which gives it a certain privacy. The room has a mosquito net which was very appreciated because there are a lot of Mosquitos. The common areas are quite and we felt very comfortable there. A big plus is of course the swimming pool!
Anna-Katharina
February 2015
My stay at Valeria and Habib's was short but lovely. The courtyard is beautiful and the room is in a cosy plant-covered nook. It can get warm in this city, and mosquitos abound, so they provide a net over the bed and an efficient fan. They brought me out to a very good forro band a few blocks away on one of the evenings, and made sure to make me feel at home with wide smiles and helpful information whenever I needed it. And their place is right in the center of it all! Thank you Valeria and Habid :)
Stephanie
January 2016
Pase cinco noches en la casa que estan al cargo Valeria y Habib (espero se escriba asi). Lugar muy tranquilo y agradable. Ambos son muy amables y atentos. Muy respetuosos con la privacidad de uno. Bien situado en el centro de Olinda historico. Atencion, a pesar que dice que no hay TV ni Wifi, creo seria mejor instalarlo. Llevar repelente. Hay mosquitero, pero aun asi los mosquitos hacen de las suyas. De todas formas, gracias por todo. Saludos.
Franco
August 2014
Com otima localização e boa compania a suíte casarão é um lugar super recomendável para aproveitar olinda. Adoramos!
Mariane
January 2016
Super emplacement, accès par le bus très simple. La maison est fleurie et bohème elle correspond tout à fait à l'image de la ville & de ces Hôtes !
Eléna & Thomas
October 2015
Nossa experiência no Casarão foi ótima! A localização é excelente, os anfitriões são atenciosos, e o Miguel é uma graça! Além disso, a estrutura da casa é ótima, o espaço de convivência com a piscina é muito lindo, adoramos! O quarto não tem grandes luxos, mas é o suficiente para acomodar bem um casal, tranquilamente. Aconselho o uso de repelentes além do mosquiteiro e do ventilador que são disponibilizados. Agradecemos a todos da casa pela feliz hospedagem, o carnaval em Olinda e Recife foi maravilhoso!
Renata
February 2016
Room type
Private room
---
Property Type
Villa
---
Accommodates
2
---
Bedrooms
1
Olinda