Large house in the heart of the Historic Site, where we live (at the moment we are 4 adults and 2 children), work (especially with art, literature, music and theater) and received worldwide artists. The suite is in the garden, you have bathroom and own entrance.
An oasis of green and tranquility, free TV, cars and Wi-Fi.
Location super center, 100 meters from the Carmo Square, the center of tourist informções and the municipal library (both with free wi-fi) and a lot of restaurants / lanchonettes / bars, 200 m from the delicious Laziness Park (the name already says it all!), 300 m from the beach!
Lovely colonial house in central Olinda very well located for carnival. Not in the very centre of all the parades which is great as carnival goes on as it feels like a bit of an oasis and doesn't stink as much as some of the other streets! The room is not in the main house and has its own door in the patio/garden of the house. It's basic but clean and nicely decorated and has a mosquito net for the bed. No door on the en-suite bathroom so probably better for couples than friends sharing. No breakfast and few options nearby during carnaval. Small pool in lovely garden. Very flexible and friendly hosts and you can come and go as you like as you have your own key which is great for carnival. Thank you - we hope to come again!
Nuria
2015-02-18T00:00:00Z
My stay at Valeria and Habib's was short but lovely. The courtyard is beautiful and the room is in a cosy plant-covered nook. It can get warm in this city, and mosquitos abound, so they provide a net over the bed and an efficient fan. They brought me out to a very good forro band a few blocks away on one of the evenings, and made sure to make me feel at home with wide smiles and helpful information whenever I needed it. And their place is right in the center of it all! Thank you Valeria and Habid :)
Stephanie
2016-01-17T00:00:00Z
I felt very welcomed by the lovely Zahra family. The room was cozy, well decorated with beautiful paintings by host Valeria, with a comfortable bed and bathroom appropriate for the price. The reason I gave this place 4 stars rather than 5 is largely due to my error of staying in Olinda in June/July, rainy/mosquito season. Despite the mosquito net over the bed, my freckled skin became even more spotted by the end of my time in Olinda. But I would highly recommend staying here the other 10 months of the year!
J. Azucena
2015-07-03T00:00:00Z
Our stay in Olinda could not have been more relaxed! Due to the great location it was possible to do a little sightseeing, come back and relax and go out again later! Very close to everything worth seeing in Olinda. Valeria and Habib were very friendly and super helpful!! If they didn't know something we wanted to know, they would try to get that information for us. The room was very cozy and clean and the bed was comfortable. It is also separate from the main house which gives it a certain privacy. The room has a mosquito net which was very appreciated because there are a lot of Mosquitos. The common areas are quite and we felt very comfortable there. A big plus is of course the swimming pool!
Anna-Katharina
2015-02-09T00:00:00Z
Experiência maravilhosa! Fomos muito bem recebidos por Valéria e o pequenino Miguel! Quarto separado do restante da casa com privacidade e cama muito confortável. Localização excelente perto de todos os pontos do centro histórico de Olinda! Adoramos a estadia e voltaremos com certeza!
Luise
2014-07-07T00:00:00Z
Com otima localização e boa compania a suíte casarão é um lugar super recomendável para aproveitar olinda. Adoramos!
Mariane
2016-01-13T00:00:00Z
Foi uma estadia deliciosa no casarão da Familia Zahra Rey. Fui super bem acolhida, me deram sempre dicas preciosas sobre Olinda e Recife, a casa é extremamente aconchegante e todos são bastante simpáticos e solícitos! Já quero voltar mais vezes a Olinda.
Marta Raquel
2016-11-21T00:00:00Z
De coração, foi incrível nossa estadia na casa do pequeno "Miguel", o anfitrião mais especial que tivemos a honra de conhecer. Ouvir o barulho das mangas caindo no telhado do nosso quarto e no quintal, acordar colhendo as frutas no chão, brincar com Miguel e ouvir seu sotaque pernambucano e espanhol. Perder a noção do tempo e apenas sentir a vida. Foi lindo! Queremos mais!! Estela, assim como nós já sentimos saudades. Paz , calmaria e amor!!! beijos
Martin
2015-01-07T00:00:00Z
Room Type
Private room
---
Property Type
Villa
---
Accommodates
2
---
Bedrooms
Olinda, Pernambuco, Brazil
Take a deep breath,...and welcome to your Tropical Paradise! The House of Queira Deus is located in the rainforest region of Recife. An oasis, only 30 min away from the center of city, integrated in a breathtaking natural scenary.
The House of Queira Deus brings together the tropical untouched environment, with the unique atmosphere of a traditional sugar mill property, very well preserved. The precious vestiges of the antique buildings were maintained and innovatively adapted with an exclusive architectural and design award-winning intervention. You will have an unique time traveling experience, along with a sight into modernity! Our property offers the opportunity of horse riding, trekking through the Rainforest and also the access to an immense lake on the river that runs through the farm. Just outside your door, you can admire the breath taking scenery that surrounds the Engenho, from the Rainforest and the sugar cane fields to the water view of the barrage lake. The House is part of a beautiful colonial sugar mill. It is among three historical sugar properties that played a big part in the cane harvesting and sugar production during the XIXth century. The first known reference of this area dates back to 1655 and it belongs to a luzo-Brazilian family since the beginning of the XVIIth century. This house has also architecturally significance: it was restored in 2007 and earned an award in the Young Brazilian Architects contest.
Leonor and her father, Paulo, made our stay in Recife a truly incredible experience. I went to Recife to see the World Cup with three other friends but the best experience of the trip was sight-seeing with Leonor and Paulo as well as exploring their incredible home. We went horseback riding, ate amazing food, and learned so much about the history of Recife as well as Brazil. I would strongly recommend everyone to stay here. I will never forget my stay there and I hope everyone can share that amazing experience.
Brandon
2014-06-28T00:00:00Z
Room Type
Entire home/apt
---
Property Type
Villa
---
Accommodates
8
---
Bedrooms
São Lourenço da Mata, Pernambuco, Brazil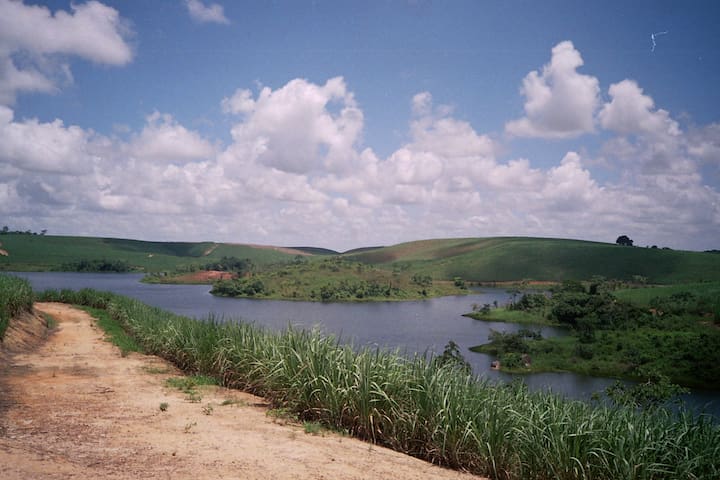 A casa e cercada de um terreno de 5000m2 com fruteiras, arvores da mata atlântica. Assim você pode disfrutar a vida selvagem com muitas espécies de pássaros(beija-flor, pica-pau, coruja, falcão,Bem-Te-Vi, sabiá ... ) Pode acolher até 8 pessoas
O imóvel tem um tamanho de 140m2. Ele e composto de uma cozinha, área de serviço, sala comum, sala de estar e de jantar, 4quartos, 2banheiros e de um terraço social onde você pode relaxar no balanço da rede.A cozinha e equipada com fogão e geladeira. Os quartos possuem colchão de Ar
A vizinhança é calma e discréta
Room Type
Entire home/apt
---
Property Type
Villa
---
Accommodates
8
---
Bedrooms
Camaragibe, Pernambuco, Brazil
Enter dates to see the total trip price including additional fees (but excluding any taxes).