Beautiful and fully furnished 3 BR, 2.5BA row home in a waterfront community at the intersection of Fells Point & Canton in Downtown Baltimore! All the small details have been thought of including: Wifi, TV, Fireplace, Hair Dryer, Coffee & Iron. Walk to the the Harbor for stunning views or stroll down Boston Street to explore dining and night life. Perfect for business, couples, and families.
This is a three-level home with high-end finishes located just steps from the water. Features: - private 2 car garage parking - keyless entry - fireplace - spacious closets - beautiful hardwood flooring - Premium Samsung Stainless Steel Appliances - Gourmet Kitchen with granite countertops and stainless steel appliances - washer & dryer - high speed internet access
The community is a beautiful waterfront community in downtown Baltimore. You'll enjoy being just a few steps away from water views and the food / nightlife scene. Very close to Johns Hopkins Hospital. Easy 5-10 minute drive to major sites in Downtown Baltimore, including M&T Bank Stadium, Camden Yards, Inner Harbor, Walters Art Museum, and Fort McHenry!
The location was awesome and the accommodations were wonderful. Karan was an excellent host. In all our stays at private rentals over the years this was one of the tops. If ever in Baltimore we will definitely try for this location again.
David
2017-02-13T00:00:00Z
The host canceled this reservation 15 days before arrival. This is an automated posting.
Aaron
2017-02-23T00:00:00Z
The host canceled this reservation 120 days before arrival. This is an automated posting.
Pantera
2017-04-12T00:00:00Z
This is a wonderful home. My family and I really enjoyed our stay. Karan is an amazing host. The house is centrall located to do everything in baltimore. Lots of restaurants and shops near by, yet very cozy and comforting feeling. The home itself is newly redone. Amazing place! My wife and I will definitely stay here again!
Abhilash
2017-04-04T00:00:00Z
Probably the best property that I've stayed in in Baltimore. Beautiful and super clean home with all the necessities! Steps away from great restaurants and bars, but quiet and calm for those looking to relax and get some work done!
Else
2017-02-26T00:00:00Z
This place is amazing! Lots of space, beautiful interior, amazing amenities, and great location ! Karan made checking in and out super easy and was available for questions. I would definitely recommend it to friends and stay here again.
Amanda
2017-04-07T00:00:00Z
Room Type
Entire home/apt
---
Property Type
House
---
Accommodates
8
---
Bedrooms
Baltimore, MD, United States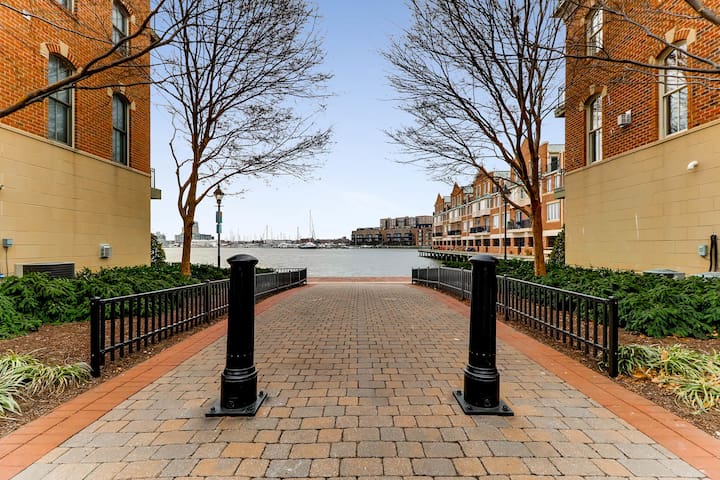 Dance into this cozy 1900s resort sanctuary, modernized to urban perfection. Discover 1,300+ sqft of chic paradise. Take the family or friends on an adventure to remember with a boasting 2 bedrooms & 2.5 baths. Nuzzle yourself in one of the most desirable and trendiest neighborhoods in Canton. Relax in convenience, you're just a short walk to the Water Taxi, Canton Marina, scrumptious dining, a treasured library, grocery stores, shopping, The Can Company & even the O'Donnell Square.
Follow the locals to feast on Canton's finest Zagat rated dining right across the corner. Want some quiet R&R? Soak in the jetted spa tub. Grill up some barbeque in the sunshine on the exquisite large rooftop deck. Lounge under the stars on the comfy cushioned rocker chairs with a cocktail or a glass of complimentary wine! Prefer to be more active and explore the neighborhood? Two complimentary adult bicycles along with safety helmets and a lock is available for your next adventure. Or just snuggle in front of the big screen 4K Roku TV with your favorite Netflix show, watch a movie on the Blu-ray DVD Player or catch up on the daily news on CNN at Sling TV. Forget the hassle of parking, you are only 2 blocks away from the famous O'Donnell Square and a few blocks from the restaurants & shops of the Can Company and Canton Crossing. Party all night and don't stress a thing, your home away from home is tucked in one of the safest neighborhoods and just a short walk from the hottest night life. Lounge on the grassy hills during one of Patterson Park's many Summer concerts or take a stroll in Canton Water Park one block away. Take the Water Taxi to Baltimore Inner Harbor, downtown, to historical Fells Point or even to Locust Point, Fort McHenry where Star Spangled Banner Flag House is at! Work up your energy in one of the finest athletic clubs around, for free.
Attractions and Things To Do Nearby: O'Donnell Square, including the Canton library (the first Enoch Pratt branch in continual operation since 1886), Canton Waterfront Park & Fishing Pier Park, two marinas and a public boat launch, DuBurns Soccer Arena and many small interesting restaurants. Close to Patterson Park, Fells Point, Highlandtown, Greektown and minutes to Downtown. The Canton area was developed from the plantation of merchant seaman, John O'Donnell, in the late 1800's by his son, Columbus O'Donnell, William Patterson and Peter Cooper. The land was sold for expanding waterfront industrial uses and housing to support the blue-collar workers. During the early 1900's European immigrants settled in the area, most notably, Welsh, Irish, German and Polish. More recently, as industry moved out, new housing and marinas have been developed along the waterfront which has played a major role in the area becoming one of the most sought after and hip neighborhoods.
We loved our time here! Ali and Lai Lin were the perfect hospitable hosts. They were very prompt in communicating with us and made sure we had everything we needed. Checking in and getting settled was very easy. Enjoying the complementary wine on the upper deck with the fire pit and comfy chairs on warm nights was so fun and relaxing! The only thing we had to worry about during our stay is what restaurant to choose! We stayed here several weeks while traveling for work and loved every minute of it! We felt right at home here and it will be very hard to leave! I can't say enough about the Peaceful Rowhouse Resort and definitely recommend a stay here!
Abby
2017-03-01T00:00:00Z
Loved the rowhouse so much we stayed another month!
Abby
2017-04-01T00:00:00Z
My stay at the Peaceful Rowhouse has been fantastic! The location is great! I can easily walk to many restaurants and there is a shopping center just a short walk down the road also! We loved it so much, we decided to extend our stay!
bethany
2017-01-31T00:00:00Z
Room Type
Entire home/apt
---
Property Type
House
---
Accommodates
4
---
Bedrooms
Baltimore, MD, United States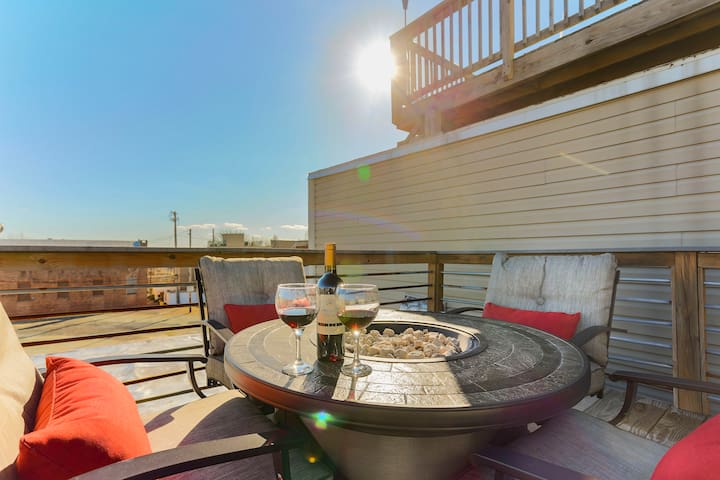 Private bedroom with shared bath in a light-filled home, with charming southwest style in the lovely tree-lined Mt. Washington neighborhood. Centrally located five miles from downtown, minutes away from access to I-83 North or South. Fifteen minute walk to the Light Rail or to the Johns Hopkins University or Hospital shuttle, and a five minute walk to Sinai Hospital. You will have access to full the full house, space provided in the kitchen cupboards and refrigerator for your groceries.
The Space- The private room has three windows looking out into the garden, a queen bed, large closet, dresser, desk and chair perfect for studying. Fresh linen and towels are provided. House has central air conditioning.
People enjoy walking or jogging around this beautiful neighborhood. Within walking distance there is a quaint village with restaurants. It is a 20 minute walk to a small shopping center in a renovated mill with a Whole Foods, Starbucks, pharmacy, bank, and ice cream shop.
Room Type
Private room
---
Property Type
House
---
Accommodates
1
---
Bedrooms
Baltimore, MD, United States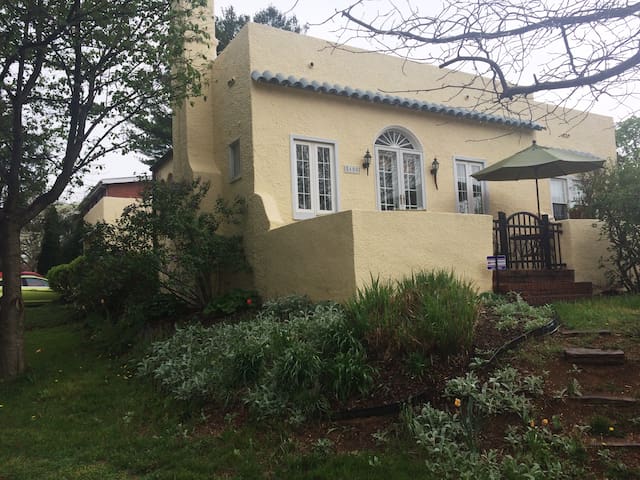 Close to Inner Harbor You'll love this 1860's home with it's cozy and unique feel that is centrally located. PETS are welcome up to a maximum of two. If you are bringing a pet they should be considered as a guest for pricing purposes.
This home in the 600 S. Block of Milton is centrally located for both pedestrians and commuters alike. The Corner Juice Bar, Patterson Perk Coffee Shop, Verde Brick Oven Pizza, Mayuree Thai are just a few of the many great places all within a block of the home. The Park, dog park and brick promenade along the water are all within walking distance.
Just minutes from Johns Hopkins, Inner Harbor, 83, 95 and 695. You will be within walking distance of a grocery store, wine shop, dry cleaner, nail salon, eye glass store, starbucks and many other specialty stores and wonderful neighborhood restaurants. At the north end of the street is Patterson Park and just a few blocks south you can make it to the promenade and walk along the water to Fells Point and further yet to the Inner Harbor. For those who enjoy being on the water, there are water taxi stops randomly along the promenade.
Catherine's apartment was a great jumping off point for exploring Baltimore! The apartment is nicely decorated and Catherine had left some delicious pastries for us to enjoy during our stay. Catherine was a very welcoming host and made check in super easy. I would definitely recommend Catherine's apartment to anyone looking to explore the Canton/Inner harbor/Fell's point areas of Baltimore!
Anna
2016-12-03T00:00:00Z
This is a charming place in a residential neighborhood just blocks from Baltimore's Inner Harbor and local parks and restaurants. I enjoyed walking by ships, going to a farmers market, driving to other neighborhoods and discovering galleries. A great place to use as a base to see a less touristy part of the city. And Catherine was very accommodating, helpful and sweet. A lovely person.
Linda
2016-11-19T00:00:00Z
Anybody that needs to go to baltimore please and please stay at Catherine place, it's cozy and makes you feel like home. My wife and I love staying there, even if it was for one night, she is so nice and hospitable it makes you want to hug her. I love my stay 5 stars goes out to her and place.
Woody
2016-10-28T00:00:00Z
Both Catherine and her home were so lovely! From the time that I made the reservation, Catherine was willing to communicate and made the arrival process so easy and was such a gracious host. My family definitely enjoyed their stay!
Paige
2016-11-14T00:00:00Z
Catherine made us welcome and feel like visiting long time friend. Her place shows both history of the building and modern life with well equipped kitchen. Will definitely go back to stay there as long as it is available.
Niko
2016-12-17T00:00:00Z
I cannot say enough about how beautiful this home is! Every little touch makes it feel just like home. There were fresh flowers in every room, the kitchen was fully stocked with breakfast items and non-alcoholic beverages, and the linens and towels were crisp, clean and luxurious. It's a GREAT set-up for anyone with dogs because there are a set of double French doors that can be used to close off the kitchen/back door from the rest of the house so the pups don't run out when you come in and out the back door ;) The location is AMAZING. You can really get to any of the hot spots in Baltimore within a 5-10 minute drive. The house is right in Canton which is definitely one of the nicest neighborhoods in Baltimore, full of restaurants, bars and night life. Fells Point, another wonderful neighborhood with some great shopping and restaurants, is just a 5-10 minute walk away. The parking spot is an added bonus but if you have a large vehicle, be aware that getting in and out will require a lot of patience!
Natasha & Geoffrey
2016-11-27T00:00:00Z
Terrific location in a lovely small home. Very comfortable for me, my husband and my teenage daughter. Will stay here again on future trips!
Katherine
2017-03-14T00:00:00Z
It was our first trip to Baltimore. We lucked out with some great warm weather for February. Location was great, walking during day to park and harbor area. And then at night affordable uber trips to some great bars and restaurants. Place was clean and comfortable. It was nice having some snacks in place. Catherine was very welcoming with some things to do. Great trip.
Kelly
2017-02-20T00:00:00Z
Room Type
Entire home/apt
---
Property Type
House
---
Accommodates
4
---
Bedrooms
Baltimore, MD, United States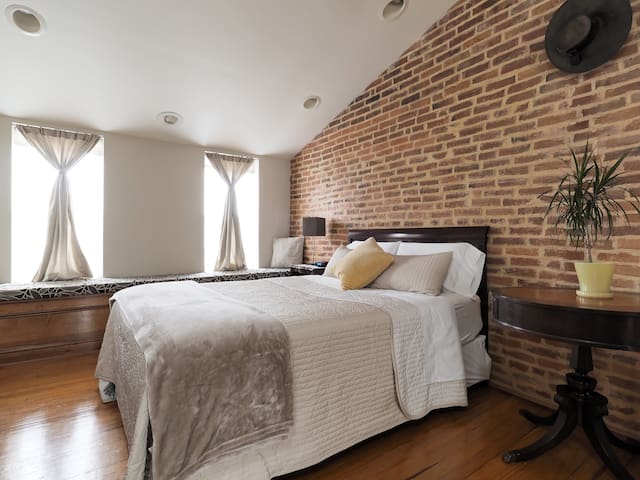 Historic, renovated row home built in 1920. This home is located downtown within walking distance to harbor east and inner harbor. Three levels, fully furnished, approximately 1000 square feet. One and one half baths. Furniture modern with nice decor. Open concept living. Two decks and a rooftop deck for outdoor enjoyment. Nice enclosed backyard. Ideal location and walking distance to Inner Harbor, Fells point, Harbor East and Little Italy. Walk to any of these locations in about 5 minutes or less. Many restaurants within walking distance. Also Wholefoods, CVS and a movie theater within walking distance. FREE parking across the street (just give the gas station attendant our address and the make and model of your vehicle). Public Transportation: 5 min walk to Charm City bus stop which is a free hybrid system within the city. Multiple public bus lines available. We are less then one block from Zip Car access. You can take the MARC train from Camden Yards or Penn Station to DC for $7 one way on the weekdays. We are 2-3 miles away from both train stations. Not recommended for small children, elderly or those with disabilities due to narrow spiral staircase. *** Do not take large luggage up narrow spiral staircase. Use the second floor back door! Sleeping arrangements include a full size real bed, queen sofa bed, full sofa bed and twin bed that converts to a chair. -one bedroom home, other sleeping arrangements are located in common areas. Open living! We love our little home in the city and you will to. Our home in the city is perfect for getaways for pleasure or business. You will have the entire house to yourself! Amenities -three flat screen televisions -1 1/2 baths -full bath has walk in rain shower (no tub) -dishwasher -microwave -washer/dryer -convection oven with grilling features -fireplace -two outdoor decks: second and third floor -backyard -refrigerator with water dispenser -basic cable, Netflix -wifi -security system, ring system, outdoor camera -free first come, first serve parking (one car): parking across street at gas station. If lot is full, street parking available.
You can walk to everything! Restaurants, attractions, bars etc
Necole's home was absolutely amazing. The location alone was fantastically convenient, about a 5 minute walk to the heart of Fells Point and just a half mile to downtown attractions. The parking garage on the next block is an extremely good deal as well: only $3/day on weekends. The house was very nicely furnished and had great amenities on all 3 floors as well as a beautiful outdoor area in the back and 2 sitting areas on the upper decks. The host was very thoughtful in her bountiful provision of toiletries, sheets, towels, entertainment options, etc. I would definitely recommend staying here again myself and would happily refer a friend to it.
Max
2016-04-25T00:00:00Z
This was my first experience with airbnb and have to say it was pleasant. I had to make changes to my travel plans and the host handled this with no hesitations and in a timely manner. I would definitely recommend this place it is beautiful inside
Jeremy
2011-11-07T00:00:00Z
The listing for this property led me to believe it was in the Federal Hill neighborhood, on Ostend Street. The original location is where I was planning to stay and had based my arrangements on. When the reservation was confirmed, the address was in fact about a 10 minute drive (30 minutes in traffic) from where I wanted to be and it made my stay much more inconvenient. Necole's home was very pretty and well kept but the excessive decorations made it feel much smaller than it was. The ample towels and linens were appreciated. Also, I felt she asked quite a bit from us regarding check-out cleaning duties, especially considering I had already paid a $75 cleaning fee. This was fairly off-putting.
Michele
2015-06-08T00:00:00Z
Nicole's home was exactly what we needed: space, comfort, and a good location. However, there are some points that users should be aware of. First, there are a lot of rules and the cleaning up instructions were hefty. Second, there was a lot of making and unmaking beds, because three of the four beds are pull-outs, albeit comfortable pull-outs. Third, the street noise woke us up here and there, and that was with the windows closed. Overall, it is a nice place to relax in Baltimore. Thanks for sharing your place with us during Thanksgiving.
cary
2015-11-28T00:00:00Z
Necole was extremely friendly and prompt in getting back to me with any questions. Her home is the perfect place for a get away.
Emily
2016-11-08T00:00:00Z
House was just like it was described. Loved the decor. Great location--walking distance to restaurants in Little Italy and near the water/convention center. Would stay here again.
kiana
2015-10-11T00:00:00Z
Necole was a great host while in Baltimore. The house was immaculate and very well appointed. It was within walking distance of the inner harbor, plus free parking was a huge plus! Although the weather was really nasty while we were there, the outdoor area was beautiful and we would have loved to hang out there if it were nice out. In addition there were some basic cooking items and drinks that we could use, which was so nice (especially the coffee). There were plenty of linens for all the rooms. However, if you are very into privacy, and you have a few couples staying with you, you may not want to book here. There is technically only a one bedroom house, so anyone else is sleeping in the common space and there are no doors separating the first and second floors. Although we didn't mind and the place was very comfortable, if you are into having your own space/ rooms you may want to look for a space with more than one bedroom. Otherwise I HIGHLY recommend staying here.
Alexa
2016-05-23T00:00:00Z
What an excellent place to stay. The location was great and we really enjoyed our stay. Comfortable and well equipped. The place is really nice inside and out. They did a great job with the interiors. Necole made sure we had everything we needed. Loved hanging out in the back courtyard. Baltimore has a lot going on and this was the perfect place to stay. Thank you so much.
Casey
2014-09-15T00:00:00Z
Room Type
Entire home/apt
---
Property Type
House
---
Accommodates
4
---
Bedrooms
Baltimore, MD, United States
Welcome to Baltimore's funky Arts and Entertainment District. Just two blocks from Penn Station, you'll be in Washington, DC, in 50 minutes. Or walk to the many bars and restaurants on North Charles, hop on the free bus to the Inner Harbor, or head north to the Baltimore Museum of Art and Johns Hopkins University. Walking distance to MICA and the University of Baltimore too.
Recently remodeled 600 sq. ft. basement room with private bath and kitchenette that gets good light through two windows -- a large West-facing bay window and a second North-facing window. No separate entrance (guests enter through the townhouse's front door; other residents live on the 2nd and 3rd floors). Coffee and tea provided free of charge, as well as basic toiletries like shampoo, conditioner, toothpaste and moisturizer. The place sleeps two people in the same bed (queen-sized bed). Reservations for this listing are for two people, maximum.
Station North is a vibrant neighborhood in Baltimore's Arts and Entertainment District. It's a place that's constantly evolving, with more and more artists moving in every day. New artistic work spaces are also being built, like the 34,000-square-foot "OpenWorks" facility at 1400 Greenmount Ave that houses shared space for woodworkers and craftspeople. And a few blocks away on North Avenue, the Maryland Film Festival recently purchased the historic Parkway Theater, which will be remodeled in time for the next festival in March 2017.
It was a pleasure staying here! We arrived pretty late into the night but Rebeka made us feel taken care of. The space is beautiful and cozy. She also had coffee which was great for an early morning.
Ramya
2016-12-21T00:00:00Z
Dalaie
2016-12-24T00:00:00Z
Rebeka's place is amazing. Perfectly well equipped, many details that show she is a true hostess. The location is very good and it is very easy to move around. If you are going to Baltimore this is the place to stay!
Paola
2017-01-03T00:00:00Z
Amazing place, super clean and comfortable - all you need + kitchen and private bath! host was so nice to let us stay last minute and explained everything extremely well Perfect stay - no better place in the city.
Gc
2017-04-03T00:00:00Z
Check in was easy and the stay was great! Rebeka was super helpful and informative. We had a great time!
Ben
2017-01-27T00:00:00Z
It was really clean and neat! Loved her hospitality
Hyunjin
2017-03-15T00:00:00Z
Place was awesome and great location!
Baruke
2016-12-22T00:00:00Z
Rebeka's room is huge. Actually it's a very big studio and not a room. Location is great. Very close to the train station, public transport, and also to the historical centre of Baltimore. The entire space is spotless clean and the bed is very comfortable. A lot of available amenities at disposition. Rebecca was very welcoming and flexible with check in and check out times. We also had a nice chat. Definitely very recommended for the comfort, welcome and also for the location. Thank you Rebeka!
Walter
2017-01-07T00:00:00Z
Room Type
Private room
---
Property Type
House
---
Accommodates
2
---
Bedrooms
Baltimore, MD, United States
This beautifully renovated pre-war loft style apartment occupies two sun-drenched floors of a stand alone building on a bustling side street in the heart of Mount Vernon. Neighborhood Praise: (URL HIDDEN)
The unusual shape of this second and third floor loft apartment is surprisingly spacious with exposed brick and hardwood floors throughout.
Mount Vernon is one of the highlights of Baltimore with historic architecture, wonderful restaurants, popular coffee shops, eclectic bars, and renowned cultural institutions all within walking distance. There's also the beautiful Washington Monument and Park that surrounds it. (URL HIDDEN)
Room Type
Entire home/apt
---
Property Type
House
---
Accommodates
2
---
Bedrooms
Baltimore, MD, United States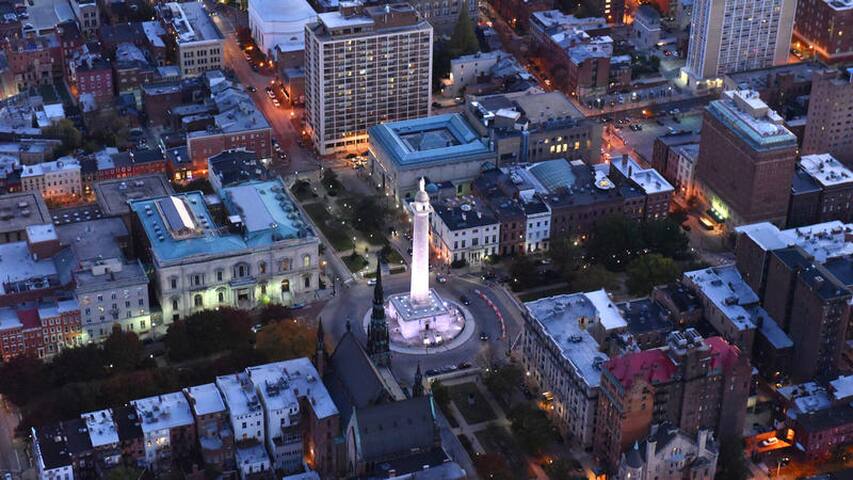 Open and airy floor-plan, this home features spacious living room with exposed brick, crown molding throughout, open riser stairs, hardwood floors throughout, chef's updated kitchen with granite countertops, stainless steel appliances & a private patio access, upper level with 2 sizable bedrooms and a full updated bathroom with a walk-in shower, finished lower level with a third bedroom/den and a separate bathroom. Steps away from Patterson Park and John Hopkins, close to Fells Point, Canton.
Open and airy floor-plan, this home features spacious living room with exposed brick, crown molding throughout, open riser stairs, hardwood floors throughout, chef's updated kitchen with granite countertops, stainless steel appliances & a private patio access, upper level with 2 sizable bedrooms and a full updated bathroom with a walk-in shower, finished lower level with a third bedroom/den and a separate bathroom. Washer and Dryer. TV, cable and wifi.
Room Type
Entire home/apt
---
Property Type
House
---
Accommodates
6
---
Bedrooms
Baltimore, MD, United States
Unique&Modern Row-Home Private RusticBedroom conveniently located in the safe and true Historic District of Federal Hill right near the Inner Harbor, Orioles&Ravens Stadiums, Convention Center, Casino, Aquarium, Great Restaurants, and Nightlife/Bar District. You'll enjoy the elegant bathroom, Free Parking Courtyard, Fast Internet (150mbps), Netflix&Amazon TV, Mini-Fridge, & Breakfast Bar. Smart Electronic locks on front door & bedroom doors; make for flexible check-in times, security, &privacy.
Unique Spanish-Style Home with beautiful courtyard outside of your bedroom to enjoy with weather permitting. Bedroom is HUGE and has an elegant modern rustic feel. This room is the master bedroom in the home and it comes with 1 free private onsite & off-street garage parking space for your use. 32 Inch Smart ROKU TV with 150mbps WIFI Connection that comes with several complimentary free pre-programmed services like Netflix, Amazon Prime TV, News, and Watch ESPN. Coffee Bar & Breakfast Nook with Mini-Fridge & Microwave located right outside bedroom. Complimentary creamer, sugar, plates, cups, tea, forks, knives, & paper towels are also provided. Iron & Ironing Board Located right outside bedroom in hallway closet. Hair Dryer located in bathroom. Extra Queen (Self Blowing-Up) Air Mattress located in the closet of this bedroom. The space is perfect for individuals attending conventions at the Convention Center, business travelers, sports fans, couples, singles, or anyone coming to the city for tourism activities. The bedroom is located within a safe historic neighborhood in South Baltimore called Federal Hill. My home was originally built in 1870 is within walking distance to practically anywhere you need to go within downtown Baltimore. The Bottom Floor of this home has 2 Private Airbnb Guest Rooms with one giant shared bathroom with his and her sinks. While hosting, we have never had an issue with having two private guest rooms sharing the same bathroom. It's a huge gorgeous bathroom and we clean it everyday. The Master Bedroom (this listing) has access to the right sink only and right wall towel hooks. The smaller guest bedroom (not this listing) has access to only the left sink and left wall towel hooks. You will be able to walk everywhere from our location or get a taxi/uber to get anywhere in the city for about $6. Lastly, the bathroom right outside of your bedroom is beautiful. Our home is truly one of the most prime locations to stay in all of Baltimore due to is premier and excellent location. Guests rant and rave about its location, and how it is the perfect place to come back and relax after a busy day exploring the city or attending conferences. You'll truly enjoy this space and we are here to make sure you have an amazing stay. If there is anything you need to make this space and your trip more accommodating please don't hesitate to ask us.
Federal Hill is one of the most walkable neighborhoods in the USA is the most walkable in Baltimore with a rating of 97 out of 100. While we offer free onsite parking, you will most likely never need a car while staying at our house. Additionally, just blocks away you will find the train station, bus station, light rail, and Charm City Circulator (free bus) stop located nearby us. Most of the main sights and attractions in Baltimore are all located within a short walking distance of our home. The neighborhood is very safe and dozens of restaurants, bars, shops, and nightlife are located just 2-3 blocks from our home. Baltimore has so much to offer year round from Orioles Games, Ravens Games, Concerts, Shows, Conventions, Festivals, and more. All are walking distance from our location. Additionally, we are a $6 uber or lyft that will be able to take you all over the city. We don't recommend taking a regular cab as they are always more expensive and harder to hail. Per Visit Baltimore's website: "Looking for a Kodak moment? It doesn't get any more photo-friendly than Federal Hill. This neighborhood is known for its excellent view of the Inner Harbor and Baltimore skyline, as well as the postcard-perfect walkable streets. Imagine brick-front houses, cobblestone sidewalks and quaint storefronts displaying a diverse range of goods and services. Locally owned shops, restaurants and Cross Street Market, one of Baltimore's cool public markets, make this one of Baltimore's most popular and welcoming areas. People are always out and about in Federal Hill - get out there with them.
Wonderful place and incredible hosts! The location is convenient, and around many sights within walking distance. Jenna & Matt made our stay very easy and the place had everything we needed. We highly recommend staying here and definitely try to book again next time we are in town!
Chraiza
2017-04-02T00:00:00Z
Jenna and Matt were great! Their house was in an awesome location and the room was very welcoming.
Jesse
2017-03-04T00:00:00Z
I don't usually write reviews, but Matt and Jenna's place is AMAZING. What a beautiful home, neighborhood and district. The room was exactly as described and was really big. Having private off-street parking at their home was great as it proved difficult to park around the city. Who needs to drive anyway when you are able to walk safely everywhere from their home. They are just steps away from the inner harbor (took us 10 minutes to walk to the aquarium), a few blocks to the convention center, and no more than a 10 minute walk to the stadiums if your an Orioles or Ravens fan. Also, some of the best bars, food, and nightlife in all of Baltimore are just 2-3 blocks away. You couldn't ask for a more perfect, safe, and convenient place to stay in Baltimore. Matt and Jenna were awesome hosts, and made the process of checking in super simple. They were immediately available for any questions I had and they gave me awesome recommendations for things to do. I highly recommend this place to anyone traveling to Baltimore. Thanks for everything Matt and Jenna!
Jeremy
2016-12-22T00:00:00Z
Jenna and Matt were wonderful host. They were clear with directions and very accommodating. The room was spacious and the bed was very comfortable. The bathroom was also large with an upscale double sink vanity and lovely walk-in rain shower. The location was the best with only a 10 minute walk to the Inner Harbor and Convention Center. Jenna and Matt were extremely nice, yet gave me a nice sense of privacy. Thank you for the most enjoyable stay. Well done!
Andriya
2017-01-13T00:00:00Z
We were the first guests at Jenna and Matt's new acquired place, so there were some maintenance and home improvement projects going on. The location is great and aside from the a bit of noise(house work) the place was ideal. Jenna and Matt were more than accommodating they even refunded some of the price for the noise inconvenience. I expect the place will be really nicely renovated in a month or so and will be looking forward to repeating in the future.
Zachary
2016-12-04T00:00:00Z
Nice neighborhood and a fancy room and bathroom. We had a really great stay!
Norbert
2017-03-01T00:00:00Z
The best parts of this place is the good location, great bathroom, and security measures. There is a code or key to get into every part of your section of the house including your individual room. If you're looking for a good place near Fed Hill and the bars there, this is a very good choice.
Alexandra
2017-01-22T00:00:00Z
Jenna and Matt were very warm and welcoming once we arrived. We had a brief conversation and Jenna really helped us plan out our day with great food recommendations. We would stay here again in a heartbeat. Their home is within a short walking distance to some great restaurants.
Amanda
2017-03-05T00:00:00Z
Room Type
Private room
---
Property Type
House
---
Accommodates
4
---
Bedrooms
Baltimore, MD, United States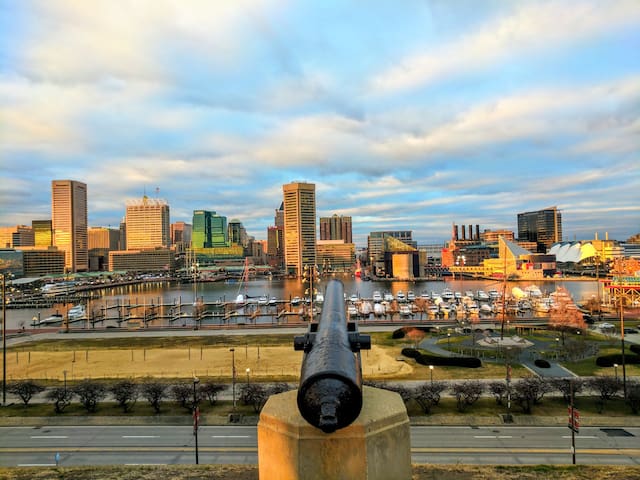 Perfect location for JohnsHopkins! Doublewide, 3bedroom home comfortably fits 8 adults and 2 children. No luxury has been overlooked. Marble Kitchen stocked with culinary essentials. Jetted tub in every bathroom. Custom mood lighting package. Chandelier. Leather couches, Importen Persian wool rugs. Enjoy grilling/yoga/wine at sunset on the roof!
Guests can enjoy our jetted tubs in every bath, mood lighting, gourmet marble kitchen, dining room with chandelier and our nicely furnished roof deck.
Steps from BistroRx, tennis and playgrounds, and an easy walk to Johns Hopkins Medical, Fells Point or Canton. Patterson Park is a lovely neighborhood which is community oriented, family friendly and diverse. You will feel right at home in our friendly community.
Meghan was very responsive throughout our stay. The house was portrayed accurately and centrally located right on the corner of Patterson park. Her roof has an amazing panoramic view of the area. Would absolutely book with Meghan again!
Jack
2017-01-02T00:00:00Z
Meghan was a good hostess. Her house is beautiful and updated. Across from a park, walkable to downtown fells point. It had plenty of room for 9 adult women. Only complaint was her cleaning crew. They didn't have any toilet paper in the house when we got there. They left dirty dishes in the dishwasher and they didn't have any clean towels for us. We don't blame Meghan for this because she was very accommodating and responded to all of my texts and questions quickly. Overall we had a great time and we would come again.
Ashley
2017-04-02T00:00:00Z
Nice place, Nice Host, Semi-Close to attactions
Jared
2017-04-05T00:00:00Z
This place is one of those rare AirBnb houses where it is equally great for both adults and kids. There is an adorable kids room, complete with crib, toys, changing table and bed with side rails. But there are also two spacious and private king bedrooms with bathrooms on the second and third floors. Our party was made up of four adults and three kids under five and the place felt plenty spacious. Being right on the park was amazing; there are two great playgrounds (one basically opposite the house and one on the south end) within a few minutes walk. We were lucky to have 68+ degrees in February, so were on the rooftop deck every evening for the sunset and grilling dinner. Would definitely stay here again and recommend to any group (especially with kids) visiting Baltimore.
Nicole
2017-02-20T00:00:00Z
Meghan's place was great space for a productive retreat.
Cristina
2017-03-19T00:00:00Z
Meghan was amazing! We had a few hiccups in the beginning but the communication was effective and prompt! We had so much fun. The house was great there are lots of games to play and plenty of stuff for little ones to play with for families! There is a huge park across the street to enjoy your daily exercise. Also the deck was beautiful with great views of the city! We were about 10 minutes away from most anything that we wanted to see or do! We will be coming back to stay again!!
Dayle
2017-03-29T00:00:00Z
Great atmosphere in the house! It could be suitable for almost any group of people from family's with kids to friends on a weekend getaway. Thank you for letting us you your wonderful home Meghan!
Lee
2017-03-26T00:00:00Z
Beautiful home! The pictures are accurate and the house has a great feel to it. Meghan was a great host and was attentive to our needs during our stay. Parking was a bit of a hassle during the evening hours when everyone had returned from (URL HIDDEN) times we had to park a couple blocks away. The parking behind the house is very small and really does require a compact car to fit, and even then seems like it would be a bit awkward. Also, there is only one TV in the house (in the living room). Be prepared to share or bring a laptop to watch movies while the kids play video games -that's what we did! We enjoyed our stay and will always try to stay here when returning to the Baltimore area. Thanks Meghan!
Nina
2017-03-16T00:00:00Z
Room Type
Entire home/apt
---
Property Type
House
---
Accommodates
8
---
Bedrooms
Baltimore, MD, United States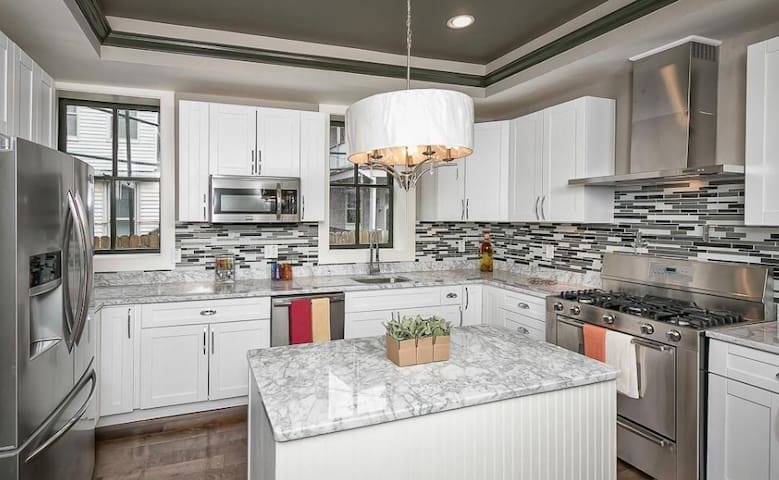 Located 20 minutes from downtown Baltimore, our home sits on Hawk Cove of the Chesapeake Bay. Sunrises here are spectacular! Ensconced in this natural setting you will see ospreys, Great Blue Heron and the occasional Bald Eagle.
There are 3 individual bedrooms. All are upstairs where there is a sitting room with a TV and DVD player, weights (up to 40 lbs), a treadmill, and a mini refrigerator. There is one bathroom for the three bedrooms. Families with young children will enjoy a variety of toys and story books located upstairs in "Grandma's Closet." Our rooms are almost free of street noise but the sounds of wind chimes and nature (ospreys, Great Blue Heron, goldfinches, cardinals and other songbirds) will be heard. Families are welcome. The rooms contain a mixture of antiques and contemporary furnishings. We were Peace Corps Volunteers in Africa and have traveled through parts of Asia and South America. Our decor reflects our travels. We live in the downstairs.
We are an old fashioned, quiet neighborhood and cherish our proximity to the Chesapeake Bay. We are 1 mile from a golf course, state park with picnic tables, beach, playgrounds and sailing school. We are 1/2 mile from a local restaurant (crabs, crab cakes, 3 varieties of crab soup) that rents kayaks in the summer and fall. Our home is not a party venue for loud music and irresponsible drinking.
We had a wonderful time at this lovely waterfront home, decorated with intriguing art & artifacts, and blessed with a fabulous view. The space set aside upstairs for guests was spacious and convenient, with extra touches like nature guides, a telescope, and exercise equipment. We had a comfortable and well-appointed bedroom, a clean bathroom (with a tub, nice for us who like a soak), and a common room with a huge picture window overlooking Chesapeake Bay, facing east for a view of the sunrise. The pictures can't begin to convey the beauty and tranquility of welcoming the dawn from the dock. Deborah & John were terrific hosts, friendly, helpful, and willing to share the rest of their home with us, kindly offering us drinks, snacks, and a great breakfast with fresh, locally grown produce. They went out of their way to be warm and welcoming, and we enjoyed conversing with them about their careers, family, and many international travels. Quiet neighborhood walks, a nearby park with a beach, and an excellent restaurant in town afforded us additional pleasures. We couldn't have asked for a better place for an overnight stay. We highly recommend this location. Thank you, Deborah & John.
Diane
2015-12-08T00:00:00Z
The house was great! Beautiful view of the water, clean, and comfortable home and a short walk to a great waterfront restaurant. Our family enjoyed our visit and Deborah and John were wonderful hosts.
Matt
2016-06-14T00:00:00Z
Wow!! Deborah was so welcoming from the minute the reservation was confirmed. It felt like we were visiting family. Their home is absolutely amazing with the perfect view of the bay. I was so impressed, I am sending my mother and her friends for a weekend. I hope they get to spend more time with John and Deborah than we were able because they are such a colorful and fun couple.
Abbie
2016-05-02T00:00:00Z
John and Deborah are the perfect hosts. They were kind and helpful, and we truly felt like we were part of the family when we departed. The house is comfortable, big and private. Fantastic views of the Chesapeake, close to Baltimore.
Christian
2016-06-21T00:00:00Z
This was an incredible experience. John and Debbie are so kind. They treat us like family. We have evening talks everyday. Although We have 6adults and a child. They still cooked breakfast for us and every day the breakfast was different and delicious. Oh the house is just so beautiful clean and tidy. It beside the bay everyday you can see the sunset and we also saw the double rainbow here. I can not express how wonderful this experience was. John and Debbie's house is definitely your first choice in Baltimore !!
mengzhao
2016-04-09T00:00:00Z
My stay was above and beyond my expectations. John and Deborah are two lovely, cultured individuals. They made us feel right at home. They were so accommodating to us especially with my one year old son. Not to mention, the home is immaculate with a perfect view. I couldn't have asked for better! I hope to stay there again the next time I'm in MD.
Noelia
2017-04-02T00:00:00Z
This was our second stay at Sunrise on the Chesapeake Bay, this time to gather with other members of our family for our Easter celebration. We had a great weekend together at this lovely home. Our hosts were warm and welcoming, and went out of their way to accommodate our special requests. We very much enjoyed their conversation and company. The clean and comfortable accommodations suited our needs perfectly, with the three separate bedrooms and adjoining common room overlooking the bay. We highly recommend this location. Thanks again for a terrific time, John and Deborah.
Diane
2016-03-31T00:00:00Z
This place was everything as described and so much more! A beautiful home, on beautiful grounds, with beautiful accommodations. Our hosts treated us like family, and made us and our two little kids feel so welcomed and comfortable. We would recommend this to anyone!
Riki
2016-09-05T00:00:00Z
Room Type
Private room
---
Property Type
House
---
Accommodates
6
---
Bedrooms
Baltimore, MD, United States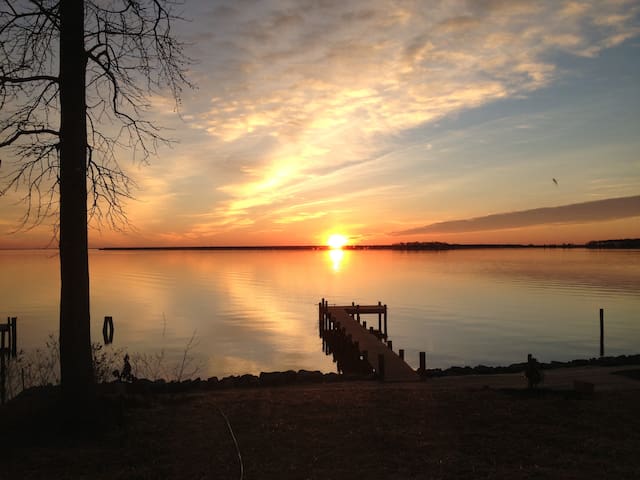 Experience this historic city life of Baltimore. which has a lot of character .2 miles drive to Fells point , the charm city has a lot of public transport.Short and enjoyable walk to the University of Maryland and Inner harbor National aquarium and museums.Horseshoe live casino is 2 miles drive open 24 hours.Oriole Park baseball stadium and Ravens stadium are also walking distance away. 1 North Poppleton Street has a Walk Score of 92 out of 100 according to Walkscore website
PLEASE READ CHECK INSTRUCTIONS AND ITINERARY WHICH YOU WILL GET ON THE DAY OF ARRIVAL FOR LOCKBOX CODE TO ACCESS THE KEY. PLEASE PLEASE PLEASE DONT TAKE THE KEY WITH YOU, KEEP IT BACK IN THE LOCKBOX FOR EVERYONE TO USE. Multiple times this has created a panic where a guest has taken the key with him or her n others guests get stuck outside n nobody can come back from work. So please follow this like a ritual. please follow instructions to keep the key back for others. Read House manual to know where is your room. I might not be available right away to reply to texts for lockbox code if you are standing outside the house.Thats why i have made self check process to make it smooth for you. The room has two twin mattresses joined to form king , you can separate them as well. Room has desk n chair too I live here in my 4 bdr home which I would love to offer you to share . No pets live on the property
Public transport Inner harbor at a walking distance - natural beauty water views sunset views at the dock Nations best Medical institutions City life National Aquarium Fells point - party place - nice food music n booze
You will like the hospitality. She can assist you in whatever u need . She has a good sense of communication.
Emmanuel
2017-02-21T00:00:00Z
Comfortable and quik and easy place to sleep for the night.
Billy
2017-02-18T00:00:00Z
Just needed a place to sleep for the night and Ashima made check in very easy. Very basic room that meets all your needs at a suitable price.
David
2017-03-04T00:00:00Z
good place for travelers to rest
Ev
2017-02-13T00:00:00Z
Such a great place to be. It felt like I was in my personal home. Looking forward to booking the place anytime am to be in Baltimore. I really felt at home .
Emmanuel
2017-02-27T00:00:00Z
First time using AirBnB. Ashima was a great host and made everything very easy. She checked to make sure I got in alright and had everything ready when I got there. Would stay here again.
Alyssa
2017-04-09T00:00:00Z
Great host and very helpful! would love to come back!
Terrence
2017-04-08T00:00:00Z
Great place to crash and get a good nights sleep.
Phanidhar
2017-03-07T00:00:00Z
Room Type
Private room
---
Property Type
House
---
Accommodates
3
---
Bedrooms
Baltimore, MD, United States
***All Water Pressure Issues Resolved as of 3/22/17*** This 1880 Construction is a beautifully spacious! the exposed brickwork is so Baltimore! You can walk to the major attractions of baltimore. The listing is great for students, physicians and visitors alike. The Union Sq. neighborhood is amazing!
This space comes complete with three large bedrooms, 2 of which are huge and the beds will provide an amazing nights sleep. The character traits of the 1880 construction stand out and immerse you upon entry. The Master suite is a beautiful retreat complete with a gas oven and large bathtub for soaking. You can feel the history of the house in the hard wood floors.
Union Square is a jewel in this city. I have to best neighbors that I could ask for. This old neighborhood filled with redbrick row houses hides amazing architecture within the beautiful homes! The are a few local restaurants where we congregate. The proximity to the Harbor and University of Maryland and the UM Medical Center and second to none and allow walking commute to the convention center, Royal Farms arena and Camden Yard and M&T Stadium.
No central air but portable units provided are sufficient so long as you are not a light sleeper. Excellent value for space provided. Great for a group of adults.
Brennen
2016-08-24T00:00:00Z
Great place, spacious and clean. The water pressure in the highest level wasn't always there. We had room enough for all six of us.
Ron
2016-06-02T00:00:00Z
Darren's home was pretty solid, 3 floors, spacious, enough beds for 8 adults. Close drive to stadiums/Federal hill, could be a bit sketchy if not used to the inner cities. Everything else worked out perfect except 1 shower didn't work and the second one had super low water pressure & no TV, but both weren't too big an issue. Other than that, great value & close location to where we needed to go.
Wei
2016-12-18T00:00:00Z
This was our first time in Baltimore. It was very easy to communicate with our host. I was a little disappointed with the cleanliness of the home, but over all very happy with the size and character of the space. The back yard definitely needs to be updated. Darren was also notified us on street cleaning day that our mv was parked on the wrong side so we were able to move it before getting a ticket.
Jaz
2016-08-30T00:00:00Z
I enjoyed my stay here. Pets were fine. The outside was a bit sketchy but we survived. Water pressure sucked though. Don't expect a fantastic shower but the bathtub was fantastic. Darren was a fantastic host.
Cathy
2017-03-01T00:00:00Z
The space was great for our party of 6. Darren was easy to contact and replied quickly. The free street parking was great for our group with several cars. My only issues were with the showers and stairs. The shower on the third floor was unavailable due to plumbing work which was really inconvient four 6 grown adults to share 1 shower. Also the water pressure was inconsistent. I won't lie the home needs some work and is obviously an older home. With that being said it wasn't a bad stay at all. The home has 3 stories which gets annoying if your staying in the master bedroom or if you're elderly or disabled. Also the floors are aged and rickety so it may not be safe for small children. The architecture is really interesting in the home and the pictures do not do it justice. Lastly the door is super sketchy. It's hard to open/close. Only one person in our party could really close it right. Once the minor issues are fixed in the home, it will truely be a luxurious place to stay.
Aura
2017-03-06T00:00:00Z
Darren was a gracious host that came to the apartment when he realized we were having some difficulties getting inside. The home is lovely. As several others have mentioned, there is an issue with showers but for our single family we were able to work around it by planning who would shower when.
Kristen
2017-03-03T00:00:00Z
Darren is a great host, we met for the keys and he made sure everything was okay for us. At first sight we were a bit surprised by the neighborhood but once we entered the house, we immediately felt comfortable: the place is huge and we really enjoyed the fact that it was pet-friendly. We appreciated the house decoration. Although there are signs for parking restrictions but we didn't see it and got a ticket. Darren proposed to pay for it (which obviously we declined but it was very thoughtful).
Naomi
2016-06-15T00:00:00Z
Room Type
Entire home/apt
---
Property Type
House
---
Accommodates
10
---
Bedrooms
Baltimore, MD, United States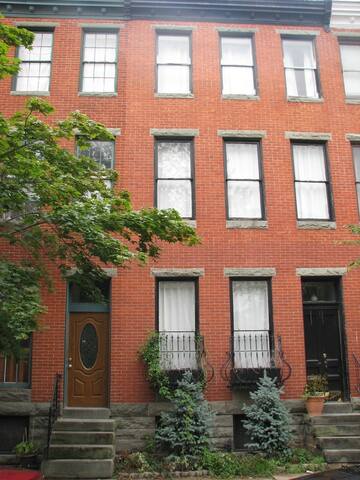 Clean and convenient one bedroom in the heart of Fells Point. Full sized bed in the upstairs bedroom, a pull out couch in the downstairs living room and full kitchen. Music speakers for tunes. Close to Fells, Harbor East, Canton, and Downtown.
This place was in the perfect location for us while we were in town visiting for the O's games and crab festival. We brought our bikes and rode around and this place was nice, cool and clean. The owner was fast at communicating with us when we had questions about parking. Loved the energy and artwork of this cute home. Could not have been happier staying here!
jason
2016-06-27T00:00:00Z
Derek's place is a great value. The location is so convenient to attractions. I was slightly worried about parking but found a free spot very quickly. Derek was quick to respond to my questions. And he had some Natty Bo waiting for us!
Gina
2017-01-15T00:00:00Z
Derek is an extremely generous host with a clean, cute place in a great location! Fells Point is beautiful. This spot is about 15 or so minutes from the inner harbor. Derek was very prompt and friendly in responding to any questions I had. I would absolutely recommend this spot to anyone!
Autumn
2016-08-15T00:00:00Z
Derek's place is a great value in a great location! Easy walking distance to a lot of great things in Fells Point and the Inner Harbor.
Daman
2017-02-05T00:00:00Z
Derek was a great host--very communicative and helpful around check-in and as we had further questions during our stay. The house is just as it seems: cozy and comfortable. The value for money on Derek's place--especially around a very busy weekend in the Baltimore/Washington area was excellent.
Lydia
2017-01-22T00:00:00Z
We had a great stay at Fell's Point and Derek's hospitality was a big part of that! The house was a perfect fit for us and came with a list of great restaurant and bar recommendations that was very helpful.
Ben
2016-02-22T00:00:00Z
Derek 's home is a fantastic location to walk, run, or bike to Fellspoint, Canton, Little Italy, and Harborplace or drive to D.C. or Annapolis. He was quick to respond to all requests, wanted to add a night, and questions. Remote please?The house was equipped for all of our needs, Especially that super Oster blender. It was comfortable and we hope to stay again. Thank you Derek.
Denise
2016-05-15T00:00:00Z
Derek's place is very cozy and in a great location. Probably the easiest Airb&b stay I've had. Highly recommend.
Holly
2017-02-19T00:00:00Z
Room Type
Entire home/apt
---
Property Type
House
---
Accommodates
3
---
Bedrooms
Baltimore, MD, United States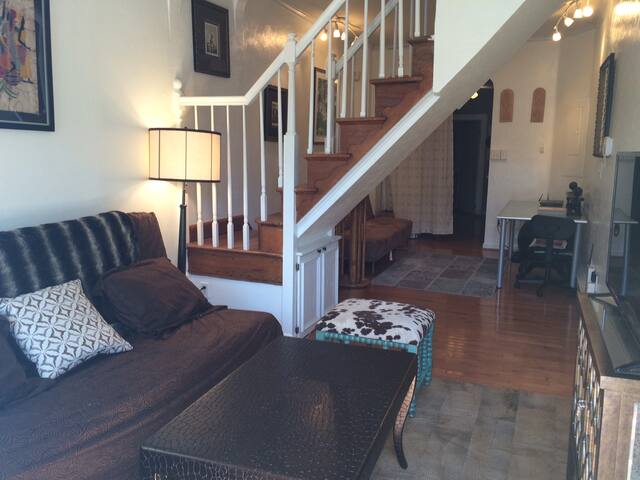 Fantastically colorful Baltimore Row Home right next to Patterson Park.
Room Type
Entire home/apt
---
Property Type
House
---
Accommodates
4
---
Bedrooms
Baltimore, MD, United States
Fabulous home in a prime Baltimore location! Located in the heart of Little Italy. Steps away from great restaurants, shopping, site seeing, and more! Within walking distance to the Inner Harbor, Harbor East, Fells Point, Caton, and beyond.
Located in the heart of Little Italy. Within walking distance to Whole Foods, great restaurants, cafes, shopping, Inner Harbor, sight seeing, parks and more. This townhouse has plenty of space for up to 10 people. 3 bedrooms and 3 bathrooms, fully stocked kitchen, living/dinning room area, backyard with a grill, small deck with spiral stairs leading up to a large rooftop deck overlooking the city with plenty of seating to relax and enjoy the view.
Little Italy is safest neighborhood in Baltimore. It is full of families and individuals with many places and activities near by. You will find this area to be very quiet and comfortable.
Room Type
Entire home/apt
---
Property Type
House
---
Accommodates
10
---
Bedrooms
Baltimore, MD, United States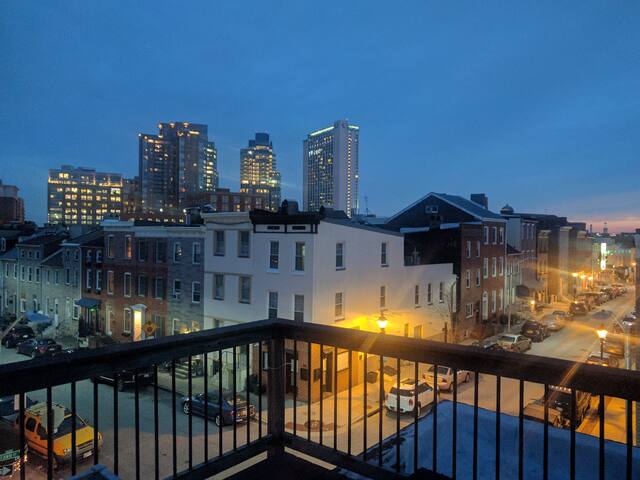 Charming historic Barre Circle home with original pine floors and exposed ceiling beams! Walk to University of Maryland Medical Center, Camden Yard, M&T Stadium, and Convention Center, enjoy BBQ in the flower garden and sit by the fireplace after dinner.
Beautiful historic house with graceful patio with many flowering plants. Kitchen is renovated with granite countertop and farmhouse sink. Washer and dryer are located on second floor for your convenience. Clean and safe gel fuel fireplace located in the dinning room for cozy evening. Enjoy cable TV with 260+ channels including ESPN, HBO, Showtime and Starz. Free permit parking available upon request.
-Camden Yard (Orioles): 10 min walk -M&T Bank Stadium (Ravens): 15 min walk -Convention Center: 12 min walk -University of Maryland Medical Center: 8 min walk -Inner Harbor shopping and restaurants: 20 min walk or 4 min Uber ride
A beautiful, cozy home with a pleasant backyard garden and a nice historic feel. Easy access to highway, MARC Camden, UMD Medical Center, stadiums and convention center. Heejin is a personable and responsive host. Will stay again if I'm in town!
Kevin
2017-04-05T00:00:00Z
Fantastic place! The city center is a mere 10 min walk and the grocery store is a 5 minute ride! super clean, comfy and close to everything! We had an A+ stay. Thank you!
Andrew
2017-04-11T00:00:00Z
Our stay was absolutely incredible, such a beautiful home.
Dan
2017-04-09T00:00:00Z
Excelent place! Has everything you need. Great ubication.
Carlos
2017-04-02T00:00:00Z
Nicely restored, comfortable historic row-house on a nice street very near Camden Yards. Very nice private back patio to use in warm weather. Heejin was a great host, leaving us good instructions and some nice extras.
Christine
2017-04-03T00:00:00Z
Room Type
Entire home/apt
---
Property Type
House
---
Accommodates
6
---
Bedrooms
Baltimore, MD, United States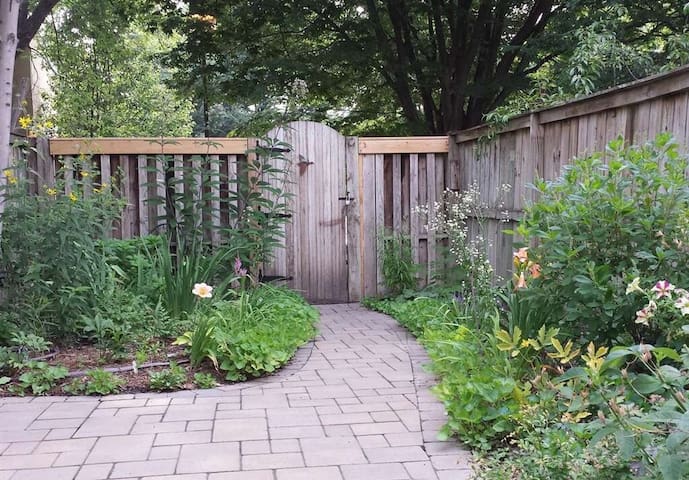 Perfect location! Walking distance to the stadiums and the Inner Harbor. Right in the heart of Federal Hill, a block from the vibrant restaurant scene of E. Cross St. Both floors have a bedroom and full bath. With patio, and parking pass.
This row house is updated, and in the perfect location. It has two full bedrooms, and the couch can accommodate a 5th. There is a full kitchen, a dining room, and a patio. This end unit has an alley, and guests could even use the house's cornhole boards before walking to a game.
Federal Hill is one of the most vibrant sections of Baltimore. Perfect for anyone in town for a game at one of the stadiums. You could tailgate at the house, grill and walk to the stadium. Perfect to walk to the convention center or downtown too.
Tim welcomed us on arrival, the place was great and we really enjoyed the neighborhood. It's nice and peaceful but only steps away from some fun bars and restaurants! The place comfortably fit two couples for the night especially given we both had private bathrooms
Tom
2015-12-27T00:00:00Z
Tim's place was outstanding. Perfect location in Federal Hill, close to everything you could want for nightlife--we even walked to the Royal Farms arena for a Baltimore Blast game. Tim was proactive in communication and very easy to work with--highest recommendation.
Joel
2015-11-15T00:00:00Z
Tim was a wonderful host. I have dietary restrictions and did not land until 12:30 am but had a conference the next day at 9 am. He was kind enough to get me some rice milk so that I could have breakfast before leaving for the conference in the morning. He offered suggestions for transportation and restaurants before arrival. The place was well cared for and was in great central location (about a ten minute walk to the convention center). The area has lots of restaurants and bars, which is wonderful but also can be a draw back if you need sleep on a Friday night because of the street noise from pedestrians. This is absolutely no fault to Tim, though. Overall, it was perfect for what my colleague and I needed
Melanie
2016-04-09T00:00:00Z
The host canceled this reservation 45 days before arrival. This is an automated posting.
Rebecca
2016-06-14T00:00:00Z
Tim was so great to work with! The row home was perfect location and was so close to the inner harbor! We also very much enjoyed the night life on Light and Charles street- again all within walking distance. The place was clean and welcoming and and very much suited are needs. I would absolutely stay here again
Kelly
2016-02-28T00:00:00Z
great place and location. Tim was great, check in easy as left keys in lock box. beds are full size, so a bit cramped for two. narrow living space. would recommend!
Ryan
2016-06-12T00:00:00Z
Tim provided all the information we needed to get into the house and there was beer waiting for us as well! Our stay was very comfortable, plenty of room for 4 people. Parking was tricky - we arrived during an Orioles game and had to drive around for about 20-30 minutes to find a spot, but had no problems during the day on Saturday.
Zuleyka
2016-06-06T00:00:00Z
Tim did a great job of communicating during our reservation process. Check in and out were both easy and flexible. Tim's place is in a great part of Baltimore--close to lots of fun restaurants and bars. Because it's tucked back off the main drag, it's relatively quiet at night. Our only complaint was the amount of dog hair all over everything--the couch, sheets, floors, etc. Fortunately, I grew up with a golden retriever, so I'm used to lint rolling my clothes on the way out the door. That being said, I think guests should be aware that there is a lovely, super-furry dog living here. If you have any allergies or general aversions to dog hair, this might not be a great spot for you.
Erica
2015-12-19T00:00:00Z
Room Type
Entire home/apt
---
Property Type
House
---
Accommodates
5
---
Bedrooms
Baltimore, MD, United States
1

–

18

of

300+ Home Rentals
Enter dates to see the total trip price including additional fees (but excluding any taxes).