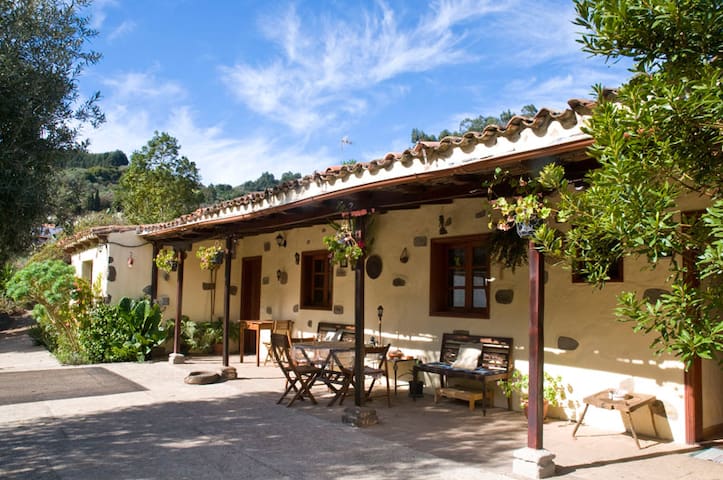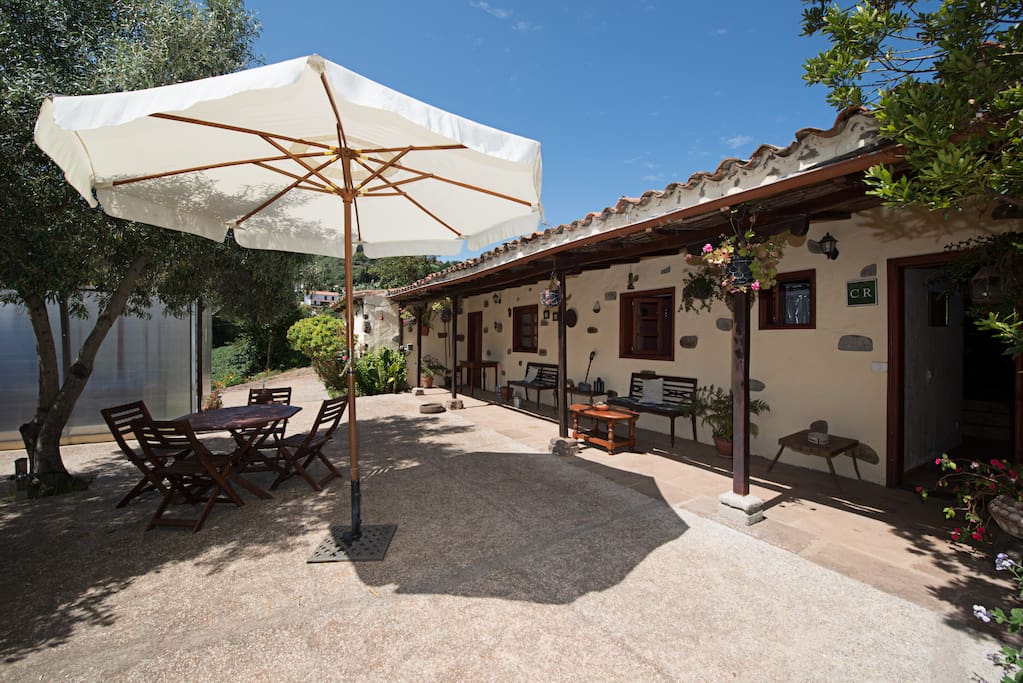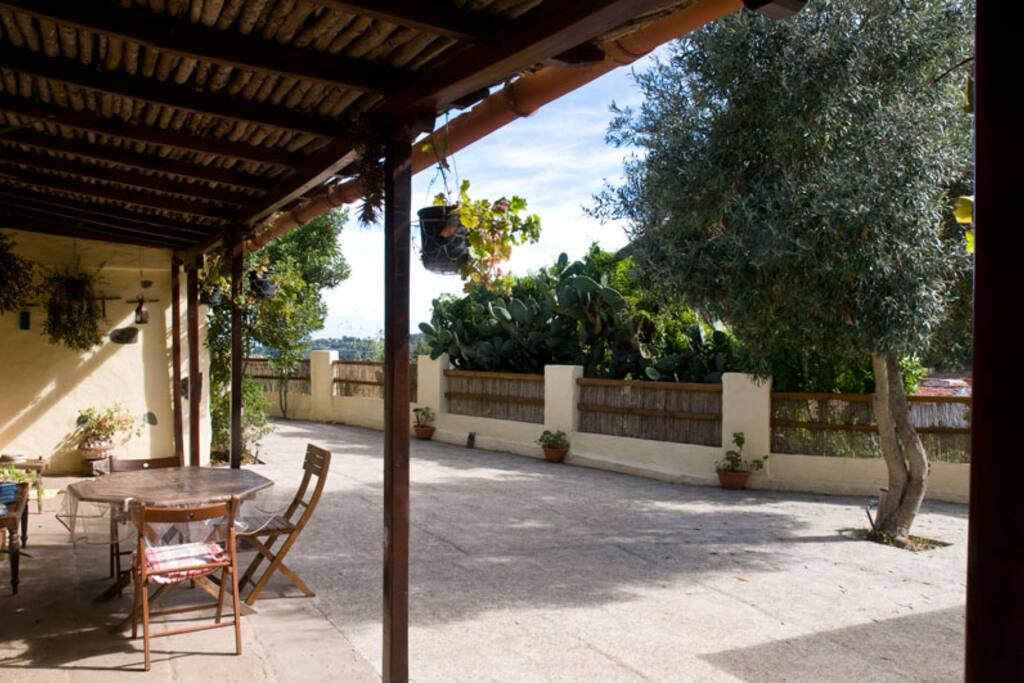 Beautiful canary island style .More than 100 square meter house in a 1000 property. Espectacular surroundings. A lot of space. Great terraze. High ceilings. Great location to explore the island. Gran Canaria how you never have seen before.
The space
Beautiful Canary Islands house from 1850. Three meters ceilings, huge terrace (100m ), exterior jacuzzi and barbacoe. The interior is around 150 square meters. It has a pool table and football table.
It is a luminous and big house with a kitchen/living room, another living room, two bedrooms, two washrooms, machine room and a game room.
The house is located in an evergreen valley with georgeous plants all over. It is in a perfect location, fifteen minutes away from the coast and in the bottom of the Cumbres (High mountains of Gran Canaria). Perfect for hicking, biking and relaxing.
It is inside the Doramas Rural Park and only two KM away from the Natural Reserve Los Tilos.
There are two villages Moya and Fontanales where you can do shopping and eating in wonderful local restaurants with delicious local plates. You can also go to the coast for the best fish in the island.

Guest access
WIFI, Tv, Music, Dvd Player...
Interaction with guests
We are there to receive our costumers and we help them in anything they required from us.
Other things to note
it is a rural area with almost not tourism. The house is well conected, there are several supermarkets in Moya, one of them opens everyday from 8 to 8. Restaurants found in Moya and Fontanales. Gas Station in Moya.
---
---
We hope you treat our house with love and also the surroundings. We always leave some instructions to find your way around and we will explain you everything upon arrival
---
We stayed at Rosas place for two weeks and all was just perfect. Its a perfect location if you looking for some quiet time to relax and explore the island. Fantastic for kids as well. The communication always was prompt and very personal. Rosas husband also picked us up to guide us to the house.
---
A lovely house, secluded away in the mountains. The road is tricky at times but fun to drive. The house itself is beautiful, Rosa was there cleaning when we arrived at the place was spotless. Very comfortable with everything you could need to make your stay as enjoyable as possible. The WiFi is a bit dodgy but that's to be expected this far up. Unfortunately one of the showers thermostats broke which meant we only had 1 warm shower between the 6 of us, not ideal. However Rosa was contactable and tried to deal with it as quickly as possible. The only real negative, as mentioned in other reviews, is the temperature of the hot tub, a little too Luke warm for us! Overall a beautiful place to stay and close enough to everywhere that it's a perfect base for whatever you're doing in Gran Canaria!
---
Had a lovely stay at Rosa's place. The jacuzzi was very welcome even though it was not always the best weather for us (October). Keep in mind that going to the house the last bit is a pretty small road with two way traffic going steep. If you're not used to it and just honk a lot. It's a very peaceful, spacious (especially with warm weather) and remote location though! Communication was great and Rosa was there waiting for us when we arrived.
---
Muchas gracias Rosa y Vicky! Comfortable and very clean place. Key collection was very easy. + + + Pros * Plenty of firewood supplied * Nice hot water in the showers * Two bathrooms a bonus * Plenty of kitchen utensils and gadgets (corkscrew, coffee moka pots, electric kettle, pots and pans, dishes) Great location to explore the central and northern parts of the island: Arucas, Las Palmas, Gáldar, Pto de las Nieves, Fontanales, Teror, Artenara, Cruz de Tejeda, Tejeda A very useful grocery store in Moya. - - - Considerations * No oven, if that is of interest * Hot tub was more a luke warm tub (but very clean) * Wireless internet was very patchy from the router despite multiple resets
Hi Steven thanks a lot for the visit and the reviews, for future ocassions we ask our guests to plese communicate us any anomalies during their stay so we have a chance to help them, as hot tub should have been hot and internet access is usually excellent. We do have professionals in the area who help us with maintenance.
---
We were very pleased with our stay in Casa Laurel. The surroundings were absolutely beautiful. Lot´s of flowers and birds. Plenty of stars at night! The house felt very spacious and we spent a lot of time playing pool and soccergame in the playroom. The fireplace was cosy in the evenings. We absolutely recommend this place! Thanks Rosa.
---
The house was a beautiful, stone built cottage in a fantastic, rural setting. It was exactly as described and made a great base to explore the island. Rosa and her husband were charming and were most anxious to make us feel at home. However, we were unlucky with the weather - it was cold and rainy/foggy almost every day at the house (which is 800 metres above sea level) and the temperature was between 11 and 13 degrees. We had to use the heating and light the wood stove every day. Also, we were not able to spend any time in the garden, nor use the barbeque so had to go to the coast every day to see the sun, which was a 40-45 minute drive to the north coast. To get to the south of the island - which has the best weather - it took around 75 minutes by motorway. It was also quite a trek to the 2 nearest villages, along narrow, windy roads, quite scary in the dark, so instead of eating out in the evenings, we mostly cooked at home. There was great shopping in Las Palmas (45 minute drive) and the seafood was quite fantastic. As a get-away-from-it-all holiday and for people who like peace and quiet and exploring and walking/trekking rather than just sitting on a beach, it was great but maybe November isn't the right month for a mountain holiday in Gran Canaria. One other word of warning - the tv is Spanish and German only (except for the news channels) and the internet very rarely worked, so take some dvds or cards for entertainment!
Hi Carol you had really bad luck with the weather, as it was one of the few weeks were really the sun came out seldom, it was a cold front in all Spain so normally lets its mark here too. I was also shock to hear that after your trip you found Barcelona at 3 Celsius what is actually incredible. I hope that at least in part of your holiday you got some sun. Internet is normally working but due to this unusual weather and storms probably it was interrupted. In any case we encourage you to next time call us about it because I can always try to solve it through the company that runs the service, they usually send you a technician in a couple of days maximum. An yes, the house is in the mountains and the roads are small, we are truly away from tourism in a quite breathtaking scenery, so it is important that you are a confident driver, we have lovely ravines that make this 60 Km long island elevate two two thousand meters. That is one of the reasons we encourage arrival before 5 pm so you can explore the area in daylight. That is why most of our customers chose the house. Only in the coast the land is flat and you have highways. It was nevertheless a pleasure to have you at the house and we hope next time you come, weather accompanies you.
---
Hola mi nombre es Rosa y mis amigos me conocen por Rosa Mesa, nací en esta isla pero muy joven me fui a explorar un poco el mundo, recalando en el Caribe, Venezuela, Kenia y Tailandia (trabajando como divemaster) para finalmente afincarme trece años en Toronto. Posteriormente y d…
Explore other options in and around Moya
More places to stay in Moya: