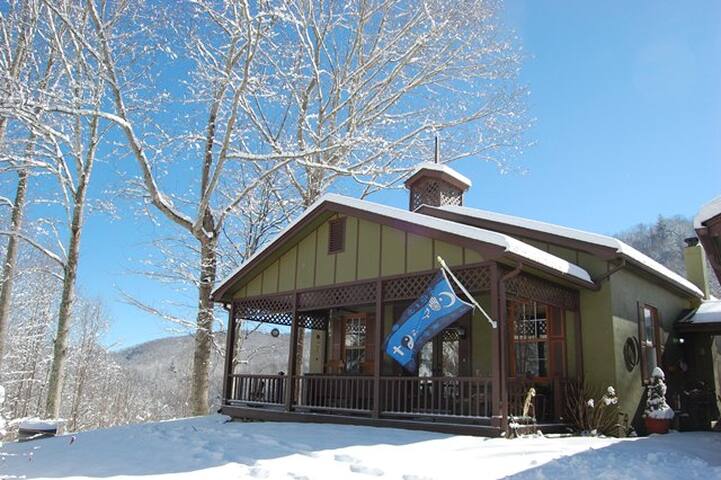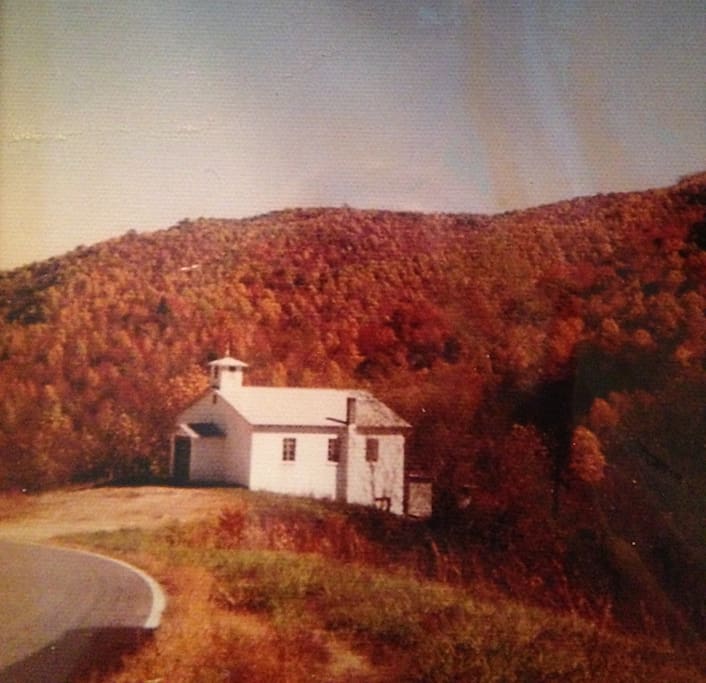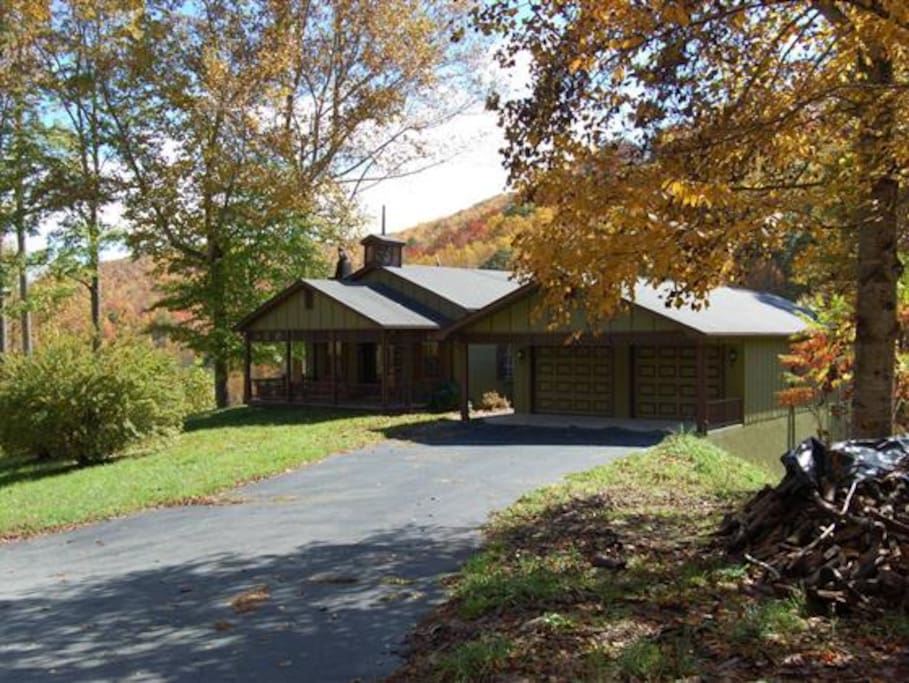 Coexist Cottage ~Mountain Sanctuary
Coexist Cottage ~Mountain Sanctuary
Buckeye Creek Baptist Church (now the Coexist Cottage) was started in the early 1950's by preacher Charlie Stines. When he wasn't able to preach anymore, Finley Estep started preaching there. The church closed down in the 1980's due to several of the members not wanting to hold up to the churches beliefs. It was a strict Baptist Church who members were not allowed to watch TV, listen to radio, or dance. Parishioners of this old church still reside in the Beech Mountain Community. Once a former Baptist Church, this property has been lovingly restored to a mountain cottage. The cottage coexists within nature and the beautiful mountain landscape. It transports you back to a by-gone time. This former country church will soothe your soul, refresh your senses, and offers a cool eclectic vibe with various decor from local mountain artisans. The cottage is decorated in local Appalachian folk art including quilts, photography, paintings, and pottery. It is conveniently located to many of the High Country attractions, festivals, hiking trails, lakes, rivers and activities. The cottage is situated on 2.5 acres that has an old fashion herb garden, (lemon balm, oregano, lamb's ear, mint, mullein and wild flowers) plenty of wildlife, and wonderful mountain views. Relax on the rear deck and listen to the relaxing sounds from the babbling creek that borders the property. Some of the original features of the former Church includes the Church bell which is still operational! In the backyard, there are His & Her outhouses! And lastly, one original pew remains. Get back to a simpler existence and coexist with an authentic mountain spiritual retreat.
The history of Beech Mountain Community can be traced back to when the Cherokee Indians traveled through the area in search of its many elk, bear, and deer. Historians believe that the area was once a part of the Great Trading Path which stretched all the way from Virginia to Georgia, and which Indians as well as white men used. Arrowheads and other Indian artifacts have been discovered which verify this, along with a tree thought to have been marked by Indians traveling on the path. It is thought that this marked tree helped the first white settlers discover and settle in the Beech Mountain area.
One of the first white settlers of the area is thought to be Samuel Bright, who purchased land along the Great Trading Path and began a small settlement. During the next 100 years the population of this settlement and others steadily increased as new settlers arrived. Many of these were of immigrant stock with English, Scotch-Irish, Welsch, German, and Dutch heritage's who came from the previously settled areas of Pennsylvania, Virginia, and the North Carolina Piedmont.
Churches
As more and more people moved into the settlements, communities began to form around the churches which the earlier settlers had begun. These churches became the center point of people's lives, serving various functions such as schools, community meeting places, and the center of social life, with families walking back and forth to them with lanterns. Even today, Beech Mountain Community itself consists of five smaller communities -- Mt. Gilead, Fall Creek, Flat Springs, Beech Valley, and Beech Mountain -- all of which formed around churches of the same name which make up their center.
Culture and Traditions
It took a strong person to settle in these mountain communities with their high and rugged terrain, cold winters, and isolation from other populated areas. It was during these first years that the cultural values of the Appalachian people were formed. The traits of personal independence, loyalty to family, and a strong work ethic were developed in response to the often extreme hardships that people in the area faced. Taking care of one's own was a necessary component of Appalachian life if one was to survive.
When looking to build in the area, families looked first for a water supply and then for a spot that was level enough to build. Natural mountain springs were the most common source of fresh water, with pipes hooked up to them so that water was diverted to a reservoir of some kind. Farming was also extremely important because it was mostly subsistence farming, with families raising just enough to make it to the next harvest and with what they raised providing them with all they needed except salt, sugar, and coffee. Pork was a staple food because of its ability to be cured and stored for long periods of time, as well as its variety of uses. Sheep, cows, and chickens were also kept, providing wool, milk, and eggs, and sorghum cane was converted into molasses, which was used in a number of recipes, as well as for a sugar substitute.
Women formed the backbone of these early communities, putting in long hours of work to keep their family going. Food had to be gathered, cooked, and preserved, and apples and cabbages had to be stored in cellars. Clothes had to washed, meals cooked, water carried and heated, and children taken care of. It was a life that required not only a strong body, but also a strong spirit, a need which in part was met by the strong religious beliefs of the mountain people. Death was no stranger to these people, with the number of children and newborns who died from common diseases high. Isolation of the community from the outside world with its corresponding lack of doctors and medical facilities was responsible for the high infant mortality rate which extended into the early 1900's.
Tourist Attractions
By the late 1950's, the Beech Mountain area had grown considerably, largely due to the commercial development on top of Beech. In the late 1960's, Harry and Grover Robbins obtained all of Beech Mountain and some of the surrounding lands by buying land from individual families. Their intent was to build a four-season resort which would attract the "elite" to Beech Mountain where they would build their second homes. The completed resort offered swimming, golf, skiing, nature at its best, and relaxation, attracting buyers from all over the country.
Despite the remarkable growth of Beech Mountain, the old Beech Mountain Community has maintained much of its original identity. The community is still close knit, with the church and school still playing a large part in everyday life. The values of independence and family loyalty also remain strong.
Cancellation Policy: If Guest wishes to cancel his/her reservation, the deposit will be refunded as follows:
100% if cancelled 30 days prior to the Check-in Date
50% if cancelled 21 days prior to the Check-in Date
SHORT TERM RENTAL AGREEMENT
This Short Term Rental Agreement (the "Agreement") is made by and between John Carrin and Jane Werner_ ("Homeowner") and __ ("Guest") as of the date last set forth on the signature page of this Agreement. For good and valuable consideration, the sufficiency of which is acknowledged, the parties hereby agree as follows:
$ ____ per night x ___ nights = $__
1.Property. The property is located at:
1160 Buckeye Road, Elk Park, NC 28622
Located in the Beech Mountain Community
_______________________________________________________________________
The property is furnished and includes linens, sheets, kitchen appliances, 2 TVs, washer and dryer, iron and ironing board and toiletries.
2.Rental Party: The rental party shall consist of Guest and the following persons:
3. Maximum Occupancy: The maximum number of guests is limited to 2 persons
4. Term of the Lease. The lease begins at _3_ p.m. on ___ (the "Check-in Date") and ends at _11_ a.m. on __ (the "Checkout Date").
5. Minimum Stay: This property requires a 2 night minimum stay. Longer minimum stays may be required during holiday periods.
6. Rental Rules: Guest agrees to abide by the Rental Rules attached as Exhibit A at all times while at the property and shall cause all members of the rental party and anyone else Guest permits on the property to abide by the following rules at all times while at the property.
7. Access: Guest shall allow Homeowner access to the property for purposes of repair and inspection. Homeowner shall exercise this right of access in a reasonable manner.
If the premises appear dirty or damaged upon Check-in, Guest shall inform Homeowner immediately.
Rental rate and fees are as follows:

8. Cancellation Policy: If Guest wishes to cancel his/her reservation, the deposit will be refunded as follows:
_100_% if cancelled _30___ days prior to the Check-in Date
_50___% if cancelled _21___ days prior to the Check-in Date

9. Insurance: We encourage all renters to purchase traveler insurance.
10. Payment: Acceptable payment methods are personal check.
The parties agree to the terms of this Short Term Rental Agreement, as evidenced by the signatures set forth below:
___________________________________

Name (print)John Carrin &Name (print): (Website hidden by Airbnb) Jane Werner
Phone # (during stay): (Phone number hidden by Airbnb) Phone # (during stay): _________________
It is hereby agreed by and between John Carrin and Jane Werner (Homeowner) and _______ (Guest) that homeowner will allow guest to have the following described pets and no others in the vacation home upon and subject to the terms and conditions of the rental agreement and this addendum.
The permission granted herein shall be limited to a certain pet as described below:
Type of Pets: _______________________ Names: _____________________
Color: ________________________ Weight: __________________________
Age:_________________ Sex: _________________
Guest hereby agrees to comply the following:
1. Guest to pay additional pet fee in the amount of $
2. All pets must comply with the following specifications (documentation from an accredited veterinarian must be provided by Guest upon request):
a. May not exceed 100 lbs.
b. Must be at least 1 year(s) of age or older.
c. Must be spayed or neutered.
d. Must be up-to-date on rabies vaccinations and all other vaccinations. Heartworm preventive is highly recommended.
3. All pets must be leashed at all times.
4. Guest is responsible for cleaning up any/all pet refuse.
5. Pets are not allowed on furniture at any time. Any evidence of pets on furniture may incur extra cleaning fees.
6. All pets are to be treated with a topical flea and tick repellent three (3) days prior to arrival. Fleas and ticks are very rampant in this area and can cause harmful/fatal illness to humans and pets.
7. Pet must not cause damage to premises or furnishings. If damages are caused, the cost of the damage may be charged.
8. Guest should prevent pets from producing excessive noise at a level that disturbs neighbors.
9. Pet will not be left unattended for an undue length of time, either indoors or out. Pet will not be left unattended on balcony, patio, or porch.
10. Homeowner assumes no responsibility for illness or injury that may incur to pets or humans while on the premises.
The Guest shall be solely responsible for the pet while on the property.
Sign_________________________________________________________ Date_____
Check-in is anytime after 3PM
John is a PGA Professional at Beech Mountain Club. John is a native to the area and would never live anywhere but the High Country. And, Jane has found God's country in the mountains. Jane is a licensed NC and TN real estate broker. We also own The Trade Farm and another vac…
Response time:
within a day
Always communicate through Airbnb
To protect your payment, never transfer money or communicate outside of the Airbnb website or app.
Explore other options in and around Elk Park
More places to stay in Elk Park: