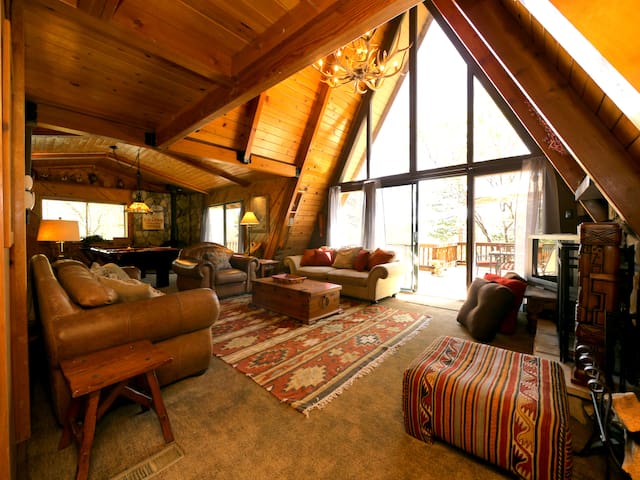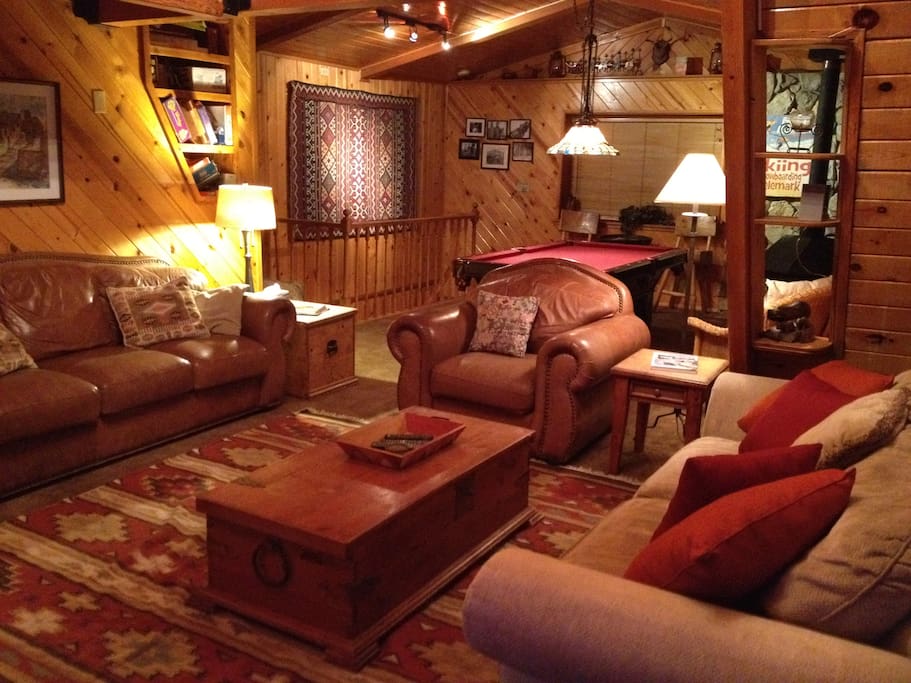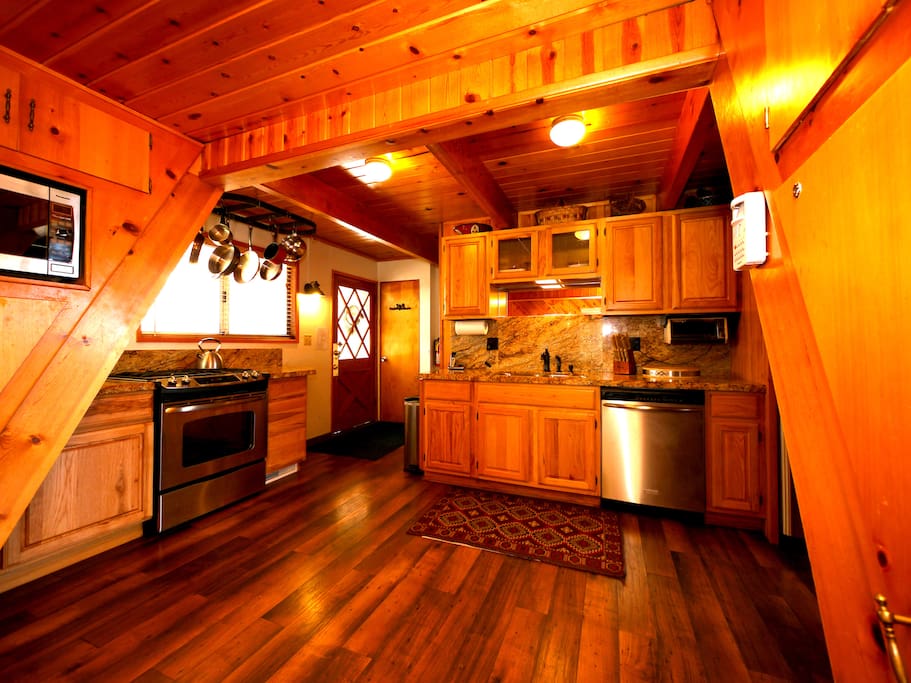 Expansive 2,400 sf, four bedroom, modern, knotty pine A-frame. Expanded main floor accesses large wood deck overlooking treetops and entire Moonridge Valley with peek of the ski slopes. Amenities include; Pool table, Spa, wood burning Fireplace. Great location , only about 500 yards to Bear Mountain - Snow Park, Golf Club & Zoo. You'll even hear the enchanting nightly howls of distant wolves & coyotes from nearby zoo for a truly back to the wild experience.
Stay longer, get 15% off a week!
The space
Classic Mid-Century Modern A-fame Chalet, with four bedrooms and 2 baths. This knotty pine retreat features main floor living spaces with 2 bedrooms up and 2 down, nestled on a hillside among mature pines and oaks. This spacious and professionally decorated home has good sized rooms with walls of windows looking out over the treetops toward Moonridge valley and Bear Mountain yet maintains its sense of seclusion and privacy with no neighbors on any sides. Everyone loves the spa-like master bath! Our home is professionally cleaned, stocked with plenty of fresh white linens, paper and miscellaneous other courtesy items before every guest arrival. Please also read what our guest have to say in our "Reviews" (Reviews tab located below "Description").
Main home Beds are as follows: 1 king in master bedroom (downstairs), 1 queen in second bedroom (downstairs), 1 queen bedroom upstairs and 4 twin beds in upstairs enclosed loft bedroom. The leather sofa in living room converts to a queen bed as well. Thus home sleeps 12 with sleeper sofa, regular beds in bedrooms for 10. We can allow up to 13 guest total if one of the guest is an infant or child under 10 years of age who doesn't need a bed.
Home features: 2 fireplaces on main level plus pool table, indoor spa room on lower level below master bedroom, 3 large decks, 4 TV's, *Plus new 47" LCD 3D TV in living room. Blue Ray DVD player, 15 meg/sec wifi internet. Easy summer parking for up to 6 cars with 3-4 car street level parking for easy in/out even if snowy in winter. Fully equipped gourmet kitchen. Large charcoal grill located on front patio. We also recently added a large LP gas grill on the main deck (full gas tanks not guaranteed but we try). Lots of old school board games too!
All beds will be freshly made with clean white linens and there will also be fresh bath towels and courtesy soaps provided for all our guests.
Location is unbeatable, just a short walk of about 500 yards to the Bear Mountain Ski Resort lifts, Snow Summit Shuttle, Golf Course or Zoo. This is the perfect ski lodge retreat for large groups or families.
There is no smoking permitted inside the home and unfortunately, we are unable to accommodate any pets. Guests found with pets at the property will result in an immediate forfeiture of the remaining reservation days and loss of $500 security deposit.
Basic rates: (Including 11% Trans Occ Fee), depending on season are: $325-650/nt mid week (Sunday-Thursday). Weekend rates (Friday-Sat)are $425-775/night. Holiday rates up to $1,000/nt. with 2-3 night minimum. For total reservation cost on selected dates, including Airbnb booking fees & local taxes, please initiate the reservation on the airbnb property page. You will see total cost but not be charged until reservation is confirmed. Signing of a Guest Occupancy Agreement and sending a copy of your drivers license will be required upon confirmation of reservation and may be sent via e-mail, text or US mail.
***We try our best to keep the calendar updated but in the event of a conflict we will notify you within 24 hours of booking.
Guest access
Entire home & yard but excludes backyard glamp-tent. This is due to the city not allowing any tents to be permitted for rental.
Interaction with guests
Guest may be greeted by the house manager or owner at check in only. Check in any time after 4:00pm with your personal Kevo e-key. Additional Electronic Combo lockset provides convenient 24 hour access for all members of the group during your stay.
Other things to note
Street level parking deck for up to 3 full size cars or trucks is great for winter or summer. Covered carport and sloping driveway provide 3 additional parking spots during warmer, non-snow times (generally May - October)
Home has forced air heating with programmable thermostat but no air conditioning/cooling. A few floor fans are provided in summer months. Usually the nights are quite cool so comfortable temperatures can be achieved by opening windows as needed in evenings and closing in morning to hold cooler air in. Upstairs rooms do get warmer. Downstairs rooms tend to stay cooler in summer but are well heated in winter.
We do not supply firewood. Guest wishing to build a fire should plan to purchase wood in town or bring some up with them.
Check-in is anytime after 4PM
This is our family vacation home. We ask that you treat it as if it was your own, and enjoy it as if it was yours as well. Please do not exceed 12 persons in the home at any time as this is regulated by the City and any complaints of overbooking of the maximum allowed (12), can cause the reservation to be canceled without refund.
Cleaning fee includes customary bathroom sanitation, vacuume, dusting and standard cleaning of entire 2,400sf home including laundering linens and making all beds. However, Guest's are required to wash all soiled pots/pans/dishes and remove all trash and perishables from the property upon check out. A free dump site is available nearby with directions at the property. Our cleaning crew charges $25/hr for any excess cleaning or trash removal, if required.
No Pets & No Smoking inside the home is allowed. Guests found in violation of this rule will be asked to depart immediately and forfeit their entire $500 cleaning deposit.
Guest Occupancy Agreement signing is required and will be sent via e-mail upon reservation confirmation.
(URL HIDDEN)"GUEST OCCUPANCY AGREEMENT"

THIS AGREEMENT, entered into this __th day of __________, 20__, by and between: J. "Rand" Petrie, as Owner, and: _______________________, as Owner's Guest.
Primary Guest information is: _____________________
Principal residence: _______________________
_______________________
E-mail: ____________________
CA Drivers Lic #______________
Telephone # ________________
1.PROPERTY: Owner rents to Guest and Guest hires from Owner the "premises" described as: One Furnished 4 bedroom, 2 bathroom Home (aka:Ridgeview Chalet) located at:
1273 Pigeon Road
Big Bear Lake, California 92315
2.TERMS: Guest agrees to pay the full rental amount of $______, an exit cleaning fee of $165.00, optional trash removal fee of $50, plus Airbnb booking fees in advance, and a refundable $500 security deposit prior to occupancy. All fee's and security deposit may be collected by Airbnb.com.
(URL HIDDEN) The above rental amount pays for ___ nights on the following days:
Check in Date: ___/___/2015 Check out Date: ___/___/2015
Check in time is 4:00pm and Check out time is 11:00am unless noted otherwise.
3.CANCELATION: Rental Reservations are non-refundable. However, if cancelled by Guest prior to 1 weeks before the reservation start date, 50% of the total reservation fee will be refunded. No refunds or cancellations will be allowed due to bad weather, road conditions, mechanical failure, power outages, act's of nature, sightings of insects, rodents or other animals in or near the property, nor for malfunctions of spas or any other specific features of the property. If for any reason you need to cancel your reservation, Guest must notify the Owner and Airbnb as soon as possible, and confirm your cancellation with Airbnb. Owner may cancel this Agreement at any time. In the event that Owner cancels this reservation prior to your occupancy of the premises, Owner shall, or shall instruct Airbnb to, refund all monies previously paid.
[ ______ ] [ ______ ] Guest initials
4.RELEASE of LIABILITY for RISK (known and unknown): Guest understands and Agrees to hold Owner Harmless against, and Assume all liability for loss of personal property and or injury to himself or any other guest occupant or visitor of the property, by any cause including but not limited to: foul weather, acts of nature, heat, fire, hot water, spa's, electricity, oven/stoves, insects or animals, and further Agrees not to hold Owner liable for any injury or loss of any kind occurring at the property during Guest stay. Guest also agrees to take extreme caution at all times when water, ice or snow are present and assumes all risks of moving in or around the property. Guest understands and agrees it is his responsibility to clear or remove any accumulation of snow or ice, as needed for safe ingress and egress to or from the property, at all times during his stay. Guest also agrees to inform all other guest occupants and visitors to the property of this Release of Liability for Risk and to inform each of them of their responsibilities in assuming risk of injury or loss while at the property. [ ______ ] [ ______ ] Guest initials
5.LATE DEPARTURE AND OCCUPANCY EXTENSION CHARGES: A late departure rental fee, which may be higher than the initial rental rate, will be added to any extension of occupancy past the agreed check out time, subject to prior approval by the Owner/Manager (8 hours or less shall be charged ½ the daily rate).
6.SECURITY DEPOSITS: Security deposits may be used to pay any and/or all of the following charges: Trash Removal ($50 minimum), Unpaid rental amounts, Late Departure fees, Excessive utility usage, Locksmith or re-key fees, Cost for repair of damages or replacement of Property Equipment (Spa's) or Furnishings, Cleaning of property after departure, including extra cost for excessive cleaning of spa and stain removal or cleaning of any smoke/ash, vomit, pet, urine or blood stains or residue, and/or any damages whatsoever beyond normal wear and tear. In the event that damages exceed the amount of the security deposit, or are discovered after the return of Guest security deposit, Guest agrees to pay all cost/charges for any damages caused as a result of their stay, immediately upon being informed of said fees or damages.[ ______ ______ ] Guest initials
7.GUEST INSTRUCTIONS: Guest agrees to follow all instructions contained in or made a part of this Agreement and/or posted at the property. Failure to follow said instructions may result in unforeseen injury or property damage to which Guest hereby assumes full responsibility, even if said damages are not known at the time of check-out or if they become known after the return of Guest security deposit.
[ ______ ______ ] Guest initials
8.CITY ORDINANCE RULES: This property is located within a residential community and controlled by City Ordinances regulating the Transient Occupancy of Private Homes. This Home is Licensed for a maximum of 12 occupants. Any violations of Law or excess occupancy of the property may result in civil fines and/or immediate forfeiture of the rented property without refund. Only Guest signing this Agreement may authorize another guest/occupant for entry into the property and he/they is/are responsible for controlling occupancy at all times. Guest may not authorize a total of more than 12 guests or occupants, including him-self, at any time. The Spa may only be used by adults and supervised minors over the age of 16.
[ _______ _______ ] Guest initials
9.ALLOWED USES and RESTRICTIONS: The premises may be used for any lawful residential use in accordance with the laws of the city and state where the property is located. Excepting the following additional restrictions: No parties or social gatherings with more than 12 persons at any given time. Maximum occupancy of spa is 4 persons. No amplified music or sounds so as to be heard outside of said rental unit. At no time may the property be used for automotive repair tasks or the conduct of any business activity, including the production of film or photographic materials for any commercial use or purpose, without the prior written consent of Owner. [ ______ ] [ ______ ] Guest initials
10.NON-SMOKING: All properties are non-smoking. Any guest found in violation of this rule will be charged a minimum additional housekeeping fee of $50.00 Smoking is permitted outside provided ashes and butts are properly disposed of in fire safe cans.
[ ______ ] [ ______ ] Guest initials
11.PARKING: Parking of up to 3 Guest's registered vehicles is permitted on elevated parking deck year round, and 3 more cars on sloping driveway any time except winter months (November-March) or any time freezing weather is expected. Parking on sloped driveway during winter months is not allowed due to possibility of snow or ice accumulation causing loss of vehicle traction and possible damage to persons or property. Any damages caused or resulting from failure of Guest to follow these rules will be the sole responsibility of Guest.
[ ______ ______ ] Guest initials
12.MAINTENANCE AND ALTERATION: Owner and Guest shall make every effort to maintain the property in good condition during Guest stay. Guest agrees to report any items not working as soon as possible to Owner and understands that unforeseen repairs may be required during their stay. Guest further agrees to allow Owner to schedule repairs of any items not working as soon as practically possible but that repairs are not guaranteed to be completed during rental days. Guest shall not repair alter or move any furnishings nor install anything including decoration or temporary items inside or outside of the home without prior written consent of Owner.
13.CHANGE OF TERMS: The terms and conditions of this Agreement are subject to change by Owner, after the expiration of the original rental period, upon giving 24 hours advance written notice via e-mail or fax.
14.INSURANCE: Guest acknowledges that no insurance is provided by Owner and Owner's insurance does not cover Guest's personal property or any damage caused by fire, smoke, heat, cold, water, rain, theft, war, acts of god, acts of others, or any other causes, nor shall Owner be held liable for any such losses. Guest is hereby advised to obtain his own insurance policy to cover personal loses.
15.RIGHT OF ENTRY AND INSPECTION: Owner, his agents, employees or subcontractors may enter, inspect, service or repair the rented premise at any time in the event of an emergency or suspected Guest departure. Owner shall give Guest 24 hours notice of intent to enter the premise for the performance of cleaning services, scheduled maintenance or repairs. In the event that Guest is required to temporarily vacate the premises for work to be performed, Guest shall receive 24 hour advance notice by Owner of need to temporarily vacate space. Guest hereby agrees that Guest will be solely compensated for his temporary displacement by a reduction in rent corresponding to the portion of the premise required to be vacated for said number of days. No other compensation shall be offered to Guest for moving expense or any other expense associated with temporary vacation of the premise or portion thereof.
16.ADDITIONS AND EXCEPTIONS:________________________________
Please call 24 hours in advance to verify availability of an earlier check-in, or a later, up to 4:00pm, checkout without penalty.
17.REMEDY AGREEMENT: In the event of any breach of this agreement or any dispute hereunder, all parties, their heirs and assigns consent to the judicial jurisdiction of the County of San Diego, State of California. Should any disputes arise by and between the parties to this Agreement, their heirs or assigns, the prevailing party shall be entitled to its actual attorney's fees and cost in relation thereto.
18.ENTIRE AGREEMENT: This agreement constitutes the entire agreement between Owner and Guest. No oral agreements have been made. The undersigned Guest's are jointly and severally responsible for all obligations under this agreement and shall indemnify the Owner for liability caused by the actions (commission or omission) of Guest, their guests or invitees.
19.RECEIPT OF AGREEMENT: Guest hereby certifies that he/she is fluent in the English language, has read and fully understands this agreement and has received a complete copy of this "Occupancy Agreement".

___________________________ __________________________________
Guest Date
This Agreement shall be deemed accepted by Owner upon Guest complete acceptance and signing of this Agreement, and confirmation of receipt of all rental amounts due and as evidenced by the issuance of Airbnb Confirmation number ________.

San Diego, California, United States
Joined in November 2010
Friendly Realtor from San Diego, CA. I like to cook, live healthy and also likes outdoors activities and travel. Also enjoy spending time with friends and family or exploring new places. I live in San Diego and work from home.
Languages:
English
Response rate:
100%
Response time:
within an hour
Explore other options in and around Big Bear Lake
More places to stay in Big Bear Lake: