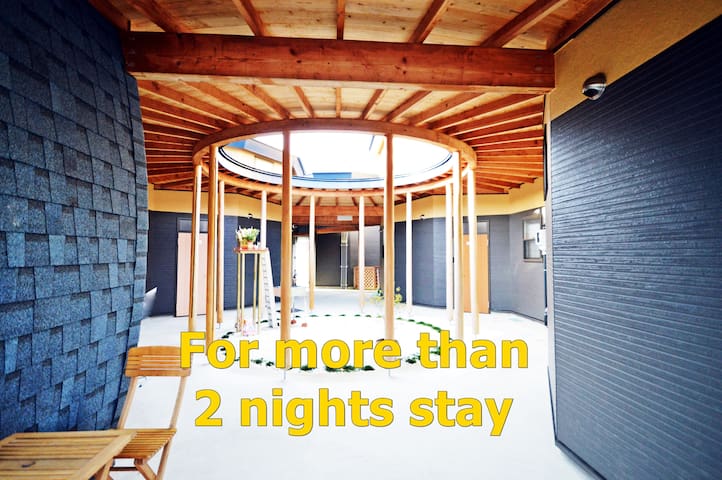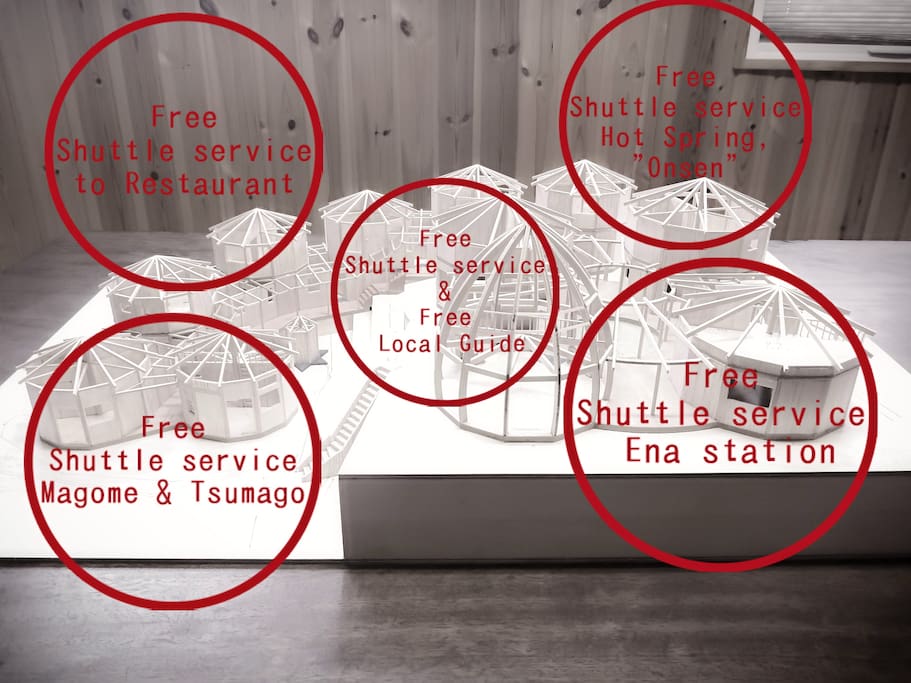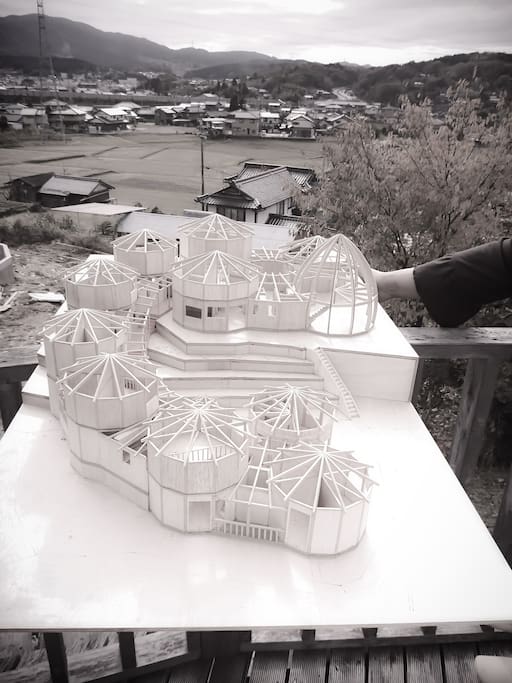 for 2 nights stay, Mordern Zen temple、Free Shuttle
For more than 2 nights stay.
From 2nd person, US 49 dollors. Free Shuttle services to Magome, Tumago , JR Ena station, and resutaurants & hot spring-Onsen in the town.
Our concern is hospitality. If you like to spend time just yourself , we will leave you alone. With your requests of Japanese experience, variety ways can provided. Free vegetarian breakfast included.
Real Japanese Experiences rather than just sight seeing! We Share Japanese Local History and Culture with You if you wish!
---
Bedroom 1
3 floor mattresses
Common spaces
2 floor mattresses
---
---
Extra people $63 AUD / night after the first guest
Security Deposit $641 AUD
Weekend Price $86 AUD / night
Always communicate through Airbnb
To protect your payment, never transfer money or communicate outside of the Airbnb website or app.
Learn more
---
Fee:
Anyone above the age of 6 years count as one person.
(The age of 2 year until 6 years is a half price of adult. Your price will be adjusted.)
Children under 24 month old are free of charge. (No providing futon mattress, please share with parent's futon mattress. If you request extra mattress for under 24 month child, we ask a half price of adlut fee.)
ARRIVAL/DEPARTURE:
Generally we ask that you arrive after 3 pm and you should plan on departing by 11 am on your checking-out day. This is flexible depending on availability, however we cannot guarantee it until the night before.
ハウス・マニュアルと同じです。 Same as House Rules.
0: 室内土足厳禁です。 Wearing Shoes are Strictly prohibited inside.
1:トイレは男性も座って使って下さい。立ってオシッコするのはダメです。
To male persons, Please use toilet with sitting position, no standing style. (to keep the floor clean.)
2:寝る前にシャワーを必ずして、布団を清潔に保つためにも身体をキレイにして下さい。
Please take shower before using our futon Mattress before you sleeping to keep them clean. (When you are sick, no need to take a shower.)
3-A:髭やを剃る時、髪の毛を切る時は、洗面所の前でして下さい。 歩きまわると、 剃られた髭のカスが、そこらじゅうに飛び散ります。
Please do not use shaver while you are walking around.(to keep the floor clean.)
3-B: スプレー式のコロン、香水のご使用の際は、必ずお風呂場で御願い致します。 (木の床、木の壁が香水を吸ってしまいます。)
If you use spray typed colon, perfume, please use it int the shower room. (Otherwise, our delicate natural wooden panel will absorb your perfume. )
4. 宿泊客以外のお客様のご来訪は必ずホストにお知らせ下さい。 また夜10時以降の宿泊客以外の方の来訪、在室はお断り致します 。
Please do not bring any guest , any friends after 22:00.
Not allowed staying overnight except lodging person with payments. (When your friend visit you, please let know us in advance.)
5:洗濯機は、夜9時以降は使わないで下さい。 夜の大きな音は近所迷惑です。 Please do not starting to use the washing machine after 9 pm.
6: 洗面所等に髪の毛が落ちた場合は、ティッシュなど使ってキレイに清潔にしてください。 Please keep clean the wash bowls, basin. You can use tissue paper to clean it after using.
7: アルコール飲料不可(お酒、ビール、Whiskeyなどお土産を除き全て不可です。)、室内は完全禁煙、 肉&魚&卵は持込禁止(ベジタリアン食品のみ室内持込可能) 不明な点があれば必ずご質問ください。
特にこの7番目の事項を遵守出来ない場合は、デポジットからUS300ドルを頂く事もありますのでご了承を御願い致します。
We do not discriminate against racial, sexual, religious matters.
( Our motto is respecting each other, it does not matter what kind of background you have.)
We especially ask the most important 3 Following
Rules because we use this building as holy ceremonies place for religion purpose such as Buddhism & Hinduism and so on.
1: No Smoking in the rooms.
2: No alcohol (No Beer, NO sake, NO Whiskey) drinking inside of
this building. Gift items are exceptional.
3:Only vegetarian food allowed to bring in our building.
(No meat, No fish, No egg, No crab, No shrimp, please!)
If you do break one of these 3 rules intentionally, We DO Have a Right to Ask US 300 dollars from Your Deposit as compensation . Therefore your kindness and respectable corporation is greatly appreciated.
---
---
---
---
Japanese Site:

English site:

【日本語での紹介は末尾にございます。】

I and my family are easy going and open-minded. We speak English.( we are native Japanese.)


We are also world wide travellers. Our family is Vegetarian , and specialized in oriental herbs and home made enzyme. We often visit Thai temples for tambun.

We can offer 【Free Zen temple style、traditional Japanese Vegetarian breakfast.】
We can also offer 【Vegan meals】your special requested of Vegetarian meals in advanced adjustment. Sorry we can not serve you eggs.

Our family is not so much into sport, but we practice "dou-道"
Sho-dou 書道、Japanese Calligraphy. Ken-dou 剣道, Japanese swordsmanship. Meditation with Buddist Styles .

Every cultural diversity is good way to start for communication each other. What more important thing is respect each other with dignities.

Our family have courtesy to have you from around the world.

If you looking for a good country side of Japan, you may consider us as one of your choices!

【Our Specialities , Experts areas】

1: Specialized in Kiso Valley:
Nakasendo, a major route connecting Tokyo and Kyoto during Edo Period. We can be your good guide of Magome,
Tsumago, Nakatsugawa, Ooi town.

We are kind of kataribe 語り部【story teller】
You will get to know and Understand more deep inside of Japan and orientalism.

We give you many perspective points of views such as folklore, good Japanese country side of traditional customs, local legends with spirituality of old Japanese, as well as architect and history.

You will get to know deep inside of traditonal & modern Japanese and Japanese life styles which you can not get from regular guide book.

With a Background of Majoring in Japanese local history in Buddhism University, we can tell many interesting story of deep aspects of Japanesque.

Kataribe 語り部【story teller】: undersatanding more deep inside of Japanese and orientalism. legend, history,old story of Japan, local That's what we can offer for your Japanese exploring.

2: We have deep knowledge of Japanese and oriental spiritualism.

That's because we have dedicated whole life in Exploring and getting holy wisdom from many greatest masters and Gurus all around from Asia such as Buddist highest monks of Thailand, Indian Jain holy saint, Philippines's greatest Psychic surgery healers, grandmaster of orasion. many times of pilgrim such as Tibets's Mt Kailas and Lunbini.

We are exactly where and how we are standing on the Japanese and oriental spritualism. Because of unusual experiseses and wider views based on Japanese ritual heritage with many world wide wisdom.

3: Oriental Herbs and Japanese vegetarian cooking areas come along with it naturally.

As we can provide optional tour: 【regular sight seeing】
A half day trip or one day trip around this Ena, Nakatugawa, historical Edo period Nakasendo town of Kisoji:Kiso Valley, Tsumago & Magome, Narai.
Also castle town, Iwamura. Shopping for Toki premium Premium.
Gero hotspring, Takayama, Sirakawa-go:Unesco World heritage site.
some horse riding, Trying making soba noodle facilties, Japanese Pottery making facilities and many things:

****************
Beside that 【OUR SPECIALTY】 is
【Holy spiritual Activities】& Vegetarian Meals,
We can make very special arrangements as followings:
***************

* Meditation Experiences at Japanese local buddist Zen temple where no tourist vistting, only local people place,is just for you.

*Getting special blessing from Shinto shrine chief priest just for you.
If you wish, You can have world wide reputable Psychic Surgery,too. (this we will be our special one day trip arrangement)

*Getting nobel sprit's holy water for your making wishes and health.
*You can make a wish at Omokaru-stone, if your wish come true, the holy special stone can be easily lifted where as the stone is fairly heavy at normal time.

【Our ORIGINAL WORKSHOPS 】are as following:

-Self detoxification with oriental Medicinal Herbs Fee:$100 for 3 hours.

- Home made enzyme with furuits and wild herbs. Fee:$100 for 3 hours.

-Zen & Theravada Buddhism meditation. For 1st time Fee: $50 for 2hours.

-Japanese easy Vegetarian cooking class for everyone.
( Japanese easy Vegan cooking based on four elements can be available.)
$80 for 3 hours.

and more workshop styles. Gruoup session can be discount rates.

*******************
【Extra notes 】
I am also a worldwide researcher of Supernatural Power & supernatural phenomena. Psychic Surgery and materialization is my speciality for many years. Unseen and unbelievable videos can be shown only when your request.
********************

【Last minutes Reservation can be possible. 】
That is because we do not want you to be a touring refugee in middle of Japan!

If you are looking for as real Japanese culture more deeply, and some traditional oriental amazing experiences, this could be your best destination!

Our family is looking forward to see you!

【about airbnb】
With the recent technology of our every day life, this world seems to be getting smaller. Who could have imaged that the local area such like my family place in Japan can be international place from all over the world. One Parisian is speaking to her family by whereas Japanese host is taking to Californian who is sitting next each other.
we all sit and enjoy eating dinner together with the same table.

This kind of situation had never imagined for 10 years ago. This is not just a regular sight seeing, but all new experiences of cultural exchange which we never had. It is getting a exciting world and new era of beginnings.

【末尾となり申しわけございません。
日本語でのご挨拶は下記の通りです。】

私たち家族3人は生粋のこの地である恵那・中津川地方で生まれ育った人間です。

スポーツというより、自分と向き合う日本古来からの道とつくものの方が性に合っているようです。 表向きは、菜食でお酒も飲まない家庭なので真面目で誠実に努める人達という印象を持たれるかもしれません。
実は以外とオタクであり、我が家のバイブルは、魁、男塾かもしれませんし、セイントお兄さん、鬼灯の冷徹、辺りかもしれません。

夫は、不思議な事、超常現象をリサーチするという、ちょっと変わった家族ですが、物事の本質をいつも捉えたい、核心に迫りたいという探究心は、世界の不思議発見より不思議さ加減では上を行くかもしれない、と鼻息荒く今も突き進んでいます。

妻は、世界中に食べ物は色々あるけれど、どうなっているの? という思いが絶えずあるため、 我が家の食卓は、いつも菜食での料理研究の道という名の下にて、お客様にご馳走を振る舞わない時は、実験!?爆走中の模様です。

親が見ている世界の方向性が違うがゆえ、我が子も、両方の性格を引き継いでいるとしか言いようがないようです。

ホスト役として、地元に住む人間として、また、ある程度の経験も積んで来た年となり、 他の地域との比較、この地域性はもとより、一般の見識、見聞をお伝えする事と同時に、少し違う角度からみた場合の日本の地方の良さ、日本人としての良さ、他の国の方ならば、 日本とそれぞれの自国の再発見をする旅のお手伝いが出来ましたら幸いです。

もちろん、とはいえ、お節介になってはいけませんので、礼節を持って対応を心掛けています。
ゲストの方々にとって、程よい、さじ加減でホスト役として旅の主人公であるゲストの方々の引き立て役、裏方として、思い出に残る旅のお手伝いができましたら幸甚です。







Languages:
English, 日本語
Response rate:
100%
Response time:
within an hour
Explore other options in and around Ena-shi
More places to stay in Ena-shi: