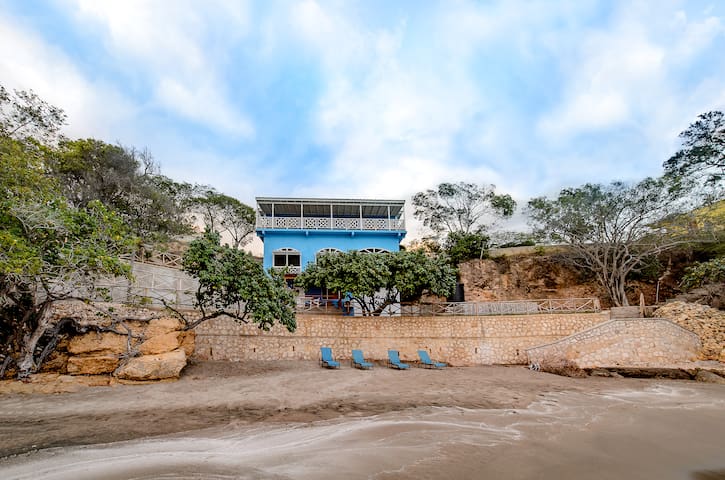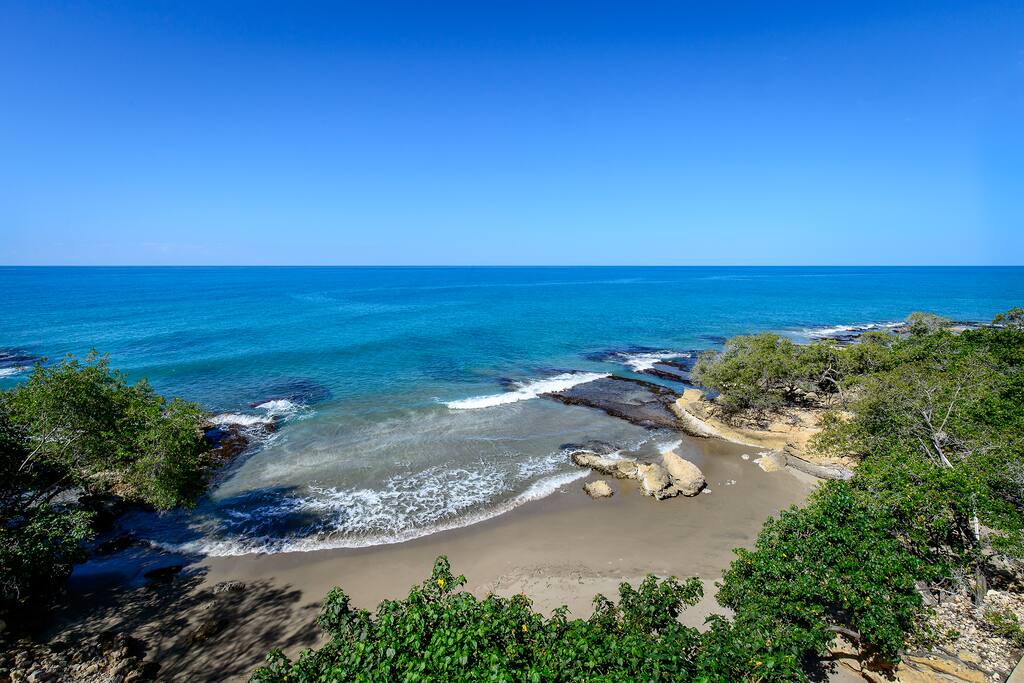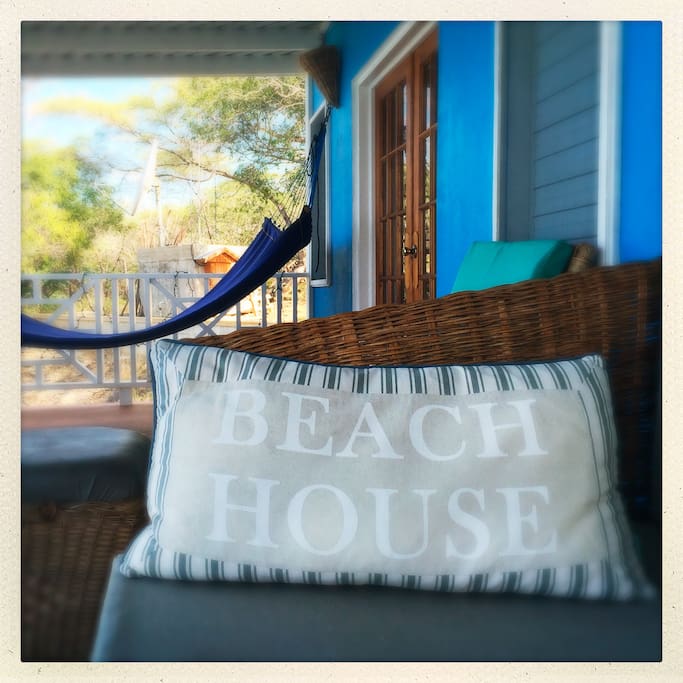 CLIFFSIDE COVE is a modern villa with a picturesque private swimming beach located on a quiet coastline 10 minutes from downtown Treasure Beach. Relax in a hammock, swim, snorkel, fish, bike, boat tours, bonfire on the beach at night under the stars. Dine on local fruits, vegetables, fresh fish, grilled lobster, jerk chicken. Cook on staff and two new excellent restaurants nearby. Each bedroom has AC, fans, private bath, wifi, private veranda. Separate Airbnb listing for entire 4 bedroom villa.
Extra people $68 AUD / night after 4 guests
Always communicate through Airbnb
To protect your payment, never transfer money or communicate outside of the Airbnb website or app.
Bedroom 2
1 king bed, 1 single bed
Really great location a bit outside of Treasure Beach. Relaxing and easy going at its best.... Josh is a extremely helpful and very mindful host (and he is also a party animal if you like....) Thanks for that! We had a fantastic trip to the Black river including Pelicane Bar, river swing and luckily with dolphins. And definitely try to eat with the Singing chef - we had the best ackee with saltfish in Jamaica (and lobster too... )
---
Our group of four absolutely loved staying at TanTan Beach! Josh and Tanelia are wonderful hosts. The house is beautiful, spacious and comfortable. There was another couple staying in the house our first few days there and it was still very comfortable and we felt everyone still had their own privacy. The private beach is perfect and so relaxing. The rocky coast line is fun to explore day and night. The view from the house is breathtaking and hearing the waves constantly is heavenly. The location is ideal and we felt very safe the whole time. Treasure Beach is such a great community. We love the slow paced lifestyle there and we are so happy we chose to visit this area instead of the more touristy towns. Josh knows the area very well and introduced us to locals. His friend Captain Ozzie and his crew provided us with a great day on the boat up to the Black River and the Pelican bar. The restaurants Josh took us to in town were amazing. We were happy to visit the Singing Chef and Mellow Yellow. Tanelia and Tanya cooked for us our first night at the house and everything was so delicious. We regret not having them cook for us more. We will definitely be staying here again in the future. We felt we had a down to earth Jamaican experience and a great adventure by staying at TanTan Beach house. :)
---
Joshua & Tanelia are the Best! We had the most wonderful holidays! Tan Tan Beach House, the private beach - better than we thought! You wake up with the sun and the sound of the Sea and you go to sleep with the waves singing a sweet lullaby :) Tanelia & Carol (The Singing Chef) the best chefs you can imagine - fresh lobster & fish - wonderful! The tours were great - Boat trip to Black River and Pelican Bar - absolutely marvellous. Our little shopping trips to the village with recretional stops at the different bars, Breakfast at Gaby's - Dinner at Singing Chef's (Carol) and even just liming at the beach at one of those countless little bars is great! Football / Soccer on Saturdays with Jerk Chicken and Red Stripe - awesome! If you want to cook yourself there is fresh fish & Lobster to be bought, O'Neill's wonderful Herb Gardens will provide salad and Fruits / Veggies, like countless possibilities to get fresh veggies & real fresh fruit on the way at little shops by the road. Joshua & Tanelia are wonderful hosts - if you want your quiet you will have it, if you want fun and leisure - they will provide lots of suggestions - of which every single one is individually planned for you as soon as you choose it - from rum distillery to bonfire on the beach :) Nothing for people with walking disability, though - the house has some steep stairs which keep you in shape in case you will enjoy the food and Red Stripe a little too much ;) The Water at Tan Tan Beach is wonderful - the beach runs into the carribbean Sea to softly, so you have ground under your feet quite far out. Even if you are not one of the best swimmers you will be able to enjoy the water with "real" waves as well :) People at Billy's Bay and surroundings - anybody we met - are all so kind, open minded, warm hearted, we felt very cosy, safe and happy in Billy's Bay, Treasure Beach! Thanks to Josh who took us to everywhere and so we had the pleasure to get to know so many lovely people. If you like it individually, not prearranged to the very last second, if you like to get to know land, food & people - Tan Tan is definitely the best place to be! I could write down so much for all the many wonderful places we saw, for all the wonderful people we met - but best is to come and see for yourselves! And for getting some Dollars, there has now been a brandnew ATM installed - so no problem :) Back in good old Germany we now have cold hands an feet - but we try to keep the heartwarmth and the warmth of the sun & the carribben Sea as long in us, as possible! :) Thanks to all people...
---
The Tan Tan House (TTH) is a gem. If you're looking for a very chill vacation in an authentic area of Jamaica, this is your house! No tourist traps here, just Jamaicans and some ex-pats living what appears to be tranquil and happy lives. We ditto what reviewers Marla and Patrice said about the house so consider that repeated here. For us first-time airbnbers, it wasn't abundantly clear that the house actually has 4 bedrooms that can all be booked separately. At least three of the four bedrooms share common areas. Great if you're traveling with family/friends, but maybe not so great if you're not. Joshua does a great job communicating with you ahead of time and makes the entire process easy. If you follow his recommendations, you won't go wrong. Be sure to give yourself plenty of time getting to the house from Montego Bay. Joshua recommends arriving before dark, and please do yourself a favor and do that, if at all possible. If you have any special dietary needs, be sure to bring what you think you'll need for your entire stay to the TTH. We are gluten-free vegans and brought a lot of things from home, but also stocked up at the Mega Mart in Montego Bay before heading out. There are limited alternative products available in Treasure Beach, but we did see Almond Milk in a little groceriy there. If you can stop at one of the vegetable markets (I think there's one in Black River) do so. The small groceries in Treasure Beach don't carry much produce. However, a nice man (Kevin) has a produce truck and stopped by the TTH one afternoon early in our stay. It was great to get fresh watermelon, yams, cucumbers, tomatoes, etc. from him at our doorstep! Thanks Kevin! Joshua is a great host and quick to respond to any questions but doesn't hover. We're already planning our return trip.
---
Tan-Tan Beach was everything we anticipated and so much more! The house is bigger and more beautifully situated and decorated than the pictures convey! You walk in from the driveway at the top level, cross a hall just a few feet to drop your bags in one of two master suites and see than jaw-dropping view of your private beach and endless ocean. Here are the things you can't see from the pictures: all rooms feel fresh, clean, airy, and breezy all day, high quality beds, plenty of storage, soft linens, soaring ceilings with fan, all windows are screened, and a view of endless sea from the bed -- simple luxury and incredibly romantic. Take a late afternoon siesta and watch the sun set over the water from the bed or the hammock or daybed on the verandah. Although we run our a/c all summer in Boston, we only used it for an hour or two when we went to bed – turning it off to open the louvers and French doors for the rest of the night. Even with it on and the louvers closed, we could still hear the waves crashing. Down one level, the kitchen/great room is equally spacious, comfortable, and well-equipped, including microwave. Doors on each side of the house, vast windows across the ocean side, soaring ceilings with fans, and shade trees all around keep this level cool and fresh all day. A bedroom on this level faces the ocean with ensuite bath; privacy is ensured because it is accessible off a small covered patio, rather than directly from the great room. Even before you reach the beach, there are 2 different levels outside with lounge chairs and/or furniture for dining overlooking the ocean. And then there is that truly amazing and private beach -- it is the only beach for as far as we could tell in each direction, and only accessible through your house or by boat. Shade can be found at the beach level most of the day, except very late afternoon, when you'll probably be enjoying a drink and watching the sun set from under a tree on one of the upper levels. When the tide is out you also have private tide pools to explore and we found numerous sea cucumbers, along with the usual crabs, tiny fish, a great variety of snails and shells. The beach is sandy and gently sloping and the waves are moderate to gentle. Josh and Tanielia (Tan-tan) are a great hosts – available when needed by text or phone and very friendly (wifi is great in and around the house). We drove from Montego Bay and although our flight was 2 hours late, Josh and Chef Kero met us in Black River and took us to the grocery store; since we were running late, they even shopped at the farmers market for us before we arrived. The grocery has typical and mostly processed national US brands, so the only thing we would have done...
---
Response rate:
100%
Response time:
within a few hours
Explore other options in and around Treasure Beach
More places to stay in Treasure Beach: