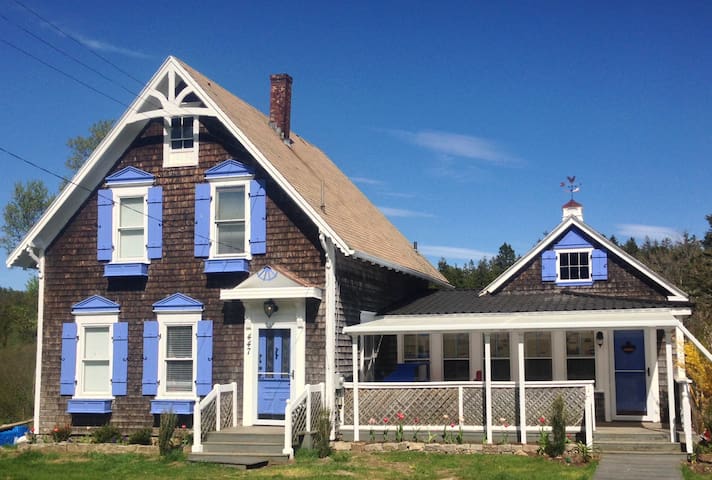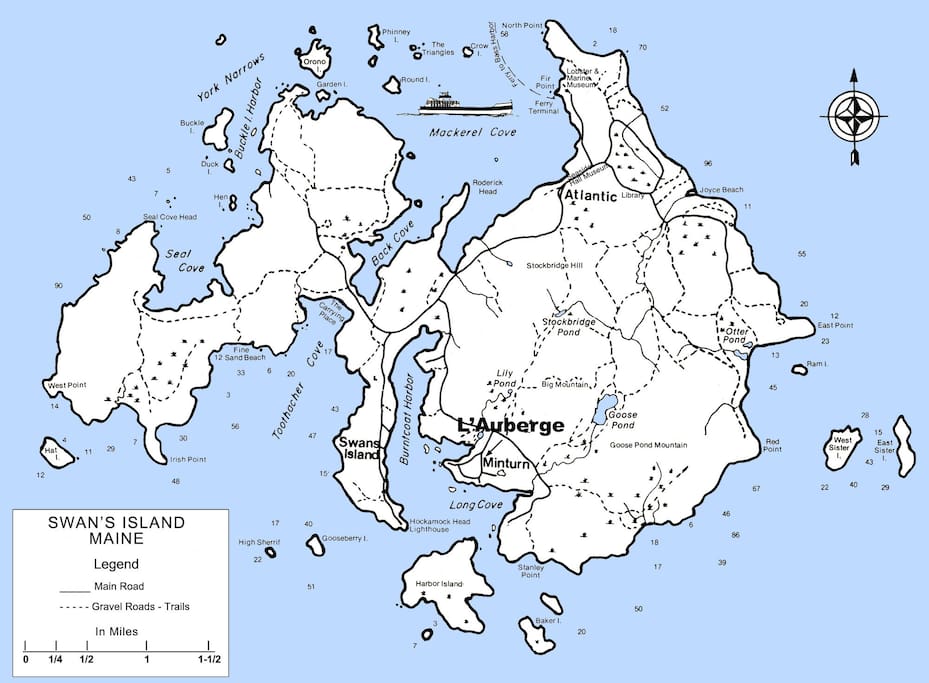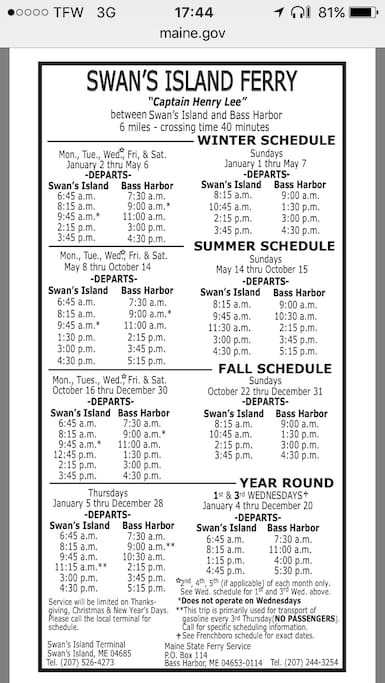 L'AUBERGE is French for "The Inn". All are welcome. We are located on Swan's Island, near Acadia. NOT Swan Island near Richmond, ME.
___________________________
The Aubergiste (innkeeper) and Chef is Mario Bergner. He is dedicated to make you comfortable, and well-fed.
___________________________
Two bedrooms for rent. THE BLUE ROOM / ROOM 1, sleeps 1-4. THE YELLOW ROOM / ROOM 2, sleeps 1-2. Both rooms my be rented by a family of two adults, and four children.
____________________________
The space
BOTH BEDROOMS at L'AUBERGE are newly decorated akin to a French country home, and are secured with a deadbolt lock and key. Bed linens and towels are 100% cotton. We've tried our very best to make each room hypoallergenic.
THE BLUE ROOM / ROOM 1 has 2 twin beds, and a futon couch that opens to a double bed. The room sleeps 1 to 4 people. It's perfect for a family of 2 parents and 2 children (3 photos are on this Airbnb page).
THE YELLOW ROOM / ROOM 2 has a double bed, and accommodates 1 or 2 people (3 photos are on this Airbnb page).
As a L'AUGERGE guest, you may rent the entire BISTRO ROUX dining room, for a catered event for up to 20 people. Any table service for six people or over is automatically an 18% gratuity to pay for the hire of an extra server. This a standard fee in the USA restaurant industry for such a large party. If you book a party over six, you will be alerted of this fee, and then authorize it when booking.
____________________________
EATING: Attached to L'AUBERGE is BISTRO ROUX, a Crêperie & French Eatery, which is open Friday, Saturday & Sunday for lunch (Noon-2:30pm) and dinner (5pm-8:30pm). We offer meat, vegetarian, and gluten-free meals. However, BISTRO ROUX IS NOT NUT FREE.
BISTRO ROUX offers two types of crêpes (sweet and savory) and some soups. Our sweet crêpes include: Suzette, Lemon, Nutella, and Fruit. Each day a variety of savory main-meal crêpes, called 'galettes', are featured. Galettes are made of gluten-free buckwheat. Our galette offerings have included Cheese, Ham & Cheese, Boeuf Bourguignon, Coq au Vin, Algerian Pear and Prune Chicken, Beef & Pork Text-Mex, Vegetarian Tex-Mex, and Ratatouille over Greens with Caramelized Onions.
BISTRO ROUX is the only restaurant on Swan's Island. Alternatively, there is a Food Truck located at The Island Market And Supply (TIMS). They offer sandwiches, fish and chips, and a good selection of fresh seafood. Every now and then, the Odd Fellows Hall offers weekend dinners and Sunday breakfasts, for a reasonable price.
COMPLEMENTARY BREAKFAST: Each morning in the BISTRO ROUX dining room, guests may enjoy a hot breakfast of crêpes or galettes filled with their choice of a variety of goodies (eggs, ham, bacon, cheese, mushrooms), served with PG Tips tea, or Starbucks coffee.
If previously arranged, L'AUBERGE guests may invite friends to join them for breakfast in the BISTRO ROUX dining room at a cost of $10 per crêpe/galette, and $2 per beverage. Please remember, your guest(s) may not visit with you in your bedroom.
Also, if you stay at L'AUBERGE on a day when BISTRO ROUX is not open (Monday through Thursday), it is possible to pre-order lunch or dinner. A minimum of 24 hours notice must be given, although we prefer you make such a request at the time of your reservation. This service is prepay, as living on an Island requires several days of planning ahead to purchase food.
____________________________
Guest access
In addition to their bedrooms, L'AUBERGE guests may relax outdoor on provided lawn chairs, beneath our covered porch, or inside the Parisienne dining room of BISTRO ROUX.
____________________________
Interaction with guests
After checking-in to L'AUBERGE, you may contact your host, Mario, in person or by text. Please, maintain quiet in the hallway, and use a gentle library-voice in your bedroom.
Please, refrain from making conversation with guests in the hallway. Many people come here for the solitude. Once you are in the BISTRO ROUX cafe for breakfast (available from 7:30am to 10am), and Friday through Sunday for lunch (12pm-2:30pm) and dinner (5pm-8:30pm), feel free to make introductions to other house guests.
____________________________
Other things to note
ALCOHOL LIMITS, DANCING, STUFF TO DO, & TAKING THE FERRY TO SWAN'S ISLAND.
SWAN'S ISLAND ALCOHOL LIMITATIONS: Swan's Island is a 'dry' island. That means no alcohol may be sold or served in a business open to the public.
However, it is legal for persons over 21 to consume personally owned alcohol brought to Swan's Island from the mainland. THEREFORE, PLEASE BRING YOUR FAVORITE FERMENTED LIBATIONS WITH YOU TO L'AUBERGE. Your last chance to purchase alcohol before reaching Bass Harbor Ferry Terminal is at The Liquor Locker, 11 Seal Cove Road, Southwest Harbor, ME 04678. The Ferry Terminal is just 9 minutes (4.1 miles) south of The Liquor Locker. And for most travelers, The Liquor Locker is right on the way to Bass Harbor.
You may carry over to Swan's Island alcohol contained in nips, flasks, cans, a six-pack, screw top bottles, corked bottles, a thermos, boxed wines, jugs, a hollow-leg, cases, kegs, and barrels. Some of these containers may accompany you while sitting outside L'AUBERGE on a lawn chair, at night as you gaze up at the stars, when taking a nice hot bath, and during down-time in your bed room at L'AUBERGE. Please, do not consume red wine in your room - impossible to remove stains.
Also, L'AUBERGE and BISTRO ROUX may not, according to local ordinances, provide you with even a corkscrew. So, plan ahead. Although alcohol sales are prohibited here, dancing is not! And, as far as we know, there are no local ordinances against toe-tapping fun. Just find an appropriate venue, and step out!
____________________________
DANCING RECOMMENDATIONS: Here with your loved-one? You may waltz, polka, do a Fred & Ginger ballroom duo, tango, jitterbug, disco, and any other partner-dancing you can tastefully pull off.
Traveling alone? You can still hoof-it-up by yourself, please feel free to Tap Dance, do the Twist or go Gangnam Style (but not in your room). Feeling groovy? Then by all means, throw-down, break-dance, and jazz-funk.
Here with a group? Consider planning a Flash Mob to descend upon the Island Library. Our librarian is too cool, and would be delighted. Consider renting the Odd Fellows Hall on the Island and host a Square Dance, or a Country Line Dance. Go on, go for it and invite your friends for an evening of the Chicken Dance and the Macarena. However, and this is of utmost importance, we have one suggested restriction.
Please, do not twerk. Twerking, although not prohibited, is discouraged for guests of L'AUBERGE. The reason for this is simple. People might think you've been drinking! Injuries incurred during twerking may require an ambulance trip to Bar Harbor Hospital, which means an emergency ferry boat ride to the mainland. Really, it's just not worth it. Still, if you choose to twerk, we will not judge you, even if you hurt yourself or others. Although, we may not acknowledge we know who you are. Sorry. We have a reputation to maintain.
____________________________
STUFF TO DO: Visit the Light House, Dine at Bistro Roux, Eat at TIMS, Go to The Free Friday Night Movies @ The Library, Visit Bar Harbor By Catching The Free Tourist Trolly Departing Hourly From Bass Harbor (Make a day of it. Crossover on the Swan's Ferry at 8:15am on a $9 R/T pedestrian ticket and return at 5:15pm from the Bass Ferry), Stretch It at Monday Morning Yoga at the Library, Attend the Sweet Chariot Music Folk Festival in July, Go to One of Many Odd Fellows Hall Special Events (suppers, breakfasts, & the Hootenanny), Pick Raspberries and Blueberries, Gossip, Swim @ The Quarry Pond or Fine Sand Beach, Bike or Kayak (bring your own), Dance, or Do Nothing At All.
Swan's Island is the perfect place to discover your inner schlumpy. It is common for L'AUBERGE guests to slouch around with zero agenda for days on end. You may awaken at 10 am, have a late breakfast, take a quick dip in the Quarry Pond (a three minute walk), return to L'Auberge and take a nap. Then, awaken in time for a late lunch. Drink tea or coffee. Read. Nap. Have a late dinner. Sip your own stash of fermented liquids beneath the firmament. You may lose all track of time, and require a reminder as to what day of the week the morning has delivered.
____________________________
TAKING THE FERRY OVER TO SWAN'S ISLAND: On the internet, look up the Maine State Ferry website, and type in Bass Harbor and Swan's Island Ferry. Your departure location is the Bass Harbor Ferry, located at 114 Granville Road, Bass Harbor, ME 04653 (this is the address to use in your GPS.) On the website you'll find a ferry schedule, and the phone number to make a reservation for crossing from Bass Harbor over to Swan's Island.
If, however, you need to purchase alcohol, your last chance to do so before the Bass Harbor Ferry is from The Liquor Locker, located at 11 Seal Cove Road, Southwest Harbor, ME 04678. If you're stopping there first, please use their address in your GPS, then switch over to the Bass Harbor Ferry address provided above when you leave The Liquor Locker. The Bass Harbor Ferry Terminal is just 9 minutes (4.1 miles) south of The Liquor Locker. (A photo of the 2017 Bass Harbor / Swan's Island Ferry Schedule is attached at the top of this Airbnb page).
The Ferry runs every 90 minutes. Each crossing allows for 5 car reservations. However, the boat accommodates up to 17 vehicles. So, even if car reservations are not available for your preferred crossing time, then just arrive 45 minutes ahead of your desired departure, and you'll be okay. We strongly recommend you take the 2:15pm ferry from Bass Harbor. That way, if you don't get on, you're sure to make it for the 3:45pm departure. The last boat from Bass Harbor to Swan's Island leaves at 5:15pm. Please note, it arrives Swan's Island at 5:55pm, during operating hours of BISTRO ROUX. So, welcoming you at the Swan's Island Ferry Terminal may take a bit longer than we'd like if you arrive in the late afternoon on Friday, Saturday or Sunday,.
On rare occasions, a L'AUBERGE guest's car cannot fit on the last boat of the day leaving from Bass Harbor (5:15pm). In that case, a ferry staff member will give you a free round-trip Complimentary Passenger Ticket to travel across as a walk-on. You will leave your car in the line at Bass Harbor, take the boat to Swan's Island as a passenger, and return the next day. ***Therefore, it is advised you have an over-night bag ready, with perhaps a night-cap cordial tucked inside.***
Should this happen, call or text Mario (if you have a confirmed reservation at L'AUBERGE, then you will have his cell phone number) to alert him of your need for a pick-up. Then, Mario (or a staff member) will welcome you at the Swan's Island terminal, and personally drive you to L'AUBERGE. If you arrive on a Friday, Saturday or Sunday, greeting you may be delayed if BISTRO ROUX is swamped, but you'll have the option of dining with us when you arrive.
Meanwhile, your vehicle (still on the Bass Harbor side) is guaranteed a space on the next mornings crossing over to Swan's Island. Remember, you must return to Bass Harbor to collect your car. It may not stay in line indefinitely. Hence, the next morning, Mario will drive you back to the Swan's Island Ferry Terminal so that you may retrieve your vehicle from Bass Harbor. Whenever you crossover on the Bass Harbor Ferry to Swan's Island, anticipate a meeting with the power of beauty in nature.
The 40 minute, 6 mile, ride aboard the M/V Captain Henry Lee offers views of poetic awe from an observation deck. From above, you may behold fishing wharfs, bald eagles (How did they lose their hair?), seals, dolphins, porpoises, whales, Acadia Mountain, cedar shake cottages along the shore, quaint harbors, mermaids, lobster boats, and the many islands of this archipelago. Have your camera ready. And try not to dance for joy. Also, drinking alcohol on the Ferry Boat is prohibited!
____________________________
Extra people $48 AUD / night after the first guest
Security Deposit $136 AUD
Always communicate through Airbnb
To protect your payment, never transfer money or communicate outside of the Airbnb website or app.
Bedroom 1
1 double bed, 2 single beds
Check-in is anytime after 3PM
*NO SMOKING IN BUILDINGS.
*NO RED WINE IN ROOM.
*NO FOOD CONSUMPTION IN BEDROOMS.
*NO PETS.
*NO UNREGISTERED GUESTS IN BEDROOMS.
(Violations incur a $125 fee).
Check-out is at 11am. Check-in is after 3pm.
Swan's Island is a dry Island, and as a merchant I may not provide cork screws, or special accommodations for consuming alcohol. But, if you bring your own provisions, we ask that no red wine is consumed in the bedrooms.
Also, don't be afraid of sorting out the Ferry Service from Bass Harbor over to Swan's Island. It's best if you have a reservation for your car, but 80% of all vehicles board the Ferry in the old fashion way - after waiting in a queue. Arrive at least 45 minutes before your desired departure from Bass Harbor. For more info, look up Maine State Ferry Service on the web. Be sure to read carefully the "Other things to note" below the "About" section on this opening page.
You must also acknowledge
Must climb stairs - Eleven steps, one flight, with two safety bars and a solid hand rail. No worries.
Pet(s) live on property - Cosette, our 10 pound Chi-weenie, hardly sheds, and is super friendly. But not to other animals. So sorry, we can accommodate your little friends.
Amenity limitations - There is no Wifi at L'Auberge. But, the Swan's Island Library has high speed internet porch, which is included in the photos above.
I would highly recommend staying with Mario to anyone who comes to the island. His place is perfect for anyone looking for a week or weekend get away. He was nice enough to give me a ride to the ferry, answer any questions I had, introduce me to locals, and he runs the only restaurant on the island cooking up delicious crepes, from which breakfast is included with the booking! Thank you!
---
I am the father of five children, who I love more than life itself.
Response rate:
100%
Response time:
within an hour
Explore other options in and around Swans Island
More places to stay in Swans Island: