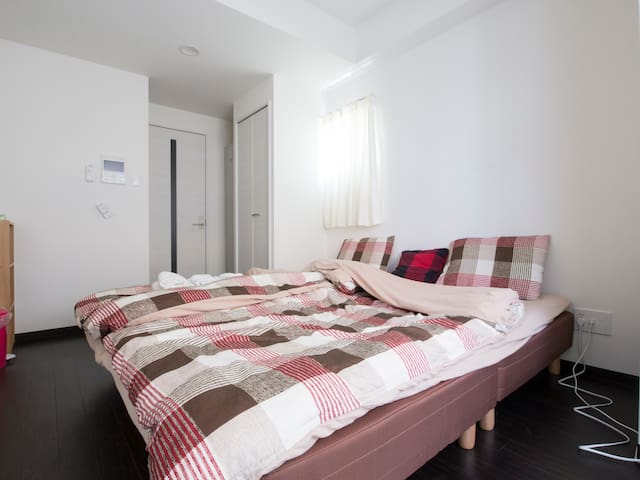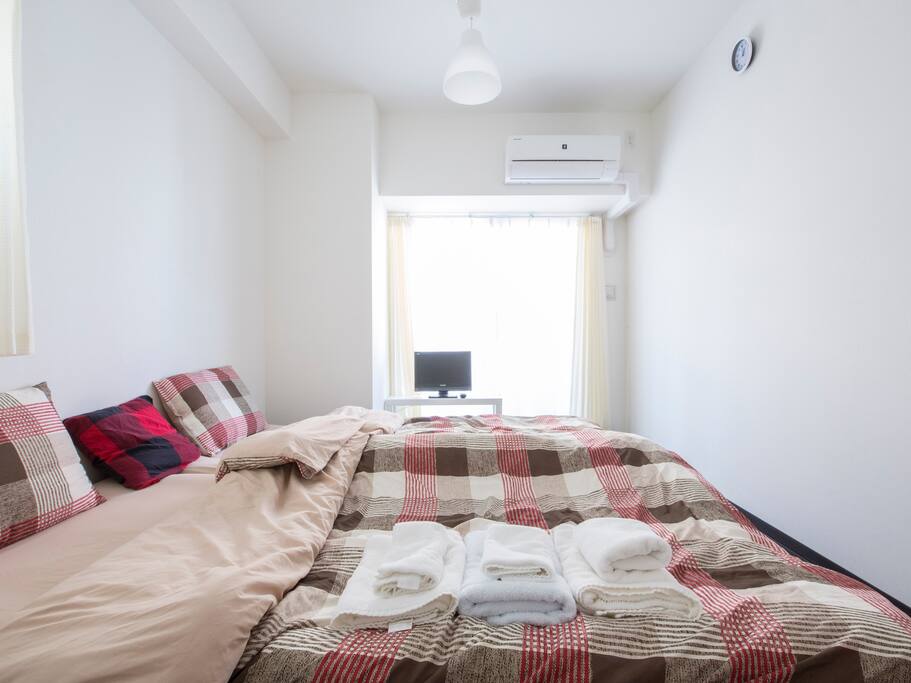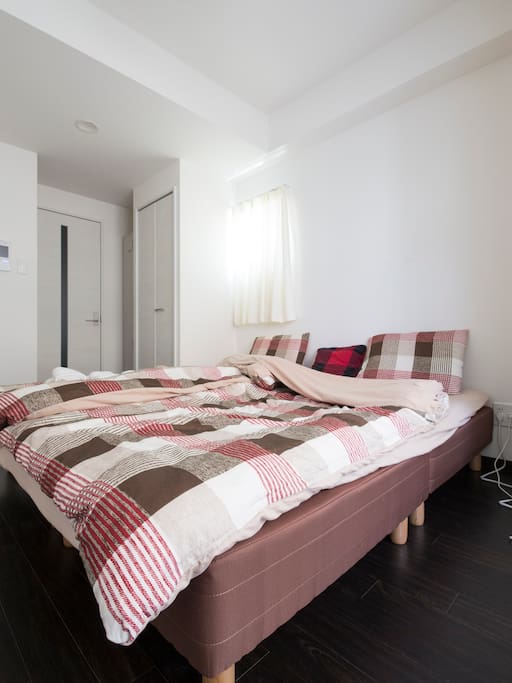 The space
WIFI is free. Because it becomes a convenient pocket WIFI for sightseeing, you can have you take it when going out.
The room's facilities include pocket WIFI, refrigerator, microwave oven, washing machine, TV, hair dryer, air conditioner, bath towel, mini towel, shampoo, conditioner, body soap and kitchen utensils free of charge.
This room can accommodate up to 3 people.
There are two single beds.
The apartment is in Namba, you can walk to Dotonbori, Shinsaibashi.
Kansai International Airport Direct Bus Station
Namba OCAT ··· 550 m
nearest station
JR Namba Station ... 750 m
JR Sakuragawa Station ... 260 m
The nearby facilities
Supermarket · · · 100 meters
Drugstore · · · 290 meters
Spa ... 150 m
Coin laundry · · · 150 meters
24-hour restaurant
Nakau・・・150 meters
ROYAL HOST · · · 290 m
Guest access
You can use freely observe the house rules
Interaction with guests
If you can see you I want to meet people and you of all of the guest. And that you do not know during the trip, please be uneasy sent me messages. We look forward to that meet.
Other things to note
Compared with other countries in Japan, we have to not apply as possible nuisance to others. So during the period to stay, and as quiet as possible, please do not become a nuisance to the rest of the people next door.
@ Since the Japan of toilet paper it can be dissolved in a fully water, because clogged worry there is no toilet paper after use should be discarded directly into the toilet.
※ However, others please do not throw the toilet.
Have the exit without having to refund room rates of reservation when the @ was in the incident, such as the residents to call police do the annoying around. (For such compensation in the incident that caused from the customer it will be resolved in your own.)
@ Have without permission valuable instruments, etc. in the room will be charged to the customer if he got.
Always communicate through Airbnb
To protect your payment, never transfer money or communicate outside of the Airbnb website or app.
Check-in is anytime after 3PM
Veranda only possible smoking
NO PETS ALLOWED
Parties & Events refuse
Check-in time is 15: 00 or later.
Welcome to Osaka!
We view this apartment, thank you.
We hope to be able to a great journey in Osaka.
While staying in this apartment, I will cooperate with you in the journey committed. If you have something, please contact us without hesitation.
For example, when to eat, if there is such as Japanese of doubt when shopping, take a photo with smartphone, if please send in a message or line, translated into immediate, and to the reply.
Telephone number of an emergency
Fire: 119
Police: 110
House manual
1. Please do not put things to the veranda.
2. entered the room, remove the shoes at the door, please wear slippers.
3. pet forbidden the bring-your-own.
4. ban smoking and we now have drag and parties only on the veranda.
5. In order to protect the environment, thank you for your cooperation in the classification of garbage.
6. To save energy, please turn off the power of the electrical equipment when you go out.
7. go out also before going to bed, please check the power of the kitchen equipment.
8. In order for your own safety, please do not respond to the people of the door phone do not know.
9. When you go out, please check the opening and closing state of the room doors and windows as a minimum of two times.
10. To pleasant journey, please keep the cleanliness of the room. Thank you to the trash that has been prepared the garbage, such as the room and toilet.
11. Please be careful the use of combustible materials also fire.
In order to respect the lifestyle of the residents of around 12., evening the apartment 10:00 to 7:00 quiet please the.
If you have any any questions in addition to, please contact via social media also Airbnb.
베란다에서만 흡연 가능
애완 동물 금지
파티 & 이벤트 거절
체크인 시간은 15 : 00 이후입니다.
오사카에 오신 것을 환영합니다!
여기 아파트보기 주셔서 감사합니다.
오사카에서 멋진 여행을 할 수기도하고 있습니다.
여기 아파트에 머물고있는 동안, 나는 최선을 다해 당신의 여행에 협력하겠습니다. 뭔가 있으시면 주저없이 연락 주시기 바랍니다.
예를 들어 식사 할 때, 쇼핑 할 때 일본어 의문이 있으면, 스마트 폰으로 사진을 찍어 메시지 또는 선으로 보내 주시면 즉시 번역하고 대답했으며 있습니다.
긴급 전화 번호
화재 : 119
경찰 : 110
하우스 설명서
1. 베란다에 물건을 올려 놓지 마십시오.
2. 방에 들어가 현관에서 신발을 빼고, 슬리퍼를 착용하십시오.
3. 애완 동물을 반입을 금지하고 있습니다.
4. 베란다에서만 흡연이되고 있습니다 끌어와 파티를 금지합니다.
5. 환경을 보호하기 위해 쓰레기의 분류에 협력을 부탁합니다.
6. 에너지를 절약하기 위해 외출 할 때 전기 설비의 전원을 꺼주세요.
7. 외출 또한 자기 전에 부엌 공구의 전원을 확인해주십시오.
8. 자신의 안전을 위해, 모르는 사람의 도어 폰에 응답하지 마십시오.
9. 외출 할 때 최소 2 회 정도 방의 문과 창문의 개폐 상태를 확인하십시오.
10. 편안한 여행을 위해 객실 청결을 유지하십시오. 쓰레기를 방이나 화장실 등에 마련된 쓰레기통에 부탁합니다.
11. 가연물 또한 불 사용을주의해야합니다.
12. 주변 주민의 생활 습관을 존중하기 위해 아파트에는 밤 10 : 00 ~ 7 : 00을 조용히하십시오.
그 밖에 궁금한 사항이 있으시면 소셜 미디어 또한 Airbnb를 통해 연락하십시오.

阳台只能吸烟
不允许携带宠物
派对和活动拒绝
入住时间为15:00或更高版本。
欢迎来到大阪!
我们认为这个公寓,谢谢。
我们希望能够在大阪一个伟大征程。
虽然住在这个公寓,我将致力于旅程与你合作。如果你有什么东西,请毫不犹豫地联系我们。
例如,吃的时候,如果有,如怀疑日本购物时,随身携带的智能手机中的照片,如果请发送消息或线,转化为直接的,并回复。
紧急电话号码
消防:119
警察:110
众议院手册
1.请不要把东西给阳台。
2.进入房间,在门口取下鞋子,请穿拖鞋。
3.宠物禁止的携带自己动手。
4.吸烟的禁令,现在我们只在阳台上拖动和政党。
5.为了保护环境,谢谢您对垃圾分类的合作。
6.要节约能源,请你出去的时候关掉电器设备的电源。
7.出门也睡前,请检查厨房设备的电源。
8.为了您的安全,请不要到门口打电话的人回应不知道。
9.当你走出去,请检查最低限度的两倍房间门窗的开启和关闭状态。
10.旅途愉快,请保持房间的整洁。谢谢已准备的垃圾,如房间和卫生间的垃圾桶。
11.请小心使用可燃材料也火了。
为了尊重围绕12.居民的生活方式,晚上10:00公寓至7:00请保持安静的。
如果您有任何附加任何问题,请通过社交媒体也制作的Airbnb联系。
Explore other options in and around 大阪市
More places to stay in 大阪市: