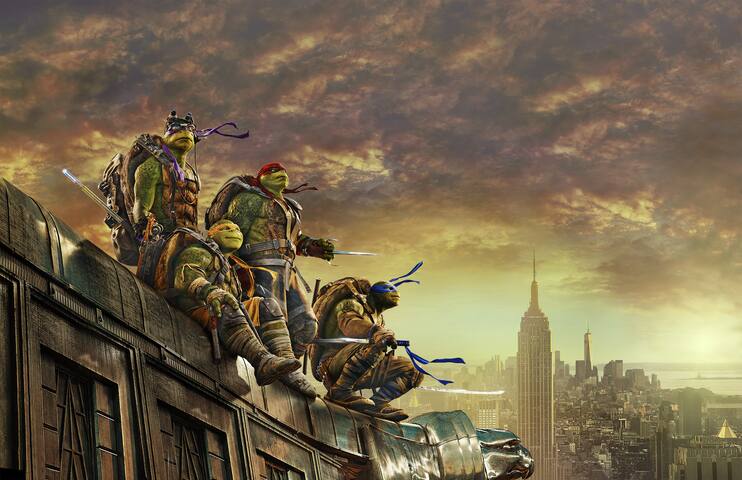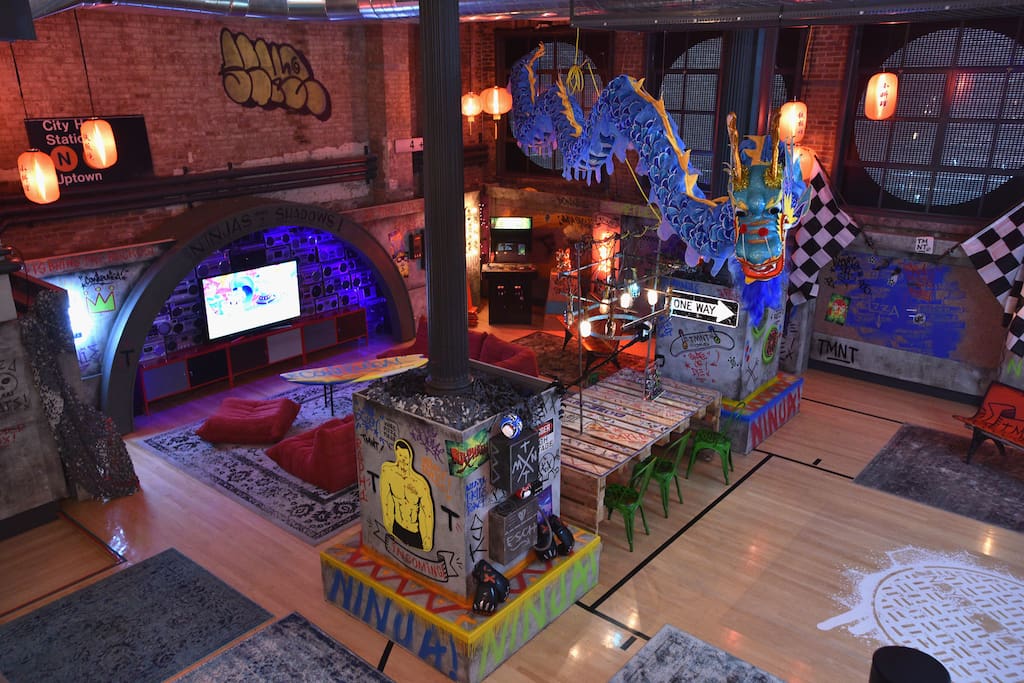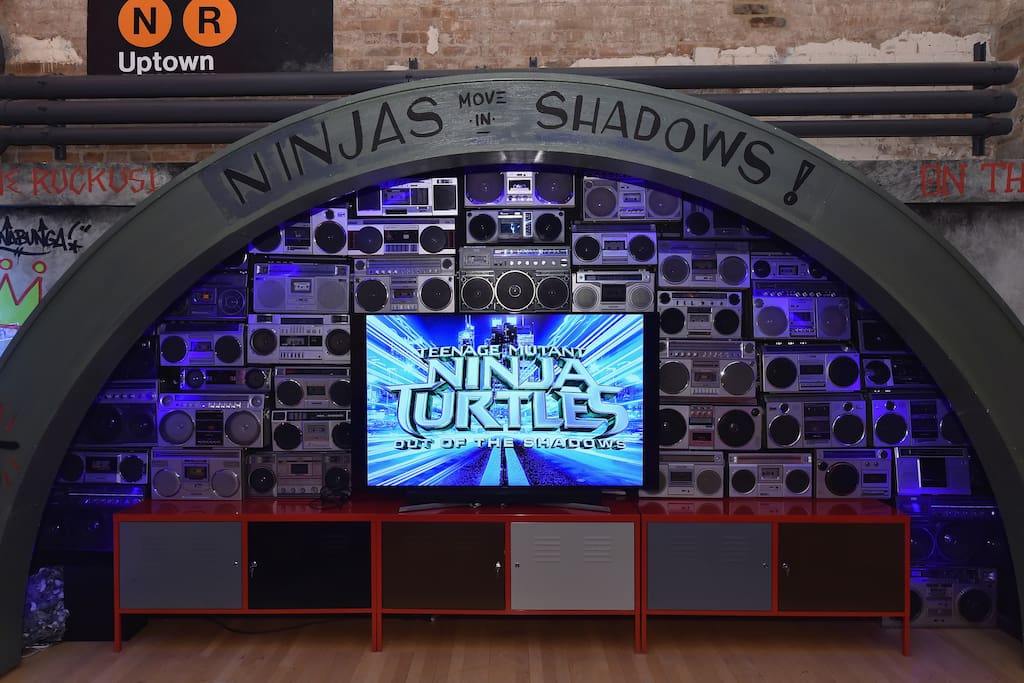 Hey dudes! Looking for a dojo where you can practice your ninjitsu skills? Our secret lair in Manhattan is THE place to order up a pie, shoot some hoops & chill with your squad. Don't sweat the 10 bucks, we'll pay you back after you stay. Good times!
The space
Sorry bro, all nights are booked up!
This high-tech dojo is fully loaded...a glow in the dark basketball court, a retro arcade, more video games with a pretty sweet tv wall...anything for hanging ninja-style.
We know ninjas need sleep too so we have three bedrooms upstairs for you to get your zzzs on. We also hooked you up with free pizza delivery and some swag for you at check-out.
Guest access
Our lair is your lair....we'll have our peeps meet you at the front door to hand off the keys and show you around. You'll be stoked!!
Interaction with guests
Dude! I told ya we're out. Got evil to fight, battles to win. So we won't be there.
Other things to note
For every guest that stays, we'll donate some dough in their name to PACER's National Bullying Prevention Center. Together we can shell shock bullying, cause that's what bros do.
If dates are sold out, follow @TMNTMovie for hints on when we're out of the Lair again so you can crash.
Catch us in Teenage Mutant Ninja Turtles: Out of the Shadows from Paramount Pictures and Nickelodeon Movies, out in theaters June 3rd.
---
---
We say no to drugs and alcohol, so none of that in the Lair. But we do say yes to pizza! Just clean up your pizza crusts and don't break any of Donnie's equipment. That really gets his Bo staff in a twist.
You can have a couple friends drop by to check out the Lair, but Splinter says the upstairs bedrooms are off limits. Don't even think about inviting more overnight guests! We have neighbors too so keep it chill...try not to bring the ruckus!
---
Can't say enough great things about the TMNT Lair. My 2 boys had the time of their lives and we created memories that will last a lifetime. We were greeted at the door by the most friendliest faces, and we're treated like royalty with 24 hours security on staff. I'm so incredibly grateful to have experienced this place! Thank you so much Leonardo and all who made it possible!
---
I still can't get over how amazing this listing was. The space was phenomenal. We were greeted warmly upon entering the space. Not only did my son enjoy all the amenities but his dad was all over basketball, gaming and that big screen tv. Sadly we couldn't stay the night but I definitely considered calling out sick so I could hang a bit longer. I could have easily paid over 100 a night for this experience.
---
The turtle lair was an EPIC experience. There are no words to describe the sheer size of the liar and the amount detail that went into creating a portal that brought us into the world of Teenage Mutant Ninja Turtles. The service was white gloved and all of our needs were met with a smile…and they even threw in a couple large pizzas! The only negative was that we had to check out and go back to reality. Thank you for transporting us to another dimension.
---
Some people call us the Teenage Mutant Ninja Turtles, but at home we're just Leo, Raph, Donnie, and Mikey. When we're not training in our secret dojo, we're out saving the city — and the planet — from this totally bad dude, Shredder. We're about to go halfway around the world to …
Explore other options in and around New York
More places to stay in New York: