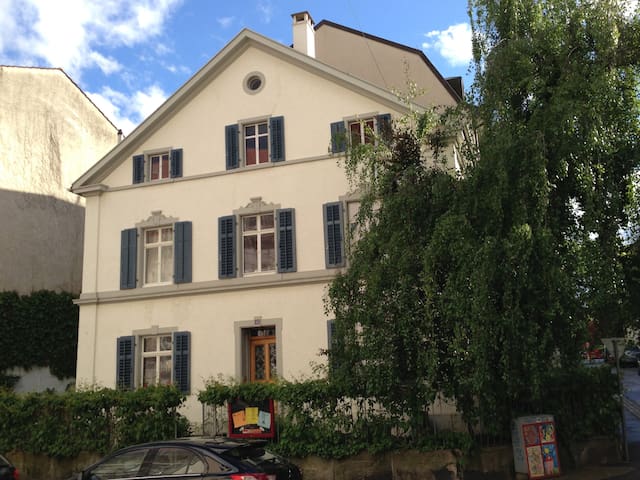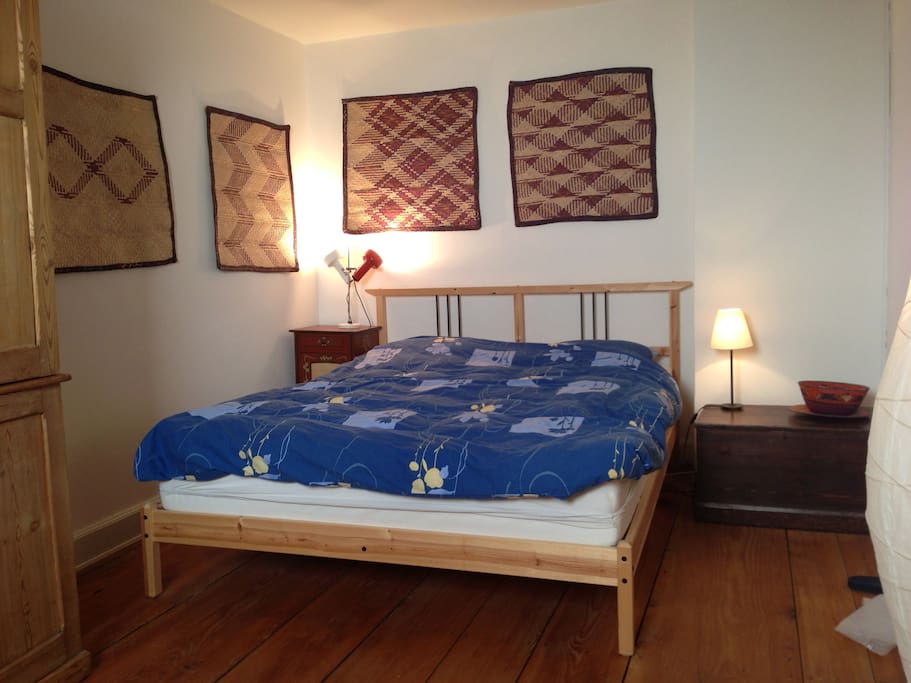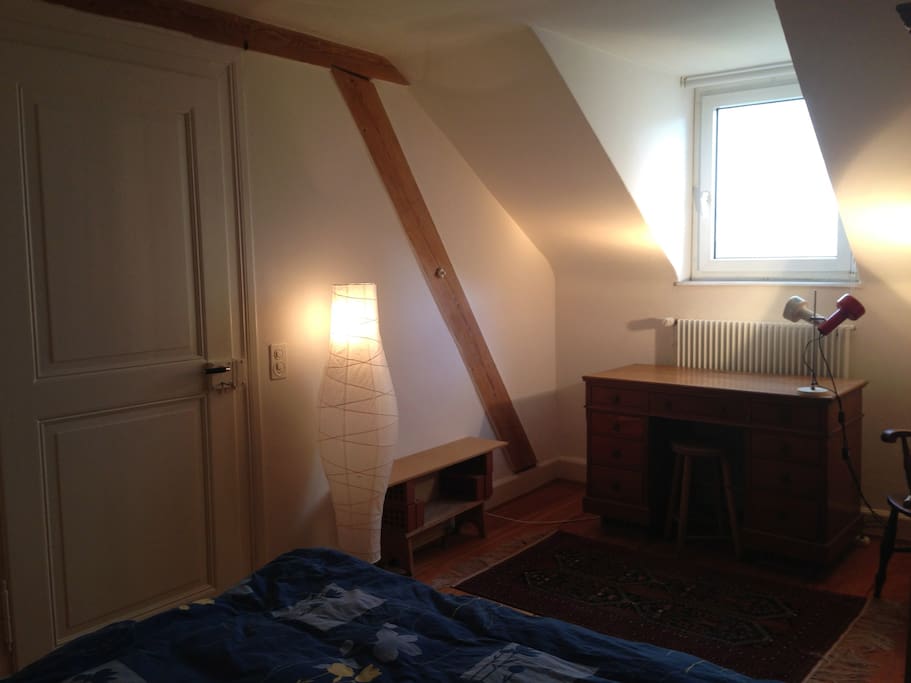 The space
To rent three individual rooms in the second floor of an old house with garden located in the centre of the city.
Room N°1 can be rent for three nights or more
Rooms N°2 and 3 can be rent for one or more nights
Rooms N°1 and N°2 have a double bed (two persons) and Room N°3 has two individual beds.
The price is for one room per night regardless of the presence of one or two person(s). To be added is a compulsory tax of 3.50 CHF (City of Basel) per person per night (4.00 CHF starting on the 1st of January 2018). This includes a daily ticket for all the public transports of Basel as well as a ticket from the Basel-Mulhouse Airport or the Train Station up to our home.
Shower and toilet are next to the rooms. We provide linen and towels. A small kitchen with microwave, fridge and two hobs is available. If they so desire, we will be happy to prepare in our kitchen for our guests a breakfast (8 CHF) with homemade bread! There is a wireless but neither radio nor television. You will find a desk in rooms 1 and 3 (see photos). Also available are, upon request, hair dryer, washing machine and iron.
Arrival from the Airport:
When you get outside the airport take the bus n°50 (the only line). There are buses every 7min (Every 15 min in the very ealy morning or late at night). Stop at "Am Wasenboden/St Johann" which is the third stop after the Airport. Take at the same stop the bus N° 36 and get out two stops after (Metzerstrasse). Walk 30m (same direction as the bus) and take the little street on your right (Rheinländerstrasse). Courage, you are soon there! Still 60m to go and you then reach Hebelstrasse. 70m on your left and, at the crossroad with Friedensgasse, is our house (see picture on Airbnb). Bravo, you made it! In other words 5 min from the bus stop.
Arrival from the SBB Basel Station:
Take bus N° 30 (slightly on your left when you get out of the station, on the other side of the street, in front of the confectionery Bachmann). Stop at Bernoullianum (4 stops from the station) and Hebelstrasse is on the other side of the large street. 120 m and here you are! (Intersection with Freidensgasse).
The house is located 10 minutes from the Market Square. A direct bus will take you to either the Exhibition Centre (6 stops, 6 minutes) or to the Central Station (4 stops, 5 minutes) or to the "German" Station (Badisher Bahnhof, 10 min).
Within five minutes you will be at Kannenfeldpark, a wonderful park with old trees and games for children or at the Rhein along which you can enjoy a nice walk.
The situation is very quiet and the house is located in St Johann neighbourhood within walking distance from the University Hospital.
We speak German, French, English, Spanish, and Swedish and welcome international visitors!
Always communicate through Airbnb
To protect your payment, never transfer money or communicate outside of the Airbnb website or app.
Check-in is anytime after 4PM
Jean is a fantastic host. He is considerate, attentive, exceptionally caring and helpful. As a host, he is warm, hospitable and was incredibly kind to us. We were given very clear instructions on how to get to his place and welcomed warmly, putting us at ease, instantly. There were also welcoming chocolates on the towels in our room. We had room no 2 and it was so much more spacious than it appeared to us in the photos. The bed was very comfortable and so was the room. Everything to make the persons in the room comfortable had been thought through. As Jean was saying when we chatted with him, that it was a family home. And we felt he brought that aspect out, making the visit feel relaxed and personal. We had the breakfast added to our visit and this was a great idea, as Jean bakes his own bread. It was quite perfect to wake up in the morning and be treated to such a lovely breakfast, accompanied by Jean's wit. We spent much time enjoying the garden and Jean and Monika's company, having coffee and cake, not to mention the lovely soup we were given, on asking us if we were hungry after our long travels from Australia the evening before. Jean has amazing local knowledge, giving insights into the more intricate quirky local aspects so one can better experience the city, while getting the best out of the stay in Basel and any trips one may take outside of Basel. This was one of the very best Airbnb we have experienced in all the years. For personality, place, charm and quintessential hospitality, Jean and Monika's place was quaint and perfect. Thank you for being such great hosts and inspirational with the work you do!
---
We felt the host was too pushy and controlling.
Comments on Sandie's comments Bingo, looking at the hundreds of comments you are among the very very few one swho were not happy about your stay. Here below is what I wrote after you left and then decided to be a nice guy and just to write my first comments. But as you have been feeling me "to pushing and controling" here are my first comments : Although check-in time is after 4pm, Sandy & Wayne arrived at 12am as scheduled (I, most of the time, manage to be home when guests request to arrive before checking time to drop their luggage) and I personally went to the nearby bus station to get a ticket allowing them to keep their car in a parking spot along our street. I also offered tem to leave their have luggage in my study in order to prevent them to carry them to the second floor. As they apparently read none of the files I sent them after their booking (instructions on how to reach La Belle Maison, a PDF book with photographs taken during my 22 years in the bush doing humanitarian work as well as explanations on what we are doing with the money earned through Airbnb, which is to support a school for AIDS orphans in the bush of Africa) they were pleased to see that they could use a fully equipped kitchen next to their room. They also asked to have breakfast the next morning. When they were told during breakfast how much they owed to us, Wayne, in what I consider an impolite way, said that they came to a B&B and hence that the breakfast should be included in the price of the room. Note that, as they finally did eat very little, I did not asked a single penny for their breakfast (which they could have made in the kitchen of the guests!) I told Sandy and Wayne that if THEY WOULD HAVE READ the Airbnb announcement they would have seen in the description of La Belle Maison quote "A small kitchen with microwave, fridge and two hobs is available. If they so desire, we will be happy to prepare in our kitchen for our guests a breakfast (8 CHF) with homemade bread!". I told Wayne that, first, Airbnb homes are not just B&B but more family houses (at least this is how Airbnb started…) and that there is no reason for people who do not want to have breakfast to pay for it. I also mentioned that in Basel a simple coffee with a little roll will cost at least 7 CHF and that therefore the large breakfast, which we offer, is very cheap. I must say that among the thousands of guests who have visited La Belle Maison only "grey hair" ones (like me!) who are coming from overseas (both sides of the Equator) are as picky as Sandy and Wayne were. This is a surprise to me as these hosts are those who can afford, like Sandy and Wayne, to travel weeks or months in Europe. Not to forget that a room for two persons at 60 CHF/night in a city like Basel (Switzerland) can be considered as very cheap especially when one knows that the price of similar rooms are generally more expensive in Italy or France were the cost of living is much lower than in Switzerland. I am also surprised to see that the location of La Belle Maison did not received a five stars whereas on average we get the maximum for more than 90% from our guests. It is not our fault if Sandie and Wayne are unable to read a map before booking a room. I would therefore suggest to people like Sandy and Wayne to book rooms either in a Youth Hostel or in a five stars hotel.
---
We loved our stay in Jeans cosy character home.Our room was clean and quiet with a nice comfortable bed.The locatiom was ideal as it was an easy stroll into the center of town.For those who find walking difficult Jean provides free travel passes. You cant ask for more than that. Jean is a wonderful host giving great advice about places to visit . The breakfast is very filling with homemade bread and preserves. We would thoroughly recommend Jeans place to anyone visiting (URL HIDDEN) has a very frendly atmosphere and is good value for money.
---
Our air BnB experience in Jean and Monica's gorgeous Basel home was wonderful. Walking distance to all that needs to be seen in Basel. Our room was quite large and perfect for 2 people. Jean was such an interesting man and his stories alone are worth the visit ! We look forward to seeing him again one day.
---
Jean: former scientist, director of research (neurobiology) then 20 years as head of missions with humanitarian organisations (Afghanistan, Papua, Bosnia and many countries in Africa).
Photos - Reading - Making jewelry - Hiking - Has doubts on the "new way of life" ("I am stressed", "I cannot because I am too busy", 300 sms and e-mails per day etc.)

Monika: surgeon-dentist - Garden - Hiking . Reading - Music (plays flute) - Sewing

Languages:
Deutsch, English, Español, Français, Svenska
Response rate:
100%
Response time:
within a few hours
Explore other options in and around Basel
More places to stay in Basel: