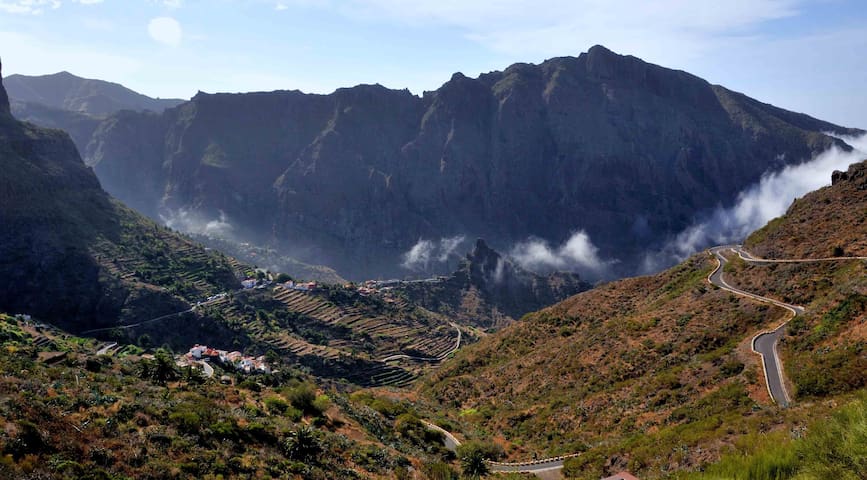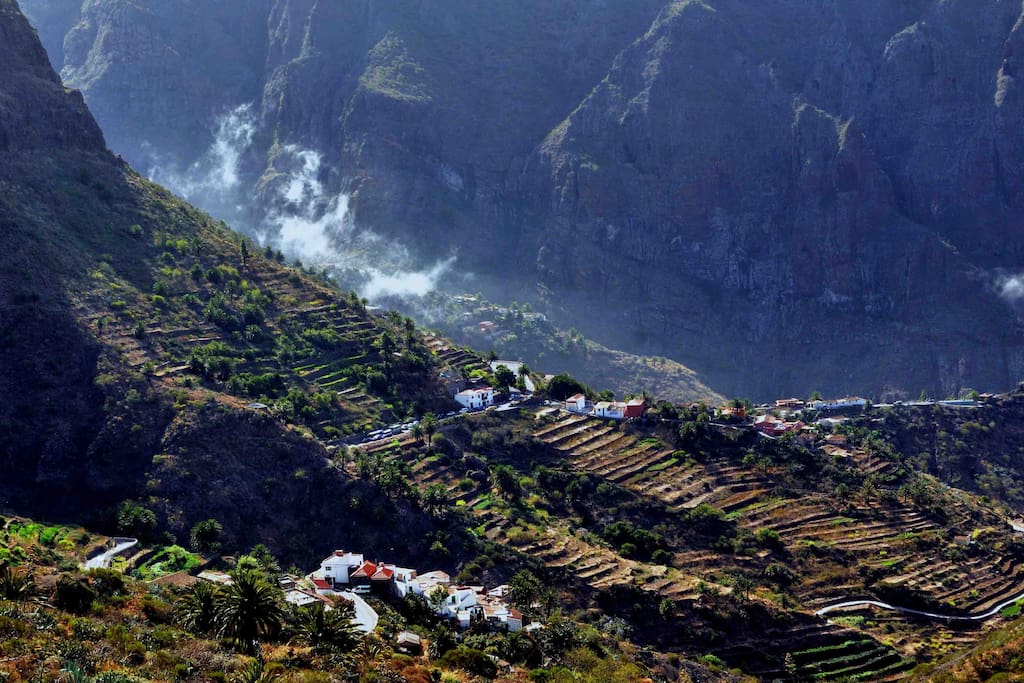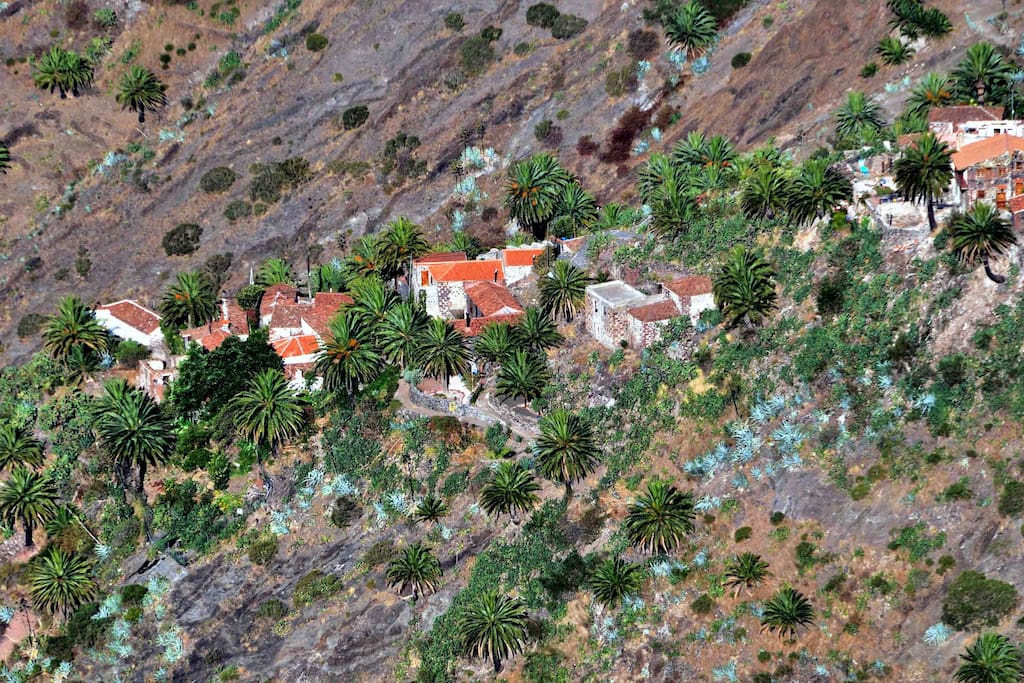 The space
MASCA, A ROOM WITH A VIEW IN TENERIFE.
A Room with a View is an ample space with private bathroom located in the VILLAGE OF MASCA. With separate entrance from the main house, THE ROOM HAS NO KITCHEN and it opens to a garden FOR YOUR PRIVATE USE overlooking the spectacular Masca Gorge's walls. Here you will enjoy the peace and quiet of a settlement WITHOUT TRAFFIC (apart from tea and coffee, only a cold meal can be served comfortable if it is your wish).
The main house, which is registered on THE HERITAGE OF CULTURAL INTEREST declared for the village, was restored in 2009 complying with the guidelines of the Canary Islands traditional architecture. Due to both, its picturesque rural enclave and beautiful natural surroundings, Masca is a unique place; as part of the MASSIF OF TENO, The Masca Gorge is one of the most beautiful and steep cliffs that can be found in TENERIFE ISLAND. Following the hiking trail a few hours of fascinating and entertained descent will lead you to the ocean.
As we have said before, THE ROOM IS VERY COMFORTABLE BUT IS NOT FIT TO COOK. But... these are some of the things you will find in our "Room with a View":
•A small palm tree garden that lets you hear the mountain wind and the sizzling of the countryside any time of the year.
•A WIDE VARIETY OF TEA AND COFFEE to enjoy at the break of the day in anticipation of what lays ahead on an island that is yet to be discovered or to slowly wake up during a lazy morning.
•Fresh drinking water from our wells, carefully bottled in house as suggested by Emuro Emoto and Hira Ratam Manek.
•Masca's Little Map, covering restaurants in the village, some old trails and a few protected birds found in this vicinity, and other interesting local trails maps.

What you will not get at our house:
•The noise from the traffic and busy places.
•Places that open until late to resolve any last minute urgencies.
•As we have said YOUR ROOM IS COMFORTABLE BUT IS NOT FIT TO COOK:
During the day you can find bars and coffee shops that open very early in the morning.
For the evenings, there is only one place that will serve dinner, prepared with a local charm, but you have to make arrangements in advance.
There has been found evidence of prehistoric aborigine occupation of the valley of Masca. Tenerife fell in the hands of the Spanish Conquistadores in 1493 and the oldest Spanish settlement in this area dates around 1505 under the custody of the Lords of Buenavista. Despite the Spanish early presence in this area, the mountain range forced the locals to a self-reliance regime. It wasn't until 1979 that the road, communications and other services were brought to EL BARRANCO DE MASCA. It is for this reason that the elder display their unique pronunciation of the spoken language, built in the past rugged and humble dwellings or dug their own horizontal wells or galerías in the mountainside in search of water. As a result, all masquera homes are nowadays entitled to water as a village's Comunidad de Regantes or local owners courtesy.
The presence of natural environments and systems unique to the CANARY ISLANDS ARCHIPELAGO; the abundance of geomorphic structures and geological formations of interest that give shape to breathtaking rural mountainous landscapes of ethnographic value; the old massif, primitive shield of Tenerife, that emerged during the Miocene (some 6 million years ago) makes for a protected area that is called today PARQUE RURAL DE TENO (Teno Rural Park). Several other areas inscribed to the Natural Spaces of the Canary Islands surround this unique environment. Upon leaving LaOtraIsla, you will move across El Parque Rural de Teno and then into LA RESERVA ESPECIAL NATURAL DE CHINYERO (The Special Natural Preserve of Chinyero) that protects Tenerife's most recent volcanic eruption which took place in 1909; EL PARQUE NATURAL DE CORONA FORESTAL (The Crown Forest Natural Park) extends towards the south and south-west of Chinyero and plays, in fact, a crucial role in the aquifer of the island; and sitting atop of the island, EL PARQUE NACIONAL DE EL TEIDE (El Teide National Park), that encompasses the majestic volcano that dominates and rules over the landscape of Tenerife with its peak at 3718 meters above sea level.
Due to this intricate topography, we strongly recommend you consider a rental car to be able to move freely and at will. Nevertheless, a public bus service operates from 6,45 to 19,30 hours. Should you decide to visit the ocean, head north and find the beautiful coast of LA PUNTA DE TENO (Teno Point). You can also visit the tide pools created by the ARENAS NEGRAS volcano, which, during its 1706's eruption, buried the main sea' port of that time, Villa de Garachico. Drive towards the south to witness the majestic LOS ACANTILADOS DE LOS GIGANTES (Los Gigantes Cliffs) standing 500 meters high.
Guest access
With separate entrance from the main house, the wide room opens to a garden overlooking the spectacular Masca Gorge's walls; this garden is for your particular use. THERE IS NO KITCHEN IN THE ROOM, ONLY A COLD MEAL CAN BE SERVED COMFORTABLY IF IT IS YOUR WISH. A tea and coffee corner brings you a cosy stay.
Security Deposit $240 AUD
Always communicate through Airbnb
To protect your payment, never transfer money or communicate outside of the Airbnb website or app.
Check-in is anytime after 3PM
The beautiful and stylish apartment is located in Masca with its breathtaking valley. Gabriela was warm and welcoming on our arrival and we felt right at home. She booked dinner for us at Riquelme's for the first evening, which was delicious and a great experience. The apartment and the terrace were cozy and clean and the bed was comfortable. We'd definitely go there again!
---
We decided to stay at Gabriela's place as virtually all reviewers rave about her place. And I am so happy that I made this decision! Her place is in the heart of the beautiful Masca village, and you can feel like you are part of the magic even during a short stay. Gabriela was a great host, very communicative (no problem communicating with her in English) and attentive. The room is tastefully and charmingly decorated and the bed is very comfy, big enough for two. As she emphasizes, there is no kitchen (but she kept our drinks cool with her fridge), but she helped us book a table at Riquelme's (5 min walk up from her place), which itself is a must visit. We are so happy with her place and recommend wholeheartedly, although it's not the cheapest option.
---
This is one of those places where you feel sorry you can give out just five stars. It is a wonderful area, and the house is beautiful. One rarely finds such taste in combining colors, materials & textures. Moreover, it is extremely clean and there is a wonderful fragrance in the room. Gabriela is always ready to help. Thank you again for a wonderful time!
---
It was great 3 days. This is magic and romantic place on the end of world. Hosts are very nice, helpful. It is wonderful place for young romantic people. Beautiful decor, silence, calm and beautiful views and above all nice and helpful hosts are great assets of this place. I sincerely recommend.
---
Absolutely wonderful. Perfect location and a really lovely apartment - stylish, comfortable and with loads of character. Gabriella is a great host and went out of her way to make sure we had a good time. I always try and include some negatives but I honestly can't think of any. It's rare to know with certainty that you will return to a place but we do with this one. It's a diamond.
---
Gabriela's place is absolutely STUNNING - it might be one of the most unique and beautiful in the entire Airbnb community. Waking up amidst the Masca Gorge was a once in a lifetime experience and the unique design and furnishings Gabriela has built into the home make it a truly remarkable home. One thing to consider when staying in Masca, however, is that the road going through the mountains is VERY difficult to maneuver through. It gets easier after the first time though, and this element makes the adventure all the more special!
---
I am from the capital of the island, Santa Cruz de Tenerife. Eleven years ago, I decided to move to El Barranco de Masca and keep on enjoying this magic island. I am truly convinced to have taken the most brilliant decision of my life. I can assure my home is not a five stars hotel but a thousand stars place instead.

Languages:
English, Español, Français, Italiano
Response rate:
100%
Response time:
within a few hours
Explore other options in and around Buenavista del Norte
More places to stay in Buenavista del Norte: