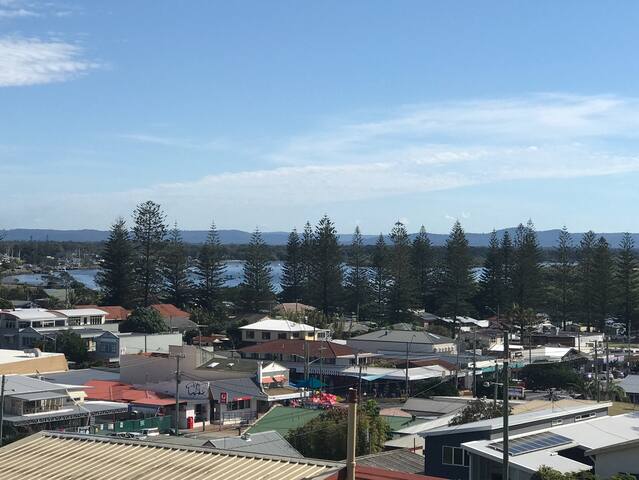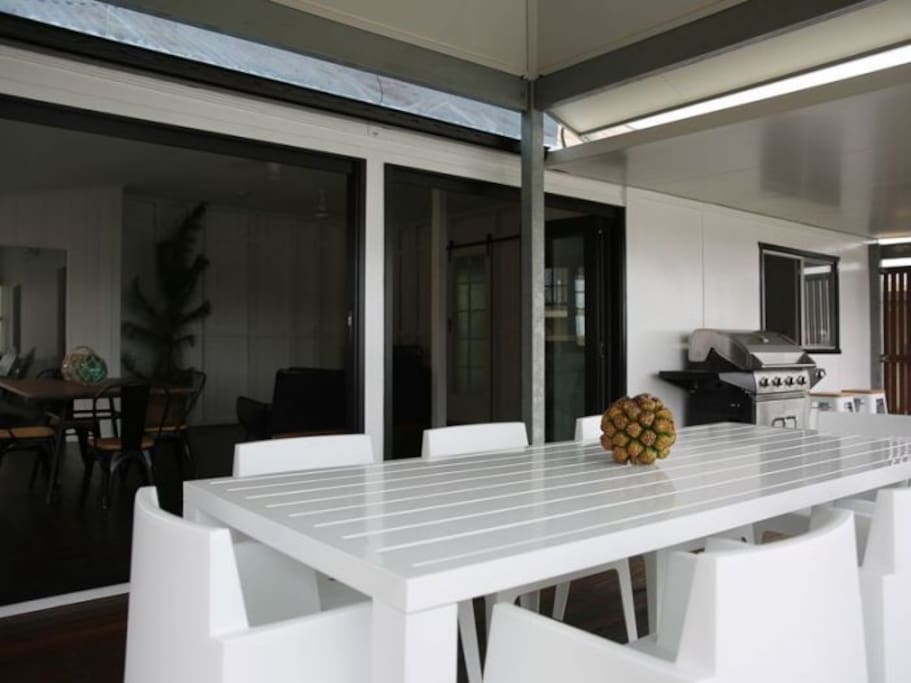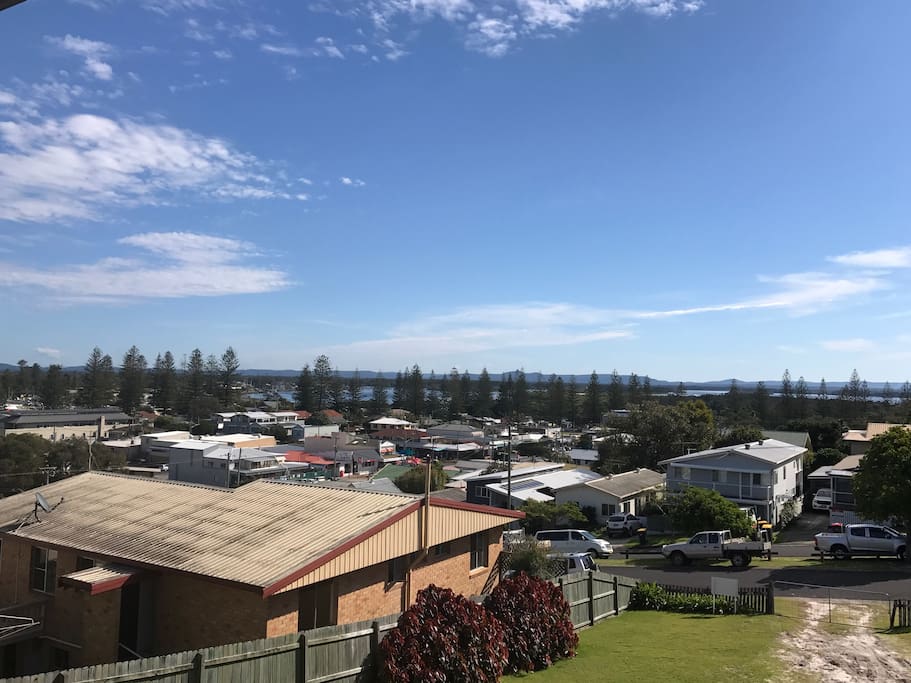 This beautiful renovated beach shack is located within walking distance to both the town and gorgeous beaches of coastal town, Yamba NSW. Sit back and enjoy the ocean breeze on the large timber deck with BBQ. Featuring 3 bedrooms plus a sleep out!
The space
Patara is a beautiful beach house located in Yamba NSW. This house is spacious and unique featuring polished wood floor boards throughout and a large timber deck for entertaining. The perfect place to kick back and get into beach mode!
This property takes a maximum of 9 guests!
Guest access
You will be able to use the whole house for your holiday including the huge backyard and off street parking!
Interaction with guests
You will collect your keys from LJ Hooker in Yamba (5 River Street). If you are arriving after hours we have a key box with a special code - you will receive this code once your full payment is made! If there are any issues with your holiday rental you can easily contact us on (PHONE NUMBER HIDDEN). We even have an after-hours mobile in case there are any dramas during your stay!
Always communicate through Airbnb
To protect your payment, never transfer money or communicate outside of the Airbnb website or app.
Common spaces
1 single bed
Check-in is anytime after 3PM
LJ Hooker Yamba
TERMS OF CONDITIONS OF HOLIDAY LETTING

Thank you for choosing LJ Hooker Yamba for your holiday accommodation. We hope you enjoy your stay. All bookings are subject to the below Terms and Conditions, please ensure you have read and understood them. If you require any further information clarifying these Terms and Conditions, please contact us on (PHONE NUMBER HIDDEN).

All properties contain blankets and pillows but basic linen is not supplied (unless otherwise stated). Other items you should bring with you are soaps, dish washing liquid, toilet paper etc. All of our holiday properties are owned by individuals whom their own varying standard, styles and levels of appointment. All have most modern conveniences but again, phone our office to confirm their contents.

1. Bookings
a) All bookings are arranged for the dates as shown on your confirmation letter and are taken in good faith by our Agency but may be subject to change, as may be notified by the Owner prior to the commencement of the booking. We cannot accept responsibility for the actions taken by the Owner of the premises outside our control, and we reserve the right to cancel any booking should anything arise. In this event our Agency will notify you as soon as possible and endeavour to arrange alternative accommodation if possible or refund monies paid.

b) All holiday properties are rented strictly for residential purposes only. Under no circumstances are functions or alike permitted.

c) Tariffs are current and are subject to change without notice. In the event of a tariff increase, bookings confirmed by deposit will be honoured at the prevailing tariff at the time of booking.

d) To secure your booking a 50% deposit plus a non refundable $45 booking fee are to be paid within 5 days of making the booking. Christmas bookings must be paid in full by the 1st of December. A booking is not confirmed until the requested deposit and booking fee have been paid. Failure to pay this amount by due date may result in automatic cancellation of your booking.

d) If for any reason your payments are not received by the due dates, LJ Hooker Yamba reserves the right to cancel your booking and apply appropriate cancellation charges

2. Arrival & Departure Times
a) The premises are available from 2pm on the day of arrival and are to be vacated no later than 10am on the day of departure unless arranged with Management. Failure to vacate at the required time may incur a late checkout fee of $50.00. Keys must be returned to the office immediately upon vacating the premises, no later than 10am. If you shorten your stay, the unused portion of your rental is not refundable.

b) If you intend to arrive after hours, you must make key arrangements with our office. Under no circumstances will keys be left out without full payment and credit card details provided.

3. Payment & Security Deposits
a) The balance of any outstanding monies for the booking must be paid in full no less than 10 days prior to arrival date. A Guest Registration Form is required to be completed by you for all bookings. The registration form requests details of your name, address, drivers license number as well as credit card details. Valid credit card details must be submitted to our office before keys are released; this is required as a security bond for the booking. Please note that no money will be deducted from your card unless we need to make a claim for any of the following: excess cleaning fees, excess garbage removal, dirty barbeque, damages or breakages at the property, late check out, lost keys or any other breach of our terms and conditions which may require us to do so in acting for the Owner. If you do not have a valid credit card, we may request $500 cash or cheque as a security bond for the premises. This money will be refunded to you within 14 days of check out minus any deductions (if applicable), via cheque payment only.

b) It is the Guest's responsibility to make payment by due date, we do NOT send out payment reminders.

c) Payments can be made with cash, cheque, EFTPOS, direct deposit via internet or bank, MasterCard or Visa. Please note: payments made with a credit card will attract a 2% surcharge.

d) LJ Hooker Yamba reserves the right to make claims on the security bond if the terms & conditions are not met, resulting in loss, extra cleaning, damage, expense of inconvenience. Guests will be notified on claims being made prior to any payments being debited.

4. Cancellations
a) If a Guest cancels a confirmed booking greater than 3 months prior to commencement, the full deposit will be forfeited plus non refundable booking fee of $45.

b) If a Guest cancels a confirmed booking within 3 months prior to commencement, the entire booking amount will be forfeited plus non refundable booking fee of $45.

5. Re-booking
The current holiday Guest is given the first option to rebook the property for the corresponding period the following year, subject to Owner bookings. If you wish to rebook the current property, please advise our office before your departure to avoid disappointment. When re-booking a property, you will need to pay $100 to secure your booking and all remaining deposits are due as stated on your booking confirmation letter/email.

6. Number of Persons
The number of occupants, INCLUDING CHILDREN, must not exceed the number stated on our adverts. No extra mattresses, tents, caravans, motor homes or more cars than the property accommodates are allowed on site. Overcrowding the premises will not be tolerated by the Owners or agents. Breaches to the above will result in your tenancy being immediately terminated at the Agent's discretion.

7. Keys, Locks & Windows
a) Guests are responsible for the safekeeping and replacement of accommodation keys/remotes. Lost keys/remotes will incur a $100 replacement fee. Duplicates are not always available. If keys/remotes are lost or broken and there are NO duplicates available, you may be liable for costs involved to gain entry to the premises and ALSO costs to change all the locks.

b) Guests requiring a key from the agent or their representative after hours will be charged a service/call out fee of $50. If a locksmith is required, the Guest will be responsible for the payment of the locksmiths account.

c) All occupants are responsible for securing the property during their stay and when vacating. Please ensure all windows and doors are secured/locked when leaving the premises and prior to departure. Any damage caused by weather or rain as a result of windows and/or doors not being secured properly, will be deducted from your credit card / security bond.

8. Linen
Linen is not provided unless specified otherwise. For linen hire ph(PHONE NUMBER HIDDEN). If linen is provided you will still need to supply your own beach towels.

9. Pets
a) All pets and animals are strictly forbidden in or around the property, unless otherwise stated. In the case of 'Pet Friendly' accommodation, an additional $50 per animal, per stay is charged.

b) If the property is 'Pet Friendly', it is the your responsibility to ensure all pet waste has been removed from the property prior to departure.

c) If pets, which are unapproved, are found on the premises, the booking will be terminated and Guests will be asked to vacate with no refund made, and additional cleaning charges will be deducted from your credit card / security bond.

d) Any pest control required as a result of a pet inside and/or on the premise will be charged to the Guest.

10. Booking Conditions
Advanced bookings are accepted by us in good faith on behalf of the property Owner, however we cannot accept responsibility where the property is sold; the tariff is increased prior to your occupation; the property is altered in any way or the malfunction of any inventory articles. In the event of any renovation/building work being carried out on or near the holiday premises, such work is beyond our control and we cannot accept responsibility for any disturbances, noise or inconvenience Guests may suffer as a result. Our office is not informed when construction is happening. No discount will be negotiated for any of the above.

11. Damages And Breakages
a) Breakages and/or damage to premises/and or furniture and furnishings not caused by normal wear and tear will be deducted from your credit card or security bond on after departure. All breakages, damages, lost keys and swipe cards are to be reported and paid by the occupants. Failure to do so may result in monies deducted from your credit card or security bond as compensation as stated above.

b) Upon arrival if you notice any damage to property or its contents, please report to our office immediately to avoid any disputes on your departure. Failure to do so may result in monies deducted from your credit card or security bond as compensation.

12. Damage, Loss Or Theft of Tenants Property
a) All occupants are responsible for securing the property during their stay and when vacating. Any theft or damage due to not securing the property shall be the responsibility of the occupants; no responsibility is taken for tenants personal property left on the premises by the Owner or Agency.

b) Our Agency takes no responsibility for recovery of personal items left at the property. Items left at the property will not be automatically returned, please contact our office if you feel you may have left something behind. These items will be held in our office for collection for no longer than 2 weeks. Items will only be returned upon receipt of payment for both postage and $10 handling fee. Unclaimed items will be donated to local charity.

13. Property Descriptions
All bookings are taken in good faith by our Agency and our staff have taken great care to describe the property to the best of their knowledge. Properties are furnished to the individual property Owners' taste and style and the Agent takes no responsibility for any unmet expectations of Guests, or any changes made by the Owner to the furnishings and equipment as seen or inferred in any advertising media.

14. Cleaning
a) Please assist by leaving the premises in a clean and tidy manner upon departure, with dishes, cutlery and cooking utensils washed, dishwasher unpacked and put away. All rubbish must be removed from the premises and placed in the bins provided. Fish must not be cleaned on the premises. Should the premises be left in an unsatisfactory condition, additional cleaning charges will apply. If the barbecue is left uncleaned a fee of $50 will apply. If the barbeque is not clean on arrival, please notify our office immediately to avoid being charged on departure.

b) Guests must inform our office immediately upon arrival if the property is not clean, otherwise they are deemed to have accepted the property in this condition on arrival. If a property is reported in this condition, LJ Hooker Yamba reserves the right to have the property cleaned ASAP.

c) All rubbish must be placed in the correct council garbage bins, if you do not place the correct items in the Green, Red and Yellow Recycling bins, it will not be collected and you will be liable for rubbish removal costs. During your stay, council bins are to be placed kerbside Sunday or Monday night (depending on location, please check with our office) for Monday or Tuesday morning collection. Please place all bins kerbside upon your departure.
PLEASE NOTE:
GREEN BIN – GREEN (Organic & Garden) WASTE ONLY
RED BIN – GENERAL WASTE ONLY
YELLOW BIN – RECYCLING ONLY

15. Conduct
No person on the premises shall be guilty of conduct that is a nuisance or threatening to adjoining or neighbouring occupiers. Breaches to the above will result in your tenancy being immediately terminated at the Agent's discretion.

16. Sale Properties
a) If the holiday property is listed for sale, this booking is accepted with the current Owner at the time. In the event of a sale and the Ownership changes, we cannot guarantee the property will continue to be used for holiday letting by the new Owner. We will notify immediately if the property has sold, giving you the opportunity to source alternative accommodation.

b) If the property is listed for sale, inspections with prospective purchasers may be necessary during your time of occupancy; by appointment and at a mutually agreed time by the Owner or agent and the occupier.

17. Faults
a) All our holiday properties are privately owned and we cannot be held responsible for any unforeseen breakdowns of appliances etc. All repairs will be carried out at the earliest convenience. Every action will be taken by our staff to minimise inconvenience caused, however there is no obligation from LJ Hooker Yamba to issue any partial refunds or discounts. Due to any unforeseen circumstances or major problems that may deem the property uninhabitable, we will make every effort to source alternative, suitable accommodation.

b) We, our tradesman or nominee, reserve the right to enter onto the property at any time to investigate or undertake any repairs or complaints.

18. Smoking
No smoking is permitted inside any holiday property. If our cleaners have reason to believe this, you may be responsible for additional cleaning and laundering costs of all carpet, furnishings and window coverings.

19. Disclaimer
LJ Hooker Yamba endeavours to maintain the accuracy of the content within their websites. However, from time to time, some aspects of the content may become out of date. Certain information is provided by others including, Owners, and for that we accept no responsibility for its accuracy. Prices displayed on the website are current at the time of issue, but may change at any time and are subject to availability - please contact our office for current tariffs and availability. LJ Hooker Yamba, acts as the letting agent on behalf of the Owners and in accordance with the Owners instructions. LJ Hooker Yamba reserves the right to take appropriate remedial action and/or seek compensation for any serious breach of these conditions of letting.
Read more at (URL HIDDEN)
2 nights minimum stay.
From Dec 09, 2017 - Jan 31, 2018 the minimum stay is 7 nights.
Our stay was really affected by the rain so hard to give a objective review. We had a lightning strike and the fridge blew up but that's not anyone's fault it just happens. The real estate who run it were great- getting someone to come look at it and then sorting us out so that was really good. Only thing to watch out for is if you have kids and you are going to be over there in rain the hall way gets a wet floor so watch for a few slips!! Beautiful view and really close to main beach which was great.
---
We had a great weekend. House is perfectly located we walked down the hill into town for breakfast and dinner each day. We have 3 kids so there was plenty of space in the house and the yard to play when we were at home. Huge deck is very appealing. Kitchen had all that it needed. The outdoor shower was a massive bonus as we spent lots of time at the beautifully beaches.
---
LJ Hooker Yamba, are about delivering professional real estate services in Yamba.

We are active members of the local community and have become synonymous with LJ Hooker and real estate in the area. We have established a strong reputation over the years for providing outstanding service and achieving results time after time, with a point of difference.

Our proactive approach to real estate and providing outstanding service is backed by extensive knowledge and experience.
Languages:
English
Response rate:
90%
Response time:
within a day
Explore other options in and around Yamba
More places to stay in Yamba: