[DREAM-喜度] Thick ins wind Moroccan & small fresh mix and match style, the room type is a compound leap, whether it is a couple or a young and old can enjoy the concave self-portrait. The apartment is located in the center of the city and has convenient transportation. It is very convenient for taxis and buses. All bus lines can pass through commercial streets, seaside and playgrounds. The apartment is only about 300 meters from Qinhuangdao Railway Station, allowing you to get to the train station faster, saving time and avoiding the hassle of catching the train. There are a variety of restaurants and hotels downstairs that offer absolute convenience for your dining. We have prepared a new washware for each guest, and each new guest will use a disinfected bed. We have also prepared kitchenware and exquisite tableware for you, which is the most helpful for your own cooking. A small swing in the apartment will bring you more fun in your holiday life~
What guests are saying:
"I really like this kind of duplex building~ Miss Fang, the sister of the landlord, especially Nice. It was very late to send a message asking some things to reply in time. I was tripped when I checked in. The landlord's sister was very timely and the environment was special. Very good, very warm~ It is very comfortable to watch TV on the sofa at night~ The bed is very comfortable to sleep~ The bathroom towel is very soft, the disposable toiletries are very clean~ It is also very close to Qinhuangdao Station, and it is not to People's Square. Far, good location~ great experience~"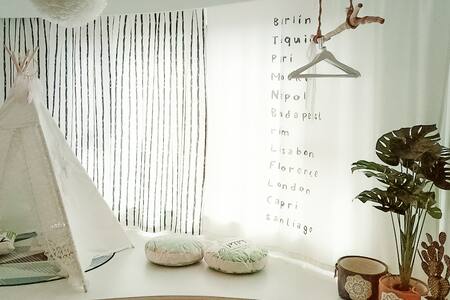 SUPERHOST
Entire apartment · 4 guests · 1 bed · 1 bath
千早ins北欧风&阿那亚黄金海岸&北戴河5分钟直达海边新奥海底世界&清新大床榻榻米房整租&首旅京伦
The strong ins wind Scandinavian & Korean style is a refreshing mix of styles, allowing you to enjoy one room and two feelings. You can enjoy the comfort of a lace fairy on a large comfortable bed, and you can enjoy a tumble on the tatami with a Nordic style. Simple, decorative flowers and plants, whether it is a couple, or a parent with a baby, you can enjoy the concave shape self-timer; bathroom shower with high-end atmosphere black industrial wind, excellent water, you can wash away a day of exhaustion, if you want to do it yourself There is no problem with rice. Kitchen cooking seasonings can be used for free. Come and roll over.
What guests are saying:
"The location is in a four-star hotel building, so both the environment and security are not far from the seaside and snack street. The room is also consistent with the picture. The room is very clean and has a scent of aroma. The photo next to the tent, whether it is the whole or the details, is really in love, I will come again next time I have the opportunity"
As a love-loving traveler, a fake friend who is a bit picky about eating and living conditions, I don't want to endure all kinds of cheap feelings of the hotel, and I don't want to spend a lot of travel expenses in a star hotel, so the neat and practical bed and breakfast is The first choice for my travel accommodation. Then, according to the criteria of my choice of homestay, I would like to make the home of Xiaowen present its current appearance: there are functions, and the extra edges are omitted. However, it will not make you feel a little cramped or stretched because of its simplicity and simplicity. At the same time of simplicity, comfort and casualness, it is indispensable for high quality, high standards and humanistic care. It's a sea of people, I don't have to know too much, I don't want to cater to anyone, and I'm not scorning my friends. This is my temper, my character, a warm home, welcome you...
What guests are saying:
"The sparrows are small and well-organized. In particular, the beds in the two houses are very large, and they are very comfortable to sleep. We are very relieved of the fatigue of the journey, and the next day we can go shopping with full spirit! The huts are also clean and tidy! In short, the stay experience is particularly comfortable, suitable for people who are more picky about accommodation!"