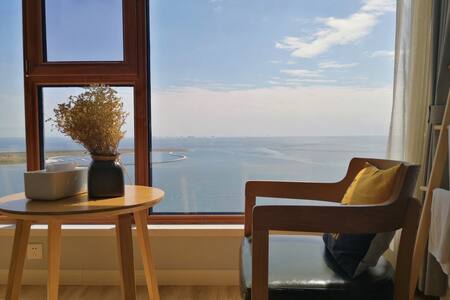 SUPERHOST
Entire apartment · 3 guests · 2 beds · 1.5 baths
[小岛.听海NO1]无敌海景房/金梦海湾/海底世界/野生动物园/秦皇小巷/鸽子窝/看日出/碧螺塔
不管是春夏秋冬,这里的海景都很美,夏天可以游泳,秋天可以吃海鲜,冬天可以看文化古迹,感受秦皇岛的人文景观,只有在这里住了,你才知道什么是真正的海景房。(已配微波炉和遮光帘),3个人最好是一家三口,或同性友人。因为小间是开放式的。 致力于打造家一样的温暖,所以我们在床品的选择和日用品的选择上都像家一样,为您提供安全放心的产品,让您住的安心,用的放心。 【交通位置】距离秦皇岛北戴河国际机场70公里,车程70分钟,打车约180元;距离秦皇岛火车站8公里,打车约25元;距离山海关火车站24公里,车程38分钟,打车约60元;距离北戴河火车站15公里,车程22分钟,打车约35元。
What guests are saying:
"Staying in winter is a good deal, and summer prices may double. It's a real ocean view room. Sitting on a chair by the window, the sun on the sea was very warm. House decoration is a more popular ins style, which is in line with the aesthetic orientation of young people. The details are also very good, and the cutlery and dried flowers are exquisite. The temperature of the room is relatively high, and it may even be a bit hot at night, but you can open the window to ventilate and listen to the sound of the sea. It just feels empty and desolate. The seaside at night is not very bright, and may be somewhat depressed. But the sunrise until dawn is beautiful."
First View Apartment is located at the core of Qinhuangdao Jinmengwan New District, more than 50 meters from the beach. It faces Shangri-La Hotel to the east and Xinao Underwater World to the west. Five minutes drive from the safari park and more than ten minutes drive from Beidaihe beach. In front of the building is the longest coastal wooden boardwalk in China, which leads directly to Beidaihe Pigeon Nest. A ten-minute walk will take you to the Olympic Sports Center, where the China Happiness Football Match is held. Watching the sunrise and listening to the sea waves at night, this is undoubtedly the best choice. Our room is located on the tenth floor, with excellent view of the sea, duplex structure, the bedroom upstairs faces the mountain to the north, and the living room downstairs faces the sea to the south. Facilities are readily available.
What guests are saying:
"The room was very good. The central air-conditioning was in the right location. The floor-to-ceiling windows can directly see the sea. The landlord was very enthusiastic and had a good experience."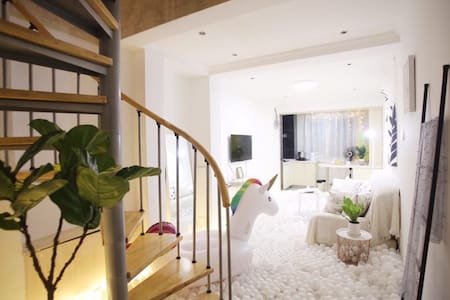 SUPERHOST
Entire loft · 3 guests · 1 bed · 1.5 baths
【蔷薇印象·铃兰】满满的海洋球梦幻ins复式公寓(万达商圈、世纪港湾、公交直达北戴河)火车站300米
In the room, there are ocean balls filled with ins, rainbow white horses, and cloud tents. You can take large movies without leaving the house. The total area of the room is about 66 square meters, the environment is clean and warm, the bedroom upstairs has air conditioning, 24 hours hot water, TV has opened VIP. The residential area is located on Yingbin Road, the economic center of Qinhuangdao. The traffic is convenient at the door, and the bus hub is well-connected. It is extremely convenient to go to the city center, Beidaihe or Shanhaiguan. The community is only about 300 meters away from the railway station, so you can save the train early. Troubled. The residential area is a single-family commercial apartment with elevator access, which is more secure for your safety.
What guests are saying:
"A very, very, very, very good living experience. The house was clean and quiet, and the location was very convenient. The landlord also helped bring the luggage to the train station. The fairy landlord was very moving."