Newly decorated loft, very next to the Ocean University of China Yushan campus.Almost all the place of interest can be reached by walking,including the Governor residence of Germany,Signal Hill Park,Christ church, The Badaguan ( Eight Passages) District,Lu Xun Park, Underwater World,etc. Traffic is extremely convenient,1min to bus stop,10 mins to metro staion
What guests are saying:
"The room was really nice, the special clean smell was clean, and the cat decoration was really cute everywhere. All the facilities were very well heated and warm. I always walked in the room with short-sleeved shorts. The spices and kitchen utensils are great! (There is still Laoganma) The landlord also prepares beer water and tea. Every morning, he uses a coffee machine to brew coffee. Boyfriend said that coffee is better than the outside. He has been spit in China. He has not used proper coffee. I drank three big cups, hahaha. The bed is really soft and comfortable. The pillow is also very good. The latex pillow is very good. The details of the owner are very well-preserved. It's very good to sleep for two days. It's good to stay in bed and don't want to get up. The location of the property is also very good. It takes about ten minutes to walk from the subway station. I really recommend everyone to go because there are many very interesting cafes along the road and many old buildings are a very rich community. Landmarks are also a lot of us. We have been walking all the way and have been seeing others taking pictures. Hahaha. If you come to travel and live here, many attractions are easy to go. The landlord is just too good! Timely communication and very gentle, but also to help the cat's public welfare really feel very difficult to move and put a sticky post in the room. I also prepared some medicines in the house. It is really very careful and very human. Especially recommend everyone to stay! It's much better than the business homes that are run by the company. There is really a small family that feels very warm and practical."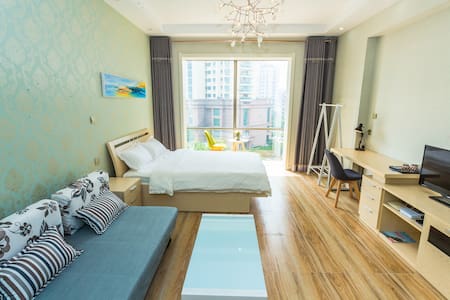 SUPERHOST
Entire apartment · 4 guests · 2 beds · 1 bath
88meters to seaside& in center of city whole APT
Great location, just 5mins walk to metro line 3 and 3mins walk to the bus stations . Walk to dozens of shops, restaurants , "new york bar" and carrefour supermarket, and just 3 mins walk to qingdao olympic sailing center and seaside . About 50 meters to 54 plazza . completely private whole apartment.
What guests are saying:
"If you're in Qingdao, stay here. There's a twenty-four hour convenience store right underneath, and Carrefour across the street is the King of Yonghwa, where you can have breakfast. There's only a tall building nearby. There's nothing. You can walk to Osa Square from Fusanso Station. This is the best place to live. Besides, the owner speaks Korean well and it was convenient ~~ It wasn't far from the old town. Just staying here all the time. It's comfortable ~~ The facilities are all amenities and it's Tongyuri. Good value for money ㅋㅋㅋ I really like it so leave a long review"
小舟的接待时间是:9:00——22:00。 一座守望大海的百年老宅。它始建于1929年距今已近90年,是青岛市优秀历史建筑。别墅外观及走廊公共区域属政府管理,未经返修,属历史原貌,苛刻者慎选。此房间位于别墅二楼,它的格局及细节均在最大程度上保留了历史原貌,因此与现今套房及千篇一律的酒店式公寓是无可比性的。请您确认喜欢并能欣赏历史感的老房子再预订,不接受关于别墅新旧程度上的差评,毕竟能预订的都是能接受并喜爱历史建筑的。因此再次强调非喜勿订!!!。 房间通透舒适,有独立卫生间及阳台。家电,WIFI俱全。内有一张标准1.5米宽的双人床。房间的窗户正对天后宫,其景点一目了然。 您会喜欢它的地方如下:1.优秀历史建筑,地理位置绝佳与大海仅一路之隔,冬天出门喂海鸥,夏天出门洗海澡,四季海边晨练散步。2.交通便捷100米左右既公交站,地铁。3.景点环绕,大部分步行即可到达。4.生活便捷,周围饭店超市,银行医院早市环绕。您需要考虑的如下:1、走廊楼梯未翻修是百年历史原貌体现。2、由于是老建筑格局决定了卫生间面积不大,但正常盥洗均可满足。因此介意卫生间面积的朋友也请思量。 本民宿不提供发票,不接待提前看房。不提供火车飞机接送站服务。也请勿在房间会客。房东不在住所住,因此会至少提前2小时联系您,以确定时间,有任何需要请提前告知房东,方便早做准备。
What guests are saying:
"Fried chicken sticks, the landlord is super good, as the same landlord, I need to learn a lot. Toothbrushes are extravagant, not the one-off, the room is very clean, the yard is very distinctive, the door is the sea, really, especially recommended. Living this kind of house fried chicken has a feeling"