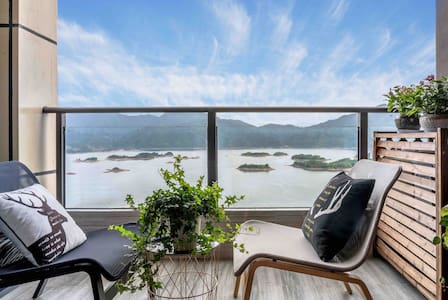 SUPERHOST
Entire apartment · 3 guests · 2 beds · 1 bath
【有间雅阁】千岛湖珍珠半岛29层超大阳台全湖景公寓。闲来雅坐观山看水赏风景,枕水而居伴月而眠。
[There is an Accord] is a high-rise apartment with panoramic lake view, located on the Pearl Peninsula with convenient transportation. Opposite the residential area is the Qiandao Lake Pearl Peninsula Plaza. In the center of the square there is an infinity pool and a suspended observation deck. There is a place to play in the water [Qiandao Lake Happy Water World] kayaking, motor boat, surfing boat, etc. on the side of the square, allowing you to have an unusual trip in Qiandao Lake. There are Qiandao Lake Water Spirit Performing Arts Center, Qiandao Lake Museum, Qiandao Lake Library and Qiandao Lake Youth Activity Center around the square. The room has complete supporting facilities, basic kitchen utensils, and various types of tea for guests, hoping that every guest will feel like going home.
What guests are saying:
"It is highly recommended to the friends who go to Qiandao Lake. The homeowner is very careful. During the epidemic, intimate wet tissues, 3M disinfectant, alcohol and ultraviolet light are prepared. First of all, you will feel at ease when you stay. And self-service password check-in, it is too convenient. The host is also very kind and considerate, and will help recommend delicious places. The location is close to the Southeast Lake District. It is very convenient to drive in just 5 minutes. The lake view from the 29th floor is really beautiful. Get up for breakfast, make a cup of coffee, stand on the balcony and watch Qiandao Lake, chat for a day, or leave it empty , The decision is a kind of enjoyment. In the end, I want to say that the price/performance ratio is also very high. It is worth recommending and praising."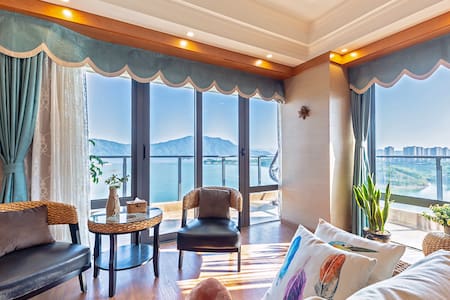 SUPERHOST
Entire apartment · 2 guests · 1 bed · 1 bath
【美炸】@卫小宅🇨🇳北美摩卡/270度超豪湖景L型阳台/私人车位/蜜月/东南湖10分钟/热气球
"There is you in my heart" "There is me all the way" First of all, I wish you a happy stay~ Uncle Wei is the owner of this small house, (Hello, if you are a foreigner, you can call me or WeChat) is a senior native of Qiandao Lake~, any questions about Qiandao Lake will be in Get back to you as soon as possible~ This is Uncle Wei's first home improvement and personally built homestay, focusing on creating a warm, comfortable and relaxed living environment, allowing you to have the most extreme homestay experience~ This is a whole set of rooms (up to 4 people can be accommodated), mainly with Nordic lake view. Wei Xiao Zhai is located on the banks of Qiandao Lake with its beautiful scenery. The Pearl Peninsula on the left enters the city entrance, and the beer town/passenger center is on the right. It is about a 2-minute walk from the Green Ring Lake Boulevard. Wei Xiaozhai is equipped with private luxury lake view apartment standard, green and environmentally friendly log Nordic style furniture, sitting on an independent viewing balcony, 180 degrees full lake view is in front of you, you can enjoy the blue water and blue sky of Qiandao Lake without leaving home The garden and the beautiful ridged mountains are the best choice for strolling and enjoying the scenery. The small house is also equipped with ground and underground parking spaces to provide parking services for self-driving tourists.
What guests are saying:
"First of all, the host is very enthusiastic and wrote the strategy. It is a one-stop service. The location of the house is great. The lake view is really good. The L-shaped balcony is beautiful. The scenery is not like it. This trip is really satisfactory. The room is also very comfortable. If you pick a bone in the egg, the one-time toothpaste is not enough. If you live for a few days, you still have to bring a toothpaste. This can be ignored. If you come to Qiandao Lake in the future, you must stay here. I like to buy it."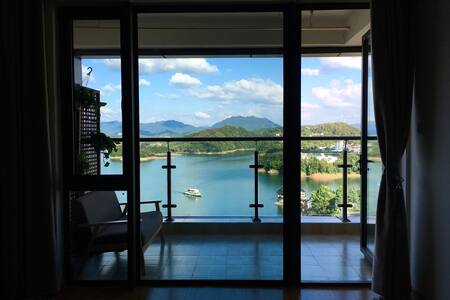 SUPERHOST
Entire guest suite · 6 guests · 3 beds · 2 baths
蒙先生【7米观湖阳台】观日出•镇中心湖景套房/高铁站酒店穿梭巴士2路直达/近千岛湖广场东南湖区
1. You will meet a sincere and enthusiastic landlord who likes adventure, walking, Buddhism, and is good at interpreting personality and talents in life digital passwords, allowing you to better understand yourself through his interpretation. He has worked in Tibet for 10 years. Footprint Almost throughout the Tibetan area, he believes that encounters between people are destined. If you are destined to see this introduction, if you also want to meet this landlord with a story, then he will take you through Same Thousand Island Lake. 2.The decoration style of the house belongs to a combination of simple American and Nordic. [The biggest feature is the lake view on the 7-meter long balcony.] In leisure, you can make a pot of tea and make a cup of coffee and sit on the sofa on the balcony. Qiandao Lake view, looking at the occasional rowing boat, extremely comfortable. The living room and master bedroom are connected to a 7-meter lake-view balcony, with large floor-to-ceiling glass doors and windows, and you can see great lake views without going to the balcony. 3. The whole room is equipped with three rooms, two living rooms, one kitchen and two bathrooms. The living room is equipped with air conditioners, triple and single sofas, TVs, TV cabinets and some accessories; the dining room is equipped with a dining table; the kitchen is equipped with a refrigerator, sterilizer, microwave oven, induction cooker, pots and pans and some spices (salt, oil, Meters, etc.), the kitchen can be used free of charge, you need to clean up after use; toilets are equipped with water heaters, washing machines, showers, etc., toothbrushes, toothpaste, towel bath towels, shampoo, shower gel, comb, etc .; 4.The three bedrooms are: a double bed of 1.8 meters in the master bedroom is in a simple American style, the lake can be viewed from the bed, and there is a separate bathroom; a double bed of 1.8 meters in the second bedroom is in the Nordic style; small room.
What guests are saying:
"I really like Mr. Meng's house. The location is very good. You can see the beautiful Qiandao Lake on the balcony. The next morning, I was pleasantly surprised to see the sunrise on the lake. The room was very warmly furnished, there was a bouquet of flowers on the table, and the kitchen supplies were very complete. I liked it very much. The landlord is also very nice, patiently recommending the local food and beauty, and will have the opportunity to choose his home in the future."