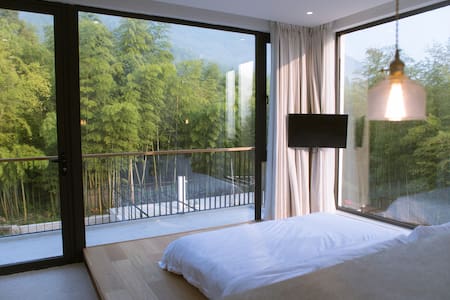 SUPERHOST
Entire house · 16+ guests · 10 beds · 7.5 baths
莫干山【清晨里】别墅!整栋出租!北欧现代风格!泳池烧烤ktv大草坪!团建首选!莫干山景区附近.大浴缸
Nordic modern style, the landlord is a local, taking you to unlock the surrounding food, drink and play in the most local way.
What guests are saying:
"Take the baby with my colleague and spend the day in the mountains. The location is easy to find. It is very convenient to go to town, about 10 minutes away. The room is large and clean, the host couple is very warm, and the children are also cute~ where to go and eat, the host will give you a very serious recommendation. The next night, we had a barbecue project. A group of people in the barbecue area were very forgetful. When I turned around, I found out that the boss lady was helping us to watch the baby. It is really intimate to give each child a little gift~~ A suggestion to the bed and breakfast is: a variety of green plants in the courtyard, and then put a swing chair is more perfect~"
★★友情问答: (一)关于房间预定: ★请先咨询(联系房东)再下单,以免重复预定; ★民宿一共8间房:四合院有4间房、别墅有4间房,该房源价格是4间房四合院包场的价格; ★点我头像也可以看到我们别墅的预定链接; (二)关于私房菜: ★房费包含早餐; ★雲宿不提供午餐,但提供有偿晚餐,需要提前一天预约,且私房菜由管家配菜不可单点。 (三)关于民宿地址: ★下单后会提供精确的地图; ★雲宿位于莫干山景区附近,开车去莫干山景区收费口需要开车6-8分钟。 雲卷 ·云宿来源于《幽窗小记》的"宠辱不惊,看庭前花开花落;去留无意,漫随天外云卷云舒"的灵感。 四合院和别墅的中式建筑里包含着中西合璧的软装搭配,让民宿更加洋气的同时也更为地道。 民宿地处莫干山东麓,倚靠莫干山系毗邻104国道,风景宜人,交通便捷。 房间分套间/大床房/复试房3种房源共8间,最多可住20余人次。适合团队入驻。 2017年受邀参加airbnb中国地区首次家年华活动; 2019年度airbnb暑期宣传片,于2019年6月在雲宿完成拍摄; 2019年,奶奶的私房菜被评选为airbnb年度房东大奖之"最佳待客之道奖"。
What guests are saying:
"If you use a four-character idiom to evaluate, it is "a paradise"! It's a really good experience, because the epidemic situation has been a bit "crunchy" this year. Recently, the domestic situation has eased and I have invited relatives and friends to drive together. Our group of 9 people (8 large and 1 small) decided to be a courtyard house with a very "idyllic mountain residence" temperament. The decoration is simple and simple, and the interior is antique! The clean and comfortable rooms and the carefully selected bathroom products reflect the attentiveness not provided by ordinary hotels, but simple but not perfunctory. The warm hospitality of my uncle and aunt is also a bonus point we have repeatedly praised ... Hope Yunjuan Yunsu is getting better and better! Thank you"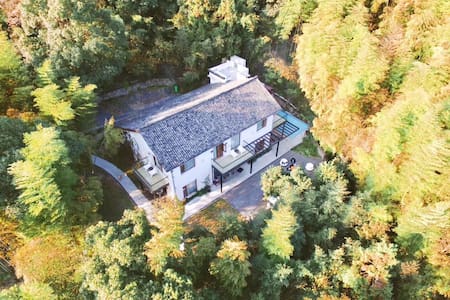 SUPERHOST
Entire house · 9 guests · 5 beds · 5 baths
RingingHeights Villa山瑶铃,紧邻莫干山景区,登山步道上,山顶地暖私密泳池度假别墅
The villa is next to Mogan Mountain Scenic Area. Located on the Zhuhai International Hiking Trail. Walk along the hiking trail for 1.6 kilometers to reach the scenic spot. No tickets required. It is also close to Moganshan Town for 2 kilometers. Shopping and dining are very convenient. The entire house is in an American country style, the location is very private, there are no neighbors, and the location has a good view. Equipped with large floor-to-ceiling windows, the bamboo sea can be seen outside the window. The house has a variety of modern facilities, which can be used for cooking and barbecue, suitable for partying. House close to Moganshan national park, 1.6 km hike to the park, no ticket needs, 2km to town House provides perfect service, fits 8-10 people for parties. This house has been chosen in several design magazines and SMG travel channel.The Villa designed as perfect get away from the Big City life.
What guests are saying:
"It is very suitable to take my family here for a few days. Although it is winter, the host is wonderful, the service is attentive and the breakfast is plentiful. In addition, the whole house is very warm, making people feel as if they live at home. You can also bake it in the fireplace. Two super-good dogs outside the door, although they were not raised by the landlord, they spontaneously watched the door. We went up the mountain for a walk. Feeding them all became one of our pleasures. In short, it is also very good to come and stay in nature and be accompanied by such small animals. The host is nice. Our parents asked to eat at 6:30 in the morning, and he was able to make a rich breakfast quickly in the morning. We hiked up the mountain, and the landlord led the team and experienced a different mountain trail. Any questions can be answered at any time. It's really great!"