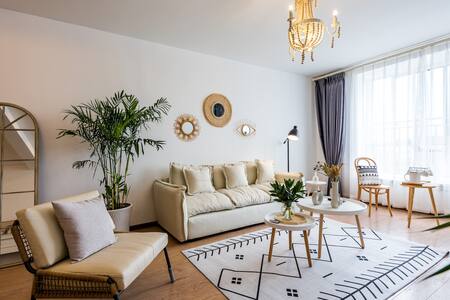 SUPERHOST
Entire apartment · 6 guests · 5 beds · 2 baths
惠【西昌非凡•月城之家】近邛海空调大3居|简约白搭唯美风|火把广场、风情园、泸山|螺髻山九十九里温泉
Hello, I am extraordinary. Here is one of my listings. If this set has been booked, you can click on my avatar to choose other listings you like and live comfortably in Xichang Feifan, or you can contact the landlord and I will give you Recommend a suitable apartment for you! My house has a variety of house types and decoration styles, welcome to consult! --------------------------------------- This suite comes from the Moon City apartment on the edge of the Haihe River. The community is beautiful and the 24-hour security guard is on duty! My home is one of the few elevator apartments in the community. The high-end residence and careful decoration will make your stay comfortable! Wetland Park is not far from home. We are more than 10 minutes walk to Wetland Park. Our listings can be contacted 24 hours a day, and any problems can be solved at any time! The password lock is easy to enter and leave at home! My house is decorated with simple white space, and the living room is spacious, which can be used for a family or a group of friends to chat or rest. As long as you keep quiet, no one will disturb your private gathering and outing! The surrounding commercial districts are mature, with vegetable markets, supermarkets, fruit markets, etc., as well as delicious barbecues, hot pots, Yi nationality meals and other local specialties. The bedding is carefully selected by us to ensure the comfort of the accommodation. The room laundry and cooking are very convenient, equipped with laundry detergent and oil, salt, sauce and vinegar. The home decoration is completely real shot, and I solve the problem online 24 hours. You can experience it first!
What guests are saying:
"There is still a gap between the photos and the difference between the pre-beauty and the pre-beauty. It is very clean. The landlord is very nice, but there is no place to park. The inside of the community does not allow outside cars to enter. The KTV parking lot opposite is charged for parking. Car, the surrounding environment is also good, it is convenient to buy things or something, overall satisfaction!"
民宿是一种商业更是一种情怀。我希望你来这里能感受到温度。在麗歌民宿,窗外就是美景,位于西昌市最美夜景的海河天街旁的高端小区内,距离邛海湿地直线距离1.2公里,也是距离邛海核心景区最近的高端小区。在房间内就可以远观邛海、湿地、泸山,近看海河天街。这样的景观民宿在西昌实属不多。当然,光有观景是远远不够的。房间内设施齐全,两张大床可以满足四人的住宿,从床品、电器、卫浴均采用国内外一线品牌产品,只为给你带来更好的体验,我们还为你准备了100寸私人影院、线路咨询、景区门票优惠代购、私人专属导游等等服务。来的朋友都是客,欢迎你来西昌,我在麗歌民宿等你。
What guests are saying:
"Checked in for the second time, to give you some references, the scenery is good, and the health is satisfactory. The disadvantage is that the bathroom is relatively small. What is particularly satisfying is that there are everything for disposable items (slippers, toilet pads, towels, washing supplies, etc.). I feel that the landlord is still more careful. The host also helped us purchase discounted hot spring tickets, and the recommended meals were really good. Good value for money and worth recommending to everyone."
Simple and warm Nordic decoration, equipped with comfortable big bed and mattress, I believe you will definitely feel comfortable sleeping. [Basic equipment] Complete furniture and appliances, bag stay, free high-speed wifl, comfortable bedding, 24-hour hot water. [Safe] 24-hour security on duty. [Others] Keep valuables and refuse to accept gambling, drug abuse, prostitution and other illegal activities! Reject all the noisy activities, the disturbers will not receive! Prohibit dangerous behavior, causing unintended consequences at your own risk! The surrounding description apartment is located in the center of Xichang. There are large supermarkets and shopping plazas downstairs and opposite. There is something you need. A few minutes walk is the pedestrian street and food street. It takes more than ten minutes to reach Xichang Old Town and enjoy the characteristics of Xichang Ancient City. And the old town door hole, taste tea Xichang specialty beef powder. The traffic description is located in the bustling downtown of Xichang, with convenient transportation and convenient shopping. All buses can be reached.
What guests are saying:
"The location is in the city center, it is very convenient to take a taxi at any time. On the high floor, you can see the mountain scenery is very good, have lived twice, is the sister's home, the health is very nice,"